Our names are basically the most importantly part of our identities. We are never given the chance to name ourselves though as that wondrous task falls onto our loving parents. There are literally countless names to choose from and all babies can hope for is that they'll be given a normal name that they'll carry for the rest of their life.
Not surprisingly, celebs often get a little extra when it comes to naming their babies though. It seems like these esteemed group of Hollywood personalities are really keen on one-upping us regular folks and this means have to give their babies names that would make them a cut above the rest; even memorable too.
Their efforts to name their babies are often met either with disaster or success. There are times when celeb parents are able to create some pretty artistic name for their children. Most of the time though, it fails to do anything else other than make people laugh. Basically, being a little too extra either pays off or it doesn't. We feel sorry for some of these kids as they'll have to wait a while if they want to change their names. Here are celeb parents who tried to be way too extra with their baby names.
15

Pharrell Williams: Rocket Ayer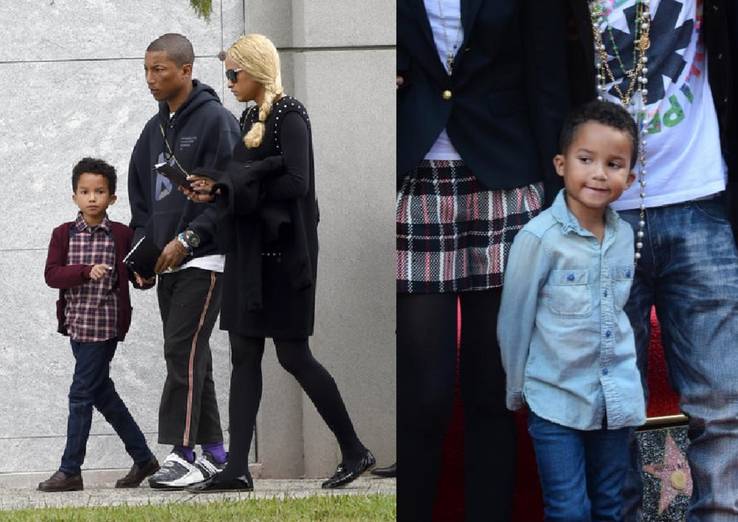 Singer and songwriter Pharrell Williams has been in the music industry for a very long time already and from his youthful looks and charming appeal, it's hard to believe that he's already 45 years old. Other than his surprising age, most fans also tend to forget that he is a happily married man and he has been so since 2013. His marriage with Helen Lasichanh is filled with love and support. The singer and songwriter also has a child. He names his baby boy, Rocket which is not an uncommon name in Hollywood's baby scene believe it or not.
Although the name is not all too unique, there's a deep meaning behind it. He explained his name of choice when he was interviewed by Oprah a few years ago. "In the same way that the Indians name their children, like, behind a force or an animal or an element, we named him after a man-made machine that was meant to go up. Meant to ascend. And metaphorically, it was because of, you know, Stevie Wonder's 'Rocket Love,' Elton John's 'Rocket Man' and Herbie Hancock's 'Rockit.' All of my favorite musicians. And [Rocket's] middle name is not Man. It's Ayer, after Roy Ayers."
14

Jamie Oliver: Petal Blossom Rainbow, Daisy Boo Pamela, River Rocket, Buddy Bear Maurice, and Poppy Honey Rosie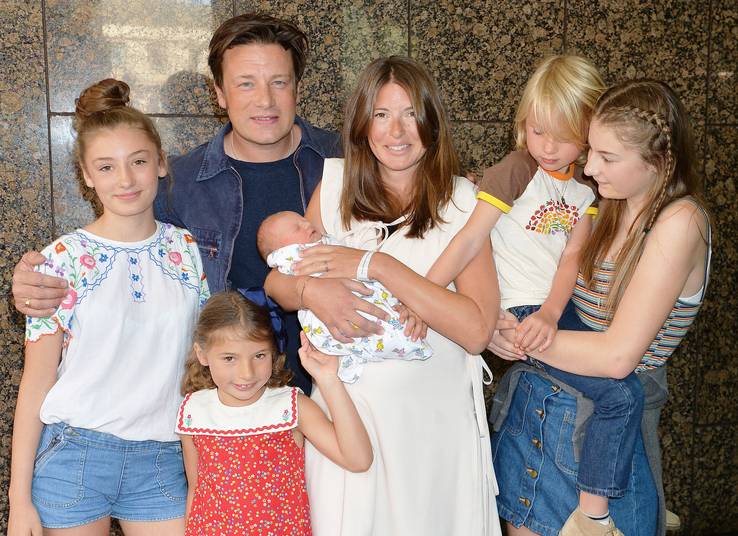 The children of celebrity chef, Jamie Oliver may not like their dad too much but for very funny reasons. Jamie is most commonly known for pushing healthy foods including an array of vegetables into school lunches. For his children, that means they'll have to put up with their dad's healthy cooking as well. He is a renowned chef anyways so whatever he cooks, regardless of how bitter that vegetable is, he is bound to make something delicious. Alternatively, his children may hold a grudge for another odd reason as well.
Jamie's 5 grown up children are named as Petal Blossom Rainbow, Daisy Boo Pamela, River Rocket, Buddy Bear Maurice, and Poppy Honey Rosie. For chef that always calls for the use of all too natural ingredients, their names sound really fitting for their household. There's certainly a theme going with their names as well. Now all grown up, we're sure that these kids have pretty much accepted their birth names as they are bound to live with it for the rest of their lives. Let's just hope there's no confusion in the Oliver's kitchen whenever dad calls out their names and a few ingredients he needs at the same time.
13

Beyonce: Blue Ivy
Beyonce and Jay Z is Hollywood's premiere couple and wherever these two goes, the paparazzi is sure to follow. They've been together for a very long time and it's easy to say that their wedding rings are there to stay forever as the couple is looking to build an empire for themselves and their family. Their loving relationship has resulted in 3 lovely children, all of whom have shared their own little time under the limelight with the help of their parents. Perhaps of all the 3, the press and the masses love Blue Ivy the most.
Blue Ivy has a small following online. Her funny antics have brought her to the attention of Jay Z' and Beyonce's many fans. It's a pretty odd name for a child but surprisingly, it sounds pretty great as well. When it comes to reasons why Blue Ivy was picked, neither of the couple has said much about it. However, some speculate that there is a deeper meaning to it. Blue is probably Jay Z's favorite colors based on one of his songs. Ivy on the other hand, could've stood for the Roman numeral for 4 which significant as Jay Z and Beyonce's birthdays, as well as their wedding falls on the 4th.
12

Nicholas Cage: Kal-El Coppola Cage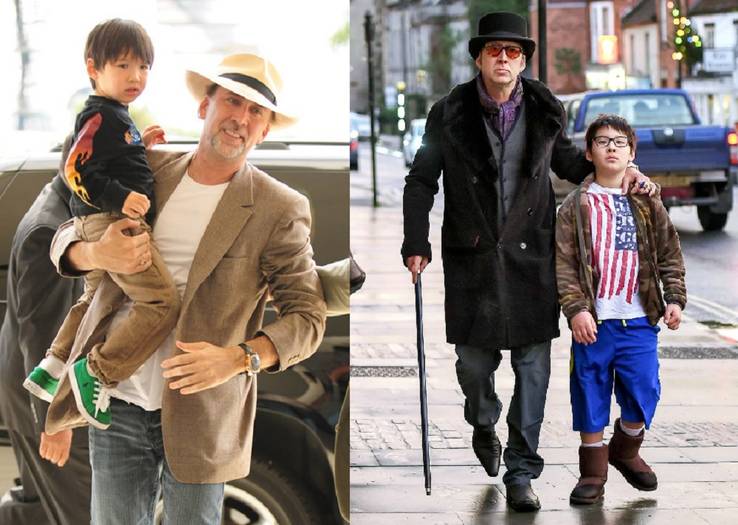 There's a lot to love about Nicholas Cage and we are all a big fan of his movies. To this date, Nick remains to be a really prominent actor in Hollywood and we're sure that there's a lot more to come from him. His long stay under the limelight has allowed to accrue a massive number of fans from all over the globe and these guys dedicate themselves to unearthing every secret about the man himself. One thing these guys certainly know about Nick is that he is a super big fan of Superman. His fanaticism for the comic book icon goes far beyond just a simple collection.
Nick named his half-korean son as Kal-El. For those not in the know, Kal-El is the Kryptonian name of Clark Kent. "My wife wanted a unique name and originally I thought of the name Kyle and then she said, 'No, something more unusual but beautiful.' Then I remembered the old Superman comics and Kal-El was his original name on Krypton. So I wanted a name that stood for something good, was unique and American and that's all three. I just thought it was a beautiful name and it had kind of a magical ring to it," he explained in an interview once.
11

Zooey Deschanel: Elsie Otter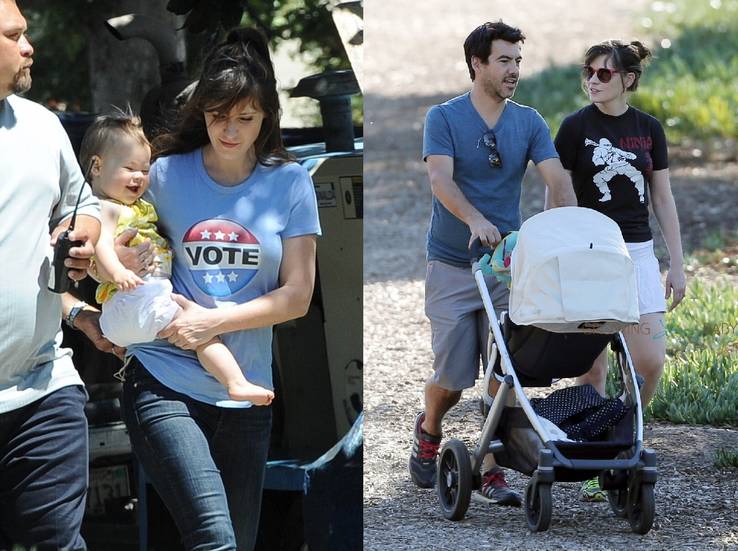 Hollywood's long list of female celebs is near endless and it's hard to pinpoint which one of them we'd like to date. However, in terms of quirkiness and overall appeal, we're sure that most guys would go for the bubbly, talented, and ever lovable Zooey Deschanel. Most commonly know for her hated role on 500 Days of Summer, Zooey has been considered as America's sweetheart. Sadly, she's taken though. She's moved on from her relationship with actor and musician Jared Leto and is now currently married to producer Jacob Pechenik. Their marriage has resulted in the birth of a lovely girl and as many would expect, Zooey had a quirky name already readied for her.
Zooey named her child Elsie Otter. It's a pretty cute name to say the least and many would initially think that Zooey named her child after a sea otter. Then there comes that doubt that it sound impossible for the actress to do that but she has admitted at one point that sea otters are indeed the inspiration. "I love animals so much," the actress explained. "And we love otters because they're so cute, and playful and fun. And they're really smart. She's so cute," Zooey gushed. "She makes a lot of little, like, pterodactyl kind of noises — like 'ahh, ooh, ahh.'
10

Chief Keef: Sno FilmOn Dot Com Cozart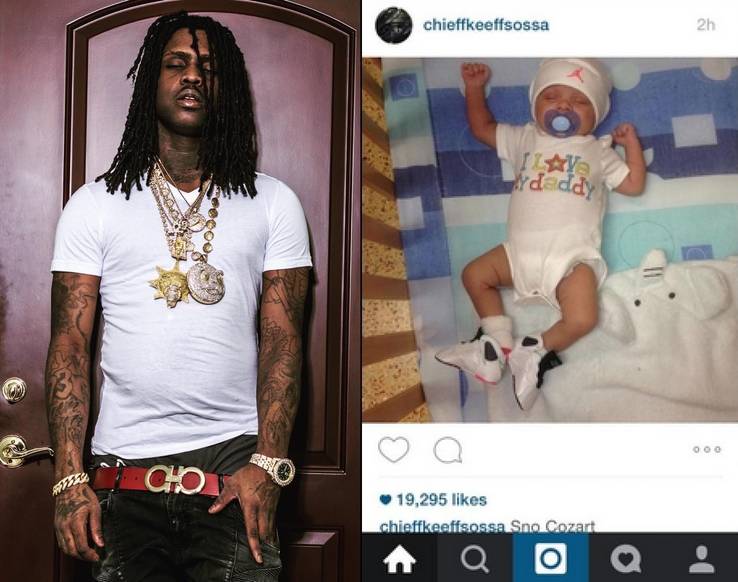 Say what you will about rappers but there is no denying that a huge number of them are very creative when it comes to dropping solid bars. Their creativity isn't limited to their songs though as these guys try to create the most amazing (or ridiculous) names for themselves. There's Ludacris, Eminem, 50 Cent and so many others more. And then there's rapper Chief Keef. He must've missed the memo that his ridiculous name calling should be limited to himself and himself only. He certainly set up a bad future for his newborn son.
In 2015, Chief Keef had his first child and his name was Sno FilmOn Dot Com Cozart. It is both a mouthful and an eye-sore. There are more worrying things to point out though. The name was created to be used as a promotional material for Chief Keef's upcoming album at the time which was made with FilmOn records. In a weird statement, representatives said that "in light of new developments disputing that Chief Keef is the father of Baby Sno, the streaming TV and music platform FilmOn.com is retracting the right to let the mother, Lauren Woods, use the middle name FilmOn Dot Com until paternity is settled. We wish Ms. Woods all the best."
9

Jena Malone: Ode Mountain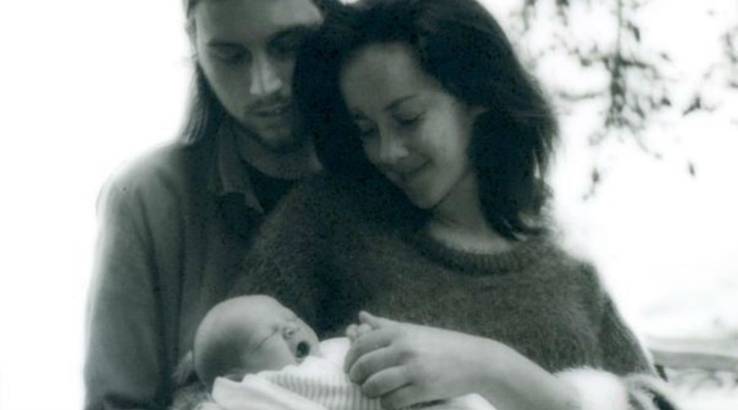 The Hunger Games movies launched the career of several actors and actresses in Hollywood. Who would've expected less from the film adaptation of a very popular book series. One of the personalities that met fame on the set of The Hunger Games is Jena Malone who played Johanna Mason on the film adaptation. She was a very feisty character on the show but in real life, Jena is pretty sweet. For those who have a crush on her, they better stay away as Jena is already taken. She and her photographer Ethan DeLorenzo, have been together for quite a while and they welcomed a baby boy in 2016 too.
The baby boy was named Ode Mountain. It's a mixture of two words that no one would've even thought about using as a name but here we are. The boy's name was announced in an Instagram post with his parents calling him as an incredible blessing. We don't know exactly were Jena and Ethan got this name from but it could've been all those hours she spent on the set of The Hunger Games. For us, Ode Mountain sounds like a pretty good friend of Katniss Everdeen and company.
Featured Today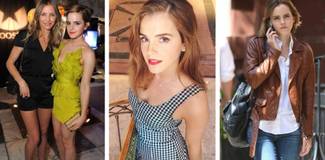 20 Reasons Why Emma Watson Has Totally Vanished After Harry Potter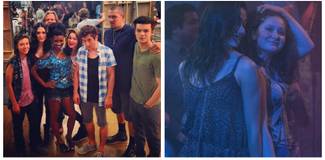 20 Behind-The-Scenes Secrets From Shameless Fans Have No Clue About

15 Reasons Why Hollywood Might Drop Emma Watson

8

Kim And Kanye: North And Saint West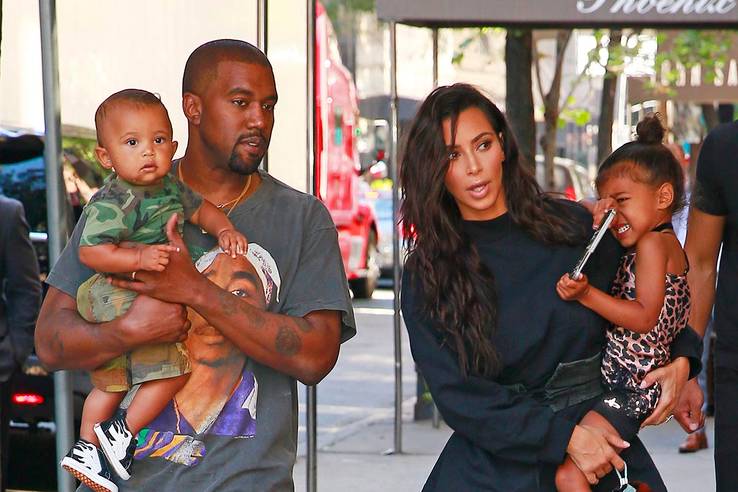 Perhaps Hollywood's most illustrious couple currently is Kanye West and Kim Kardashian. Regardless of how the controversial the couple maybe individually, their pairing is certainly a match made in heaven and it's pretty apparent that the two love and care for each other very deeply. We've never seen them happier than they are now so when the baby rumors started coming, people couldn't have been more excited. Given Kanye's name, the possibility of baby names are endless and people were very excited to hear from the couple with regards to what they would name their child.
When Kim and Kanye decided to reveal the name of their would be first child, not many were surprised when it was North West. It was the speculated name of many. A few years after the birth of their baby girl, Kim was pregnant yet again but this time, she was carrying a baby boy. Speculations were up and running and South, East, and West were at the top of the charts. Joke is on the speculators though as the name turned out to be Saint. Nowadays, the siblings are starting to grow up and they are growing up as best friends to each other as well.
7

Holly Madison: Forest And Rainbow
Holly Madison is certainly one of the most popular models to become a part of the illustrious Playboy Mansion. Her life has been correlated with the glitz and the glamor time and time again. She isn't a naughty girl anymore though as she has certainly matured into a responsible mother. Her Playboy career is way behind her and she is focusing on taking care of her children nowadays. While we have no qualms with her being a mother, her choice for the name of her children remain very questionable and we're hoping that her third child's going to be named normally.
In 2011, Holly gave birth to her first child, a beautiful child she named Rainbow Aurora. When asked why the name was give to the child, Holly responded saying that it is the name of a girl she knew (and was jealous) of back in the day. Then in 2016, Holly gave birth to her second child, a boy she named Forest. There's certainly a theme going around her children's names but at least the names aren't too over-the-top. Honestly speaking, their names fit perfectly for the glamorous history of their mother. We're pretty excited how she names her third child though.
6

Ashlee Simpson: Bronx Mowgli And Jagger Snow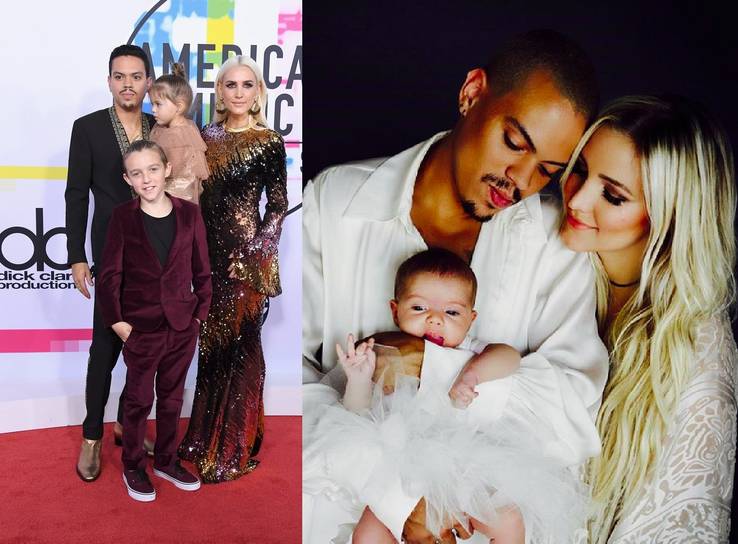 Ashlee Simpson certainly has a thing for musicians. Her past lover and current husband are both musicians. She dated and married Fallout Boy's Pete Wentz way back when. Now, she's currently married to actor/musician, Evan Ross and they have been together since 2014. Ashlee's love for music certainly shows but it is not limited to her preference when looking for a romantic partner. Even her children are named based off of music. She currently has too children and they are practically set to be members of the music industry in the future with their names.
Ashlee and Pete's marriage resulted in the birth of Bronx Mowgli. The press were very surprised with the name. Bronx is weird enough but adding Mowgli; the lead from The Jungle Book, certainly takes things up a notch. Then in 2015, a year after marrying Evan, Ashlee gave birth again. This time, the baby girl was named Jagger Snow; a name that's obviously a ode to legendary musician Mick Jagger. If she ever has a third child, we're going to take a wild guess that the name will once again be based off of music. Let's just hope she tries to keep it simple the third time around.
5

Jessica Simpson: Ace Knute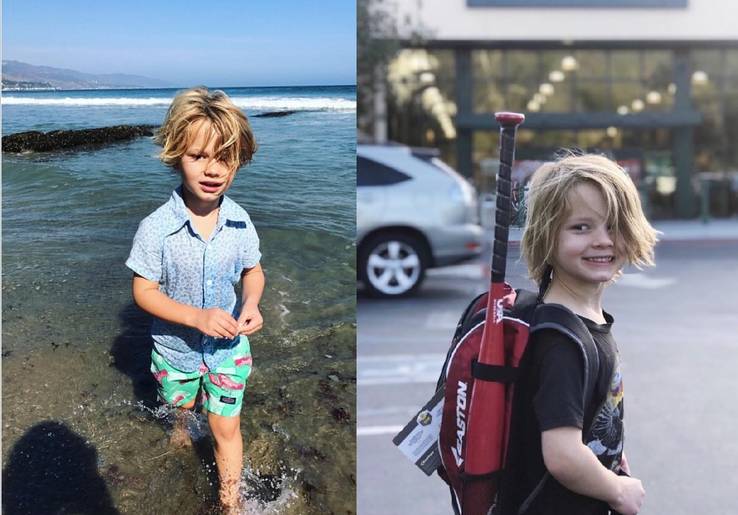 This adorable bunny is the son of fashion mogul and singer Jessica Simpson and former NFL player Eric Johnson. Grandpapa Joe Simpson posted on Twitter that he feels "very blessed to celebrate the birth of my new grandson."
Since the birth of Ace Knute, the media had been wondering what his name would be. And when the lucky parents announced what his name is, people were a bit puzzled. While Ace sounds normal and common, Knute, or Ka-nute if would pronounce it, is the odd one. To relieve us from this bewilderment, the parents explained to Us Weekly that Ace's middle name was given to him to honor Eric's paternal grandfather, Knute Johnson.
Ace's older sister, Maxwell Drew, was also named in this attitude. Maxwell is Eric's grandmother's surname and Drew is Jessica's mom maiden name. Ace Knute and Maxwell Drew are absolutely cute names. Not too odd and crazy compared to other Hollywood celebrity baby name such as their cousin Bronx Mowgli Wentz.
But for an FYI fact about this fashionable family, did you know that Maxwell Drew and Ace Knute are only seven months apart? Jessica announced in public that she was again pregnant to their second baby just 7 months after giving birth to Maxwell.
4

Busy Phillips: Birdie Leigh
Birdie Leigh is Busy Phillips and Marc Silverstein's first daughter. Like her mom, Busy Phillips, Birdie also has a unique name for a human being. When asked by Hollywood Life about the story behind their daughter's name, she said, "I did know that when we named her, I wanted to make sure that if we had a nickname that we wanted to call them, that we just name them that nickname. Because that's what I dealt with my whole life."
While her husband is the one choosing the names, Busy also has a lot of influence when naming their children. "Busy is a nickname for Elizabeth. It was the bane of my existence growing up that I would always have to explain to people, 'Yes I know it says my name is Elizabeth, but I go by Busy.' And people would go well that's weird. It was a constant conversation that I had to have," she continued.
Birdie is named after Lady Bird Johnson, which the couple thought that they "nailed" in naming their first born. However, they also felt slightly unsure on what Birdie's sibling ought to be named. They need to come up with name as cute as their first daughter's.
3

Busy Phillips Again: Cricket Pearl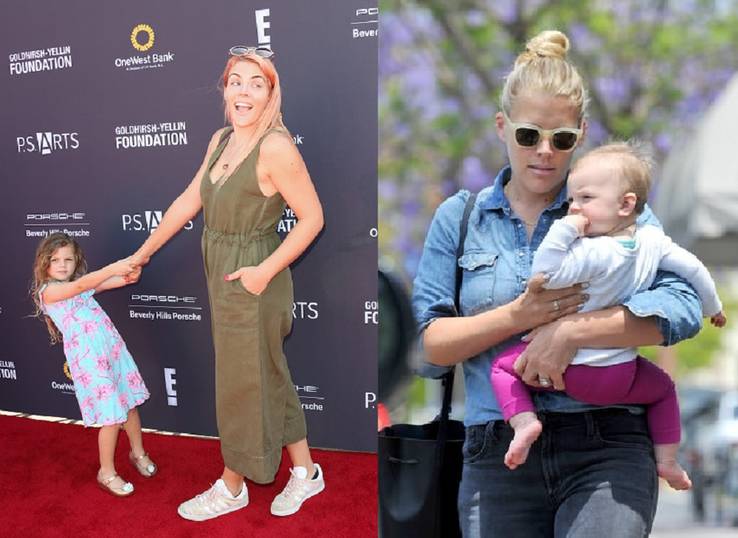 And so she came. Birdie's little sister, Cricket. It was again thought by her father, Marc Silverstein. The former Dawson's Creek actress told E! News about how they decided to name their second child.
After giving birth Cricket, she doesn't really have a name for over a week. "We were sort of panicking. We had these other, more normal names picked out and none of them suited her. When we were having our second kid, [Birdie] is a hard name to follow. Because you can't just name your second kid Linda. You have to give her her own unique take on a name. We had a lot of names on our list. My husband and Birdie were really pushing for Cricket the whole time. They loved it."
She began explaining why name Cricket is so special to her husband. She said, "He just loved that name. He's like, 'Cricket is the coolest girl in school. She's like the camp counselor that you have a crush on. I think he secretly had a crush on a girl named Cricket when he was in high school."
Although their names were precious for the two parents, Busy said, she sometimes had to defend her daughters because of their names.
2

Bear Grylls: Huckleberry and Marmaduke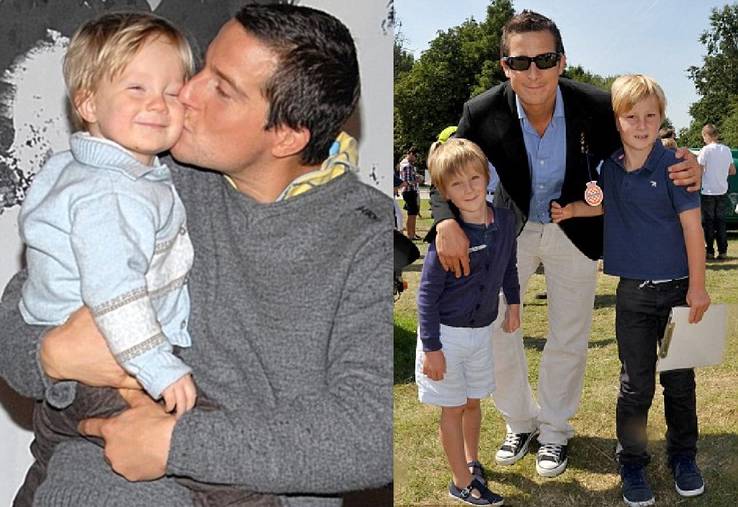 Huckleberry and Marmaduke are two out of the three sons of the oh-so famous British adventurer, Bear Grylls. While his first born with wife Shara has a pretty ordinary name, the other two lasses have rather interesting ones.
Bear, whose real name is Edward Michael Grylls, did not really give the public an explanation as to what had inspired the couple to name their two children that way. All he ever stated was, "Jesse, Duke and Huck! Won't that be great when they're 18?!" he told CBB. In fact, like the British Royals, these two boys have three names attached to them – Huckleberry Edward Jocelyne Grylls and Marmaduke Mikey Percy Grylls.
While the Man VS Wild presenter doesn't talk much about his kids, he said that didn't want his three boys to lead a boring life. He said, "It's great that they might know how to take the door off a helicopter and deal with a snake bite, but it would be really great if they focused a little more on the mathematics." However, thinking about the real world, he said, "'But getting the balance right is hard. Do I want them to grow up to be me? No, actually. I'm unemployable in the real world. I don't want that for them.'"
In case you are wondering why Bear is popularly known as Bear, his sister gave that nickname to him when he was just seven days old.
1

Sylvester Stallone: Sage Moonblood And Seargeoh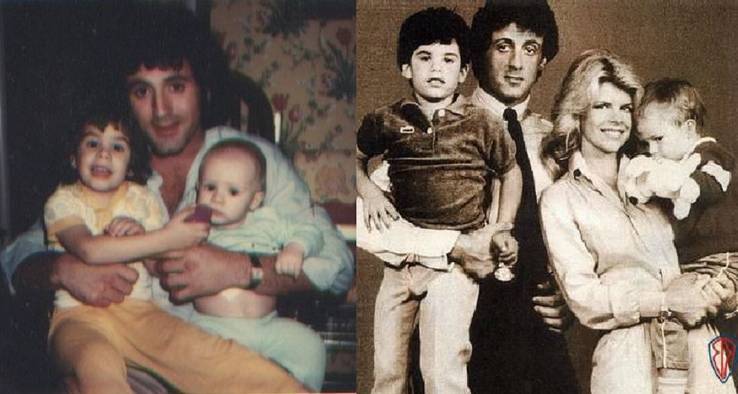 One of Hollywood's premiere actions stars way back when is Sylvester Stallone. The man that played Rocky and Rambo isn't one to shy away from action scenes though as despite his age, Sylvester still manages to shoot some over the top scenes to satisfy fans of high-end movies. Aside from being an active actor in the action film industry, Sylvester is also a family man. He's a father of 3 beautiful daughters named Scarlet Rose, Sophia Rose, and Sistine Rose. Their names are pretty simple and it matches the alluring beauty of the Stallone sisters but it seems like Sylvester's sons got the short end of the stick.
While he named his daughters rather simple, he named his sons Sage Moonblood and Seargeoh respectively. To be fair, Sage Moonblood does sound pretty cool but it also sounds like name that better fits from the days of yore. As for Seargeoh, we're still thinking of ways to pronounce this very hard to read and very hard to spell name. We're actually very excited to see what name he comes up with if he happens to have another baby boy. Lucky for the Stallone boys, their father's good looks passed onto them without a hitch.
Source: Read Full Article