When people have a dream about becoming world famous and finally getting their big break in the entertainment industry, they undoubtedly think that their own merits and skill will help to separate them from everyone else. Yet, that hasn't always been the case for some celebrities. People often criticize Hollywood for the fact that so many starlets have the same look and there is a running joke that everyone must be all using the same plastic surgeon. Yet, it's interesting how many celebrities are actually mistaken for one another and it's not just because of one specific look.
From A-list actors with a myriad of roles under their belt and huge accolades throughout their careers to up-and-coming actors that are lucky enough to get compared to some of the biggest names in Hollywood, it seems like the public doesn't have the best skills in recognizing some of the famous faces in Hollywood. To be fair, it can be difficult to differentiate all the many celebrities from one another when there seems to be an ever-evolving door of celebrities making their way into the public eye. From reality stars popping up out of nowhere to young actors branching out on their own, it can be difficult to get everyone's name straight. Yet, some of these celebrities have had some embarrassing encounters with people that have confused them for someone else. Check out our list of the 16 celebrities that constantly get mistaken for each other and see if you can differentiate them.
16

Zooey Deschanel and Katy Perry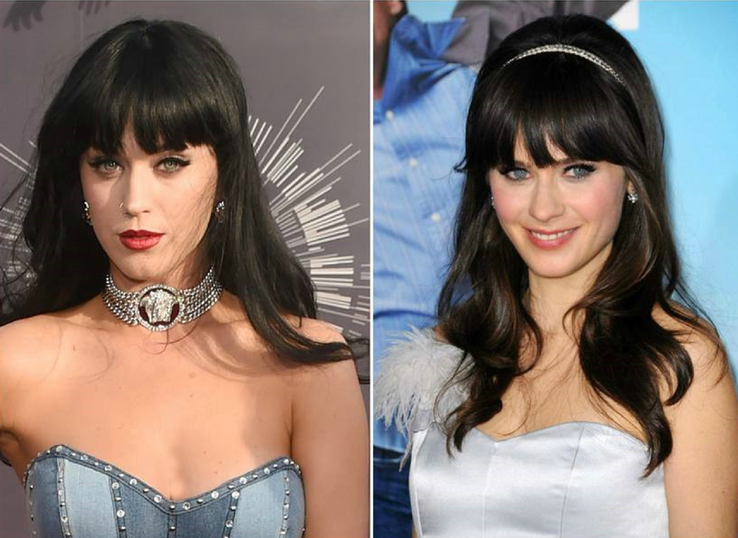 With Katy Perry and Zooey Deschanel both having dark hair and sparkling light eyes, it's not surprising that people would make comparisons between them. There are numerous photos online that put their photos side by side and really showcase how similar they look in their facial features, beyond just the dark hair and eye color. Neither of them have a small button nose but there is something very distinctive about their noses that really have similarities with one another. Neither of them have overly plumped lips and they also have a very similar shape to their eyes.
To make things even more interesting, both of them have had an influence on the fashion world, whether it's been Katy Perry's outlandish and over-the-top looks or Deschanel's praise over her quirky and feminine style. In 2012, Zooey Deschanel was nominated at the Teen Choice Awards for the Red Carpet Fashion Icon Female for the year and Katy Perry is constantly starting trends in the world of fashion. Deschanel also teamed up with Tommy Hilfiger to create a capsule collection to infuse a mod-inspired style with nautical elements. With both of these women being a force to be reckoned with in both music and fashion, it's interesting that they look so similar as well.
15

Bryce Dallas Howard and Jessica Chastain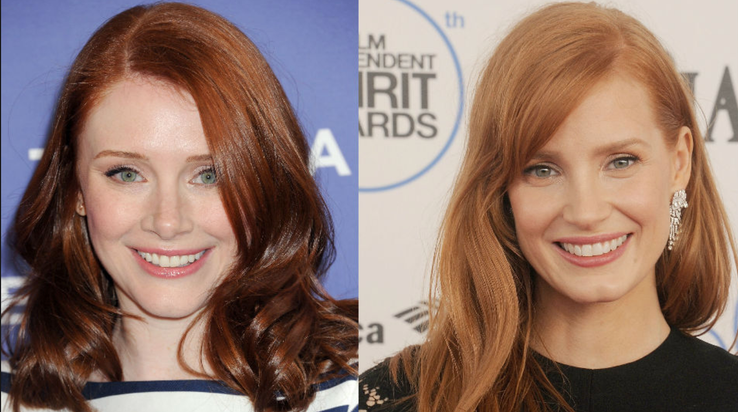 As the daughter of the famed filmmaker, Ron Howard, it wasn't that big of a surprise that Bryce Dallas Howard was choosing to embark on a career in the entertainment industry. She starred in a number of roles but it seemed like it was the vampire character, Victoria, in The Twilight Saga that really made people sit up and take notice her acting career. She replaced Rachelle Lefevre in the role and it wasn't long before she was starting to be seen in a number of other hugely successful films. Yet, she wasn't the only redhead that was starting to make a name for herself in Hollywood since Jessica Chastain's career had an upward trajectory as well. Both of these stunning redheads were starting to become a main figure on the red carpet and there were some that couldn't help but remark on how similar they looked to one another.
There was even an online video that imagined Howard bemoaning about the fact that her famous lookalike was doing so well entitled, "Jessica Chastain: The Musical (Bryce Dallas Howard)."
Howard talked to reporters about it during the premiere for Jurassic World and stated, "My friend emailed me about that video yesterday, and it had just posted two days ago. I was like, 'This is brilliant!' And he said, 'You should totally do a Dubsmash,' so we did it."
14

Jeffrey Dean Morgan and Javier Bardem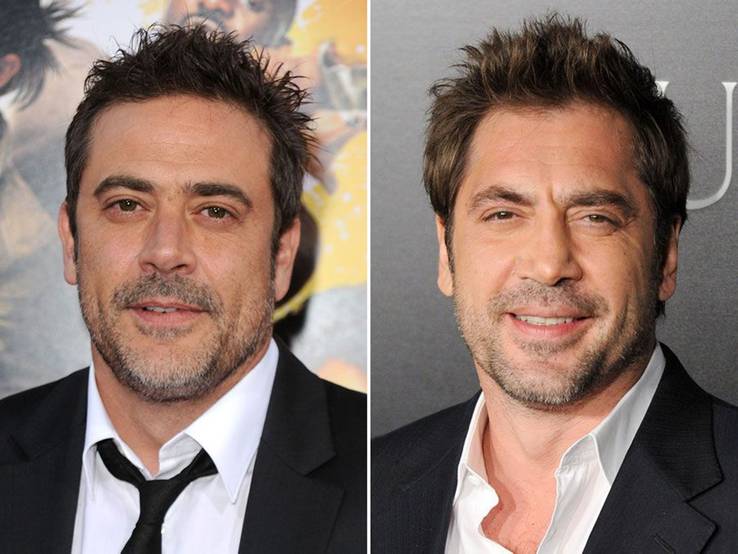 With Javier Bardem being an acclaimed Spanish actor, it's interesting how similar his physical features are with the American actor, Jeffrey Dean Morgan. They often wear their hair in quite a similar fashion, from their tousled locks to their slight beard. They both have a distinct nose, almond-shaped eyes and a similar shape to their mouth. On top of their incredible similarities in their facial features, they're both seen as hugely talented actors. Javier Bardem has won a huge gauntlet of various awards throughout his incredibly successful career and even earned himself an Academy Award for Best Actor in a Supporting Role for his character in the 2008 film, No Country for Old Men. While other actors can find themselves pigeonholed by playing such a memorable character, Bardem just seems to continue his success on the big screen with roles that have really solidified him as a coveted leading man in Hollywood.
Another interesting thing about these two celebrity lookalikes is the fact that both of them are known for expertly portraying "the bad guy."
Bardem has done it on a number of occasions, from No Country for Old Men to his villainous role in the Bond film series. Jeffrey Dean Morgan really showed off his "bad guy" side in his portrayal of Negan in the hit TV series, The Walking Dead.
13

Leighton Meester and Minka Kelly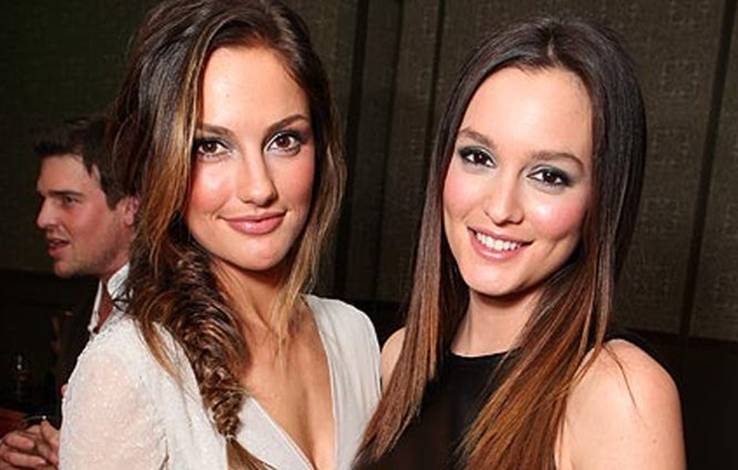 Leighton Meester started making a name for herself as a television actress and many people remember her best for her role in the hit TV series, Gossip Girl. Yet, she quickly proved that she wasn't just another sitcom actress and has starred alongside some of the biggest names in Hollywood. One of her most memorable roles on the big screen was when she starred alongside Gwyneth Paltrow in the hit film, Country Strong. People loved seeing her portray the up-and-coming country star and there was high praise about her ability to hold her own against the Academy Award-winning actress, Gwyneth Paltrow. One of Meester's more interesting roles came when she starred opposite Minka Kelly in the 2011 film, The Roommate.
There had already been a few headlines regarding how similar these two brunette actresses looked so much alike but it was never made so evident than when they appeared together in this big-screen thriller. Many people were comparing the film to an updated version of Single White Female since the actresses really did look a lot alike but the college dorm twist put a great spin on it that really drew audiences to the movie theater. While people often get these two starlets confused, it can't be that bad if they are both considered real beauties in Hollywood.
12

Logan Marshall-Green and Tom Hardy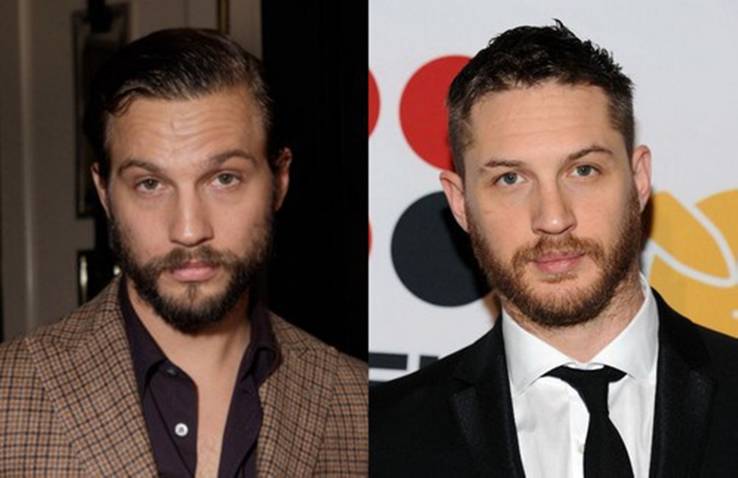 Tom Hardy is a British actor that made a huge name for himself starring in TV roles in The Virgin Queen and Wuthering Heights. Once he started appearing on the big screen, people were amazed at how he could truly transform himself to the various characters he portrayed in film. From his role in the period romance film, Marie Antoinette, to the way he bulked up in the boxing film, Bronson, audiences truly respected Hardy for his ability to truly become the character he portrayed. On top of that, Hardy proved that he had a wide range of different characters he could portray, from the various action roles to the romantic comedies.
While he was able to transform himself in various roles, his red carpet look was enough to bring millions of female fans to put him at the top of their favorite celebs list. Yet, it's interesting how Tom Hardy's look isn't absolutely singular to him. Logan Marshall-Green is an American actor that people can't help but compare to Tom Hardy due to their similar facial features. Logan Marshall-Green has also starred in a number of different roles, with many people thinking of him as an up-and-coming actor. Yet, he's starting to garner more attention on his own merit with the roles he's played in films like Spider-Man: Homecoming and Prometheus.
11

Erin Andrews and Beth Behrs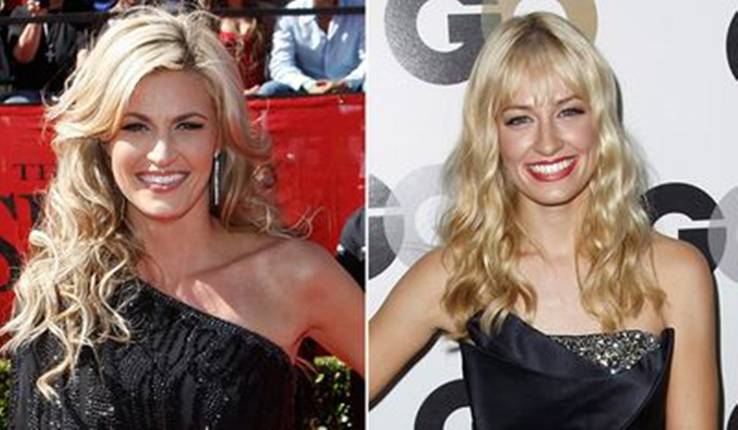 Although Beth Behrs has had a few roles on the big screen, people don't generally think about the 2009 film, American Pie Presents: The Book of Love, or Monsters University when they think of her acting career. She's seen more as a television actress, with her most famous role being the character, Caroline Channing, in the TV sitcom, 2 Broke Girls. After 2 Broke Girls ran its course after a successful six-year run, Behrs made another appearance on a hit sitcom when she appeared as the new love interest for Raj in The Big Bang Theory.
While she didn't have a huge role in the series, it gave audiences hope that she would again find her place on a regular series on TV. The interesting thing is there is already someone that looks so much like her that can be seen regularly on television and that's the American sportscaster and television personality Erin Andrews.
She made headlines when she was forced to battle a case regarding secretly being taped without her consent inside her hotel room, which ended in her favor. People were extremely sympathetic for her situation and she ultimately landed a hosting role on the hit reality dancing competition series, Dancing With the Stars.
10

Amy Adams and Isla Fisher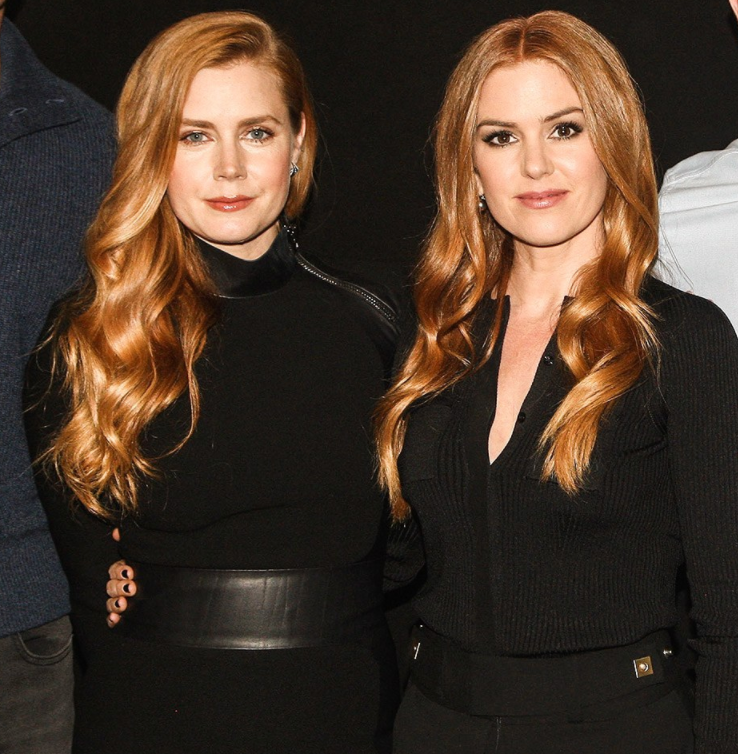 Isla Fisher is a beautiful redheaded actress that has starred in a number of roles on the big screen, with many people thinking of her more as a comedic actress. One of her most memorable roles was in the 2005 film, Wedding Crashers, and people still remember her comical role as the possessive and obsessive girlfriend for Vince Vaughn. Many people have compared her look with the redheaded actress, Amy Adams, which is actually a huge compliment to her. Amy Adams is seen as a hugely successful and talented actress that has starred in a number of blockbuster films throughout her lengthy career. While she's proven that she can be amazing in a romantic comedy through films like Leap Year, she's also not afraid to delve into an emotional role. The year 2016 was a huge year for Adams since she starred in the emotionally charged film Nocturnal Animals, and the futuristic film Arrival.
Isla Fisher also had a role in Nocturnal Animals and she didn't seem to mind the fact that many people had trouble telling her apart from Adams.
When she appeared on the Today show in 2016, she told a hilarious story about when she cut and paste Amy Adams' face on hers for a Christmas card. She stated, "Everyone was like, 'Oh your card was so cute.' I'm like, 'It was a joke! It's not me — it's Amy!"
Featured Today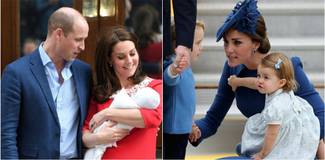 10 Times Kate And William Were Great Parents (10 Times They Dropped The Ball)

25 Blonde Actresses That Hollywood Just Can't Get Enough Of

10 Co-Stars Who Dated In Real Life (And 10 We Wish Would Date)

9

Mila Kunis and Sarah Hyland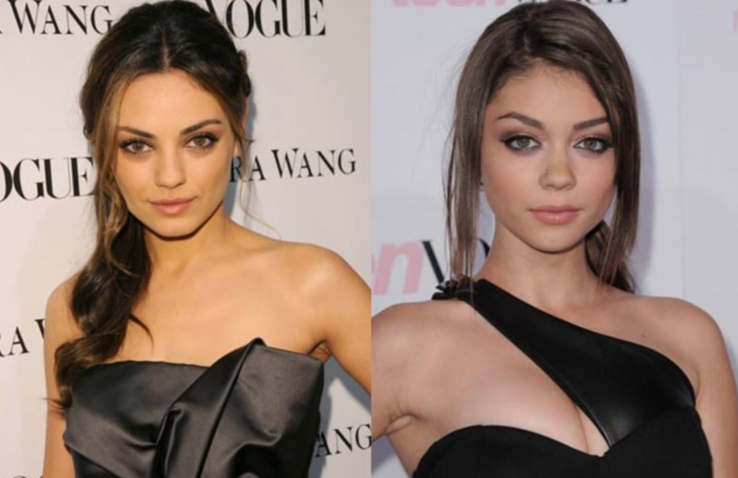 Sarah Hyland is seen as an up-and-coming actress that has already garnered a huge fan base because of her role as Haley Dunphy in the hit TV series, Modern Family. Audiences have practically watched her grow up since the television series first premiered in 2009 and there are high hopes for the career for this young actress. While she's still quite small and short in stature, people can't help but compare her to the beautiful big screen actress, Mila Kunis. Both of them have similar facial features, from the shape of their lips to their distinct cheekbones, to their deep-set eyes.
Mila Kunis actually got her start on the small screen as well and people still remember her for her role as Jackie Burkhart on the TV sitcom, That '70s Show. Just like Hyland, Kunis started off as a frail girl that seemed to have a promising future. She proved herself once she started appearing on the big screen and she's starred in a number of memorable roles over the years. On top of her successful acting career, Kunis is considered one of the most beautiful women in Hollywood and was even named "The Sexiest Woman Alive" in 2012 by Esquire magazine.
8

Nathan Fillion and Jason Bateman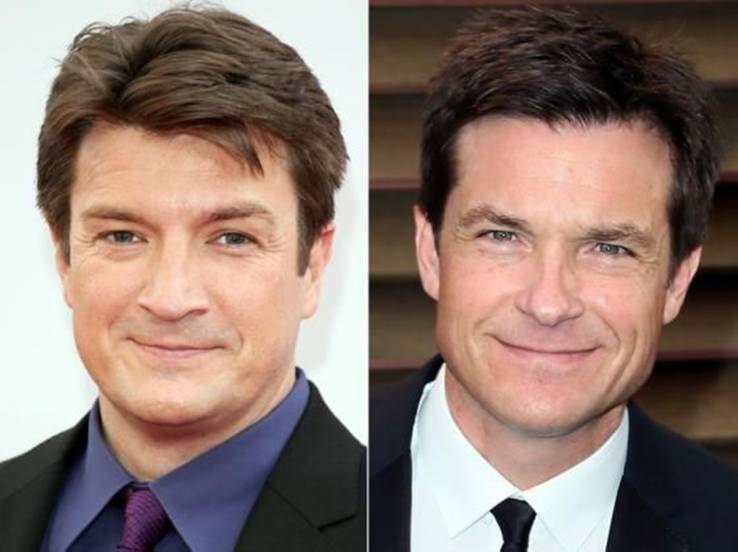 Nathan Fillion is an actor that has starred in a huge number of hit television shows throughout his lengthy and successful career. While other actors would have been happy with just appearing in one hit television show, Fillion has had roles in Buffy the Vampire Slayer, Modern Family, Castle, and Firefly (just to name a few). On top of that, Fillion has also appeared in a number of roles on the big screen and has been thought of as a heartthrob leading man for quite some time. Yet, it's interesting how much he has physical similarities to the actor, Jason Bateman.
The two have actually had some similarities in their professional lives as well since Bateman has starred in a number of hugely successful television shows throughout his career. From The Hogan Family to Arrested Development, Bateman is seen as one of those few actors that never really seems to age or lose his boyish good looks. His most recent hit on television has been the hit series, Ozark, with people waiting with bated breath for the new season to start. Yet, he's also had a huge amount of success on the big screen. With both of these actors being heavily respected and successful in their acting careers, it's actually quite surprising how similar they look to one another.
7

Daniel Radcliffe and Elijah Wood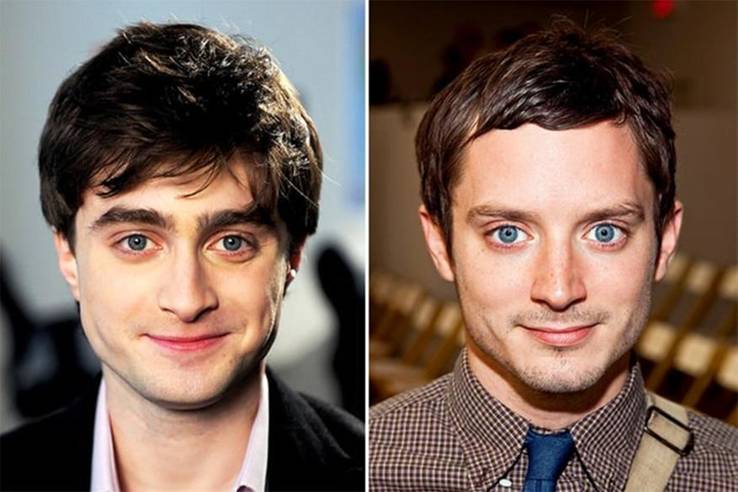 When Elijah Wood was starring as Frodo Baggins in the film, The Lord of the Rings: The Fellowship of the Ring, he was already considered to be a legitimate actor with a number of other roles under his belt. During that same year, the first of the Harry Potter film series was released and Daniel Radcliffe was starring as the first year student at Hogwarts School of Witchcraft and Wizardry. While there was a bit of similarity between them at that time, their true likeness didn't start showing itself until Radcliffe grew a little bit older. Once the Harry Potter film series was starting to come to an end, the public started commenting on how greatly these two actors resembled one another. They also had quite a few similarities in their professional lives since both of them starred as the lead character in two iconic film series. Radcliffe has come out and talked about how he's been mistaken for Wood in the past and even gave an interview on Marc Maron's "WTF" podcast. During one visit, he stated,
"It's 'cause the idea of us is the same. We're both short guys with big blue eyes and brown hair.
And we did fantasy movies that came out at the same time."
6

Ed Sheeran and Rupert Grint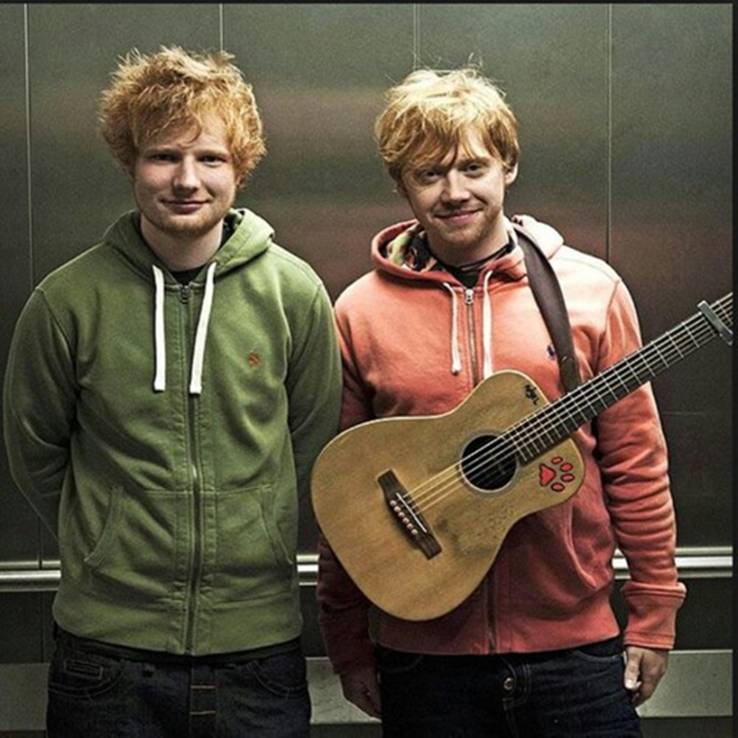 When Rupert Grint appeared in Harry Potter and the Sorcerer's Stone, he was just a small kid that everyone could relate to in some form or another. His Ron Weasley character was Harry Potter's very first friend on the way to Hogwarts School of Witchcraft and Wizardry, came from a big family and had dreams of being more in the grand scheme of things. People loved seeing this redheaded actor grow up in front of the camera in the Harry Potter film series but as he started to grow, people started to comment on a similarity between him and the up-and-coming singer, Ed Sheeran. It wasn't difficult to make a connection between them since they're both from the UK, they both have red hair and they both have similar facial features. Yet, with such a great difference in age, it's surprising that the two have been mistaken for another. In an interview, Rupert Grint commented on how he's often mistaken for Ed Sheeran. He appeared on The Late Late Show in 2017 and stated,
"It's kind of 50/50 now. It's like if someone stops me, it could go either way. I could be Ed or I could be me."
He went on to say, "Singer Leo Sayer came up to me and said he loved my music, of course thinking I was Ed. And I just played along!"
5

Jodie Foster and Helen Hunt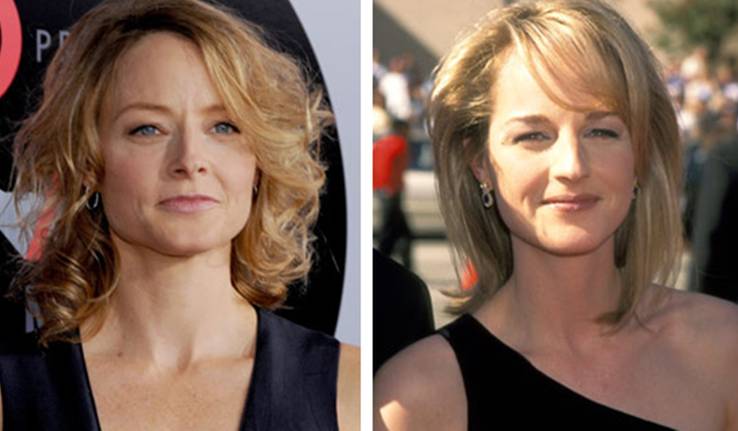 Jodie Foster is an actress that has had a truly incredible career, with a myriad of hugely successful roles over the years. Foster started acting at an incredibly young age and she started appearing in roles that seemed far more substantial than that of such a young age. One of her most memorable roles in her youth was in the 1976 film, Taxi Driver, when she starred opposite Robert De Niro but her success didn't stop there. She went on to appear in a wide array of other films as an adult, including memorable roles in films like The Silence of the Lambs and Contact. With her having so much success on the big screen, it is actually quite surprising that she would sometimes get confused for Helen Hunt. Just like Foster, Hunt has also had a number of memorable roles throughout her career. While many people remember her best for her role in the hugely successful TV sitcom, Mad About You, she's also appeared on the big screen with some of the biggest names in Hollywood. Yet, that hasn't stopped some people from confusing her with Jodie Foster. During one particular tweet, Hunt shared a funny incident when she tweeted, "Ordered my drink @Starbucks Asked the barista if she wanted my name. She winked and said, 'We gotcha' #JodieFoster."
4

Chelsea Handler and Elizabeth Banks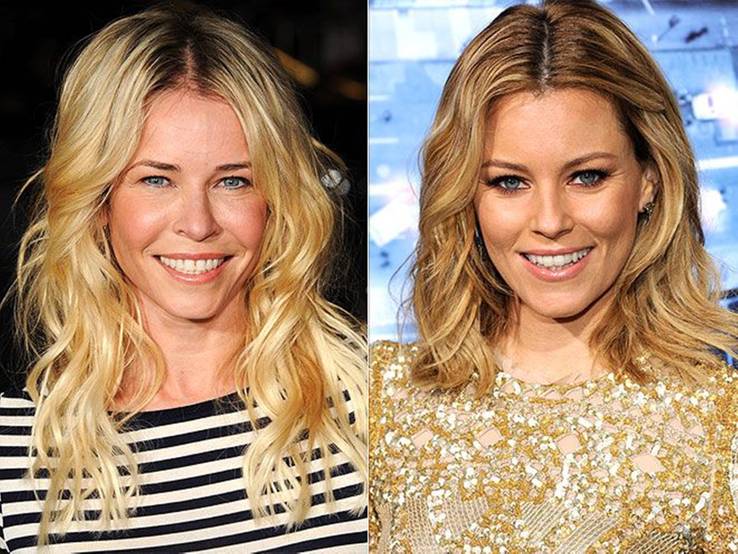 Chelsea Handler is far more than just a female comedian and television personality. While most people know her best for The Chelsea Handler Show and the Chelsea Lately series, she's proven that she's far more than just the funny lady on late night television. As an accomplished author and actress, she's solidified her role in the entertainment industry. She's actually starred in a number of roles on the big screen and even appeared as Reese Witherspoon's best friend in the hit film This Means War. Yet, her success hasn't stopped her from occasionally being mistaken for the actress, Elizabeth Banks. While it's true that both Handler and Banks share some similar physical features, it's interesting how anyone could actually get them confused. Banks is best known for her role as Effie Trinket from The Hunger Games film series, but she's also been featured in a number of other roles on the big screen. In an interview with Fox News in 2012, Banks stated,
"I don't mind being compared to Chelsea Handler at all. It helps when someone says, 'Oh, you're Chelsea Handler,' and I say, 'Yes I am.' That gives me one more gain of anonymity.
We met at a party and were both aware people compared or confused us. She's a great broad, real wit."
3

Meryl Streep and Glenn Close
With Hollywood having a horrible reputation of pushing women out to pasture once they reach a particular age, it's refreshing to see that there are some Hollywood starlets that have been able to break beyond that stereotype. Yet, it hasn't always been an easy road for actresses of a particular age, especially since there are not many of these roles being offered and there is undoubtedly an intense amount of competition for them. In the case of Meryl Streep, it seems like she has been able to let her talent speak for itself and has continued to impress people with her incredible skills on the big screen.
As a multi-Academy Award winner, Streep is seen as an iconic actress that continues to draw in audiences at the movie theater. Glenn Close is also seen as a hugely talented actress, with roles that have completely transformed people's perception of her on the big screen. With both of these actresses garnering a huge amount of attention and acclaim, it's surprising that anyone could confuse them. Yet, Streep talked about this fact in 2012 with The New York Times when she said, "On behalf of Glenn Close and me, who are often mistaken for each other, there should be no illusions. I adore her, and I adore her film."
2

Chris Evans and Chris Pratt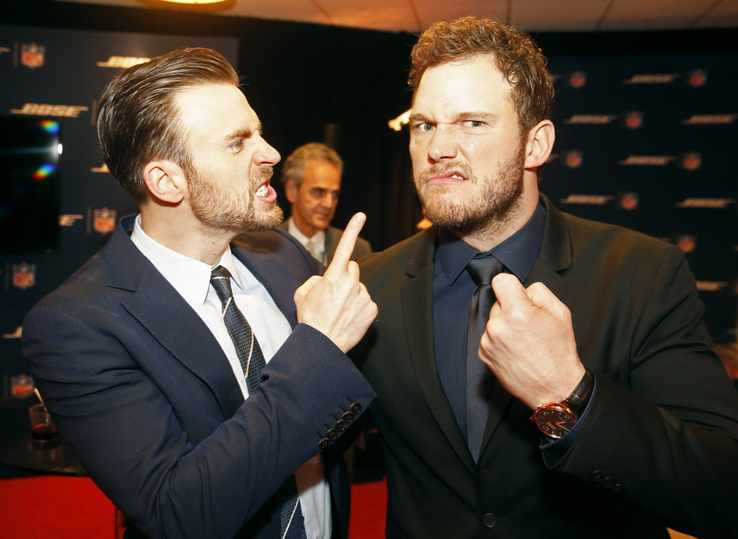 When Chris Pratt was appearing as a TV actor, it was his then-wife, Anna Faris, that was seen as the true star. Pratt's role on Parks and Recreation wasn't exactly leading man material and he was known for being a tad overweight for much of his early career. Yet, his leading man status seemed to change once he was able to go through some incredible weight loss. It didn't take long for him to seem like the next new action star on the big screen and people loved seeing him in films like Jurassic World and Guardians of the Galaxy. Chris Evans, on the other hand, also had a few roles on television but none of them were truly as popular as Parks and Recreation. Instead, he found his real fame through characters he portrayed on the big screen. He appeared as Captain America and starred in the Avengers film series, which is where he eventually teamed up with Chris Pratt.
The two seemed to get along quite well and they even collaborated with charitable endeavors together. Yet, being seen together may have been a ploy to try and get people to realize that they are two different people since that has been a problem in the past.
During an episode of Billy on the Street, Pratt appeared on the show and was actually mistaken for Chris Evans by a fan.
1

James McAvoy and Ewan McGregor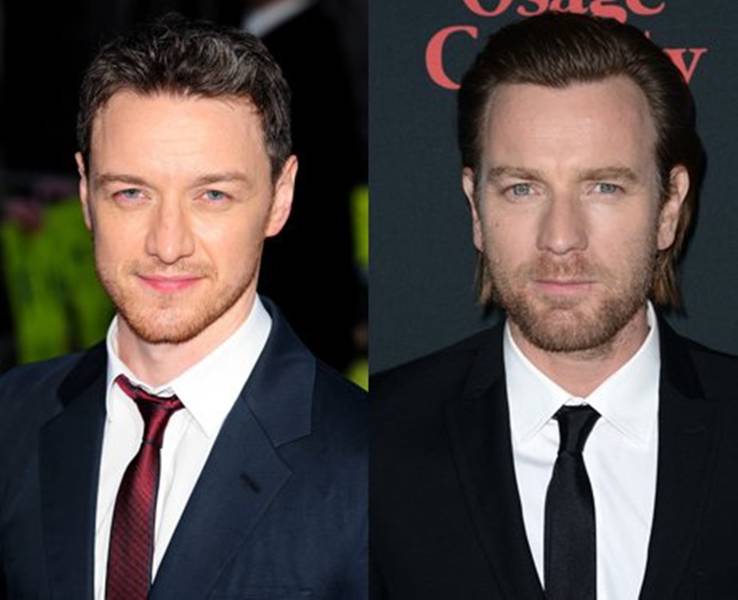 Ewan McGregor is thought of as a hugely talented actor that has appeared in some iconic films throughout his lengthy career. From his role in the Star Wars film series to appearing opposite Nicole Kidman in Moulin Rouge! to his 1996 role in Trainspotting, it seems like there is no role that McGregor can't take on. Yet, this Scottish actor seems to look a bit too much like his younger fellow Scottish actor, James McAvoy. It's interesting that people could even confuse the two since McAvoy has had quite a successful career as well and should be known in his own right. He starred as the young Professor Xavier in the X-Men film series, appeared in a number of period dramas on the big screen and appeared as a split personality psychopath in the M. Night Shyamalan film Split.
Yet, his successes on the big screen and the iconic characters he's played hasn't stopped some people from asking him for Ewan McGregor's autograph, which he has admitted to sometimes giving them.
During an interview on The Late Show with David Letterman, McAvoy told a story about how he was approached by a fan who thought he was McGregor. The fan stated, "I also love your TV shows by the way. Especially the ones when you're on the motorbikes going around the world." McAvoy then realized, "Oh, she thinks I'm Ewan McGregor!"
References: Pop Sugar, Just Jared, People, US Weekly, InStyle, The Wrap, Page Six, Esquire, Entertainment Weekly, Vulture, Just Jared, Huffington Post, Hello Magazine, Zimbio
Source: Read Full Article