Motherhood is an amazing part of the circle of life. It's the beginning of an entirely new life, and in the right hands, motherhood can be quite a sight to behold. All women cope with motherhood in their own different ways, and for celebs who are always under the radar of the paparazzi, motherhood is no laughing matter.
Hollywood moms are very popular among the cameras of entertainment reporters and even more so if they are still at a young age. It begs the question, when is the right age to become a mother? The answer varies, of course, as for many, being a mother at a young age is alright, as long as the woman already possesses the capacity to take care of her child.
Hollywood has its fair share of young mothers, the most recent of which is Kylie Jenner. As one of the showbusiness world's newest mothers, Kylie is learning the hardships of motherhood the hard way. She isn't the first celeb to give birth at a young age though, as there are already a few others before her. Here are other celebs who were already mothers by the time they reached 22.
16

Kylie Jenner, Pregnant At 20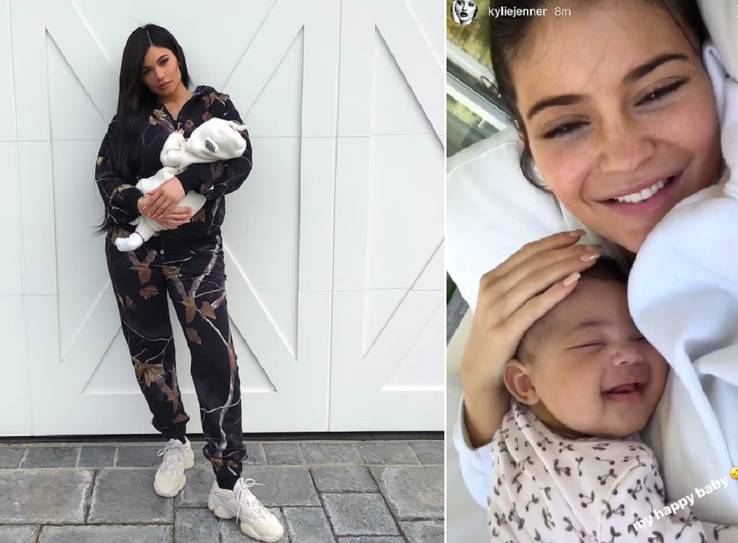 Easily one of the darlings of Hollywood today, Kim Kardashian's sister, Kylie Jenner, is currently under the microscope. All eyes are on her now, not because of an Instagram post or some other controversial matter. All eyes are on her simply because she is taking her first steps into motherhood.
At the age of 20, Kylie already gave birth to her first child. The makeup mogul welcomed Stormi into her world back in February, and the road is good so far for her. Kylie admits that being a mother is hard and she even goes on saying that she has a tough time making Stormi calm after a crying tantrum but she adds that the support she has from her sisters and Keeping Up With The Kardashians co-stars is more than helpful, as she is overwhelmed by the responsibility currently placed on her. Insiders claimed that Kylie is not really fond of motherhood yet saying, "She really hates changing diapers and all of the other things that come with having a newborn and she has already told friends that she is not having another baby ever again." Hopefully, Kylie sees the wonder and beauty of motherhood as she spends more time with Stormi.
15

Fantasia, Pregnant At 17
Fantasia Barrino is one of American Idol's own discovered talents and to this day, she continues to strive as a musical artist. Like most American Idol hopefuls, Fantasia had more than just a dream to pursue as there was a reason she was fighting so hard to become the winner of the acclaimed music show.
Fantasia had a tough life but she never let it stop her career in any way. She had to drop out of high school when she was taken advantage of by a classmate of hers. Then, when she was 17, she gave birth to her first daughter. The singer is known for using her children as inspiration for the songs she sings. Her hit single, "Baby Mama," for instance, was all about the struggles of young mothers across the United States. It was a controversial song, as it was seen as an encouragement for teenagers to act like adults when, in fact, it was written to encourage young mothers to be brave despite their challenges. Regardless of "Baby Mama's" controversies, there's no doubting that Fantasia sees teenage motherhood on a greater note. As a teenage mother herself, there's no one better than her who understands the hardships.
14

Jamie Lynn Spears, Pregnant At 16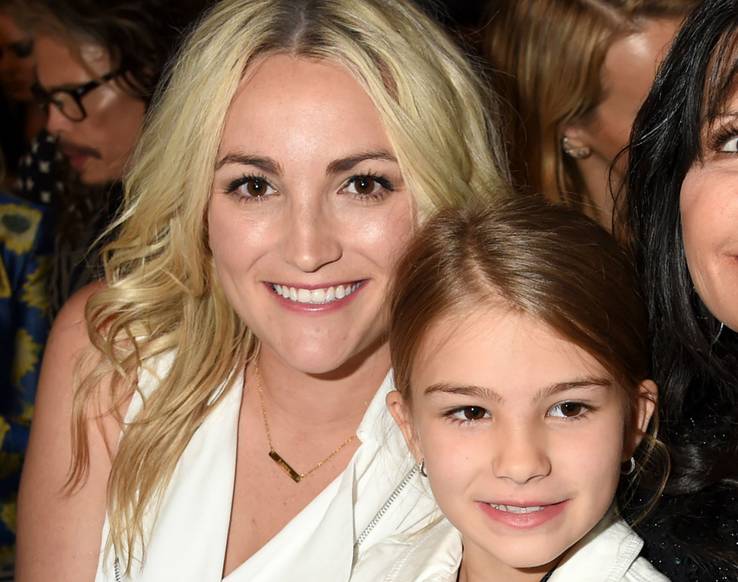 Jamie Lynn Spears is one of the celebrities who got pregnant at a young age— younger than most people could imagine. So many teenage girls looked up to her back in 2005, as she starred in Nickelodeon's, Zoey 101, where she played the main character, Zoey, who is a role model to everyone— a straight A student, very talented, and the perfect sister and friend. However, it seems as though Jamie wasn't as perfect as her Zoey character in real life, as she also makes mistakes. At the age of 16, she got pregnant with her then-boyfriend, Casey Aldridge, and it was so much of a chaos that they had to hire security guards for weeks, which she shared as she opened up to The Daily Mail.
The then-16-year-old Jamie found out that she was pregnant at a gas station because of a friend's suspicion. She was so young at that time that her parents didn't even take her confession via note seriously at first. Now, Spears, who is 27 years old, is happily married to a businessman, Jamie Watson. They started dating in 2010 and got married four years after. He accepted Spears' first daughter and Spears welcomed her second daughter, Ivey Joan, just this month as well.
13

Keisha Castle Hughes, Pregnant At 16
At an early age, Keisha Castle Hughes has already achieved big milestones, one of which was her first Oscar award nomination for playing a part in Whale Rider when she was just 13 years old. She's one of the youngest ever to have such an Oscar nomination but on this list, she takes a spot as one of the young celebrity moms, too. Keisha was just 16 years old when she got pregnant with her daughter, Felicity, with her childhood sweetheart, Bradley Hull.
Like other teenage pregnancies, hers was also looked down by many. The controversy surrounding her pregnancy was just too much that it hurt her feelings and it even made her feel like she didn't deserve to celebrate a blessing— her baby that is. She didn't end up marrying Bradley, but she found a new love and tied the knot with Jonathan Morrison in 2013. However, since 2016, there have been rumors that she and her husband's relationship is not doing well, as she's rumored to be dating James Uddo, a visual effects coordinator and producer. The word began when the James and Keisha started posting photos of them on their social media account. Even so, the tittle-tattle wasn't confirmed by either of them.
12

Whoopi Goldberg, Pregnant At 14 (But Gave Birth At 18)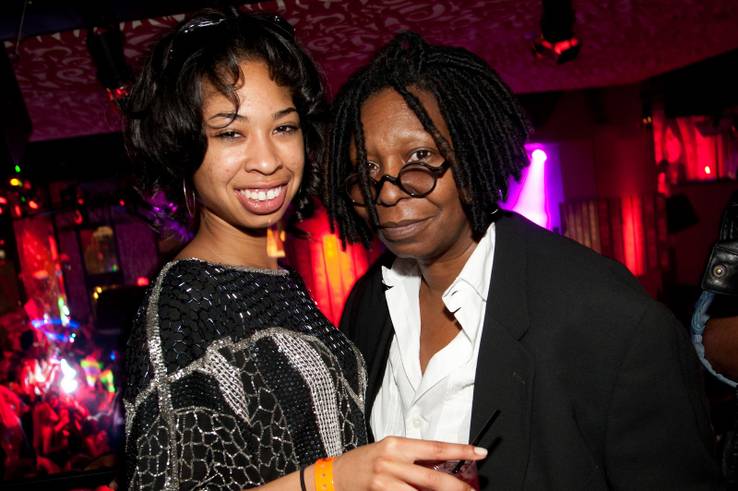 Whoopi Goldberg became a mom very early on compared to the others on this list, technically. She wasn't 16 yet when she got pregnant. She first found out that she was pregnant when she was just 14 years old but did not carry the baby to full term. However, unlike the other teen moms, it seems she didn't have any support from anyone back then so she decided to not have the baby.
Back then, she didn't have much knowledge about pregnancy so she just drank whatever she was advised to terminate her pregnancy. Whoopi got pregnant the year after again and she turned to Planned Parenthood, an organization that provides global health care. She was indeed given help and was even given birth-control pills. However, the pills still didn't work for her and she got pregnant several times. However, when she turned 18, she decided to keep her baby. She gave birth to her only daughter, Alex Martin, who got pregnant at an early age as well.
11

Suzanne Somers, Pregnant At 19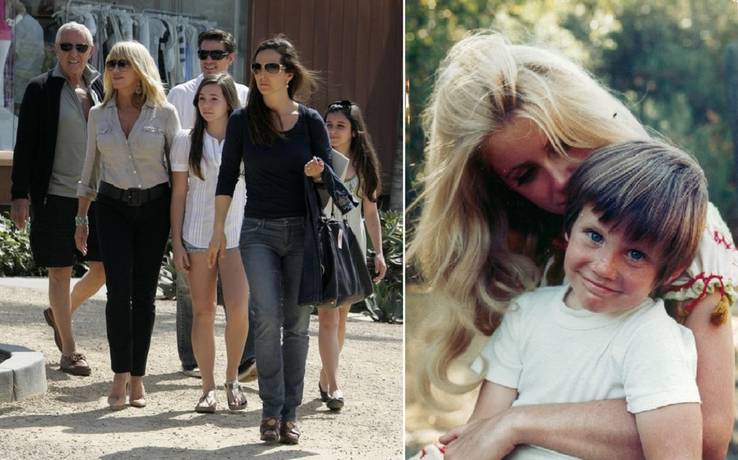 For the longest time, Suzanne Somers has been known as an advocate for women's health and beauty. She has served as a role model for countless women in the United States and as a very independent person, she deserves all the admiration. Somers has been molded to become the woman that she is today at a young age when she had to struggle with the burden of being a teenage mother.
Despite her status as a great mother, Somers is very open about struggling to take care of a child when she was a teenager. In an interview with America's Aids magazine, Somers tells how her son kept her going during those tough times. "As a teenage mother with no way to make a real living and no child support from my son's father, I was always struggling to pay the rent, buy food, buy clothing, just to live a normal life. It was a major struggle but it taught me some great life lessons. Every time I looked at my little boy, I would think, I will make a good life for you…I promise," she said. Now at the age of 71, Somers looks back at her early life with a clear understanding of how her son has helped her all throughout her life.
10

Anna Nicole Smith, Pregnant At 17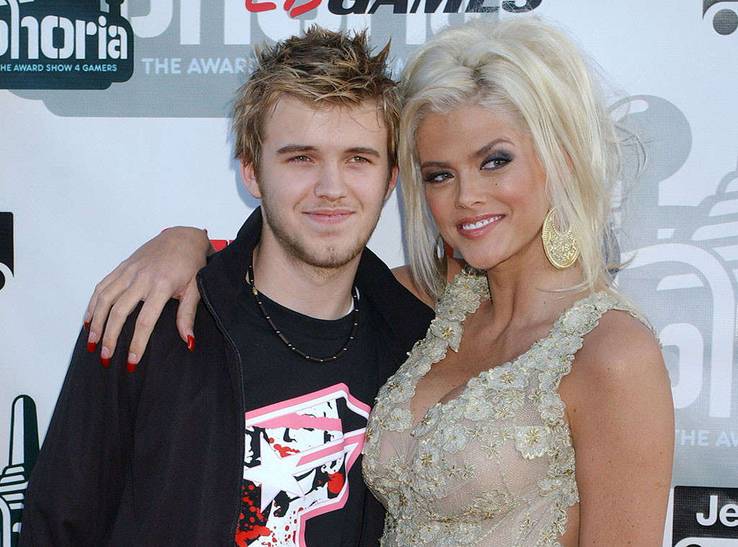 American model, actress, Playboy Playmate, and TV personality, Anna Nicole Smith, was a favorite among the paparazzi. Throughout her short-lived life, Anna was always at the center of controversy and it began when she married the 89-year-old billionaire, J. Howard Marshall. Before that though, Anna married Billy Wayne Smith, with whom she had her son, Daniel Wayne Smith, at the age of 17.
Shortly after giving birth to Daniel, Billy divorced Anna so she had to raise the boy on her own. Things got a bit easier though when she married J. Howard in 1994 and she won her rights to his riches after a long legal battle. It seems as though Anna's life was filled with misfortune, as Daniel passed away at the young age of 20, due to an alleged overdose of illegal substances. He died during a visit with his mother while she was in the maternity ward after giving birth to his sister, Dannielyn. A year after Daniel's passing, Anna soon followed, leaving Dannielyn under the care of her father, Larry Birkhead. Despite the controversies, many claimed that Anna was a good mother to Daniel during his early years but not many really know what happened as the boy grew older.
Featured Today
10 Celebs Who Fit Their Superhero Role (And 10 Who Clearly Don't)

25 Celeb Babies Born In 2018 With Names That Leave Us Baffled

Joey Lawrence Spotted With Pricey Car After Bankruptcy

9

Sofia Vergara, Pregnant At 19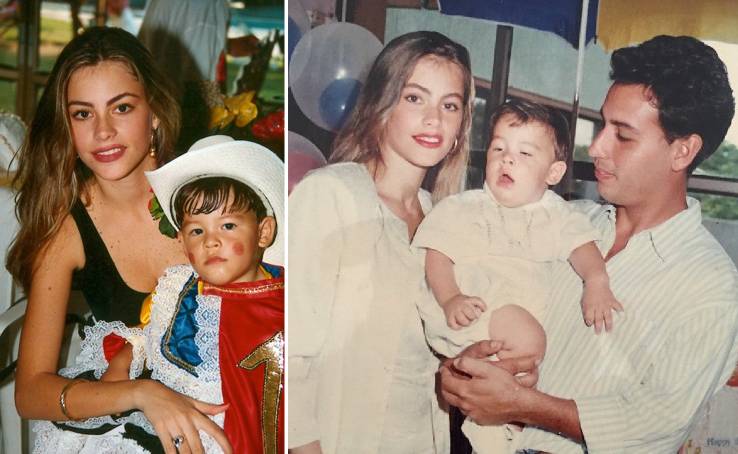 At the age of 45, no one would suspect Modern Family's Sofia Vergara to be a mother at her age considering how young she looks. In fact, she doesn't even look 45 at all. Her biggest fans know that the Colombian actress became a mother at the age of 19 back in 1992 with her high school sweetheart, Joe Gonzales. She raised Manolo with Joe up until they divorced in 1993, and from then on, Vergara and Manolo were on their own. Vergara wasn't as big a star back then so she had to work hard to make sure that the needs of Manolo were met.
Vergara admits that being a single mom back then was hard at times as she was still an aspiring actress. However, she had kind words when raising Manolo, her son. Speaking to Romper, she said "I was really young when I divorced his father, so I raised him trying to set the best example and give him the best that I could. When people compliment me on him, on how well mannered, how charming, funny and well-behaved he is, it makes all the sacrifices worthwhile." Now, she's caring for Manolo with the help of her husband and actor, Joe Mangiello.
8

Solange Knowles, Pregnant At 18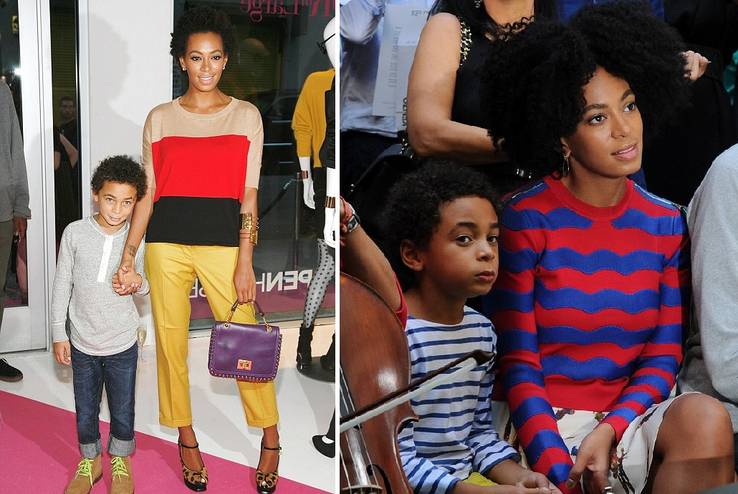 The Knowles family is very talented, as evident by the ability to entertain and perform exhibited by Beyonce and her sister, Solange. Looking at how these two singers are always performing at their best, it's very easy to see what their inspirations are. For Solange, her inspiration came at the age of 18. In 2004, she welcomed her son, Daniel Julez J. Smith, Jr. into the world.
Admittedly, Solange says that it was very tough raising a child on her own at such a young age. Even if she was helped by her then-husband, Daniel Smith, Solange still experienced the troubles of motherhood. Part of what makes teenage motherhood so hard was the judgment she received. In an interview with People, she says "I really hate to tell you this, but sometimes you will still get called these things as an adult, except you will actually embrace some of them," she wrote. "You will learn that these are just words. Words that only have power if you choose to give them power. Every once in a while they will hurt, but you will choose to turn those words into a symbol of beauty." It was all part of the experience for her and she embraced it gracefully.
7

Jourdan Dunn, Pregnant At 19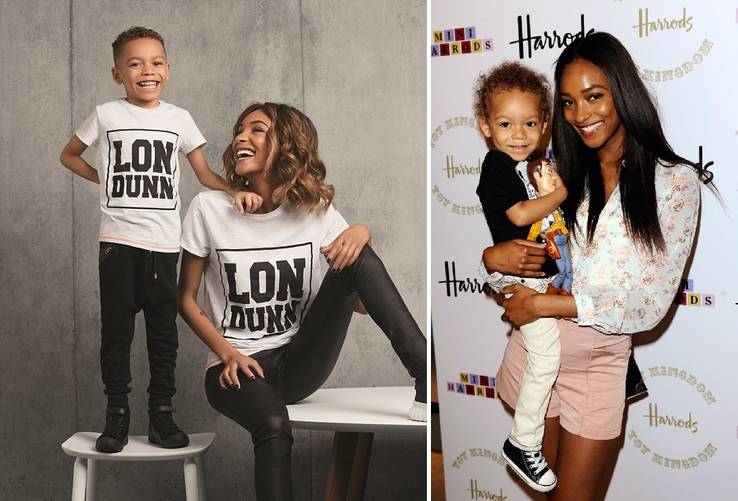 Modeling is tough work, as these runway professionals have to maintain a great physique throughout their career. For many, pregnancy will become a hindrance to their runway career but supermodel, Jourdan Dunn, thinks differently. At the age of 19, Dunn gave birth to her son, Riley.
Even after knowing about the pregnancy, Dunn continued modeling and she only stopped when she was six months pregnant. In an interview with Vogue, she said, "Since Riley's birth, my mum has been there for me 100 percent. I lived on my own until I was eight months pregnant, when she suggested I move back home. My boyfriend was there for the birth and then went to prison for a year, so I really needed the support of my family. Riley had his first crisis at about six months. I was so glad to have my mum with me."After giving birth, Dunn was ready to dominate the runway once again. Dunn never made a big deal about having to juggle motherhood and modeling at such a young age. Because of her amazing mother skills, many consider her as a great model for motherhood and many know that despite her young age, Riley is being raised by a great mother.
6

Bristol Palin, Pregnant At 18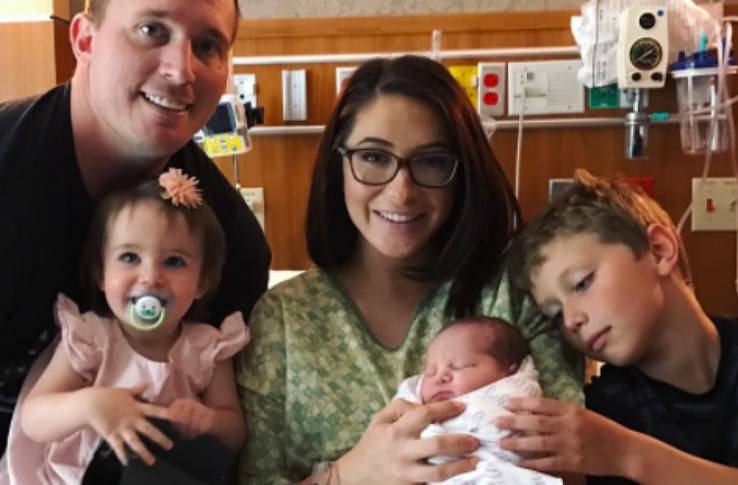 The former Republican vice presidential candidate, Sarah Palin, was a voice for women everywhere. She was always at the spotlight when she ran for the VP seat and it goes without saying that all eyes where on her family back then. For her daughter, Bristol, being under the spotlight wasn't too ideal, especially considering the fact that she was a young mother at the age of 18 back then.
Bristol welcomed her first son named Tripp when she was just 18. The father of her child was her then-fiance, Levi Johnston, but the two went their separate ways. Surprisingly, Bristol was against teen pregnancy as well. In and interview with Today back in 2009, Bristol had some tough words for teenage parents who use their child as an accessory. "It is not just an accessory on your hip. This is hard work." But she called her 4-month-old son, Tripp "not a mistake at all. He's a blessing." She added that teenagers need to be really careful around childbirth as it is no laughing matter, especially for the would-be child. Nearly a decade later, Bristol is now a mother-of-three but this time, she has the support of a loving husband.
5

Naomi Judd, Pregnant At 18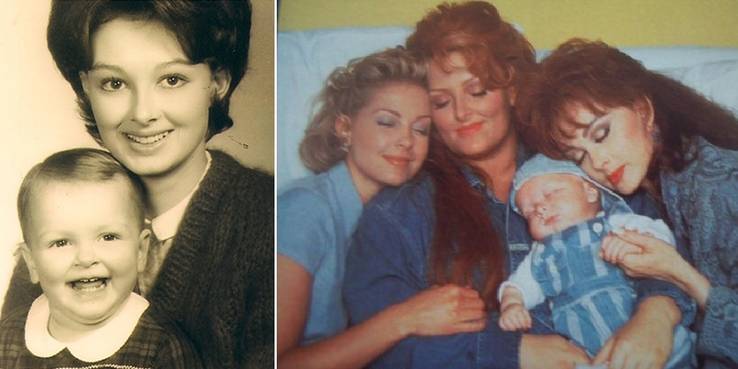 American country singer, songwriter, and actress, Naomi Judd, had a lot to live up to back in her hay day. As one of the top performers in the music industry, she barely had any time for herself, as she had to juggle showbusiness with being a mother to her daughter and The Judds co-member, Wynonna Judd, whom she gave birth to at the age of 18 and at a time when she was at her lowest.
Years have passed since The Judds have stepped away from the limelight and now, Naomi has an estranged relationship with her daughter and co-performer. In an interview with Good Morning America, she revealed that she had a tough time raising Wynonna, as she was depressed and it is a battle that she continues to fight to this day. Before their estrangement, Naomi and Wynonna had a strong mother-daughter bond through their music duo. Raising Wynonna on her own, Naomi was able to show her affection to her daughter at such a young age. Now, many fans are hoping that the once dashing duo are going to make a comeback in the country music scene as their hit songs and amazing melody are forever missed.
4

Roseanne Barr, Pregnant At 17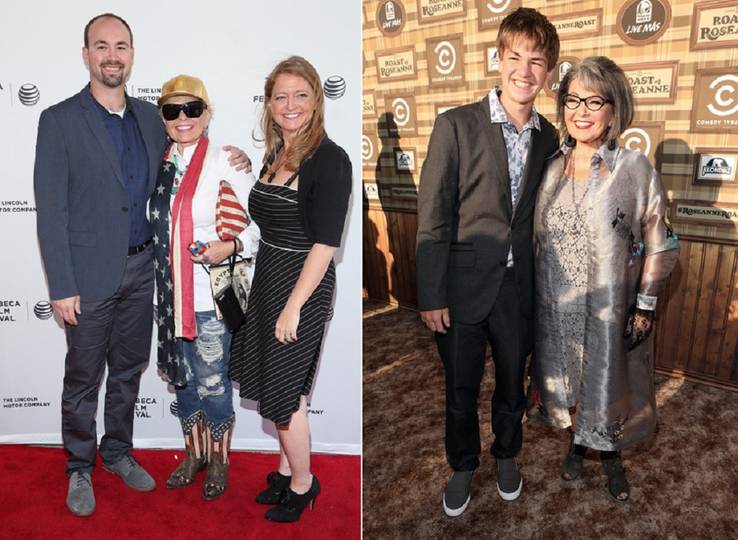 There are some mothers who become overwhelmed at the thought of caring for a child at such a young age, which may lead them to make mistakes they would regret. One of those who got overwhelmed was American actress, comedian, producer, and writer, Roseanne Barr. She gave birth to her first daughter in 1970, a decade before she started her career. Being 17 then, she did not know any better and she gave up her daughter for adoption instead of raising her.
According to Closer Weekly, Barr gave up her daughter, Brandi Brown, when she was born. However, when the actress was already well-off, she knew she had to do the right thing. The mother and daughter were reunited as a family after 17 years. Brandi, of course, was welcoming of her mother who only wanted to bring back the lost time they were supposed to have with each other. Not only that, Brandi had a strong relationship with Barr and she was even made as a production assistant on the hit comedy, Roseanne. Now, Barr keeps a strong relationship with her five children, which just goes to show that mistakes can be remediated. As one of Hollywood's darling mothers, Barr is a model for mothers everywhere, despite her shortcomings.
3

Shirley Temple, Pregnant At 19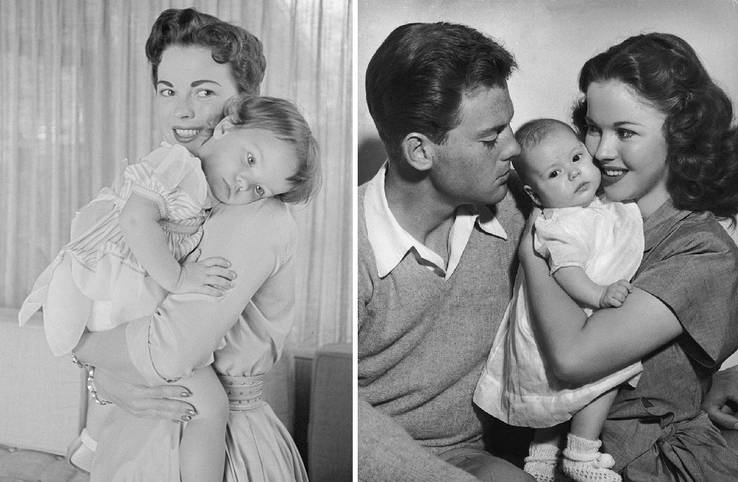 Shirley Temple is one of the legends of American cinema. She started her career at a very young age and, despite her lack of experience, she managed to stand out against her veteran co-stars. She was a massive draw at the box office and perhaps her acclaim as an actress is what people know most about her. What most people don't know about this Hollywood icon is that she was a teenage mother. She gave birth to her first daughter in 1948, when she was just 19.
Shirley married his first husband when she was 17 and two years later, she gave birth to Linda Susan. However, her first husband left her shortly after but she remarried 11 days later to Charles Alden Black. Shirley and Charles had two more children, born two years apart. Her early pregnancy did not serve as a hindrance to her career. In fact, she went on to have an amazing career in Hollywood, finishing films. Her children didn't get into acting though but Lori Black, her daughter, got into the music industry. As a teenage mother, Shirley is best known for her devotion to both her work and family.
2

Aretha Franklin, Pregnant At 13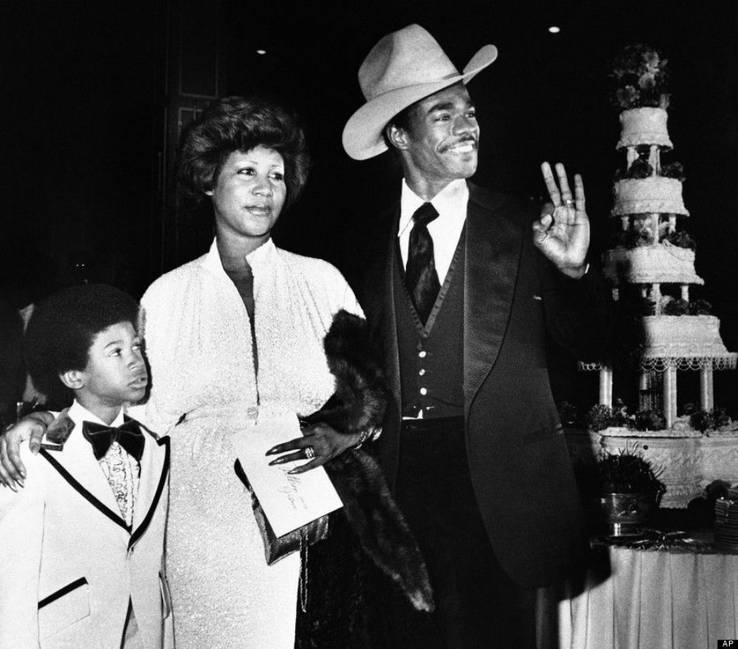 Aretha Franklin is easily one of the most well-known legends in the American music industry. She's mostly known for her songs like "Spanish Harlem," "Think," "A Rose Is Still A Rose," and many others more. Perhaps her inspiration for having to work so hard in her career are her four children. At the very young age of 13, Aretha gave birth to her first child and from then on, it was a hard road.
Aretha became a teenage mother at a time when people looked down on women. For Aretha, it meant she had to face discrimination in the music industry. However, her sheer talent rose through adversity and she was able to sign with labels early on. A year after giving birth, Aretha recorded her own gospel album, thus, showing that she will not be hindered by the challenges she faced. She eventually gave birth to her second child when she was 14. Her family was very supportive of her choices. When she was 18, Aretha allowed her other relatives to take care of her children so that she could pursue her musical career—a choice that changed her life forever— and she went on to have two more children later in her life.
1

Maya Angelou, Pregnant At 16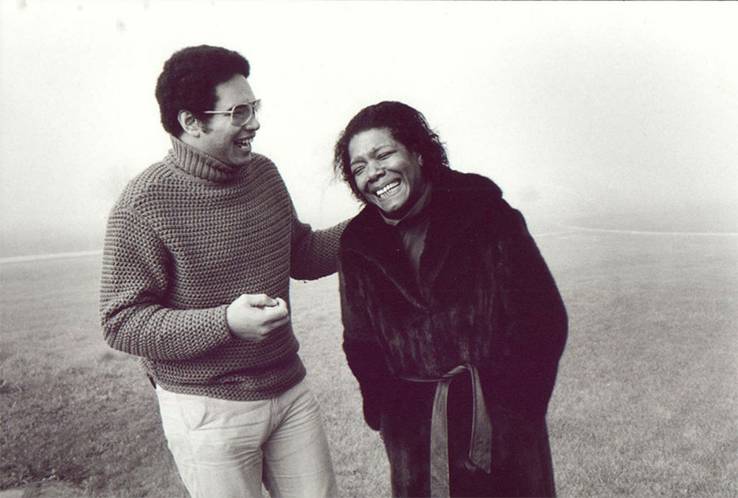 American poet and civil rights activist, Maya Angelou, has been a great inspiration to people worldwide. People have come to know of her life through her literary work and it's apparent that she understood many things in the world. She has been through a lot and one of her early struggles in life was becoming a mother at the age of 16 when she gave birth to her only child, Guy Johnson.
Sadly, Maya became a teenage mother during a time when these group of women where shamed and ridiculed for their so-called "mistakes." To cut it short, Maya had to fight harsh criticism while she was raising her child. However, while the world was discriminating of her, Maya's mother kept her up and running with non-stop support. In an interview with Oprah, she said, "The world would throw me flat on my face with this little baby I'm trying to raise," Maya said. "I would go home to Vivian Baxter. She would act as if it was the best thing that ever happened… She never, ever made me feel that I had done the wrong thing." With the help of her mother, Maya was able to become the excellent mother she was.
References: huffintongpost.com, esme.com, biography.com, closerweekly.com, people.com, today.com, vogue.co.uk, romper.com, edition.cnn.com, dailymail.co.uk
Source: Read Full Article