Some of the best looks ever come from the Met Gala and we can't help but drool over the red-carpet looks. This isn't just any red-carpet event; it's the event that allows celebrities to use their imaginations when it comes to what they wear and sometimes, we have seen fantasy mixed with Disney princess as well as something that can only come out of a religious imagination. The event rarely disappoints when it comes to fashion choices. We know what happened on the red carpet, but what happens during the after parties? That's usually when the celebrities are no longer putting on a show and we see things we might not have seen otherwise. These aren't your parents after parties, and what we mean by that is, no one can hide. With the rise of social media, Instagram, and smartphones, pictures are being take everywhere.
We get to see scandals, poor fashion choices, feuds, and some bathroom selfies. For some reason, that seems to be the place to be if you want to take selfies. So much happens during the afterparty that it's really hard to keep up with it all. If you have ever wondered what goes on during the afterparty, then we have the answers for you. Check out these 19 celeb photos of the Met Gala afterparty we can't get over.
20

Cardi B And Nicki Minaj Hung Out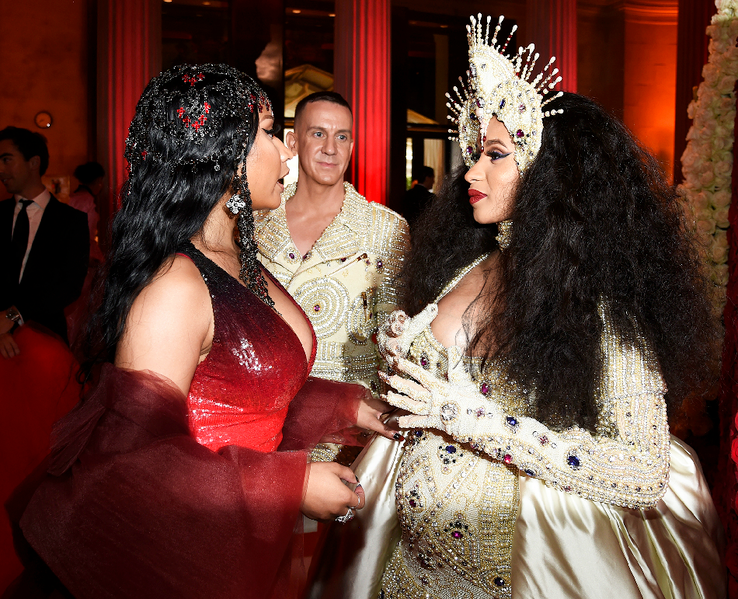 Aren't these two in a feud or is that just what the media wants us to believe? The two rappers have been compared to one another over the years and when Migos' Motor Sport track came out, it had the two female rappers on it ripping each other apart. No wonder we assume the two are in a feud. These two women shared the same track and used it as a vehicle to insult one another. Everyone assumed that the verses were directed at each other because why would we think otherwise, but the women claim that it's just not the case.
"I feel like people just want that drama because it's entertaining,"
Cardi B told Complex, while Nicki addressed all the "beef" rumors during one of her epic Twitter rants. She stated that men in the hip-hop community only make women look like they are attacking each other even though it doesn't happen in real life. It's hard to say what's really going on, but considering these two looked cozy at the afterparty, it's safe to say they are doing okay. They either kissed and made up or there was no feud to begin with.
19

Halle Berry Made An Appearance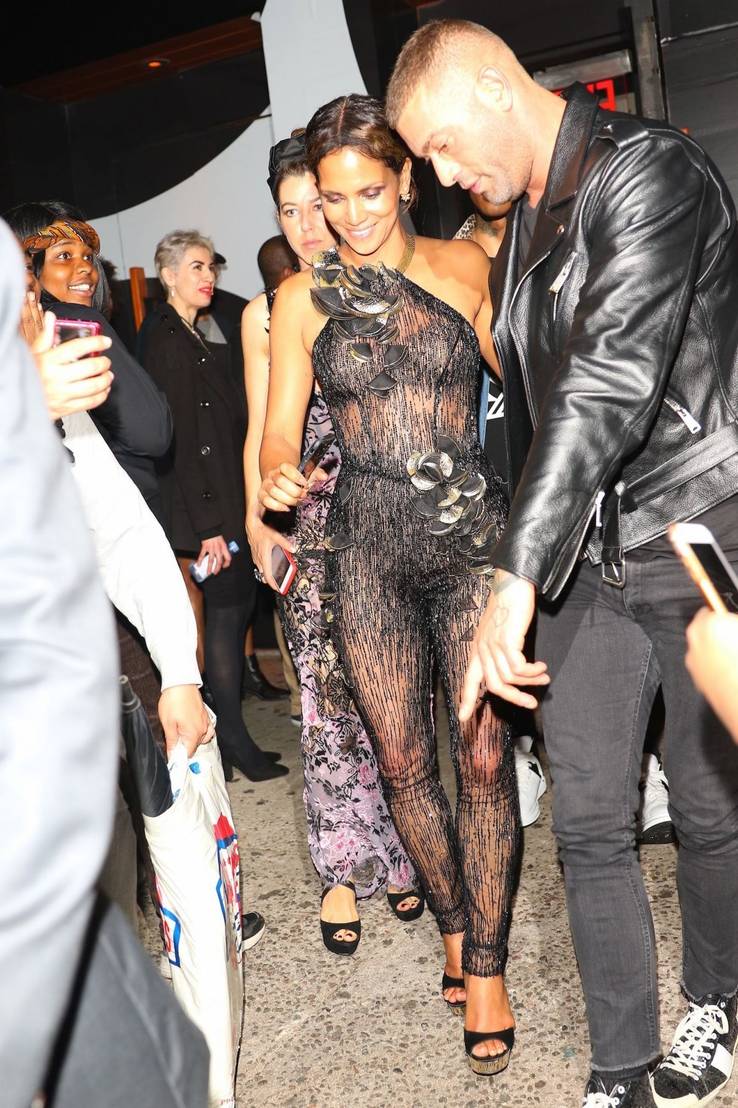 We haven't seen a whole lot of Halle Berry lately. She was in a bunch of films in 2017, like Kings, Kidnap, and Kingsman: The Golden Circle but she has nothing coming out this year and no upcoming projects. She is 51 years old and looks like she hasn't aged one bit. What is her secret? Many people were surprised to see her come out for the Met Gala afterparty and when she did, she came in a foxy see-through dress. How on Earth is this babe 51? When it comes to her career, Berry always wanted to be a painter, not an actress which is very surprising.
"In a perfect world, I would be a painter. I love working with my hands. I don't get to do it as much as I like, but I am finding a way to make more time as life goes on because it's a really great outlet for me to express myself."
Maybe that's what she's doing these days instead of getting on the big screen. Though we don't think that she's given up on Hollywood quite yet, she certainly had a busy year last year.
18

Fashion-Forward Faces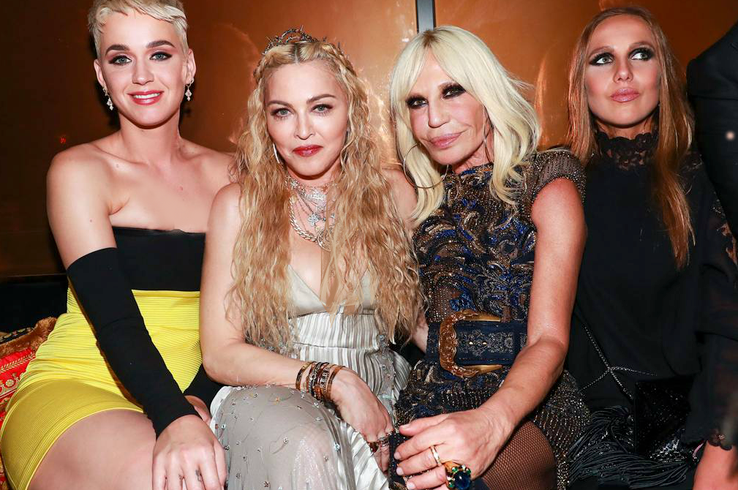 It's a good day when you get these girls all in the same room. We have Katy Perry, Madonna, Donatella Versace, and Allegra Versace. Madonna scared us half to death with her red carpet religious look — we were worried there that we would have to grab a crucifix just to look at her photo. She may have gone completely overboard, but that's generally what people do at the Met Gala. "Iconic Italian fashion designer Donatella Versace confirmed that she's a living legend when she took to the red carpet at fashion's biggest night, the 2018 Met Gala in New York City on Monday night," wrote Time. It was definitely a great night for celebrities to show off their creativity. With the Met Gala coming up, Versace talked about what it means to be a woman in 2018.
"It means to be aware of what's happening in the world and do something about it."
That couldn't be more true, especially, considering the things that happened in 2017 that affected women all over the world. Don't expect to ever see a tell-all book from Versace though, she's taking all her secrets to the grave. "All the mistakes I did in my life, I like to keep them private."
17

Blake Lively Didn't Stay Long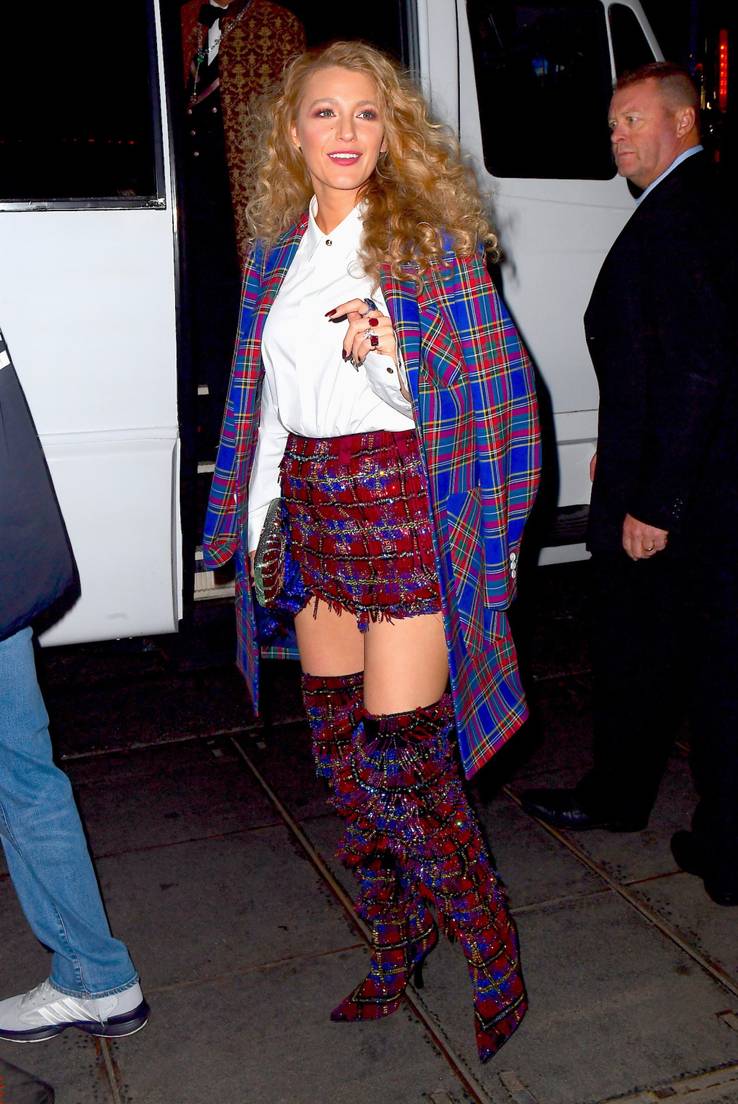 In the past years, Blake Lively has practically become a fashion icon because of her exquisite taste in clothing. Even her red carpet gown was breathtaking, so we were shocked when she showed up with the Scottish-inspired ensemble for the afterparty. She was blinding to look at and we don't know what she was thinking showing up in an outfit like this one. The star showed up to Rihanna's afterparty but left before the singer even arrived at her own party. She obviously decided that she had somewhere better to be at the time. It's best to focus on her dress at the Gala because it was 100% better than this outfit. The red gown that she chose for the red carpet event needed a bus of its own for transportation.
"Spliced with sheer panels on both sides and covered in so many beads that it took 600 hours to embroider the bodice alone, there was no chance that Lively's entrance would go unnoticed,"
Vogue reported. Her entrance at the afterparty didn't go unnoticed either with an outfit like this. Considering all her amazing fashion choices over the years, this outfit was disappointing, to say the least.
16

Emma Stone And Justin Theroux Left Together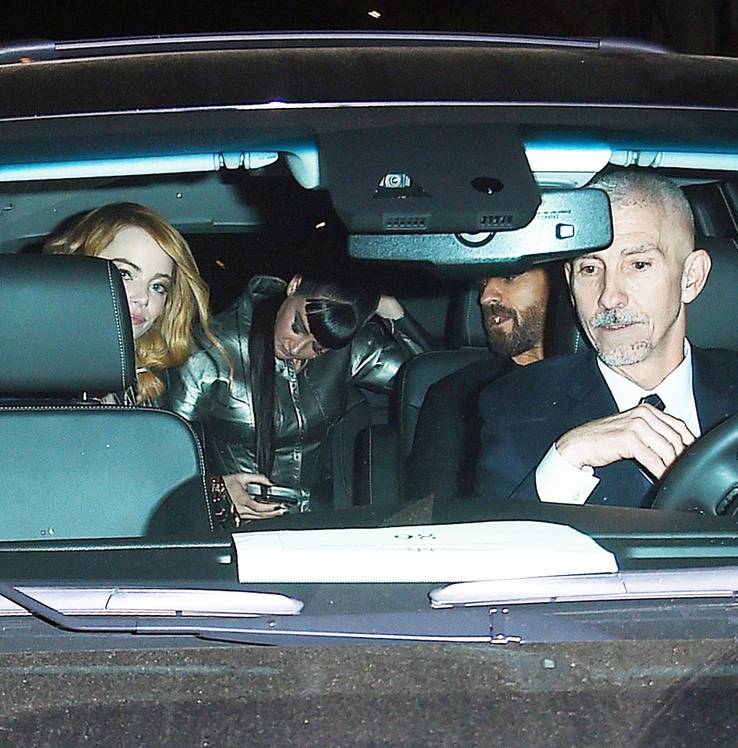 It was reported that Emma Stone and Justin Theroux left the Met Gala afterparty together which and raised a few eyebrows. Is that Emma Stone in the car? We may have to look a bit harder. It would be a little strange if the two are hanging out considering she is supposed to good friends with Jennifer Aniston. The two have been photographed together more than once, so it's not like they just chatted it up at the afterparty. Could the two be starting up something together? Would she do that to her friend? They have been spending a lot of time together and we wouldn't be surprised if they decided to take it to the next level. She was grinning from ear to ear when she left the Gala and we have to wonder what's going on between these two. Maybe she makes him feel young considering there is a 16-year age difference between the two. Theroux sat next to Emma Stone during Louis Vuitton's Paris Fashion Week show and he kept leaning over and talking to her. An alleged insider said, "Justin seemed very into Emma. He kept leaning over to talk to her. It was obvious that he was flirting with her."
15

Rihanna Wore Loungewear To Her Afterparty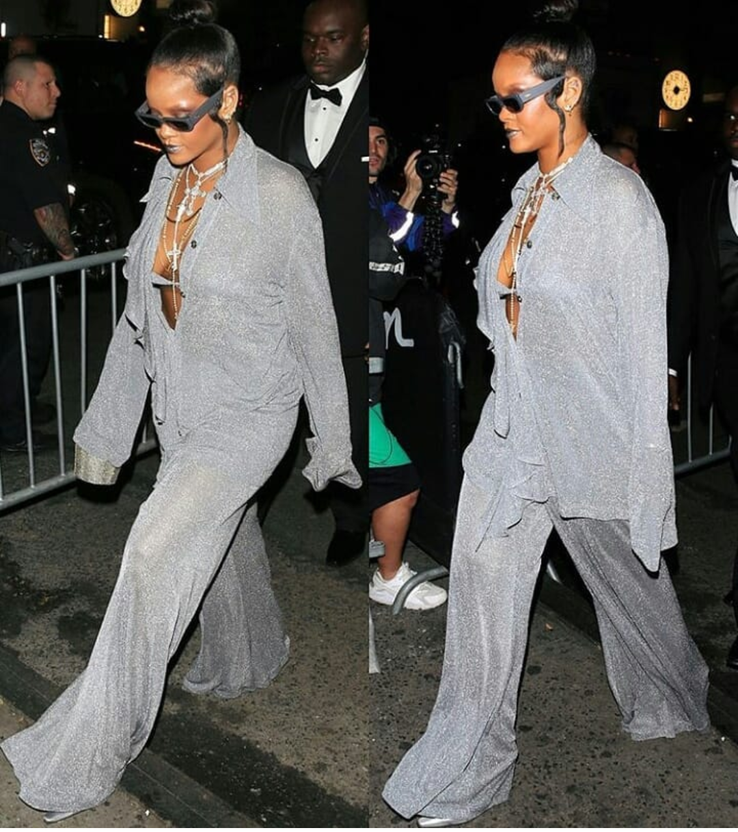 Rihanna seriously blows our minds sometimes with the outfits that she chooses. This outfit totally looks comfy, the kind of outfit you imagine yourself wearing when you are curled up on a couch watching a movie. But this is what Rihanna chose to wear to her afterparty. The one that Blake Lively only spent ten minutes at before making a hasty getaway before the host showed up. When it comes to Rihanna, she is always taking risks when it comes to fashion. She also doesn't care what anyone thinks about what she wears.  "I feel like I'm being watched. Always. Like, I want to tan topless somewhere and I know I probably could never do that. Even if I'm upstairs in my bedroom, and the curtains are pulled, I feel like a paparazzo's outside on a boat somewhere, or somebody's peeping." We definitely wouldn't recommend her tanning topless, but that is the price of being a celebrity.
"Over the holidays, and even during filming, I realized that I actually like my body, even if it's not perfect according to the book.
I just feel foxy. For the first time, I don't want to get rid of the curves. I just want to tone it up. My body is comfortable, and it's not unhealthy, so I'm going to rock with it."
14

Kanye West Wasn't With Kim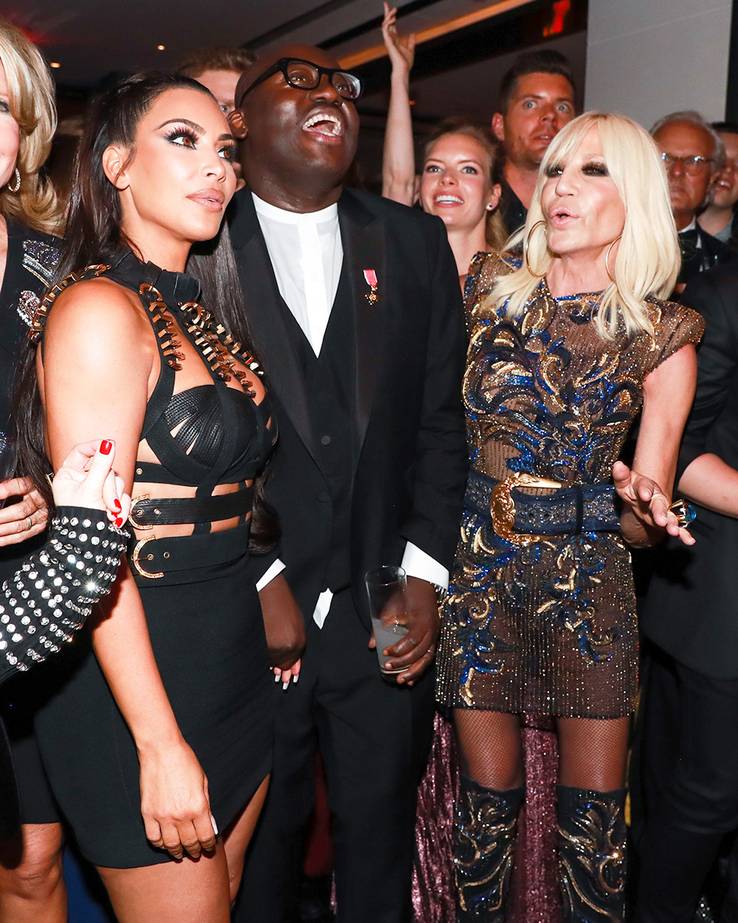 It wasn't so much a photo of Kanye West that shocked us from the Met Gala afterparties as much as it was the fact that Kim Kardashian came to the party without him. Could it be he decided to stay home because he's gotten a lot of bad press over his slavery comments lately? After posting pictures of her Met Gala attire, Kim Kardashian captioned it with,
"Love you babe wish you were here with me, but you're only finishing up 5 albums," Kim replied, using laughing, fire, and heart emojis. Whether that was a cover-up for why he really wasn't there or not is hard to say.
Usually, people use opportunities like the Met Gala to network about their five albums. It's likely that he didn't want to be seen after his controversial tweets about Trump and slavery which has caused many of his friends like John Legend to speak out against him. He certainly didn't gain too many friends after those tweets, so it's likely that he's decided to lay low for a while. That's the problem with having a god complex — you start to get the feeling that you can say and do whatever you want without consequences.
Featured Today
15 Tumblr Posts That Made Us Rethink These MCU Characters

10 CW Co-Stars Who Are BFFs (And 10 Who Can't Be In The Same Room)

20 Things About Supervillain Thanos Not Even Real Marvel Fans Know

13

Jennifer Lopez Made The Party Her Runway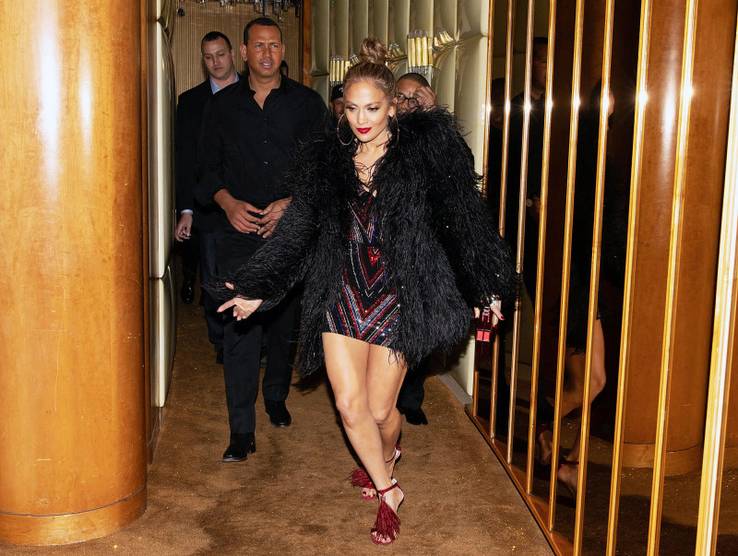 Jennifer Lopez walked down the hallway as she arrived at the Boom Boom Room with her boyfriend, Alex Rodriguez. She looked like she owned the place as she traipsed down the hallways in a short dress. Things still seem to be hot and heavy between these two and who knows what the future holds. Jennifer has already been married multiple times, but she's not giving up on it yet. I do believe in marriage," she told Harper's Bazaar in March. "And I would love to grow old with somebody in a committed relationship. But I'm not forcing anything right now." She stated in the interview that things seem to be going well between her and Alex.
"It's good, it's healthy; we communicate well. We understand each other's lives in a way that most other people couldn't. We both entered the public eye in our early twenties and overachieved right from the start. And that affects every dynamic in your life, from your family to your work to your relationships. We have a similar makeup."
She went on to say that the most important thing to her these days is that she's happy. "When I was younger, I spent a lot of time being half happy and half not happy. I know who I am and what I want. I also know my strengths and weaknesses. It took me a long time to get to a point where I could say something nice about myself. I'm glad I can do that now."
12

2 Chainz Proposed To His Girlfriend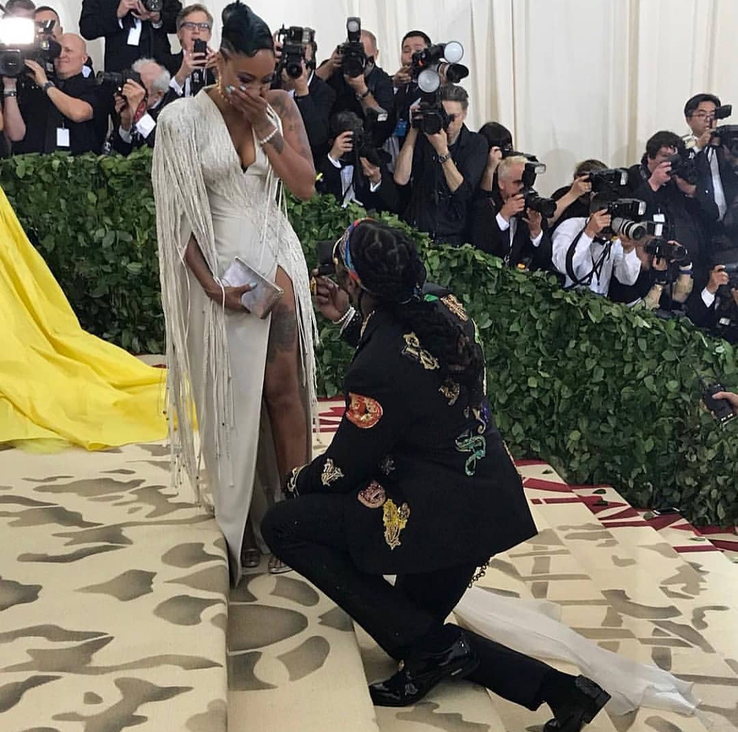 How could we not love a picture like this? Talk about a great way to get attention when you are on the red carpet. If you are looking to cause a scene, then getting down on one knee is the way to do it. 2 Chainz took the opportunity to propose to his girlfriend Natasha Ward as he got down on one knee as she climbed the stairs at the event. She was wearing white at the time which made the moment that much more magical. She teared up right away which isn't surprising at all, she probably had no idea that he was planning such a thing. Complex magazine asked the rapper when he had planned to make the move on the red carpet and he stated, "about a minute ago." You just never know what's going to happen at the Met Gala. It's definitely going to be a memorable event for them from now on. They've been together for a long time now and they share three children by the names of Halo, Heaven, and Harmony. It's just one of those things that can make an event a 100% more memorable and we just love seeing pictures like this, it makes our hearts melt.
11

Jared Leto Took The Theme Seriously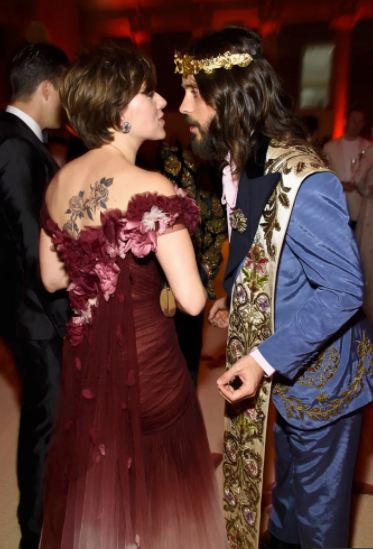 Religious organizations were already up in arms with the theme of this year's Met Gala. They thought "heavenly bodies" was in poor taste because they were using the Catholic religion. That sure didn't stop Jared Leto from showing up to the event dressed like Jesus. It had many fans stating that maybe he had a god complex. He's likely to be the next celebrity meme that's made. There is so much wrong with this photo that it's hard to keep up. He arrived with Gucci designer Alessandro Michele and singer Lana Del Rey who were both dressed to match the actor. There were some people that were disappointed that some of the men hadn't dressed up at all.
"We got all these men acting like it's hard to follow a theme and basically wearing the same thing as each other, meanwhile, Jared Leto is following the theme and looking like Jesus,"
one fan tweeted. "Jared Leto didn't really have to dress up that much for this year's #MetGala theme, huh? I mean, he looks like Jesus every day," another added. It's likely that he does have a god complex judging by the attire. Do you think he went too far?
10

The Dress That Required A Bus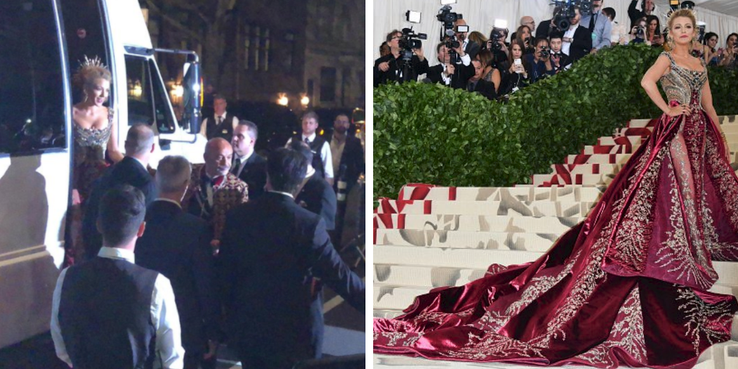 There was no room for Ryan Reynolds anywhere near Blake Lively at the Met Gala because she had a gown that just went on for days. Actually, he was noticeably absent from the event and maybe it's because he wouldn't have been able to stand beside his woman in a dress like that. She totally stole the show, not only with her gown, but with her arrival too. A gown like that could not arrive in a town car. Instead, she hired a party bus to take her to the event because her dress was so big. It wasn't hard for her to steal the show the moment she arrived.
Vogue stated that the dress was "spliced with sheer panels on both sides and covered in so many beads that it took 600 hours to embroider the bodice alone, there was no chance that Lively's entrance would go unnoticed."
It's a great dress and considering there were 600 hours put into that dress says a lot about the whole thing. She was a vision in the dress, and we're sure that Reynolds missed out on seeing his wife in such a gown. She topped the whole look with a spiked crown. She looked like royalty.
9

Selena Gomez Overdoes The Fake Tan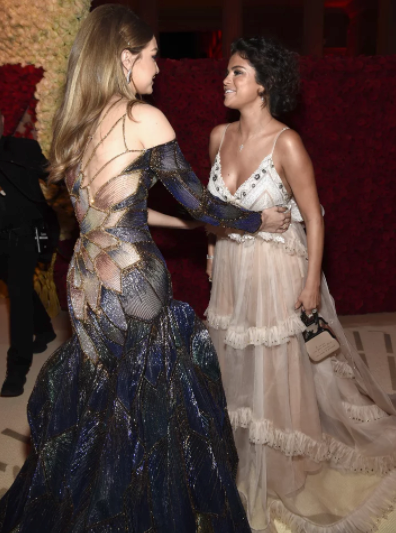 The girl obviously wanted to look good and since she was wearing a white dress, she must have thought a tan would look glorious with it. Tanned skin always pops when you are wearing a white dress. Unfortunately, she stayed in a little too long perhaps because her tan came out very dark. If that wasn't bad enough, she added bronzer to the whole thing just making the situation worse. Usually, in this kind of situation, a makeup artist can save the day, but in this case, it looks like she got a little loose with the bronzer. The color of her face was quite a different shade than her ankles and we're not sure how such a blunder happened. She usually looks so put together. Twitter fans weren't as kind during this Met Gala and one fan stated, "Selena Gomez looks like she's going to prom with that fake tan job." It's too bad for her because the dress was quite lovely on her, but she definitely should have avoided tanning so much or just went in for a nice glow. It was just a little over the top for our taste.
8

The Young Crowd Showed Up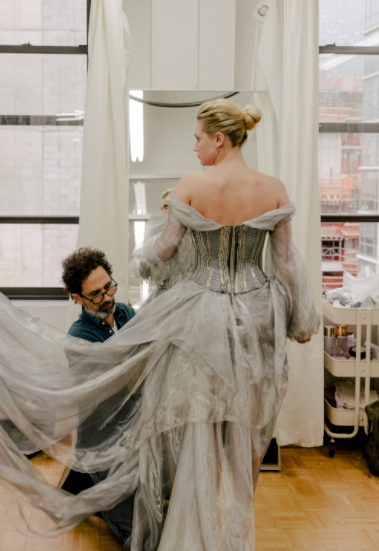 Riverdale's Cole Sprouse made his Met Gala debut this year with co-star and girlfriend Lili Reinhart and her dress was to die for. Sprouse didn't really bother with the theme at all and showed up in a regular tuxedo, but Reinhart was breathtaking in a short silver dress with a train. The dress showed off her legs and she was looking radiant all night. The two young stars are definitely out there to steal the show. They have been notoriously private about their love life but we have to assume things are going well. "I am one of those guys that's never ever going to talk about my private life with the public sphere. I mean people can talk about the Jughead as much as they want but when it comes to the personal relationships, I have spent much of my life separating work and play so I will continue to do so." Reinhart feels the same way and she wrote on Tumblr that her relationship is just hers to enjoy.
"It's horrifying how invested some people are in my love life,"
she started. "Emphasis on 'my.' It is mine. It is private. If a stranger's love life is causing you anger, frustration, or anxiety, please reevaluate your priorities."
7

Selfies All Night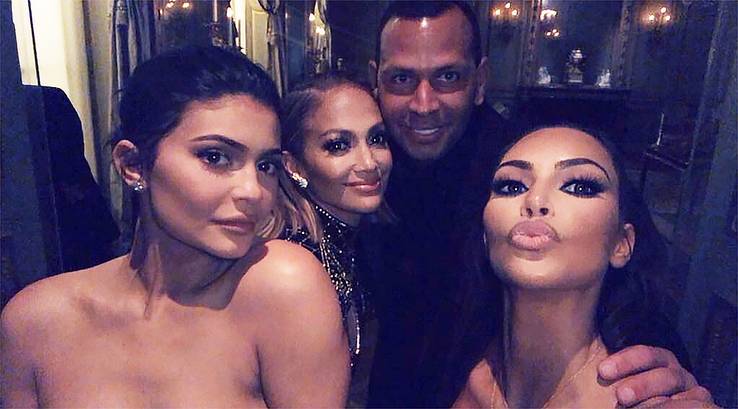 Selfies are a must at the Met Gala and they are often taken in the bathroom, but in this case, it wasn't. We have Jennifer Lopez and her man Alex Rodriguez at the afterparty with Kim Kardashian and Kylie Jenner. Of course, many people were wondering where Kanye West was at the time or maybe they were just happy that he decided to stay home. She seemed to do just fine without West and she looked quite glamorous in a gold dress. One online commenter stated the truth that she just didn't want to admit. "You guys, she didn't want him there. No one wants him there. He has been a thorn in her side and an embarrassment to himself and her brand the last few weeks. She's not going to bring him out on fashion's biggest night of the year. He needs to lay low and shut his trap and she's not going to create opportunities for him to betray that fact!" We have to admit, West's rants to date have not done well for anyone's brand and we have to wonder how she felt about his recent Twitter rants.
6

Shawn Mendes Is The Life Of The Party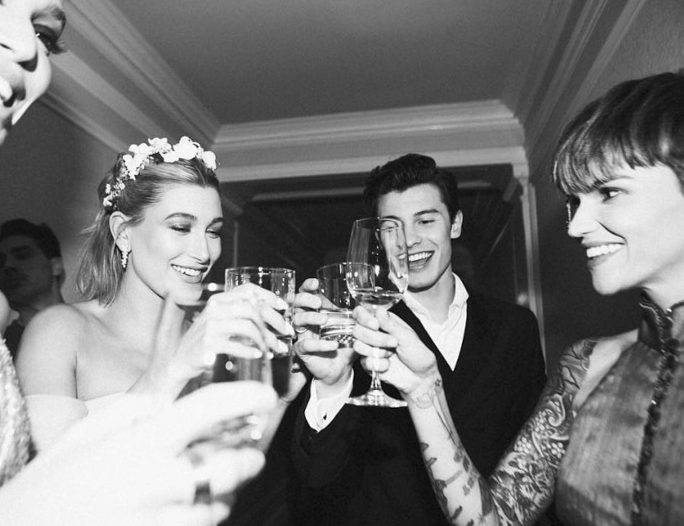 This almost looks like a snapshot from Old Hollywood, but it isn't. It's from a Met Gala afterparty. Shawn Mendes and girlfriend Hailey Baldwin looked gorgeous together. He was yet another man that decided to not follow the theme, but he managed to look as handsome as ever. He was quite the gentleman throughout the night as we saw him fixing her dress constantly. Now that's the kind of guy that you need around when you are wearing a gown. He walked up the steps backward to make sure that she didn't trip on her dress. They have yet to confirm their relationship, but we think that it's pretty obvious that they are very much together. But we suppose that their attendance at the Met Gala could have been confirmation enough that they were official. One Twitter fan commented, "Only @haileybaldwin can look so fine, she makes @ShawnMendes (who is also serving looks) look like his only purpose is to be a bodyguard and walk around her."
5

Madonna Scared Us Just A Little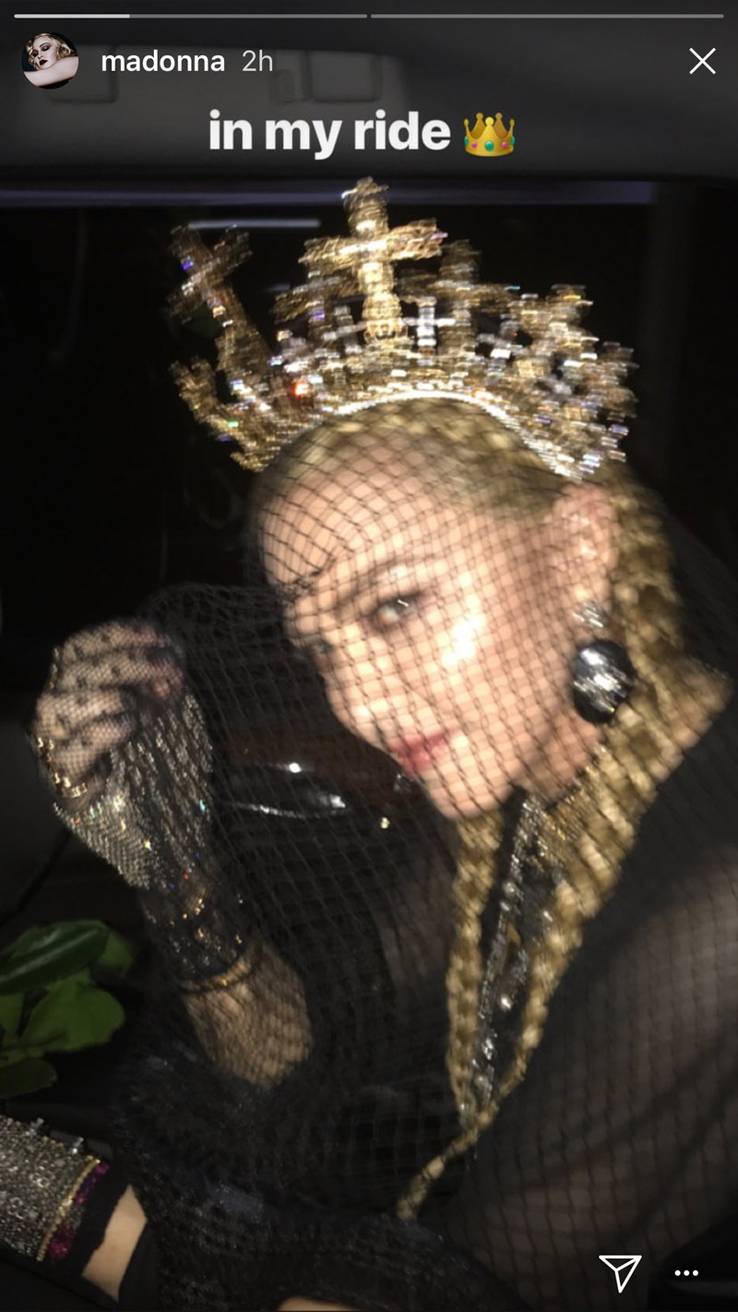 Madonna definitely went all out when she went out in her Met Gala outfit. If anyone was going to make the most of the religious theme, it was sure to be Madonna. She's always had an obsession with the Catholic religion and we have seen that over the years in her fashion choices. She also made a surprise performance at the Met Gala and sang Like A Virgin which was totally fitting to the occasion. She took the theme to a whole new level when she wore a black veil, jewelled rosaries, and a crown of crosses. But when she was all said and done, she sort of scared us. Believe it or not, but the singer wanted to be a nun while growing up.
"I kind of wanted to be a nun when I was growing up, I did. I liked their uniform."
She has stated that she has been excommunicated by the church and it's most likely because of her behavior over the years. "I always feel some kind of inexplicable connection with Catholicism. It kind of shows up in all of my work, as you may have noticed," she told Rolling Stone.
4

Diddy Didn't Hold Back 
Diddy is clearly enjoying the Met Gala afterparty. He posted this video of himself dancing up a storm, feeling good because he unveiled his CÎROC VS at the Met Gala. Sean Combs went to the event with his girlfriend Cassie and the two had a great time. "Puff said, 'I'm godlike, right? As a successful black man, as a father, as an entrepreneur. So why not wear that same cloth, why not wear white like the Pope?" says his stylist Derek Roche. Again, we're not sure that these things are borderline blasphemous, but celebrities certainly go by the beat of their own drum. "This is how we would be dressed when we arrive at heaven's gate," said Sean "Diddy" Combs.
"Puff actually went to Catholic private school as a kid, so this theme went with something that was engrained in him as a child,"
says Roche. "I guess the best thing for him while in school and growing up, aside from his mom and his grandma and his dad, was believing in God. And in the Catholic Church, the Pope is kind of the next thing to God, right? It didn't hurt that Puff's favorite color is white."
3

George Clooney Worships His Wife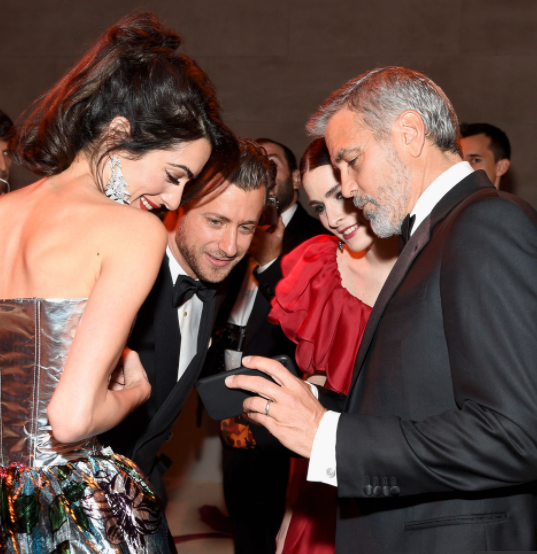 Amal was a vision just like so many other celebrities that evening. She looked amazing in the floral gown. She did have trouble walking in the dress, but Clooney was patient in walking with her as they took their time going up the stairs. No one would ever have thought that Clooney would ever have settled down because he was a self-proclaimed happy bachelor. He had no interest in getting married again. Amal must have done something to change his mind. "It felt like the most natural thing in the world," she said of their relationship.
"Before that experience, I always hoped there could be love that was overwhelming and didn't require any weighing or decision-making. It's the one thing in life that I think is the biggest determinant of happiness, and it's the thing you have the least control over.
Are you going to meet this person? I was 35 when I met him. It wasn't obvious that it was going to happen for me. And I wasn't willing or excited about the idea of getting married or having a family in the absence of that."
2

Gigi Hadid Had a Moment With Selena Gomez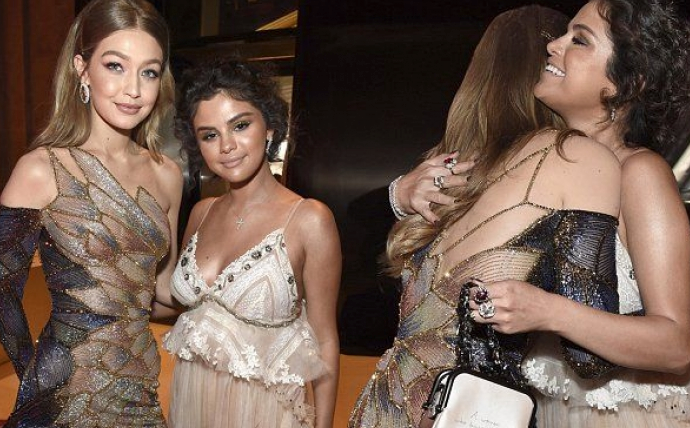 Are we shocked? Absolutely. Gigi's sister, Bella, and Selena were once in love with the same guy, The Weeknd. This definitely could have been awkward, especially considering Selena went to Met Gala one year with The Weeknd. These two were seen hugging at the party and it's obvious that they have decided that their friendship is more important than some guy. They have hung out before, usually because Taylor Swift brought them together. Gomez has likely realized in the past couple of years that boys will come and go but friendships are forever.
"I maybe had a first love and had my heart broken, but reflecting on it, I don't think that was love. I think as I'm getting older and having more in-depth relationships, maybe I'll experience it. At the moment, I don't know, exactly, if I've been in love."
It was cool seeing the girls connect this weekend and maybe that means a whole new start for both of them. "I'm human, I'm not perfect. I make mistakes all the time, but I guess my job is to keep those mistakes to myself, which I'm already fine doing and just try to be the best I can be for those kids."
1

Rihanna Was Inspired By The Pope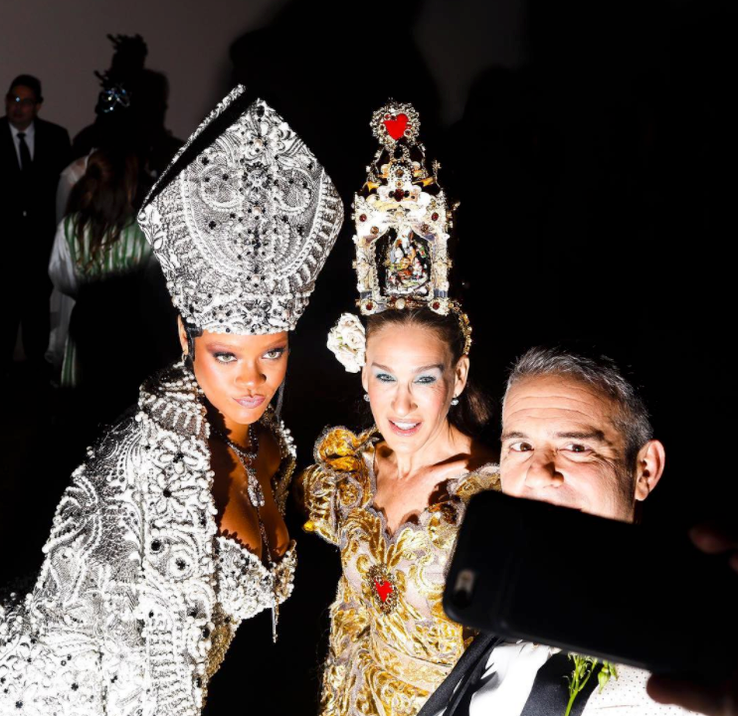 Somebody had to do it and in this case, it was Rihanna that pulled it off. Dressing like Jesus or the Pope would be borderline blasphemous, but celebrities just don't care. It was, of course, a high-fashion version of the Pope's attire, but the Pope nonetheless. She has had a few bizarre fashion choices over the years, but this one has to take the cake for sure.  It was a custom-made John Galliano piece and Rihanna stated that it would be a "sin" to not wear the dress. A few fans and critics took to Twitter to discuss the matter. One critic tweeted: "@rihanna I love you but showing up with pope-like headpiece is so offensive to me. As someone raised in a Catholic household I think the #MetGala2018 is a mockery of Christian religion and highly disrespectful on so many levels." It wouldn't be the Met Gala if it didn't start some kind of controversy.
References: vanityfair.com, allure.com, usmagazine.com
Source: Read Full Article