In Hollywood, friendship can be mostly for show. More than a few folks have talked about being close but rumors later surface that they can't stand each other. However, it's easy for people to maintain bonds on sets and carry them for years. Many a long friendship has been forged on a movie set and stars love to hang out like anyone else. It can be tricky making it work but it still remains strong and the slews of great Hollywood friendships (as well as those in music) prove that. But sometimes, the bond goes back further. It can be people who get along as kids and connect there before rising up to fame. Some can be childhood friends and carry on like any other pair of kids hanging around. Other times, they can be roommates, bonding together while they make it big and that connection carries to their later fame.
In a few cases the friendship, like any other, becomes strained. Life and circumstances cause people to drift apart and that can be bigger for people involved in major fame. But other cases have that bond continue to make these people truly BFFs and forever linked, almost like family. It's remarkable to see people you would think had nothing in common having once been good friends before fame, and that connection remaining today. Here are 20 pairs of celebrities who were friends before they became famous and a few still showing a pre-fame bond can exist today.
20

Amanda Seyfried and Mae Whitman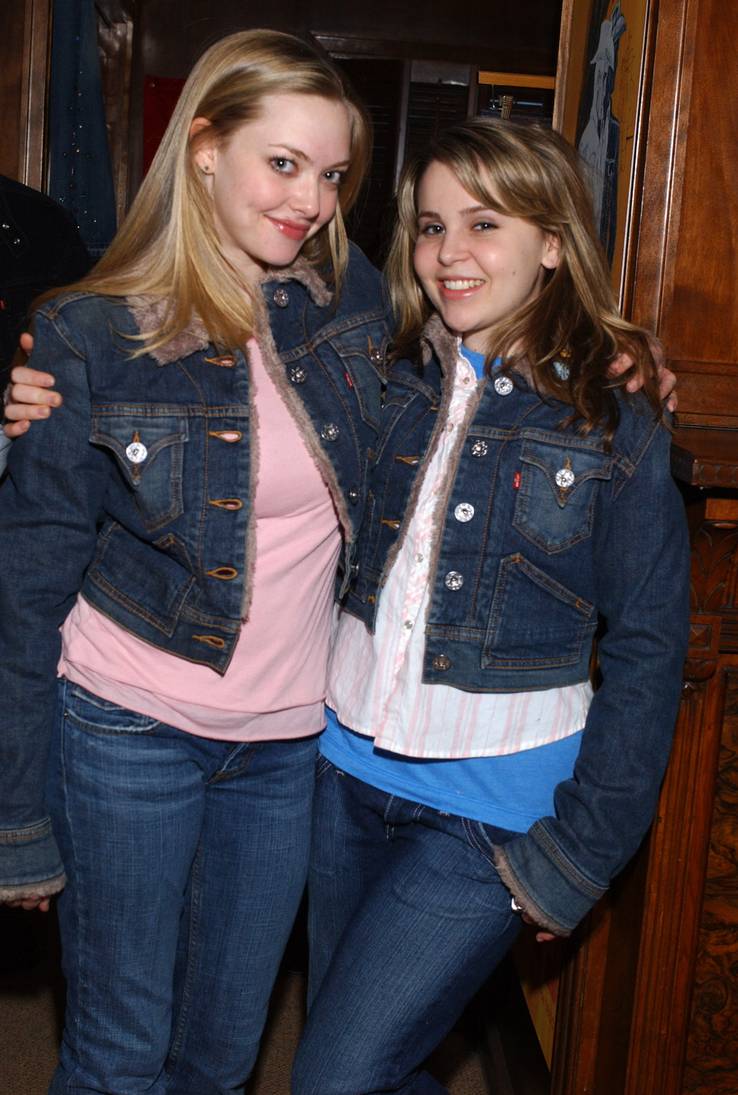 In many ways, they are major contrasts to each other. Amanda Seyfried is your classic blonde beauty, a gorgeous lady whose manner has steamed up plenty of movies and TV shows. Those include Veronica Mars, Big Love, Mean Girls and many more. Mae Whitman had a good career as a young actress in Independence Day and playing Sandra Bullock's daughter in Hope Floats. She became famous as Lauren Graham's daughter on Parenthood and appeared in movies like The DUFF while currently starring on the NBC hit Good Girls. However, the duo has been good friends ever since they were kids. In fact, Whitman would often be seen with Seyfried at events such as the 2005 MTV Movie Awards and various other red carpet events.
The two still support each other in various social media posts and that friendship is maintained today through their various projects. Whitman is best known for slews of voice work such as Batgirl and other DC comics characters while Seyfried keeps busy with her hot movie roles. Yet these two friends still hang together and support each other a lot. Whitman isn't a classic beauty but she and Seyfried are good buddies and show how opposites can attract as a kid, and sometimes even make for better friendships.
19

Mel Gibson and Geoffrey Rush
Their careers (and personal lives) have taken much different paths. But for a time, these two Australian stars were not just friends but roommates. Geoffrey Rush was getting some training in Australia for his various dramatic roles and attended schools in Paris and Queensland. In 1979, while waiting to get into the Queensland Theater Company in Brisbane, Rush spent four months rooming with a promising young actor named Mel Gibson. Gibson was already getting attention for various good roles and Rush told The Guardian he could see big things for him.
"We were all pretty certain then that Mel was destined for big things because he had made the first 'Mad Max' at that point and he had done a couple of other films. It kind of seemed inevitable."
Rush was sure right on that one. Gibson exploded to fame in the 1980s thanks to Lethal Weapon and soon became one of the hottest men in Hollywood. He carried that into the 1990s, hitting his height by winning the Oscar for directing Braveheart in 1995. A year later, Rush burst into fame with his Oscar-winning turn in Shine. This boosted his career up, giving him a role in the blockbuster Pirates of the Caribbean series. The two don't hang out much today but still have a good bond.
18

Paris Hilton and Kim Kardashian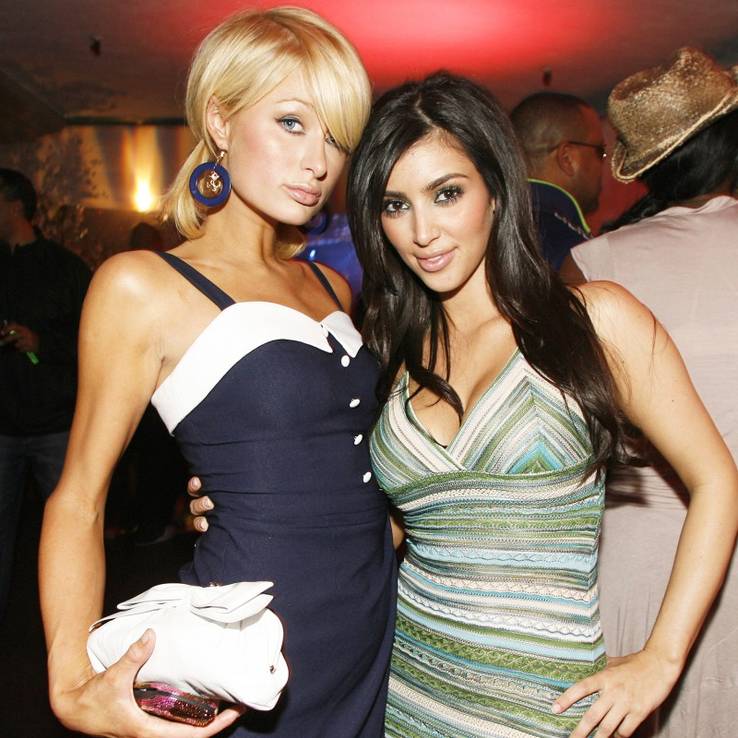 True, they have basically invented the concept of "famous for being famous" but it still counts. As a member of the iconic hotel family, Paris Hilton grew up in wealth and soon rose up thanks to her mother and her strange style. Kim got attention also for her father who was one of O.J. Simpson's defense attorneys. Her stepfather was also famous, being the Olympian Bruce Jenner. Talking to Entertainment Tonight, Hilton said the two were friends "since we were little girls" as they ran a lot in the same social circles. It rose up when Hilton took off huge with her reality TV shows and Kardashian giving her some support at times. Of course, it had to be for attention with Kardashian admitting to ET that,
"We'd go anywhere and everywhere just to be seen. We knew exactly where to go, where to be seen, how to have something written about you. All you had to do is go to this restaurant, or this party, talk about whatever you want to talk about, and it would be in the paper the next day."
It was the release of an infamous tape that led Kim to get more attention than Paris. That gave her the reality show that basically founded the Kardashian Empire we know today. Things appear strained between the two former BFFs as they've taken shots on each other online a lot. However, they still seem to get along and show how this strange bond maintains itself even over their current "fame."
17

Holly Hunter and Frances McDormand
On the one hand, they're not quite A-list stars. On the other, they are two well-regarded actresses with three Oscars between them. Holly Hunter has never quite gotten ridden of her Georgia upbringing but her vocal twang has added to her appeal in roles (ironically, she won the Oscar playing a mute in The Piano). Frances McDormand has carved out a career as tough and independent women on film and got huge praise when she won a second Oscar for her role in Three Billboards Outside Ebbing, Missouri. They even have TV credits! Hunter played a troubled cop in Saving Grace and McDormand was in Olive Kitteridge. Before all that, the two were randomly thrown together as roommates at Yale and had a great connection.
The duo soon found themselves double dating and just simply hanging out. As Hunter told Film News, "The four of us hit it off, and we all moved to the North Bronx. We got two apartments, one for each couple. Then we broke up with our boyfriends and Fran moved in with me."
Soon, they were bonding with local director Sam Raimi and then the Coen Brothers. That led to the brothers casting Hunter in her breakout role in Raising Arizona. Meanwhile, Frances fell in love with Joel Coen and they got married. The two still get together at the Oscars and other events and gush on each other to show that roommate bond never dies out.
16

Adele and Jessie J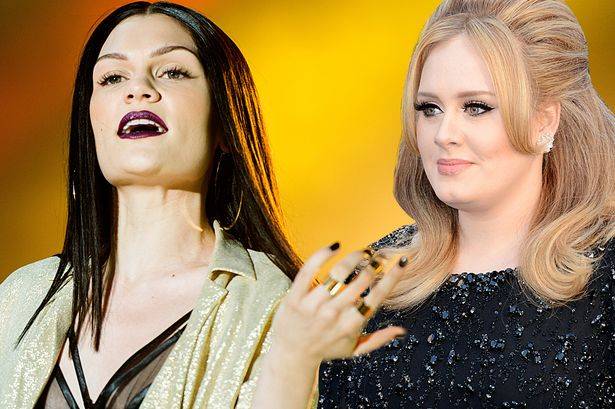 Exploding onto the scene in 2011, Adele has become one of the biggest music stars on the planet. Her stunning voice has leant itself to smash hits like "Rumor Has It" and "Hello," leading to sold-out concert tours and more awards than anyone can count (including an Oscar). Jessie J is getting attention for her own great singing style with hits like "Bang Bang" and has her own great personal style. Both ladies got their start at the BRIT School, well-known for producing quite a few major British musical stars.
Jessie told People Magazine that, "We were in the same year! We used to sing at lunchtime together. Obviously, at that time we didn't realize that we'd both [eventually] have music out. But she's amazing. She was always that really bright energy at school."
Notably, the two were in the same year as Amy Winehouse although neither were too close to her (although each cites the late singer as a key inspiration). Adele has returned the compliments to Jessie, telling The Guardian that "I think her voice is illegal. The thing she can do with her voice are criminal." While their busy schedules keep them from getting together as much today, these two songstresses are still notable for their amazing pipes and a long bond.
15

Judd Apatow and Adam Sandler
Today, both are known as major comedy names but back in the early 1990s, they were just a pair of struggling actors in Los Angeles. Judd Apatow had a good humor to himself already while Adam Sandler was making his way on the Los Angeles stand-up circuit. They hit it off as they shared a $900 a month pad in the Valley. "Back then, life was just doing stand-up or writing jokes. You would sleep until noon every day and kind of stumble out," Apatow said to 60 Minutes.
"You would have to be at work at 8:30 at night. Work was sometimes 15 minutes." Sandler agreed in the same interview. Although, considering he slept on a sheet on the floor, times were not easy. "It wasn't broke. We were doing as comedians good enough to get by. We could eat at Red Lobster once every month. That was a big night out."
Sandler soon moved to New York to join Saturday Night Live. However, he kept paying his rent for some time as he was worried that if it got out he'd just left, Apatow would sue him and get him fired. Apatow admitted he wouldn't have but, "I needed the cash." Sandler, of course, became a huge star with SNL and then had slews of box office hits. Meanwhile, Apatow would carve out a good career himself as a writer/director and the two worked together on Funny People. Yet that friendship maintains from their days as roomies.
14

Gwyneth Paltrow and Maya Rudolph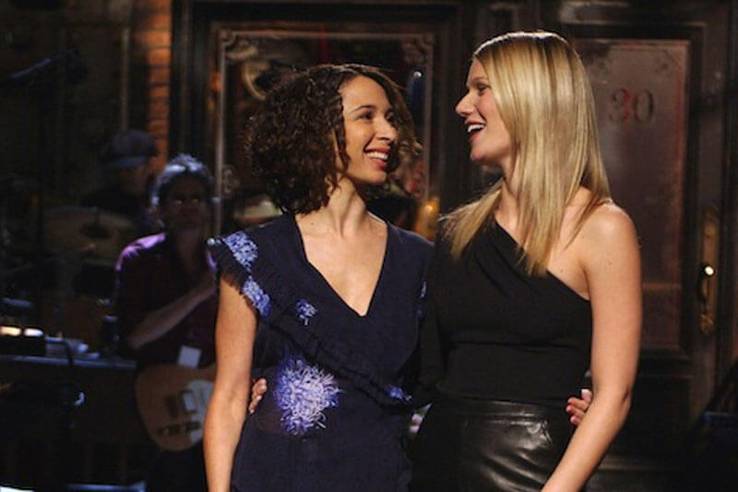 During one of her stints hosting Saturday Night Live, Gwyneth Paltrow used her monologue to bring Maya Rudolph on stage and talk about their long friendship. Naturally, some viewers might assume this was a set-up for some sort of joke but as it turned out, it was totally for real. Indeed, Paltrow immediately showed a picture of the two from fifth grade together at Crossroads School in Santa Monica. As the daughter of Blythe Danner, Paltrow was used to fame while Rudolph came from a famous musical family herself. The two bonded well and a very close friendship was made which ended when Paltrow's family moved to New York when she was 11.
Paltrow gained fame with her relationship to Brad Pitt before being taken seriously as an actress herself, including winning the Oscar for Shakespeare in Love. Rudolph would land her SNL job and be a hit with her various nutty characters and impressions. That SNL hosting gig had the two bonding over their pasts, and talking about how proud each is of the other. It was clear it was no act.
Featured Today
20 Images Of Sasha And Malia Obama That Would Surprise Barack

10 Female MCU Characters Who Were Iconic (And 5 Who Were Total Duds)

23 Huge Inconsistencies In Friends That Did Not Fool Us At All

13

Tina Fey and Amy Poehler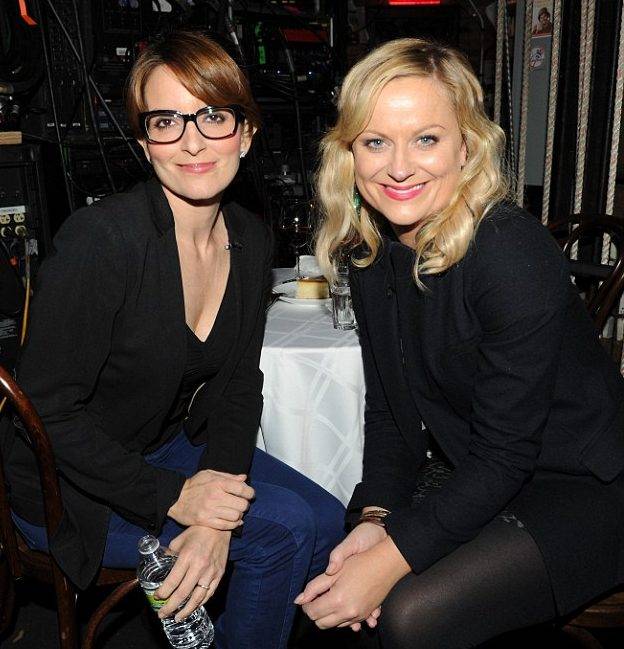 These two funny ladies have a bond that goes back to long before either was well known. They first met up in Chicago at the ImprovOlympics, a breeding ground for future comedic talent. They talked openly about their past in a dual interview with Marie Claire with Poehler claiming, "[Fey] taught me my first real beauty lesson." In 1997, Fey moved to become a writer for Saturday Night Live and spent the next few years trying to convince Poehler to join her. Fey was taking off as a head writer and Weekend Update host, and so Poehler decided to join her. They truly connected when Mean Girls became a hit and then Poehler joined Fey as on-air Update hosts.
Both women would leave for bigger fame with Fey creating her Emmy-winning 30 Rock and Poehler with the hit show, Parks & Recreation. But that bond remains true, proven by their fantastic hosting of the Golden Globes. It hit its height as they shared an Emmy for hosting SNL but surprisingly, Fey believes a TV show with the two wouldn't work out, telling Vulture, "People sometimes used to say, 'Why don't you guys do a series together?' or whatever. And the funny thing is that I think we both know this to be true, it's because we're actually both alphas. So, it works in short spurts, but I don't know if it would make a real dynasty." Some might disagree as these two prove how a long friendship adds to their comic dominance.
12

Kristen Bell and Matthew Morrison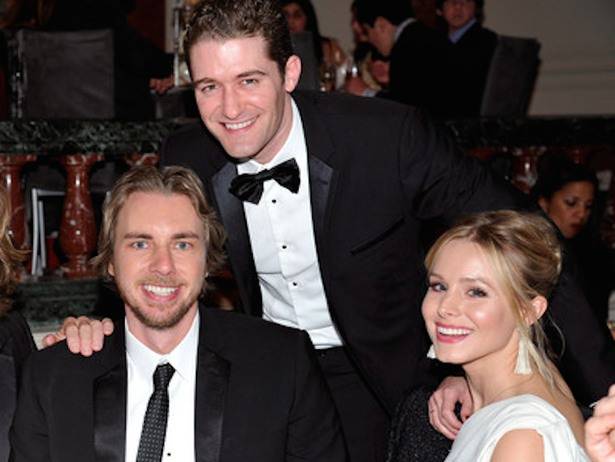 Here's a case of two stars who weren't just friends before fame but even a bit more. Kristen Bell and Matthew Morrison were both drawn to theater as youths and each moved to New York in hopes of achieving their dreams. They attended New York University's Tich School for the Arts and were soon hitting it off. Morrison left after two years to join the cast of the Broadway musical version of Footloose. Meanwhile, he and Bell ended up dating on and off for about two years and seemed to get along well. Bell would soon land her breakout role on the hit series Veronica Mars which has led to fame in some movies and further TV hits like House of Lies and The Good Place. Meanwhile, Morrison would make Broadway his home before hitting it big as Will on Fox's mega-hit Glee.
Bell acknowledged their past in an interview in 2010 with US Weekly, "I actually went to college with Matty Morrison. We actually dated very briefly, so I'll have to say maybe Matt Morrison is my favorite part of Glee for various reasons." Bell herself has shown her singing chops (most notably voicing Ella in Frozen) and she and Morrison can still meet at various parties to show that Broadway love off.
11

Cameron Diaz and Snoop Dogg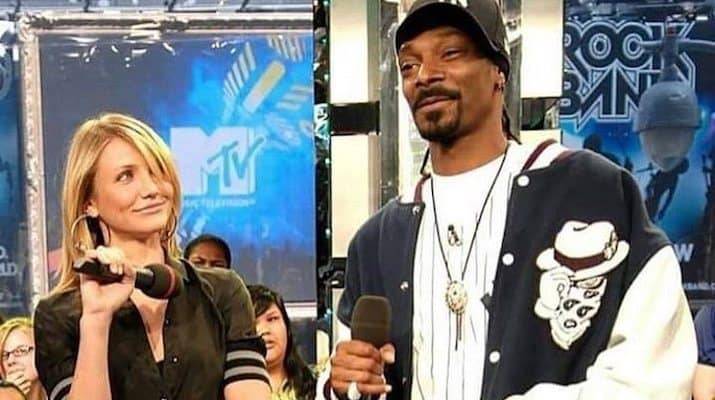 This is probably as bizarre a pairing as you can imagine but yes, it's true. In the 1990s, Snoop Dogg was soon taking off as one of the biggest rappers around, fans loving both his music and his unique style. Meanwhile, Cameron Diaz worked as a model before The Mask instantly made her a major Hollywood star. Both have gone to big success in their own fields and don't seem to mingle much. However, in a 2011 US Weekly interview, Diaz related how she was just a year behind Snoop when both attended Long Beach Polytechnic High School.
"He was a year older than me….I remember him, he was very tall and skinny. He wore lots of ponytails."
What made it wilder was when Diaz openly stated she believed she had purchased something from Snoop. Snoop himself told Rolling Stone that he did remember Diaz but they seemed to be in different circles a lot. "She was fly and she was hip. I never got at her like that because she was younger than me." Again, it sounds strange but yes, the rapper and the A-list actress were once high school classmates and funny to think of Diaz seeking something from the goofy Snoop.
10

Ryan Gosling and Justin Timberlake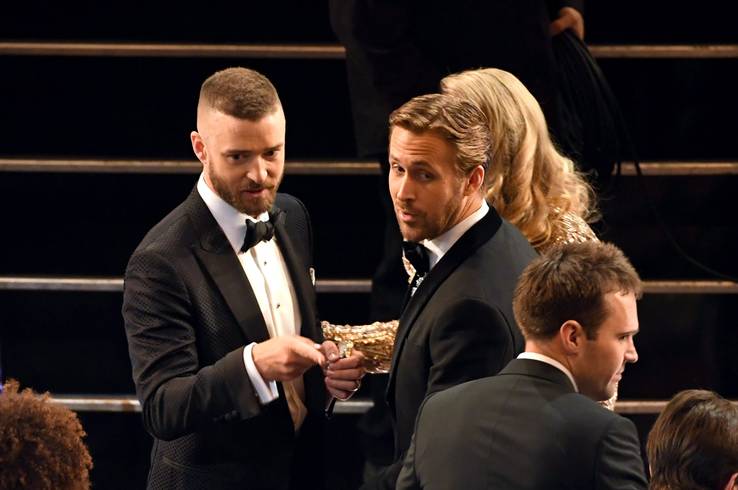 In 1989, the Disney Channel decided to resurrect the Mickey Mouse Club for a new generation. It was notable for a bevy of young stars, many of whom became some of the famous faces of today. Among their ranks were Ryan Gosling and Justin Timberlake who became friends on the show and in fact, they stayed under the same roof as the cast often bunked and did school together in between tapings. In fact, Gosling's mom had to return to Canada for work so Timberlake's mother became his legal guardian for six months. Talking with Ellen DeGeneres, Timberlake shared that they were rather mischievous, and did things like steal a golf cart for no reason.
Timberlake, of course, broke out as a member of NSYNC before becoming a surprisingly good actor. Gosling also rose up with his handsome looks and good acting. The duo were both nominated at the 2017 Oscars, Gosling for La La Land and Timberlake for best song. However, they seem distant. Timberlake stated, "We aren't the closest of friends, for whatever reason." He compared it to how some folks don't keep up with friends from elementary school and thus how they were close once but not as much today.
9

Connie Britton and Lauren Graham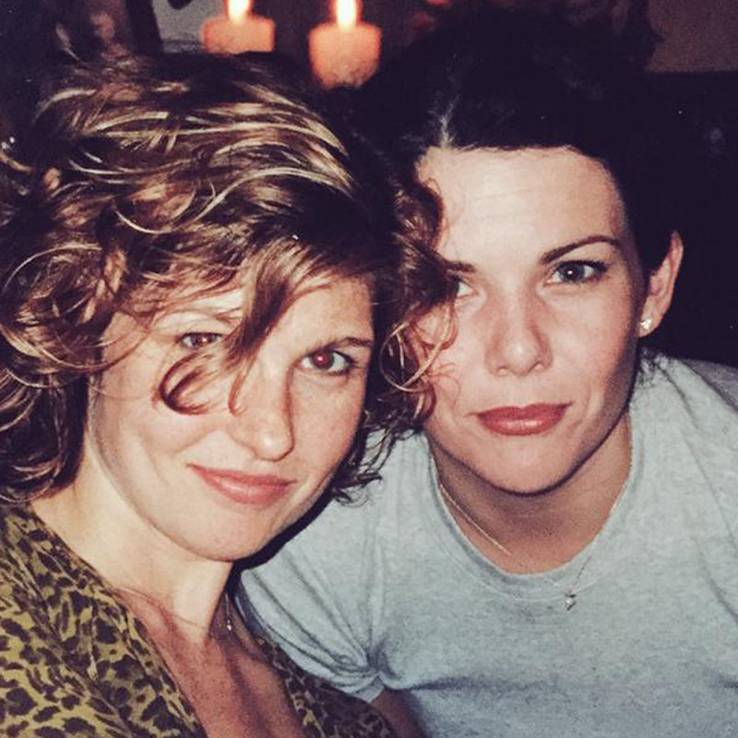 It may be surprising to know that two of television's most loved moms were once roommates. Connie Britton was a Boston native while Lauren Graham had traveled the world a lot in her youth.
As Britton explained to Vulture, "We were in the same acting class in New York City together, became friends and then we both decided to make the big move and give Los Angles a shot."
As it happened, a mutual friend was going through a divorce and so Britton and Graham moved into her home. They roomed for a few years while each going through various short-lived TV show roles. It all clicked in the early 2000s as Britton landed a role on Spin City while Graham became part of Gilmore Girls. Both have gone on to good careers with Britton on Nashville and then 9-1-1, while Graham became another great mom on the show Parenthood.
The two still remain friends. Graham even posted a throwback photo on Instagram to her old roomie. "Those are actually really fond memories," Britton said, "You know, it's that time when everything's a possibility and we were just trying to live our dream." Both achieved that yet it's fun to think how these popular TV moms once shared the same house.
8

Britney Spears and Christina Aguilera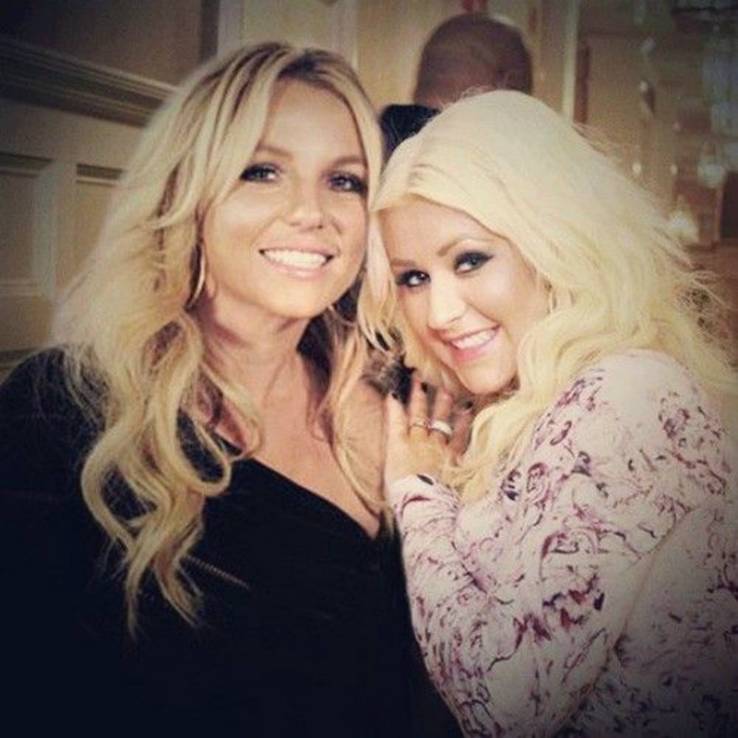 The 1980s version of The Mickey Mouse Club was a breeding ground for future stars like Justin Timberlake, Ryan Gosling, and Keri Russell. Also among them were two young singers by the names of Britney Spears and Christina Aguilera. Even at that young age, each possessed a fantastic voice and some serious stage presence to get attention. In 1999, they both burst onto mega-fame with Britney steaming up with "Hit Me Baby One More Time" while Aguilera had "Genie in a Bottle." They were pitted against each other to promote themselves, but each of them found fame in their respective ways. For a time, they were told to push their rivalry aside, such as the time they sang with Madonna at the 2003 MTV Video Music Awards.
But before long, word came of them taking it to each other with various insults. Aguilera told US Weekly in 2004, "I know Britney. She's not trailer trash, but she sure acts that way."
It just got worse as each had infamous breakdowns and issues. But it does seem like things are improving, as now each of them talks about the other in much better terms. Aguilera shared that, "It must have seemed as if we were competing with each other, but, in reality, Britney is someone that I used to hold hands with. We were silly little girls together on the Mickey Mouse Club. What a journey it has been for both of us!" Thus, it's something to remember when these two Divas were once BFFs.
7

Ali Larter and Amy Smart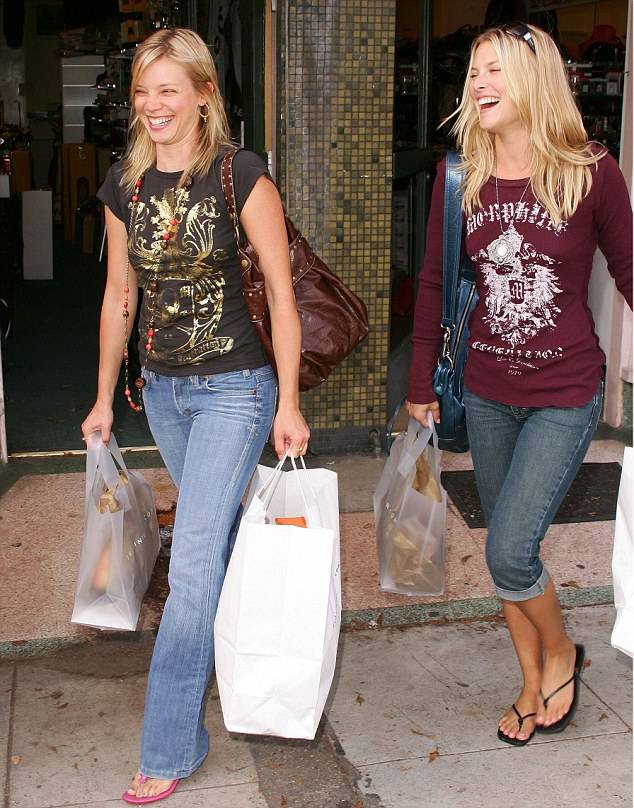 They may not be huge A-list stars but these two attractive blondes have gotten some fame in Hollywood. It began when they were both earning their keep as models in Italy and hitting it off well. As Larter told US Weekly, "We became instant friends" and somehow their clash of backgrounds (Larter from New Jersey while Smart was from California) helped them get along. They moved to Los Angeles together and became roommates as they attempted to find fame. In 1999, both starred in Varsity Blues with Smart as the "good girl" girlfriend to James Van Der Beek's character. Meanwhile, Larter played a conniving cheerleader and a major highlight with her whipped cream bikini.
Since then, both have gotten attention. Smart was cast in steamy roles like Road Trip and the Crank movies. Meanwhile, Larter became a sci-fi favorite with her role on Heroes and the Resident Evil movies. Both had a lot of steamy magazine shoots but are now settling into being moms but still get together every once and a while. A popular Instagram post had Larter sharing the line "Friendships born out of a true desire to love, learn, and support one another last a lifetime. It's that simple." Thus, these two former roomies remain best buds.
6

Selena Gomez and Demi Lovato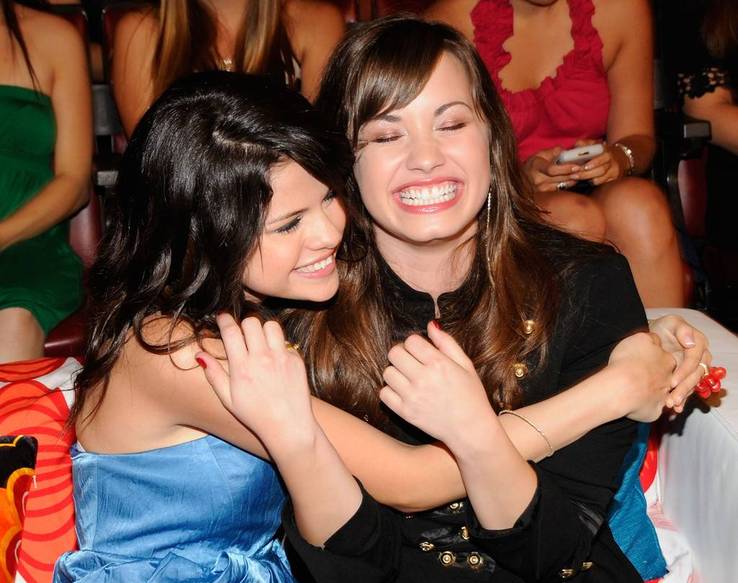 It's a bond literally forged from childhood television. While today, Barney the Dinosaur is mocked, the kids show was a huge hit in the 1990s. Among the children with this big purple creature were a young Demi Lovato and Selena Gomez. Soon, the Disney Channel came calling with Gomez starring in the hit Wizards of Waverly Place. Lovato followed with Sonny With a Chance and the duo built their bond meeting at various network events and parties. They even had a bit of Gomez playing herself on Sonny for some ribbing. They were soon doing online videos together while making Princess Protection Program and began to hang out all the time. There were rumors of a wedge as Gomez started hanging out more with Taylor Swift. But when Lovato had her stays in rehab, Gomez was the first to publically give her support.
Today, the two still maintain a good bond, each supporting the others' albums and sharing some good words about the other in their Twitter feeds. There are rumors of them having issues but in a 2013 MTV interview, Lovato summed up that, "We are in a place where I think we realized that life is so short and that when you have people in your life that love you so much then, you should just always be around them." They've had ups and downs but these two still will never let go of their BFF status.
5

Leonardo DiCaprio and Tobey MaGuire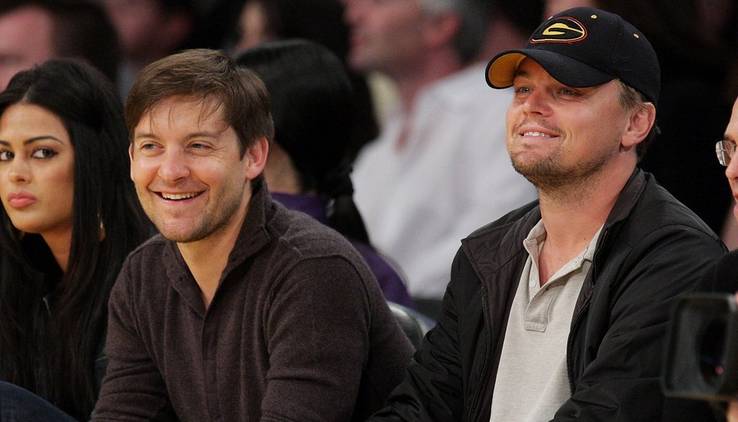 As odd a pairing as they may seem, it's true that Leonardo DiCaprio and Tobey Maguire have gotten along quite well since childhood. In the late 1980s, both were starting to rise in Hollywood and soon auditioning for much of the same roles. They soon connected and forged a friendship and when DiCaprio starred in the first TV version of Parenthood, he talked the producers into letting Maguire be a guest star. Soon, the two were part of an infamous "Posse" in the 1990s with Lukas Haas and other child stars. They worked together in 1993's This Boy's Life and would continue to show their friendship as fame found them. Maguire would soon get roles in various dramas and comedies as well as the first big-screen Spider-Man. Meanwhile, DiCaprio became a mega-star with Titanic and soon an Oscar-winning career as actor and activist.
The duo keeps their friendship fresh by partying together and taking vacations together. It culminated in them making The Great Gatsby together and in interviews, each gushed on how great it was working with the other. "We are like any other buddies," Maguire told People. "There's a lot of laughing and chatting between us. We enjoy doing a lot of things we have in common, like basketball. We like to play and talk about basketball." They may seem in different circles but these two are truly best buddies.
4

Liv Tyler and Kate Hudson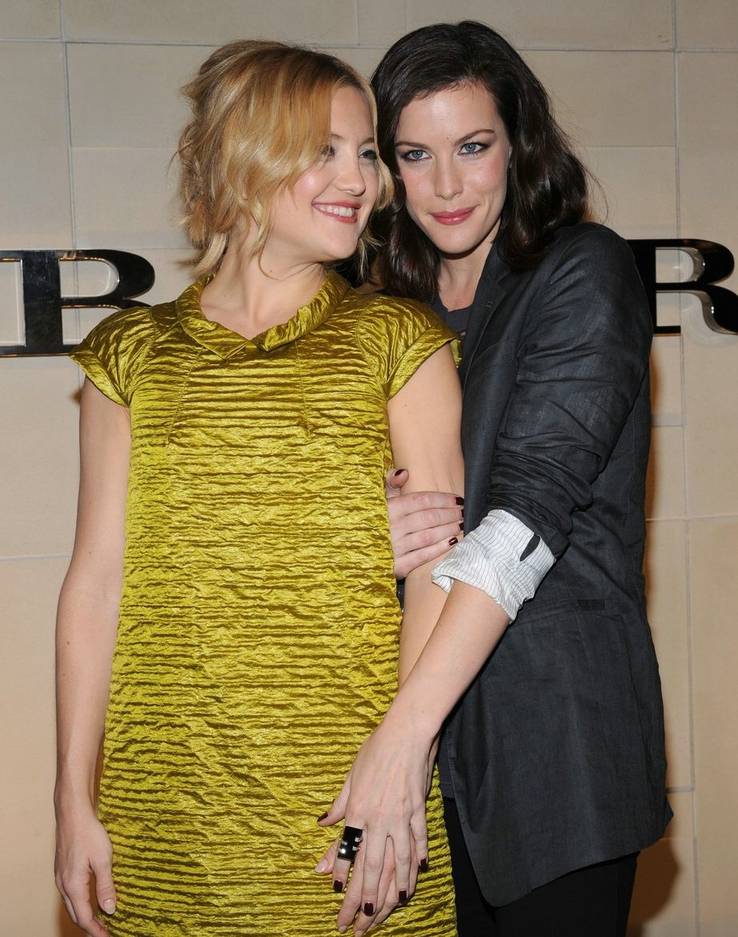 The bond between these two rests in how they know what it's like to grow up with famous parents. Liv Tyler had her father, Steven, the seemingly ageless leader of the classic rock band Aerosmith. Hudson's mother was Goldie Hawn, the Oscar-winning blonde bombshell known for fun comedy roles. The two met at Crossroads School for Arts & Sciences and soon hit it off. Tyler was the first to get famous, first with some of her dad's music videos and then movies like Stealing Beauty, Armageddon and The Lord of the Rings. Hudson followed, winning an Oscar nod for Almost Famous and then various romantic comedies.
The two even starred together in Dr. T & the Women and sharing what Hudson told Variety was "one of my three best on-screen kisses."
Today, the duo show their friendship off constantly on Instagram. Hudson even joked by posting a pic with Steven Tyler and the line "here's papa!" That great humor shows as they attend the same parties and give each other shout-outs online. They constantly show that their parents being friends worked out in their favor, because they have created a lifelong bond from it.
3

Robert Downey Jr and Keifer Sutherland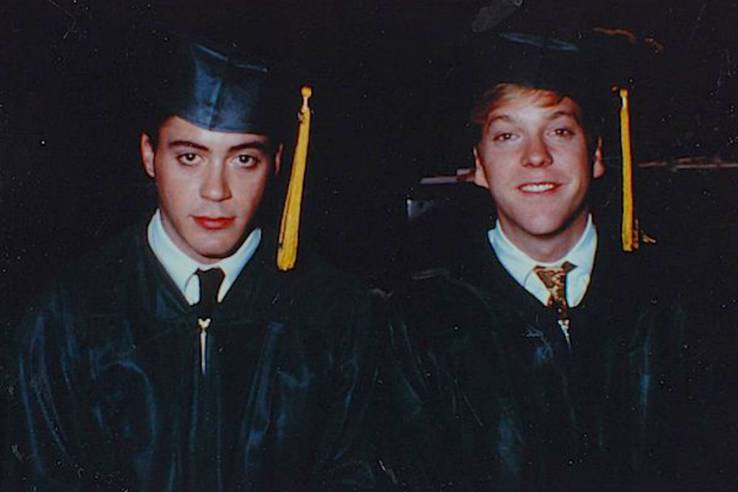 Here are two men each known for a "bad boy" past but have since redeemed themselves as major Hollywood stars. In the late early 1980s, Robert Downey Jr was getting attention as an impressive young actor, but as he related in an interview with Howard Stern, he was having a rough time personally. He'd gotten into a bad breakup with then-girlfriend Sarah Jessica Parker and beginning his embark on his infamous "recreational activities." Needing a place to crash, he ended up rooming with Keifer Sutherland. The son of legendary actor Donald Sutherland, Keifer Sutherland was trying to crack his way into movies himself, having landed a job in Stand by Me. They spent three years as roommates and even worked in starring together in the drama 1969.
As the '90s went on, both had fame in movies but then hit very rough personal patches. But the 2000s changed that as Sutherland landed the iconic role of Jack Bauer in 24 which won him an Emmy. He's continued to be busy, just wrapping up the Presidential drama Designated Survivor. Downey, of course, has become a mega-star thanks to his role as Iron Man, for which he won back all the respect he had lost in Hollywood. Both men remain friends today, and were even spotted together antique shopping! (Source: E Online)
2

Nicole Kidman and Naomi Watts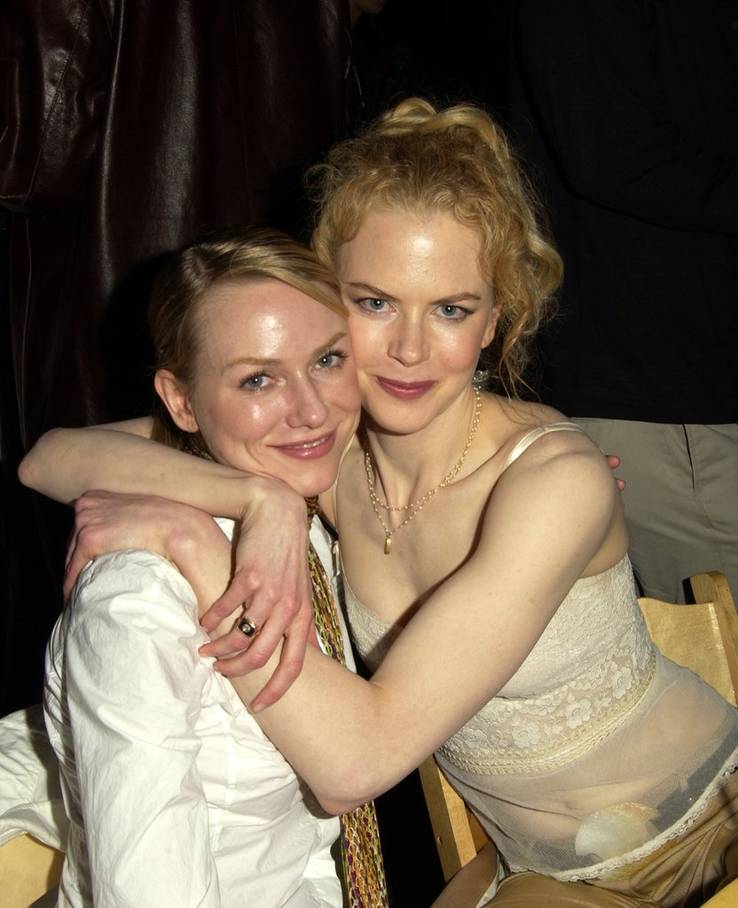 The bond between these two stars goes back to their shared native country of Australia. They first met on the set of 1991's Flirting, a coming of age dramedy. They were surprised to discover they had attended the same high school and theater company but just hadn't connected until then. They soon forged a good bond and hung out constantly. Kidman was the first to find fame thanks to her marriage to Tom Cruise and then boosted to major success on her own.
"She came to my premieres or she'd come to Tom [Cruise]'s premieres and supported me," Kidman said to People Magazine.
It was in 2001 that Watts came to stardom with her turn in Mulholland Drive and soon pushed as an Oscar-nominated star in her own right. The two continued to bond as each other's "dates" for the 2007 Oscars. Watts told Good Morning America that the two were always looking for a chance to be in a movie together "but it's tough with our picky tastes." Their love for each other has not died down, as the two constantly tag each other on Instagram and never cease gushing about the other in interviews. "We've gone through a lot together over a significant amount of time. That history binds you," Kidman told GQ magazine. "We have a strong respect and love for one another." They may not have been huge in high school but the two Aussies are well bound together today.
1

Matt Damon and Ben Affleck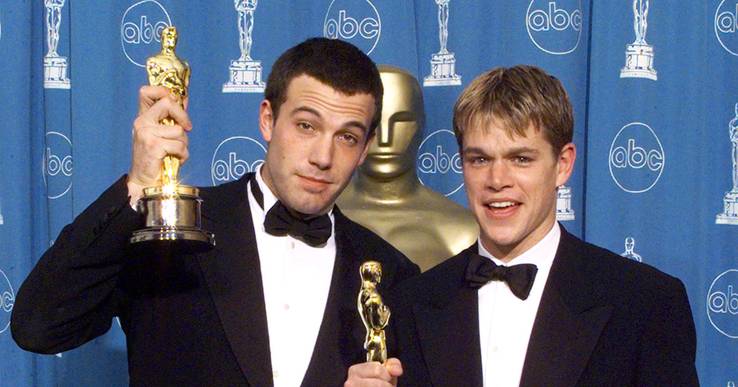 This, of course, was the feel-good story of 1997. Matt Damon and Ben Affleck were born and bred Bostonians, loving the town from the Red Sox to its tourist spots. They met as kids as they lived just two blocks away from each other and their moms were friends from work. They were soon close, hanging out as they attended the same school, high school then college. As Damon told Entertainment Tonight,
"We were both in love with the same thing – acting and filmmaking. I think we fed on each other's obsession during really formative, important years and that bonded us for life."
They both moved to Los Angeles where they got minor roles in movies while co-writing a script of an MIT janitor who turns out to be a troubled genius. That movie was Good Will Hunting which they "tested" in acting classes. It soon got to Miramax with the duo convincing them to star as well as produce the film. With Robin Williams added a mentor figure, the film was a critical and box office smash. It won Oscars for Williams, and Damon and Affleck shared the Best Screenplay award. Since then, the two have gone on to fantastic careers that mix blockbuster movies with acclaimed dramas and Affleck hailed as a director.
Source: Read Full Article