When their father, Barack Obama, became President of the United States in 2009, his wife, Michelle, and two daughters, Malia, who was 11 at the time, and Sasha, who was eight, moved into the White House and had their lives change dramatically. The Obama girls, Malia, who is now 19-years-old, and Sasha, who is 16-years-old, have spent eight years of their lives living in the White House. They became well-known in the public eye and had everyone watch their every move. They spent the majority of their adolescence with their father running a country and under the careful eye of the secret services. It is safe to say that their upbringing in the White House was a lot different than the norm.
Being the daughters of the President of the United States meant that they had to follow and abide by certain rules. Since they were public figures, they were not allowed to have social media accounts or go anywhere without a group of secret service agents with them. Throughout the years, they have made headlines for many different reasons, some positive and some negative, however, they are still sister goals.
Even though their father is no longer the president, they still have to follow certain rules, however, they have found themselves in rebellious situations. From getting caught smoking to having selfies leaked on the internet, here are 20 images of Malia and Sasha Obama that would surprise the Obamas.
20

Malia Gets Flirty With Boyfriend
Earlier this year, Malia was spotted for the first time in public with her British boyfriend. Malia met her boyfriend, Rory Farquharson, at Harvard where they both studying. Rory is the son of a London banker and comes from a very prestigious family. Before going to Harvard, Rory attended a private rugby school, which is not only costly but also well-known for its emphasis on the sport. The two are both 19 years old and do whatever normal teens do. Back in November, a video surfaced the internet of the couple sharing a kiss at a tailgate party. Since they were spotted for the first time, the couple has now been seen going on a few dates. According to Page Six, the couple was once spotted in Soho squeezing one another and laughing at something on Malia's cellphone. Despite spending so much time together, Rory does have some bad habits that hopefully Malia does not pick up. Rory does smoke cigarettes, as he was seen with Malia taking a smoke break. Malia has made headlines in the media for being caught smoking. Former President has expressed his thoughts about his daughters dating, however, he is able to sleep at night knowing that his daughters are surrounded by the Secret Service.
19

Correcting Her Mistakes
Back in 2016, Malia was caught smoking at the music festival, Lollapalooza. There was a video that circled the internet of her smoking, however, it was unknown what she was actually smoking. Malia found herself getting a lot of hate and it also affected her family. Only a couple months after the incident, Malia was spotted at the Made In America Festival wearing a basic white t-shirt that had "smoking kills" written on the front. This shirt caught the attention of many and had people questioning why she should wear this shirt. The Cut speculated that maybe Michelle Obama made her wear this shirt after she was caught smoking previously. Whatever the reason was, Malia is making it known that she admits what she did in the past was not right and she is ready to correct her mistakes by letting people know that smoking kills. This is her way to let others know that she will never be caught smoking again. She is taking a negative situation and turning it into something positive and trying to get people to realize that the bad habit can be fatal. She is also wearing a Harvard hat to show some school spirit and to let people know she is a proud Harvard student and will not do anything to damage her or her family's reputation.
18

Sasha Hang Out With Cardi B And Offset
Sasha spent some time at this year's Washington's Broccoli City Festival. The headliners for the festival was Cardi B and her fiance Offset, who is a part of the band, Migos. Cardi B has become very popular this year and has recently released an album that had a positive reception with the public. During some downtime, the two were spotted hanging out backstage with the former President's youngest daughter. A picture of them hanging out made it on to Twitter and the public was loving it. Not only were Twitter users shocked about how grown up Sasha is, but also the fact that she was hanging out with such talented people. The picture was also shared by the Broccoli City Twitter page. No one knows how the meeting happened or what took place during it, but they were happy that it happened. This meeting comes just after Cardi B performed for the last time because of her pregnancy. Many Twitter users stated that Sasha is now the coolest person and their favorite Obama member. There are many perks of being a part of the Obama family and being able to meet famous celebrities is just one of them.
17

Sister Selfie During Inauguration
During the second inauguration of Former President Obama, the Obama sister's stole the show by doing what kids do best— being themselves. The two were often caught dancings and making funny faces at each other. Even though the ceremony can be boring at times, the sisters knew how to keep things interesting. At one point, the sisters were caught taking selfies and making funny faces while Malia throws up a peace sign. There is no better way to document your father becoming the president for the second time than with a selfie. The two sisters spend a lot of times on their cell phones taking pictures of the event. While taking pictures, Sasha took a picture of their parents going in for a kiss, but then, Malia photobombs the picture. The inauguration ceremony can be a serious time, however, when Beyonce comes out to sing the "Star-Spangled Banner," it is hard to keep your cool. However, that performance caused a lot of drama because Beyonce was accused of lip-syncing the National Anthem. According to BBC, before her performance at the Super Bowl, she admitted she sang along with her prerecorded track because she did not have enough time to practice.
16

Malia Hangs With Rapper, Anime
Malia had the time of her life when she attended the music festival, Lollapalooza, last year. It is no secret that the Obama daughters have great taste in music, so it comes as no surprise that they would attend popular music festivals. Malia was photographed with rapper, Amine, after his performance at the music festival. Many pictures and videos surfaced the internet of the eldest Obama daughter enjoying her time at the festival. Vibe reported that friends of Malia's sold pictures and videos of her dancing and enjoying the performances. TMZ got a hold of a video of Malia dancing like crazy and falling on the floor and rolling around while listening to the music. Malia has expressed her admiration for rappers such as Chance The Rapper and Joey Bada$$, therefore, attending this event was a must for the teen. Many people were happy to see Malia enjoy her time at the music festival and expressed their wishes of being friends with Malia. However, some people were quick to criticize her behavior. Malia is just enjoying her gap year before she has to hit the books when she attends Harvard.
15

Sasha's High School Prom Date
Sasha is already at the age when she'll attend prom and getting asked to prom is a very big deal. Despite being the daughter of a former President, Sasha still wants to be a normal high school student and go to all the special events that come with being in high school. Many people were surprised that Obama was allowing his youngest to attend such a public event with a boy. Many people also speculated that Sasha could also be dating this boy. Whether the speculations are right or wrong, Sasha deserves to attend her high school prom just like any other student. According to the smile on her face, there is a good chance that she is happy that she is attending prom and she also looks happen to attend this special event with a boy of her liking. There is a good chance that Obama will make sure he has eyes and ears at the event, which will most likely be the Secret Service. At the end of the day, Sasha is still Obama's little girl. There is no doubt that Sasha will look amazing and wear a beautiful prom dress.
14

Saying Farewell To The White House
After eight years in the White House, it was time for the Obama's to say goodbye. It was not easy for the family to say their farewells, especially for the children who spent most of their upbringing in the White House. During his farewell speech, former President Obama gave a sweet shoutout to his wife, Michelle, but he also dedicated a few minutes to his children. According to PopSugar, Obama stated in his speech that out of everything that he has done, the thing he was proud of most was being their father. While addressing his daughters in his speech the camera panned to Malia where she is seen shedding a few tears. The emotion that she is displaying during her father's farewell speech is the complete opposite of the emotions that were displayed during her father's inauguration. One can only imagine what it would feel like to have to move on from living in the White House. Malia's life is about to endure a major change. Viewers were also quick to notice that the Obama's youngest daughter was not attending the farewell speech. It was reported that she did not attend because she was in Washington DC studying for a school exam.
Featured Today
20 Times Bernadette Outdid Penny On Big Bang Theory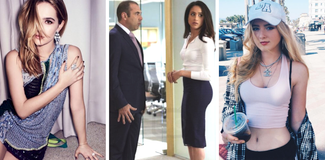 10 Actresses To Forget About In 2018 (And 10 Who Will Replace Them)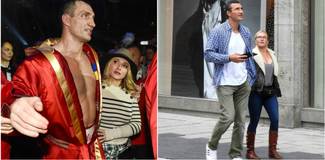 15 Ways Wladimir Klitschko Landed Hayden Panettiere (Even Though She's Half His Size)

13

Malia Rocks Out To Mac Miller
There is no denying that Malia had an amazing time at the music festival, Lollapalooza. This is not the first time Malia attended this music festival, she was also spotted there in 2014. However, not everyone was happy to see the teen have a little fun. Twitter users were quick to rip her apart because attending the music festival meant that Malia was missing the historic Democratic National Convention, which meant she was going to miss Hilary Clinton potentially become the first women to be nominated for President. She may have missed a historic moment, but she was not going to let that ruin her time. After the festival, Malia made many headlines for her behavior at the concerts. The oldest Obama daughter watched rapper, Mac Miller, performed and started to rock out to his song, "Donald Trump." After the concert, a video made its way around the internet of Malia, dancing with her friends and lifting up her sweater which was tied around her waist to show the booty shorts she was wearing underneath. She may have been showing a little of her wild side, but Secret Service was definitely there by her side to keep her safe.
12

Malia Shammed For Getting A Little Wild
Like any other 18-year-old, Malia was caught singing and dancing along to rapper, Bryson Tiller's, set at Lollapalooza. However, pictures and videos of her having a great time during EDM artist, Cashmere Cat's, show with her friends are what caught the attention of the public. Malia was showing off her dance skills and slipping in a few twerking moves while listening to the set. Many people around her were quick to get a picture of the eldest Obama and filmed a few videos. Not only was she shamed for her dance moves, but people were shaming her for her choice of clothing. Twitter users have no problem taking their opinions to Twitter to let the public know how they felt about her appearance at the show. Tweets were made, stating that her outfit choice was distasteful and that she was a disgrace to the Obama family. A Facebook user stated that she should not have gone to the festival because it meant that she was using tax payer's money to hire the Secret Service to attend the event. However, not everyone was hating on the teen, stating that she was only just being a teenager and doing what teenagers do. Just because she requires a little more security does not mean she does not deserve to attend music festivals.
11

More Rapper Hang Outs For Malia
Malia was very busying during her time at Lollapalooza. If she was not at the front of the stage enjoying the sets of her favorite rappers, she was backstage meeting the artist who sings her favorite songs. Among the many artists that Malia got to meet was the rapper, Bryson Tiller. Bryson started his rapping career in 2011 and is well-known for his debut hit, "Don't," which found itself number 13 on the Billboard Hot 100 list. Malia looks very excited to meet some of her favourites. She is definitely living an 18-year-old dream. Malia has expressed in the past her love for hip hop and rap music, therefore, attending Lollapoolaza is a must for this teen, even if it mean missing an important event.  After spending eight years in the White House, we can only assume that Malia wanted to get away from the world of politics, even if it was just for a couple of moments. Malia may had to endure a lot of criticism and hate from the media, but it is definitely worth it since she got to meet some of her favourites. At the end of the day, Malia is just like any other teenager who fan girl when meeting their favourite artists.
10

Who Wore It Better
It is totally normal for sisters to share clothes with each other, however, when your father is the President, you would think that you could have anything you wanted, including fashion. Besides that is what sisters are for— sharing clothes. However, that is not the case when it comes to the Obama sisters. Sasha was spotted wearing the same summer dress her older sister was spotted wearing previously. When Sasha came back from spending some time in Martha's Vineyard, she was spotted wearing a Tory Burch minidress, which had embroidered chambray design on it. She chose to pair this outfit with laced-up tan sandals and a white leather purse. This Tory Burch minidress was also worn by her older sister, Malia, earlier in the season. However, Malia opted to pair this dress with Mary Jane flats. This outfit was worn on her week trip with her mother and sister to London and Italy. The two sisters both look amazing in the dress and added their own style to it, but we cannot help but think who wore it better.
9

Shoutout From The 6 God
It is not every day that you get a shoutout from the 6 God himself, and it is not every day that the daughter of the former President wears your clothing line. However, for Sasha and Drake, this is a reality. Sasha spent a few days hitting up the hot sunny beaches of Miami with Joe Biden's granddaughter, Maisy. Sasha was spotted wearing an OVO hat, which is Drake's brand and the Canadian rapper took notice. According to AOL, Drake is a big fan of Barack Obama, therefore, he had to acknowledge the fact that his daughter was wearing something from his clothing line. Drake took to Instagram to give a shoutout to Sasha by posting a picture of her wearing the hat. The picture was captioned "Style Popper." Drake started his OVO line back in 2011 and since then, it has gained worldwide popularity with store locations in Canada, United States, and the United Kingdom. Not only does he have stores in different countries, his brand has also collaborated with Canadian retailers, Roots, and most recently, Canada Goose. The clothing line has been worn by many celebrities and is a must-have item in any Drake fan's closet. Sasha is no different from any other Drake fan so it is no surprise that she would be rocking that OVO owl.
8

Malia Forgets Pants At Home
After spending many months in cold weather, it is normal for people to lean towards their spring clothes at the first sign of warm weather. Malia is a perfect example of that, as she opted to wear a short, blue, button-down, denim dress, as she headed to her internship at the Weinstein Company in New York City. This dress is definitely something she would not be able to wear if she was still living in the White House. The dress goes barely below her thighs and shows a lot of legs. It seems that Malia must have forgotten her pants at home and she does not have any tights or pants on to make the dress not look so short. Despite her dress being so short, Malia does have nice leg so we cannot blame her for wanting to show them off on a hot day. She paired the dress with black Chuck Taylor Converse, which kept the outfit dressed down and comfortable. According to Yahoo, the reasoning why the dress looks so short is because Malia is very tall like her mother, which means this dress would look very different on Sasha who is not as tall. However, this dress comes as a shock, as the public is so used to her wearing modest dresses while her family occupied the White House. From what we have seen post-White House, we can tell that her style is actually quite the opposite, Malia has a more laid-back style.
7

Fun In The Sun With Secret Services
The youngest Obama daughter hit the beach to enjoy some sun with her friends for a weekend, however, she was with more than just her friends. The teen was surrounded by a team of secret service agents. The agents were spotted wearing suits and were join by the hotel staff to provide security for the group of friends, which included Joe Biden's granddaughter, Maisy. The group of friends were photographed with many men dressed in suits surrounding them as they made their way to the beach. Sasha was also photographed enjoying the ocean, however, there is no chance to approach her with the Secret Service only a few steps away. This outing took place during the time that her father was preparing to leave the White House and days after she missed her father's farewell speech, due to having to study for an exam. Despite no longer being in the White House, Sasha will still be surrounded by the secret service. According to Express, there is a law under the Former President Protection Act, that former presidents and the first lady will always be protected by the secret service for their whole life. Their children will be protected until they are 16 years old.
6

Malia Does Not Want To Follow Father's Footsteps
Malia may not be following in her father's footsteps as she has been seen interning with the HBO's hit show, Girls. The former president's oldest daughter is not getting involved in politics or the government, instead, she is taking interest in the entertainment industry. Actress, Lena Dunham, in an interview with Howard Stern, stated that Malia is an angel and that she did not ask the president's daughter to do coffee runs. They actually put her to work. Malia wanted to do every job and she was very enthusiastic, according to Lena. The actress explained that they would teach Malia to do things that the writer's assistant would do and also how to move props from one set to another. Lena also admitted to Vanity Fair that no one on set noticed the Secret Service until they blocked a girl from using her own bathroom because Malia was using it. Besides from having the Secret Service, Malia was treated just like any other intern on set. Lena had nothing but great things to say about Malia and complemented her on her intelligence. As for Malia's career, it is not known what she is studying at Harvard, but if it has to do with anything about the place she has been interning at, surely it has to do with the entertainment industry.
5

Malia Encourages Sasha To Talk To Celebrity Crush
We all have celebrities that we admire and would love to meet one day, and Sasha is no different. Malia and Sasha were attending their first State Dinner when the two met with Deadpool actor, Ryan Reynolds. The three were photographed together, however, Malia was not talking to the actor like her sister was, instead, she was leaving the two to talk while she gave her sister the thumbs up. Malia shows her sister her support as she talks to Ryan. This picture captured the hearts of many, as they found the support from her sister adorable. While some social media users thought that Malia was encouraging her sister to talk to the actor, others thought that Malia was giving Sasha the thumbs up for totally fangirling and embarrassing herself. The thumbs up was either interpreted as Malia showing her sister that she has the courage to talk to Ryan or the thumbs up was interpreted as letting Sasha do her thing, but she does not want to be around her fangirling. According to CNN, the state dinner was held in honor of the Canadian Prime Minister Justin Trudeau. In attendance were many Canadian celebrities, such as Michael J. Fox, Mike Myers, Ryan Reynolds, and his wife, Blake Lively.
4

Sasha Yawns During Speeches
We all know how boring it can be to sit and listen to someone talk, especially when that person is your father. Sasha has been caught multiple times yawning during her father's speeches. One of her most talked about yawn was during her father's inauguration speech. The yawn happened after her father addressed education and coming together as one nation.  According to The Atlantic, the reasoning behind this big yawn was that fact that Sasha was an 11-year-old who had one busy morning. Before the inauguration, Sasha had already attended church early that morning and had to go through a lot to get ready for the day's events. Including a meeting with a stylist that would be picking out their outfits for the big event. It was a long day for the youngest Obama daughter. When the yawn was seen on national television people were quick to make the image a GIF. It is now a moment Sasha will never hear the end of. Many people were also quick to turn to social media to put their opinions out there on the matter. At the end of the day, Sasha is a child and children will do what children do. We cannot blame her for letting out a yawn when she had one of the busiest days of her life.
3

Questionable Internship With Harvey Weinstein
When the Obama family returned from their post-inauguration vacation in the Palm Springs, Malia did not return to Washington D.C like her family did. Instead, she relocated to New York City for an internship with producer, Harvey Weinstein. Page Six reported that Malia would be taking a gap year before attending Harvard and, in the meantime, would begin working for the well-known producer. Before working for Harvey, Malia has had a few experience working in the industry. Besides her internship with HBO, she also had a gig working on the set of Halle Berry's science fiction drama, Extant. Malia will learn a lot working at the Weinstein Company, despite the recent heat he has been under. Harvey has been accused of the wrongful treatment of women in the industry. Many of those who have accused him are well-known in the entertainment industry. This has sparked many investigations and lawsuits against him and has even inspired campaigns. This could be concerning, considering the status of Malia, however, no comments have been made on her participation in the company.
2

Leaked Selfie Of Malia
In some aspects, Malia and Sasha are just like any other teenagers. However, like most teenagers the Obama daughters are not allowed to be on social media. According to the Washington Post, Michelle revealed that her daughters do have access to Facebook and limited access to Twitter. She states that she is not a believer of Facebook for young people.  Therefore, when a selfie of Malia found itself on the internet, many people were confused as to how it got there. The picture of Malia wearing a Pro Era, which is a rap band, t-shirt was first spotted on the Pro Era Instagram account. They used this picture to advertise their merchandise, as they told their fans they can purchase the same shirt as the president's daughter. When group member, Joey Bada$$, was interviewed by Gawker, he claimed that the picture was given to them by a mutual friend. However, it is still not known how the picture ended up online. The Obama girls have expressed their love of hip-hop music before and are fans of the group, Pro Era. A selfie like that is not something they want circulating the internet, which is why the girls are not allowed on social media in the first place.
1

Gap Year Was Controversial
When it was time for Malia to go to college, she decided that she wanted to follow her parent's footsteps and attend Harvard University. However, Malia decided that she was going to take a gap year before attending in the fall of 2017. It was never discussed why Malia decided to take a gap year or what her official plans were, however, her gap year turned out to be very controversial and a public relations horror story. Malia was caught at a party where there was a lot of alcohol and beer pong being played. Malia is underage, therefore, she should not be drinking. She was also caught smoking, which made headlines in the media. Another scandal was all about her provocative behavior at a music festival, which included her choice of clothing and dance moves. This all may be normal behavior for someone who is about to attend university, but when you are the President's daughter, you have to keep in mind that people are watching your every move. However, she was not always on her worst behavior, Malia did do a little bit of traveling. It is safe to say that while studying at Harvard, Malia will not be attending any parties and will keep her head in the books.
References: Page Six, Vibe, TMZ, Pop Sugar, People Magazine, AOL, Express, CNN, The Atlantic, Washington Post, Gawker, Vanity Fair
Source: Read Full Article