It pretty much broke our hearts when we heard that Jennifer Aniston and Justin Theroux broke up this year. The two had only been married for a couple of years and we had thought that Jen had finally found her prince. But as we all know, Hollywood relationships break up quicker than any others. Maybe Justin just wasn't the one? At the time the two seemed like the total package, a power couple that could not be messed with. The two split in February of this year after issuing a joint statement that said the decision "was mutual and lovingly made at the end of last year." Justin signed what is considered to be an "iron-clad" prenup before they got married in 2015 so he didn't walk away with any of Aniston's fortune. The statement they sent read like this, "In an effort to reduce any further speculation, we have decided to announce our separation. This decision was mutual and lovingly made at the end of last year. We are two best friends who have decided to part ways as a couple, but look forward to continuing our cherished friendship."
So, what has Aniston been doing since the split? She looks better than ever that much we do know and if a breakup is going to turn your life around, then that's what it's done for her. Check out these 24 photos of Jennifer Aniston that show she's better off being single.
20

She's Spending A lot of Time With Courteney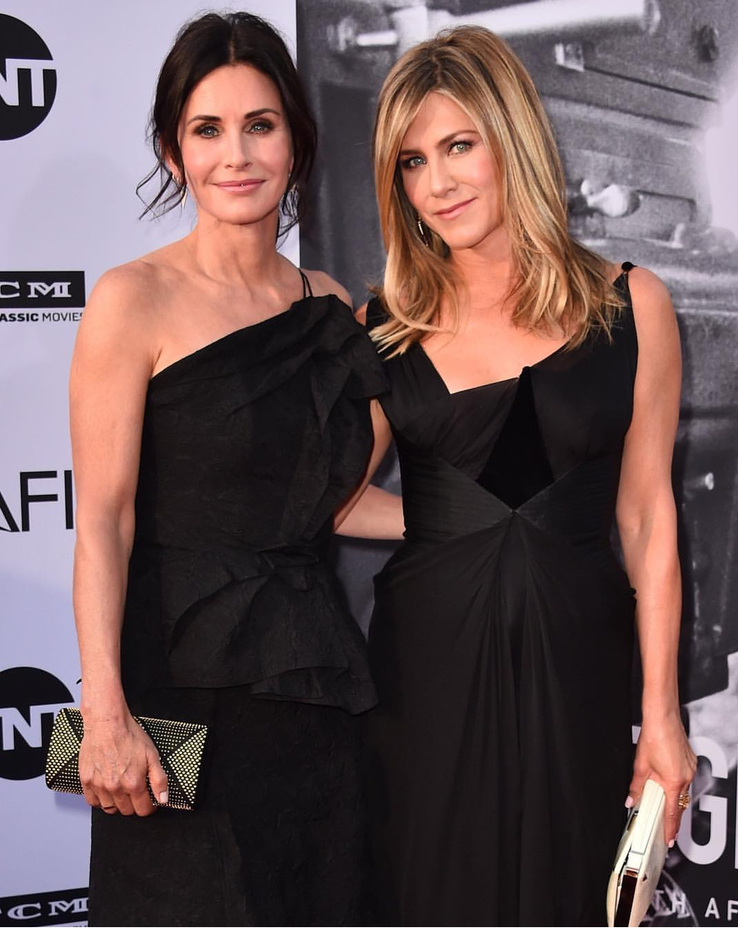 Jennifer Aniston is very private on social media, so we don't really know what she's doing. For the most part, she posts pictures of herself, but they are all attached to motivation quotes. One thing is for sure, she's a very positive person. She's unlikely to be crying herself to sleep at night. In fact, you might be hard-pressed to find a bad picture of the actress right now. She looks as good as ever. She has been spending a lot of time with one of her best friends Courteney and it's likely that these two have had some heart to hearts over the past few months. These two always look great together. The two were seen together both dressed in black for the AFI gala.
"There's absolutely no judgment in Court," Aniston told More magazine. "You'll never feel scolded. She's extremely fair, ridiculously loyal and fiercely loving."
Aniston has stated that she can always count on her friend when she needs her. "I've slept in her guest bedroom a lot," Aniston admitted. "Without giving away too much of my private stuff, all I can say is she's been there for me through thick and thin."
19

She's Being Thoughtful and Introspective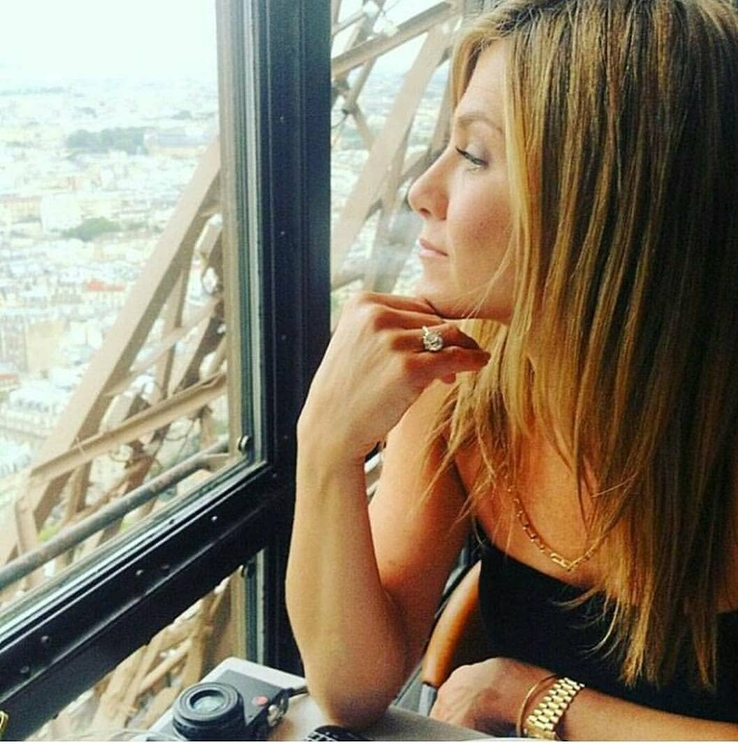 When we all go through losses in our lives, we need to take a moment to reflect on what we have been through and find a way to move forward. That's what it looks like Aniston is doing in this photo. She has never looked better and it appears as if she's doing more than okay. She captioned this photo,
"Accept yourself, love yourself, and celebrate yourself."
These days, fans are more interested in whether or not Aniston and Pitt are going to get back together and really who can blame them. There was a time that Aniston used to speak about Pitt in interviews like he was the love of her life and maybe he was. But it's highly unlikely that the two are getting back together. Even if there are still feelings there, the level of betrayal that Aniston must feel after what Pitt did to her with Angelina Jolie is not an easy thing to forgive. Regardless of who Aniston dates, the bottom line is, she will be just fine. "I think it's important to have closure in any relationship that ends. From a romantic relationship to a friendship. You should always have a sense of clarity at the end and know why it began and why it ended. You need that in your life to move cleanly into your next phase."
18

Aniston Knows Who Her true Friends Are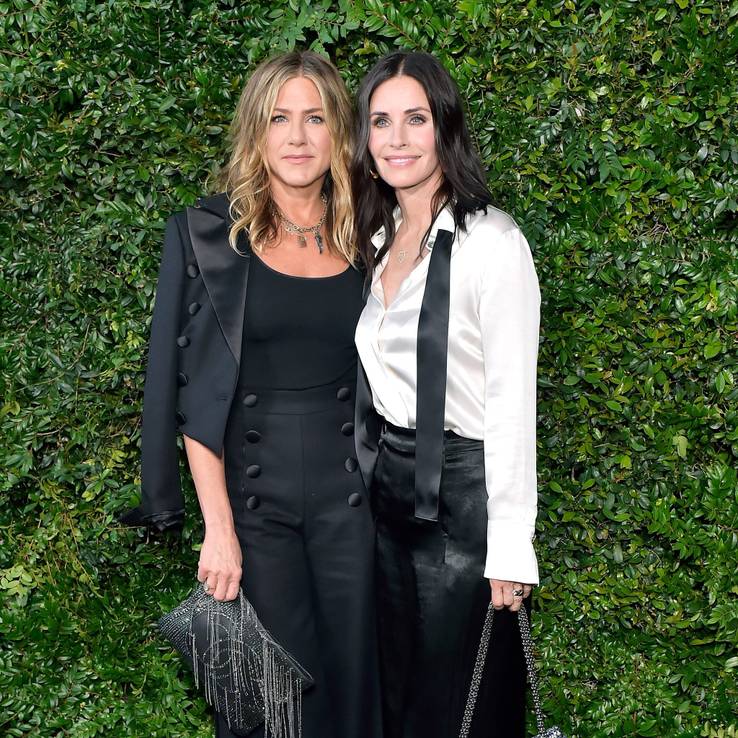 Jennifer Aniston and Courteney Cox got together again for the Chanel and the Natural Resources Defence Council's "Our Majestic Oceans" benefit this past week and it looks as if they coordinated their outfits yet again. They both had tuxedo inspired outfits that made them look pretty amazing. Aniston looks better than ever as she chills with her friend at the event. The two definitely lean on each other in time of need. Aniston is the godmother of Cox's daughter Coco and Aniston has been known to stay at Courteney's home after a breakup. Even Lisa Kudrow has said many nice things about the kind of friend Cox is for Aniston.
"There's no agenda. There's no guile. There's no game. You can trust her completely and fully. Whether I see Courteney every week or once a year, it doesn't matter. I know who she is, and I know where I stand."
Aniston knows just how important her friends are to her. "Where would you be without friends? The people to pick you up when you need lifting? We come from homes far from perfect, so you end up almost parent and sibling to your friends — your own chosen family. There's nothing like a really loyal, dependable, good friend. Nothing."
17

She knows who she is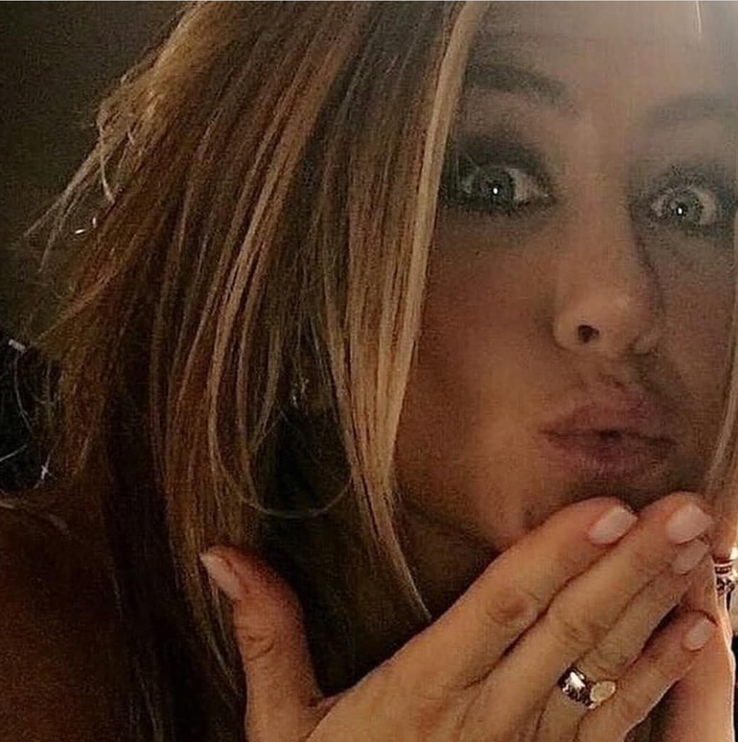 This does not look like a girl that is devastated by the dissolution of her marriage. It's likely because at the end of the day they both knew that the relationship wasn't best for them. She's also told people that the breakups in her life don't define her. She told Huffington Post in 2016,
"We don't need to be married or mothers to be complete. We get to determine our own 'happily ever after' for ourselves."
But that doesn't stop fans from freaking out when she goes through a breakup and making her feel like she is someone who should be pitied. "If I am some kind of symbol to some people out there, then clearly I am an example of the lens through which we, as a society, view our mothers, daughters, sisters, wives, female friends, and colleagues," she wrote in that same essay. As much as we want to see our favorite celebrities healthy and happily in love, we have to understand that it's not the end of the world if they aren't in a relationship. She's a gorgeous and talented woman; it's pretty likely that she will find someone new on her arm any time soon.
16

She Has Plenty of Great Friends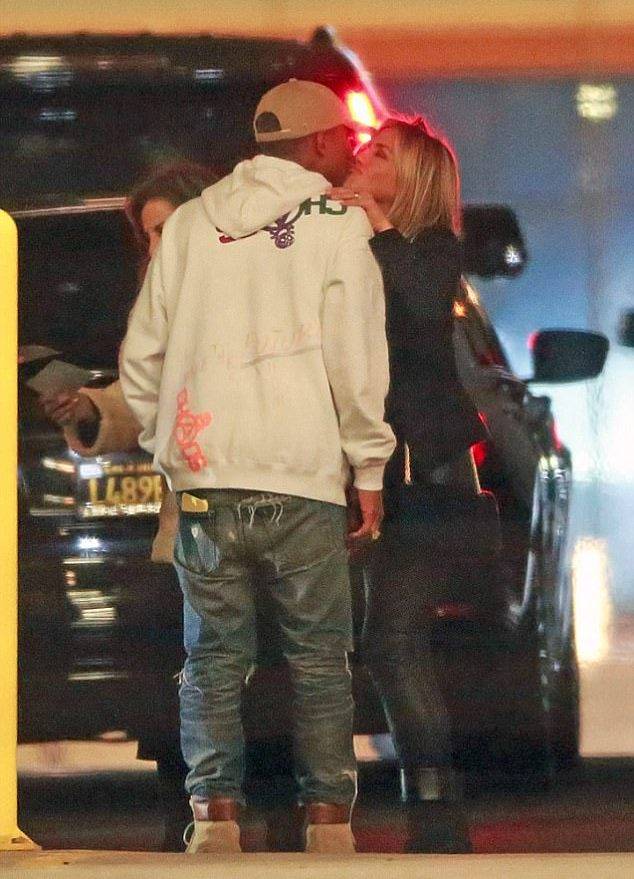 This photo was taken in February not long after her breakup from Justin Theroux. She had attended Ellen DeGeneres' fabulous birthday party in LA and she saw her friend Pharrell Williams outside of the party. The two shared some sweet kisses and hugs and it's pretty obvious that Aniston has a lot of great friends in her life. She has so many cool friends and they always seem to do thoughtful things for each other.
"One tradition I have with my friends is that when one of us gets married, we have a ton of fragrance oils and pretty bottles at the bachelorette party. Everyone puts a drop or two in a bottle for the bride and makes a wish, and the bride wears our creation on her wedding day."
She also finds inspiration in the people that she has in her life. "The women that inspire me are the ones who have careers and children; why would I want to limit myself? I've always wanted to have children, and I would never give up that experience for a career. I want to have it all." There is definitely nothing wrong with trying to have it all.
15

Spending Time in the Sun With Friends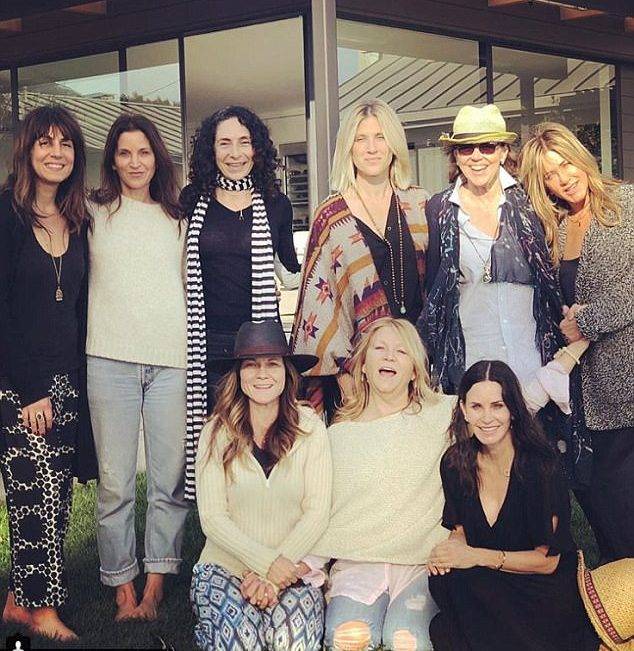 Jennifer Aniston is doing the best thing for herself right now and that's surrounding herself with people who love her. She's clearly got some great friends and it looks like everyone got together in this photo for some serious girl time. It's interesting, though, how the marriage ended when the two of them seemed so happy. Justin Theroux even stated once that he found being married to Aniston to be "calming" to him.
"Obviously, I'm married. I think marriage taught me to settle a little bit. It does have a calming effect. I think it's at what age you make that commitment. When you hear about people in the '50s getting married at 20, you're like, 'What were they thinking?' My grandparents were together for over 50 years.
My grandfather used to write one sentence every day in his journal: "I love Anne more than ever today." I think that was his meditation, keeping him in his marriage, and also his appreciation for it. It was very touching.'" But at the end of the day it seemed as if they didn't spend a whole lot of time together and they had conflicts about where they were going to live permanently.
14

She Is Still Renovating Houses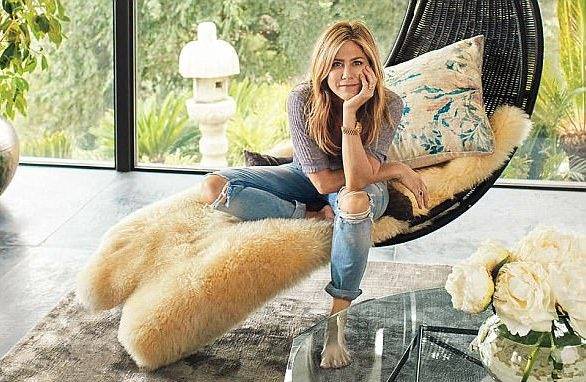 Just this past March, she and the home that she lived in with Theroux was featured in Architectural Digest. The house is now back on the market. Whether that is because of the breakup or not is hard to say. Aniston has a habit of buying homes, renovating them and then selling them for big bucks. A source told Us Weekly,
"She bought the mansion and it underwent extensive renovations. That is what Jen does: Buys houses, renovates, and then sells for a huge profit. The mansion is going to be a pocket listing, and if it doesn't sell that way, it will be listed on the open market,"
the source stated that Aniston is currently looking for a new project to work on.
Featured Today
20 Royal Rules Kate Middleton Broke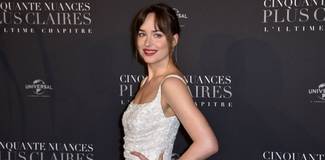 20 Reasons Why Hollywood Isn't Embracing Dakota Johnson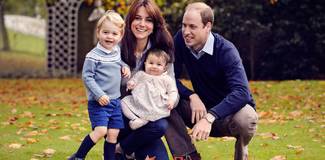 12 Things The Royal Babies Can Do (12 They Can't)

13

Chilling With Iron Man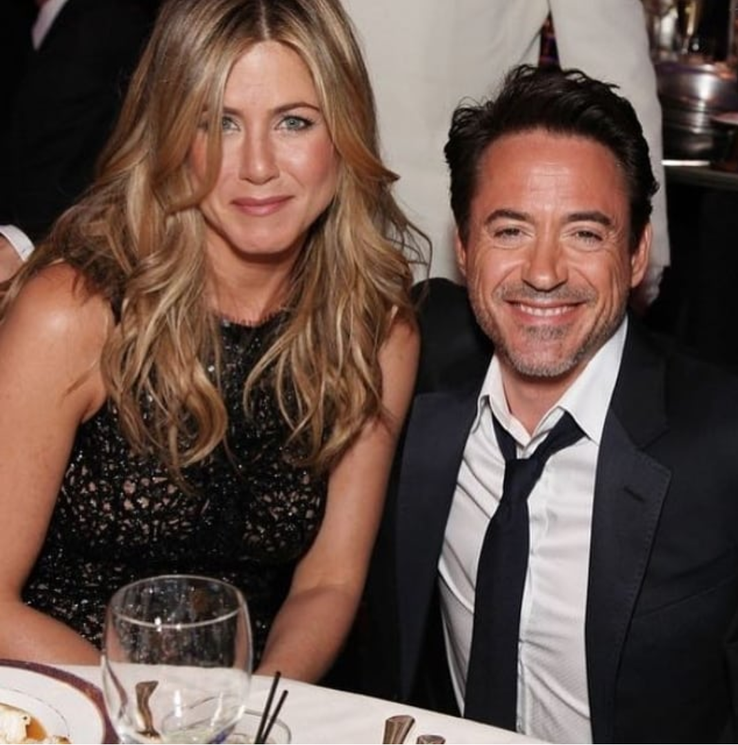 She has no problem with saddling up next to leading men now that she's single. Of course, Robert Downey Jr. is not but we have to acknowledge just how awesome Jennifer Aniston looks in this photo. The two have been friends for a long time and it's rumored that Downey was the one that introduced Aniston to Theroux.
"He and Jen fell in a real, legit fashion. And he was willing from the jump to make sacrifices,"
he added talking about how Theroux had to deal with endless paparazzi. Oddly enough, Theroux also once said that all the sacrifices were worth it to be with Jen. "It doesn't feel like a hardship, it doesn't feel difficult," Theroux said to Details. "It can be an annoyance, but it's not the end of the world. You have to center on what its core thing is, which is that you met someone you fell in love with. It's hard to explain. I just find myself wondering, 'what's the big deal?'" Aniston has also stated in an interview that she thought that Downey was "dreamy." It sounds like the tree of them are really close friends, or at least they were.
12

She's Calm and Relaxed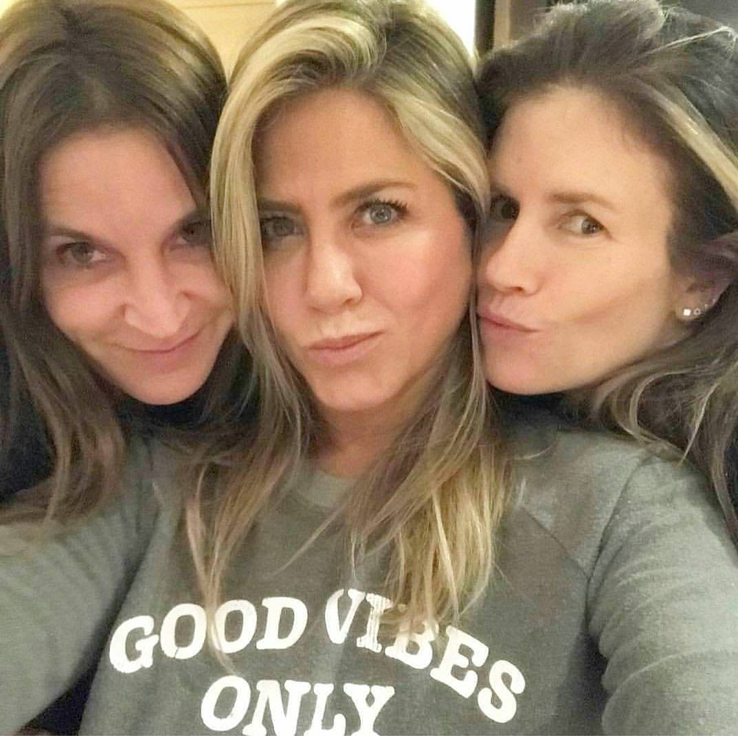 She certainly looks relaxed as she chills out with a few of her friends. That's one thing about Aniston, is that she doesn't let things bother her. She captioned this photo on Instagram, "Positive mind. Positive Vibes. Positive Life." She has had her ups and downs in love, but she doesn't ever seem to give up on the notion of finding love again.
"Most of us fall in love with someone's persona and spend the next three to five years discovering who that person really is. If you can stay connected through that process of raw vulnerability, I think you have a shot at the prize of knowing and accepting another human being for who and what they really are after years of highs and lows."
She is definitely a big fan of the butterflies of a new relationship and aren't we all? "I love that feeling of being in love, the effect of having butterflies when you wake up in the morning. That is special." That's really cute and we can see that Aniston believes in love it's just the matter of finding the right guy and don't we all have that issue sometimes?
11

She Doesn't Have A Care in The World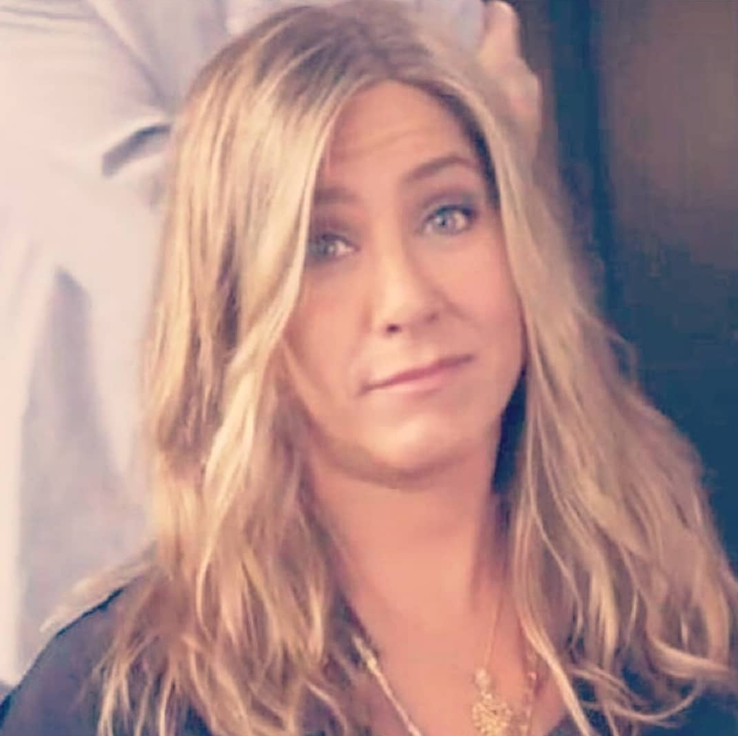 This is the kind of picture that states that Jennifer Aniston doesn't care. Right? She's not worried about a breakup, she has a great life and not a care in the world. Obviously, while she was with Theroux, she believed that he was the one. We don't think that people get married if they think otherwise. A source told the Independent that "she didn't expect to be single again" and that's not surprising at all. Breakups suck no matter hat, but Aniston is really great at looking towards the future for something new.
"She hates all the media attention that she knows she will get now. But she is a big believer in falling in love and spending her life with a partner that loves sharing hers,"
a source told People. "They couldn't find common ground that made them both happy. It became exhausting and frustrating," the insider added. Where they chose to live seemed to be a huge problem for Theroux. "He much prefers being [in New York] and that's been a major issue for them for a long time," a source told Entertainment Tonight. "He really wanted her to be comfortable [in New York]. He even negotiated with the paps to make a deal that they would only shoot her once per day and then leave her alone. He also agreed to move out of his apartment, which he loves."
10

Friends support each other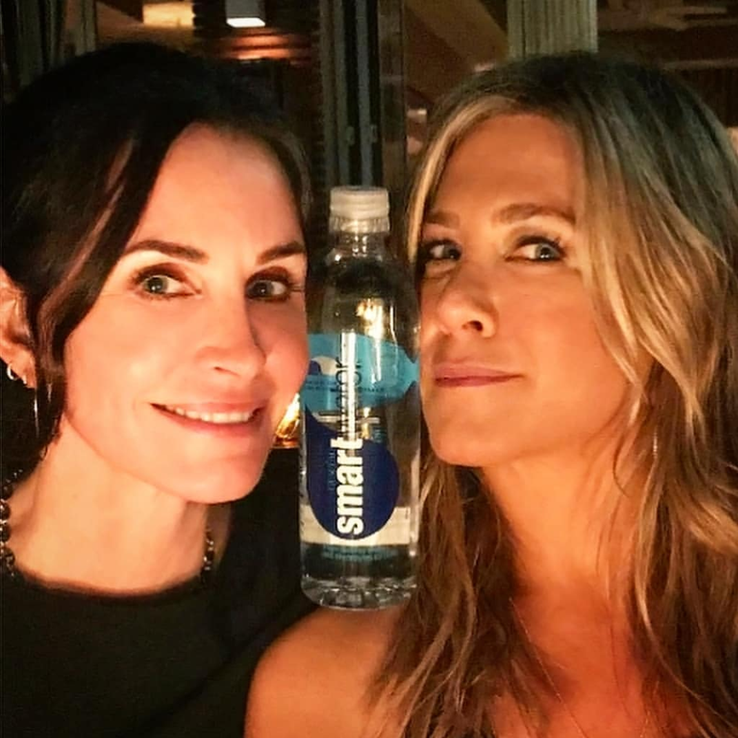 Jennifer Aniston has been an ambassador for SmartWater for many years, so it's always cute to see how she includes the brand in photos. These two are looking like they are having a lot of fun together. She captioned the photo with, "True friends are never apart. Maybe in distance, but never in heart heart." Aniston understands that you have to meet adversary in your life if you are ever going to evolve into something better.
"People who avoid the brick walls, all the power to you, but we all have to hit them sometimes in order to push through to the next level, to evolve."
She's a cool girl who really seems to have her ducks in a row. Regardless of what the press thinks, this girl has it all together and she is less worried about her love life than the rest of us are. She just wants to chill with her friends and move on with her life. "You know when I feel inwardly beautiful? When I am with my girlfriends and we are having a 'goddess circle.'" That's probably how we all feel when we are with our own tribe of people.
9

Taking care of herself
Jennifer Aniston was photographed leaving the hair salon in April looking as fresh as ever. One thing is for sure is that she almost looks smug in the picture. She's not sad or destroyed, she looks amazing. The one thing that she can depend on these days is the amazing career she has built for herself. She has stated that she likes spontaneity on set.
"The fun stuff comes when someone is not so strict on sticking to the script. You're allowed the spontaneity, and great moments can happen."
She gets her acting chops from her family, her father used to be a soap actor. "My dad became a soap opera actor, and I was an extra in a skating rink scene on the soap. I didn't audition. It was nepotism all the way." She was told to avoid Hollywood at all costs, but she really wanted to act. "I was told to avoid the business altogether because of the rejection. People would say to me, 'Don't you want to have a normal job and a normal family?' I guess that would be good advice for some people, but I wanted to act."
8

She's opening up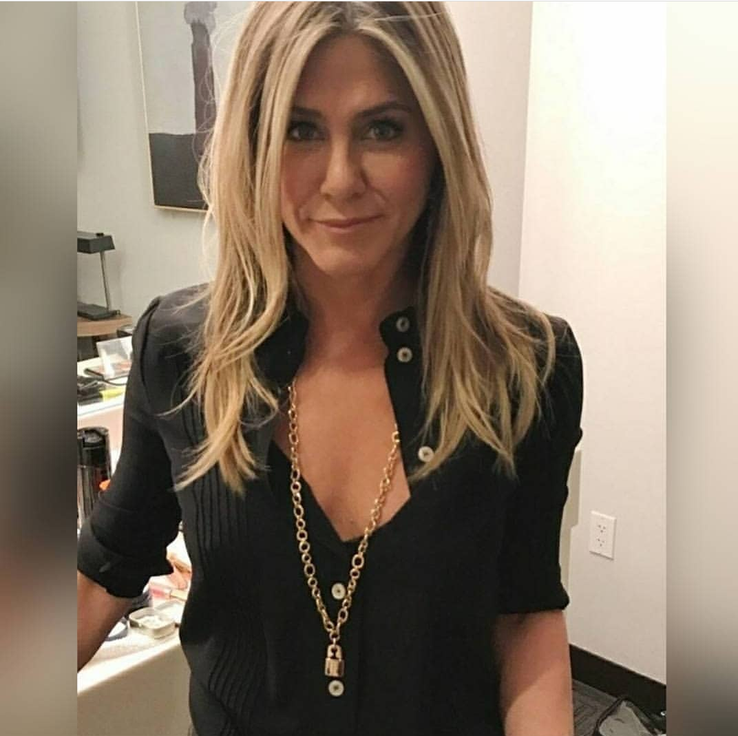 For Ellen DeGeneres' 60th birthday this year, she had a lot of star-studded appearances on her show, Jennifer Aniston being one of them. The two have been longtime friends, so it wasn't surprising that Aniston was invited on the show. When Ellen asked Jennifer if she remembered the first time they met she answered, "Yeah, I do," Aniston replied. "I was at your birthday party." Neither of them could remember what birthday it was. "I think you were 36," Aniston said, before adding that maybe DeGeneres had been "37, no 38." But Aniston did recall "being absolutely in awe" of her new friend. "You get me in a part of my funny button like nobody else, and my heart" Aniston added. "You are extraordinarily beloved." Now that's really sweet. Ellen also made it a point to crash Aniston's 27th birthday party. "I remember feeling terrible because I had just been to your birthday party and then you were at my birthday party and I went, 'Oops.'" Aniston shared. "And you made it very clear that you were crashing. It was very adorable." "But that's why we became friends," DeGeneres added. "Then I was invited to everything."
7

She's Always Glamorous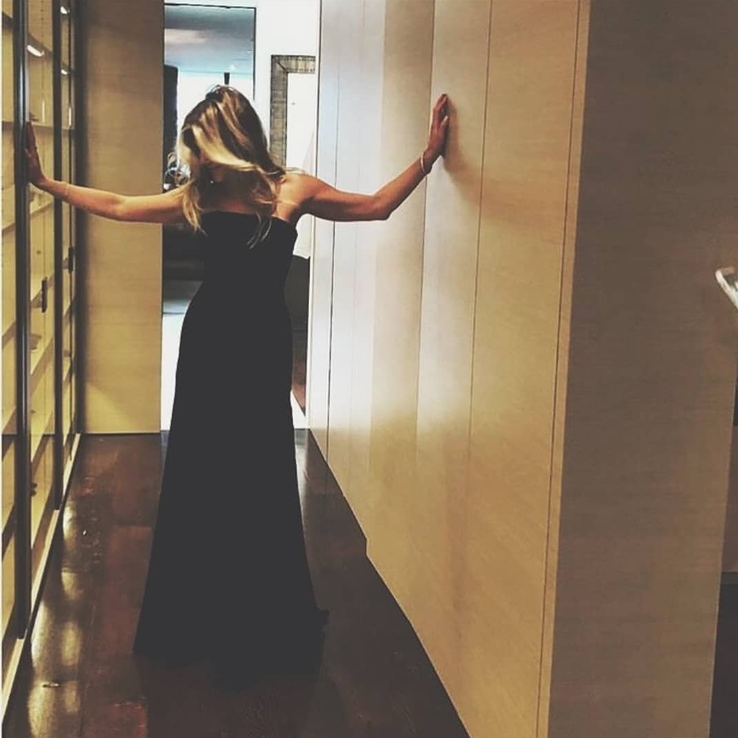 When it comes to Jennifer Aniston, she always has amazing red-carpet gowns. We love the ones with the slit down the side the best. But she always looks elegant and foxy all wrapped into one. She's someone that has impeccable taste and it's a rare moment when she missteps in fashion. She looks incredible in this photo that's he posted on Instagram with the caption, "Always wear your invisible crown." Now those are wise words. She is one actress that has always taken really good care of herself and that's why she still looks amazing as she encroaches 50.
"Look I eat really well and I work out, but I also indulge when I want to. I don't starve myself in an extremist way.
You're not taking away my coffee or my dairy or my glass of wine because I'd be devastated." She is not worried about aging as much as everyone thinks that she is. She still looks great despite her age. "You know, I've got wrinkles on my forehead and smile lines, but what's wrong with that? I love to smile." One thing is for sure, Aniston is a great catch and she's sure to be in another relationship in the near future.
6

Having Good Times With Friends
She really looks happy in this photo with her friends. She posted it to Instagram with the caption, "Friends make the world beautiful." She's got a lot of cool things going on this year in post-production. She is working on a TV series with Reese Witherspoon that we literally can't wait until she releases. She also has two movies called Murder Mystery and Dumplin' that she will be working on this year. As far as her career is going, she has nothing to worry about. Luke Evans will be joining Aniston on the Netflix's comedy Murder Mystery. "The feature follows a New York City cop (Sandler) as he finally takes his wife (Aniston) on a long-promised European trip. A chance meeting on a flight with a mysterious man (Evans) gets them invited to an intimate family gathering on the yacht of elderly billionaire Malcolm Quince. When Quince is murdered, the couple becomes the prime suspects in a modern-day whodunit," said Hollywood Reporter. It sounds pretty cool in more than one way and we can't wait to see her new projects out. Everything seems to be working out exactly as she planned.
5

She's out and about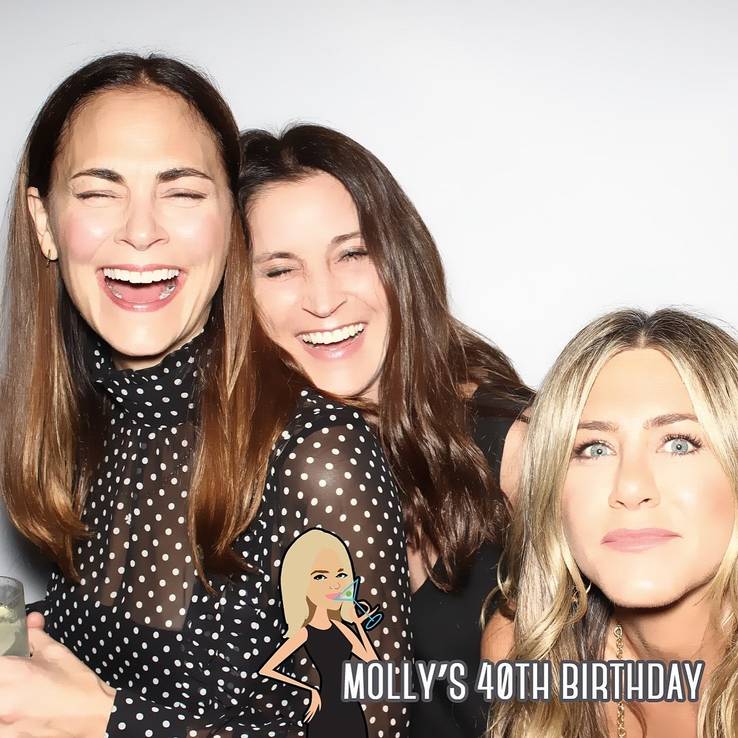 This photo was posted on Twitter by a fan in March with the caption, "Jennifer Aniston with Amanda Anka and Becky Wright at @jimmykimmel wife's, Molly McNearney 40th birthday party." The photo had been posted to Becky Wright McDonald Instagram. Seriously how good does Aniston look in this photo? She definitely has friends in high places and she doesn't have to worry about a bad interview with Jimmy Kimmel if she is friends with his wife. Aniston is about to embark on the unknown in her love life, but she has said before that she pretty much loves new adventures.
"I love the unknown. I love the discovery of what will be happening and just kind of sitting back and not knowing."
For the future, she's trying to follow her heart and the path she believes is set out for her. "Really try to follow what it is that you want to do and what your heart is telling you to do." We're sure she feels the sadness of her relationship ending but who knows what is bound to come her way. "It's sad, something coming to an end. It cracks you open, in a way, it cracks you open to feeling."
4

She's treating Herself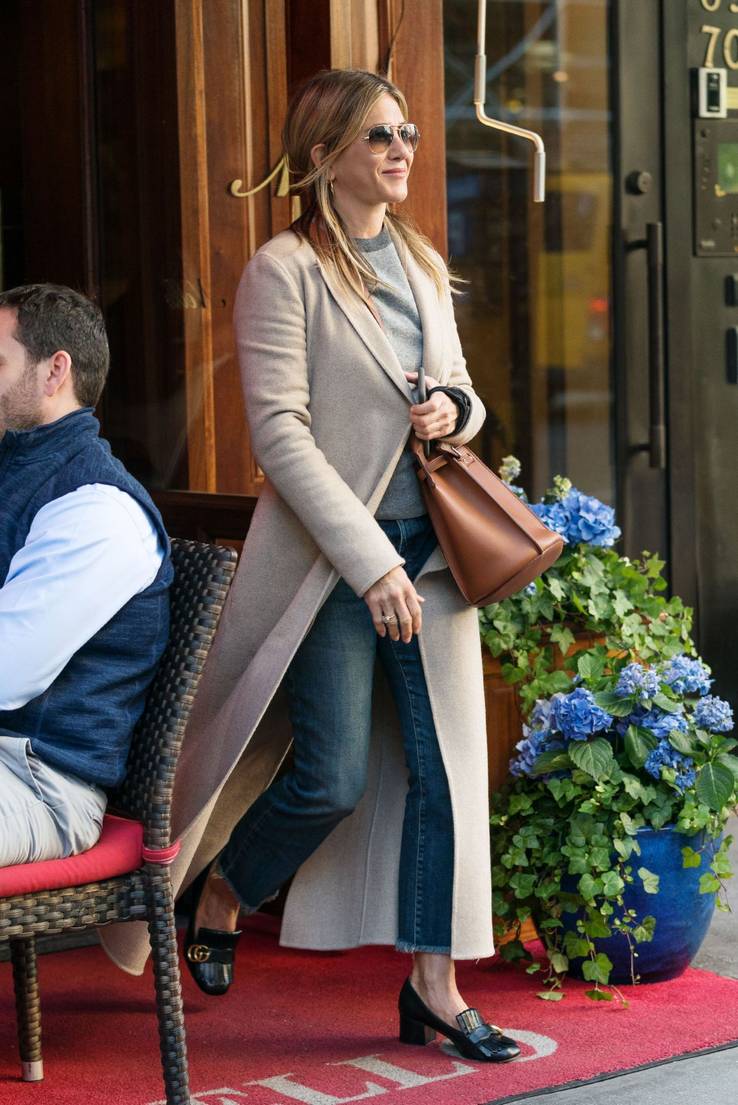 She looks as happy as ever in this photo as she left Nello restaurant in New York in April. We don't think that we have anything to worry about when it comes to Aniston bouncing back from the breakup. Aniston wasn't always a big star in fact when she was first starting in the industry she had been involved in some interesting projects. The first film she ever made was called Leprechaun and to say it was bad would be a huge understatement. But actresses have to start somewhere. Cult horror lovers have made it a classic over the years and it's amazing that it's still playing after all these years. Aniston told the Graham Norton Show of how embarrassing it was when Justin Theroux came upon the movie while flicking through the TV.
"Actually, it was a mortifying moment when Justin (Theroux) and I had just started to date. He was flipping through the channels and he stumbled upon that. And that was our next two hours much to my embarrassment."
That's a pretty great story and Theroux probably has some movies himself that he would rather people not see.
3

Retail Therapy is Everything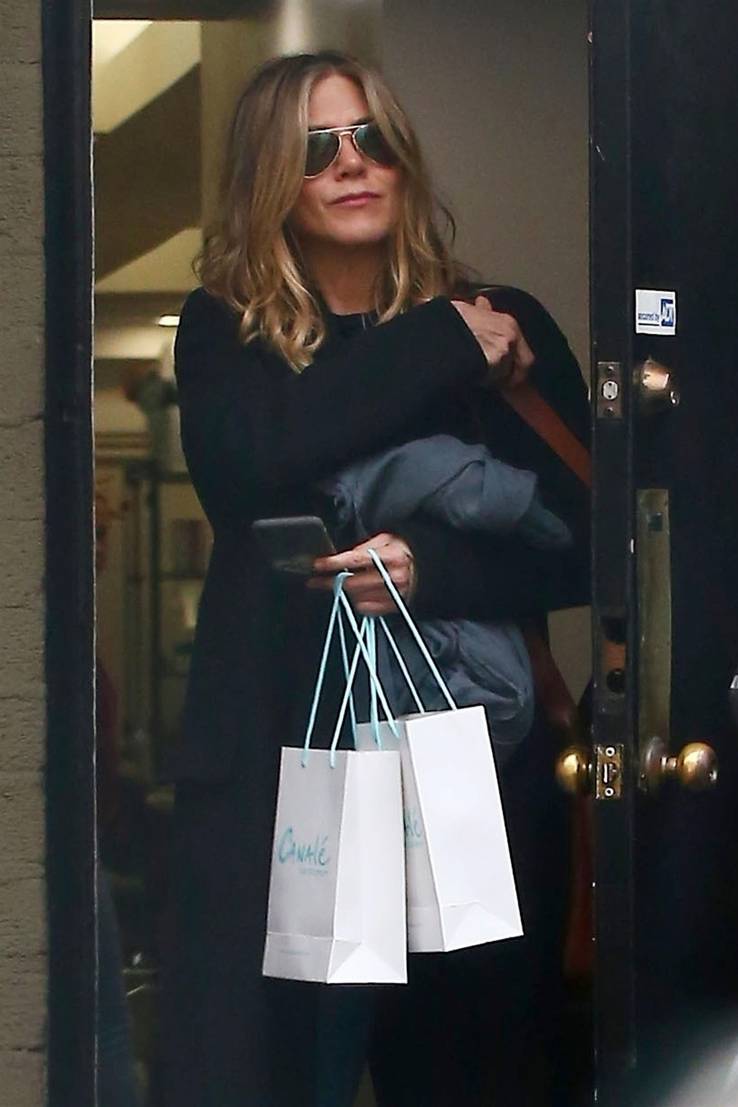 We can all probably attest to how awesome it is to have some retail therapy when we are feeling down in the dumps. Jennifer Aniston clearly has the same idea as she was seen leaving Canale Hair Salon in Beverly Hills in May with some purchases with her. When Aniston played the foxy dentist in Horrible Bosses and Horrible Bosses 2, she stated that it was a bit awkward flirting with Jason Bateman who she has been friends with for 20 years.
"I've known him 20 and some years, he's like a brother to me and his wife is one of my best friends so in the rehearsal and first take we blushed and let the giggles out and then went for it."
Remember that insane Rachel hairstyle she had that everyone was obsessed with? She stated that it was a nightmare to put together. She said, "I only had that style for a season and then it was gone. That baby had some legs! My hairdresser was loaded when he gave me the haircut. He had a great time with the blow-dryer but didn't think that I would have to do it myself. He then leaves me with a round brush and hairdryer. I didn't know what I was doing. It was hair hell!"
2

She Attends Parties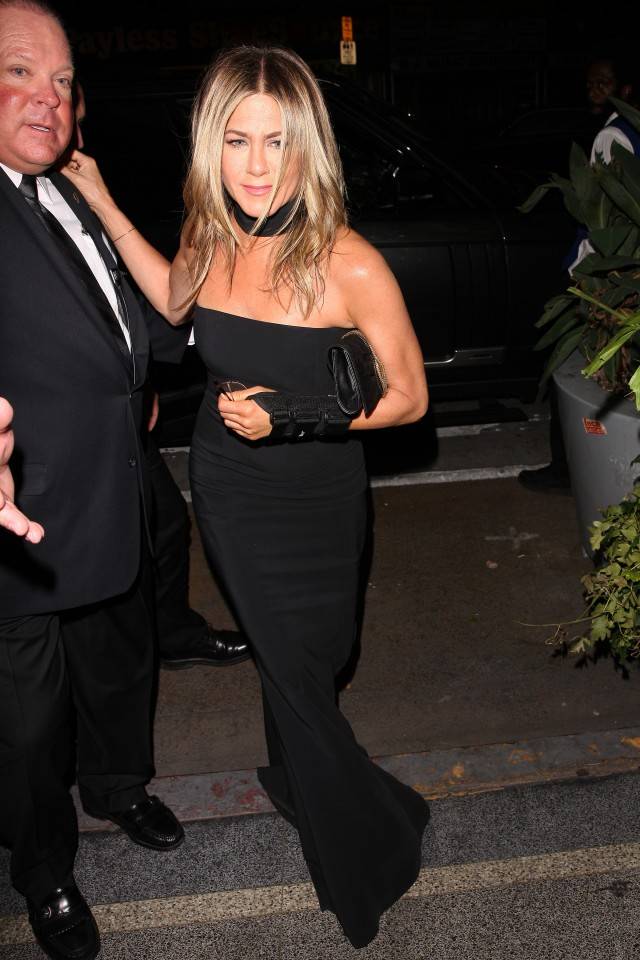 She may have had to wear an arm-brace to Gwyneth Paltrow's engagement party, but she looked smashing while doing so. She looked amazing even though she arrived solo at the event in April. Friends are saying that she is all about hanging out right now and embracing self-love. A source told ET that Aniston is currently taking time out for herself. "She could perchance now not fall in esteem anytime soon," the source added that she is hanging with friends. "All her chums are spherical to her. That is basically the most advantageous supportive crew." Aniston is not opposed to acting like a fan when she runs into someone that she admires either. When she ran into Clint Eastwood in Hollywood, she didn't know how to act.
"I am so embarrassed. I was just leaving the Warner Brothers lot and I pulled up next to Clint. I'd never been face to face with him and I don't know what came over me, but I was just so shocked to see Clint Eastwood so close to me that I made a cellphone movie of him.
He didn't know anything. I am humiliated, but I still have it!"
1

Best Friends Forever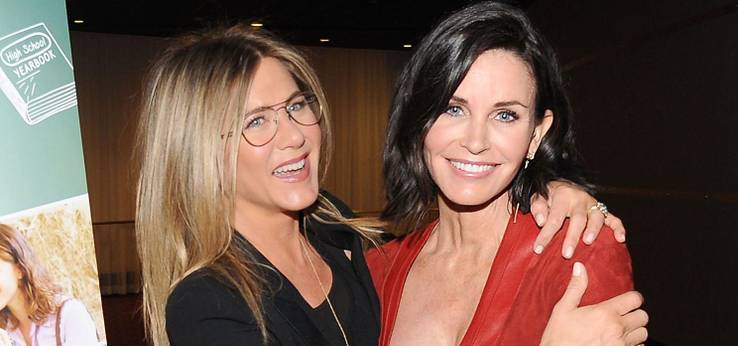 It's good to see that Aniston is spending a lot of time with her friends this year because that's the best thing for a broken heart. "I have a lot of amazing women, you know, women in my life who have been an example for me of what not to do." Everyone wants a FRIENDS reunion and people have been asking Aniston if it's possible. Aniston loved the experience of the show, but she doesn't think they will ever go back to it.
"Not only was it a gift for us, but it's something that people have been able to carry with them. It's comfort food and it makes them feel better when they're feeling down when they want to distract themselves because it is always on!"
she said. "You can pretty much find it anywhere!" She said she doesn't think it will work in a time where everyone is on their phones. "Honestly, I don't know what we would do," Aniston told Lorraine Kelly about getting everyone back together. "I think that period of time was sort of nostalgic. I think why people have such an affection for it is because even though it was only 12 years ago, it ended, or 13 — God, it's getting farther and farther away — there was something about a time where our faces weren't stuffed into cell phones. We weren't checking Facebooks and Instagrams. We were in a room together, in a coffee shop together. We were talking, having conversations. We have lost that."
References: sheknows.com, chatelaine.com, sheknows.com, dailymail.co.uk,  independent.ie, people.com, hollywoodreporter.com
Source: Read Full Article