Being a celebrity, especially a famous one that came out of nowhere, is a somewhat fickle business. At one point, you can be on top of the world and beloved by everyone, or at least most people, and then all of a sudden you aren't nearly as popular anymore, and people start to turn on you.
This is exactly what is happening currently with one of the stars of The Big Bang Theory Kaley Cuoco. When she first appeared on the show, she was beloved by everyone. The whole concept of the show, whether you like it or not, was kind of cool. A bunch of nerds hang out with each other and hey, what do you know, there is also a super hot woman on the show too, and whether you like her or not, Kaley is a pretty attractive woman.
But that's the thing when it comes to being a big star, especially on television. As much as people like to build you up, they also like to tear you down. Kaley has made some bad decisions lately and she simply isn't all that good of an actress. Odds are, when Big Bang ends, her career is going to end right with it and it seems like a lot of the shows fans are turning on her, smelling some blood in the water.
Here are 20 Reasons Big Bang fans are over Kaley Cuoco.
20

She is too High Maintenance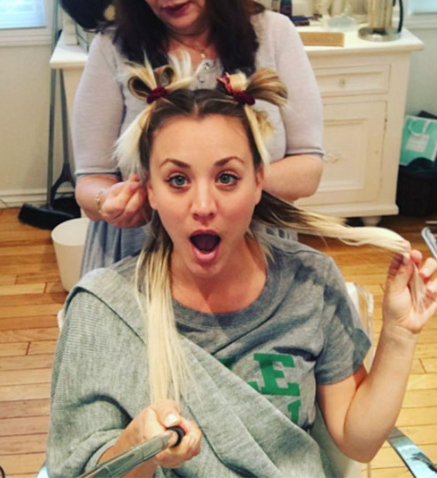 Kaley isn't the most stable person in the world,  and she needs a lot of attention, and not the bad kind, she needs people to love her and tell her that she is awesome, The folks at Nicki Swift say, "Cuoco shares a lot on social media, and she does what a lot of celebs don't— she actually reads the responses. "I'm obsessed," she told Cosmopolitan in 2014. "I openly admit to being totally insane about that." Following her wedding to tennis pro Ryan Sweeting in 2013, she posted photos from the ceremony for her millions of followers on Instagram and Twitter. Cuoco actually read every comment. "My husband threatened to throw my phone in the pool," she said.
"I'll read something from someone in Indiana who's like, 'She looked disgusting in that dress,' and it's going to ruin my night."
Seriously Kaley, some random person in Indiana thinks you don't look good and you want to cry? Maybe she should have thought of another profession, her need to be liked is one big reason that Big Bang fans are tiring of her.
19

Her Relationship With Johnny Galecki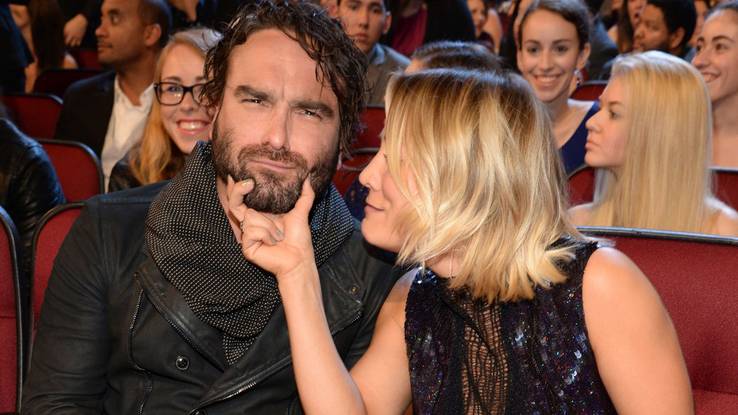 There was something that was totally weird about Kaley's relationship with her costar. You know how when you see people on a TV show and they are dating and you're kind of like "Aww," well this wasn't like that. According to Nicki Swift, Galecki explained their current relationship to CBS Watch! magazine in 2013, three years after their split.
"We're dear friends, still," he said. "She's not an ex. She's a part of my life."
Nicki Swfit wrote, "In the midst of Cuoco's divorce, rumors are flying that the duo may be friends with benefits, and that has definitely diverted attention from the television series. At the 2016 People's Choice Awards, the pair was openly touchy-feely in pictures shared on their social media pages. "Though Cuoco added a '#notdating' hashtag to her photo collage, the pals' public displays of affection are still blurring the lines between reality and TV." Hey Kaley, give the Galecki thing a rest, we are all so totally over it.
18

TV Star Careers Often Fade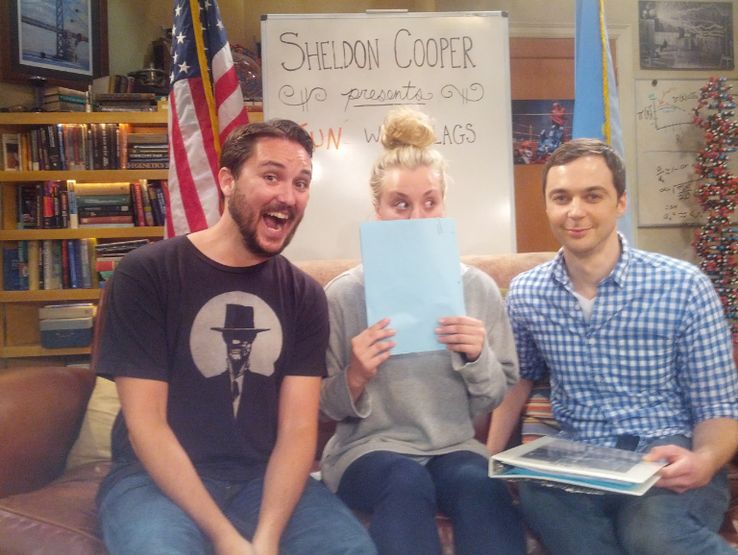 One of the main reasons Big Bang fans are getting tired of Kaley Cuoco is that they all know that she isn't going to be a big star when the show goes off the air anyway. Television is way different than movies. On a movie, an actor or an actress puts together a body of work over a period of months, while on television, that same actor or actress just basically gets lucky and becomes famous for one role, and as soon as the role is over, that person's career usually dies. Yes, of course, there are some exceptions to this rule, but does anyone really think that Kaley is going to be one of them? Even if you think she is kind of a good actress, there is no one that is going to argue she is all that talented, she is no Meryl Streep, that is for sure. We should all just face it, the only reason that she is so well known is that she is on a popular show and that she is attractive. I know that sounds really harsh, but it's just the truth and everyone knows it.
17

Leonard got the girl 
Kaley's character simply doesn't work as a wife, it ruins the whole thing that made her role interesting in the first place. "There's a trope in sitcoms where some loser guy gets married to a beautiful woman who is way out of his league. It's dumb, because you always end up thinking 'she could do so much better than this guy,' and they're always fighting, so why does she put up with this?'" The whole point about The Big Bang Theory is that we have nerdy, but loveable, Leonard who pines for the hot girl next door who he thinks is totally out of his league. But now that he's got her and even managed to put a ring on it, what's left? So often on television, there is some totally average male character that is the head of the show and he always has this super hot wife, and as a viewer, you're wondering how it all happened!
16

She's entering a new phase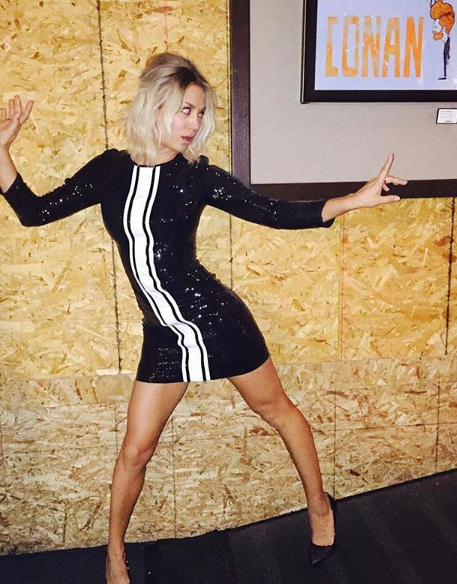 All right, I am going to come right out and say it. Kaley has a career that is pretty much entirely predicated on how good looking she is, and as the years go on, Big Bang viewers, both the ones that really like her now and the ones that don't, are going to stop following her career simply because she can't keep on the playing the "hot girl next door" forever. That might sound mean, but that's Hollywood. Look at Cameron Diaz — she played the hot single blonde for so long, but now she's in movies playing a mom. Cuoco has already admitted numerous times that she's had many beauty mods done, which is basically saying that she paid to look better and younger longer. The fact that she will get less and less of these as she ages is a total no-brainer.  I mean, come on, Kaley Cuoco isn't going to get any roles because she is an award-winning actress, in fact, she has received mock awards for her lack of skills, unfortunately.
15

Her Character Doesn't Get That Nerds Are Cool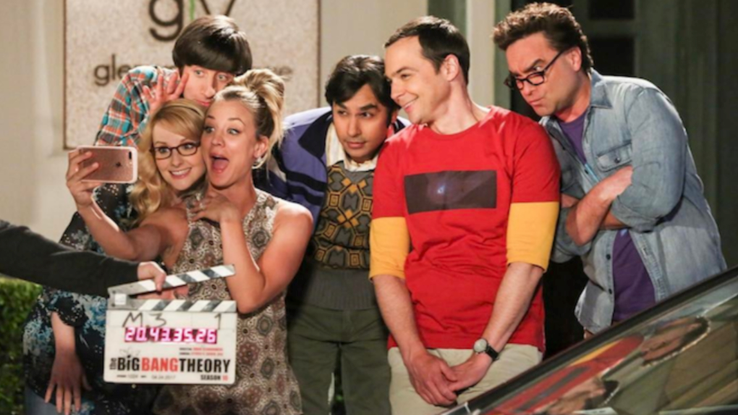 When I was growing up, people used to make fun of nerds, and in fact, even when Big Bang started, that was kind of the vibe, but as the years go on, nerds and geeks got cooler and cooler, while characters like Penny just get lamer and lamer, and the fans of the show are getting tired of the same old story. Penny needs to keep up with the times. Comic books are cool. Having a PhD is a bonus. Listening to podcasts and reading books is the "in" thing to do. No one gets made fun of anymore for being obsessed with Star Wars or Star Trek or X-Men. In fact, if you don't know anything about them, it's like you're living under a rock. So really, it's these guys who are too good for Penny. She needs to step up her game and stop depending on her looks. So either the writers have to give Penny's character some depth or Cuoco is soon going to find herself without a job because people are over this "geek meets hot girl" storyline.
14

She is a Diva
Okay, so one would think that with all of her success, Kaley was at least pretty easy to get along with, right? Well, one might think that, but then one might be wrong. One source says "actress Kaley Cuoco, who plays Penny Hofstadter on the CBS comedy, has been accused of displaying diva behavior on the set and this is said to have distanced her co-stars, according to a new report. A source told Star magazine that Cuoco has constant mood swings and she often takes out her irritation on her co-stars, reported Celeb Dirty Laundry, adding that the actress 'flips out about makeup, wardrobe, even the catering.' Co-star Mayim Bialik, who plays Amy, won't speak to Cuoco unless necessary." Well that just sounds totally unpleasant. Who would want to work with someone like that? Pretty much nobody. We have to say, with all the bad stuff coming out about Kaley, it would at least be cool if she was nice to people at work. But nope, she isn't.
Featured Today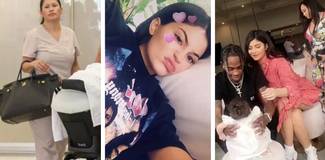 18 Bizzarre Rules Kylie Jenner Makes Her Nanny Follow With Baby Stormi

20 Pics Of Keanu Reeves Vs The Paparazzi

15 Actors Who Would Have Been A Much Better Choice For Deadpool

13

Her Hollywood Movies Flopped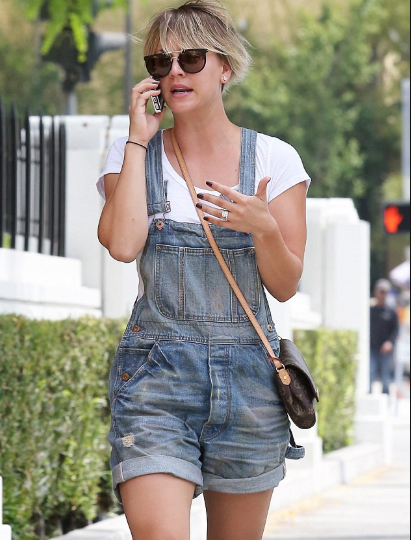 You know when you want to bet on a horse to win a race? What do you do first? Well, you look at their track record to see how they do, and in all of her other appearances, Cuoco has done pretty badly. TheFamousPeople.com says, "Kaley Cuoco has had her share of success and failures. Alvin and the Chipmunks: The Road Chip is the most successful film of her career, as it was a top-grossing movie at the box office, despite being poorly received by the critics." Funny enough, she's going to be in the movie Flight Attendant that's coming out this year. But don't get too excited, it's a TV movie. If she wants her career to survive past Big Bang, then it might be time to have her manager get her some real roles in real movies, or at the very least, another sitcom. The problem is, she's been on Big Bang for so long, she's pretty much typecast.
12

She's a party girl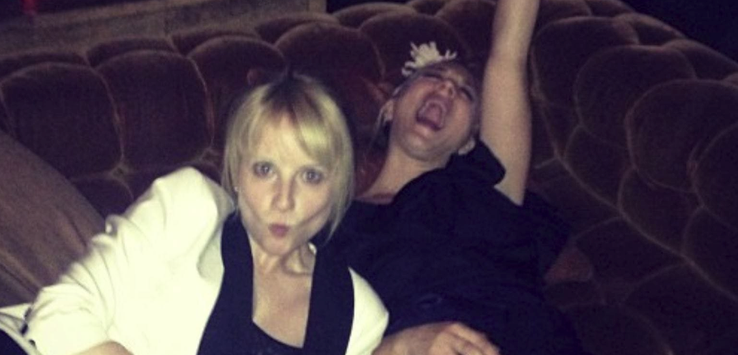 A little bit of partying is never a bad thing, but you have to be able to control it,  especially if you're in the public eye as much as Kaley is. If she wants to get hired in the future for another sitcom or movie and want serious producers and directors to want to work with her, then she has to somewhat keep it together.  According to a source, "Kaley would go out with her friends without her wedding ring" and party hard. "She'd drink two bottles of wine by herself." She apparently then calls up her hubby to pick her up and when he would get there, she would "lash our and curse" at him. Whatever happens between closed doors is their business, but lashing out and acting like a spoiled brat in public is not a great look. She's in the media often, so it's probably best she learns how to control her temper.
11

She Has Won Two Razzies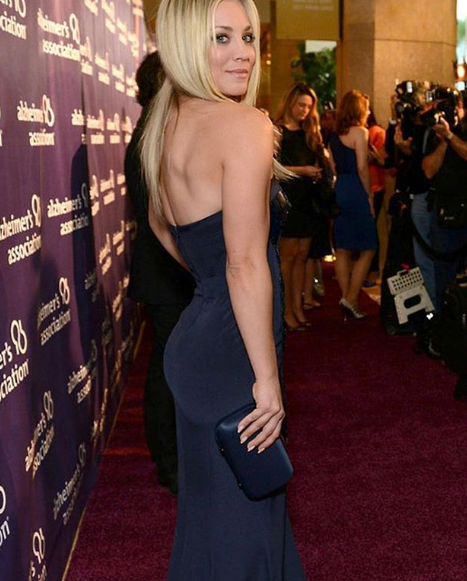 The Golden Raspberry Award, also known as "Razzies," are given to the worst movies and the worst actors and actresses in those movies each year. They are given the day before the Academy Awards. While the award ceremony itself is kind of a joke, the results are not. Kaley has won (or lost depending on your point of view) not just one of these awards, but two of them, one for Alvin and Chipmunks: The Road Chip and one for the Wedding Ringer. These movies were both completely ripped apart by critics. Being in a bad movie is one thing, but winning two so-called awards for being the worst actress of the year is quite another. She does okay on Big Bang where she basically just looks hot, read lines, and smiles all the time, but when it comes to her doing any actual real acting, she totally fails. How long are Big Bang fans going to stay in her corner when the proof is pretty much out there that she stinks as an actress? Probably not all that much longer which is bad news for Kaley.
10

She frustrates fans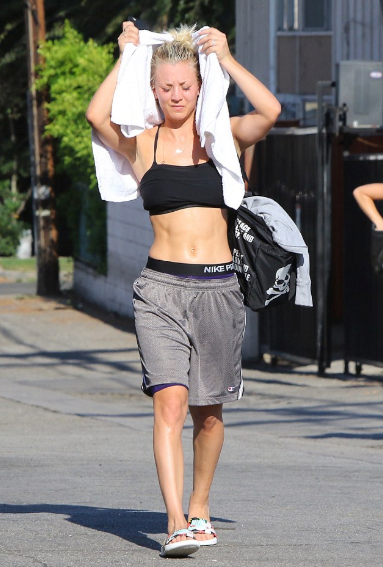 When it comes to her mouth, Kaley just can't seem to stay out of trouble. At one point, according to US Magazine," Cuoco said she likes cooking for and 'serving' husband Ryan Sweeting, whom she married on New Year's Eve 2013. Asked whether she considers herself a feminist, the 8 Simple Rules alum replied, 'Is it bad if I say no? It's not really something I think about.' She continued:
'Things are different now, and I know a lot of the work that paved the way for women happened before I was around. I was never that feminist girl demanding equality, but maybe that's because I've never really faced inequality.'"
Seriously Kaley? Do you know what feminism even means? It is basically just saying that you want to define, establish, and achieve political, economic, personal, and social equality of sexes, and Kaley doesn't seem to care. While other female celebs are speaking up about inequality in the workforce, Kaley seems perfectly content with where she is. This isn't the only example of this either, Kaley sticks her foot in her mouth just about every time she opens it.
9

She needs to work on her acting skills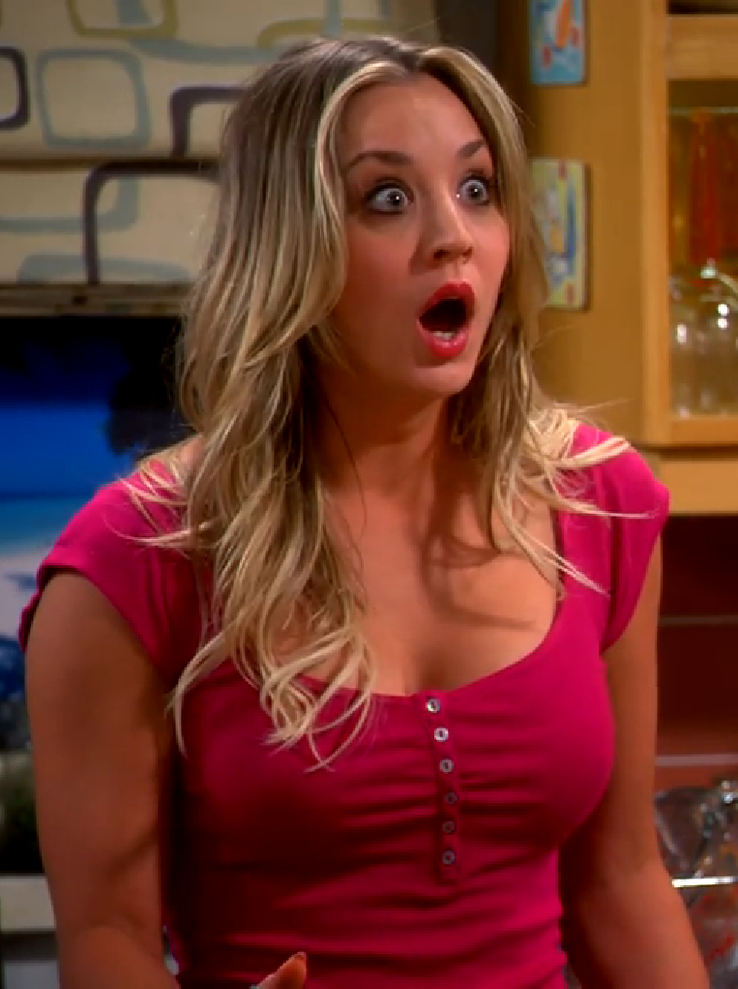 There is really no easy way to say this, but Kaley simply doesn't act all that well, and that doesn't bode well for her career. Most of the people that are her fans because of her work on Big Bang are just her fans because they like the show, or they like the other actors, or they like the way Kaley looks. There isn't anything wrong with that of course, but nothing lasts forever and her free ride is going to come to an end at one point, and when it does, it will be interesting to see how many people stick with her. A good example of someone who has had a long career as a comedic actress is Christina Applegate, she was around when she was 18 when she was on Married With Children and she was around when she was 40 when she was in Anchorman, and she is still around now. Of course she is attractive, just like Kaley, but she is also actually good, which is why she had such a long career. Kaley simply doesn't have the comedic or acting chops to stick around for a long time and her fans know it.
8

She needs to work on her style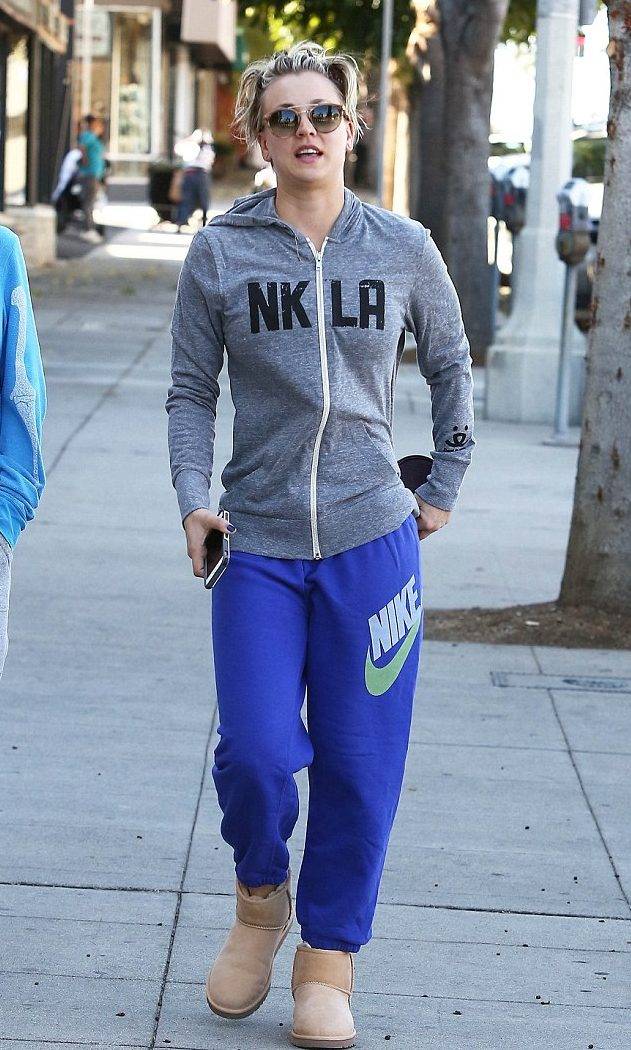 Okay, so, first of all, this isn't meant to sound mean toward Kaley. I know that celebrities are people too, meaning they also go to the gym, grab their morning coffee, and maybe even go to the local 7/11 for a bag of Doritos just like the rest of us. I really do get that and it's cool, but the thing is, what this article is about is whether or not Kaley will be able to stay in the public eye and continue to be adored by a bevy of Big Bang fans or whether she is going to fade away into the sunset, never to be heard from again. And the fact of the matter is, when she isn't on set complaining about everything, she doesn't really carry herself like a star. And again, she really doesn't have to, that is totally up to her, but she also shouldn't expect people to keep acting like she is a big star if she doesn't act like one herself. Along with the millions and free stuff and red-carpet events comes the paparazzi and fan expectations, so it would probably help if Cuoco stepped up her fashion game and tries just a little harder.
7

her past relationships
She has had her fair share of relationships, we're not judging though. She's dated Thad Luckinbill, Kevin Zegers, Jaron Lowenstein, Josh Henderson, Al Santos, Johnny Galecki, Christopher French, Josh Resnick, Brett Bollinger, Henry Cavill, and she was married to Ryan Sweeting. Speaking of Cavill, according to Diply, "She had an unexpected and tabloid-frenzied fling with Man of Steel's Henry Cavill that lasted two weeks. There were immediate accusations that she did so for publicity, since they were both represented by the same PR company."
"I had no one following me until I met Superman. I've been in this business for 20 years, and my whole life, I could go anywhere, do anything. There had not been one paparazzi photo of me until like several months ago. The recognition was crazy."
Dating Superman can do that to someone. Now she is engaged to Karl Cook, so here's hoping they make down the aisle and they'll go the distance.
6

She Does TV Movies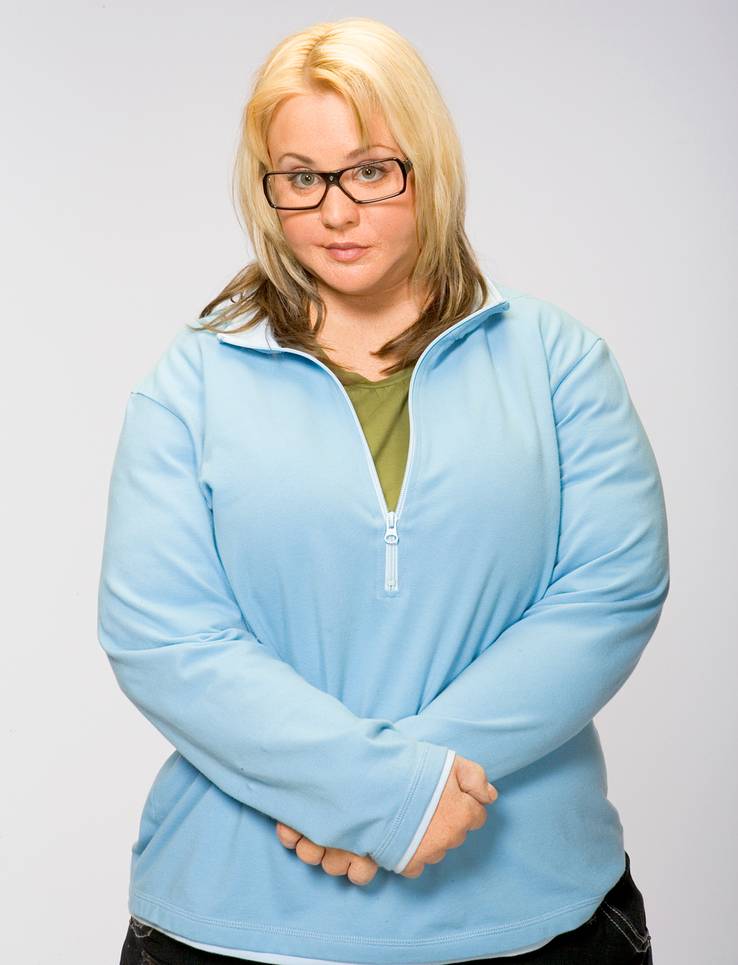 This might sound kind of silly, but the thing is, no one on the way up spends any time doing TV movies, only people on the way down. Don't get me wrong, I would love to be paid a million dollars, or whatever these people get paid to do movies like Crimes of Fashion, Separated at Worth, To Be Fat Like Me, or Drew Peterson: Untouchable, but if I did those, I wouldn't think that I was a super famous person and successful actor, I would just be psyched that I didn't have to work in retail or mow lawns for a living. The point is, other than Big Bang, Kaley has a resume that is pretty mediocre and actually bordering on awful. If I were a betting man, which in reality I actually am, I would say her career is going to be pretty much over once Big Bang is done. She might do a TV movie or two, but then she will just ride off into the sunset with whatever dude happens to be with her at the time. Some actresses have total star appeal, others just do TV movies. Guess which one Kaley is?
5

Who is She Without Big Bang?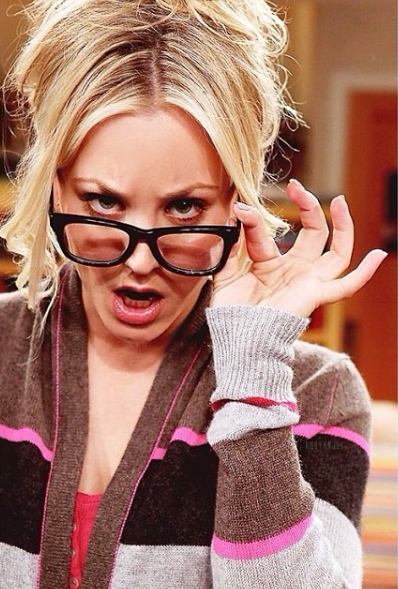 Not to be too philosophical about all of this, but who is Kaley without Big Bang anyway? By now, she might have just quit acting altogether if it wasn't for the show. The thing about fame is that it's fleeting — for every Brad Pitt, there is a David Schimmer. Now, don't get me wrong, I am certainly not saying that anyone needs to feel badly for him, or for Kaley either. There are a lot of people in the world that really are in tough spots in the world and we are supposed to feel bad for people who get paid millions of dollars to basically stand in front of a camera and act. She is pretty good, but she just isn't cut out for the big time. Aside from Big Bang, she doesn't have the best resume, so we won't be shocked to see retire from acting when the series ends. Hopefully she saved her money. She told ENews, "I would not be opposed to another season. It's crazy to think going into a season 12 that the show is still as good as it was season one and that's really hard to say. I'm just proud of this long-lasting kind of comedy we've given for so many years, and I think it'd be very stupid to turn down another season."
4

She is really Emotional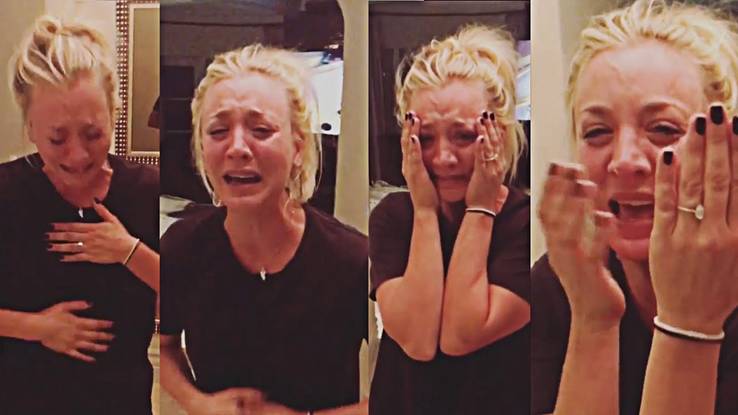 Have you seen the video of her getting her engagement ring? Yikes. First of all, why would you want to post a private moment like that for the world to see anyway, and even if you did want that, why post one where you're absolutely hysterical?  Business Insider put it well, saying, "The professional equestrian shared the video of a makeup-free Kaley with her hair pulled back in a messy ponytail absolutely weeping with joy. 'Honey, how you feel honey? What's on your finger honey?' He can he heard asking his bride-to-be, who is bending over and hyperventilating with shock. Then she shows off the gorgeous pear-shaped diamond on her ring finger." All right, so I know that all might sound kind of harsh, but seriously, here is someone who has admitted that she can't handle any sort of criticism by the public, but yet she posts this? The whole thing seems desperate and kind of fake. Maybe she can act after all.
3

She Can't Handle Social Media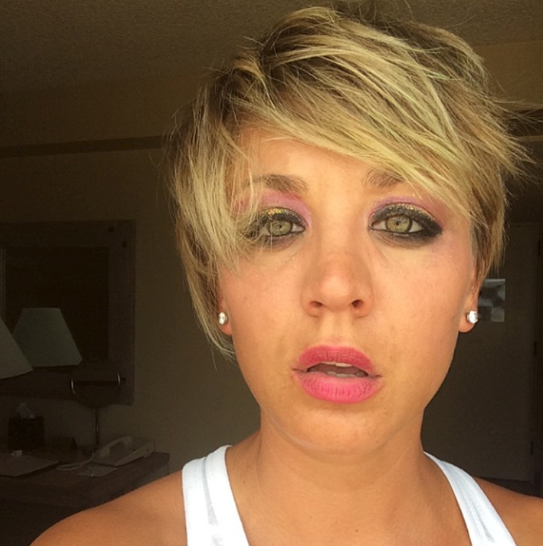 So even though Kaley has recently been all over Instagram, at one point, she deleted her social media accounts. Metro UK said, "The Big Bang Theory's Kaley Cuoco has mysteriously deleted her Instagram account and seemingly given no reason why. Her decision to remove her profile from the picture-sharing social media site came just hours after her pre-filmed interview on The Ellen DeGeneres Show aired in the US, in which she discussed the breakdown of her marriage to Ryan Sweeting. Representatives for the actress haven't yet responded to Metro's email asking why her account has been deleted.  It's certainly an interesting move, considering she discussed her Instagram account during her chat with Ellen." This is the kind of thing that frustrates fans. So, on the one hand, she is going on Ellen to talk about her personal life, but then she takes down her social media accounts right after because she is afraid she looked stupid?
2

She needs to be more careful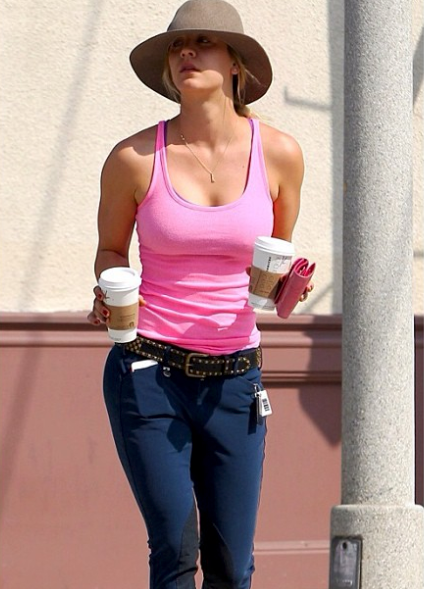 According to Business Insider, "Cuoco discussed the situation for the first time while appearing on Thursday night's Jimmy Kimmel Live! 'I was one of the people who got hacked. It was disturbing!' Cuoco admitted." Cuoco said she found out about the leaked photos from a Google alert.
"Okay, I'm not going to lie — I totally have Google alerts that come to my phone, so anything that pops up with my name comes to my phone because I'm like obsessed, I need to know what's going on.
So every day there's like 30 'Kaley Cuoco Photos,' it's been going on for years. but it's all these fake ones. So then this one came up and I was like, 'Oh, it's another fake one.' And then I started getting emails about real ones going around and I looked at it and I was like, 'Oh my gosh, there are some real ones.'" All right so it wasn't her fault that there are leaked photos of her, but seriously? If you're that famous, just resist the need to take promiscuous selfies of yourself, and as far as those Google alerts, it might be time to let that go.
1

She wants to start a family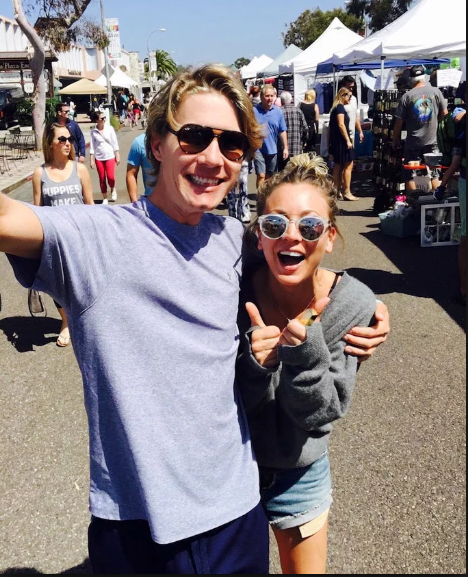 A source close to Kaley told Hollywood Life that she was looking to start a family with Karl Cook even before getting hitched. "Kaley is very eager to start a family, no one would be surprised if they start trying for a baby before the wedding. Either way, this isn't going to be a long engagement, now that Kaley's finally found the one she's not going to want to waste any time." Cuoco has said in the past that she really feels like she's meant to be mom, and while she doesn't have to set aside her career to start a family, there's a chance that once the show is over and she has kids, she might just focus her time and energy on her home life. After all, she's already made millions, she could definitely retire.
References: nickiswift.com, wetpaint.com, cosmopolitan.com, people.com, tmz.com, businessinsider.com, forbes.com
Source: Read Full Article