For decades, women have been told that pregnancy after the age of 35 is way too risky. And for years, women have been walking around feeling inadequate and incompetent. They have had to choose between having a career or being a mom. The risk of having a child after the age of 35 was something a lot of women were not willing to take, they didn't want to risk their lives or the lives of potential children.
Recently, new studies have shown that women are still able to have perfectly healthy children after the age of 35, and, in some cases, waiting has helped children developmentally. If you needed more proof because science isn't your cup of tea, then look to all the celebrities that have been having babies after the age of 40. It has almost become the new trend in Hollywood to have babies after the age of 40.
This act probably isn't done on purpose though. The amount of work and time that goes into being a celebrity and maintaining that celebrity status is just something that doesn't always allow for children to be a priority. It's hard to keep a relationship long enough to get to the point of kids and sometimes the person you ended up with just isn't the person you want to bring kids into the world with. The influx of women having kids after 40 isn't only inspiring but it's also encouraging to anyone out there who chose to do other things in life before making having kids a priority.
20

Kelly Preston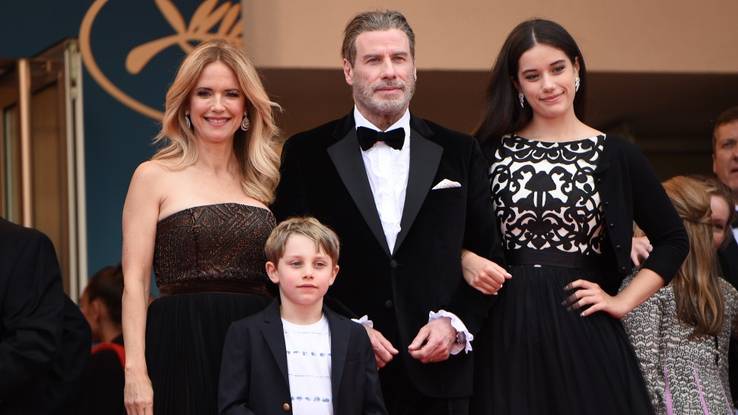 At the age of 48, Kelly Preston gave birth to a son named Benjamin. The birth went well, and the entire pregnancy was something like a miracle. Just the year before, Preston and her husband, John Travolta, had lost their son Jett after a severe seizure. The two also have a daughter named Ella Bleu.
During an interview for Health magazine Preston opened up about being pregnant at 48. "It's pretty amazing having a child at this age," said Preston who also graced the cover of the September 2011 issue.
"I didn't have any doubts [about having a baby at 48]," she says. "I love being pregnant. "I love the closeness I feel when I'm carrying them. We had been trying for quite a few years, and then, of course, there was a time when we weren't, and then we started trying again." She went on to say, "When I found out I was pregnant, I was floored. I'd snuck out of bed and then came back and woke Johnny up in bed. We both started crying. It was wonderful." The actress admitted that there was a little bit of backlash when she announced she was pregnant at that age. We can assume she didn't care, she was probably just happy to be a new mom again.
19

Geena Davis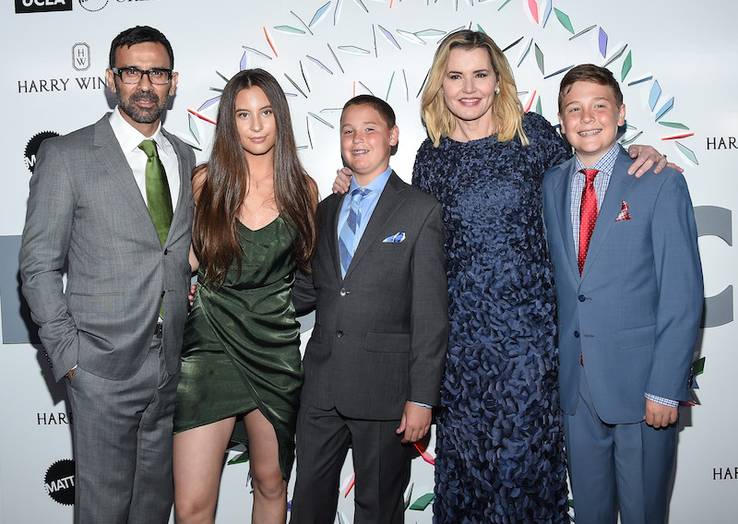 Geena Davis has three kids and they were all conceived in her 40's. In 2002, at the age of 46, she gave birth to her daughter, Alizeh, and again at 48, she gave birth to twins, Kian and Kaiis. Davis' father spoke to People about his daughter's first pregnancy, "She never had one problem during her pregnancy, not one bit of morning sickness."
Geena echoed his comments saying that the birth was no big deal. Davis was in labor for 4 1/2 hours during her first pregnancy.
Davis who is normally hush-hush about her personal life was ecstatic to talk about giving birth to her daughter. She later admitted that she never expected to have another child, let alone twins. Davis believes that becoming a mother later in life was beneficial to herself and her children. She told Good Housekeeping magazine, "I felt 100 percent that I would be such a better parent than I would have been even five years earlier and certainly ten or 20 years earlier." She went on to say. "If I'd had kids earlier, I could easily have become one of those mothers who over-involve themselves and try to live life through their kids. I'm sure there are younger people who have figured things out long before I did, but in my case, I became a parent with exactly the right person, at exactly the right time."
18

Marcia Cross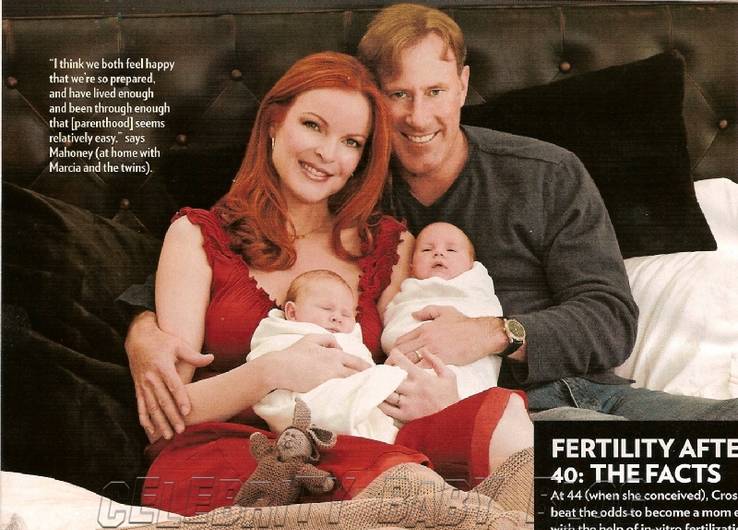 Marcia Cross is obviously happy to be a mom, but she does regret waiting so long to have children. The red-head beauty wished she had kids in her 30's, as opposed to her 40's. During an interview with Mirror UK the actress expressed her fears of not living long enough to see her children grow up. "I wanted to have kids in my 30's, but I just couldn't get it together."
She continued, "I don't think people want to wait. I wish I'd met my husband earlier. It's sad having kids so late, because you want to be alive for as long as possible for them. It's simple maths, you know. It's not about looking young. It's a lifelong process and you really want to be there for them."
This is a genuine fear that many women have when they become mothers late. Cross had twin girls back in 2007 when she was 45 years old. Don't worry though, she is extremely happy that she had the chance to become a mother no matter what age she is. "It's a million times better than I could ever have imagined, I honestly didn't have the capacity to imagine how phenomenal it is. Motherhood is like being madly in love." What a perfect way to put it.
17

Mira Sorvino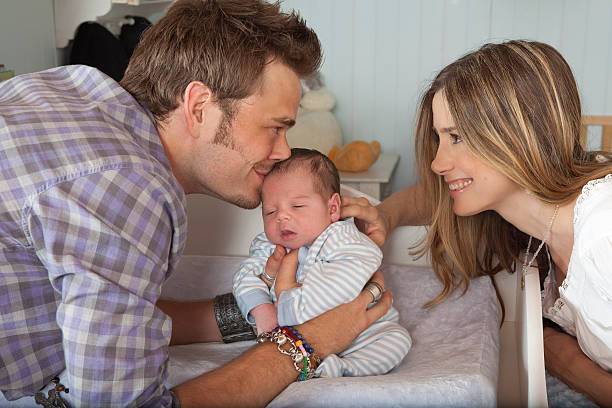 Actress, Mira Sorvino, is a mother-of-four. She gave birth to two of those kids after the age of 40. At 41, she gave birth to a son, Holden, and at 44, she had her daughter, Lucia. The actress has been quite candid about her life as a mom after 40 and how she intends to raise her children. She posed for the cover of Hamptons magazine and shared her views on motherhood and how she keeps her kids grounded.
"They are growing up with a bit of a silver spoon, just because of [our] lifestyles as actors, and I'm always trying to keep them grounded and teach them to be good people who are actively helping others."
She goes on to describe her kids' personalities mentioning that her son recently told her he wants to be a marine animal rescuer. She jokes, "I can see myself in retirement assisting with dolphin rescue." Overall, she describes, "They're wonderful little people, and I love them with all my heart, so I look forward to seeing what they're going to do." It may be safe to say that four is enough for Sorvino and her husband. Then again, you never know how she will feel when they grow out of that cute, little kid phase.
16

Rachel Weisz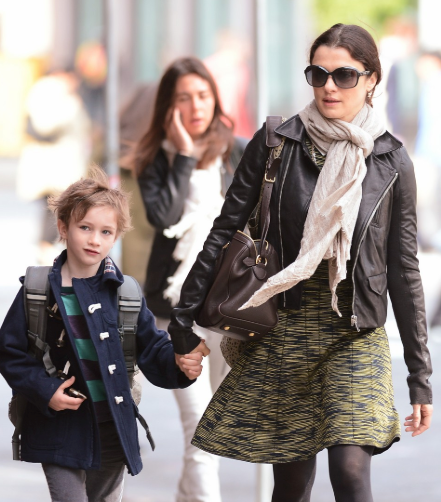 In April of this year, Rachel Weisz announced that she and her husband, Daniel Craig, were expecting a child together. The actress is 48 years old, and this will be her first child with Craig. She has an 11-year-old son with Darren Aronofsky. So, it's been 11 years since she had a baby to take care of. Wow, this will surely feel like a different experience. She was radiant while sitting on the couches of Good Morning America, that pregnancy glow certainly fits her.
The actress talked about her pregnancy, "I was feeling very dodgy for about four months, but now the good bit's kicked in."
During an interview with The New York Times, Weisz said, "I'll be showing soon, Daniel and I are so happy. We're going to have a little human. We can't wait to meet him or her. It's all such a mystery." She went on to explain that it was a surprise but a welcomed one the two are already parents with ex-spouses. This will be an exciting journey for the couple and a new baby will surely keep them on their toes. The actress is set to give birth in late August or early September. Hopefully, Craig is finished filming the latest Bond flick by then.
15

Geri Horner (Halliwell)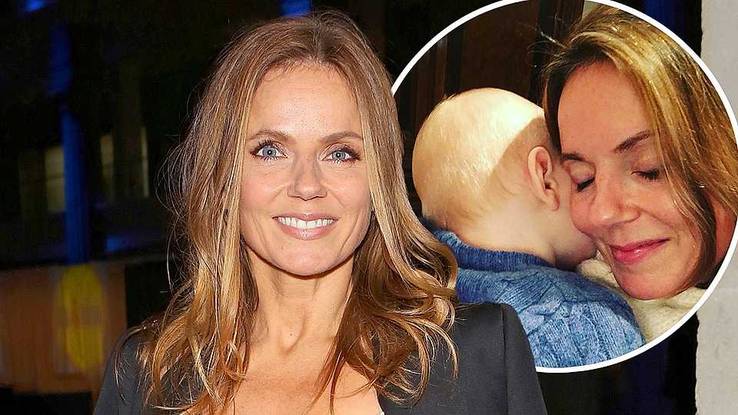 Former Spice Girl, Geri Halliwell, didn't have her first kid in her 40's, but she sure did have a kid in her 40s. The singer told Mirror UK that being a mom again was something she "really really wanted but could hardly have imagined would ever really, really happen." She was told that the odds of her getting pregnant after 40 were less than 5%. She must have been one of the lucky ones in that less than 5%. Halliwell married Formula One boss, Christian Horner, in 2015 she had already had a child in 2006 with her former fling Sacha Gervasi. However, one of her goals, when she married Horner, was to have a child with him.
She had always wanted to add to her family but time slipped away on her. Halliwell and Horner tried for a while and nothing was happening.
She even later admitted to going through painful IVF treatments. Ultimately, she conceived naturally and was proud to say she did. She posted a picture on her Instagram that read "God Bless Mother Nature #Mama Spice." She expressed that she and Horner were "over the moon" about this pregnancy and couldn't wait to meet their little one. Halliwell gave birth in January 2017 to a boy. Does anyone else think she may push her luck and try for another one?
14

Holly Hunter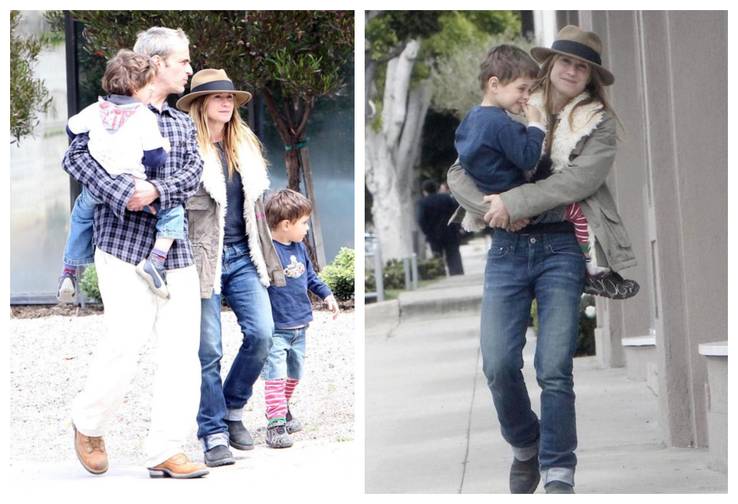 Holly Hunter was near 50 (47, to be exact) when she announced that she was carrying twin boys. She gave birth at the age of 48, shocking the world and even receiving some criticism for her decision. For the Oscar winner and her partner, Gordon MacDonald, it will be the first time being parents so we are sure they could care less about what people thought. That being said, what a way to introduce themselves to parenthood, not one, but two, boys. Sounds like double the fu,n but it's actually going to be a wild ride.
Hunter gave birth in January 2006. She had her publicist make an announcement, "She had the babies. They are happy and healthy," and that was it.
She has been pretty silent on her children, well, her private life, in general, and we can't blame her for it. Her children didn't ask to be famous so they surely don't have to endure any of the publicity that their parents have to. We have to assume that IVF played a role in her conceiving and carrying on her own. While it is known that women can be fertile well into their late 50's (for some, longer), it isn't always easy to conceive AND carry to term. She is blessed!
Featured Today
15 Things About Avengers 4 That The Cast Is Trying To Keep Secret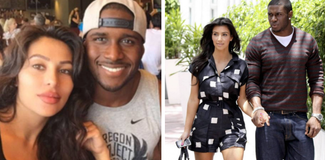 15 Kardashian-Jenner Exes That Can't Move On

15 Surprising Celebs Who Tried To Lock Down Scarlett Johansson (But Couldn't)

13

Iman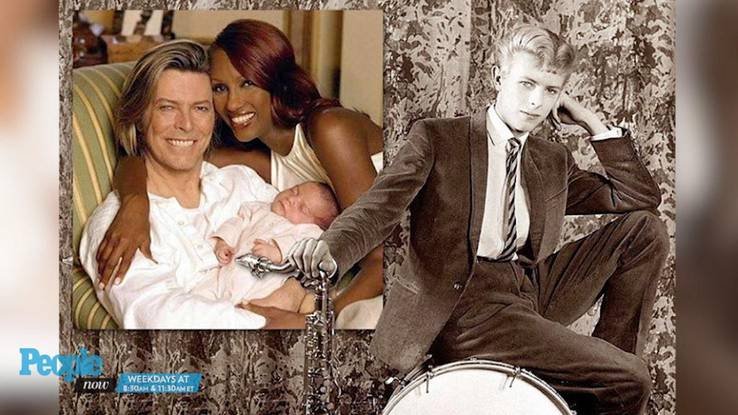 Iman is a supermodel, so one would assume that still being able to look flawless well into her 40's is some kind of magic. All that magic must have rubbed off onto her belly because, at the age of 45, she had a child with her late husband, David Bowie. Iman was candid with Parade magazine about her pregnancy experience.
"People talk about the miracle of birth. No. There's the miracle of conception. I did IVF, but nothing happened. So I began to think of adoption, and then I got pregnant. It was definitely a miracle."
Alexandria is not Iman's first child. In the 70s, she was married to the basketball player, Spencer Haywood, and had a daughter named Zulekha. Parade asked her what it was like raising another baby so much later in life, "The difference between rearing a child in your 20's and one in your 50's is one of patience." She went on to say, "I was at the height of my career when I had my first child, and I took her with me around the world. Then I had to root her in school. It was difficult to leave her behind. Now, this one thinks she has it tough because both her old parents are at home with her all the time." Lexi has grown up beautifully and is the spitting image of her mother.
12

Alyssa Milano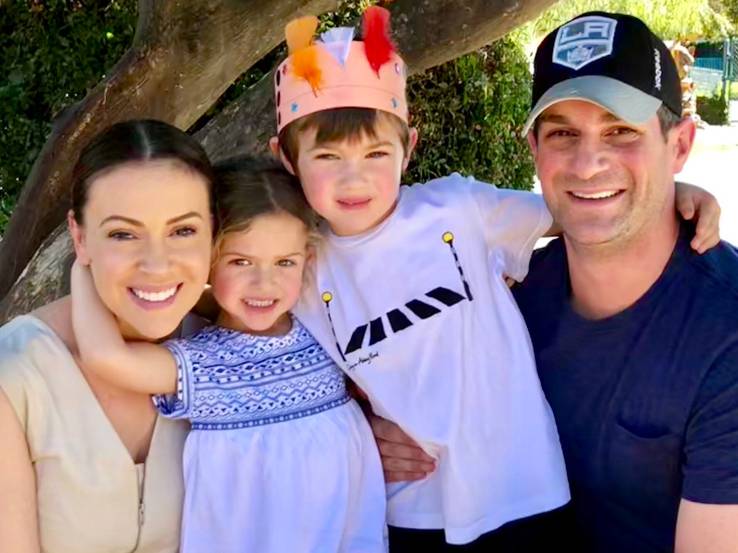 In 2013, Alyssa Milano gave birth to her second child. She was 41 years-old. She and her husband, the talent agent, David Bugliari, have zero regrets about having kids later in life. During an interview with Access Hollywood, Milano stated, "I loved waiting a long time to be a mom. I'd had my ladies' lunches and my shopping days." So basically, is she saying she is happy that she had time to hang out and just be a young woman? We don't blame her, once kids come into the picture it's hard to have a life of your own. However, Milano admitted that pregnancy after 40 was different and not smooth sailing.
She told Fit Pregnancy magazine, "I had morning sickness this time, but it went away right at 12 weeks. With Milo, I didn't have a minute of morning sickness. So I knew it was going to be a girl."
She did admit that when she had her first child something changed. "When Milo finally came, I thought, 'This is what I've waited for my entire life.' I wish I could sleep more, but it's not like I wish there were other things I could be doing socially or for my own benefit. Because I really feel like he's completed me."
11

Eva Mendes
Eva Mendes upset a lot of women when she and Ryan Gosling came out as a couple. Almost every girl on the planet was unrealistically vying for his attention and she got it. The couple now has two kids, both of whom were conceived naturally after the age of 40. She had her first child at the age of 40 and the second child at the age of 42. Both of them are girls, and for years, she has kept them under wraps, to the point where no fans even knew their names.
She didn't announce any of her pregnancies, and now, she rarely talks about her girls. Mendes has cooled down on the acting, and we can only assume this is in an effort to be a full-time mom.
Now, 44, the actress is becoming more comfortable with talking about her children. She let the world in on a little secret, both of her girls have the middle name Amada. "My grandmother's name is Amada, and Esmeralda Amada is the name of our oldest. We had a few names picked out for our new baby, and when she was born, we didn't feel like those names were her." She even got candid about what her first daughter is up to these days, "Esmeralda mostly speaks Spanglish right now. It's really cute."
10

Mariah Carey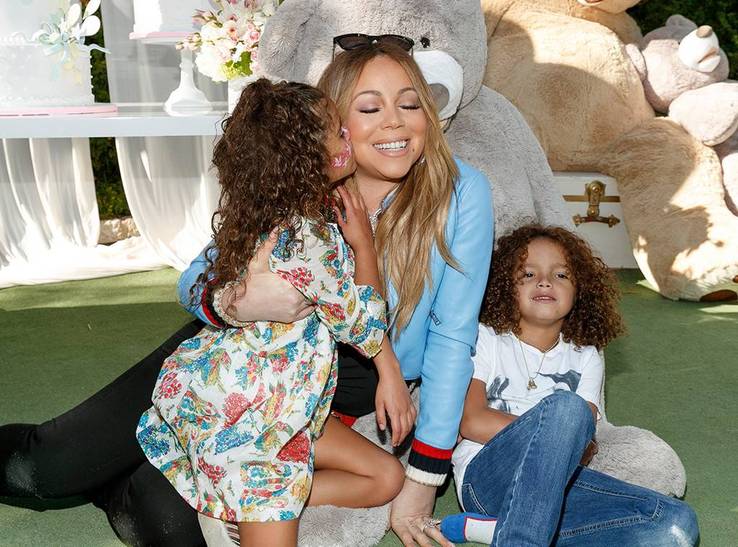 Mariah Carey and her ex-husband, Nick Cannon, welcomed twins in 2011 when Carey was 42 years old. The kids became famous in their own right because of how cute their names are— Moroccan and Monroe (AKA, Roc and Roe). The singer admitted that she started hormone therapy to help boost her fertility. She also revealed that her choice to do hormone therapy was because she had suffered a miscarriage while on her pregnancy journey.
Ultimately, she credits acupuncture as helping her to get pregnant. She also admitted that Roc and Roe will be her only children— she's a realist.
During an interview with The Lowdown's Diana Madison in early 2016, Carey stated, "Those are my two babies, I think they would be so jealous because they get upset when I pet the dog." We also won't forget to mention that since leaving Nick Cannon she hasn't had a relationship that anyone would want to rave about. In fact, they have been downright horrible. Two kids are probably enough for her because she shows no signs of slowing down when it comes to her career. She still tours and a new baby would definitely slow that down. Is anyone ready to stop hearing new music from Carey? We didn't think so.
9

Meryl Streep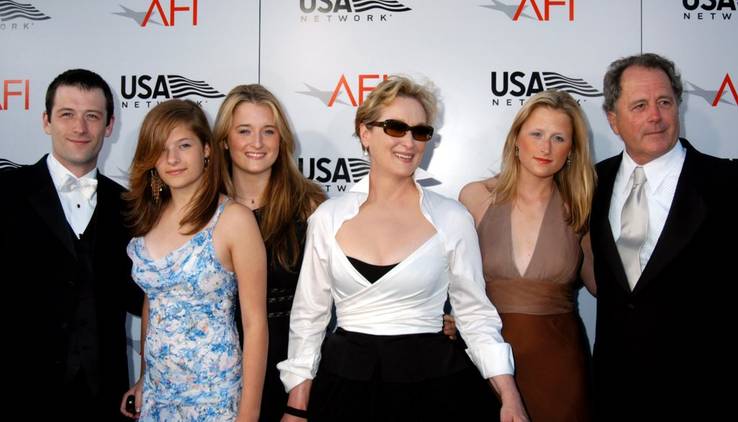 Meryl Streep is everybody's mother. But technically, she is a biological mother of four kids. Her last child was conceived at age 41. During a 2008 interview with Good Housekeeping, the actress, Oscar winner, and all-around icon, talked about her marriage, her kids, and how she balances it all.
"Motherhood, marriage, it's a balancing act. Especially when you have a job that you consider rewarding. It's a challenge but the best kind of challenge."
"Robert Redford taught me that when they were babies 'they are not your props.' I really admired the way he protected his family. It's something I consciously emulated." Parenting advice from Robert Redford— that's how you know that you are a true celebrity. She will admit that she can be a stern parent, she said her parenting style is hands-on. "Lecturing is what I do with my children, not listening. Lecturing, and ordering out." Dang, she is serious. The actress has never been one to let age get in the way of her doing anything. At 59, she appeared in Mamma Mia, which was a role that required her to sing and dance like an energetic teenager, and she did so with grace and endurance. We just wish she was our mom.
8

Celine Dion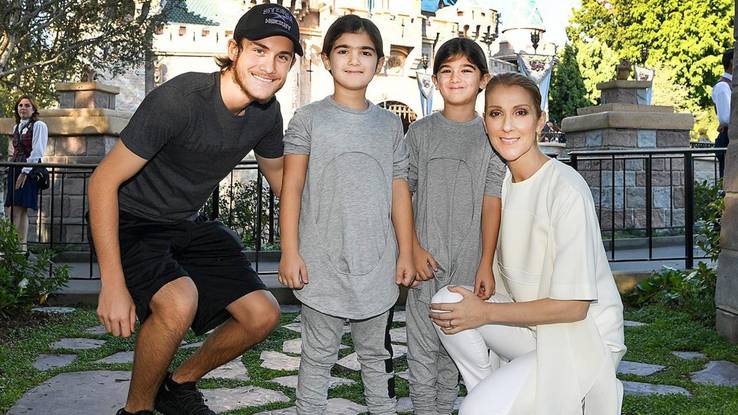 After multiple failed IVF treatments at 42, Celine Dion finally got pregnant— and with twins, no less. She and her husband, Rene Angelil, already had one child, a boy, Rene-Charles. The Grammy winner is very protective of her children, especially since they lost their father in 2016 after a long battle with cancer. In 2013, she spoke about her struggle to get pregnant and her desire to have more children. During an interview with The Daily Mail's Chrissy Iley, she said all her children were born through IVF and "not without great difficulty."
She expressed that motherhood is now more important to her, "I don't have to do any of this." She went on to say, "I do it because I love to sing. I've worked hard for nearly 30 years and I feel like only now is it paying off in terms of happiness. But the only reward that would mean anything to me is my children. There's nothing that can top being a mother. I would like more but I don't know if it could happen. I want the twins and me to have quality time. It's selfish to keep wanting more, although I would love a girl. Imagine all the shopping, the jewelry, the shoes, the dresses I could give to her."
7

Salma Hayek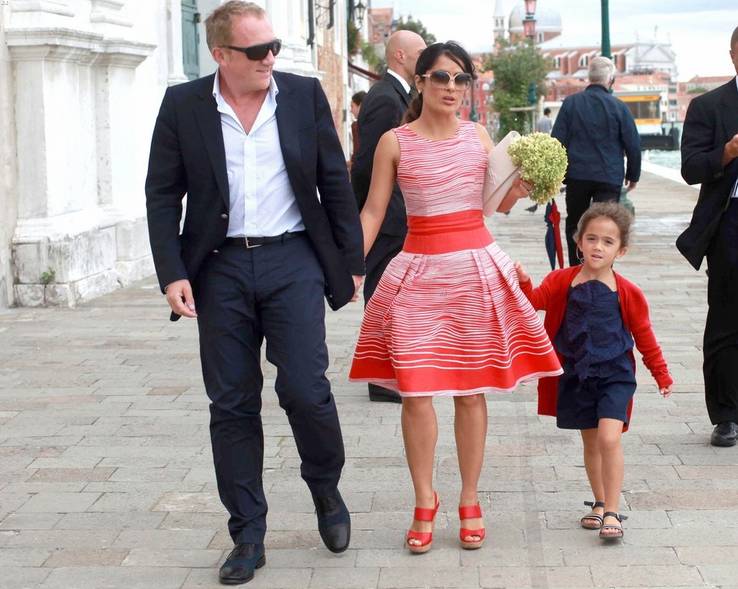 In 2007, Salma Hayek was 41 and pregnant. Later that year, she and her then-fiance, François-Henri Pinault, welcomed a daughter, Valentina. She spoke with Oprah about her choice to have a child so late in life. "It's a little nerve-racking to wait that long, but it's the best time to have it because you've done so many other things in your life."
Hayek continued, "You just get it out of your system, and you can really relax into being a mother… If you're 23, you don't know this because you think you have to do so many more things. But if you already did them, then you can really focus and enjoy every minute of it."
The actress admitted that, at one point, she thought she had missed her chance to have kids. She told People magazine, "I had my child so late in life. I thought I wasn't going to be able to and it was such an important thing to me." She also talked about realizing that she didn't have to give up her career in order to be a mother, she could surprisingly do both. "It's important that your kids understand that they are the most important thing but it's not all about them." She said, "You set an example that you are also your own person and you have to continue to grow in the field that you are working."
6

Gwen Stefani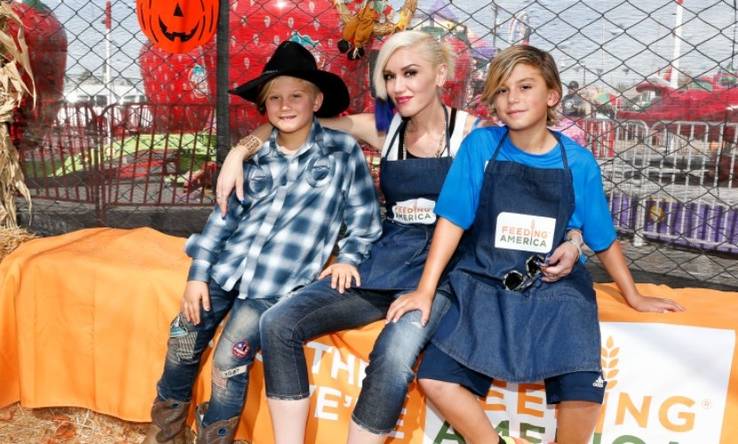 Gwen Stefani had two kids in her 30's, and she admits that she assumed she was done with having kids. You can imagine her surprise when she fell pregnant with a third child at the age of 44. This was a miracle, seeing as it isn't so easy for others. On Late Night with Seth Meyers, Stefani revealed that she told her children that this was it, no more kids, it would just the two of them. But she said that Kingston had his own plans. She said her eldest son revealed to her that he prayed for a new sibling. "Dear God, please let my mom have a baby. Please, God! Please let my mom have a baby!" Just like that, in 2014, she ended up with baby number three on the way.
During an interview with In Touch magazine, Stefani revealed that at one point she did want a third child but it wasn't happening.
"I really, really, really wanted one about two years ago. And it didn't really work out. So…I feel good with what we've got. Everything works out how it should. You can't plan anything, right? You can try." She was content because she had finally realized how much children change your life. "It's super fun being a mom, but it's not what you think it's going to be. At first, your life is totally the same. And as they grow older, it really does start to change your life. Like, 'Oh, my God, they have school, they have to get through first grade, they have to learn to read.'"
5

Halle Berry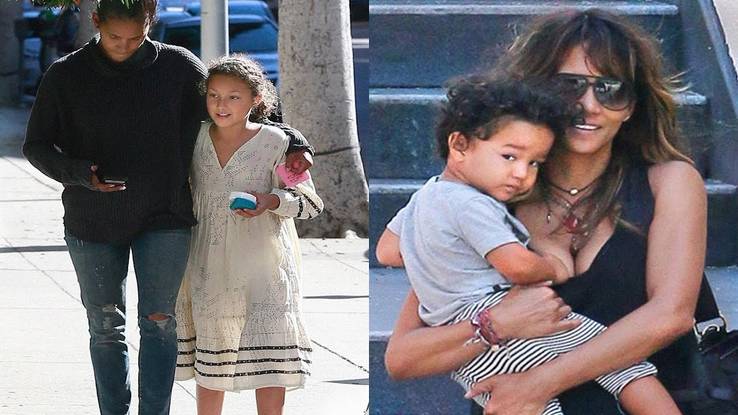 Halle Berry already had one child with her ex, and she wasn't keen on having another one. Her custody battle with her ex was causing all sorts of problems for her, and the media was covering every last bit of it. When she started dating Olivier Martinez and things were getting serious, she ended up pregnant in 2013 at age 46. She admitted to Ellen DeGeneres on The Ellen DeGeneres show that she was shocked.
"I didn't think it was possible at my age, honestly. I was, you know, on my way. This is probably way TMI, but I was kinda premenopausal, so to have this happen was huge!"
She was even more shocked when she found out there is a label for women her age that are pregnant, it's called "geriatric pregnancy" offensive much? Like Stefani, she credits her daughter prayers with having another baby. "I mean, I didn't think it was possible to have another baby and I thought for sure I had a need never to get married again. So, I've learned never to say never. Nahla prayed and prayed for him for like a year and a half for a baby and a bunk bed and she got both of those things."
4

Laura Linney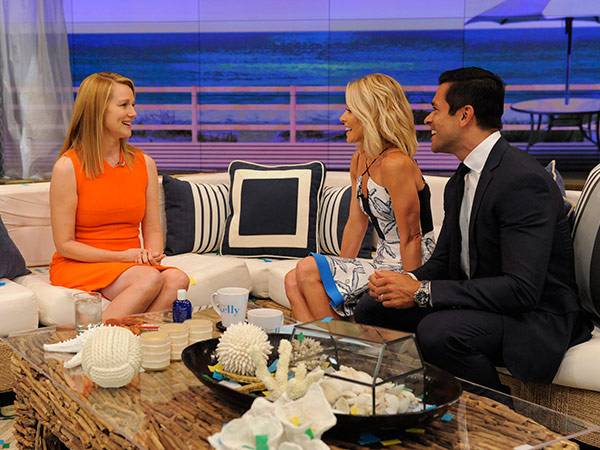 Laura Linney started parenthood really late. At 49, she gave birth to her first child. No one even knew she was pregnant because she had to hide it most of the time while she was filming The Big C. A pregnancy just wouldn't happen to her character. She and her husband, Marc Schauer, welcomed a son named Bennett (how cute is that?) in January 2014. She went to great lengths to hide her pregnancy, including missing the Emmys because she knew she would be showing. She won that year, by the way.
Besides hiding her pregnancy for contractual reasons Linney also revealed that hid her pregnancy for safety reason.
On Live with Kelly, she said, 'I was an older mother-to-be, and it had taken me a very, very long time to have a child. so I wanted to make sure that my child actually arrived, and was safe and healthy."  Smart move on her part. A pregnancy at that age is extremely risky so keeping calm is healthy is key to success. She admits, "I just was very, quiet about it — I didn't hide it intentionally, I just didn't advertise it. So it was the right thing for me and my family."
3

Susan Sarandon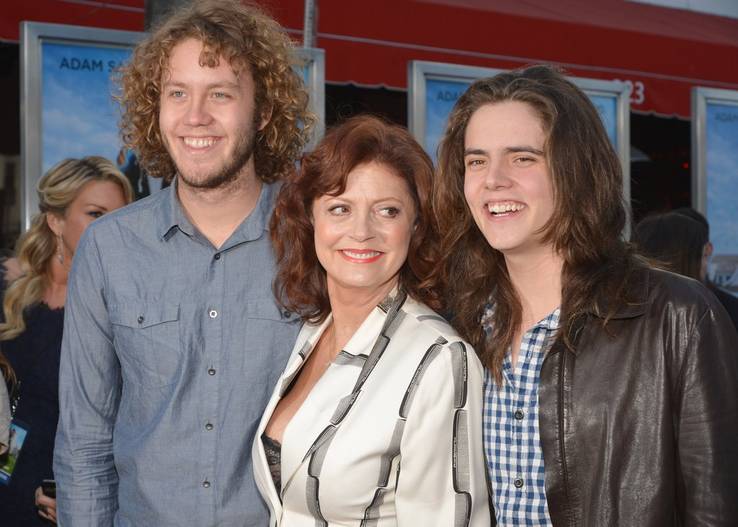 At 42 and 45, Susan Sarandon gave birth to her two children with Tim Robbins. In 2014, she told Time Out New York magazine, "It was just such a freak [thing] that I got pregnant that I thought, 'I can't ignore this.' And so I jumped, I had to pay attention when it happened because nobody could understand how it had happened." If she was that shocked, can you imagine how shocked Robbins was? At 67, she became a grandmother and got candid about her pregnancy journey. She was always told that she could not have children so all of her pregnancies were a shock to her.
Now, past the initial shock, she admits motherhood is basically everything, "I think the […] thing you can possibly do is to create with another person. And that doesn't even mean there has to be […] involved. If I'm doing a film and it's a collaborative situation that is rich and makes you think outside the box and surprises you, it's just a wonderful planet to be on."
Being a grandparent reminds her of when she was becoming a parent, "I feel a little like I did when I was pregnant. You go about physically dealing with it and rationally dealing with it, but there's some part of your brain that can't wrap itself around this idea that your child, that your daughter, is going to have a daughter. I mean, it's just so beautiful and huge."
2

Brigitte Nielsen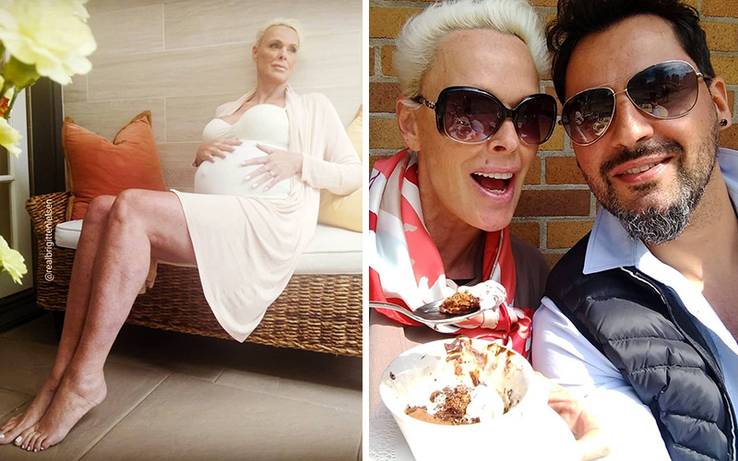 Brigitte Nielsen is 54 and pregnant. Yes, you read that right. The actress and model recently posted a photo on social media of her caressing her very pregnant belly. This will be the 5th child for Nielsen and first with her husband of over 10 years, Mattia Dessi. She has four sons from previous relationships that range from ages 23 to 34. She didn't reveal a due date and she hasn't done any interviews explaining how this phenomenon happened.
One thing is for sure— she looks happy. In fact, she is glowing. She captioned her photo, "family getting larger."
In 2008, Nielsen did an interview with Hello! Magazine where she spoke about expanding her family. "The children have kept me going. After I do Playboy, we want to try IVF. It's asking a lot, but if it's possible, it would make our package complete." She was 44 at the time. Now, 10 years later, she has finally gotten her wish. Don't worry, she is clearly in good company of other women who have had children at an age that isn't necessarily the golden age to have kids. With four kids in the pocket already, one can assume she kind of has a handle on this child-rearing thing.
1

Janet Jackson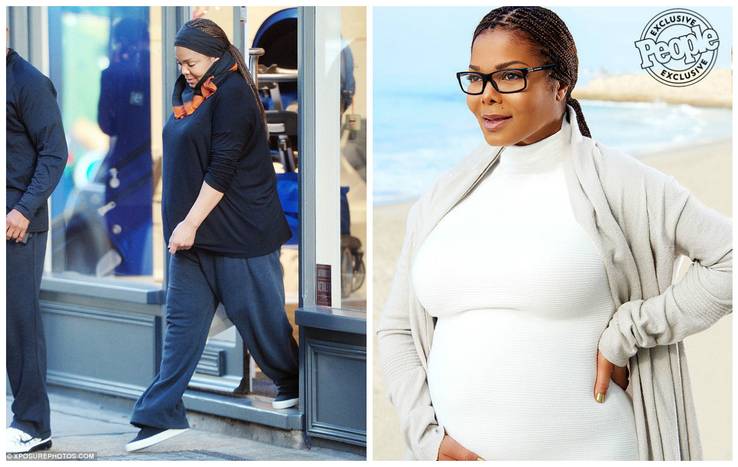 Janet Jackson shocked the world when she announced that, at 49, she was pregnant. She gave birth at the age of 50. At first, she kept the news under wraps but dropped unintentional sudden hints, like canceling her world tour. Janet never cancels a tour. She then stopped being out and about in public. Eventually, she posted a note to her heartbroken fans on social media.
"My husband and I are planning our family, so I'm going to have to delay the tour."
She went on to say, "Please, if you can try and understand that it's important that I do this now. I have to rest up — doctor's orders — but I have not forgotten about you. I will continue the tour as soon as I possibly can." The actress emerged in April 2017 with a baby in a stroller and fans went crazy. Baby Eissa was born in January, and Janet had conjunctively announced her split from her partner, Wissam Al Mana. One might be able to assume she used him for a baby, and let's be real, there are worse things a woman could do. Jackson has not talked about her son publicly, but she also hasnhiddenhid him from the paps. This is big for someone as private as Janet.
Source: Read Full Article