There have been countless memorable TV shows that have come and gone in the past decades. Though there are other new and great shows on air now, it's hard to forget the legends that were TV shows like Friends, The Fresh Prince of Bel-Air, The X-Files, Seinfeld, and of course, who could've forgotten the all too memorable, Dawson's Creek. The show debuted on January 20, 1998, and it ran until May 14, 2003. With a total of six seasons and 128 episodes, Dawson's Creek was one of the best shows at the time.
The show focused on the life and times of James Van Der Beek as Dawson Leery, Katie Holmes as his best friend and love interest, Joey Potter, Joshua Jackson as their fellow best friend, Pacey Witter, and Michelle Williams as Jen Lindley. It was set in the fictional town of Capeside, Massachusetts. It was a show filled with drama, romance, and so many more. In its six years on the air, we're sure that devoted fans have missed hearing from these guys.
It has been two decades since the show ended and the stars then have certainly grown up now. Here is a look at some of Dawson's Creek's actors and actresses and how they are doing currently.
20

Jensen Ackles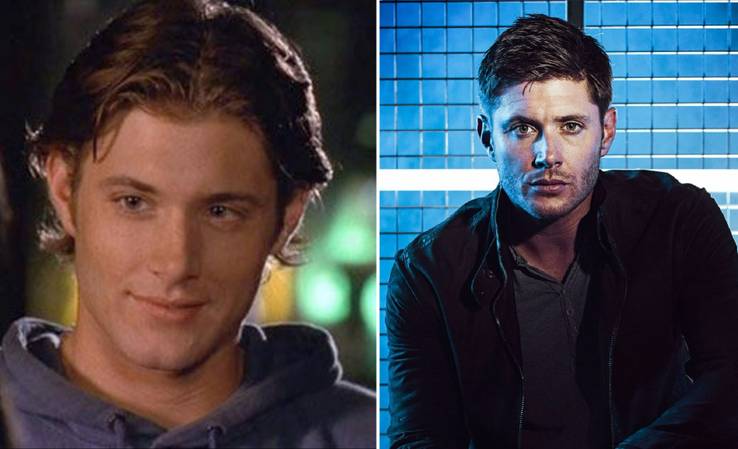 The central characters on Dawson's Creek might have had the time of their lives back then, as the people they dated were pretty gorgeous, to say the least. The show's ensemble cast is supported by amazing guest appearances from actors who were just starting to make a name for themselves. One of those actors was Jensen Ackles. He appeared during the sixth season of the show and he pretty much disrupted the gang for a bit. He was Jen's college boyfriend who had an affair with Audrey. Then he got into a fight with Pacey during a No Doubt concert. He wasn't the greatest guy on the show and fans hated him then, despite his good looks.
That was a long time ago though and those times were gone for Jensen Ackles. Instead of breaking hearts, he has been busy breaking demon's faces in the hit show, Supernatural. As one of the main stars of the show, Jensen has created quite the following of swooning girls behind him. The actor is still pretty much busy with Supernatural, as and it is already in its 13th season and many are hoping that the show won't come to an end soon.
19

Jennifer Morrison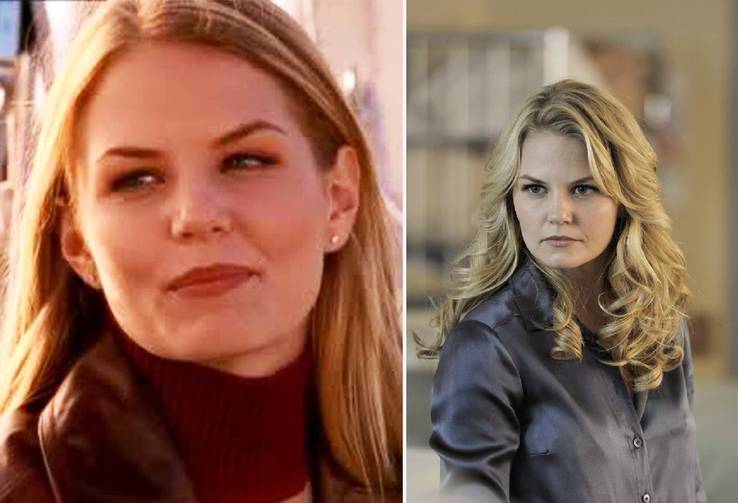 Pacey is a hopeless romantic, to say the least. Throughout the duration of the show, fans rooted for him to finally find a person that would make him happy. He has had several affairs throughout Dawson's Creek and one that fans might've forgotten was Melanie. Melanie was an old ex-girlfriend of Pacey's who appeared on season five of the show. She offered the quaint Pacey a job on a boat while he toured Greece. For those who might not remember, Melanie was actually played by Jennifer Morrison who was just starting out as an actress at the time and Dawson's Creek served as an entry on her repertoire.
Jennifer is mostly known for her role as Dr. Allison Cameron on House and as Emma on Once Upon A Time. Since appearing in Dawson's Creek, Jennifer continued to expand her acting career through minor roles until she bagged a big one for House. The actress has taken it a step further now, as she has also made her directorial debut with Sun Dogs. Aside from being one of the directors on the film, Jennifer also serves as one of the main actors on it. So far, initial reception of Sun Dogs is faring well.
18

Jonathan Lipnicki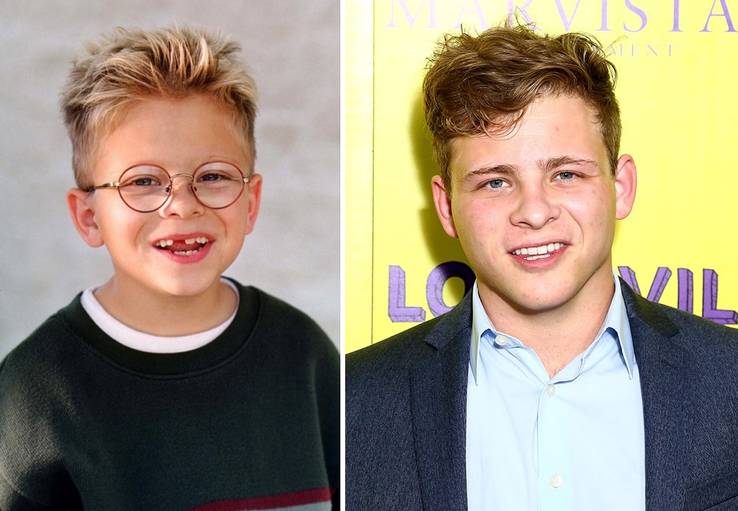 "But when they really get to know you, they discover under the rough exterior lies a vulnerable, beating heart. Get real! I'm not like one of those kids on Seventh Heaven, and I'm not like you, Pissy." These were the most memorable words from the sarcastic and young Buzz Thompson played by Jonathan Lipnicki. On Dawson's Creek, Buzz was a kid that Pacey mentors. Despite his age, Buzz showcased maturity and realism like no one else on the show and the character was made even better at the hands of Jonathan, who was never too shy about outdoing his more mature co-stars.
Jonathan Lipnicki is all grown up now, of course, and what he was then is far from what he is now. Fans may remember Jonathan as the young, little, and cute, Stuart Little actor from the early 2000's but today, he has become a hunk. He has been working out in the past years and he has certainly matured. His most recent endeavor is a voice acting project for The Little Vampire. Seeing as he is starting to take his steps into the limelight again, fans are hoping to see more of the grown-up Buzz on the big screen.
17

Tony Hale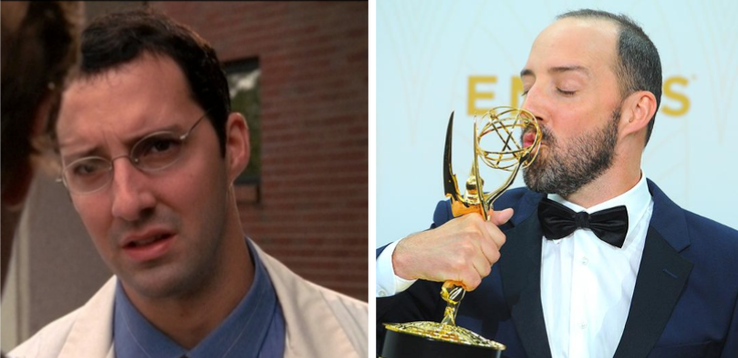 The romance is at the center of Dawson's Creek but there will always be drama on the Capeside. From deaths to long-lingering family issues, Dawson and friends had to deal with a lot during their six seasons on the show. During season four of the show, Dawson had to choose whether or not he would take off the life support off of Mr. Brooks. The question to do so was asked by a certain Dr. Bronin, who was played by Tony Hale. It was a very different role for what we know of Tony Hale but he pulled it off without a hitch and he was a part of one of the show's most memorable moments.
Outside of Capeside and Dawson's Creek, Tony is best known for his central role in Arrested Development. The show has been off screen for several years now but the Bluths will be back for more soon. He will reprise his role as the neurotic Buster Bluth and needless to say, fans are very excited about his comeback. As an actor portraying Buster, Tony had to take a different approach to his acting style. Looking at him now and then, it's hard to believe that Buster and Dr. Bronin were played by the same talented actor.
16

Seth Rogen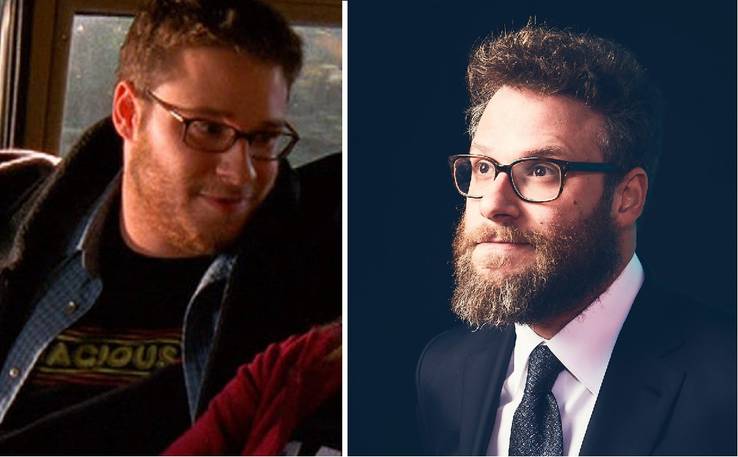 The cast of Dawson's Creek was star-studded back in the day but not many know of some of today's biggest stars who were once guests on the show. We're sure that if fans watch the entire series a second time around, they'll be surprised to see that there are a few stars today that started out on the show. One of those is Seth Rogen, who starred as Bob, a guy that Audrey had a one-night stand with. He was present for only one episode but it was still a pretty good thing to remember for those with a keen eye and a sharp memory.
That was 2003 though. The Seth we know of now is a Hollywood comedian who has had a ton of films under his name. While many will remember Seth for his contagious laugh, it's hard to forget the funny antics and comedic prowess that he has to offer. He has more projects along the way and as one of Hollywood's premier comedians, he is expected to become prominent in the years to come. Surprisingly though, the actor/comedian has delved into the field of designing as well. We'll see how this venture fares for the lovable Seth.
15

Ken Marino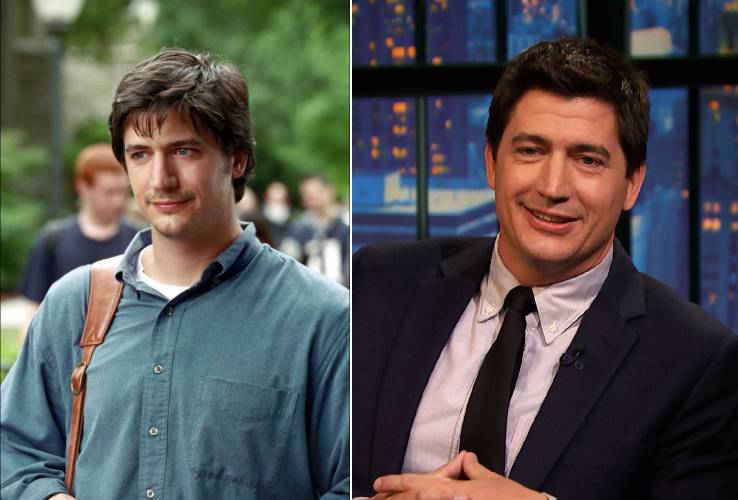 Who didn't have a crush on one of their teachers? For Worthington College, one professor that girls mostly fell for was the English professor, David Wilder, portrayed by the funny, Ken Marino. Ken brought the character to life with his charming personality and masculine voice. Throughout his time on the show, Ken was mostly suited by his student, Joey. The two grew close after Prof. David pushed Joey into doing her best as his class. Eventually, they ended up dating for a short period of time. It was a pretty bad move for a professor to do, but at least they were both happy for a short while.
For those who have forgotten about Ken's time on Dawson's Creek, then a little refresher is probably needed. He was part of Brooklyn 99 for a short time, playing the clumsy and annoying, Captain Jason Stently. He was a completely different character on the show and it was pretty hard to believe that he was the same guy who played the intelligent and wise, Prof. David. He maybe Joey's love interest for a short while but at his core, Ken will always be a comedian at heart and he never fails to make us laugh too.
14

Chad Michael Murray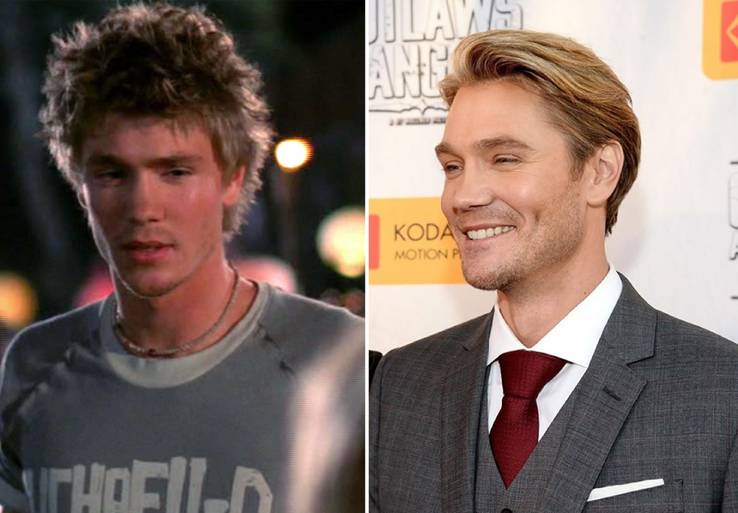 Charlie Todd was one of the most hated characters on the show during the fifth season. Played by Chad Michael Murray, the heartthrob was a womanizer who dated both Jen and Joey. Admittedly though, Chad was a pretty good looking guy but still, his womanizing ways were loathed by fans. Even more so because he continues to hurt our favorite Capeside girls. It was later on revealed that despite his charm and appeal, Charlie was a character with a lot of insecurities and he might've used this as an outlet to become what he really is.
Chad's small role in Dawson's Creek opened up tons of opportunities from him. He starred as Lucas Scott in another hit series called One Tree Hill and he also became a part of the Marvel Cinematic Universe when he was cast for one of the roles in Marvel's Agent Carter. Nowadays, he still does acting and also a little bit of writing on the side. He is currently questioning a few things about the passing of his grandmother as well, which is very crucial for him. Hopefully, Chad gets the answers he needs and he would be able to get some peace of mind after all these years.
Featured Today
10 Surprising Pics Of Gamora Out Of Costume (And 10 Pics Of Nebula)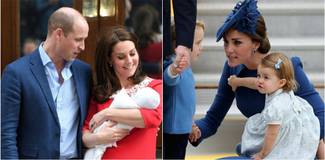 10 Times Kate And William Were Great Parents (10 Times They Dropped The Ball)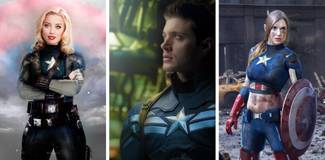 25 Celebs Reimagined As Avengers

13

Jane Lynch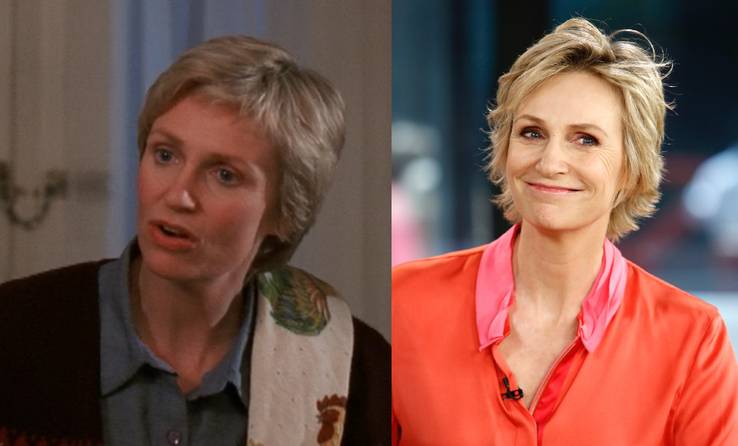 The teens of Dawson's Creek will need adults that supervise them. Other parents in the show were pretty good to their children by Pacey Witter's parents were something else. Growing up, Pacey was often ridiculed by his parents, which resulted in his low self-esteem. One of the parental figures of Pacey on the show was played by none other than Jane Lynch. It may take a while but fans of the show should have the faintest memory of the feisty Jane being a part of the late '90s TV wonder. As always, she brought her tenacious acting into the show, making her role more terrifying than it already is.
Fans of Dawson's Creek will easily recognize Jane for her role in another hit show, Glee. Dawson's Creek was one of Jane's smaller roles but she had a few other TV show credits under her name. She's been busy these past years and her next stint will be at a Christmas show later this year. The comedian/actress is once again set to bring in laughs and wows from the audience as she takes center stage at the SWFL Event Center in Bonita Springs. Let's just hope she doesn't pick on Pacey by that time.
12

Scott Foley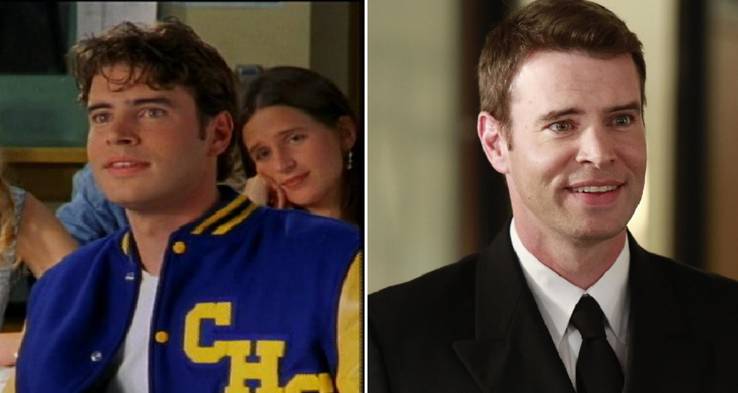 Jocks have always been the bane of every high schoolers life. Usually serving as bullies, people tend to avoid this feisty group of individuals in school hallways. Cliff Elliot was a different tale to tell, though. Played by Scott Foley, Cliff was actually one of the nice guys at Capeside. Despite his status as a jock, he comes out as a seemingly nice but boring guy. Fans were surprised with the character development and he even managed to go out with Jen for a short while. Scott brought the character to life excellently, as he blended the bravado of a jock to the doting quirks of the nice guy.
Scott has been a very busy actor before and after his time on Dawson's Creek. He has a few film credits to his name and TV credits at that, too. He is far from done with acting, as he is soon nearing the debut of Whiskey Cavalier on ABC. It's a new show for the actor, wherein he stars with Lauren Cohen. It's a pretty exciting show that already has a lot of hype behind and many are hoping that Scott will bring his A-game again.
11

Meredith Monroe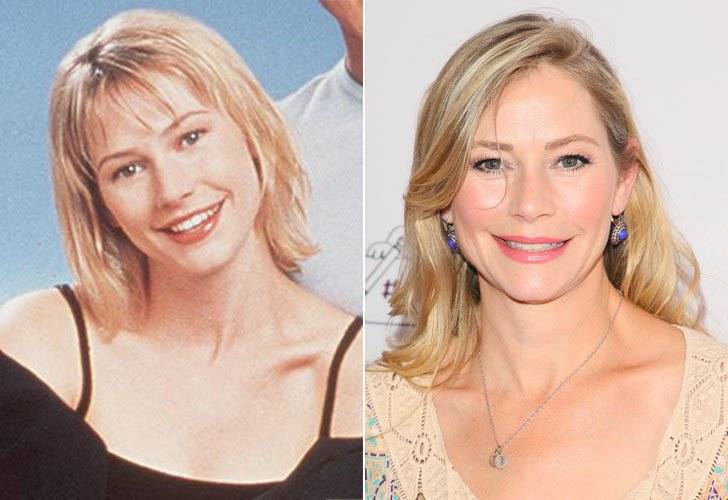 After the first couple of seasons of Dawson's Creek, the cast had to be rounded up with a few more characters. Later on, in the show, siblings, Andie and Jack McPhee, were added to the show. The 16-year-old, Andie, was portrayed by the 28-year old, Meredith Monroe, at the time. Andie was a high strung, sweet, and intelligent girl who had a ton of ambition. Despite her troubles with her mentally ill mother and the passing of one of her brothers, Andie's character remained positive and she was well-beloved by fans. Sadly, her character wasn't present during the series finale but if fans got the DVD, they can see a deleted scene of her during Dawson's Creek's last outing.
Now 48, Meredith takes on small roles in TV. She was, however, part of a bigger picture when she starred as Hayley Hotchner on Criminal Minds. Her character was killed off by the 100th episode, much to the dismay of Dawson's Creek fans who would've loved to see more of her. She has several other film credits though including one for her role on Castle in 2015 and in Hart of Dixie from 2011 to 2015.
10

Kerr Smith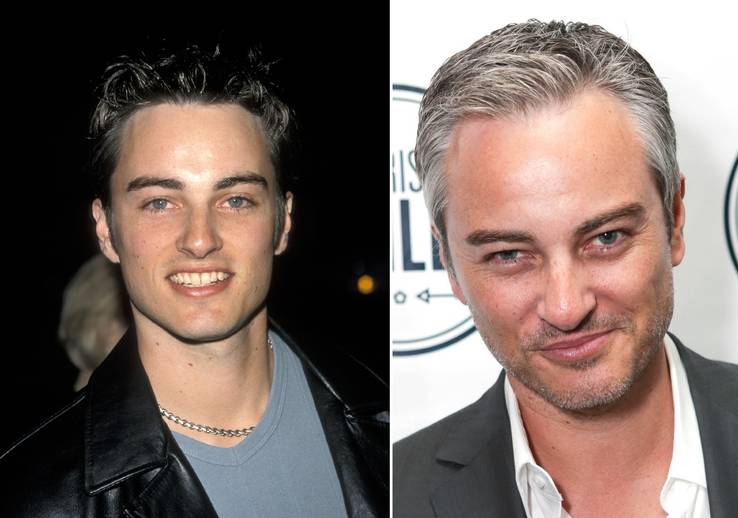 Dawson's Creek has its own line of heartthrobs throughout the show and one of those is Jack McPhee, portrayed by the dashing, Kerr Smith. When Kerr made it to the show, his character started out as an introverted into the area but he slowly opened up to Dawson and pals. To the surprise and heartache of many, Jack came out as a gay character in the show. The character was an excellent representation of the LGBT community and throughout the seasons, fans have shown their support to Jack, who was a part of the show for a total of 99 episodes and was part of the main cast.
Not many know this but Kerr's man-to-man kiss was the first ever shown on live television. It was groundbreaking, to say the least. Kerr still has his time on the limelight through recurrent TV show portrayals. Currently, she's a recurring character on Marvel's Agents of S.H.I.E.L.D and The Fosters. Other than that, he has also appeared in films including 2009's My Bloody Valentine remake and of course, 2000's, Final Destination. Despite his roles, fans will probably never forget his acting prowess as Jack McPhee on Dawson's Creek.
9

Busy Philipps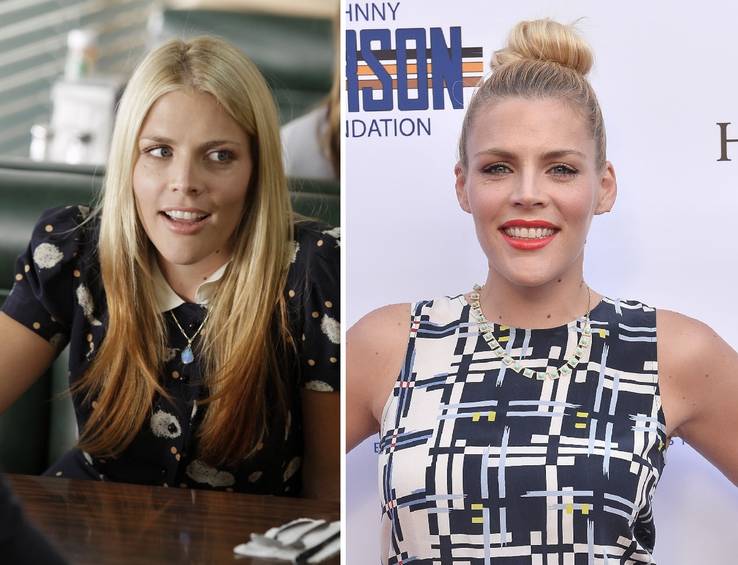 Dawson's Creek was such a lovable show because of the characters it had. When the show was nearing its end, the writers were still pretty busy adding new characters to show but out of all the new faces, one that stood out the most was Audrey Liddell, played by the bubbly, Busy Philipps. Busy's character was the cute and energetic, Audrey, who befriends Joey near the end of the show. Although she wasn't the first bubbly character on the show, there was just something about how Busy brought the character to life that made her all the more memorable. Throughout the episodes, fans began to develop a love for Audrey and the showrunners certainly did an excellent job with this late addition. It would've been better if she was added earlier though.
Busy has been pretty busy in various films and TV shows, all the while bringing her ecstatic nature with each outing. If she isn't busy with acting, she was busy protecting her friends. In a recent outburst, Audrey protected her friend, Greta Gerwig, from an all-too nosy moviegoer. "It just bummed me out on such a deeply personal level for a few reasons," she continued. She then explained that she chooses to share her life on Instagram and she feels in control of that. It's just the idea that if you are in the public eye in whatever capacity that you just sort of are giving up your autonomy and your privacy, anywhere, that you can't go to a movie theater," she said.
8

Nina Repeta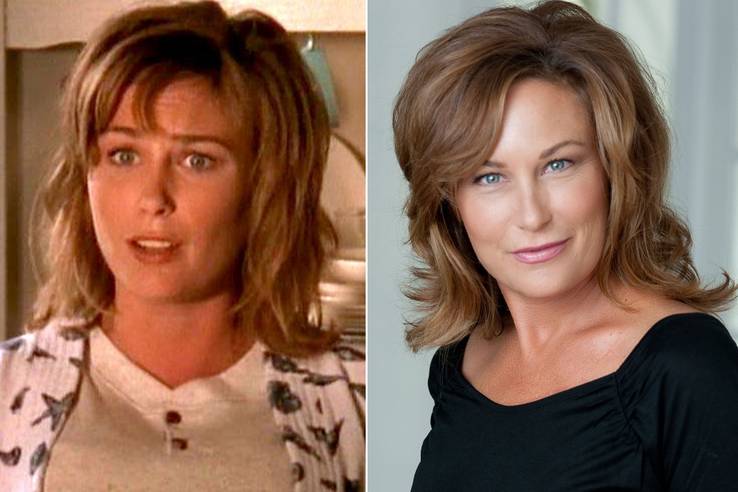 Throughout the entirety of the show, fans have seen countless relationships blossom and all of them are very memorable. Perhaps one relationship that fans love seeing develop is with Bessie Potter and her younger sister, Joey Potter. At the start of the show, Bessie was pregnant and at the same time, she stood as the parent figure to Joey. As her due date draws near, she becomes more intolerant of Joey's antics. Despite their arguments though, Bessie remains to be a solid parent figure for Joey and that's what makes their relationship so special. Playing the character of Bessie though is none other than the gorgeous, Nina Repeta.
Although acting was clearly her in her blood, Nina chose to focus on her musical career after her time on Dawson's Creek. She still appeared in a few TV shows after her stint as Bessie though. She's currently a very busy singer with a huge following of fans and tours happening left and right. Although her time as Bessie may have already passed, fans are still pretty stoked to see the actress come by every now and then. Hopefully, we get to see her with Joey again, as the sister tandem always struck a chord in our hearts.
7

John Wesley Shipp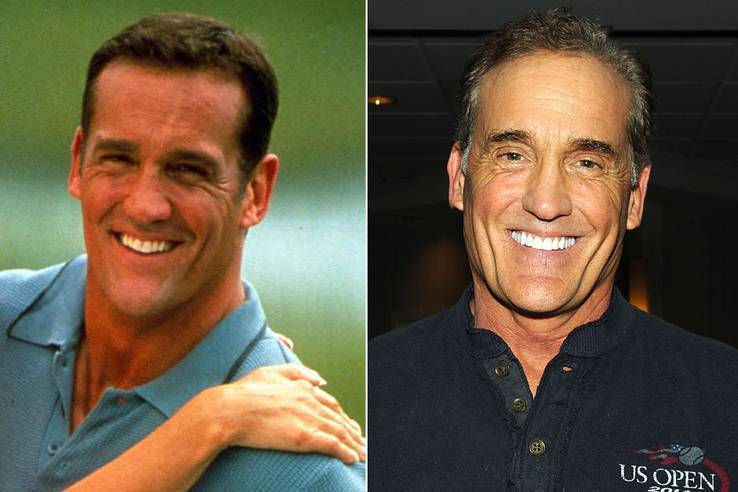 Serving as Dawson's dad, John Wesley Shipp played the role of Mitch Leery with great prowess and presence. Although the stars of the show were Dawson and friends, Mitch and Gail Leery almost stole the show with their marriage woes early on in the history of the show. John was a well-established actor in TV and film before being a part of the Dawson's Creek cast and his experience shows during his time on screen. He was a prominent character for four seasons and like his on-screen wife, John became a recurrent character during the last two years. Now, John continues to showcase his talents in acting roles here and there. Fans would've loved to see more of the actor during the cast's 20th-anniversary reunion but Dawson's parents were seemingly left out.
The cast of the hit TV show reunited after two decades for a shoot with Entertainment Weekly. Oddly enough, John and Mary-Margaret Humes were left out of the shoot, even though they played prominent parts on the show. Mary has spoken up about the issue, but for now, John chooses to stay quiet. If there ever is a second reunion, fans are definitely going to want to see John and his role as Mitch.
6

Mary Beth Peil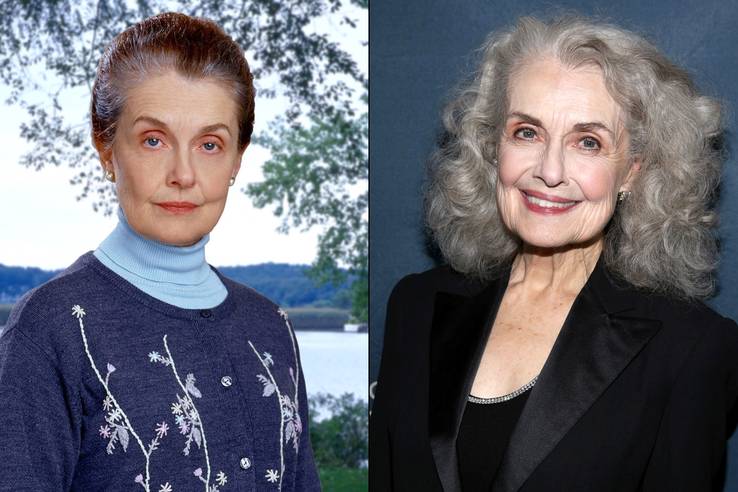 For a show that puts teenagers and up-and-comers at the forefront of the story, the writers sure did give adults actors and actresses on Dawson's Creek their own minutes of fame. One of those people was Mary Beth Peil, who portrayed the sweet, Evelyn "Grams" Ryan, on the show. She was one of the main characters, appearing in 74 out of the 128 episodes. Not many loved Mary Beth's character on the show, that's for sure, but to be fair, she was playing a conservative elderly person who was right in her own ways.
Mary Beth started her career as an opera singer and, compared to other actors and actresses on Dawson's Creek, she didn't have an extensive filmography behind her. However, that doesn't mean her acting chops aren't one to be proud of. She's been starring in roles on TV and film since her stint on Dawson's Creek and now, she's continuing to expand her repertoire by starring in more projects. Her most recent project is Blue Night, which she stars alongside Sarah Jessica Parker. Even after all these years, Mary Beth is still as great an actress as she was on the show and fans are hoping to see more of her soon.
5

Mary-Margaret Humes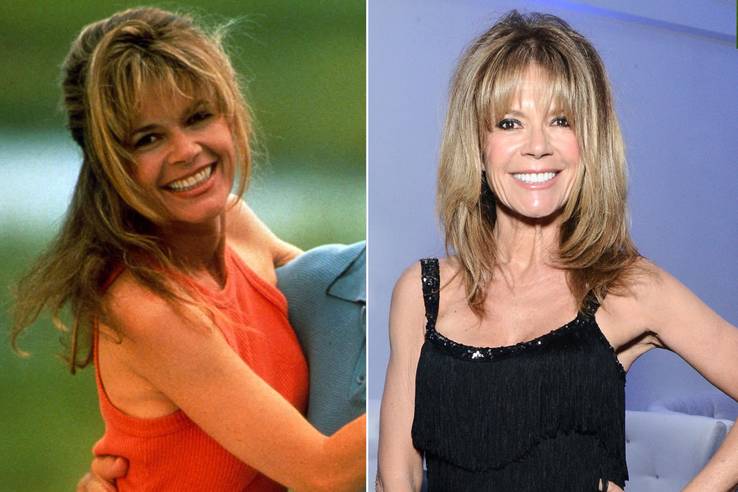 Dawson's Creek doesn't solely revolve around the life and times of Dawson and friends. For several years, fans of the TV series also bore witness to the drama surrounding the adults in the lives of the teenagers. One of those prominent adults is Gail Leery, the mother of Dawson, who is portrayed by Mary-Margaret Humes. Fans of the show didn't like Gail, the character, because of her early infidelities, but they certainly loved Mary's portrayal on the hit show. She was a mainstay during the first four years and was a recurrent character in the last two.
Before bagging the role of Gail on Dawson's Creek, Mary played other small roles in tons of other TV shows and movies. After the show, she continued her acting career and to this day, she upholds her talent as one of TV's premiere actresses. Sadly, Dawson's parents were left out of the 20th-anniversary reunion but Mary spoke out about in on Instagram. "This was their choice…not ours…it was done behind our backs and we both were literally blindsided by it when we woke up yesterday in NYC and LA…we both did a short telephone interview after the fact but were never told about the reunion."
4

Joshua Jackson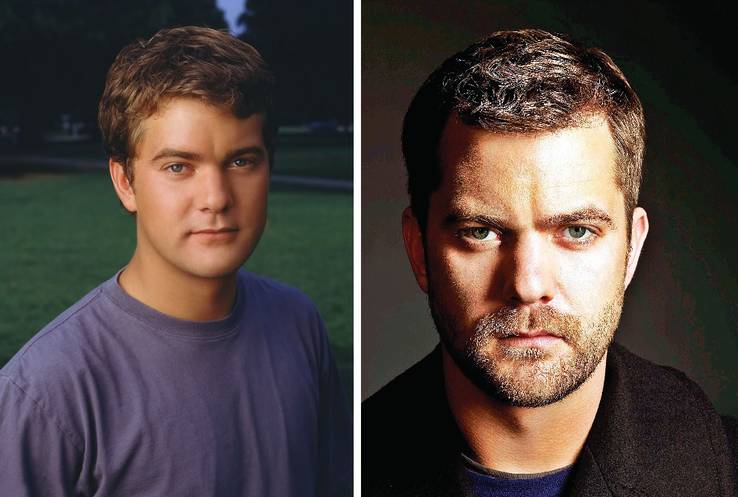 Dawson's Creek wouldn't be complete without the lovable and quirky, Pacey Witter, played excellently by Joshua Jackson. Joshua rounds up the main cast of Dawson's Creek and he was a part of the show from start to finish. His role on the hit TV show is one of his biggest claims to fame but his extensive acting repertoire reveals a great career outside of Dawson's Creek. Although fans mostly recognize him as Pacey Witter, Joshua has appeared in other primetime television roles, as well as over 30 films.
This year, Joshua is taking his acting prowess into Broadway. Children of a Lesser God will be remade this year with Joshua, Lauren Ridloff, and Anthony Edwards. This is expected to be yet another big break and an amazing opportunity for Joshua, as Children of a Lesser God is one of Broadway's most-renowned stage plays. Fans of Dawson's Creek are probably going to be lining up to get tickets to Joshua's next big gig. Children of a Lesser God has won a Tony before and hopefully, it bags another award upon its revival with veteran and talented actors at the helm of the stage when the curtains draw this May 27.
3

Michelle Williams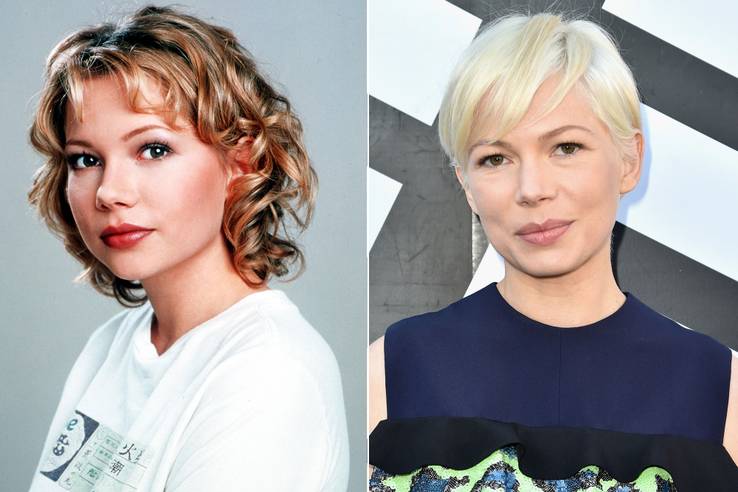 Before bagging the role of Jen Lindley on Dawson's Creek, Michelle Williams made it to the big screen in 1993 when she debuted in an episode of Baywatch. It was a streak of small projects for Michelle after that, as it seems like producers saw the charm and finesse that she brings to the table. Michelle was a part of the core group in Dawson's Creek and she was a part of the show from its beginning 1998 to its ending in 2003. As one of the main characters in the show, Michelle remains to be memorable in the hearts of series fans.
After the show ended, Michelle bagged big roles in films which allowed her to get nominated for the Oscars four times. Some of her film credits are Brokeback Mountain, Deception, Blue Valentine, Shutter Island, My Week with Marilyn, Oz the Great and Powerful, Manchester by the Sea, The Greatest Showman and All The Money in the World. This year, Michelle already has a line up ahead of her. She will star alongside Amy Schumer in the upcoming comedy, I Feel Pretty. She will also be a part of Marvel's growing family when Venom debuts later this year.
2

Katie Holmes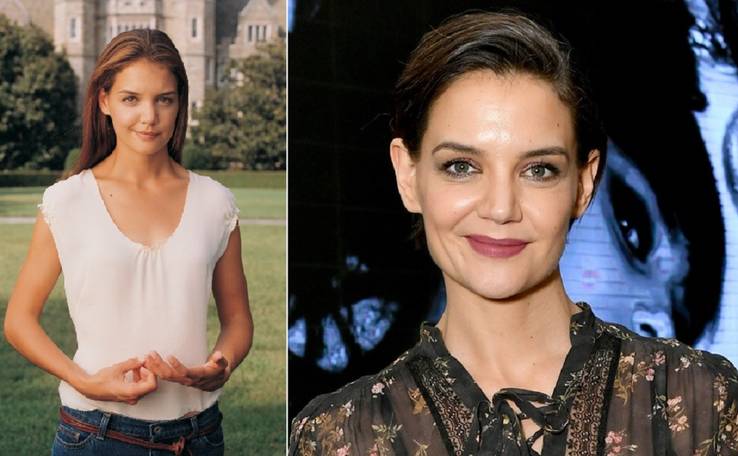 The veteran actress, Katie Holmes, was one of Hollywood's girls next door when she starred in her role as Joey Potter on Dawson's Creek. Playing the role opposite the lead character opened up many opportunities for Katie and she was also able to accrue a devoted following of fans. She was a part of the show from start to finish and many argue that she is perhaps the best character on the show. After leaving Dawson's Creek, Katie went on to finish other projects and she even married, and later divorced, Tom Cruise.
It has been a while since Tom and Katie split and the actress has definitely moved on from her past lover. Now, she is publicly dating Hollywood's local charmer, Jamie Foxx. The couple has been on the sights of the paparazzi since they were rumored to be dating and now, new rumors have begun to surface. Apparently, Jamie is willing to take their relationship to the next and ultimate level— MARRIAGE! Katie's fans are certainly happy for her and many are wishing her a successful second round of marriage. Though it is just a rumor for now, people are already getting excited at the thought of Katie and Jamie finally tying the knot.
1

James Van Der Beek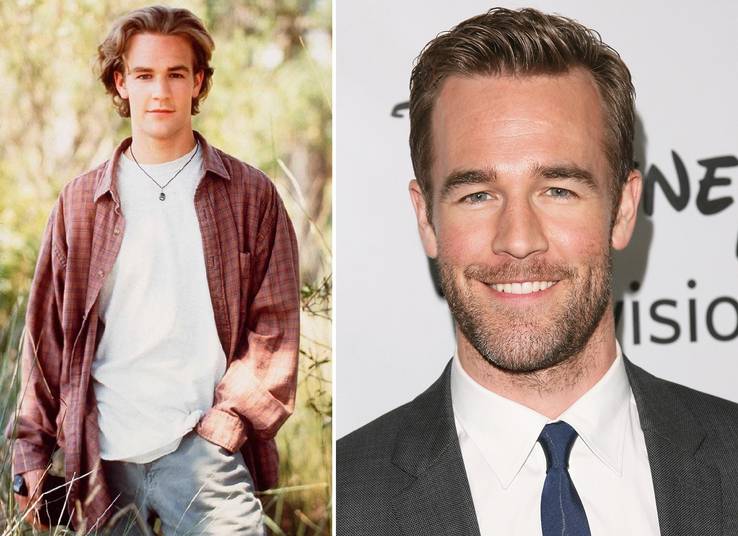 James Van Der Beek was already an established actor before starring on the hit TV show. He popped up in episodes of Clarissa Explains It All and As The World Turns. By the time he was cast as Dawson Leary, the title character in Dawson's Creek, James already had quite the following of fans behind him. As the lead character in the role, James stars as a hopeless romantic. Ever since the show ended in 2003, James has been a part of other movies and TV shows but of course, fans will always know him as the lovable Dawson Leary.
James is now a family man. In fact, James recently revealed that he will soon be the father of five children. He is indeed a family man, as his social media accounts are filled with posts about his lovely family. Other than that, he remains a busy man in show business. Now, he is currently starring in What Would Diplo Do? At the age of 41, James retains that same innocent and dashing good looks he was known for. If there ever was a reunion show featuring the original cast, we're sure fans would swoon over him again and again.
References: people.com, bet.com, thisinsider.com, deadline.com, news.com.au, eonline.com, tvline.com, usmagazine.com, architecturaldigest.com, rollingstone.com, hollywoodreporter.com
Source: Read Full Article