One of the longest-running network television shows that will be returning with new episodes in the future, Grey's Anatomy will be returning with a fifteenth season next year. A lengthy life that has been made possible in large part because of its large and constantly refreshing cast, with so many characters to focus on you unlock seemingly endless story possibilities. As such, much of the focus on this successful series has revolved around the actors that make it possible, at least when people aren't talking about the brilliance of Shonda Rhimes.
A series with an extremely long list of actors that have become associated with it, Grey's Anatomy has featured many extremely attractive onscreen performers. As a result, it shouldn't surprise anyone that most of the pictures that include members of this all-star cast show them looking fantastic. Of course, despite their incredible genes, they are still human, just like any of us, so not all images of them are created equally. Realizing that inspired us to put together this list of the 20 most unflattering photos of the cast of Grey's Anatomy.
In order for an image to be up for possible inclusion on this list, it first and foremost must feature a memorable member of Grey's Anatomy's cast in one way or another. For the purposes of this list, the inclusion of someone unrelated to the show does not disqualify an image from inclusion. On top of that, screenshots of these high profile actors from movies, TV shows, interviews, and other public appearances are all fair game as we'd be silly to leave them out.
20

James Pickens Jr. Beach Wear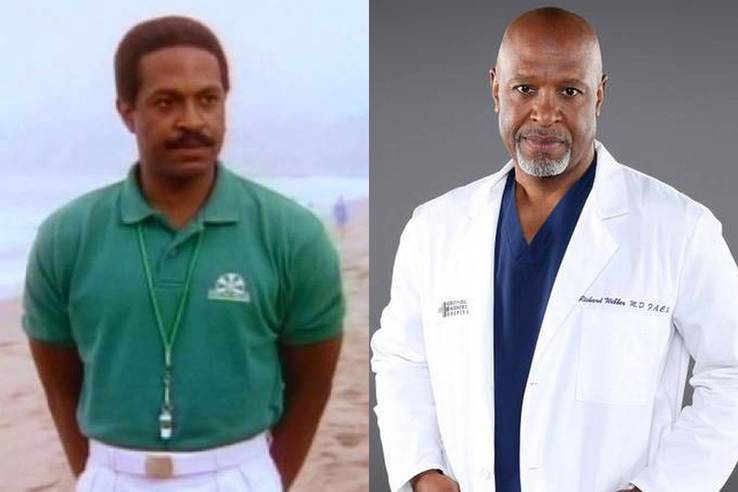 One of the most powerful figures in the hospital that Grey's Anatomy revolves around, over the years Richard Webber has held a number of positions but has always been influential. For instance, the character played by James Pickens Jr. has been the chief of surgery, the residency program director, and an attending general surgeon. Not only someone that is prone to switching up his position at work, we've also seen him become romantically involved with several women, two of which he married. For all of these reasons, and so much more, it seems difficult to imagine what this show would be like had he never appeared.
An accomplished actor that has worked consistently for years, James Pickens Jr. is the kind of person that many of us instantly recognize even if we don't know his name. First seen on screen back in 1986, throughout his career he has found his greatest success on television. We say that because he played memorable characters in other shows like Roseanne, The Practice, and The X-Files. Also seen in ten episodes of Beverly Hills, 90210 relatively early on in his career, the image on the left is a screenshot from one of his appearances in that show. Sporting a look that is firmly entrenched in the early '90s while playing that character, the man only looks better with age.
19

Jeffrey Dean Morgan and His Co-star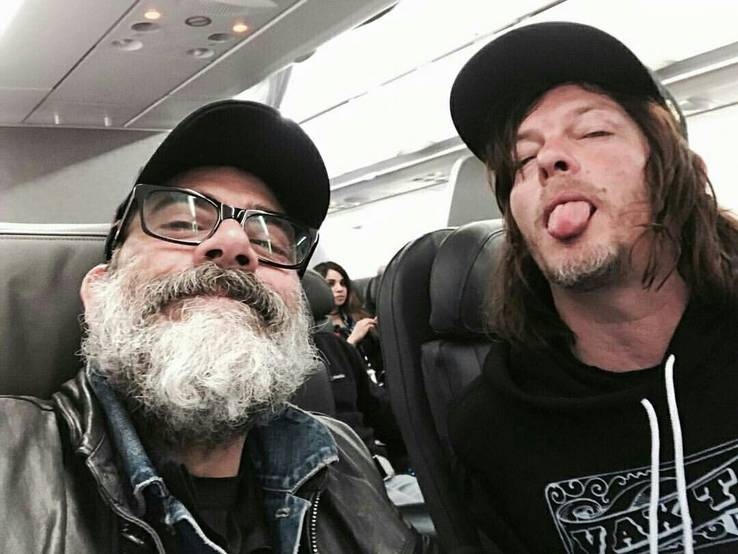 Grey's Anatomy is a show that has always been dominated by characters that work in the medical field, as a result, patients mostly would appear on the show and then be gone before too long. A notable exception to that, Denny Duquette, Jr. first appeared on the series after he entered the hospital in hopes that he would receive a heart transplant. However, once he met Dr. Izzie Stevens it was clear that the two had chemistry even though she had to inform him that he would not receive a new heart that day. However, he was then brought back and they eventually began a serious relationship that lasted until his untimely demise. An extremely talented actor, Jeffrey Dean Morgan has shown himself to be marvelous at playing a wide range of character types.
Known to Grey's Anatomy fans as a highly lovable and tragic character, Morgan's current television character is the polar opposite of that. Cast as Negan, the character that many people consider to be the most detestable in the history of The Walking Dead, calling him vicious would be an understatement.
However, judging by social media it is clear that in real life Morgan has become friends with the actors that play his onscreen enemies, especially Norman Reedus. Traveling on a plane together when they took this fun selfie, the way in which Morgan tilted his head back resulted in this shot being taken from an unflattering angle.
18

Isaiah Washington's Odd Vantage Point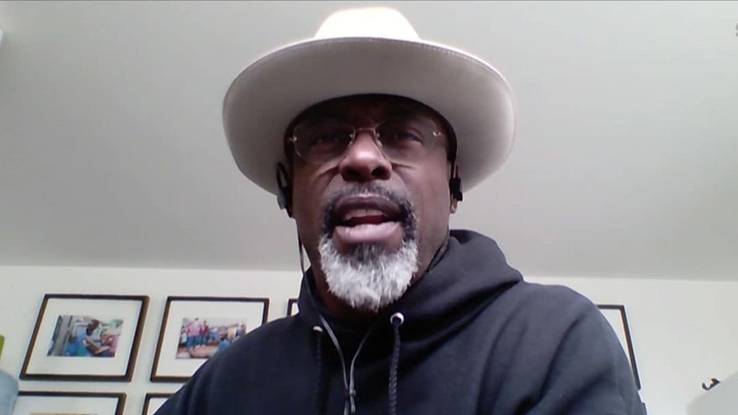 One of the earliest main Grey's Anatomy characters to leave the show, Dr. Preston Burke played a pivotal role in the show's first three seasons before departing, seemingly forever. Introduced as the head of cardiothoracic surgery at Seattle Grace Hospital, he was an award-winning doctor that was even able to found a medical research institute. In short, he was extremely skilled and he seemed to be set up to play a major part in the show for many years to come, especially as his personal life seemed to be going well, too.
However, his life forever changed when he left the woman he was just about to marry and then quit his job as well, a storyline that marked the end of his character's starring role in the show.
Without a doubt, an extremely good-looking man, Isaiah Washington is the kind of guy that seems to have been born to be a massive star. After all, had he chosen a career as a model he certainly could have made it. As a result of his obvious genetic gifts, Isaiah Washington can make virtually any look work, including the salt and pepper facial hair, hoodie and hat combination he has going on here. However, there aren't many people that look their best when shot from an angle in which you can see up their nose, and Washington is no exception.
17

Chandra Wilson and Patrick Dempsey got Caught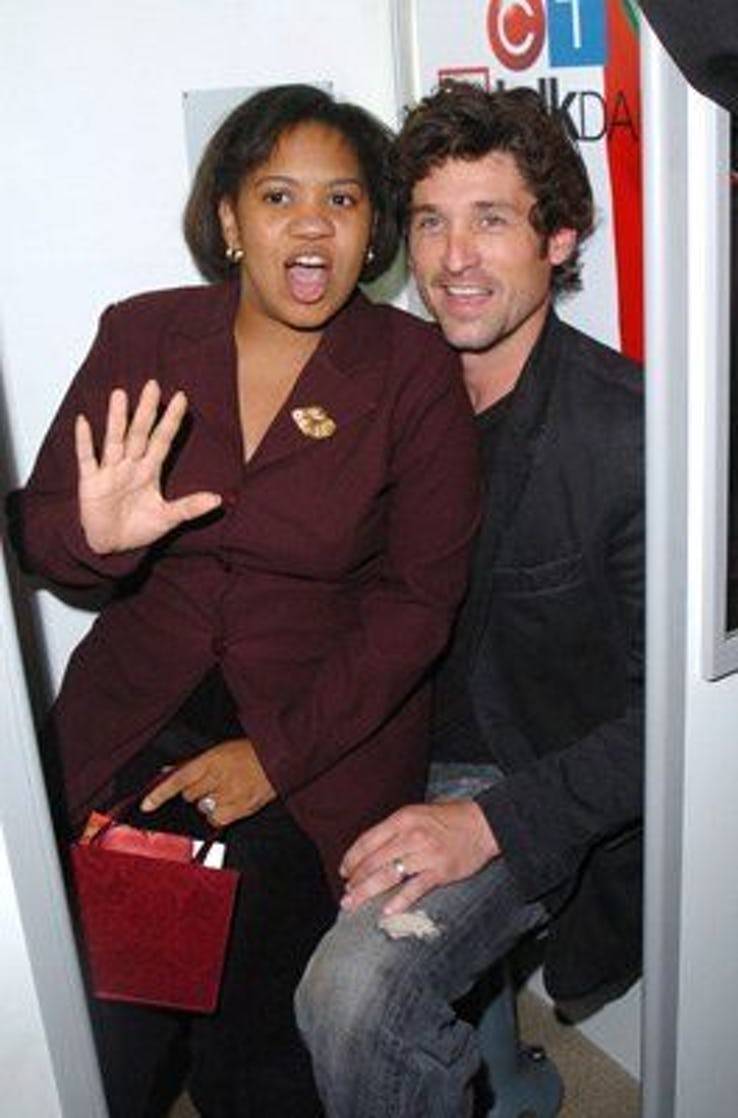 The only image on this list that features not one, but two members of the Grey's Anatomy cast, the two actors at the heart of this photo have played massive roles in the show's success. First, you have Chandra Wilson, the woman that has brought Miranda Bailey to life ever since the character first debuted back in 2005. Previously a soft-spoken doctor that needed to work on her confidence, after being mentored by Richard Webber the character became far tougher, which has been an awesome transformation to see. Then you have Patrick Dempsey, the man cast to play Derek Shepherd, a doctor that was so good looking that he was at times referred to as McDreamy.
As two of Grey's Anatomy's main characters, these two actors worked on the same series for ten years. As a result, they would have spent a whole lot of time together over the course of a decade, which ideally would have resulted in the two of them being comfortable with one another. For that reason, you'd think the two of them would not be bothered by being photographed in one another's presence. Instead, in this awkward shot, the two of them look as though they've just been caught doing something.
16

Ellen Pompeo's Awkward Clap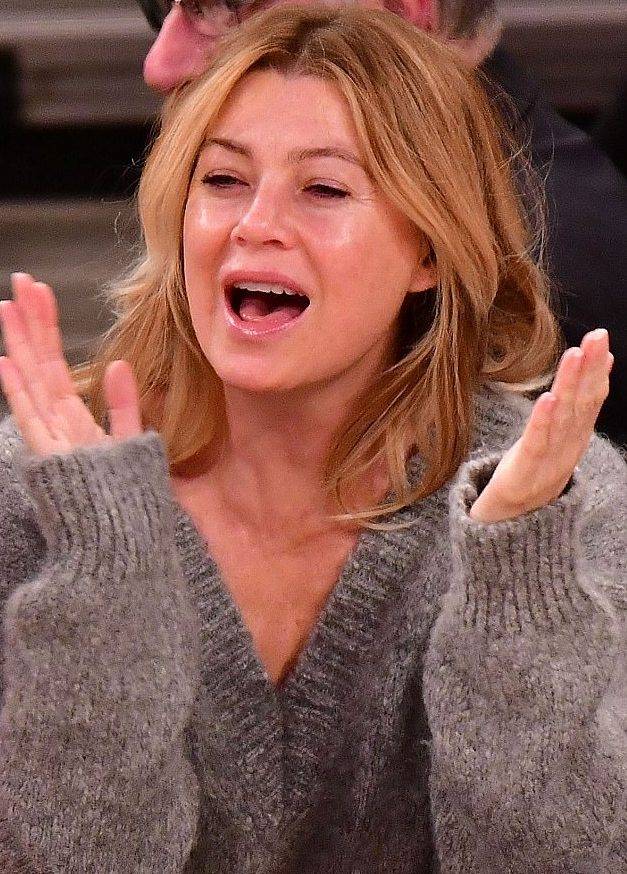 The person tapped to play the titular character for this series, it is safe to say that Ellen Pompeo's performance as Meredith Grey has been integral to the success of Grey's Anatomy. In fact, not only has Pompeo's onscreen work become a cornerstone of the show, but she also provides the series with its voiceover too. As such, in a lot of people's minds, there isn't any other actor that is more associated with Grey's Anatomy. Fortunately for everyone that works on the show and its many fans, she is extremely good at what she does and has been a major asset.
Said to be a fanatical fan of the Boston Celtics, in November of 2017 Ellen Pompeo and her music producer husband Chris Ivery rooted them on in person. In attendance when the Celtics took on the New York Knicks in Madison Square Garden, that venue is arguably the most famous arena in the world. Clearly very invested in the outcome of the game, here we see Pompeo looking lame while clapping for her team. Don't get us wrong, we are fully aware that anyone can look this silly at any given moment but that doesn't make this image any more flattering.
15

Gaius Charles was Blinded by the Light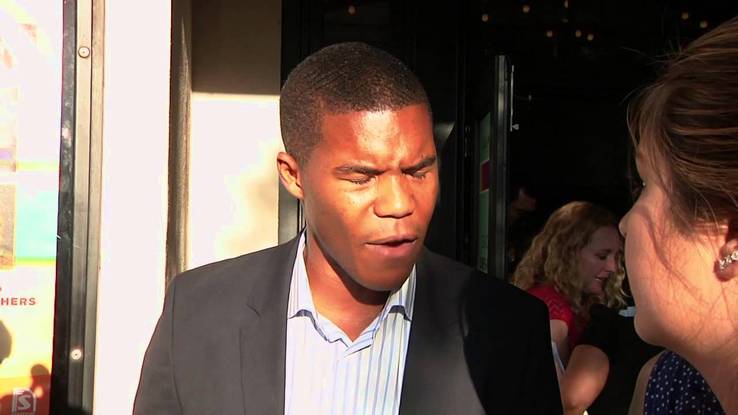 A character that was introduced to Grey's Anatomy fans in the show's tenth season, Shane Ross served as a surgical resident under the tutelage of Cristina Yang. Beginning his tenure on the series as only a recurring character, when season ten began, his character was upgraded and added to the main cast. For that reason, it would have been understandable for anyone to think that the character played by Gaius Charles would stick around. Instead, shortly thereafter when his mentor was set to leave for another country, he went with her, which led to his permanent departure from this series.
Arguably the least famous person to be featured on this list, we would still not be surprised in the slightest to see the career of Gaius Charles take off. Skilled enough to land several starring roles in television shows, as of yet Grey's Anatomy is the only show he played a major part in that lasted.
However, he recently was cast in the TV adaptation of the movie Taken and even though it has since been canceled, his involvement still says a lot about the perception of his potential. Seen here being interviewed with the sun in his face, this has caused him to mostly close his eyes, which is a move we can all relate but still results in a less than flattering expression on his face.
14

Jesse Williams' Interesting Outfit
A character that first debuted in the sixth season Grey's Anatomy episode "Invasion", at the time there was no way to know how important to the series Jackson Avery would become. The grandson of an extremely famous surgeon that is so celebrated that he has an award named after him, this young doctor always had big shoes to fill. Perhaps it is that self-imposed pressure that has allowed him to become such a good doctor that he was named the head of plastic surgery at a major hospital. Also at the heart of many of the show's most dramatic personal moments, his character's spotty romantic history has provided fans with many compelling moments.
First entering the public stage when he modelled during his college years, Jesse Williams never seems to wilt under the pressure of the public eye.
For instance, he serves as an executive producer for Question Bridge: Black Males, a "transmedia project" focused on the experiences of Black men in modern society. Chosen to win an award for his various humanitarian efforts at the 2016 BET Awards, he also chose to speak out against systemic racism in his acceptance speech. Clearly, someone that is happy to express himself, he seems to be doing so with his choice of clothing in this image as well. However, whatever you call that top that goes around his neck and waist but exposes his back and sides, it isn't doing his look any favors.
Featured Today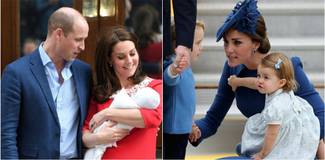 10 Times Kate And William Were Great Parents (10 Times They Dropped The Ball)

25 Blonde Actresses That Hollywood Just Can't Get Enough Of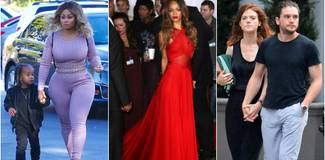 25 A-Listers Reveal Their Real Names (And It Totally Surprised Us)

13

Brooke Smith Looking Unsure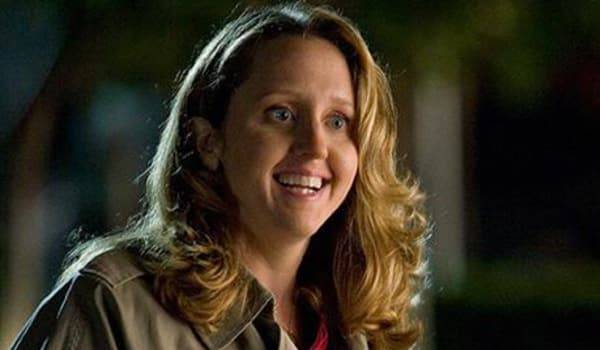 A character played by Brooke Smith, at various times Erica Hahn feuded with some of the main Grey's Anatomy characters like Izzie Stevens and even more fiercely with Preston Burke. Despite that, fans also got to see her much more tender side when she entered into a romantic relationship with Callie Torres. The first time either of them was involved with women, their relationship did not exactly go very smoothly. In fact, after the two of them had a few massive disagreements, both romantic and professional, Erica decided to move on and quit her job abruptly.
An actor that has landed the role of a lifetime early in her career, Brooke Smith landed a supporting role in the legendary thriller The Silence of the Lambs.
Continuing to work ever since, she has bounced back and forth in between films and television projects. As a result, you may also remember her from other shows like Six Feet Under, Ray Donovan, and Bates Motel or movies including Bad Company and The Man Who Wasn't There. Someone who has the perfect look to play characters that most viewers can relate to, Smith is the type of person you can easily imagine being friends with. Seen here in one of her most memorable Grey's Anatomy moments, the unsure look on her face isn't flattering but it certainly speaks to us.
12

Eric Dane Isn't McSteamy anymore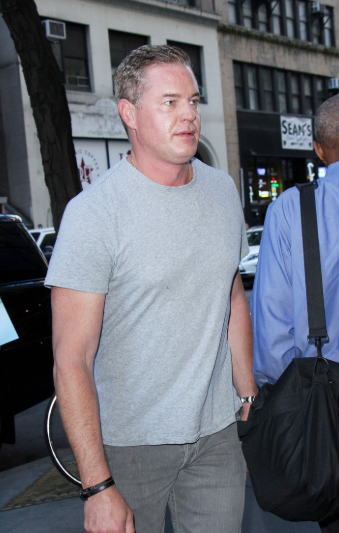 A character that was introduced in the second season of Grey's Anatomy, when Eric Dane debuted as Mark Sloan it was a watershed moment for the show. Known as a ladies man right from the start, he becomes involved with a long list of women and he even begins an affair with the wife of McDreamy, the man that supposedly is his best friend. Nicknamed McSteamy himself, the two highly talented doctors had a relationship marked by several highs and lows.
Around for many years before his dramatic departure, his absence was felt for a long time and left a mark on the series for a long time afterward.
As an actor that had been trying to find his big break for many years, 2006 was a massive year for Dane. Most notably beginning his Grey's Anatomy tenure at that time, he also landed a supporting role as Multiple Man in X-Men: The Last Stand, which was released that same year. Currently starring in another show, The Last Ship which is set to return for a fifth season in 2018, despite that, his career has never been the same since his days playing Mark Sloan. Perhaps that is why this image of Eric playing his Grey's Anatomy character has stuck with us. Typically a guy with typical movie star looks, for some reason here his face looks like something straight out of an outrageous comic book.
11

Ellen Pompeo Looking Unhappy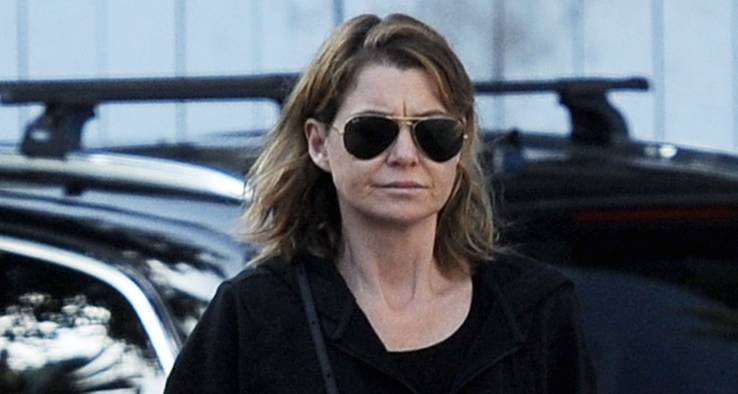 An actress that has been able to develop an extremely loyal fan base over the years, Ellen Pompeo is most famous for Grey's Anatomy these days but she has landed many other roles over the years. For instance, she turned heads when she was cast as a flight attendant in the fantastic movie Catch Me If You Can. In addition to that, she was also chosen to play two legendary comic book characters, Karen Page and Gwen Stacy, in Daredevil and Spider-Man 2 respectively. If that weren't enough, she also played the female lead in the classic comedy movie Old School, too.
As a result of her many noteworthy roles, Ellen Pompeo has become a big enough star to find herself in the crosshairs of many paparazzi's cameras over the years.
An invasion of privacy that most of us will never be able to fathom, for a lot of these paid vultures a premium is put on taking pictures that the subjects are likely to find embarrassing. Due to that fact, stars can find themselves followed by cameras even when they do the most mundane things, in hopes that they will look off for a moment. An example of just that, whoever took this photo of Pompeo in the midst of a shopping trip chose the specific shot in which she looks the least pleased and sold it to the highest bidder.
10

Patrick Dempsey's Dated Look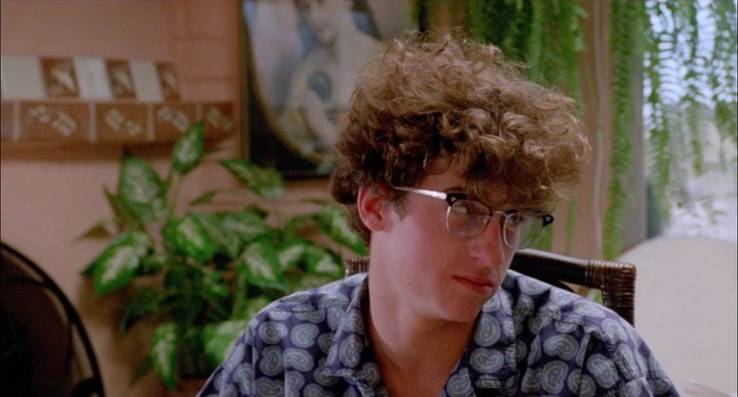 At one time the character that seemed to be brought up the most when discussion turned to Grey's Anatomy, Meredith Grey was the lead but Derek Shepherd got a lot of the attention. In fact, if you were not watching the show during the first several years, the only character you might have been aware of was him, in large part due to his McDreamy nickname. A neurosurgeon that was respected enough to become a board director at a major hospital, his career alone created fodder for a long list of interesting storylines. However, his various romantic relationships oftentimes were more focused on by fans of the series and the show's writers.
Already an accomplished actor long before he landed his Grey's Anatomy roles, earlier in his life Patrick Dempsey was something of a teen idol of sorts. He first turned into something of a star when he played the main character in the '80s teen comedy Can't Buy Me Love, this screenshot of Dempsey originates from that movie.
Playing a character in that film that starts out as a total geek, here he definitely looks the part based solely on his crazy hair. When you then throw in his over the top shirt and glasses, they clearly did a good job making Dempsey look goofy.
9

Katherine Heigl isn't the easiest person to work with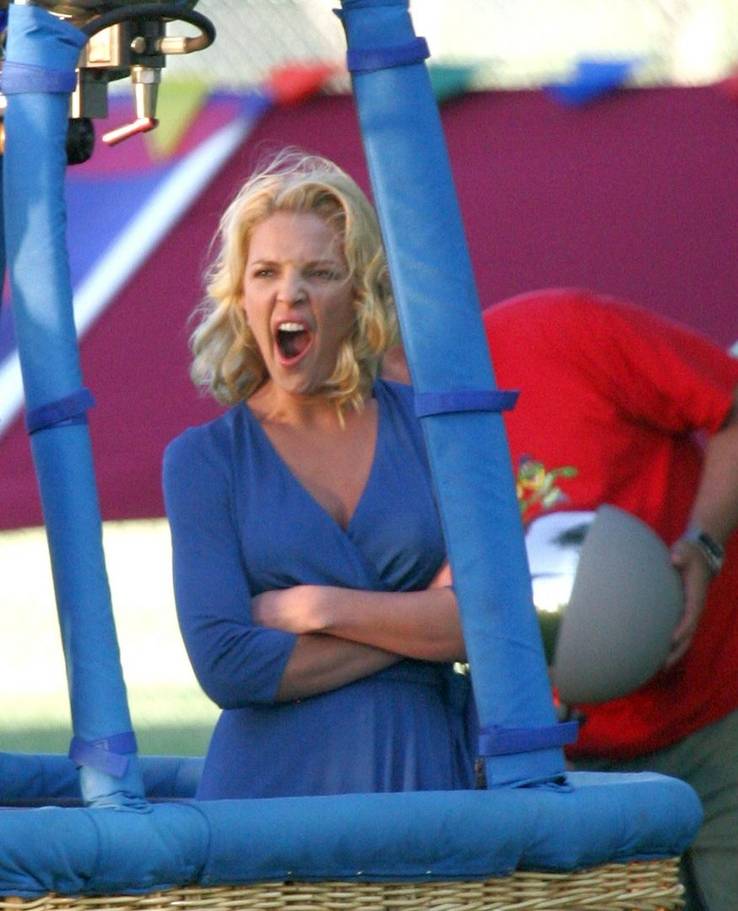 One of the main characters when Grey's Anatomy first began airing, Izzie Stevens was at the core of many of the show's early storylines. A kind-hearted person and solid doctor whose life was not exactly easy, she was the focus of one of the show's most heart-wrenching storylines after she was diagnosed with cancer. Forced to undergo surgery in order to fight the disease, she eventually recovered only to lose her job which led to her character's departure from the series.
Still, despite being gone from the show for nearly a decade at this point, Izzie Stevens still holds a place in the hearts of many of the show's fans.
Not only a television star, at one point in her career Katherine Heigl landed many lead roles in high profile romantic comedies. Seen in this photo that was taken while she was working on the movie The Ugly Truth, in which she starred with Gerard Butler, the movie was a big success for her. After all, the film made more than five times its budget back at the box office. Still, judging from this onset image it seems as though Heigl did not find the filming of the movie especially riveting. Evidently overcome by the need to yawn in the middle of her shooting day, that is a simple function of the body but she could have covered her mouth at least.
8

Kate Walsh's Brunch Look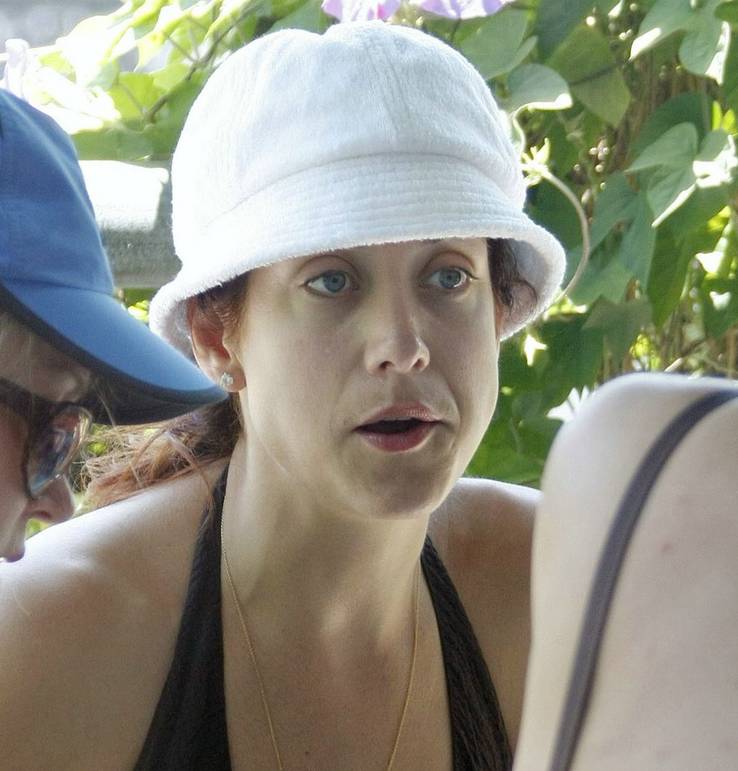 An early addition to the cast of Grey's Anatomy, Kate Walsh played Dr. Addison Forbes Montgomery in a single episode of the show's debut season. Brought back for the season two debut, from there she became a regular for the series, much to the delight of many viewers who found her extremely compelling. A talented doctor that was an expert in more than one discipline, her skills as an OB/GYN and a neonatal surgeon made her one of the most respected doctors seen on the show. However, even though her career was on fire, her personal life was routinely marked by one highly problematic romantic relationship after another.
For that reason, many viewers were overjoyed to see her character end up happily married with several children to raise.
Something that can be a weekend highlight depending on your company, being able to meet up with friends and family for brunch is a wonderful thing. As such, when Kate Walsh had some time off from filming in 2008, she met up with two gal pals at Jinky's Café in West Hollywood. However, we can only assume that she had no idea they were not the only ones in attendance that morning, as a photographer with a telephoto lens was watching. Able to get this shot of Walsh at ease without her permission, as a result, they caught her on camera not exactly looking her best.
7

Sandra Oh Browless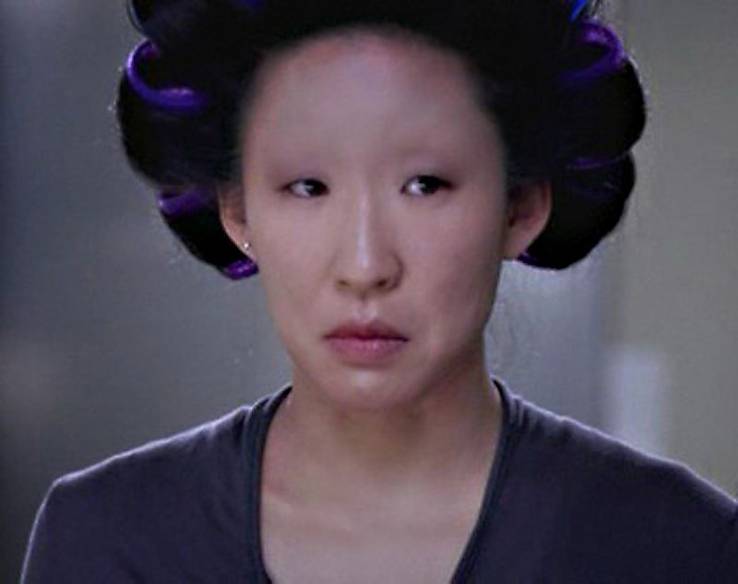 A mainstay of Grey's Anatomy for the majority of its television run, Sandra Oh's portrayal of the character Cristina Young almost always took her scenes to another level. Known for her analytical way of seeing the world, Yang tackles situations so methodically that at first blush people may mistake her as being cold. However, fans of the series that have seen her strong relationships with a long list of characters, most remarkably Meredith Grey if our opinion, knows that is far from the case. Instead, her competitive and driven side is a strength in her career that has allowed her to become the Chief Medical Officer and Director of Cardiothoracic Surgery at a medical institute.
Sandra Oh is a highly-respected actor that has given one stellar performance after another throughout her life. Nominated for a long list of accolades, she has won several times which has led her trophy case to include a Golden Globe and SAG Award among others.
Despite the seemingly endless array of roles she has taken on, there is still little doubt that her most famous character is Cristina Yang from Grey's Anatomy. Seen here playing her during a pretty ridiculous moment, in an attempt to please her man's family Yang allowed her eyebrows to be shaved off in the buildup to her wedding. Need we say more?
6

T.R. Knight is Trying Too Hard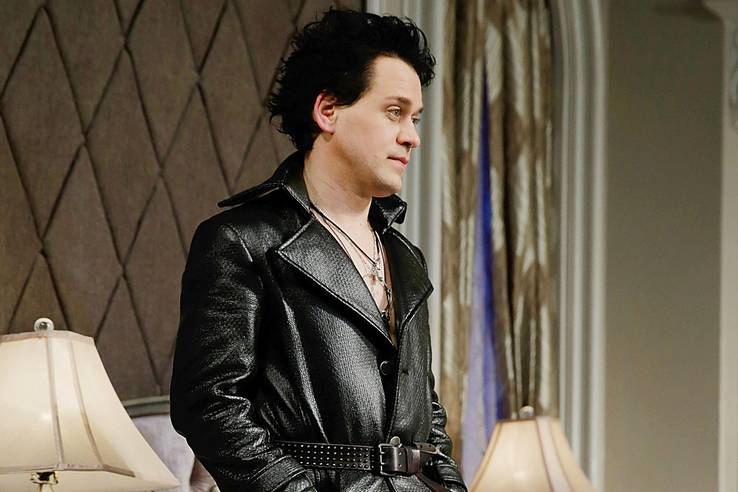 A character that started off on the wrong foot, T.R. Knight's Dr. George O'Malley at first seemed like a bit of a mess but before too long he became a highly respected surgeon. Known for being a well-meaning guy, his kind-hearted nature allowed him to create connections with his patients on top of the many meaningful relationships he had with co-workers. In fact, he was among the closest friends of Izzie Stevens and eventually would marry Callie Torres, another one of his fellow doctors. Due to all of this, many fans were sad to see him depart the series relatively early in its run.
An actor that began performing at the age of five years old, T. R. Knight has spent the majority of his life around the performing arts. As a result, he has likely seen it all, which hopefully made his controversial exit from Grey's Anatomy sting a little bit less, especially after his tumultuous time on set.
No matter how that played out, however, one thing that is clear is that he has continued to work since then. An example of just that, here we see him in the midst of a performance as his character in the short-lived sitcom It's Only a Play. Dressed all in black and with dyed jet black hair here, none of it fits the guy we came to know at all and it isn't working for him in our view.
5

Katherine Heigl shows her emotions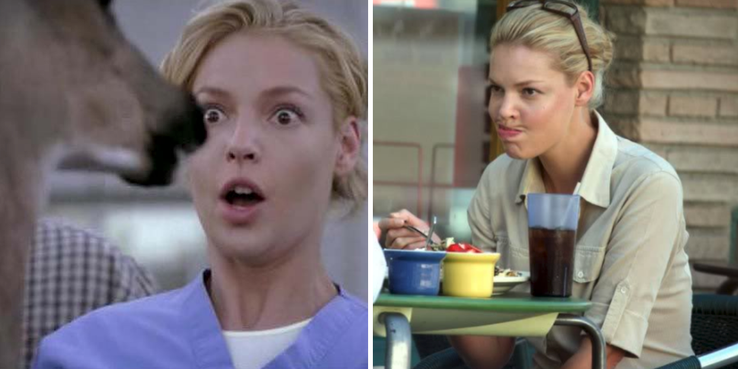 One of the most talked-about concepts in television, whenever a series lasts many seasons fans begin to discuss which episode contained its so-called jump the shark moment. A phrase inspired by an especially ludicrous episode of Happy Days, in which Fonzie literally jumped over confined sharks, once a show jumps the shark it permanently dips in quality. Additionally, in most cases, jumping the shark is typically punctuated by an especially over the top scene that is not in tune with the original tone of the show. A series that is often discussed, it should come as a surprise to nobody that Grey's Anatomy has included many scenes in which some people claim it has jumped the shark.
A show that focuses on a group of doctors, we have seen many Grey's Anatomy doctors called upon to use their medical skills in the case of emergencies. For instance, one such instance took place in the fourth season episode "A Change is Gonna Come", in which Dr. Izzie Stevens attempts to save the life of a deer. A storyline that was hard to swallow and resulted in a particularly ridiculous moment in which she shocks the unconscious deer back to life, the whole thing was pretty laughable. Represented in this screenshot of the scene in question, the expression on Katherine Heigl's face in the scene says it all for us. Heigl has a reputation of being a total diva on set.
4

Kate Walsh's Poorly Timed Clap
Arguably one of the biggest compliments producers can pay to one of the stars of a TV series, if a show receives a spin-off the actor chosen to be at its core can be very telling. As a result of that, when Kate Walsh's Grey's Anatomy character was given a series of her own, it was a major career moment for the actor. The star of Private Practice for several years, that show began when her character took a job at a different hospital than the one Grey's Anatomy fans were so used to. Still, in the end, it might have worked out better for Walsh had she stayed on Grey's Anatomy instead as Private Practice was canceled years ago at this point.
A major event in the life of anyone, when you decide to get married it is meant to last a lifetime. A highly ritualized tradition, alongside the actual wedding ceremony there are many satellite events that take place, including the bachelorette party. In the midst of partying it up prior to her own nuptials when this image of her was taken, Kate Walsh should have been left alone to have an awesome time with her friends. Yet, whoever snapped this image took it at the exact moment in time in which her eyes were mostly closed, giving her an odd look on her face. Too bad, as she clearly was having a great time, we're sure a second or two later she looked wonderful.
3

Katherine Heigl Mid-Wail?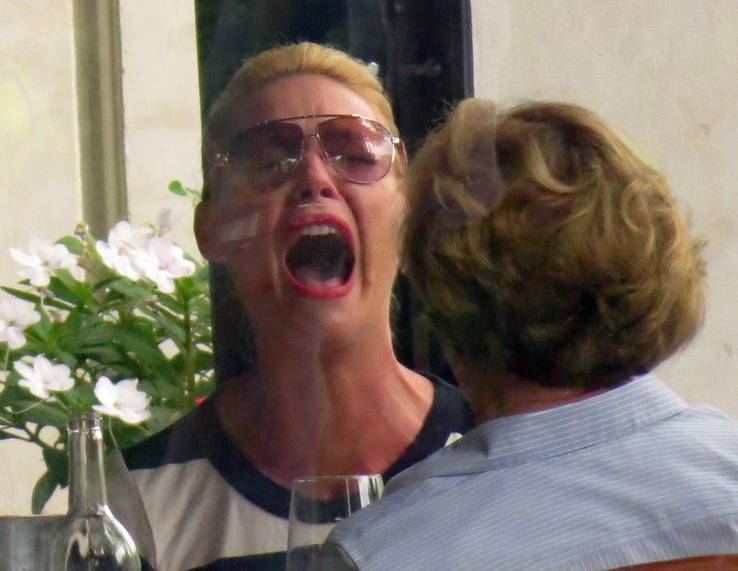 An actor that at one time seemed to be one of the biggest actors of her generation, Katherine Heigl managed to land several high profile roles early on. One of the stars of Under Siege 2: Dark Territory, in that movie she played the daughter of the film's main character, a major part which was just a harbinger of things to come. For instance, she first garnered a huge fan base when she starred in the sci-fi series Roswell, and then things really took off for her when she was cast in Grey's Anatomy.
Sadly, things have gone steadily downhill for her and it seems very clear her horrible reputation has a lot to do with that.
Often referred to as difficult, that perception began when Katherine Heigl starred in the movie Knocked Up and then spoke out about its portrayal of women after it became a hit. From there, she seemed to cement the idea that she is a paint when she removed herself from Emmy consideration for her Grey's Anatomy work in 2008. An odd move, she cited a lack of "material this season to warrant an Emmy nomination" as the reason why. Both moves were perceived as backhanded slaps at the people she worked with but from another view, she was fighting for more substantial roles for women in movies and television. No matter how you see it, this shot of her seemingly freaking out while at lunch with her mother doesn't look good or help her image.
2

Ellen Pompeo's Twitter Defence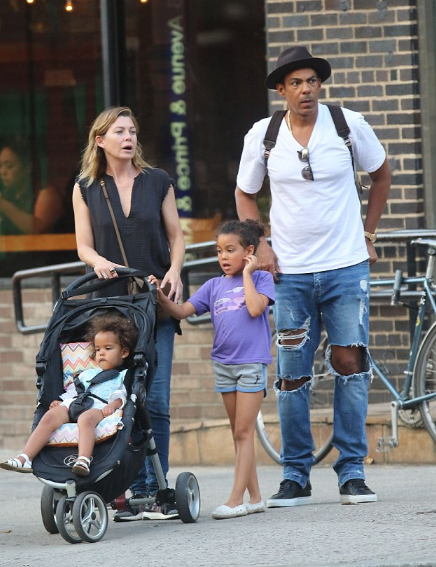 A job that relies entirely on the masses wanting to see you a perform, no matter how good you are as an actor if the public doesn't support your efforts that career is likely to end. For that reason, the vast majority of celebrities try to be as inoffensive as possible. That said, these people are human and from time to time they may say or do something that garners negative press for one reason or another. Ideally, in response, the star will genuinely try to take into account what they did to offend people and if they were wrong, change their ways. If not that, they are likely to release a carefully crafted apology and explanation. In 2016, Ellen Pompeo received very negative reactions and did none of that.
Upon Ellen Pompeo learning a documentary about racism was set to be released with a title that offended her, she spoke out against it. Resulting in the documentary changing its name, Pompeo then tweeted out her support for the move and included dark-colored hands applauding the move. A move that was seen as offensive by many that felt she was speaking on behalf of another race with the emoji inclusion, a backlash ensued. In response, Pompeo made the awful decision to bring up her back husband as the reason she felt her emoji inclusion was not in the wrong. No matter how you feel about the initial tweet, citing your Black friend, or in this case husband, as the reason you aren't being racist always looks awful.
1

Isaiah Washington Defending Himself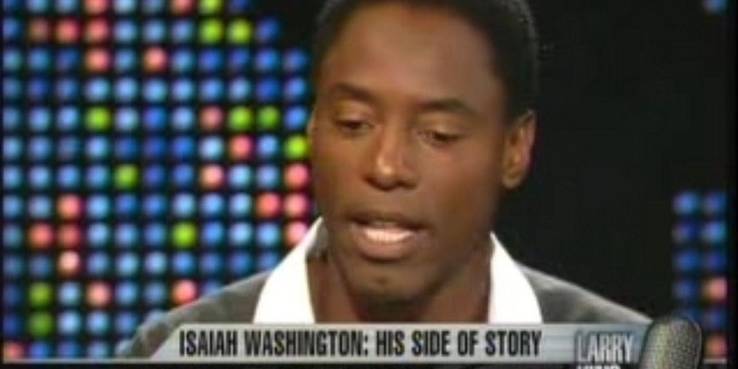 An actor that made appearances on one hit show after another, Isaiah Washington showed up in series like NYPD Blue, Ally McBeal, and All My Children, among many others. However, up until his casting in Grey's Anatomy, he never appeared in more than three episodes of any shows. A surprising fact given that he was cast so often and how talented he was at acting, nevertheless, that was still the case. As a result, he must have felt like landing a lead role in Grey's Anatomy was a major moment for his career. However, nobody could have known that his image would be forever tainted because of things he is believed to have done during filming. Alleged to have said horribly homophobic things to T.R. Knight on the set of Grey's Anatomy, the resulting controversy has never fully blown over for Isiah Washington.
Evidently ultimately resulting in Washington being fired from Grey's Anatomy, his supposed offensive statements were bad enough that he went on Larry King Live to defend himself.
Of course, we can't confirm or deny that Washington said what has been alleged but we are sure that having to go on national TV to say you aren't homophobic looks awful.
References: dailymail.co.uk, questionbridge.com, justjared.com, justjared.com,    spoilertv.com, ew.com, ew.com, ew.com, ew.com, dailymail.co.uk, people.com,   today.com
Source: Read Full Article