Angelina Jolie — you know her name, you know her face. You can picture her face without a single photo — her image is so powerful and so is her identity! Angelina has been a steady presence in the entertainment for the last twenty years as an actress your brother has definitely heard of; she's graced your brother's posters as Laura Croft in the Tomb Radar films, she has figuratively held the whole world in her hands as an advocate for climate change, and Angelina has received a multitude of awards for the avenues she has devoted herself to; Jolie is tough, admirable, and such a well-rounded public figure, which can, unfortunately, be overshadowed by her identity in the public eye and in the "world of celebrity."
When you think of Angelina Jolie, do any of her films come to mind? Were you aware of her active humanitarian work? Don't feel bad if you had to take a long pause. Angelina Jolie's identity has been tangled in and associated with the screaming headlines paired with her face on the cover of tabloids for well over a decade! In case you haven't spent any time in a grocery store checkout line, Angelina Jolie met and fell in love on the set of Mr. and Mrs. Smith with her co-star, the Hollywood wonder-man, Brad Pitt. For those who indulge in the world of celebrity rather than Pitt's experience in cinema, the stumbling block in the Jolie-Pitt love story was his marriage to Jennifer Aniston.
This summary of the tabloid version of Angelina Jolie's last fourteen years has only slightly expanded, but the majority of the tabloids' take on Jolie's has remained the same; she and Pitt added three biological children to Angelina's crew of three adoptive children, and they tied the knot in 2014. Two years later, the couple shocked the world and blessed the internet with Jennifer Aniston's Rachel Green "I don't gossip" memes when they announced their divorce. In the two years since, Angelina has come into her own as a globetrotting humanitarian, film director, and lecturer. It's time we celebrate Angelina Jolie, herself!
20

Championed Through A Scary Diagnosis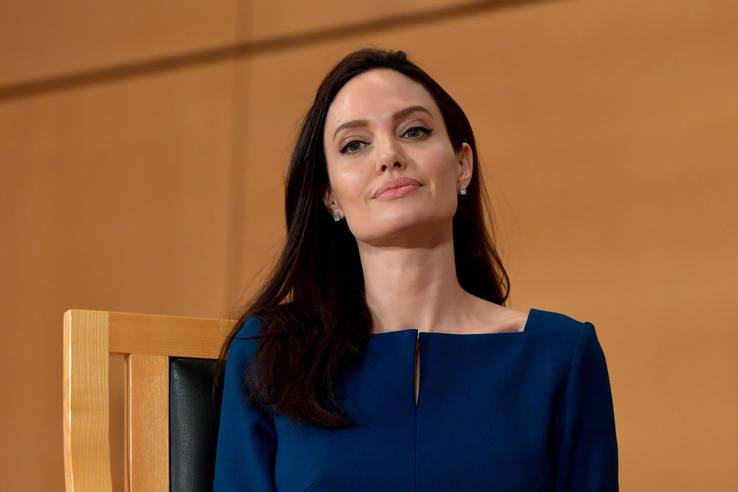 For an actress whose identity is often associated with her face, some might think Angelina suffered a cosmetic setback after her divorce announcement from Pitt. In 2017, the actress shocked the world by letting the public know of her recent Bell's palsy diagnosis.
The first impression of the name Bell's palsy sounds so serious. ABC News explained the meaning of the disease when Angelina announced her diagnosis. The site explains Bell's palsy as "a condition that leads to paralysis of the facial nerve, the peripheral nerve responsible for facial movement."
Angelina has conquered the disease; she revealed acupuncture to be helpful!
19

Directed And Starred In A Film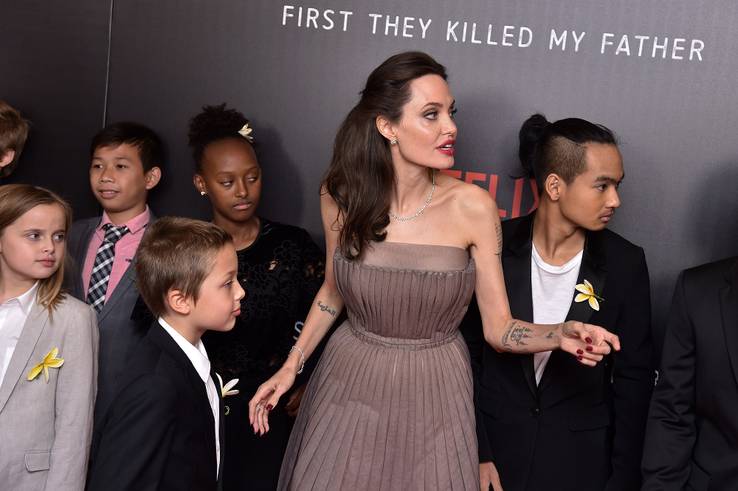 Netflix original films have become such a popular industry having produced so many popular titles in a short time, and Angelina Jolie has contributed to the library! She adapted the book First They Killed My Father: A Daughter of Cambodia Remembers, a memoir by human rights activist, Loung Ung.
Angelina's relationship with Loung Ung isn't new. Angelina was aware of Ung and her story, and the two met several times to discuss her memoir, leading to Angelina's decision to turn the story into a film! As an even more personal detail, Angelina's Cambodian born son, Maddox, has a producer role on the project!
18

Actively Taking Part In Humanitarian Work
One of the most underrated aspects of Angelina's career (and closest to her heart), is her extensive list of humanitarian work. She has been involved with charity work almost as long as her time spent in the spotlight. We know Angelina's heart is involved with adoption from other countries, but her history with humanitarian work is far and wide!
According to Serudsindia, Angelina has many areas of expertise. Among them, Angelina has worked for charities involving "women, literacy, health, and education." After her divorce from Brad, Angelina spoke about her current areas of focus to Harper's Bazaar. She explained the benefits of the technological boom and how we can use it for good.
"Over the next 150 years, technology is going to give us more and better means of communicating, fighting poverty, defending human rights, and caring for the environment. But it is what we choose to do with the freedom we have that will make all the difference.
It is that what you stand for, and what you choose to stand against, is what defines you."
17

Lecturing At Prestigious Institutions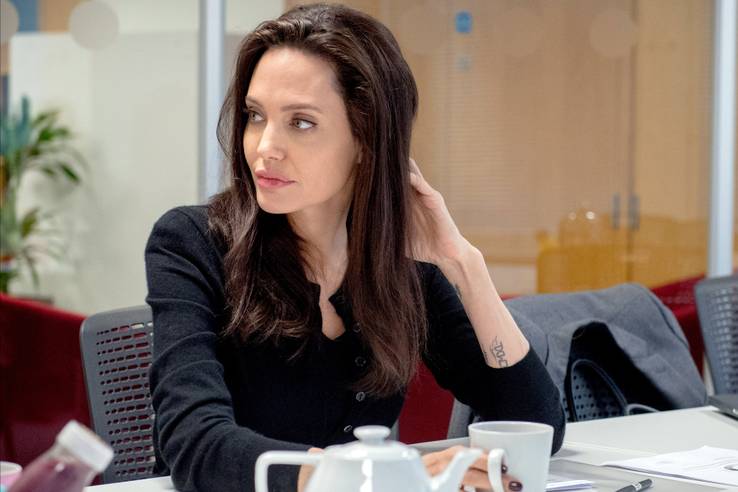 Angelina has proven time and time again she has a passion for bringing seriously important issues to the public's attention, cementing her voice in various global discussions. In 2017, Angelina spent time enhancing the lives of students as a guest lecturer at the London School of Economics and Political Science.
Angelina has had plenty of experience with using her voice and platform. Standard.co.uk gave insight to Angelina's time spent as a professor; "The post, which is unpaid, formally begins in September, with Ms. Jolie helping teach students about the impact of war on women."
It is important to know, in the wake of her divorce, Angelina's powerful voice extends so far beyond the many fabricated feuds between herself and many other women.
16

Reconnecting With Her Father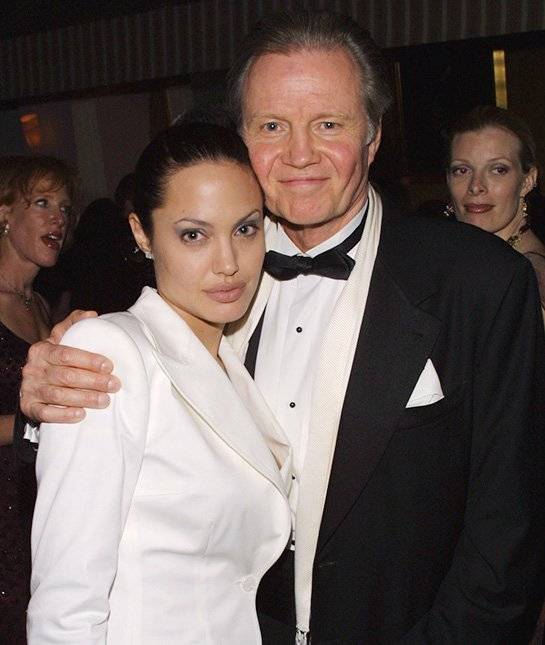 The star power in the Jolie family didn't begin with Angelina; her father Jon Voight was a veteran actor decades before Angelina began her career on the big screen! As with many Hollywood (and familial) relationships, however, the history between father and daughter has been historically complicated, and unfortunately, plays a central role in Angelina's story.
Luckily for Angelina and Jon Voight's grandchildren, their relationship seems to be on the mend, supporting the idea family can play a vital role in healing relationships. Time will tell if there will be a new era for Angelina and Jon's relationship, but judging by the positive insight Angelina gave The Hollywood Reporter last year, we can remain hopeful!
15

Purchased A New Mansion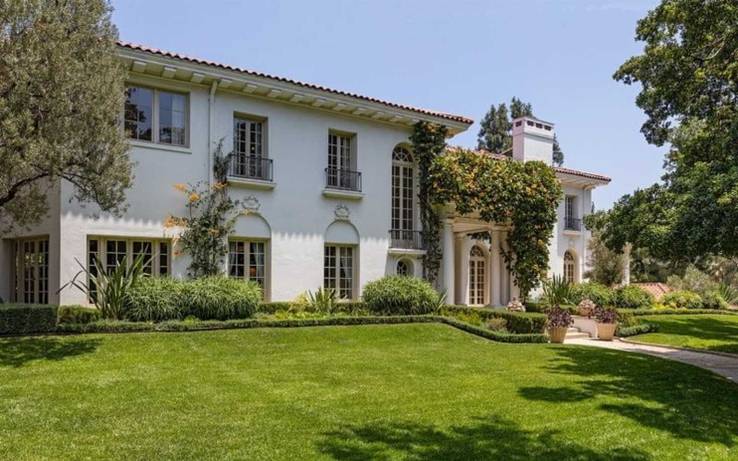 Marking a positive change after a new start in one's life can prove to be incredibly helpful with the healing process. For Angelina's split with Brad, the healing process can be helped with a change of location; she and the junior members of the Jolie-Pitt clan recently moved into a new mansion, where she welcomed Vanity Fair into her home for an interview. The magazine's description of the house's interior is filled with many buzzwords tailored toward HGTV super fans;
"A number of doors to the house are open as if posing some riddle from a fairytale — which one to enter? Inside, the vibe is airy and calm: all open windows and cross-breezes, creamy-white unlit candles, soft creamy-white furnishings."
A new luscious living space can do wonders for a fresh outlook!
14

She's Reprised Beloved Film Roles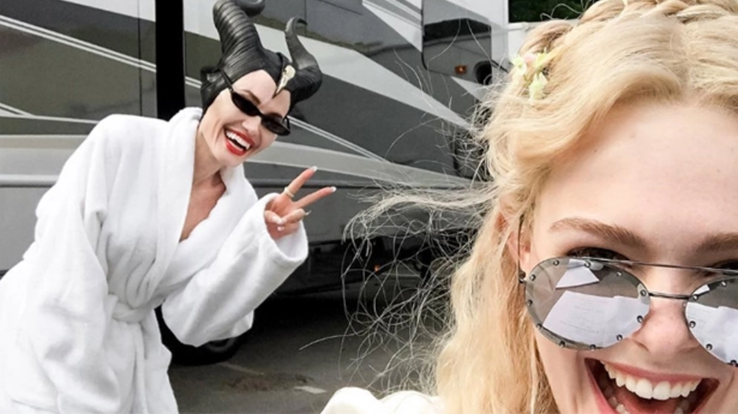 Angelina's role in the 2014 Disney film Maleficent, was nothing short of stunning! It was a career-defining performance for the actress. Audiences were captivated by the dazzling visuals and Angelina's ability to play a villain straight from a storybook.
With such a memorable role in the film, Angelina is certainly ready to gear up for its sequel, Maleficent 2. Jolie recently returned to the set in May to begin production, which proves positive for both fans and Angelina, herself; Angelina can distract herself from all of the divorce-related tabloid reports, and fans can rejoice in her return to to the big screen; it's about time we see her back in Hollywood!
Featured Today
25 TV And Movie Scenes That Should Never Have Been Deleted

5 Cars Hiding In Conor McGregor's Garage (15 He Can't Afford To Buy)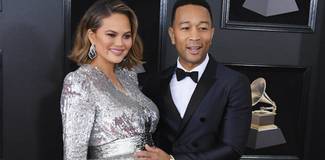 20 Celebs With The Weirdest Pregnancy Cravings

13

Serves As An Advocate For Climate Change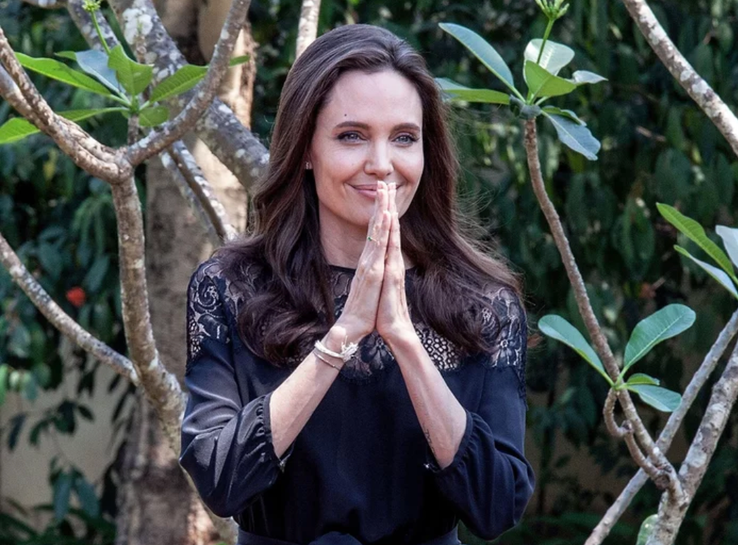 Worldwide issues have a complicated place in the world of celebrity culture; they can either go completely ignored or be brought to national attention via the support from a celebrity. Angelina Jolie is no stranger to bringing attention to important causes; recently she has made it her mission to inform the public about the negative effects caused by climate change!
In the March 2018 issue of Elle, Angelina was presented with the unique opportunity to interview John Kerry, the Democratic nominee for the 2004 US Presidential election and former Secretary of State. The two discussed a number of topics ranging from climate change and the freedom for women across the world.
12

Taking Vacations With The Kids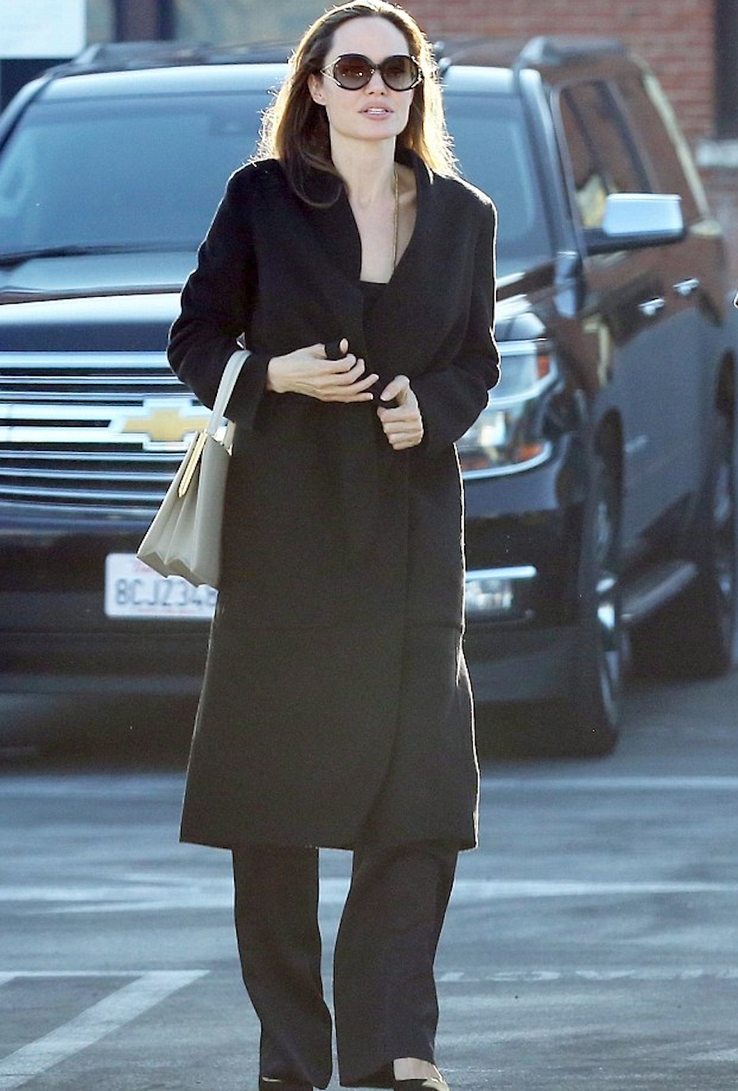 Angelina Jolie has a packed calendar of events, many of them being charity related, but she has also managed to squeeze some time in her busy schedule to relax and unwind away from the glare of the spotlight.
She's made the vacations a family affair; the Jolie-Pitt family was recently seen traveling abroad to Paris in 2018, a year that's already given Angelina plenty of reasons to need rest.
Radar Online reported Brad was notably absent from the trip. A picture is worth a thousand words; if the pictures are to be believed, the family seemed peaceful and tolerant of the endless cameras.
11

She's been invited to London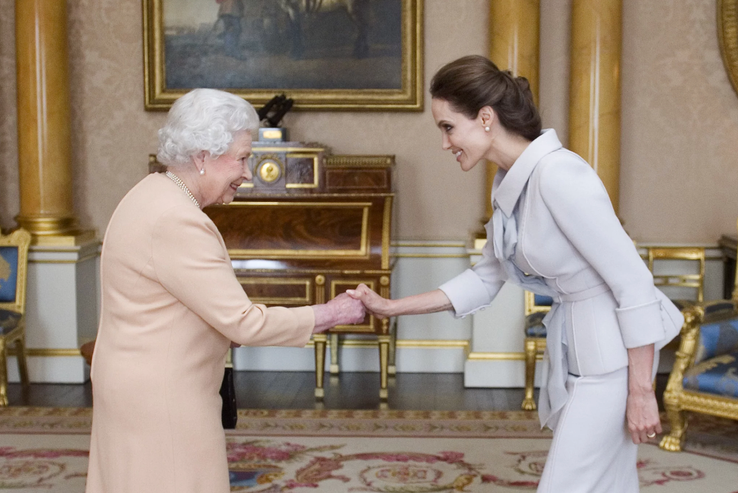 We all know Angelina Jolie is Hollywood royalty, but she's been spending time with actual members of royalty since filing for divorce from Brad Pitt. In 2018, Angelina was recognized for her large contributions to environmental preservation, and she went to London to meet Queen Elizabeth II.
Angelina's devotion to the environment has landed her behind the scenes as a contributor to a new documentary. According to an article in Marie Claire profiling her London visit, Angelina spoke about the importance of teaching her children about preserving the planet. She said,
"For us to come here and say to the children, 'This is why it's important to plant a tree,' that's the biggest message I can teach my kids,
and it's something that they've certainly learned from Her Majesty and her message.
10

She's travelling the globe and trying to make a difference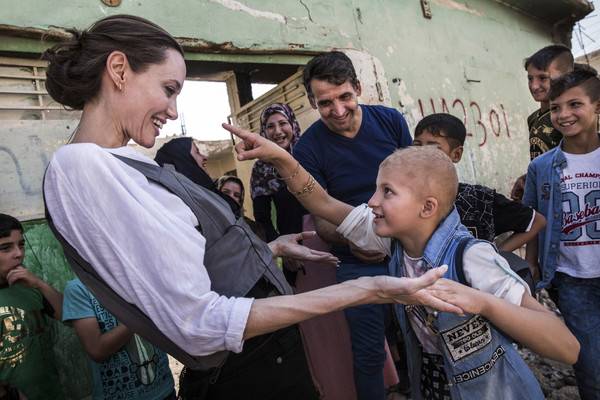 The news relating to Angelina Jolie these days coming from major publications probably aren't going to cover any aspects of Angelina's whereabouts unless they pertain to her divorce, but that certainly doesn't mean she hasn't been doing anything newsworthy!
What you may not hear on the front page of any publications; Angelina has been busy in Iraq celebrating and highlighting the liberation of Mosul, which allows girls the right to an education and to attend school.
According to People, Angelina made a speech discussing the horrors she had witnessed during her time working with the United Nations Refugee Agency, but she also made the important point to highlight the progress that has been made so far since the liberation!
9

helping Zahara find her own way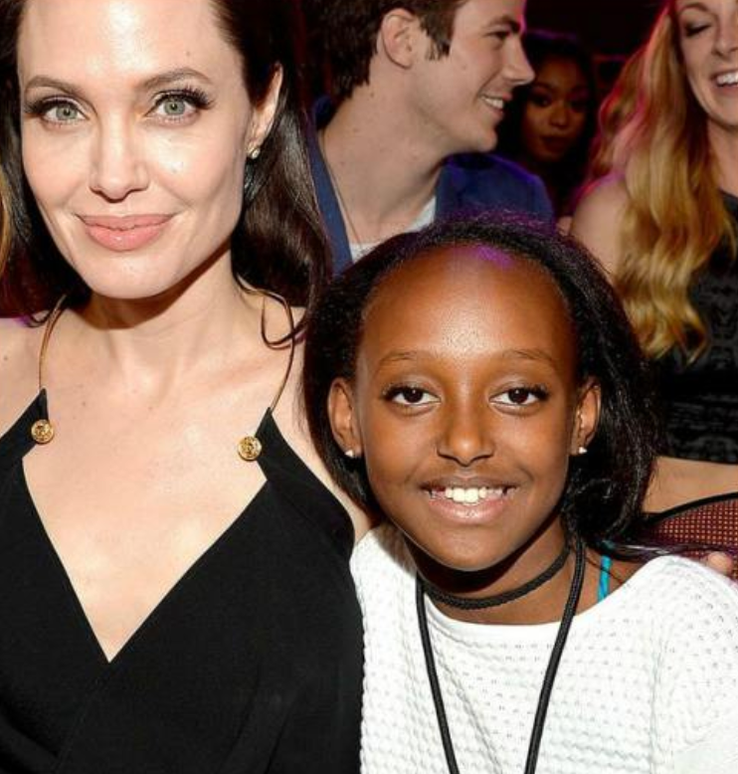 Sure Angelina Jolie is known for her stunning beauty and countless magazine covers over the years which have inspired many to copy her beauty routine. Like many of us, Angelina has spent a lot of time working to perfect her beauty routine, and cycling through the ups and downs of figuring out what works best for our faces!
She recently spilled to InStyle Magazine that she isn't the only Jolie woman continuously looking to perfect her beauty routine! Her daughter Zahara, loves to experiment with make-up. Angelina revealed,
"I buy a lot, especially for Z. She went through a period of trying different things, but she's pretty natural. I remember she had a girlfriend over one night, and they said they were going to do dress-up and did I have any makeup?"
Now, there's a slumber party we would love to crash!
8

She's Introducing Her Daughters To Charity Work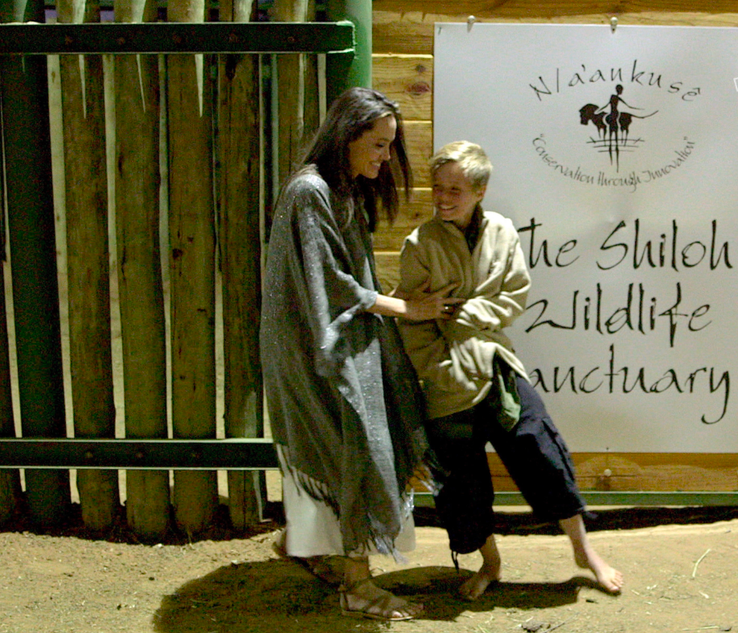 Angelina's children are also affected by the endless coverage of her career. It goes without saying there are endless reports wondering how they are doing in the wake of their parents' divorce, but what about a more positive aspect relating to their wellbeing?
Angelina's six children are currently learning the importance of giving back to the world at large. Angelina has made it her mission to involve her children in charity work, exposing them to various organizations, giving them endless causes to support.
According to People, the Jolie-Pitt kids have gone on several charity related trips. Among them, the African country of Namibia. The country holds a double meaning for the family; Shiloh Jolie-Pitt was born there, and Angelina has also opened a wildlife sanctuary named after Shiloh!
7

Lending Her Voice To Animation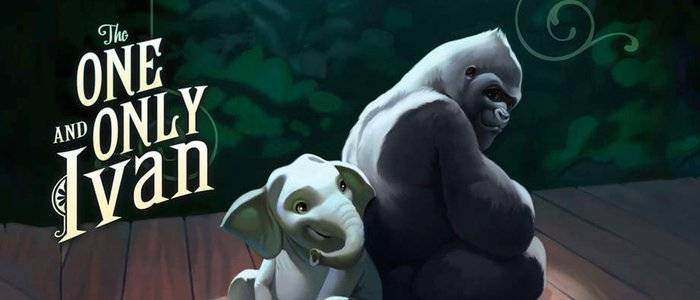 A career move made to the delight of many younger fans, Angelina will be starring in the film adaptation of the beloved children's novel, The One and Only Ivan! She is joining forces with Breaking Bad star Bryan Cranston and began production in the Spring of 2018.
Angelina will also be joined by a star-studded cast of voices. According to Slashfilm.com, she will be in the company of Danny Devito and Dame Helen Mirren as well. Collider reports the film will be a combination of "a live-action/CG hybrid adaptation." The film will certainly be a positive spin to Angelina's year!
6

Hashtagging It Up On social media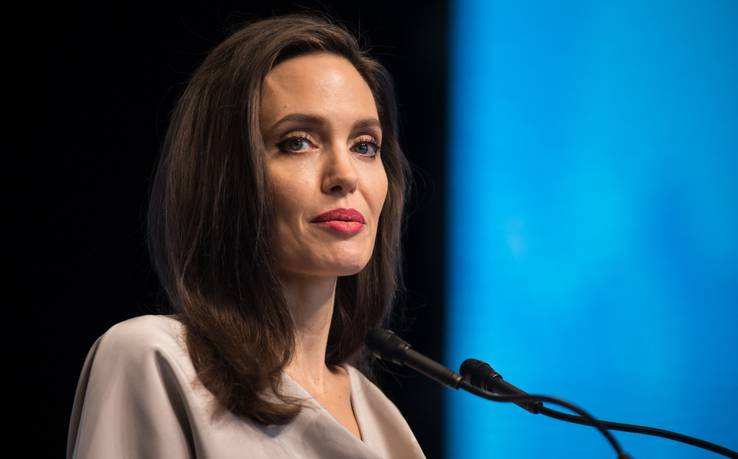 The news of Angelina Jolie's recent appearance on social media platforms is pretty funny; she is certainly the last person we can think of who needs to choose a filter for any of her photos!
While Angelina has yet to create her own account, she appeared on Instagram via a post on her Maleficent co-star Elle Fanning's feed. The two are seen hamming it up outside of a trailer on set with Jolie in full Maleficent make-up!
5

Living Life As The Most Admirable Woman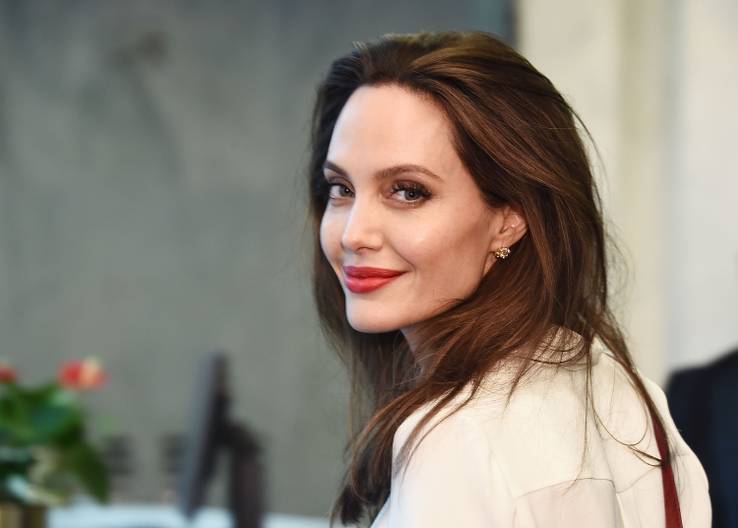 Angelina Jolie's time in the spotlight has been marked by many reasons to admire her. From her extensive filmography, endless involvement in charity work, and even the seemingly endless coverage surrounding her private life and her ability to keep her chin up, we can come up with an endless list of reasons, but there is something more official about having the title preserved in an award!
Vogue Australia reported earlier this Spring that Angelina had topped the list for the "Most Admirable Woman in The World." According to the site, the list was compiled "after London-based market research company YouGov surveyed a total of 37,000 people across 35 countries before compiling two separate lists detailing the 20 most admired men and women."
4

Spending Time In The Air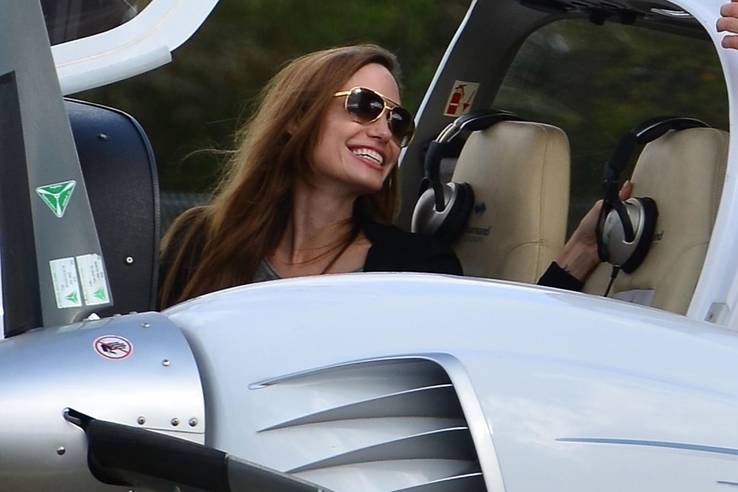 In no surprise whatsoever, Angelina has tackled yet another avenue, and completely taken it over! We've seen that she can do anything she sets her mind to, and lately, this includes flying above ground. Yes, she's in the air. Yes, she's in an airplane. Yes, she's actually flying the plane herself. Is there anything this woman can't do?
In April, Angelina successfully added "pilot" to her extensive resume, as news broke she flew a plane in the Namibian desert! Us Weekly revealed her trip through the air was part of a documentary film. Flying planes isn't a new activity for Jolie; she's had her pilot license since 2004.
3

She's Tending To Kid Stuff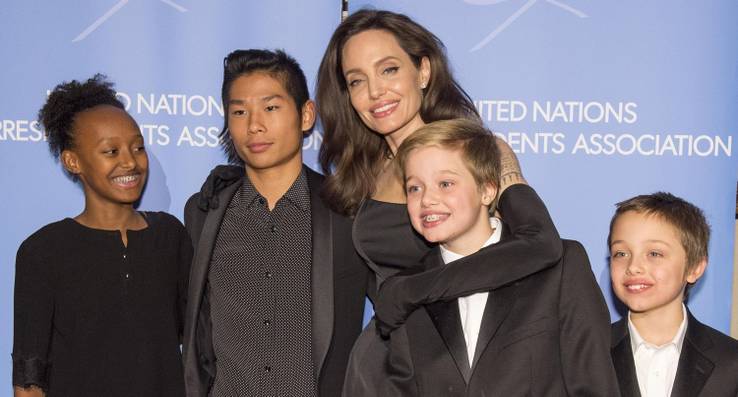 Despite the whirlwind of being a member of the Pitt-Jolie clan with the constant coverage of every aspect of their lives on display, there is still plenty of time for the kids to grow up and live their lives. Angelina has done her best to keep her kids grounded and their lives as normal as possible!
In Angelina's confessional interview with Vanity Fair, readers learn extremely vital information; Angelina's kids are, well, just kids! In the interview, we discover Vivienne Jolie-Pitt is just like the preteen you know from next door; she hangs out with her friends at sleepovers, and has a passionate love for her blanket!
Angelina sweetly revealed, "She has 32 blankets. She is very into her blanket, and she gets very mad if you wash her blanket. She actually said to me the other day, 'Mom, I can taste my blanket.' 'That, honey, is a sign that it really, really needs to be washed."
2

She wants the public to move on
The general public has dedicated nearly two decades to figuring out the secrets behind Angelina's relationship with Brad Pitt. Presently, the divorce between Angelina and Brad has not officially been finalized, but Angelina is reportedly hoping it will be a finished chapter in her life's story by the end of the year.
E! reports Angelina is ready to move on, especially in the wake of an ongoing custody battle. The judge on the case recently granted Brad with regular visitation. In the wake of the news, E! said she's feeling "she's a bit 'exasperated' by the dragged out battle, says a source, but she's fine with the judge's decision."
1

She's putting herself out there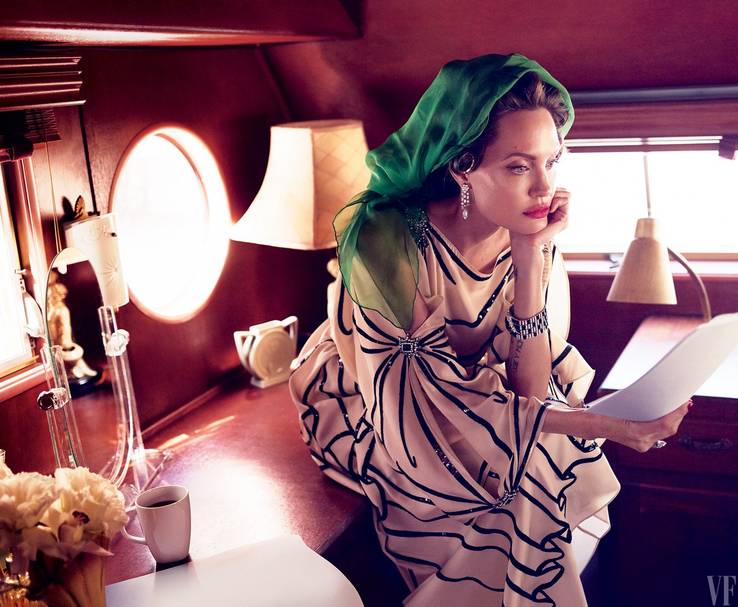 For someone whose public perception is wrapped up in her romantic interests, a new partner is a sign of making progress in moving on from her divorce! While divorce is a pretty defining chapter in one's life, so can a new relationship; it can signal personal growth, and we can see Angelina has been going through a lot of positive change.
There's actually been photographic proof of Angelina's new beau! InStyle reported, "Angie has told some friends she isn't ready to date, but she has been seeing a handsome, older-looking man who is a real estate agent."
Whether the budding relationship becomes serious, we wish Angelina the absolute best in conquering the world as a confident and well-rounded individual, aspiring us all to become the best versions of ourselves.
References: E!, E!, Vanity Fair, Elle, InStyle, Bustle, The New York Times, ABC News, Hollywood Reporter, Serudsindia.org, Standard, Closer Weekly, Express
Source: Read Full Article