From the moment she was born, Suri Cruise's every move has been in the spotlight. At the time, she was celebrated as the child of a beloved Hollywood couple. But as she's grown up, the focus has been more on her relationship — or lack thereof — with her estranged father, Tom Cruise. But with all the drama surrounding Tom's highly-publicized divorce from the 12-year-old's mother, Katie Holmes, fans are often left asking: Does Tom see Suri? There are definitely a number of questions that Suri would have about her father, and she is indeed too young to probably even understand what went on with the whole ordeal. The memory doesn't develop until a few short years after birth, so there's a good chance she may not even remember certain events surrounding the situation, but there is definitely things that Cruise's ex-wife, Katie Holmes, would not want Suri to find out about her father.
Their marriage was memorable the second they walked down the aisle. Cruise appeared on Oprah in 2005 to make a pronouncement of his love for Katie Holmes. Everyone remembers how he jumped on the couches repeatedly, and then bringing his wife on stage to prove it all. But in 2012, divorce papers were served, and at the time, Suri was only 6 years old, far too young to have to understand what divorce even means. Maybe Holmes wants to protect Cruise's dignity by not revealing some of her father's secrets to Suri, and it's understandable because in the end, that really is still her father.
21

Suri shouldn't know about Tom's wife auditions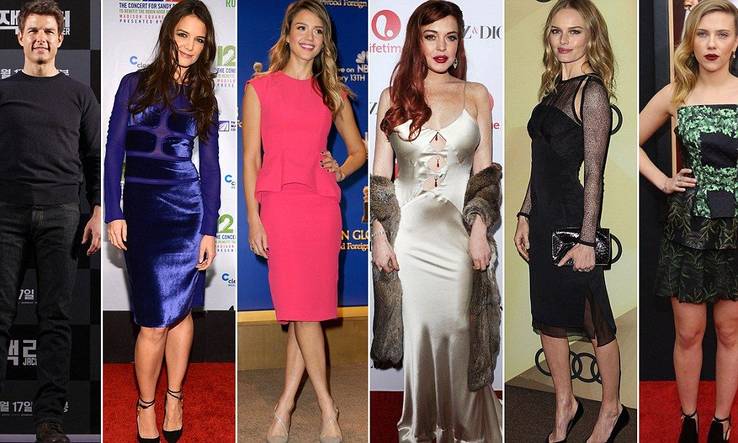 A new report out of the US claims Tom Cruise auditioned several women in the early 90's to be Mrs. Cruise.  In Touch chatted with two women who allegedly and unknowingly auditioned for the leading lady role in the actor's life. Indeed, it's been well reported that American actress Nazanin Boniadi was a potential girlfriend for a few months before he married Katie Holmes. And now former Scientologists Cathy Schenkelberg and Anette Johansen have shared their experiences with In Touch.
"We didn't know we were auditioning to be Tom's girlfriend but we found out afterward that that's what it was," Cathy tells the magazine. Actress Cathy says in 2003, the Church of Scientology summoned her into a mock audition for a supposed educational video about their religion. "The guy running the camera asked me, 'What do you think of Tom Cruise?' I was like, 'I really don't like him. I think he's a narcissist,' and he excused me from the audition." When she left the room, she claims a woman walked up to her and said: "You know that was an audition to be Tom Cruise's girlfriend?"
In 2005, Tom's team reportedly started to look for potential suitors in Europe. Danish woman Anette Johanson says she auditioned when Tom was already seeing Katie Holmes. "They probably wanted to have some backup plan," she tells In Touch."
20

Katie Holmes wouldn't want Suri to know why Tom barely saw her growing up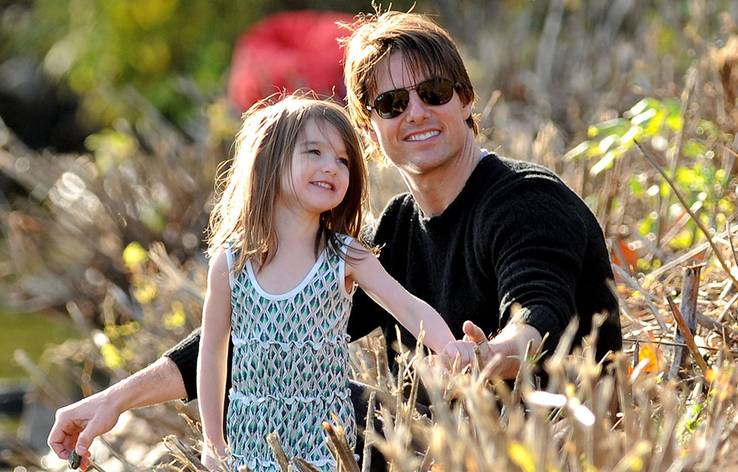 It's been stated that it's been more than four years since the actor was last seen publicly with Suri. The last time they were photographed together was in September 2013, just slightly more than a year after Tom and Katie finalized their divorce. And after all this time, Suri has gotten used to life without Tom. "Tom's been out of their lives for so long, she and Katie have moved on," an insider exclusively told Life & Style, "to a life without Daddy."
It would appear that they don't see each other privately, either, as last June, sources told In Touch that Tom opted not to see his daughter despite being just 23 miles away from her on Father's Day. "Tom could have easily made the trip to see Suri. It only takes about 30 minutes without traffic," a source said at the time. "It would've only added a few hours to his busy schedule."
Tom used to go out of his way to see his daughter, though. "When she was eight or nine, Suri must have always thought that Tom would show up with presents and take her out for a shopping spree or to an amusement park on her birthday, like he used to," an insider shared with Life & Style.
19

Suri shouldn't know what Tom admitted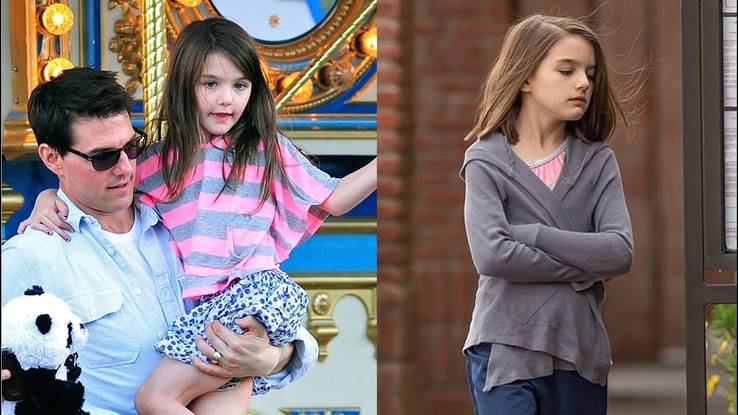 After years of rumors, it's now been confirmed that Tom Cruise has lost touch with his young daughter Suri according to newidea.com. The megastar recently made the admission to his long-time pal Maryanna Carter when he reached out to her to discuss a Facebook page she runs in his honor. Fed up with his fans posting pictures of his 11-year-old Suri on the page, Tom asked Maryannn to delete all photos of her, saying: 'She is no longer part of my life.'
Having stayed in touch on-and-off since Tom dated her best friend Diane Cox in high-school, Maryann was only too happy to oblige – promptly informing the page's 3300 followers that Suri is now off-limits. 'I am going to ask that no-one post anything with Suri in the future,' she posted. 'She is no longer part of my life!! If you do, I will erase it!! If you continue, I will have to remove you!! Thanks!'
When asked by one member if the ban includes old photos of Tom and Suri, Maryann curtly replied, "No photos!! His request." While the post has since been deleted, Maryann has confirmed Tom made the bold request, telling journalist and Scientology whistle-blower Tony Ortega, that Tom was concerned about what Suri could find online about herself.
18

Suri shouldn't know that Tom almost married someone else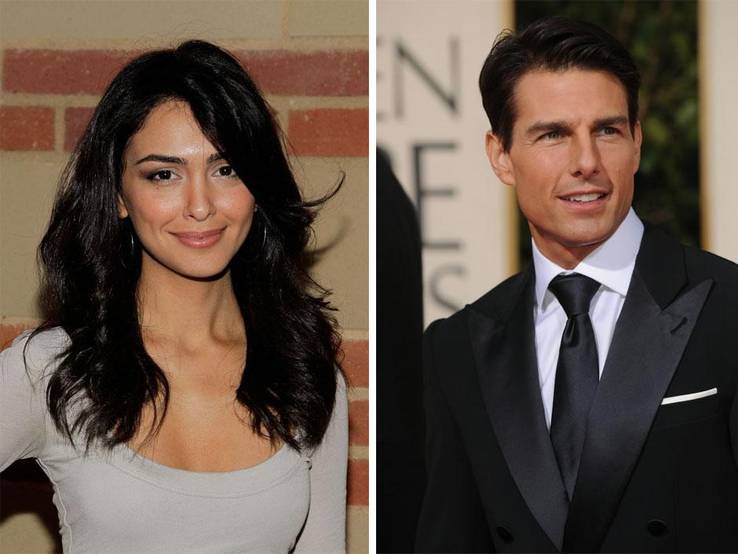 In the October issue, Vanity Fair reports that in 2004 Scientology embarked on a top-secret project to find a girlfriend for Tom Cruise. Nazanin Boniadi, an Iranian-born, London-raised actress and Scientologist, was selected and dated Cruise from November 2004 until January 2005 during the elaborate auditioning process. Both Nicole Kidman and Penélope Cruz ran afoul of Scientology and David Miscavige, according to a former Scientologist.
Reportedly, in November 2004 Boniadi was flown to New York, where she met Cruise. That's when she first sensed that this was possibly going to be an arranged marriage. For their first date Cruise and Boniadi went to dinner at Nobu with an entourage of Scientology aides, then to the skating rink at Rockefeller Center. Cruise purportedly told Boniadi, "I've never felt this way before." She was given a second confidentiality agreement specifically about Cruise to sign. Boniadi could tell her worried parents (her mother was also formerly a Scientologist) that she was in New York on a special Scientology project. Though the first month of the relationship was bliss, by the second month Boniadi was more and more often found wanting. According to the article, Boniadi was in love with Cruise, but the intensity of his affection, especially his predilection for public displays, overwhelmed her. "I get more love from an extra than I get from you," the actor reportedly complained. Every day Boniadi spent two to three hours purging herself of "negative thoughts about Tom." She felt completely shut off; her only source of money was a credit card issued in the name of Cruise's production company. By the third week in January, she was asked to move into Scientology's Celebrity Centre. Boniadi was told that Cruise "wants someone with her own power—like Nicole." When she asked why Cruise would not break up with her himself, she was told he was not to be disturbed. A Scientology official allegedly told her, by way of explanation, "Naz, you can lead a horse to water, but you can't make him drink."
17

Katie probably hasn't told Suri what Tom used to call her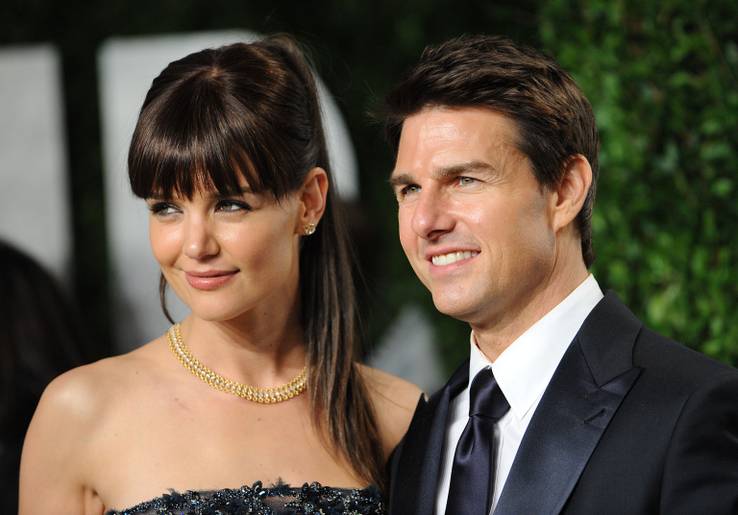 Katie Holmes has not only reclaimed her life now that she's filed for divorce from Tom Cruise – she's also taking back her name. Ever since the two first got together in 2005, the Mission Impossible star has insisted on referring to his wife as "Kate," even though neither her friends nor her family has ever called her that. And it clearly was a name Holmes herself did not identify with because she never went by it professionally, despite her husband's consistent use of it every time he mentioned her publicly. In fact, in her statement announcing the split, Holmes' lawyer said, "This is a personal and private matter for Katie and her family." Cruise's response? "Kate has filed for divorce."
It first began in April 2006, when Holmes was still pregnant with Suri, but not yet married to Cruise. During an interview with All Headline News, he explained, "Katie is a young girl's name. Her name is Kate now – she's a child-bearing woman." At the time, it was also reported that Holmes had agreed upon the name change "after discussing it with Tom" and as a result "all friends and family now call her Kate." I guess it's not the end of the world if Suri knows he called her Kate, I mean it's not that bad.
16

Suri shouldn't know how her Mom's career went while married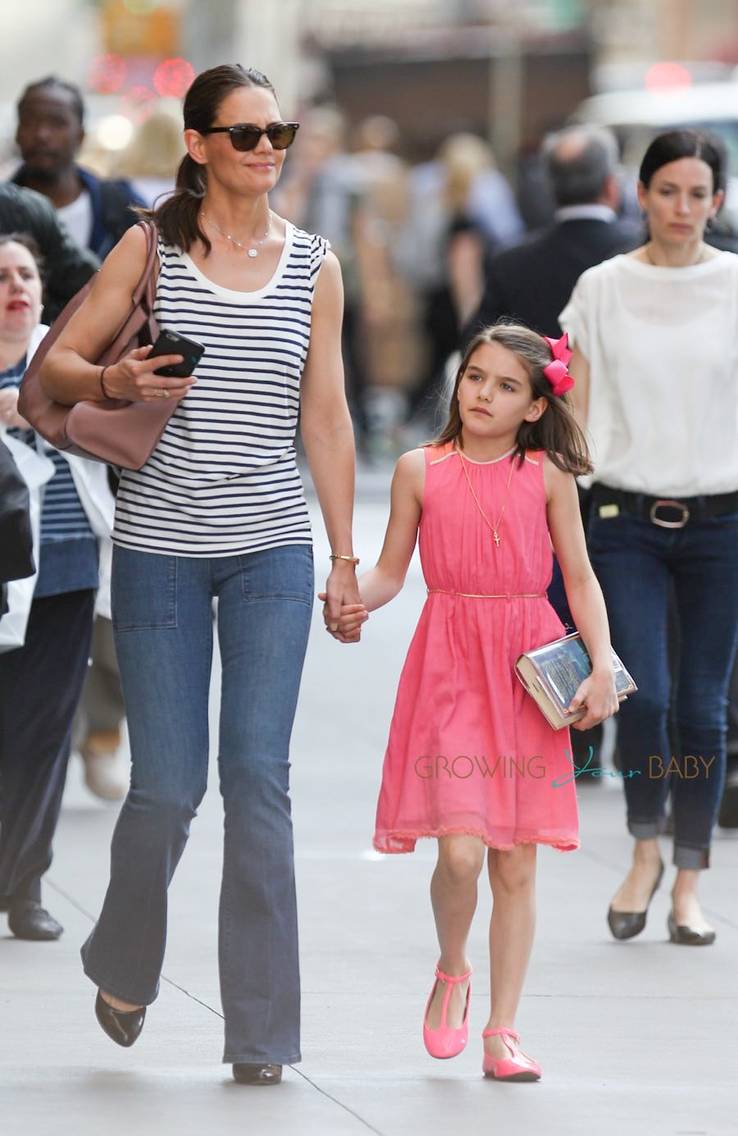 Though Holmes has maintained some sort of acting career while married to Tom Cruise, the majority of her films—mostly smaller projects—have bombed at the box office. (How many people knew she played Channing Tatum's wife in 2010's The Son of No One?). Right, no one.
We've rounded up all of Holmes' past roles and estimated box-office earnings per movie, and, its clear the young actress' career went backwards after marrying Cruise in 2006. Before Cruise, the former Dawson's Creek star was on her way to potential A-list status. Sure, there were a few flops in between—2003 wasn't a great year with The Singing Detective and Pieces of April—but, she bounced back with two coveted roles in 2005.
Both Batman Begins and Thank You For Smoking were hits at the box office with the former grossing more than $300 million worldwide. Though Holmes was dating and then engaged to Cruise during the release of both films, she worked on those long before the Mission Impossible star came into the picture. Following her marriage to Cruise, Holmes stepped away from movies for a while, returning to work on smaller films after giving birth to daughter Suri. Half of the actresses six films fared decent at theaters while the others under performed immensely.
15

Suri shouldn't know that her Mom kept Tom waiting at the altar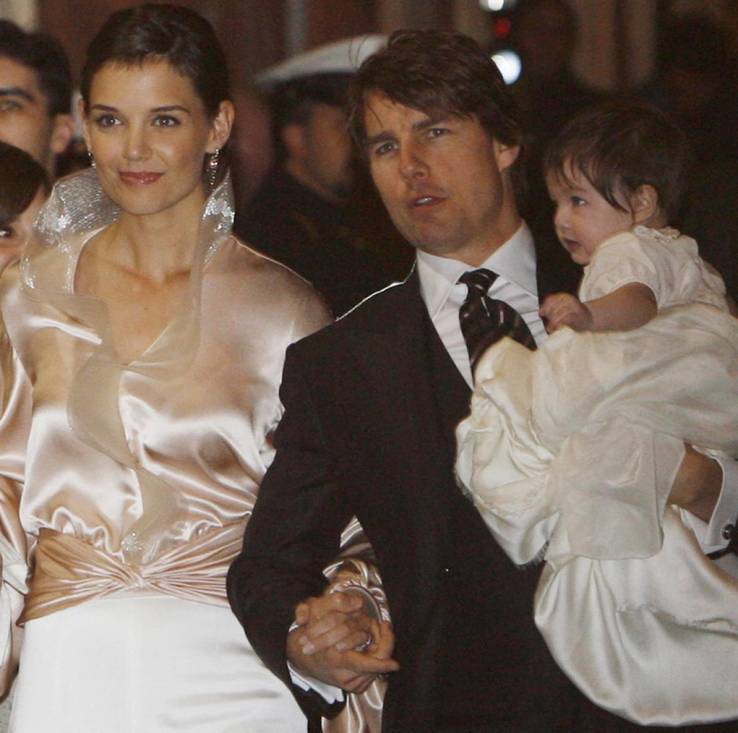 The Dawson's Creek alum and Mission Impossible star tied the knot on November 18, 2006, in a lavish Italian wedding. Inside Italy's 15th-century Odescalchi Castle known as Bracciano, the duo shared their vows before a star-studded guest list that included the likes of Will Smith, Jada Pinkett Smith, Cruise's Scientologist pals John Travolta and Kelly Preston, David Beckham and Victoria Beckham, Jenny McCarthy, Jim Carrey, Marc Anthony and Jennifer Lopez. Former Scientologist Leah Remini was also in attendance.
Leah Remini has dropped many juicy tidbits about the wedding of Tom Cruise and Katie Holmes. Remini says she and her husband, Angelo, got in huge trouble for holding up "The Wedding of the Century" when they arrived late. But according to Remini, Katie wasn't exactly the picture of punctuality either. Remini wrote that after Tom took his place at the front of the chapel, he stood "for the next twenty minutes (but what seemed like an eternity)" with "that everything-is-great look plastered on his face even as the crowd grew uncomfortable."
Remini posits no theories as to what held Katie up. However, she says that at one point, Jennifer Lopez asked her in earnest, "Do you think Katie is coming?" Well, it turns out she did, for better, or worse.
Featured Today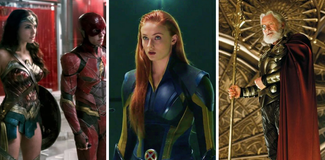 15 DC Characters (And 5 Marvel Characters) Who Could Singlehandedly Take Down Thanos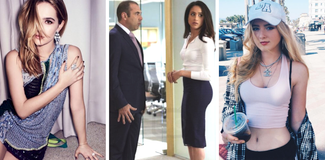 10 Actresses To Forget About In 2018 (And 10 Who Will Replace Them)

10 CW Co-Stars Who Are BFFs (And 10 Who Can't Be In The Same Room)

14

Suri might want to be spared the details of the huge wedding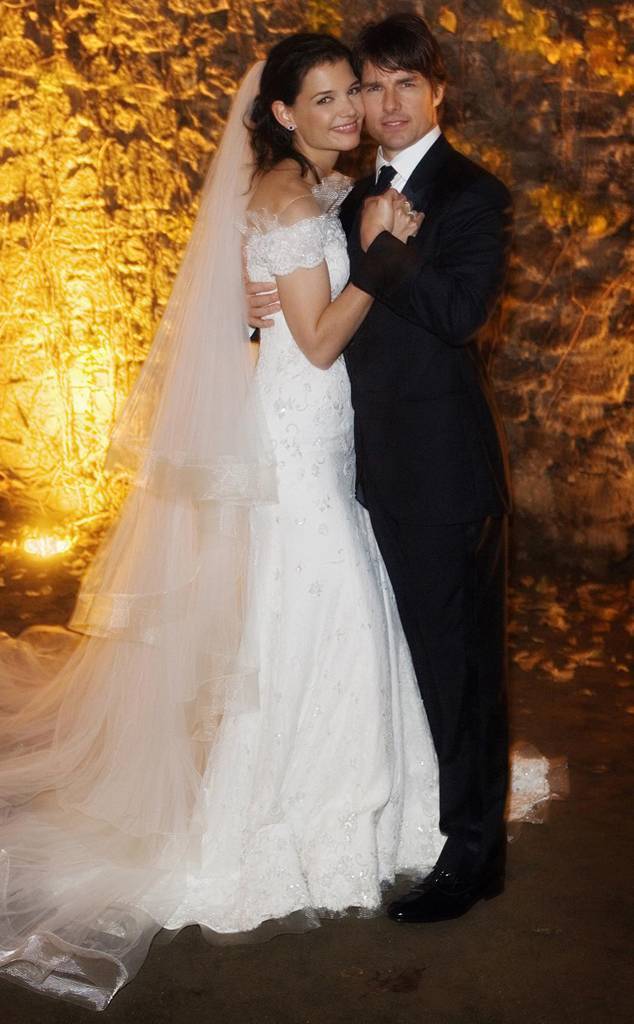 "I think every little girl dreams about her wedding," Katie Holmes said in an interview with Seventeen in 2004. "I used to think I was going to marry  Tom Cruise."
As fate would have it, her childhood wishes came true less than a year later when, newly split from fiancé Chris Klein, she accepted the Oscar winner's marriage proposal, subsequently gave birth to the couple's only child, Suri, and went on to marry her girlhood crush in one of the most significant wedding ceremonies in Hollywood history.
Nevertheless, for nostalgia's sake, today marks a different milestone for those vows—their 10-year anniversary. On this day in 2006, the actors became husband and wife inside Bracciano, Italy's 15th-century Odescalchi Castle, a celebration that reportedly cost them upwards of $3 million. With a price tag that grand, Tom and Katie's wedding cemented itself in celebrity bridal history. From the cream of the crop Hollywood guest list and double wedding gowns to a dinner serenade by Andrea Bocelli, it seems no expense was spared on the night Holmes became Mrs. Tom Cruise. Before the wedding could begin, the bride needed a gown—or two. Holmes sported two dresses during the special night, both designed by wedding attendee Giorgio Armani. For the ceremony, the Ray Donovan actress donned an off-the-shoulder silk and lace design adorned with Swarovski crystals. The crystals alone took 350 hours to place, as People reported at the time.
13

Suri might not want to know how they monitored the pregnancy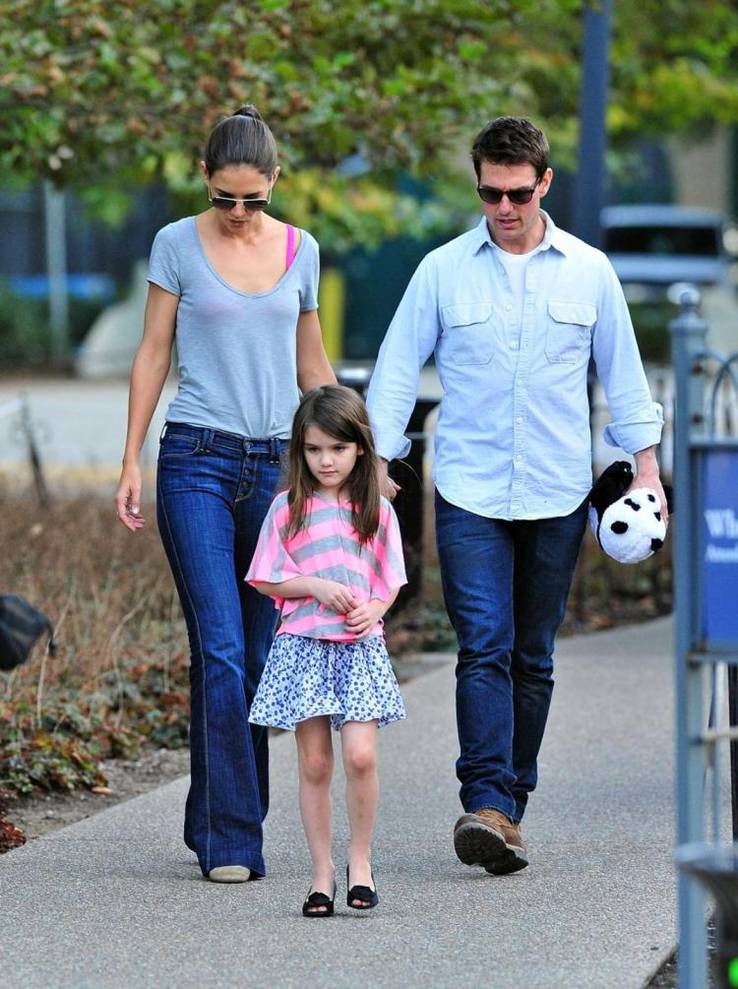 Obstetricians across the country were hoping that Tom Cruise would have decided to back out of his then latest acting gig — ultrasound technician. In a recent television interview for Barbara Walters' annual show on the year's most fascinating people, Cruise said he had purchased an ultrasound machine to use during the pregnancy of girlfriend Katie Holmes.
He said medical technicians were helping the couple use the device and that they will donate it to a hospital after the baby was born. Ultrasounds, or sonograms, have been widely used during pregnancy since the 1970s. To obtain images of the fetus, obstetricians or technicians — many of whom complete 18 months of training in the practice — use a transducer to send a stream of high-frequency sound waves into the body and detect their echoes as they bounce off internal structures. The sound waves are then converted to electric impulses that are processed to form an image displayed on a computer monitor. The FDA says that while prenatal sonograms are generally done at very low power levels, current machines, which range in price from $15,000 to $200,000, can produce sound wave intensities eight times higher than a decade ago and at that level, especially if used for prolonged periods, there could be a real risk to the developing fetus. Holmes may also not want Suri to know that this purchase could even potentially be illegal, as according to NBCnews.com, the FDA said that anyone conducting ultrasound testing without a medical prescription from a physician is breaking the law.
12

Katie Holmes might not want Suri and Tom to reunite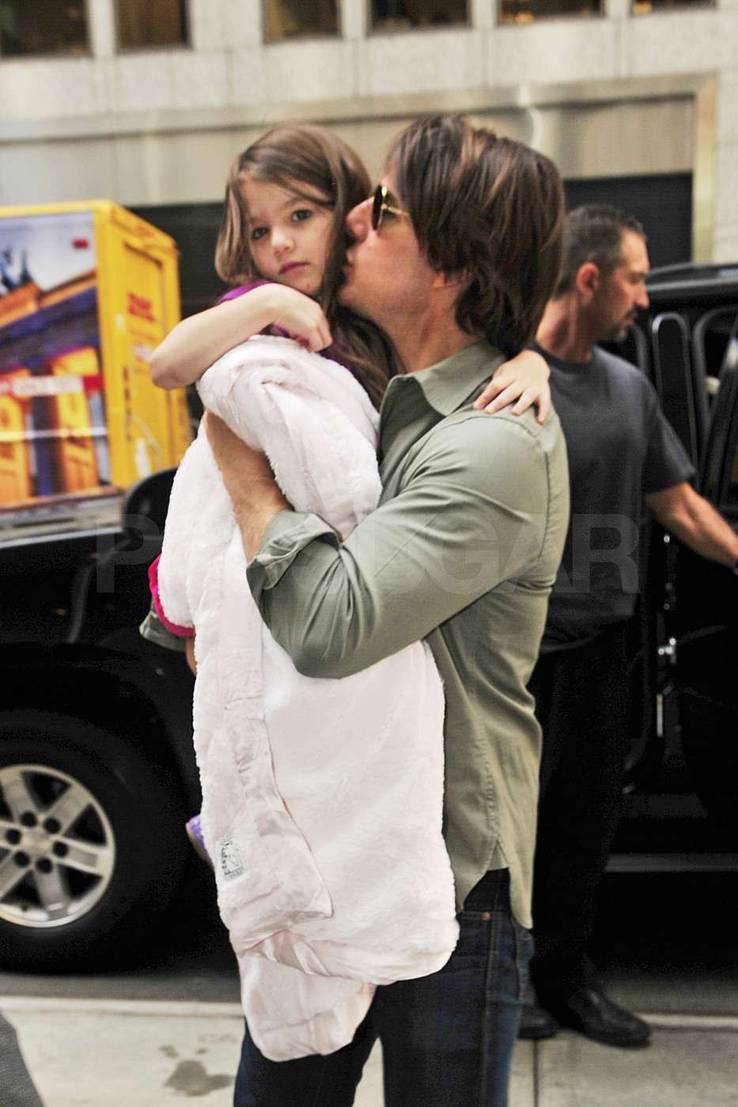 There's hope that Suri and Tom may one day reunite, and who knows if Katie Holmes will want that. The death of Tom's mother, Mary, was a wake-up call to the father-of-three — who was inspired by her sudden passing out to reach out to his daughter. At the time, a source told In Touch, "Tom now wants to re-establish his relationship with his daughter and begin seeing her on a regular basis," the source said, adding that he is "ready to ramp up his relationship with her in a big way." However, it would appear the two haven't reconnected quite yet.
It might be hard for the two to reconcile, though, because at this point, it seems he barely even knows his little girl. "I know Tom sees pictures of Suri, and comments on them from time to time to friends," an insider told Life & Style, "but he really doesn't have a grasp of the mature young lady she's turning into."
After all, he has a pretty solid relationship with his adult children.
In addition to Suri, Tom has two children with ex Nicole Kidman — 25-year-old Bella and 23-year-old Connor. The two were raised primarily by their father — and, notably, are followers of Scientology — and appear to have strong relationships with their dad, which means there may still be hope for Suri and Tom.
11

Katie Holmes wouldn't want Suri to know why Tom missed her 10th birthday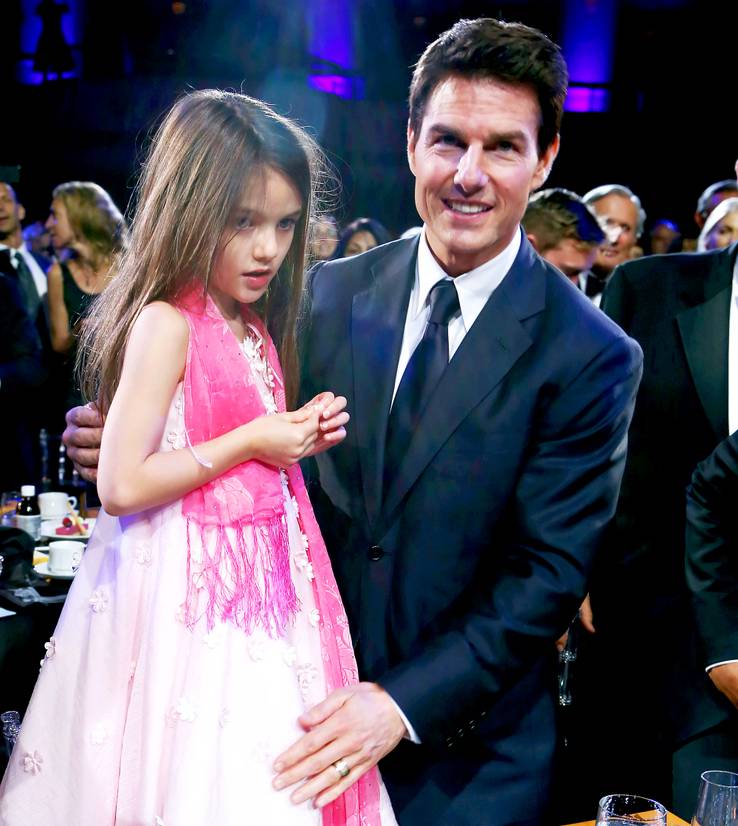 What could have possibly been more important to Tom than celebrating his daughter's tenth birthday on April 18? Well, apparently Scientology, according to Scientologist expert and author, Tony Ortega. "If Tom was not famous, he would NOT be allowed to have any contact with Katie and Suri who would be considered a Potential Trouble Source, meaning that as long as she's connected to her mom, she could present a problem," Tony, who's written about Scientology since 1995, revealed to HollywoodLife.com. "She could hinder Tom's spiritual growth in Scientology, which is by far the most important thing for a Scientologist. "
We can only imagine how devastating this must be for Suri, we're sure she misses her dad! But while Tony admitted that Suri and Tom's ex, Katie Holmes, are a potential threat to Tom's Scientology practices, the author noted that celebrities do get to break the rules if they desire. "The Number one rule of Scientology: celebrities get to break all the rules. For that reason, it's very hard to say whether David Miscavige (the leader of the Church of Scientology) and Tom Cruise consider Katie officially an SP (Suppressive Person) and Suri, by extension, PTS (Potential Trouble Source)," Tony said.
10

And her 12th birthday…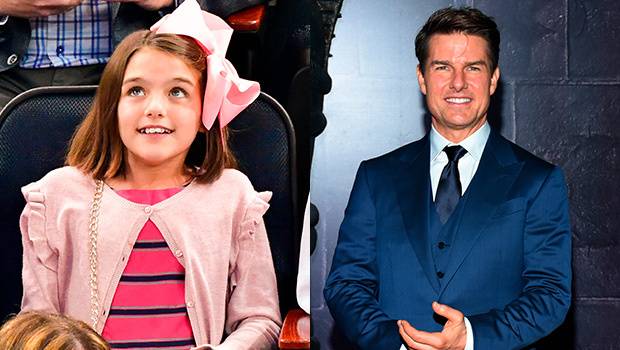 With each passing year, Suri Cruise reportedly gets more anxious to see her dad Tom. As usual though, the star did not show up for his daughter's 12th b-day, according to a new report, leaving Suri heartbroken!
Tom Cruise, 55, reportedly hasn't seen his daughter in over 4 1/2 years, and although Suri, 12, is apparently "desperate" to have her dad back in her life, the actor remains distant — even on his daughter's birthday! While HollywoodLife.com previously reported that Tom did in fact send Suri a birthday gift on her special day, which was April 18, a new report from Star magazine claims the actor did not, however, visit his little girl in person, and it was devastating for Suri. Click here to see adorable pics of Tom and Suri Cruise together in 2012.
"Like any little girl, her greatest wish is for her father to be there, and now she's been disappointed again," an "insider" told the magazine, adding that the star "has been absent for one milestone after another." "That would be painful for any child, and you have to wonder what kind of emotional toll it's taking on Suri," the source said. But this isn't the first birthday Tom has missed. "Tom hasn't been there to watch Suri blow out the candles since she turned 7," another source explained. "It's so sad!"
9

Holmes probably doesn't want Suri to know she was friends with Jamie Foxx while married to Tom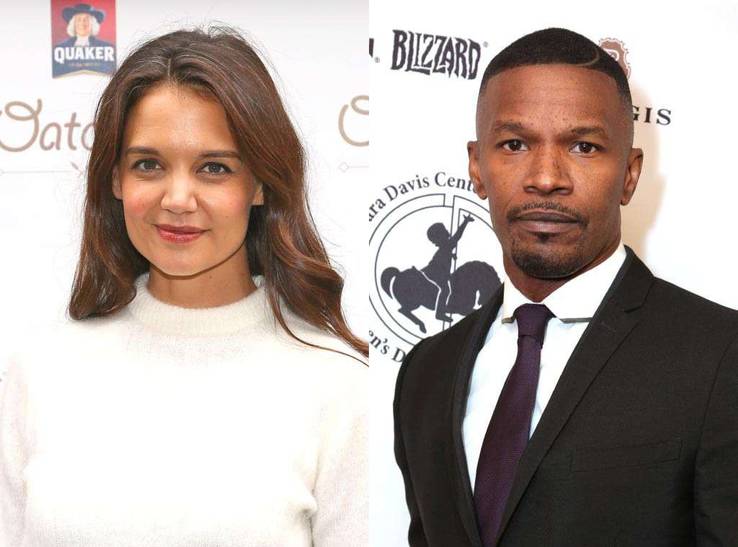 Jamie Foxx and Katie Holmes are officially going public with their romance, but how exactly did their sweet love come to be? While the two have been dating for roughly three years, their friendship dates all the way back to 2004, when the actress was still married to Tom Cruise. Even though the two are extremely private about their love — we're talking super intimate getaways and disguises — it seems like they are finally getting more comfortable putting their relationship in the spotlight. Let's take a little look into the timeline of it all. In 2004, the pair most likely met through Katie's ex-husband, Tom Cruise, who starred alongside Jamie in Collateral. In September 2006, the actress was spotted hanging out with Tom and Jamie at a Washington Redskins game. In May 2011, Katie and Jamie attended their mutual friend Oprah Winfrey's star-studded farewell event at Chicago's United Center.
In August 2013, after almost a decade of friendship, Katie and Jamie sparked romance rumors when they were spotted dancing together at a star-studded Hamptons party. In February 2015, the secretive couple were spotted holding hands for the first time. A month after the picture was taken, a source close to the pair revealed that while they have been spending time together, that "This is not some intense romance." The insider told People: "Jamie and Katie are friends and have been for a long time. They are two adults who are attractive and single, and so apparently conclusions will be drawn." And as of September 2015, after getting caught holding hands, the two went to extensive lengths to hide their romance. At one point, Katie even "put on a wig and hat to meet him at a hotel" in LA.
8

Holmes/Foxx romantic timeline continued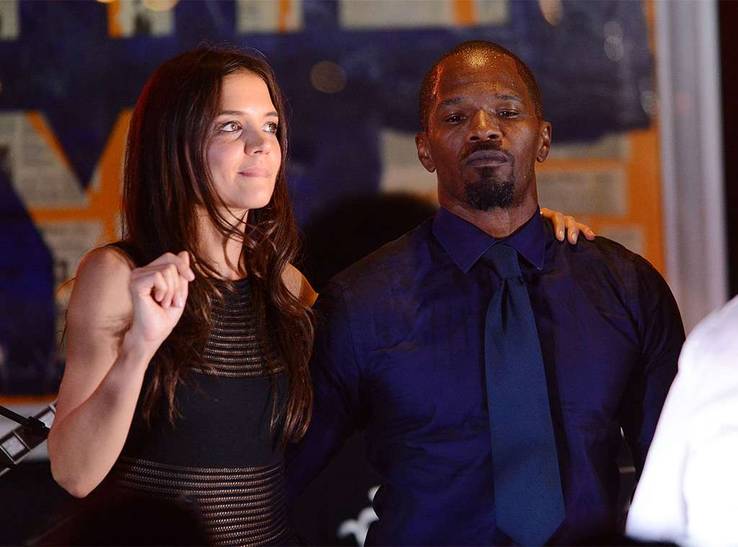 Continuing the timeline to where it is now, in December 2015, Katie was reportedly one of the many stars in attendance for Jamie's 48th birthday party. In July 2016 while Katie was on set for her film The Kennedys: After Camelot in Toronto, the two had a low-key dinner date. The pair dined at Kasa Moto before fans caught wind of their public outing and they left from separate exits. In December 2016, for Katie's 38th birthday, the two flew to Cabo San Lucas, Mexico, for an incredibly intimate vacation. "They stayed in one of the most private suites at the hotel, separate from other guests and entered by a small path," a source told Us Weekly. "They wanted to be very discreet and had everything delivered to their room and taken care of by a personal butler."
In May 2017, Katie joined Jamie in Paris while he filmed the Robin Hood remake. While she kept a low profile during her visit, a source told Us Weekly that she was becoming more open about her romance. "She gushes about how amazing he is," the insider said. "She says she loves him from the tips of her toes to the top of her head." In September 2017, the notoriously private couple had no qualms about showing their love when they walked hand in hand on the beach in Malibu, CA. In December 2017, the two were seen together at Jamie's 50th birthday bash at Paramount Pictures in Los Angeles. "They walked in together," a source told People. "They mostly mingled with other guests and spent very little alone time. It was obvious that Jamie had a great birthday. Katie looked like she had fun as well. She looked gorgeous."
In January 2018, the two made their first official outing as a couple during Clive Davis's annual pre-Grammys bash in NYC. While the two opted not to sit next to each other at first, they later switched seats when Clive "gave them a hard time." Aside from giving each other heart eyes, Jamie was also spotted whispering into Katie's ear during the event.
7

Suri shouldn't know how fast the divorce was.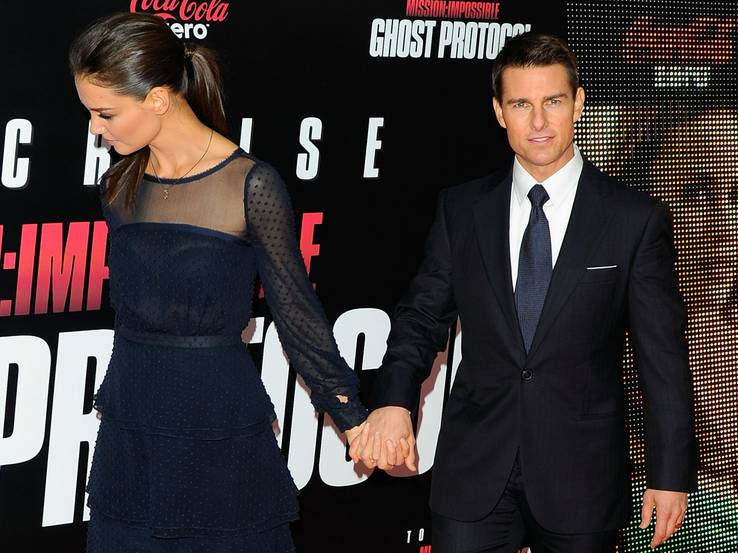 Tom Cruise was seconds away from doing what he does best: shooting an adrenaline-fueled action sequence. But as the cameras prepared to roll on June 28, the megastar-in Iceland filming his upcoming sci-fi thriller Oblivion-got an unexpected phone call from his wife, Katie Holmes. "He was about to do a stunt, and he got off his motorcycle to take the call," says a source. What happened next would shatter Cruise's world like a case of big-budget explosives: Holmes informed the megastar she was filing for divorce, as the film's crew looked on. Says the source: "He's been in shock since that day."
On July 9, just 11 days after Holmes revealed her divorce filing, lawyers for Holmes, 33, and Cruise, 50, at the time, announced they had reached a lightning-fast settlement that sources say gives Holmes what she wanted most: primary custody of their 6-year-old daughter Suri. Cruise will have generous visitation rights. Holmes's lead attorney Jonathan Wolfe sounded a triumphant note that seemed to come with a burst of confetti. "We are thrilled for Katie and her family," he said, "and are excited to watch as she embarks on the next chapter of her life." Cruise's attorney Dennis Wasser, meanwhile, told PEOPLE simply, "All the lawyers and the parties are happy that it's done, the deal was closed, and we wish everyone well."
6

Suri may not need to know about Tom's scientology practices (or how it started).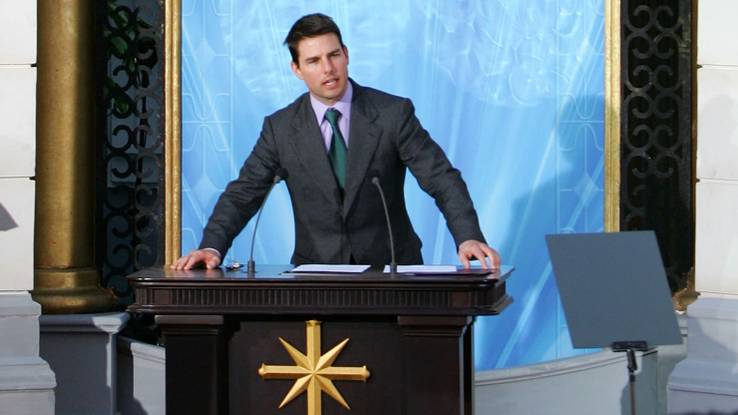 He may be one of the biggest stars in Hollywood, but these days, Tom Cruise may be best known for his ties with the Church of Scientology. The actor has become the poster boy for the Church, and despite dozens of rumors, he hasn't quit Scientology — though the controversy surrounding the religion has only increased. Tom didn't discover Scientology on his own — it was first wife Mimi Rogers, a Scientologist herself, who encouraged him to join, and he did so in 1986. Over the years, Tom has become the religion's most famous face.
"It's something that has helped me incredibly in my life. I've been a Scientologist for over 30 years," Tom said about the religion in a rare public statement to the press in 2016. "It's something, you know, without it, I wouldn't be where I am. So it's a beautiful religion. I'm incredibly proud."
"I think it's a privilege to call yourself a Scientologist and it's something you have to earn," he said in an interview. "If you're a Scientologist, you see life, you see things the way that they are. In all its glory, all of its complexity. The more you know as a Scientologist, you don't become overwhelmed by it."
5

Or how it has helped him.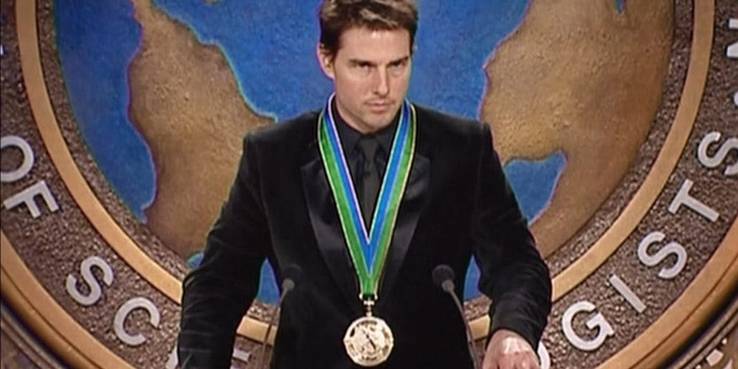 The religion has reportedly helped with his dyslexia that he's struggled with most of his life, and who is to  blame someone for keeping with something that is helping them out?
The American Made star was diagnosed with dyslexia at a young age and referred to himself as a "functional illiterate" when he graduated high school in 1980. It wasn't until he came across the research of L. Ron Hubbard, the religion's founder, that he finally learned to read.
"[Hubbard] had found that literacy and comprehension levels were declining worldwide, so in the 1960s he had developed 'Study Technology.' It pinpoints three barriers to learning: Lack of mass (you can't learn to fly a plane by just reading about it — you have to sit in the cockpit or at least have a picture of a plane); skipped gradients (trying to master skills or information without mastering or understanding that which comes before them); and misunderstood words (the most important one and a cause for stupidity)," Tom explained in an issue of People. "Once I started focusing on those problems, everything fell into place. I had a lot of catching up to do, but that was it." He has advocated for this method of learning ever since.
4

Or how he wanted her to joined Sea Org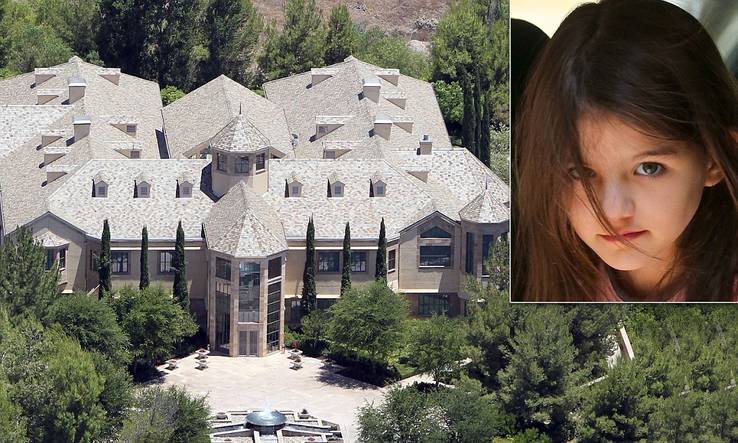 When Cruise and Holmes split in June 2012, tabloid reports began circulating that it was over Holmes's fear that Cruise would ship their daughter, Suri, off to Sea Org—a hardcore, incredibly strict faction within the Church of Scientology. The prospect of sending six-year-old Suri to the Sea Organisation, or Sea Org as it is known, is what is said to have been the final straw for Katie Holmes before she filed for divorce. The clergy like group is run like a military clique from the Scientology Gold Base in California which has a sniper-style nest bunker on the site.
Members are banned from having children, are paid just $50 a week and can be punished for simply looking at somebody the wrong way by being thrown in 'The Hole' – two trailers set aside for punishment. It has been investigated by FBI agents looking into human trafficking and one member claimed he was locked in a ship's hold for 18 hours a day with no food.
According to dailymail, Holmes is also said to have been alarmed at her daughter being pushed into an academy partly paid for by Will Smith which acts as a feeder to a school popular with Scientologists. And according to interviews with former Scientologists and former Sea Org members, her fears appear to be well founded. Sea Org is the Scientologist equivalent of a religious order and is thought to be around 6,000 strong.
3

Or how hard it is to leave scientology.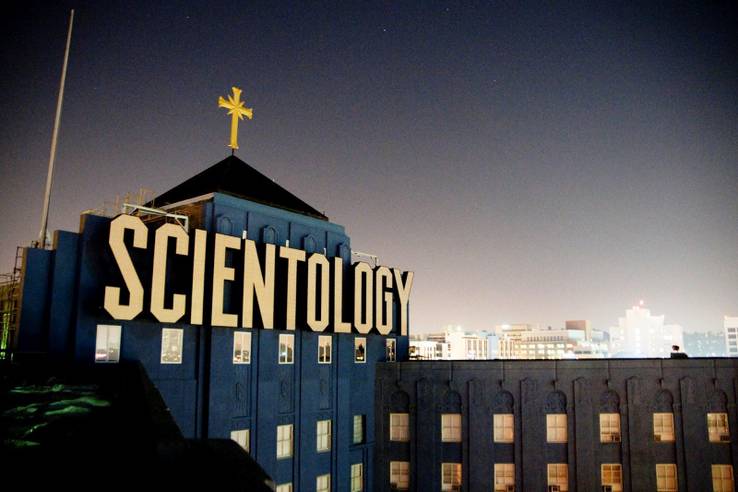 It's no secret that once people are inside the organization, the Church of Scientology makes it very difficult for people to leave. Katie Holmes, noticing how her life had become something of an Orwellian nightmare, decided the time had come to escape. Escape – not leave. People who break away from Scientology never describe it as leaving, it's always an escape. Katie Holmes had to go to some extreme measures to ensure her own liberation.
Tom Cruise had church "handlers" accompanying Holmes everywhere, reporting back to Cruise and the church. Her every move was being watched, even interview questions in the Dark Knight press junket were answered for her. As a result, she had to hatch a covert scheme, having friends orchestrate multiple untraceable phone switches, renting a New York apartment under the guise of avoiding the paparazzi, having her lawyer father fire all the Scientology staff around her before she was finally able to file for divorce.
Even if you leave Scientology, it never quite leaves you. In a special "Inside Scientology" report, the St. Petersburg Times (now known as the Tampa Bay Times) began a years-long investigation into the Church in 2009. The newspaper unearthed numerous accounts of former Scientologists who were allegedly chased, harassed, and even spied on by the Church.
2

Holmes won't want Suri to know that Tom may never leave scientology.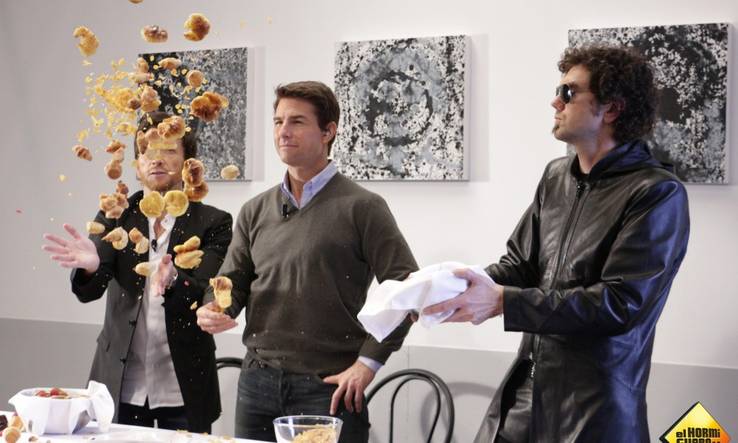 Tom Cruise is not quitting Scientology to reunite with his estranged daughter Suri Cruise, despite an inaccurate tabloid report. Gossip Cop has corrected this story. We're told it's not true. A supposed "source" tells the magazine, "If he wants her back, he'll have to walk away from the church, which has been a huge part of his life, to say the least. Leaving Scientology would be the toughest decision he'll ever have to make."
The outlet's questionable insider goes on to say that Cruise is nervous about defecting from the organization because he fears they'll set out to destroy him. "If Scientology declared open season on Tom, they could bury him, since they've probably got all sorts of dirt on him from his audition sessions," says the alleged source.
"It's an unspoken threat, but Tom has to be aware that the church would do everything in its power to keep him from leaving," adds the suspicious source, who further contends that in order to leave the religion without repercussions, Cruise may try to cut a deal "where he would be left in peace as long as he doesn't speak out against Scientology. That way, both sides win."
But Gossip Cop checked in with a source close to the situation, who exclusively assures us that the movie star has no plans to quit the church. Cruise, who's been a committed member of Scientology for more than 30 years, recently described it as a "beautiful religion." He added, "Without it, I wouldn't be where I am. I'm incredibly proud."
1

Holmes fears Tom will never leave scientology for Suri.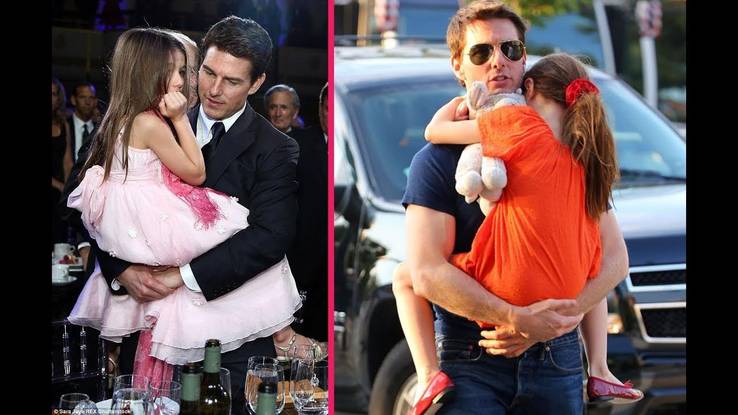 "Katie would be thrilled to see Tom leave Scientology, she'd love to see him build a healthy relationship with Suri," a source close to Katie told HollywoodLife.com. "It would be a dream come true actually, but she's not expecting it. She has zero hope that Tom will leave Scientology for Suri — he's made it clear many times over that he's in it for life." Even still though, certain individuals, like Leah Remini, 47, have indeed escaped the religion's clutches. However, Katie seems to think Tom is in way too deep for that at this point.
"People change and they do leave, so it's always possible that Tom will walk away, but it's very slim and she knows it," our insider explained. "It breaks Katie's heart that Suri doesn't have a relationship with Tom, there's a definite hole in her life because of it — he is missed. Katie is such a daddy's girl herself, she can't imagine a life without a close relationship with her dad. But unfortunately that's the reality for Suri." As a result of Tom's absence, Katie has had to majorly stepped up as a parent — and it has not been easy. At the same time though, Katie doesn't regret the sacrifices she's made for her little girl. And now that she's dating Jamie, who's a family man, things are finally starting to get a little easier.
Despite these things that Holmes may not want Suri to know about her father, everyone has positive things and not so positive things about their life. It's what people choose to focus on which really matters in the end.
References: nowtolove.com.au, lifeandstylemag.com, businessinsider.com, usmagazine.com, eonline.com, nbcnews.com, newidea.com.au, hollywoodlife.com, popsugar.com, people.com, theclever.com, intouchweekly.com
Source: Read Full Article