Ah, the Kardashians and the Jenners! Everywhere they go, there's a scandal. We literally can't keep up with them! But it's not because of what people do to them. It's what they do to themselves. And what do they do? You know. They're always taking selfies of themselves or appearing in magazines like V and Interview where they are either half-way out of the woods, trying to find the clearing, or else finding themselves completely out of the woods and basking in the sunlight in a field of dreams amid a bunch of lavenders that have bloomed and which its tips are all bared for the world to see. They've broken the internet several times by doing this. Either Kim was frolicking in a field for a photo for Paper or else Kendall Jenner was getting her lavender tip pierced and showing it off. And who can forget when Khloe published her book Strong Looks Better [When You Find The Clearing In The Woods] and the cover shot was all about her finding the clearing while swathed in a white sheet? For Kourtney, she documented her pregnancy by showing off her big belly and so much more while she was nine months pregnant with her third child.
But there are also break-the-internet moments that have nothing to do with being photoshopped or finding yourself in your closet without knowing which clothes to wear, leading you to just go swimming with the sharks because there are so many choices. The obvious choice, of course! There's the time that Kim and Kanye West broke the internet when they revealed a wedding photo of themselves, which ended up holding the record for the most-liked Instagram of all time. Then there's Kanye vowing that he'd run for president in 2020 and who could forget about funnyman Scott Disick, Kourtney's on-and-off-again boyfriend, who keeps putting the Kardashians and the Jenners in place?
With all these scandalous moments, we wonder if the Ks and Js can top themselves. We mean, they have to, or else there will be no show. So, if you want to see more scandalous moments, here are 25 times the Kardashians and the Jenners broke the internet.
25

When A Photo Of Kim Really Broke The Internet
So, you probably know this, but back in 2014, Kim Kardashian tried and succeeded in breaking the internet by appearing on the cover of Paper magazine showing off her moneymaker. The reality star posed for two different covers, one racy, the other more conservative but still provocative. The legendary photographer was Jean-Paul Goude, who shot the pics in Paris. One cover showed Kim posing in nothing but pearls and black gloves. Her moneymaker was shown shiny, perhaps someone on crew covered it in oil? Maybe Wesco? Or extra-extra olive oil? Anyway, an alternative cover showed Kim wearing a black gown and recreating a clean version of Goude's 1976 "Champagne Incident" portrait, by holding a bottle of Champagne that sends a stream over her head into a champagne glass that was placed on her behind. Kardashian West showed off the two pics on Instagram and Twitter, with the caption: "And they say I didn't have a talent…try balancing a champagne glass on your a** LOL."
Hmm. She sounds like her frenemy Scott Disick! But if you think showing off your moneymaker is risque, try looking at other pics from the shoot that just happened to appear on the internet. In one of her most intense shots, Kim is completely ready for shower time, her hands at her side holding down her black gown, revealing a lot more than really anyone wanted to see. (Source: PaperMag)
24

when kim got x-rays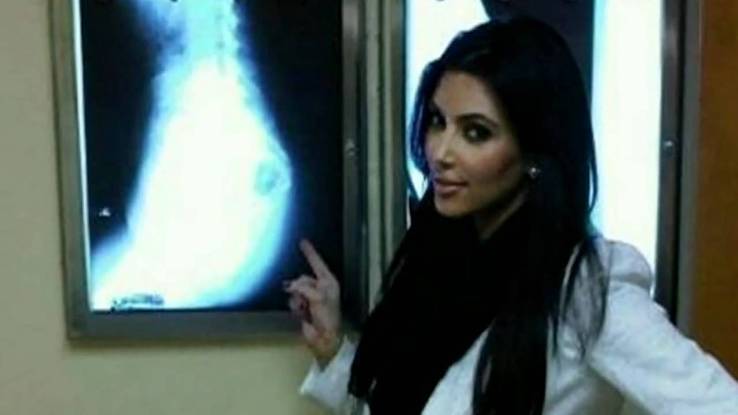 Remember that episode on Keeping Up With The Kardashians where Kim actually X-rayed her badunkadonk on camera to prove that it was real to the gossipmongers? Of course you do! So the press and social media were convinced that Kim had silicone implants. So what, right? It's Kim's body, so who cares what she does
Everywhere she went, she made sure her shape was on display, as it is her money maker, and showed herself off as if she had just gotten them fresh from Jacques Torres. Whether she wore tight jeans or splashed away on a Miami beach wearing a one-piece, it would turn out that Kim's signature look was her bon bons. In fact, many times she broke the internet when she took selfies of herself in a way to emphasize that in particular. But the X-ray proved that Kim had not altered her treats. According to Daily Mail, she even made a few comments about the state of her misaligned bon bons. She said: 'Today I am going to have my melon balls x-rayed to prove to the world [they're] real." Then she said, 'This is a really crazy request but my sisters have dared me to get the x-ray because of all the rumors that's it's not real."
23

When Scott Disick Appears On The Show To Keep The Ks In Their Place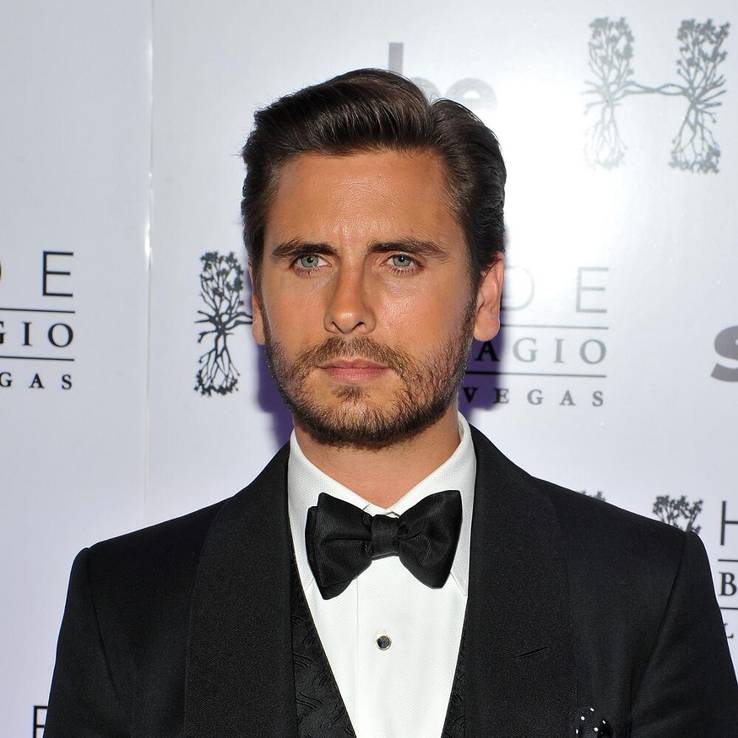 It's a known fact that Scott Disick is the best part of KUWTK. He's the on-and-off-again boyfriend to Kourtney, and they have three kids together. He's funny, witty, sarcastic and the only one who can put Kim in her place. He's there to mock the family about their wealth, as well as his own. When Kim had a fleeting thought of getting her money-maker reduced and also wanted Khloe to get her money-maker reduced, Scott barked, "You guys are famous for big buttons. You guys lose your buttons we may all lose our money." Ha! As for himself, when he jokes about his wealth, he says, "I like to work as little as possible to make as much money as possible." Ha, again! He also loves to show off his wealth, as he owns eight or more luxury cars, as well as a bachelor pad that costs a cool five mill and which he keeps taking pictures of and posting them on Instagram. We got it, Scott, you're rolling in it.
But Scott hasn't always been this way. He used to be a bad boy early on the show, and was always drunk. He made for good drama on the show.  But as he got older, he began to evolve. He became sassier, more responsible, and more apologetic for all the bad things he did. He became, in short, a real entertainer. While Kourtney, Kim, and Khloe bring drama to their reality show, Scott does too. But he also brings comic relief whenever he appears. If he wasn't around, the show would be dull. Ask yourself: Would you be watching KUWTK without Scott? Thought so.
22

When Kanye Proposed To Kim In The Biggest Way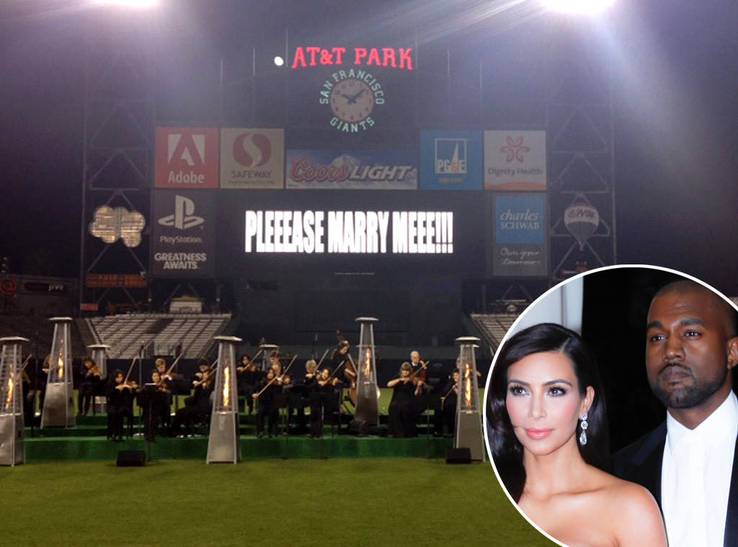 When Kanye proposed to Kim, the rapper went all out. The event was at the AT&T Park stadium where the San Franciso Giants played. To use the stadium for one epic night would cost you $200,000. But the owner of the San Frans gifted Kanye the stadium, which means he didn't pay a dime. See how good it is to be a star? You get freebies even though you have the money to pay for them. Anyway, according to E! News, Kanye still had to pay out, as he hired a 50-piece orchestra to play, made a fireworks display happen, and used the Jumbotron to his advantage.
The screen said, "PLEEEASE MARRY MEEE!" When Kanye got down on one knee and asked Kim to be his wife, the clan and their extended family, who were hiding in the dugout, waited for their cue to tell them to come out, which they did with a plethora of love and congratulations. The proposal broke the internet as fans searched for photos of the newlywed. And while Kanye's venue was free, he did end up spending a lot of money, like buying Kim a 15-carat cushion-cut diamond ring by Lorraine Schwartz. The newly engaged Kim, of course, was over the moon. She told E! News,  "Last night was truly magical!!! I am the luckiest girl in the world! I get to marry my best friend!"
21

When The Wedding Photo Held The Record For The Most-Liked Instagram Of All Time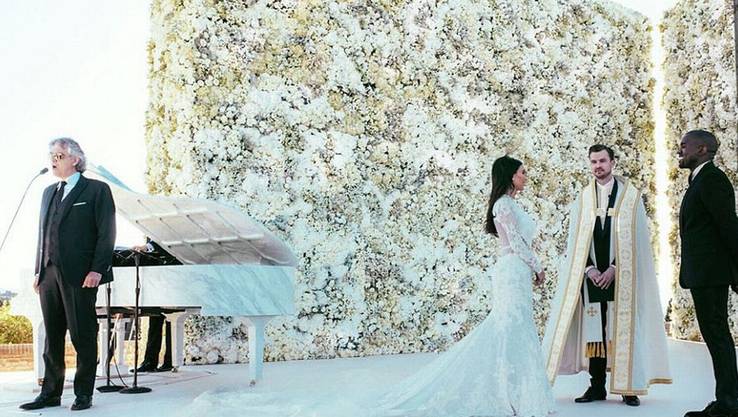 Kim Kardashian's wedding proposal was epic. It was at the AT&T stadium, which Kanye West rented out for the night just to propose to her. For their wedding photo, Kanye pulled out all the stops as well. The photo showed the newlyweds kissing in front of a floor-to-ceiling white flower backdrop. Kanye admitted at a conference in Cannes that it took four whole days to create the magical photo that Kim was going to post on her Instagram page. He also said the backdrop had been assembled solely to match Kim's wedding gown, which was haute couture Givenchy. Famed photographer of the stars, Annie Leibovitz, was supposed to capture the pic but one day before the couple would tie the knot at the Forte di Belvedere in Florence, Leibovitz pulled out,  in part due to the excessive floral wall, leaving Kanye and Kim hanging. So the question is, why did the perfect shot take four days to create?
West said, by way of explanation, according to the Daily Mail, that the photo took a long time after Annie Leibovitz pulled out because he had to put together a crew to assist him. "[W]e sat there and worked on that photo for four days– because the flowers were off-color and stuff like that."
The photo, dubbed as the "Kiss," was an extreme success, racking up nearly 2 million likes and over 35,000 comments on Kim's Instagram page. Since 2014, the photo holds the record for the most-liked Instagram of all time, according to Time. As if the couple needed bigger heads.
20

When Vanity Fair Put Caitlyn Jenner On The Cover and Kris Got Angry
In 2015, Vanity Fair put Bruce/Caitlyn Jenner on the cover, which was phot0graphed by celeb camerawoman Annie Leibovitz. According to Vanity Fair, after the magazine tweeted "Caitlyn Jenner poses for Annie Leibovitz on the cover of Vanity Fair," Jenner herself tweeted, "I'm so happy after such a long struggle to be living my true self. Welcome to the world Caitlyn. Can't wait for you to get to know her/me."
Barbara Walters named Jenner the Most Fascinating Person of 2015. "Jenner's celebrity has helped launch a national discussion about transgender rights. She has become a champion for the community, raising awareness and advocating for acceptance. . . Caitlyn Jenner transformed society."
But not everyone was on board, as Caitlyn's VF cover story caused a stir. Caitlyn revealed in People that Kris Jenner, his former wife, "mistreated" her and "wasn't very nice" when they were together, which was picked up by In Touch. An insider for the mag added, "Kris was relentless. . . She put Bruce through hell."
Kris was devastated with another "scandal" that broke the internet. While on the phone to Kim during an episode of KUWTK, Kris's reaction to Caitlyn's comments were harsh: "It just sums up that I'm this piece of [cat litter] person who was mean." In the cover story from Vanity Fair's issue, the writer wondered if Kris and Caitlyn disagreed on how much she knew about her husband's gender identity while they were married for a whopping 23 years. And according to why Caitlyn ended her marriage with Kris, she said,   "Twenty percent was gender and 80 percent was the way I was treated." No wonder Kris was peeved.
19

When Kim Published Her Coffee-Table Book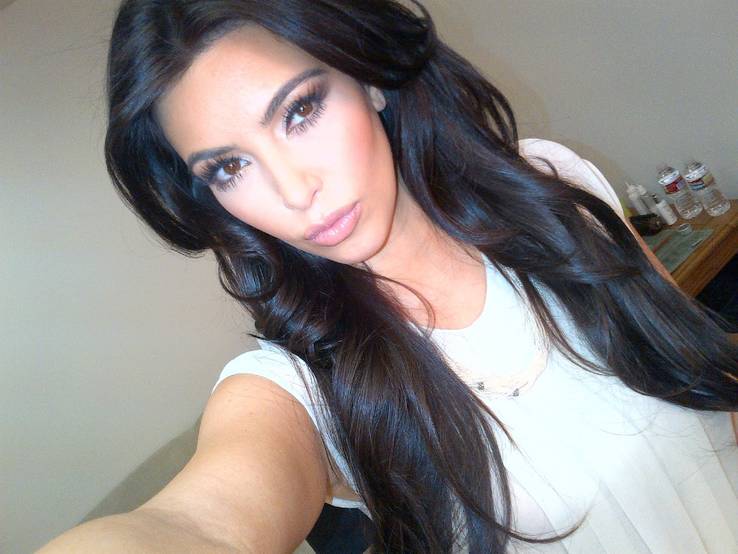 In 2015, the resourceful Kim Kardashian published Selfish. The coffee table book shouldn't be on the coffee table. If you have kids, your best bet is to lock it in the commode where you stash your liquor. That's because the controversial yet wildly popular book contains many pictures of Kim swimming with a shark. And since Kim loves showing off that she can swim with sharks without getting bit, you will gladly find her doing that in the book many times.  According to the  New York Daily News, Kim's indulgent book had 115  shots of her selling muffins, 23 full moon shots, 10 "I Just Did My Laundry and Have Nothing To Wear (Poor Me!)" selfies, as well as one picture revealing Kim's baby bump from 2013.
The revealing selfies serve as a sort of documentation for Kim. The glossy 300-photo scrapbook begins with Kim at age 3 trying on her mom's clip-on earrings, then turns to 2006 where the then-unknown Kim did a lot of partying with Paris Hilton. The book ends with a 2014 wedding picture of she and Kanye when they first married, which shows their solidarity by clasping hands.
"Every time you think the general public might be sick of Kim Kardashian, she comes back even stronger," Ryan Schinman, founder of Platinum Rye Entertainment, a marketing company, told the Daily News, "Whether it's the video game ("Kim Kardashian: Hollywood") or this picture book, the girl is an empire. . .This is another seven-figure payday."
Featured Today
15 Things Marvel Wants Fans To Forget Before Watching Avengers: Infinity War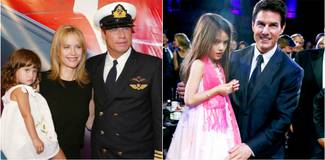 15 Surprising Celeb Kids Born Into Scientology Because Of Their Parents

10 Female MCU Characters Who Were Iconic (And 5 Who Were Total Duds)

18

When Kendall got Pierced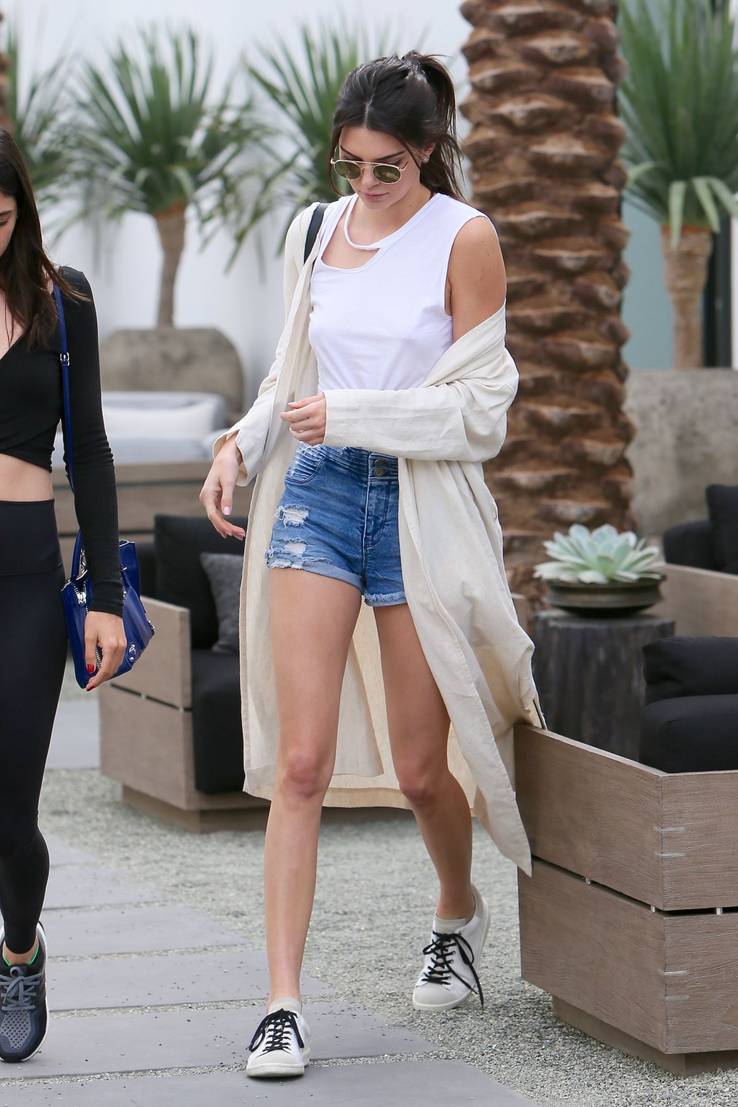 So here's a question that's provoked some intense drama on the reality show. How can you raise enough money for an orphanage in Battambang, Cambodia, to ensure the poor have enough to eat? Well, the problem Kendall Jenner had was far more important and pertinent, so the real question is, "Whose idea was it to get her rubber bullets pierced first?" Well, according to Kylie Jenner, it was she who had the piercing first, and that Kendall was the one who copied the piercing. But According to People, Kendall wrote in her app,"I wanted to get the piercing for SO long before Kylie. She did hers and then everyone thought I copied her, but I swear I had the idea first." This is truly a dilemma.
So where on Kendall's body did she get the piercing? The nose? The belly button? Nope. She got the piercings on her chest. Kendall hid the piercing from her family, her friends, and her fans.
But nothing remains a secret on KUWTK. Before the big reveal, everyone was talking about it.  She said, "I think people are obsessed with the topic because it seems so unexpected of me. Before I even decided to go for it, I just liked showing through some of my outfits. There's something understated . . . about them." Umm, yep!
17

When Kourtney Swam With Sharks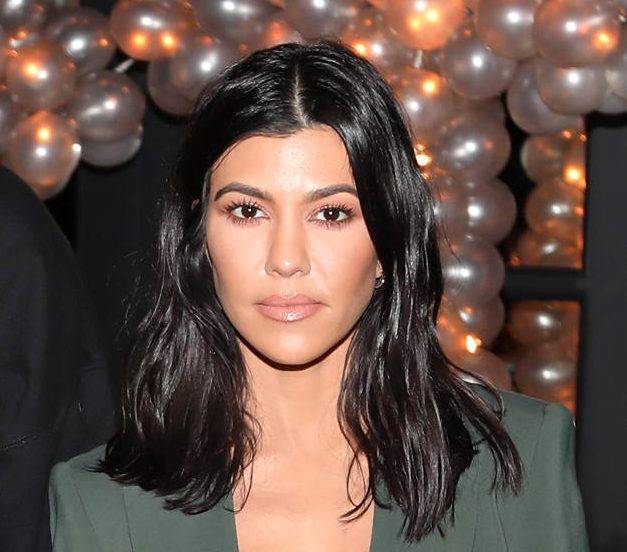 In 2015, Kourtney Kardashian posed for the artist Brian Bowen Smith, the renowned magazine cover photographer. So? Well, the photo showed Kourtney partially coming out of the woods, and it was all for art. The photo was part of Smith's Metallic Life series that had been displayed in Los Angeles at the De Re Gallery, according to Vanity Fair. The magazine also said the image was "unlike [any wearing a smile] you've seen before." It's tasteful, though. In dim lighting, Kourtney is laying on the ground on her side with her face hidden from the camera. But no matter how low the lighting was, this photo too broke the internet as Kourtney's waist-hip ratio was revealed to the world. And not only that, Vanity Fair published the whole series online of Kourtney breaking out of the woods.
We see her lying on the ground revealing her headlights for all the world to see. Kourtney wrote on Instagram about how much she loved being part of the project. Then, after her fans took to the photo, saying it was tasteful, Kourtney then shared a photo with the letters "love" spelled out to her 26 million followers. According to Smith, the photo is printed on metallic paper, and presented with no glass. . . [T]hey emphasize the 'tantalizing textures of [finally seeing your path out of the woods]'.. . and Metallic Life captures the vulnerability and true nature of its subjects—including Kourtney Kardashian—photographed through the exposure of her [seeing the daylight from the woods.]"
16

When Kanye West Received A Doctorate Degree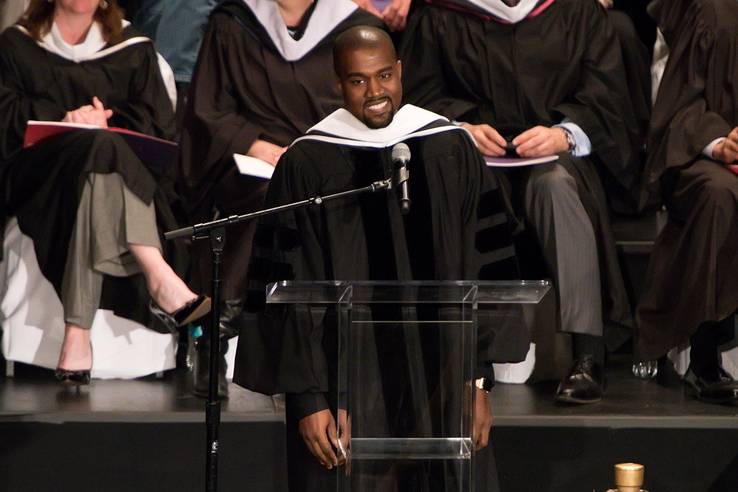 Kanye West received an honorary doctoral degree from the Art Institute of Chicago. Now let's put this in perspective. Remember way back in 2009 at the VMAs when Taylor Swift won over Beyonce? Swift began her acceptance speech and West suddenly joined her onstage to say, "Yo Taylor, I'm really happy for you, I'll let you finish, but Beyonce has one of the best videos of all time." West later apologized to Swift on his blog. He said,
"I'm in the wrong for going on stage and taking away from her moment! Beyonce's video was the best of this decade! I'm sorry to my fans if I let you guys down! I'm sorry to my friends at mtv. I will apologize to taylor 2mrw. welcome to the real world! everybody wanna booooo me but i'm a fan of real pop culture!"
His apology, of course, is not a real apology. Saying Beyonce's video was the best video of this decade just repeats what he said when he dissed Taylor. Maybe he was being ironic, but then again, we're pretty sure he doesn't know what that means. His non-apology is one of the strangest things a celeb could say, leaving Swift crying backstage. Tons of fans took to social media to express their disdain. So, yeah, this is another way the clan broke the internet.
15

When Khloe Published Her Book

When Khloe was 31, she proved that not only Kim can publish a successful book (Selfish) but also she can too. That's because of the release of Khloe's book Strong Looks Better Naked. She even tried to top Kim when it comes to having book covers where you're in the clearing and feeling the sun on your back. She kept true to the title, posing on the front jacket wearing her field of dreams and a strategically placed sheet draped over her body to cover her. Upon the book's release, the publisher pushed for reminding fans of Khloe that will also include a "full-size poster of Khloe posing with only a white sheet."
Thanks! We've always wanted a full-size poster of Khloe to hang in our homes. It will go swimmingly well with our new Dualit toaster. But what year is this? This smells like teen spirit, when pubescent boys used to hide in the woods to look at Marie Clare and take in the poster inside. What are we going to do? Go into a bathroom stall and drool when we fold out the full-size poster of Khloe? This seems like such a tasteless gimmick. Who cares about Khloe teasing us in a white sheet? We can just look online for her frolicking in her field of dreams. And it won't cost us a dime!
Anyhoo, here's Khloe on her book, thanks to ET:
"I am so excited about sharing my philosophy on how I live and the power of strength. I hope to be an inspiration to readers everywhere on how they can create their own true strength and beauty inside and out."
14

When Kourtney Did A Demi Moore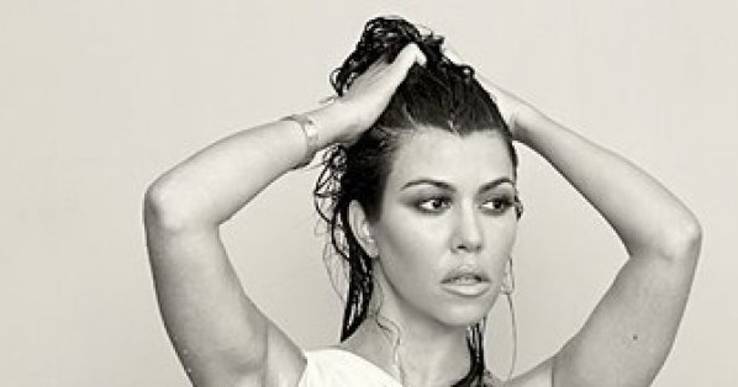 Kim's not the only one who can go frolicking in the bare fields. So too can Kourtney, but rather than showing off her body after her pregnancy, she's showing off her body before her pregnancy.
This was in 2014, right after Kim posed for Paper and literally broke the internet. But while Kim found the clearing in the woods and basked in the sunlight, Kourtney's pics are much tamer but still revealing. The sultry poses were for DuJour magazine, and were taken while she was nine months pregnant with her third child.
She told People, that she was definitely not afraid of posing in any revealing way, pregnant or not. She feels comfortable with herself, and that is all that matters. In one photo, Kourtney is wearing a very wet, see-through white dress that clings to her and reveals her big baby bump.
What is it with these Kardashians? Why are they always revealing themselves? For Kourtney, at least, she told DuJour that she hopes the pics would be an artistic take on a "mother's journey to motherhood" that would help other women to embrace their pregnant bodies. Or, failing that, a mother's journey to the rock candy den in Greenpoint Brooklyn that would help other women to embrace their new hypodermic needles. Or something like that.
13

When Kylie Posed Like A Doll For An Arty Photoshoot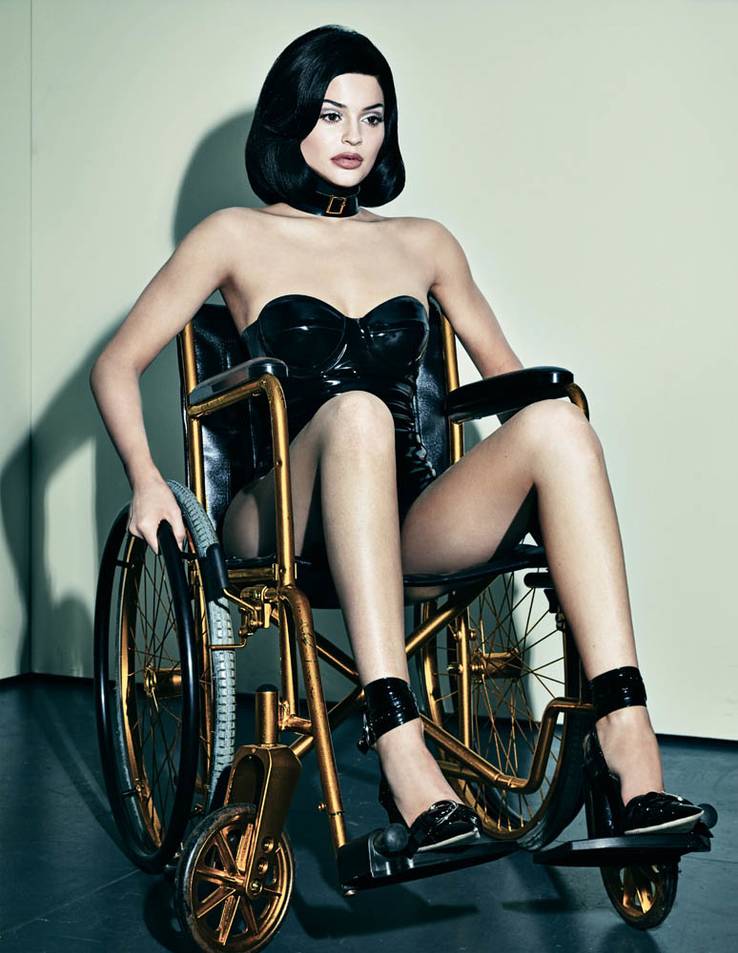 OMG it's true! These Kardashians keep stepping into the dishwasher to get cleaned up so they can be captured in some provocative photoshoots. This time it's Kylie! In Interview magazine, famed photographer Steven Klein took pics of the 2o year old and the photos, as usual, are accompanied by an in-depth interview.  The Interview photo shoot also broke the internet, and many of her over 43 million followers on Snapchat and Instagram congratulated her for the amazing series. But these aren't some swimming with sharks shots. Kylie mostly stays buttoned up, and the pics are highly stylized and look as if they belong on a wall in a gallery in Chelsea.  That's because sharpshooter Klein is well-known for taking movie-shot pictures of artists accompanied by editorials.
In all the pics, Kylie poses as if she's a doll and is wearing head-to-toe black patent leather and cut-out chaps. Throughout, Kylie wears a neutral expression on her face. Her arms and legs appear as if they aren't bendable, making her look like Barbie. She's wearing a perfectly coiffed wig, and in a few pics she's sitting in a gilded wheelchair and one in which she poses on top of a male model's back while he's posed like a dog.  In another piece, Kylie is lying in a box marked "fragile," as if she was ready to be sent away to somewhere. Paramus, NJ, maybe? With her expression-less face and her body by Barbie, the shoot is reminiscent of Cindy Sherman's early work in which she appeared as a doll in photos to raise awareness that women are not subservient. So, this K clan shoot is one of the classiest, with Kylie deep in the woods because she can't find the clearing. The lack of frolicking in the fields is kept to a minimum.
12

When Kylie Wore Sheer And Left Little To The Imagination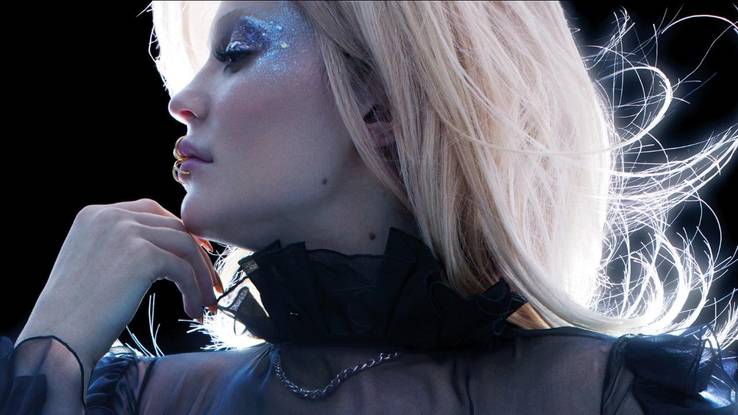 Kylie Jenner has 96 million Instagram followers, according to V Magazine, in which she appeared in its pages bare as ever. But this isn't her first racy photo session. She has posed for many shoots wearing just her lingerie and always takes to Instagram to show off herself wearing her swimsuit. In her Interview magazine pictorial, she posed provocatively. But now, for the first time, Kylie has successfully discovered a way to extricate herself from the woods for good, following Kim and sister Kendall. The V photo shoot was taken by Nick Knight and she told the magazine, "I always post [attention-grabbing] pictures." Anyone who follows at least one sister knows that is the truest thing any Kardashian or Jenner could say.
Now that she's out of the woods, Kylie posed wearing completely sheer dresses that revealed more than we wanted.  In the raciest image, Kylie, facing the camera while laying on her side, is seen in a yellow dress that gave fans full access to her. In another photo there's light shining behind her that illuminates her silhouette through the dress, exposing her. There's also a photo of her wearing a Fendi sheer gown with what can only be described as a provocative expression on her face.
11

When Khloe did An Impromptu Photoshoot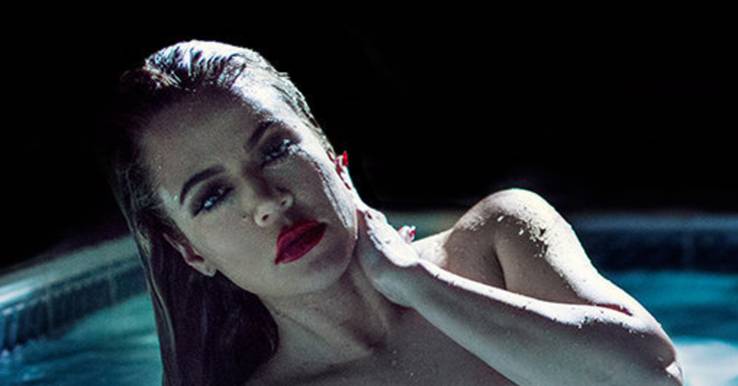 Khloe Kardashian was once overweight, but unlike many who do nothing about it like not going to the gym, she took matters into her hands and vowed to have a thinner, slimmer physique. She called it her "revenge body" when she was finally happy with her weight.  In any event, in 2015, Khloe and Kendall Jenner were vacationing in St. Barts and, according to the Mirror UK, they got "bored" during the trip. To have some fun, they both came up with the idea to have Khloe do an impromptu photo shoot showing that she's found the sunlight after being trapped in the dark woods.
The shots of Khloe are all taken in a swimming pool, at night. It appears as if she had been swimming with the sharks.  In one photo Khloe flashes her Janet Jackson as she emerges from the pool. In another photo, she's floating in the pool on her side, revealing a bit of herself but mostly covers herself up with her arm. Another pic showed Khloe sitting at the edge of the pool with her back to the camera, so all could get a good look at her!
Anyway, Khloe was super thrilled about how the photos turned out. Speaking modestly, and without even the slightest trace of any narcissism, she told the Mirror, "I am so [bleeping] happy . . .  because I think these pictures are to die for! I cannot believe how unbelievably gorgeous they are!"
10

When Khloe Posed For PETA And Broke The Internet With Her Toned Physique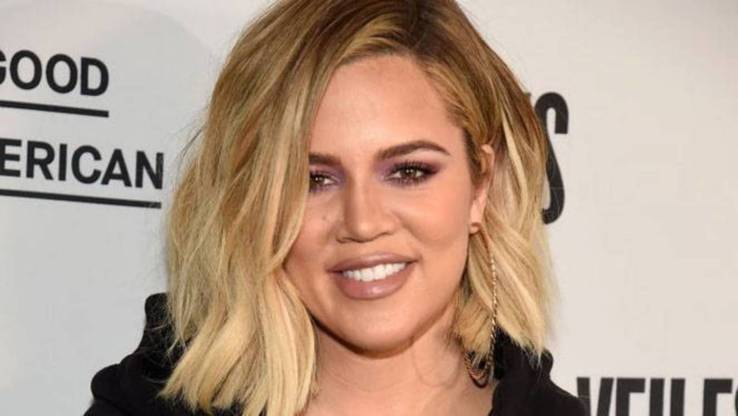 Remember when Khloe K came out of the woodwork for a PETA campaign ad in 2008? . She's in good company, as many celebs have also gone completely out of the woods for PETA's anti-fur campaign. Khloe, the youngest of the Kardashian sisters, was part of the save the animals campaign.  She was shot completely out of the woods because she felt strongly about the cause, but the photo, of course, is tasteful, with Khloe using her arms and hands to cover most of herself up. She broke the internet because of her chameleon look. Khloe didn't look like the Khloe we know. She was glammed up and looked beautiful.
But there was some controversy. In 2012 Khloe stepped drown from PETA's campaign after learning that a woman who attacked Kim by throwing flour on her at a red carpet event was also a PETA member.  As Khloe said,
"Not only has PETA lied to the public, but they have proved that they support this kind of behavior. . . I've been a vocal supporter of PETA for a long time but I have also been very vocal about anti-bullying, so this was a huge disappointment for me." (Source: NYDailyNews)
9

When Kim Posted A revealing Selfie To Twitter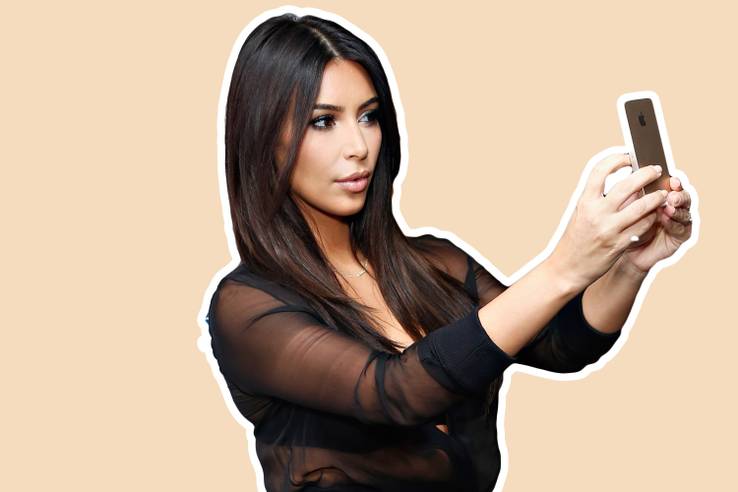 Here we go again. Kim posted a throwback selfie of herself completely out of the woods while basking in the sunlight on social media in 2016. All she had on was a blonde wig. The reason why Kim posted the most scandalous photo of herself in her entire life was because she didn't have anything to wear. As the caption read, "When you're like I have nothing to wear LOL." We know, Kim, you really have nothing to wear. Especially after you converted a guest bedroom into a very large master closet in one of your homes.  But we're guessing Kim got tired of her clothing, so the best thing for her to do was just stay under the sun and bask in it.
But according to The Daily Dot, she did have to place two bars across herself to conform to Instagram's guidelines. Like most basking in the sunlight pics of Kim, this one too caused controversy.  And this time it was stars and public figures who had issues with the photos, including Bette Midler, Chloë Grace Moretz, and Piers Morgan. And this time also, Kim took a page from Kanye's book by joining the conversation with some feisty comments. Pierce Morgan had this to say on Twitter: "I know the old man's $50 million in debt [he's referring to Kanye's self-reported personal debt] Kim – but this is absurd. Want me to buy you some clothes?" Kim could've derided Morgan, but she went the high road and said something witty: "sorry I'm late to the party guys I was busy cashing my 80 million video game check & transferring 53 million into our joint account." Ha!
8

When Kris Tried To Keep Up With Her Daughters By Pole Dancing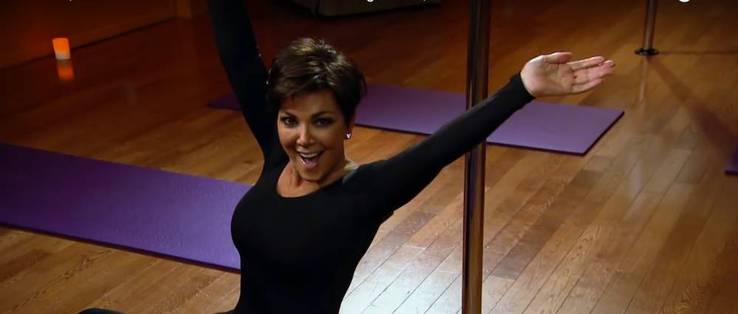 Kris is literally Keeping Up With The Kardashians by copying every move her daughters make.  It's no surprise that Kris' daughters are wondering when their then 58-year-old mother is going to start acting her age. Kris just invited herself to Kim's stripper pole class at Sheila Kelley S Factor, much to the embarrassment of Kim. As Kim said, "I think she is amazing. But my mom literally copies everything I do. I posted this swimsuit picture and then mom posted a swimsuit picture right afterwards."
Kris had this to say when she really got into the pole dancing class:  "What am I supposed to do, sit at home and knit?"
If that wasn't enough, Kris was caught posing nearly out of the woods in her swimming pool. Wearing a see-through without any support underneath, Kris flapped around inside the pool. Kim was not the only one who looked unpleased. According to the Daily Mail, Kourtney and Khloe had their share of comments as well. Kourtney said,
"Why are your [headlights] out? That's so embarrassing for your life and for your soul."  And Khloe said, "You are so gross!"
Kris didn't care about the insults.  But in defense, she said, "In my mind age is just a number." According to the Daily Mail, Kris also said, "I want to show my girls that being 50 you don't have to curl up and disappear, you can feel vibrant . . . at any age."
Umm, okay. Maybe she should take up knitting. We're dying for a knitted rooster to cover up our Cuisinart toaster.
7

When Kim Shared A Pregnant Selfie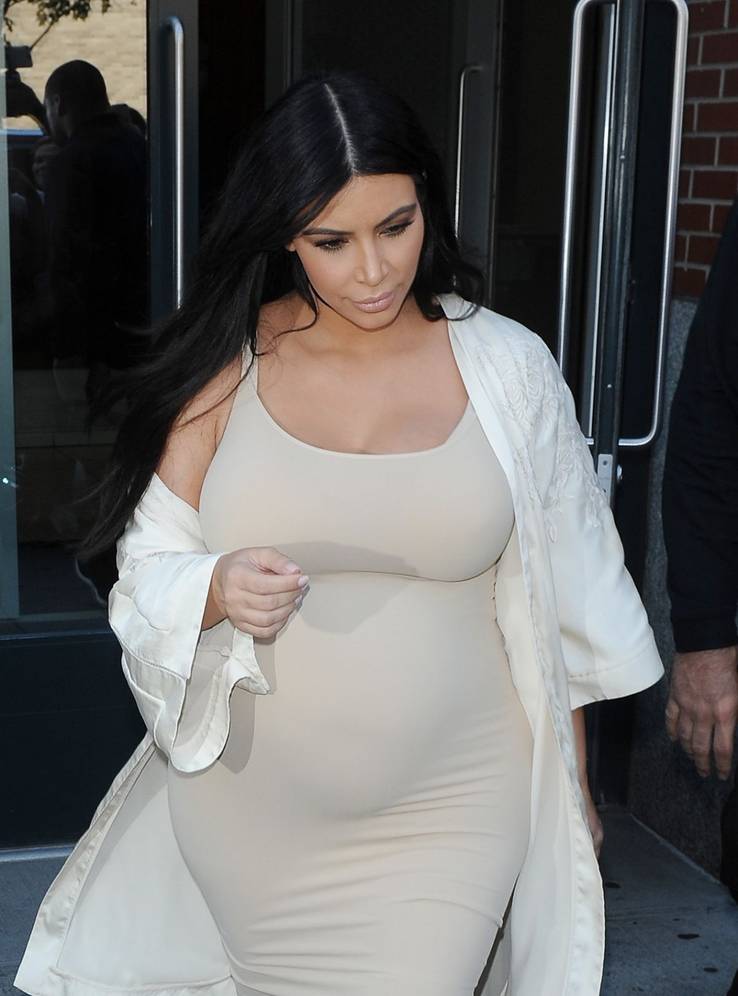 Kim and Kanye welcomed their first baby, daughter North West, in June 2013, and have been posting adorable Instagram photos of their little girl ever since. But in 2015, the couple told the media that they were trying to have another baby for some time now and the IVF treatments she got have never worked. When she was first pregnant with North West, she was publically criticized that she had gained a lot of weight. You know, because that doesn't usually happen when you have a bun in the oven. Then, when she finally got pregnant in 2005 with her second child, critics also claimed the opposite, that she was "too skinny to be pregnant at all." So which is it? Kim had enough with the haters. When she was six-months pregnant, she took to Instagram, which was picked up by ET, and said,
"First they say I'm too skinny so I have to be faking it…Now they say I'm too big so I have to be faking it…SMH! Some days I'm photographed before I eat & look smaller, some days I've just eaten & I look bigger. It's all a part of the process."
But that wasn't all that she posted. She also posted a photo of herself completely out of the woods from the side, showing her huge baby bump, just like Demi Moore did back in the day. The photo was untouched. There was no photoshop or filtering. So Kim's snap was a fight back in the best way she knew how: showing herself basking in the intense sunlight. But she kept up her manners. Her comment on her photo was diplomatic.
6

When Khloe Fought Back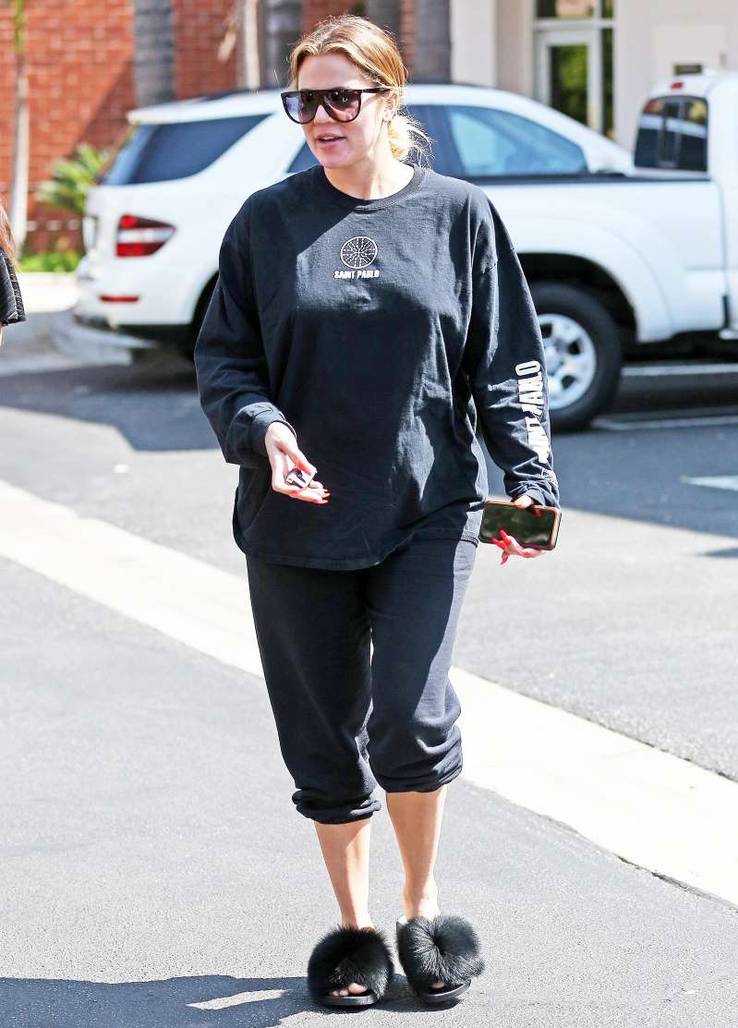 Khloe Kardashian, like sister Kim, has her haters as well. But maybe Khloe's anti-fans are more derisive. Before she lost all her weight and called it Revenge Body, as we mentioned here, she was called "the fat one." But now, according to People and after getting into a routine that made her drop 40 pounds and spawned the show Revenge Body on E!, Khloe was peeved when she one day was caught by the paps wearing loose sweatpants and a loose long-sleeve T-shirt, prompting gossip that she had regained the weight she lost. One thing we know about Khloe is that she is not afraid to fight off body shamers. She is usually seen wearing form-fitting clothes, but the one day she goes out in baggy clothes, the world notices.
She took to Twitter and said, "So rude of people to say I'm getting fat because I wore baggy clothes to get laser hair removal.  It's called being comfortable people."
According to People's "fat story" about Khloe, the K sister works hard to maintain her svelte body. She works with famed star trainer Gunnar Peterson five days a week and does cardio on the weekends. On Revenge Body, she goes all out in helping others attain the body they want. And she even posts some photos and videos of her workout sessions on her social media pages for more help. She said,"I definitely think the physical and the mental go hand in hand. . . .I feel so good in the gym that it [affects] the rest of my day. It's a healthy addiction. It's like buying your sanity!"
5

When Kendall Shined Her Headlights for Calvin Klein Ad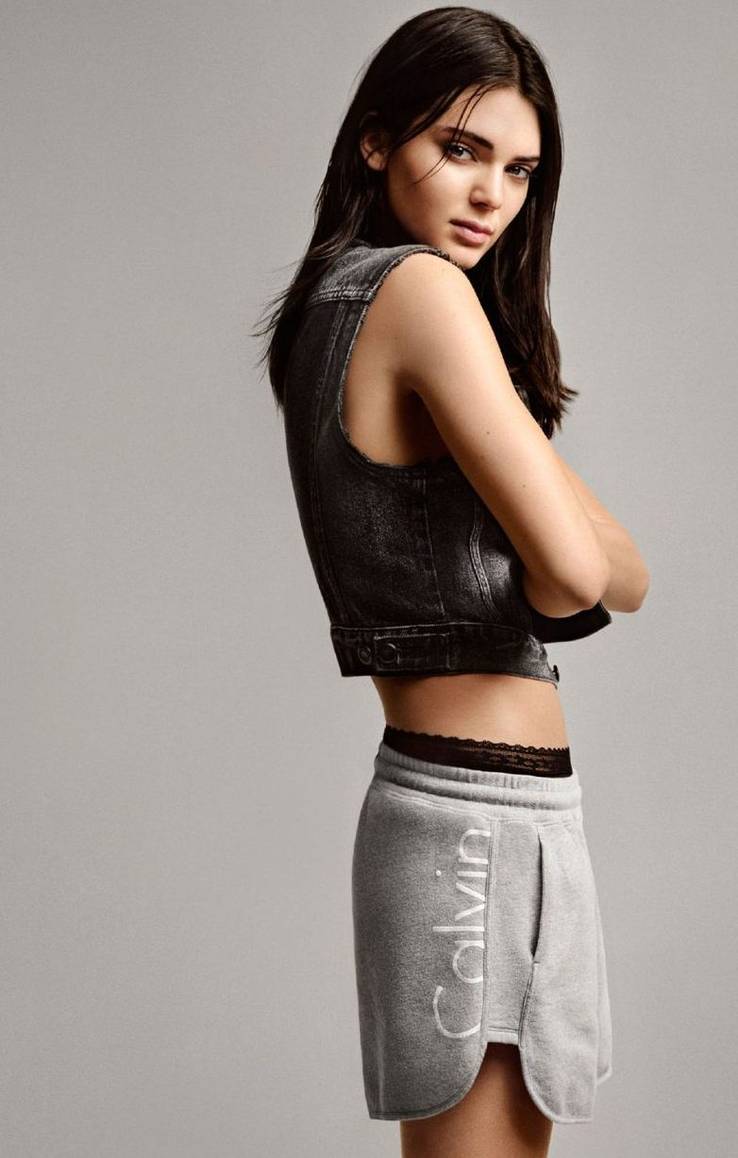 Kendall Jenner celebrated her headlights in a Calvin Klein ad in 2015 by posting it on Instagram, which is another example of how the Kardashians broke the internet. The photos, all black and white, were shot by Mikael Jansson, and Kendall has her back to the camera with her arms folded, showing a side view of her cherry blossoms minus the Janet Jackson and wearing a very semi-sheer bloomer that leaves little to the imagination. This isn't the first time Kendall posed for Calvin Klein; she also starred in the #mycalvins denim series. But this is her first campaign in which she's showing off her bloomers, just as other celebs have done, like Kate Moss.
The tagline for the ads is "the original [bloomers]," as the brand is trying to bring [bloomers] back. Kendall told WWD that she loved doing the shoot, saying, "It was super fun. Every girl loves posing in her [bloomers]. It's always fun to do that." Umm, really? Do all girls love posing in the semi-sheer bloomers that she wore? Does it beat out wearing a flannel plaid nightgown to bed from L.L. Bean? And when do you do it? Between studying for the SATs and eating dinner with your family? And you just take off your bloomers and start posing? Where? In the janitor's closet at your high school? So you can feel super superior between the shelf that holds the ammonia and the Clorox?
4

When Kim Vowed In 2011 That She Would Never Frolick Again, Even If It Was For Vogue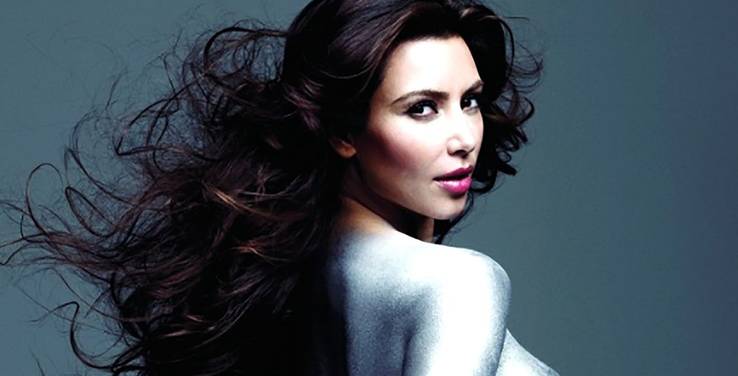 You'd think Kim K could care less if a magazine posted photos of her in any revealing manner. After all, she's been shining those headlights for years now, whether from the side, or full on, or in a teasing manner. But a shoot for W magazine where she was entirely exposed reduced her to tears back in 2011. In the photo, Kim's entirety is covered in silver body paint and nothing else.
According to the Daily Mail, Kim had been led to believe that the photo would be chaste and arty. She thought she would be airbrushed. Instead, it made her seem tasteless. She hit back when she did her spread for a gentleman's magazine. She said, "I'm so mad right now. W promised I would be covered with artwork."
She added, "I feel so taken advantage of. " Kris told her to "own" the pics and "come out with her head held high." In the biggest understatement of the year, she said,  "I've definitely learned my lesson. I'm never taking my knickers off again, even if it's for Vogue." This was, as we said, in 2011. We tried to count how many times Kim frolicked in the bare fields since then, but we don't know how to do MIT math. There are just too many times!!
3

When Kanye West Announced He Would Run For Office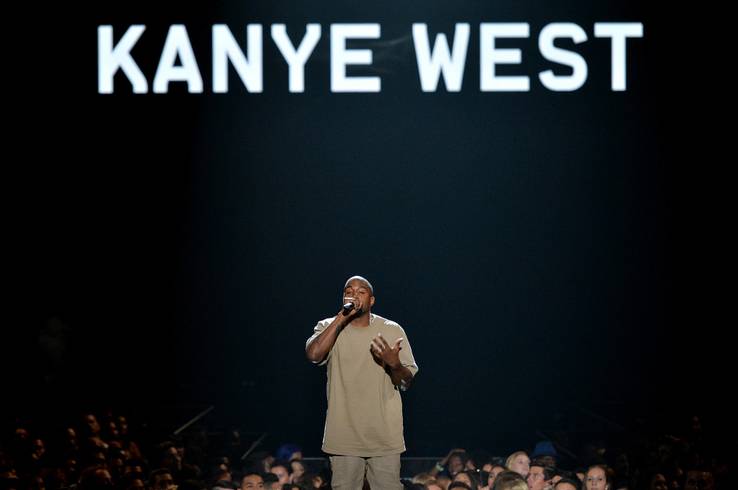 During a seemingly spontaneous moment at the 2015 VMAs, Kanye dropped the biggest bomb of the night, saying he's running for president in 2020. The rapper and designer told Vanity Fair that his presidential run is no joke and that he's without a doubt  "definitely" going to do it. The audience was of course surprised. He said, at the VMAs,
"As soon as I said that, it was like, 'Wait a second, we would really be into that, because actually if you think about it, he's extremely thoughtful. Every time he's ever gotten in trouble, he was really jumping in front of a bullet for someone else. He's probably the most honest celebrity that we have. I sit in clubs and I'm like, Wow, I've got five years before I go and run for office and I've got a lot of research to do, I've got a lot of growing up to do."
West wasn't ashamed that he knew nothing about politics. He even said he "hates politics." Then he said, "I'm not a politician at all. I care about the truth and I just care about human beings. I just want everyone to win, that's all I can say, and I think we can."
He also said, "If there is anything that I can do with my time and my day, to somehow make a difference while I'm alive I'm going to try to do it."
Great. We think he'll be a great president. But only if Taylor Swift is his running mate.
2

When Khloe Found Out About Caitlyn
The showdown between Khloe and Caitlyn about her transitioning rocked the internet. According to Cosmoplitan, in 2015, Khloe had a difficult time accepting Caitlyn's transition because she found out on camera. Khloe then appeared on the Howard Stern Show three months later in 2016 where she told him she felt betrayed because Caitlyn supposedly didn't share with her the rumor about her new identity. The fact that "business people"–that's her wording–knew beforehand also insulted her. Khloe said,
"We've been asking you and why do business people know? I never want someone to feel like they have to one-up on our family. We are a family. We've never turned our backs on each other yet." She then added, "Just stop lying to us. We didn't know when he was going to start fully dressing as Caitlyn."
And then,  according to the Cosmopolitan transcription of the KUWTK episode, Khloe turned to Kris to vent:
"I said [to Caitlyn], 'You have the nerve to say, 'What happened to family sticking together?' You jumped that ship as soon as you did Diane Sawyer and attacked my mom."
In August 2016, that year's Father Day consisted of Caitlyn spending time with his youngest daughter Kylie watching basketball games. She felt betrayed that no one else wanted to spend the day with her. But according to Mail Online, Kim said the rumors that all the siblings "had abandoned Caitlyn on Father's Day were not true and that she had actually invited her for brunch." The larger question, going forward, is whether Caitlyn should be celebrated on Mother's Day or Father's Day.
1

When Kim Was Robbed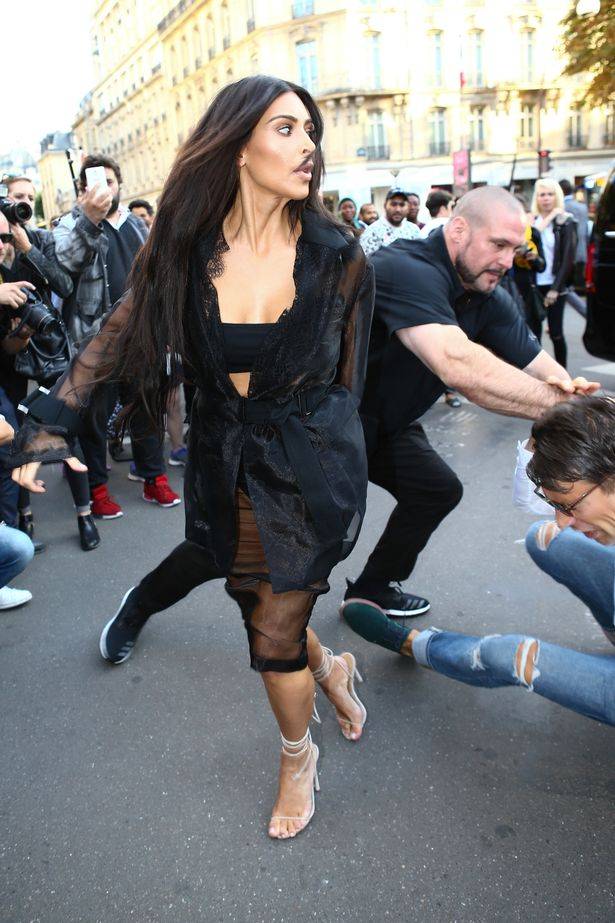 Kim's first-hand account of the crime was revealed in police reports she filed to French authorities. This was just hours after she called for help. According to French newspaper Le Journal du Dimanche, which was transcripted by People, she explained that she was alone in her room. She said she heard footsteps and said, "Through the door, I saw two people arrive, plus the night man who was tied up." A person who wore ski goggles demanded her ring, which was worth $4 million. She gave it to him and the thieves walked out with over $5 million in jewelry, which included Cartier bracelets, Lorraine Schwartz diamond earrings and more. After they robbed Kim, the men tied her up with plastic cables.
The big question here is where was Kim's bodyguard? Well, he was looking after Kourtney and Kendall while they went partying in Paris.
"It wouldn't be that strange for Pascal [the bodyguard] to be dispatched to be with Kourtney or the other family members once Kim was 'safely' in her residence. And he regularly provides security for the whole family — not just Kim."
In the aftermath, a source for People said she didn't care about being robbed and that she was just happy to be alive. Say what you want about Kim, but she's clean; she doesn't take benzos to relax her and she doesn't drink. She weathered her ordeal by finding comfort from being around her children and her friends.
Source: Read Full Article