In the wake of the health scare involving their drummer Ashton Irwin, the Australian pop rock band has also decided to postpone their Arkansas show which now will be the last show of the North American 'Take Me Home Tour'.
AceShowbiz –5 Seconds of Summer experienced a health scare during their performance in Texas on Sunday night, June 26. The group was forced to abruptly end the show and postpone an Arkansas show after drummer Ashton Irwin had stroke-like symptoms brought on by heat exhaustion mid-performance.
The group reportedly cut their Houston show, which was part of their "Take Me Home Tour", short after about 45 minutes. They initially appeared to be taking a break before deciding to cancel the remainder of the concert as Irwin was taken to the hospital for treatment.
Following the incident, the band shared a statement on Instagram Story on Monday. "Last night's show ended early due to a medical incident during the show. Upon experiencing physical symptoms, Ashton was taken to a local hospital for the tests and medical review," the statement read.
"Thankfully and most importantly, he is feeling OK and recovering very well. We apologize to all the fans in attendance for the show being cut short," they continued.
In a follow-up post, the Australian pop rock band offered an update for fans. "Following medical advice, we will be postponing our show in Arkansas tomorrow night. The new date will be July 26th so Rogers, AR will officially be our last show of the North American TMH Tour! We are so sorry to cause inconvenience to your plans, but we promised for those of you who can still make it, we will put on the show of your lives!" the "Youngblood" hitmaker revealed.
"In the meantime, please join us in giving Ash the privacy to rest up to rest up and get back to full fitness. Ticket information will be sent to current ticket holders directly via email. Lots of love, 5SOS," they concluded.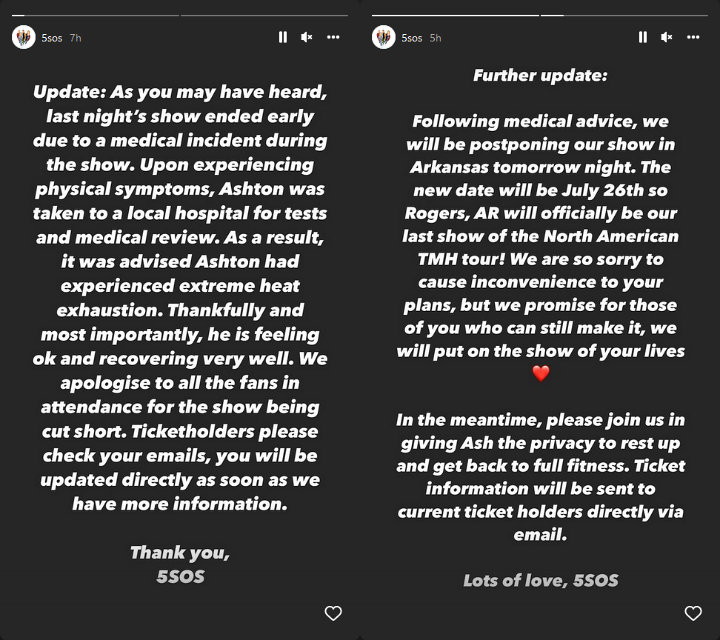 5SOS addressed the health scare on Instagram Stories.
Irwin himself explained the health scare on his Twitter account. "I suffered from an intense migraine brought on by exhaustion and overheating onstage which made me loose my vision and gave me symptoms of stroke in the left side of my body," the musician, who has been the band's drummer since they first formed in 2011, shared to his followers. "So the decision was to end the show there and then."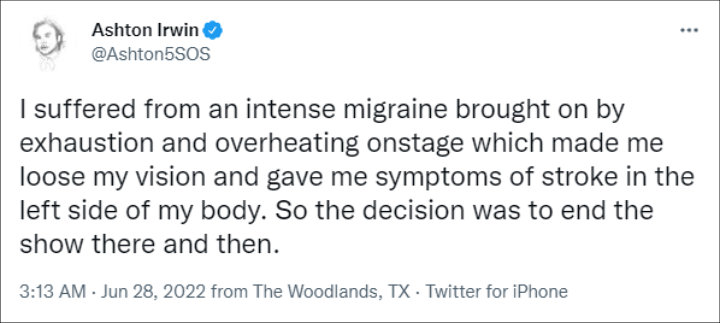 Ashton Irwin gave fans updates after being rushed to the hospital.
In response to his tweet, fans were sending supportive messages to Irwin. "You made the best decision. Heat exhaustion is no joke. I made this thread because of ehat happened to you. I hope I'll be able to help someone," someone said.
Another fan added, "Im glad to know you're felling better now Ash! Take care of yourself! We love you and we'll wait until you're felling better to return to stages… Also, its not your fault, dont blame yourself and dont think you doubt us any explanations about why you dediced to stop the show you physical and mental healt are ALWAYS first and most important than any other thing."
Source: Read Full Article