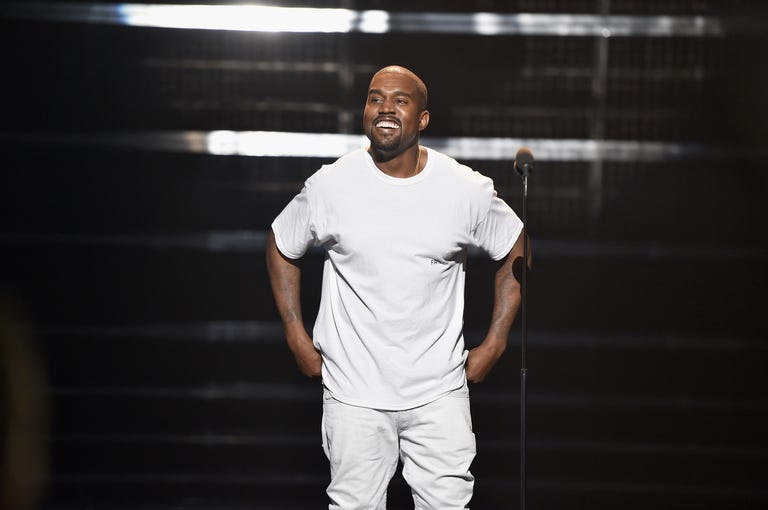 Kanye West released his highly anticipated new album, YE, on Thursday. YE debuted at a listening party in Jackson Hole, Wyoming and was live-streamed around the world. After a few months of intensely controversial behavior (i.e., making comments about how slavery was a choice, having a Twitter exchange with Donald Trump), people were eager — if dubious — to see what Kanye had to say. Here are some of the most interesting and revealing lyrics from the new album:
"I said, "Slavery a choice." They say, "How, Ye?"/Just imagine if they caught me on a wild day" — Wouldn't Leave
Context: Last month, Kanye infamously appeared on TMZ Live, and during a discussion with senior producer Van Lathan, claimed that slavery was a choice. "You hear about slavery for 400 years. For 400 years?! That sounds like a choice," West exclaimed. "You were here for 400 years, and it's all of y'all?! It's, like, we're mentally in prison." Despite the inevitable cavalcade of criticism that followed, Kanye implies in "Wouldn't Leave" that there's more brewing. In the very first lyric of the album, for example, Kanye sings that, "the most beautiful thoughts are always beside the darkest," which could be a reference to his slavery comments, as well.
He also shed some light on how he decides which controversial comments to make and which ones to keep to himself (none of them, it seems like). "Just say it out loud to see how it feels/People say "don't say this, don't say that"/Just say it out loud, just to see how it feels/Weigh all the options, nothing's off the table."
"Wife calling screaming saying we're about to lose it all/I had to calm her down 'cos she couldn't breathe/I told her she could leave me now – Wouldn't Leave
Context: Right after the above lyric about his slavery comments, Kanye sings about how his wife called him "screaming," saying they're about to "lose it all." After his TMZ interview, a source told Us Weekly that Kim was totally taken aback by Kanye's comments, and she was "trying to be a supportive wife … but it is hard."
To the media trying to demonize my husband let me just say this… your commentary on Kanye being erratic & his tweets being disturbing is actually scary. So quick to label him as having mental health issues for just being himself when he has always been expressive is not fair
He goes on to rap about women who stick around, saying "For any guy that ever fucked up (love me or hate me)/Ever embarrassed they girl (love me or hate me)/She told you you's gon' fuck the money up/But you ain't wanna listen, did you?/For every damn female that stuck with they dude/Through the best times, through the worst times/This for you."
"All these thots on Christian Mingle/That's what almost got Tristan single" – All Mine
Context: IDK if you heard, but Tristan Thompson cheated on Khloe Kardashian multiple times during her pregnancy. Kanye had not previously commented on the scandal, but it seems like this is him asserting his stance. The Christian Mingle reference? Well, that might just be because of the rhyme scheme?
Related Story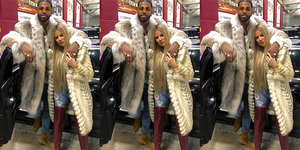 Khloé Kardashian and Tristan Thompson Timeline
"Russell Simmons want to pray for me too/ I pray for him because he got Me Too'd" – Yikes
Context: Last December, The New York Times published a story in which multiple women came forward to accuse music producer Russell Simmons of sexual assault. The woman who brought suit against Russell Simmons dropped her suit earlier this spring. Later, when Kanye went on his Twitter-spree, Russell posted an Instagram asking Kanye's friends and fans to intervene. "Kanye West is suffering, he is unraveling in public," Simmons wrote. Kanye doesn't seem to care, though, implying that Russell's problems are much worse than his.
"That's my bipolar shit what/that's not a disability that's my superpower/I'm a superhero." – Yikes
Context: In an interview with Charlamagne tha God released last month, Kanye opened up on this subject, saying the 2016 incident which saw him hospitalized wasn't so much a breakdown as a "breakthrough." "I want to change the stigma of crazy, and the stigma of mental health, period. I haven't done no extra study of it, we're at the beginning of the conversation, but best believe I'm gonna change the stigma."
The cover of the album has the phrase "I hate being bipolar, it's awesome," on it.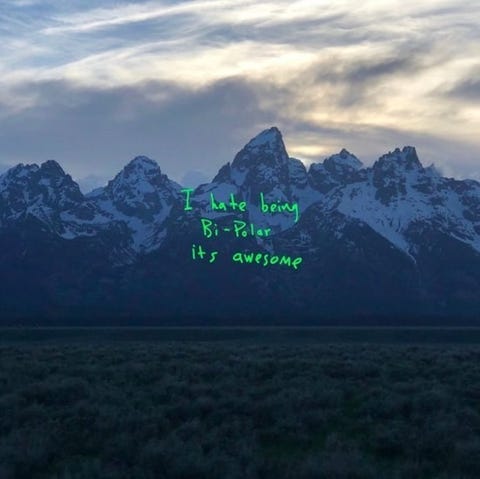 "Today I seriously thought about killing you/I contemplated, premeditated murder/And I think about killing myself, and I love myself way more than I love you, so…" – I Thought About Killing You
Context: This is the second lyric on the entire album, and Kanye seems to be referencing a 2010 interview in which he admitted he'd contemplated suicide in the past, especially after the loss of his mother.
If you or someone you know needs help, please call the National Suicide Prevention Lifeline at 1-800-273-TALK (8255).

"I can feel the spirits all around me/I think Prince and Mike was tryna warn me/They know I got demons all on me" – Yikes
Context: In that same Charlamagne interview, Kanye said he's on medication for his mental health issues, but he doesn't go to a therapist. In this lyric he's referencing Prince and Michael Jackson, who both died of prescription drug overdoses. Prince died of an accidental Fentanyl overdose, and Michael Jackson died of cardiac arrest while overdosing on a cocktail of medications that were administered by his doctor. Kanye references Fentanyl specifically in another song, singing "Baby, don't you bet it all on a pack of Fentanyl/You might think they wrote you off, they gon' have to rope me off."
Related Story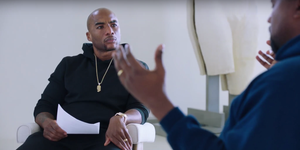 Charlamagne Tha God on His Kanye West Interview
"Uh, just a different type of leader/We could be in North Korea, I could smoke with Wiz Khalifa/Uh, told my wife I've never seen her"
Context: This lyric rehashes Wiz Khalifa and Kanye's beef. Here's the background: Kanye and Wiz both dated Amber Rose. Amber hates the Kardashians, and Kanye obviously ended up married to Kim after he and Amber split. Amber went on to date and marry Wiz Khalifa (they got divorced in 2014).
Then, one day in 2016, Wiz Khalif and Kanye got in a duel on Twitter over Kanye's album title 'Waves' initially, but it escalated, and Kanye tweeted that no one has ever listened to a Wiz Khalifa album all the way through, that Wiz got "trapped" by a stripper (he's referring to Amber), and he's Wiz's OG and he will be "respected as such." So this lyric seems to equate smoking with Wiz Khalifa to the idea of being in North Korea, which is… a lot. FYI, Kanye ended up naming his album 'Life Of Pablo' instead.
"Sometimes, you gotta bag the boss up/I call that taking Corey Gambles"
Context: Okay, so, Corey Gamble is Kris Jenner's boyfriend, so the boss he's referencing here is Kris, which she obviously is the biggest BoSsS of all time. In this same verse, he calls out Stormy Daniels, saying "I could have Naomi Campbell, and still want me a Stormy Daniels." This is, for reference, the same verse he mentions Tristan Thompson.
Follow Emma on Instagram.
Source: Read Full Article