They might have a predominately baby boomer audience but Midnight Oil fans are definitely the rowdiest.
Things can get pretty heated in large crowds, especially when alcohol is thrown into the mix. But one group of music lovers far exceed all other rabble-rousers when it comes to unacceptable behaviour.
Peter Garrett of Midnight Oil performs at the Domain in Sydney last year.
But Peter Garrett and his fellow band members aren't the only ones with rowdy fans.
Ed Sheeran's recent stadium tours saw the second-highest number of police incidents. The British popstar toured Sydney and Melbourne in March as part of the Australian leg of his international ÷ tour.
Sheeran performed more stadium shows than Midnight Oil – eight gigs in Sydney and Melbourne – where his fans clocked-up 24 run-ins with the law.
Three people were arrested for being too drunk during the Melbourne leg of the tour, while nine people were ejected.
In Sydney, two people were arrested while nine were thrown out with police speaking to at least one person for offensive conduct.
The arrests weren't the only issue to mar Sheeran's Australian tour, with Melburnians complaining about a lack of water and indoor temperatures as high as 35 degrees. Etihad Stadium's roof stayed shut despite the balmy conditions, with many concertgoers arguing the alleged lack of hydration was a health and safety issue.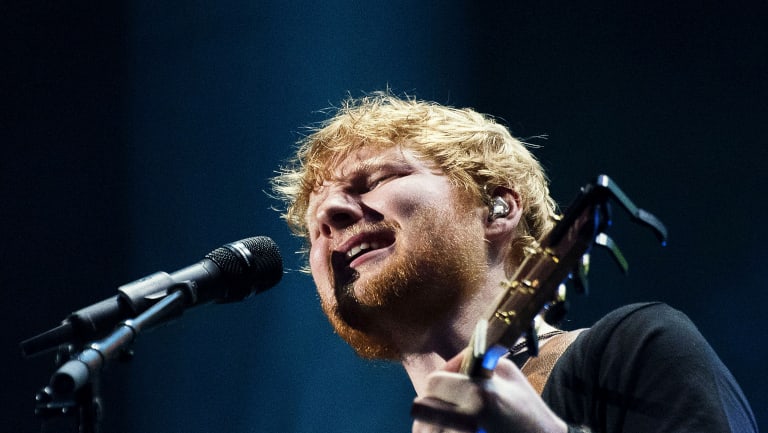 Ed Sheeran's fans were the second-most misbehaved stadium concertgoers over the past 12 months.
Sia fans, meanwhile, were the third most misbehaved stadium concertgoers over the past 12 months.
Just two people were thrown out of the Chandelier singer's Sydney gig on December 2. At Melbourne's AAMI Park just a few days earlier no one was thrown out but two people were fined for drunken behaviour.
A spokeswoman for Frontier Touring, the company that promoted the recent Midnight Oil and Ed Sheeran concerts in Australia, said the safety of patrons was always an upmost priority.
"Both Ed Sheeran and Midnight Oil's sold-out concerts were high-profile events and both Frontier and the respective artists believed it prudent to utilise a strong police presence to ensure the safety and comfort of all patrons," she said.
"With crowds the size of those for Midnight Oil or Ed Sheeran it is sadly inevitable that a small number of people will behave inappropriately. We are just pleased that the police were able to act quickly and efficiently to ensure the safety of all attending the concerts."
Evelyn Richardson, the chief executive of Live Performance Australia, stressed that the number of police incidents at live music events is very small given the industry sells more than 18 million tickets a year. She also said while venues work hard to provide a safe environment, the buck stops with individuals.
"Fans should be able to go to a show without their experience being affected by the inconsiderate or illegal actions of others," she said. "The best advice for people who want to misbehave at a show is to do us all a favour and stay home instead."
Source: Read Full Article