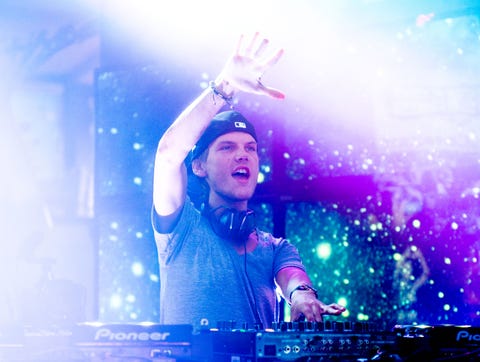 At the VMAs last night, there was hardly any mention of Avicii, who passed away in April at the age of 28. He won the award for Best Dance Video for "Lonely Together," his collaboration with Rita Ora, but the presentation of the award wasn't even shown live.
When Rita took the stage, she did mention him before presenting a separate award, saying, "I wanna take a minute to say I just found out that Avicii and I won best dance, so let's made some noise for Avicii right now, an amazing talent."
Rita honouring Avicii tonight at the MTV @vmas ? We are so proud of you @RitaOra and congratulations again to you both on winning best dance with 'Lonely Together' ✨? #avicii #ritaora #ritabots #VMA #VMAs #lonelytogether pic.twitter.com/mXjvo0q6RN
Avicii's fans were not happy about the oversight, and took to Twitter to vent their frustrations at the lack of tribute to the DJ.
They forgot about Avicii so soon??? https://t.co/VS2CtrMVDn
WTF IS THIS. AVICII DIDNT DIE FOR NOTHING. HE DESERVES PROPER RESPECT AND TRIBUTE. https://t.co/JFfTcLoZ1i
Someone should've said something about Avicii #vmas
avicii being ignored at the #vmas kinda broke my heart. shoutout for rita & bebe for bringing him up tho.
-madonna fucked up aretha tribute actually celebrating herself
-they didn't say a word for avicii even if he won an award
-they didn't even say a word for demi, who's actually in rehab and it was her birthday
-The Carters were robbed in Video of the year.#VMAs were shit, night. pic.twitter.com/0xUQPym1eU
Damn they couldn't at least do a moment of silence for Avicii? #VMAs
did the vmas pay tribute to avicii or… ?
Wtf MTV no tribute to Avicii nothing really??#avicii #VMAs pic.twitter.com/fYH0NX8Sxx
Avicii's tribute (or lack thereof) wasn't the only thing people were angry about last night. Fans widely criticized Madonna's speech about Aretha Franklin, who passed away last week. The pop legend went on a ramble about herself and how she started in the industry, and then at the very end concluded with "So you're probably all wondering why I'm telling you this story," and loosely tied it back to Aretha for being an inspiration to her. Twitter was not happy about that, either. You can watch that mess here.
Follow Emma on Instagram.
Source: Read Full Article