When young music graduates Michael Gordon, David Lang and Julia Wolfe moved to New York in the 1980s, fresh from Yale, they found a city divided along arbitrary lines.
Uptown, there were supercilious academics and hallowed institutions for whom classical music was sacrosanct. Downtown, there were ragtag punks and rockers doing whatever they wanted. The trio was somewhere in the middle; classically-minded musicians who liked to play electric guitars and experiment with screechy body percussion.
Bang On A Can All-Stars in performance.
So they rented a SoHo art gallery and put on a 12-hour marathon of new music, including performances by Steve Reich and John Cage, with a name that made them laugh: the first annual Bang on a Can festival.
But it turned out many others were looking for the zone the trio occupied between rock, jazz, classical and folk; a zone where new forms of music could be explored and enjoyed. Where a classical violinist could collaborate with an Appalachian fiddler or an electronic DJ. Where audiences could listen to Afrobeat drumming one minute and be floored by a choral oratorio the next.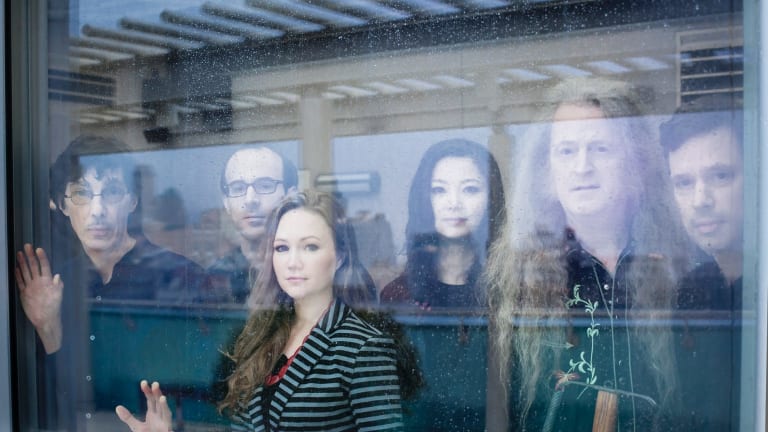 Members of the Bang On a Can collective will perform as part of Extended Play at the City Recital Hall.
"In the beginning, we were aware our college friends would go see new dance or experimental film, but they weren't crossing the divide to the world we came from," Wolfe, 59, said as she sat at a sun-drenched table in her Tribeca loft.
"We welcomed these people in thinking if we had this good experience with this piece of music anybody could and that worked. In the first year … about 400 people crowded in."
Three decades on, Bang on a Can has snowballed from an annual concert into a global movement. The New Yorker said they had redefined what a composer can be in the 21st century. The San Francisco Chronicle called them the "country's most important vehicle for contemporary music".
The collective comprises a record label, a summer camp, an All-Stars sextet that performs around the world, a marching band, a commissioning fund for composers and a program to help under-privileged communities create global music. At its heart is still the annual marathon festival, like the one they will headline in Sydney on Saturday.
The Bang on a Can All-Stars, formed in the 1990s to take the group's music on the road, will perform as part of Extended Play at the City Recital Hall, a 12-hour mini-festival traversing new music in every format. From noon to midnight, 20 local and international artists will transform each corner of the venue into a hub of sonic exploration.
That such concerts are being staged by others – this one by Australian composer Lyle Chan – is a testament to Bang on a Can's impact.
The group has spawned alumni collectives, including a solid Australian network (Australia is the biggest Bang on a Can base outside the US, they say) and has seen genre-bending experimental ensemble music become almost mainstream.
Wolfe won the Pulitzer Prize for Music in 2015 for Anthracite Fields, a haunting choral and instrumental composition about the coal mining community of her native Pennsylvania.
And while the boundaries around genres may have blurred, the group is tackling some cultural and geographic barriers that have replaced them.
Their concerts have welcomed diverse groups such as a percussion ensemble from Uzbekistan and have often prioritised local input. The Melbourne performance will include a piece by local musician Kate Moore, while all three Australian shows will present Anabiosis, a piece by Australian singer and composer JG Thirlwell (of Foetus and Zola Jesus fame), part of a program stretching from Lang's 1995 percussion riot Cheating, Lying, Stealing to Gordon's 2012 composition Gene Takes a Drink.
"Some of what we did was that polemic … we really wanted to break down those [genre] barriers," Lang said. "The big question with music now is who can participate. The world of classical music needs to go through this kind of soul-searching about how it makes itself part of the general musical spectrum. It's lived this long by building a bunch of walls around it."
He hopes the spark of exploration and optimism they lit in the 1980s still burns strong.
"When we were young composers, people told us, 'this is the size of the world that you're going to live in' and we didn't like that," Lang said.
"I don't think young composers or performers feel that. They think the size of their world is boundary-less and we hope we have been a part of that."
Extended Play, August 25, noon to midnight, City Recital Hall.
Source: Read Full Article