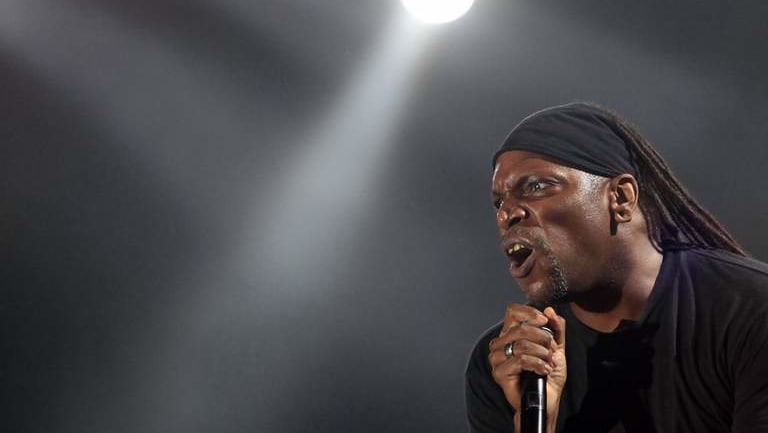 Sepultura frontman Derrick Green.
MUSIC
SEPULTURA ★★★½
170 Russell, May 15
As the rest Melbourne saw off the last vestiges of warmth on Tuesday night, the boundary-blurring Sepultura injected heat into old bones with an energetic mid-week gig.
With Derrick Green on vocals for the past two decades, the Brazilian thrash metal band has retained its guttural force, despite carrying no members from its original line-up. The founding Cavalera brothers, Max and Igor, are long departed from the ship they set sail on way back in 1984.
But the band's songs – particularly from the period before Green joined – are so powerful it was relatively easy to overcome any misgivings and enjoy the show as they trawled through songs old and new in support of their latest release, Machine Messiah.
After a couple of looseners, the power kicked in with Kairos before they launched into the classic Territory – a favourite from arguably their best album, the critically acclaimed Chaos A.D. from 1993.
As a frontman, Green's style is more hardcore than metal. He prowls the stage with his powerful frame, a menacing grin on his face. And there were plenty of middle-aged fans nodding their balding heads to Andreas Kisser's guitar riffs.
The band rammed through three of the best tracks from 1998's Against, following the title track with Choke and Boycott. Sworn Oath and Machine Messiah, off the new album, were the only flat spots of the night. It's never nice to admit, but the reality is Sepultura's old stuff is better than their new stuff.
Sworn Oath carries a hymn-like quality which may become more popular with familiarity, while Machine Messiah only served as a breather before the epic Refuse/Resist and then Arise. Both these tracks pummelled the crowd with their ferocity.
For the encore, featuring Ratamahatta and Roots Bloody Roots, Green joined in on percussion as a booming counterpoint to Eloy Casagrande's frenetic and relentless drumming.
As the band threw picks and sticks into the crowd, Chuck Berry's You Never Can Tell filled the room – an appropriate song for a crowd brave enough to try their luck on a band they could neither refuse nor resist. Most filed out content with the bonus of Californian support act Death Angel, who were both theatrical and hard as they wound their way across their new album, The Evil Divide.
Source: Read Full Article