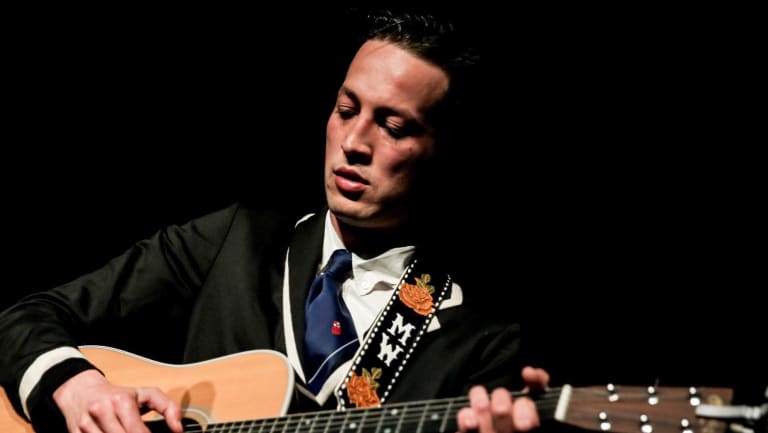 Marlon Williams at the Forum on Saturday. 
MUSIC
MARLON WILLIAMS ★★★★
Forum Theatre, May 12. Returns June 22.
The soldout crowd packed the Forum well before Marlon Williams graced the stage; a telling sign we were in for a treat. Or perhaps it was in worthy anticipation of support band Weather Station who finished on a few well-received, up-tempo numbers that left us wishing for more.
Williams opened alone and by the time his band joined him the audience was clearly sold on what lay before them. The 27-year-old has one of those voices that rarely disappoints and it's worth noting he harmonises with himself in his recorded work. Translating the sound into a live performance takes fine musicians with the vocal range to match his lead. Williams found that in his touring band, and their harmonies were beautifully interspersed with the soulful, sometimes melancholy sounds of a master of the minor chord.
Williams is one of those artists who clearly enjoys himself on stage and said as much to the crowd. "I'm overwhelmed," he said, before admitting he was winding us up. "Nah, I'm not. I love it up here." The native New Zealander was clearly pleased to be back in Melbourne, where he has lived for four years. Perhaps it was the home-town vibe that prompted him to test tracks he'd never played before, as well as songs like the haunting Dark Child, clearly a crowd favourite.
It was the Screamin' Jay Hawkins cover Portrait of a Man during the encore that was the true show-stopper and the perfect way to end a performance by a man who could easily be a young Elvis or down-to-earth, bean-pole Antipodean Roy Orbison. There was something for everyone and the energy in the room was palpable for the entire show.
Source: Read Full Article