At one point during the making of his new album, Tides, Darren Middleton was struck by a realisation. It wasn't any good.
Worse still, acclaimed producer and mixer Steve Schram, to whom the 46-year-old had sent the material, confirmed the guitarist's hunch.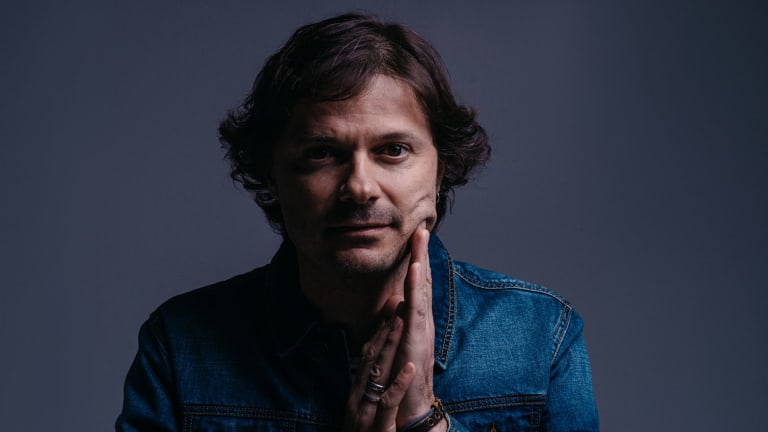 Darren Middleton's latest album is rife with reflection and consideration.Credit:Russ Benning
Sipping on a coffee at Sydney's Fox Studios, dressed in a blue denim jacket and black denim jeans, his boyish features seemingly unbothered by the passing of time, Middleton recounts their conversation. "He handed it back saying, 'I can't really do anything with this, sorry …'"
Compounding the problem was a growing sense of disillusionment during which Middleton found himself "wondering if anyone was listening [to my music] at all".
Darren Middleton, far right, with Powderfinger in 2004.
He'd experienced issues with self-doubt before, around the time of his first solo album, 2013's Translations. Fresh from the 2010 dissolution of his band of two decades, Powderfinger, and struggling to find purpose and his identity outside the safety of that unit, Middleton would routinely start tasks and fail to complete them.
This time, however, there were different factors at play.
"Back then I didn't know what I was doing or why I was doing it, that purgatory sort of area," he says. "This time I knew I loved music, I just wasn't getting it done because I had too much on my plate. I'm not good at having a whole bunch of things on and compartmentalising them. It's like a squadron of bees in front of me and I'll go, 'That's it! Stop everything!' So … I almost stopped [work on the record]."
Middleton's multi-tasking extends across myriad disciplines. Aside from his solo career he's a devoted husband and father; he scores movies and TV shows through his Sonaire company; on occasion he'll team up with Indigenous chef Clayton Donovan to conduct a night of stories, music and good food under the Tuning Fork banner; and he's a member of knockabout all-star covers band ARC, featuring Jet bassist Mark Wilson, Spiderbait's Kram and Davey Lane from You Am I.
Following Schram's feedback, however, Middleton determined to block out such distractions and focus properly on his new music.
It worked, because Tides is his most confident and assured solo album to date, eschewing the more gentle aspects of his previous records in favour of something with more strut, attitude and grunt.
Part of the credit for the meatier sound must go to co-producer Davey Lane and the cast of musicians, including drummer Graeme Pogson (The Bamboos) and Meg Mac bassist Luke Hodgson. Middleton also pulled in acclaimed violinist Xani Kolac to arrange strings, Jet keyboardist Louis Macklin to helm the Wurlitzer and Hammond, and renowned backing vocalists Vika and Linda Bull to lend their honeyed harmonies.
Though the album is rife with reflection and consideration of the passing of time and the transient nature of life, one of its most personal songs is The Bully, in which Middleton addresses his son's issues in the schoolyard.
"It's heartbreaking and makes any parent angry to notice over the course of a few months a change in your child, they're not being themselves," he remarks. "It's a distinctive change. He finally brought up the courage to share with us, this is happening at school.
"We got [through] it," he adds, "but gee it makes you angry at first. You look at people differently all of a sudden, perhaps the people involved. It's frustrating."
Powderfinger have just released a deluxe 20th anniversary edition of their 1998 album, Internationalist. These days the guitarist is at peace with the band's legacy and the shadow it continues to cast.
"Initially when we stepped away from Powderfinger we probably all went, 'I'm going to distance myself', but not anymore. I love the fact I was in Powderfinger, it gave me so much.
"I'll hear us come on the radio, and I can hear it from a listener's point of view now and go, 'Damn, there's so much character in that song'. I can appreciate that we were a really good band."
Middleton doesn't have a lot of time for looking back, however. Not only is keeping the "squadron of bees" in line clearly a full-time job, but after a shaky start he can finally hang his hat on his new album.
"It not really like us to talk our work up being Aussies, but I f—ing love this record," he says, smiling. "I think it's really good."
Source: Read Full Article