Although Sean "Diddy" Combs is currently worth a whopping $900 million, the rap mogul came from very humble beginnings. Born in New York City, Diddy was raised by his grandmother, as his father passed away when he was just a toddler and his mother worked four jobs to make ends meet (via The Things).
In particular, his father, Melvin Combs, was killed while he was sitting in his car at the age of 33. "Being that my father was killed when I was three years old, I don't have a lot of memories of my father," Diddy said in a video in 2014. His father worked with gangster Frank Lucas and was murdered as a result of his criminal career. As Diddy explained, this actually drove him to work harder. "'My father was a hustler," he said. "He was a drug dealer and he was a hustler, so I learned early in life that there's only two ways out of that dead-end jail."
He continued, "I have his hustler's mentality, his hustler's spirit, his drive, his determination, his swag." Diddy's determination is so inspirational that his story was turned into a documentary, titled "Can't Stop Won't Stop: A Bad Boy Story." Apart from his father's role, however, something else has also inspired a young Diddy to become the mogul he is now … and it's not what you'd expect.
Diddy claims he once woke up with '15 roaches on his face'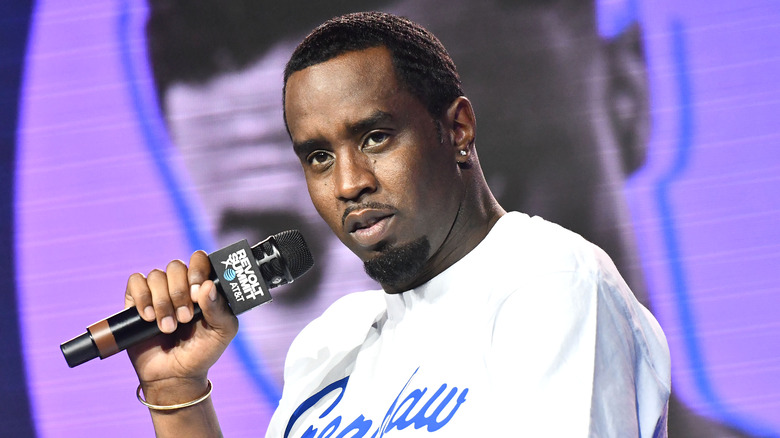 Taking to Instagram on June 6, Diddy gave his 18 million followers an impromptu motivational speech. In the clip, the mogul can be seen encouraging his fans while eating a mango in front of an infinity pool. "You can do it. You can be whoever you want," he said. "You can be eating mango too, with the ocean as your backyard. I ain't special."
He continued, "I just want it bad, you feel me? I will not allow myself to not have mango. I hustle hard, you know what I mean?" Then, Diddy revealed the exact moment that made him want to hustle harder … and it involved roaches. "One day when I was growing up, I woke up and there was 15 roaches on my face," he recalled in the caption. "At that moment I said hell no, I refuse to live like this." However, not everyone is here for Diddy's story.
"Diddy lying….," one fan wrote on Twitter. "I had roaches and never do they sit still on your face, roaches got places to be and s**t to do." Comedian Karlous Miller seemed to agree. "He lying. Roaches don't even ride 15 deep. It was maybe 2-3 at the most." Whether Diddy's "roaches" story is true or not, the jokes write themselves. "Those roaches was looking at DIDDY like 'DADDY'!!!!!" one fan hilariously tweeted. "Diddy was like 'Ahhhhhh…. 1 2 3 4 5 6 7 8 9 10 11 12 13 14 15… oh hell nah,'" another joked.
Source: Read Full Article