Cardi B and Offset made headlines for getting engaged in October 2017. The proposal happened on stage at the Power 99's Powerhouse concert in Philadelphia. There, Offset got down on one knee, taking the "Bodak Yellow" rapper by surprise with an 8-carat diamond ring.
The record-breaking rapper excitedly talked about the engagement. "I did say yes! I couldn't believe it," she told Us Weekly. She added, "I froze and all I could do was look at that motherf*cking ring, like really looking at that huge rock speechless."
But the couple has been in the news over the past several months due to cheating rumors. It's unclear how much the claims are affecting their relationship. So what exactly is happening? We decided to try to figure it out. Here are seven things we know about the Cardi B and Offset cheating claims, including what everyone is saying about the subject of one of her singles (No. 8).
1. The rumors started with Offset's reportedly hacked video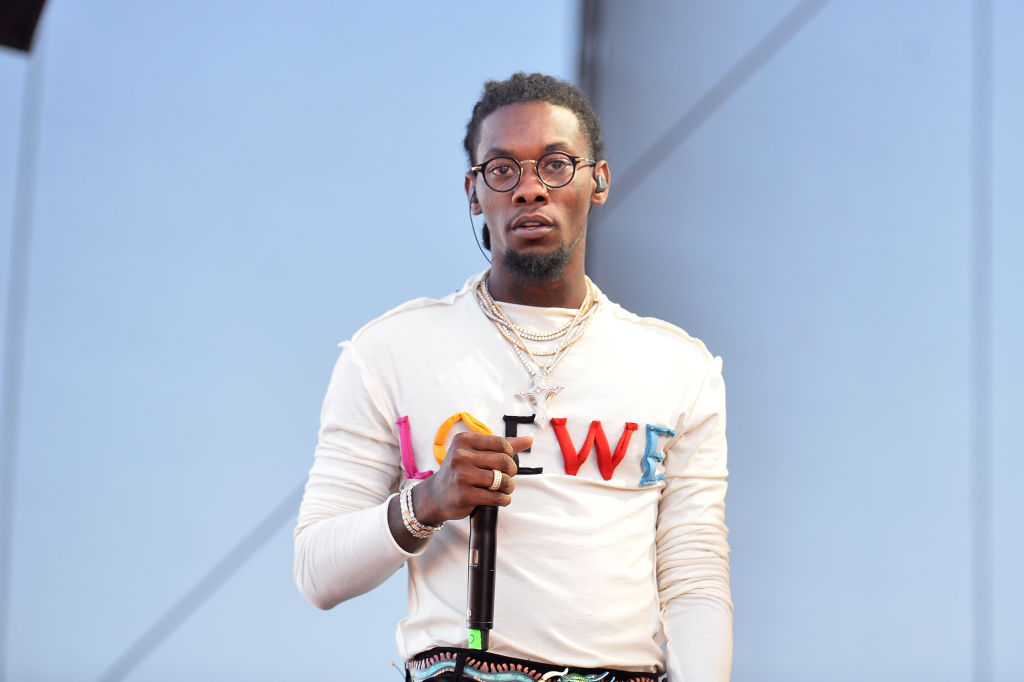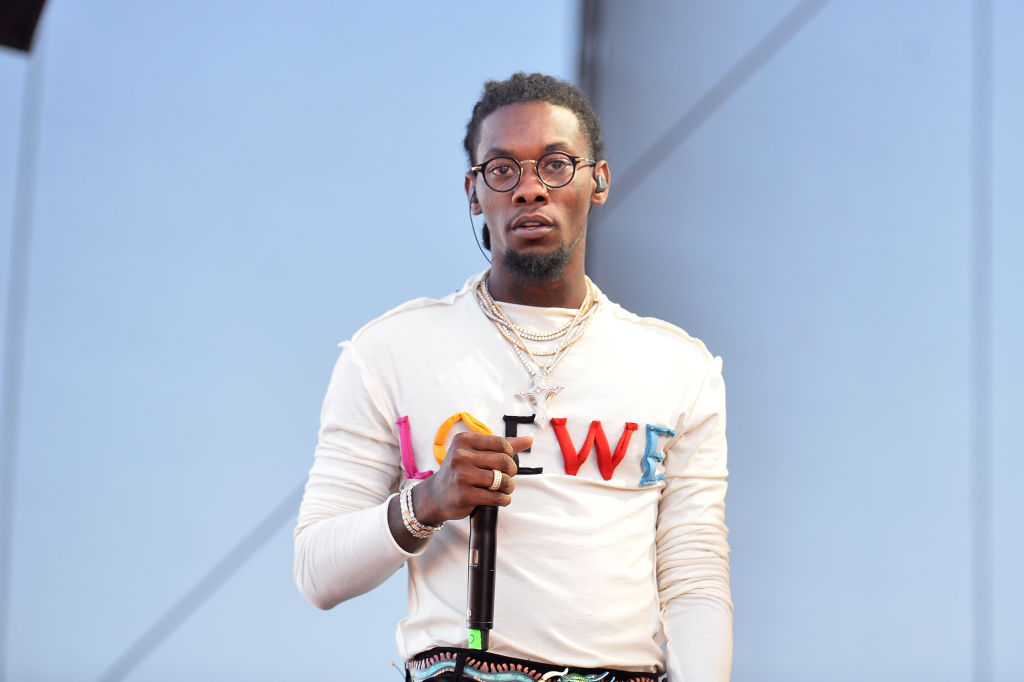 Offset is being accused of cheating on Cardi B. | Bryan Steffy/Getty Images
Offset was reportedly hacked on Dec. 25, 2017, and a nude photo of Cardi B was released along with a clip of her dancing naked. There was also an alleged sex tape, which involved another woman. This is what led to rumors that the rapper is cheating on his fiancée.
Cardi B responded to the hacked nudes on Twitter. "People keep posting the nude videos of me like if i wasn't a stripper before








You know there's videos of me stripping with my titties & a** out on YouTube already right


?anyways i know i know i got a nice body right


"
It also didn't help that a woman also started another rumor on social media.
2. The couple parodied the rumored explicit videos
While everyone was talking about the rumored sex tape, Cardi B and Offset decided to get in on the fun by simulating sex on Instagram live. In the video, Offset pretends to be having sex with Cardi B from behind as she says, "I don't got no more in me left. You gotta give a whole hour … "
A rep for the couple later clarified to TMZ the video is a joke, given the two are fully clothed in the video.
3. Cardi B also later said the Instagram live video was a joke
Apparently, some people weren't sure what was happening with Cardi B and Offset on Instagram because she later tweeted about it.
"If anybody watch the live from last night they can see from beginning to end that i was talking then this guy came behind me and started fake dry humping me. Jesus Christ we Both had pants on !!" she wrote.
4. A woman claimed she was pregnant with Offset's baby on Instagram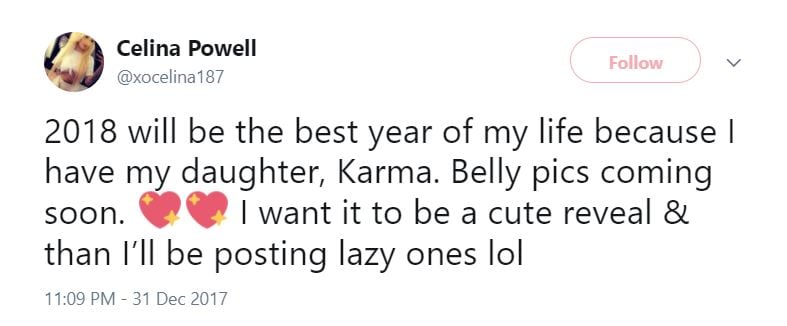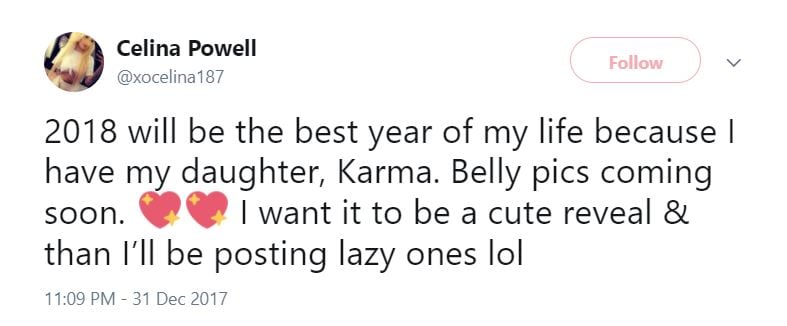 Celina Powell has continued to tweet that Offset is the father of her unborn daughter, Karma. | Celina Powell via Twitter
A woman named Celina Powell further fueled cheating rumors when she posted a photo of a sonogram on Instagram, according to Complex. She wrote in the caption, "I'm not sure what the future holds but I hope @offsetyrn & I work this out for the sake of Karma Lee Cephus."
But there are multiple reasons why people are doubting this rumor.
5. Powell reportedly never met Offset before
A big reason why this rumor probably isn't true is that sources are claiming the rapper never met the woman. Also, she has claimed to be pregnant with Chief Keef and Fetty Wap's baby in the past.
Powell acknowledges this by writing, "I know y'all like 'this b*tch done faked hella pregnancies" in her post.
6. Cardi B reportedly told a crowd she would leave Offset if he did it again
Although it seems like the two will be moving forward with their relationship, Cardi B has made it clear that she is still willing to walk away.
According to Complex, she told the audience "I let a n*gga know though. You do that sh*t again, you gon' lose your wife" at the Holiday Hip Hop Festival on Dec. 28.
7. Cardi B has been seen without her engagement ring
Cardi B has shared numerous social media posts in which she isn't wearing her engagement ring. | Cardi B Official IG via Instagram
The two seemed to be trying to work things out, but this might be a sign of the beginning of the end. Cardi B was seen without her engagement ring while hosting a party on New Year's Eve, according to Page Six.
However, there has yet to be a confirmation that the two have split.
8. Is this track about Offset cheating?
In April 2018, Cardi B dropped her new album, Invasion of Privacy. One single off the album is "Be Careful," and the song talks about a woman who wants to get married but is warning her beau not to cheat on her again.
Sound familiar? Despite the similarities, the rapper says the lyrics were written before she and Offset got together. So things appear to be OK between the two — for now.
Follow Nicole Weaver on Twitter @nikkibernice.
Check out The Cheat Sheet on Facebook!
Source: Read Full Article