As you likely know by now, Beyoncé and Jay-Z released their long-teased joint album Everything Is Love on Saturday, at first exclusive to Tidal but now available on Spotify Premium and Apple Music. The album is only nine songs long (plus the non-album single "Salud!"), but it's absolutely full of references to their life, their relationship, and their various run-ins with Kanye West, Drake, and the Securities and Exchange Commission. Here, an exhaustive list of the many Bey and Jay–related people, places, and things referenced on Everything Is Love.
"Apeshit"
1. Beyoncé: "Bought him a jet / Shut down Colette / Philippe Patek." Back in 2012, rumors circulated that Beyoncé purchased Jay a $40 million jet as a Father's Day gift. Apparently, this was true. What a life! These other lines are also about their extremely luxe lifestyle, with Colette referring to the now-closed French boutique where they have been seen shopping and Philippe Patek referring to the Swiss watch brand (actually called Patek Philippe, but Beyoncé needed it to rhyme).
2. Jay-Z: "I said no to the Super Bowl / You need me, I don't need you." Last year, Jay-Z reportedly turned down an offer to perform at the 2018 Super Bowl (Justin Timberlake ended up doing the show instead). At the time, there was speculation that he refused as a show of solidarity with Colin Kaepernick, who was then protesting police brutality by taking a knee during the national anthem. During his fall appearance on Saturday Night Live, Jay wore a jersey with Colin's name on it, and while performing at the Meadows Festival, he dedicated a performance of "The Story of O.J." to Colin.
3. Jay-Z: "Tell the Grammys fuck that 0 for 8 shit." This year's Grammys notoriously failed to award trophies to rap artists in the general categories, but Jay-Z, who lost in all eight of his nominated categories, was hit the worst. He lost Song of the Year, Record of the Year, and Album of the Year — three of the so-called Big Four — to Bruno Mars, and lost all four rap categories and Best Music Video to Kendrick Lamar.
"Boss"
4. Jay-Z: "N***as rather work for the man than to work with me / Just so they can pretend they on my level, that shit is irking to me." This entire verse is a dig at someone, though the identity of Jay-Z's target is subject to interpretation. One popular theory is that it's about Drake, who backed out of Tidal to make a deal with Apple Music, then compared himself to Jay-Z on "Summer Sixteen" ("I used to wanna be on Roc-A-Fella then I turned into Jay). Then again, Kanye also left Tidal last year, though it's harder to say who "the man" would be in that scenario.
"Nice"
5. Jay-Z: "Fuck your subpoenas and your misdemeanors / Was too busy touring out all your arenas." In May, a federal judge ordered Jay-Z to explain why he was ignoring a subpoena to testify in an SEC case regarding the company that now owns Rocawear, the clothing label he co-founded with Damon Dash. Jay-Z's lawyer said in a court filing that asking Jay to appear was nothing but a "celebrity hunt."
6. Beyoncé: "If I gave two fucks, two fucks, about streaming numbers / Would have put Lemonade up on Spotify." This Beyoncé line is pretty self-explanatory, because, well Lemonade still isn't on Spotify.
7. Beyoncé: "I ain't never seen a ceiling in my whole life / That's word to Blue." On Jay-Z's last album 4:44, then-five-year-old Blue Ivy did a super-impressive rap on the song "Blue's Freestyle/We Family" that included the line, "Never seen a ceiling in my whole life."
"713"
8. Jay-Z: "We played it cool at the pool of Cancun, VMA." If you're curious about the beginnings of Jay-Z and Beyoncé's relationship, then this song is for you. Accounts vary as to when they actually met, but in 2000, they were both definitely present at MTV Spring Break filmed in Cancun. Jay-Z goes on to say that they sat next to each other on the plane ride home.
9. Jay-Z: "The next time we would speak was like two years away / You had a man, you shut it down until you two had a break." Assuming they "met" in 2000, this checks out, because in fall 2002 they made "03 Bonnie and Clyde" together and appeared on TRL, during which Beyoncé claimed that they'd met "a long time ago." The other man Jay-Z refers to is Lyndall Locke, Beyoncé's high-school sweetheart; she was still dating Lyndall while she was in Destiny's Child.
10. Jay-Z: "You came back, I let you set the date, Nobu on the plate / I brought my dude to play it cool, my first foolish mistake." Apparently Jay-Z brought a friend as moral support on his first date with Beyoncé, which is hilarious.
"Friends"
11. Jay-Z: "Bought Emory a BM as soon as he came home." Emory "Vegas" Jones is one of Jay-Z's closest friends. He served 10 years in prison for drug-related charges; Jay-Z helped get him released six years early by writing a letter to the judge and offering Emory employment at Rocawear.
12. Jay-Z: "Ty mama died, I was there, my nephew died, he was there / He in my house more than I be there, more than B there." Tyran "Ty-Ty" Smith is Jay-Z's frequently mentioned best friend; he's also rapped about him on "Empire State of Mind," "Dead Presidents II," and many more.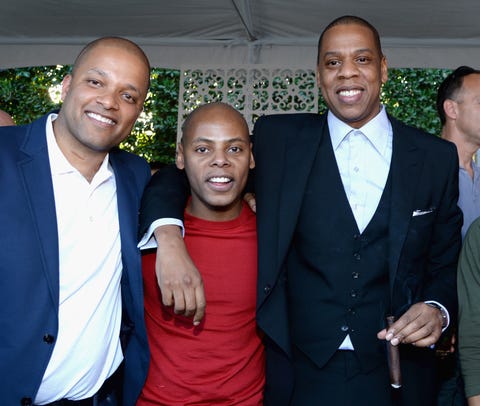 13. Jay-Z: "Ty-Ty there, E there, Breezy there, Juan there / High there, Chaka there, Law there, they all here, ah yeah / Dez there, Kawanna here, shit feel like nirvana here." You know Ty-Ty is Ty-Ty and E is Emory, but here's a quick rundown of the rest:
14. Jay-Z: "I ain't goin' to nobody nothin' when me and my wife beefin' / I don't care if the house on fire, I'm dyin' n***a, I ain't leavin'." This is a possible reference to the fact that Beyoncé and Jay-Z skipped Kanye's 2014 wedding to Kim Kardashian. During an interview with Charlamagne Tha God earlier this year, Kanye admitted that he was "hurt" Jay did not attend. "I understand they were going through some things, but if it's family, you're not going to miss a wedding," he said.
"Heard About Us"
15. Jay-Z: "Billie Jean in his prime / For the thousandth time the kid ain't mine." Jay-Z has long been plagued by rumors about his alleged "secret" child Rymir Satterthwaite, who has unsuccessfully tried for some time to get Jay to take a DNA test to prove his paternity.
"Black Effect"
16. Jay-Z: "Since the Kalief doc, they've been at my neck / Y'all can tell 'em Trayvon is comin' next." "Black Effect" is full of references to black and African-American culture and history; this line in particular nods to Time: The Kalief Browder Story, the 2017 documentary that Jay-Z executive-produced. Browder committed suicide in 2015 after spending three years in prison without being convicted of a crime. In July, Paramount Network will air Rest in Power: The Trayvon Martin Story, a six-part series also produced by Jay-Z. Martin, an unarmed Florida teenager, was shot in 2012 by George Zimmerman, who was acquitted of murder and manslaughter.
"Lovehappy"
17. Jay-Z: "Y'all could make up with a bag, I had to change the weather / Move the whole family west, but it's whatever." Bey and Jay decided to move from NYC to Los Angeles in 2015; Lemonade will tell you why.
18. Beyoncé: "You did some things to me / Boy, you do some things to me / But love is deeper than your pain / And I believe you can change, baby." Again, Lemonade.
19. Beyoncé: "This beach ain't always been no paradise / But nightmares only last one night." Bey and Jay have both made repeated reference to the beach when discussing their relationship in song. There's "Beach is Better," from Jay-Z's 2013 album Magna Carta Holy Grail, the beach-set video for "Drunk in Love," and the Lemonade ballad "Sandcastles," the video for which features Jay-Z.
"Salud!"
20. Jay-Z: "House all glass, slide the doors you ain't gotta walk / And to top off it, got another one in Montauk / Trifecta down in Tribeca / Bonjour / French crib in the French Quarters." What better way to end this list than with a catalog of the Carters' homes? The "house all glass" is the one in L.A.'s Bel Air; it cost $120 million and has a literal wall of glass. In September they bought a $26 million home in East Hampton, New York, which is not technically Montauk but if your house costs $26 million then you can say it's whatever you town you want it to be in. The Tribeca one is a loft on NYC's Hudson Street, and the French crib refers to their New Orleans home (it's actually in the Garden District).
Follow Eliza on Twitter.
Source: Read Full Article