Country star Morgan Wallen found fame after nearly winning — but ultimately losing — "The Voice" in 2014. The Tennessee native didn't walk away with a cash prize or a trophy but he did land a record deal and legions of fans. His second studio album spent a whopping ten weeks at the top of the country music charts, per Variety. For a while, it seems like Wallen was on the fast track to his own room in the country music hall of fame, but fame, as they say, is a fickle friend.
As Wallen's music topped the charts, his public image crumbled. Things got off to a rocky start in October 2020 when Wallen was set to perform on SNL but was publicly uninvited after photos and videos of the up-and-comer partying inside in a crowded Nashville bar went viral. Keep in mind that this was at the peak of the coronavirus pandemic and Wallen was most definitely not respecting social distancing standards. He apologized, but things got worse from there.
A series of scandals followed but there's one that stands out above all rest. Read on to find out which one that would be. 
Morgan Wallen got in serious trouble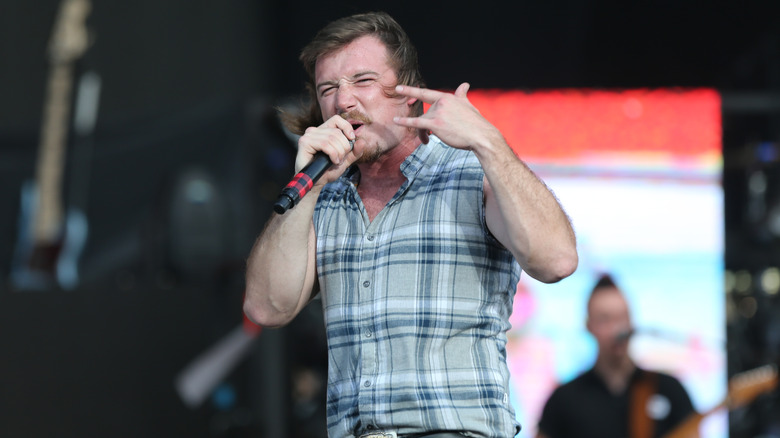 After laying low for a bit in the hopes that everyone would forget the fallout of his "Saturday Night Live" scandal, Morgan Wallen made news yet again in February. And shocker; the news was not good.  After another raucous night out in Nashville (seeing a pattern here?) the troubled country music star was caught on video spewing a series of racial slurs. TMZ obtained a video of Wallen walking across his lawn with a group of friends. Wallen can be heard saying multiple unsavory things that we're not going to repeat here. But they were awful. Kapish? 
The fallout from the video was enormous. Wallen's music was pulled from radio stations across the country and indefinitely suspended by his record label, per NBC. Wallen issued an apology claiming he takes the consequences of his actions seriously and that he planned to step away from the business for a bit to work on himself, per Esquire.
So, did Wallen turn his life around? According to recent reports, maybe.
Wallen wants another chance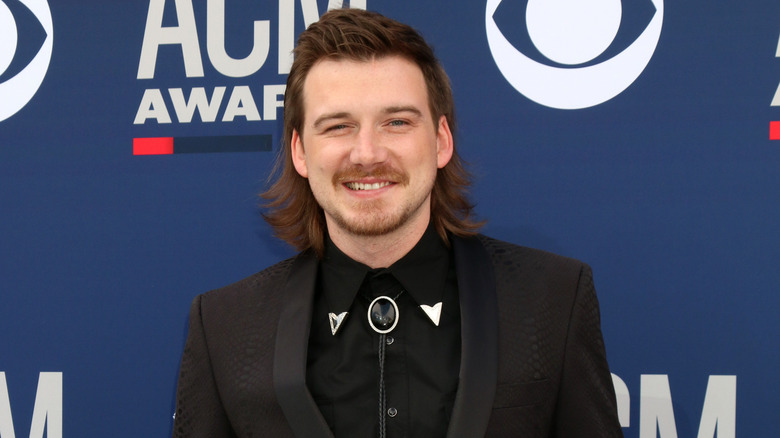 Following a whirlwind of a year, with high highs (like a No. 1 record) and low-lows (losing his agent, label, and public support, per Esquire), Morgan Wallen is trying to get his life back on track. Nearly six months later, Wallen embarked on a PR tour to revamp his badly damaged reputation, per The Hollywood Reporter.
During a "Good Morning America" appearance, Wallen claimed that he entered rehab after the TMZ video of him using racial slurs went viral. "I spent some time out in San Diego, California — you know, just trying to figure it out," he said. Wallen added that the video raised important questions for him like, "Do I have an alcohol problem? Do I have a deeper issue?"
In addition to addressing his drinking issues, Wallen told the host that he had spent time reflecting on his actions and learning from important voices in the industry including Gospel singer BeBe Winans and the Black Music Action Coalition. "I've heard some stories in the initial conversations that I had after that, just how some people are treated even still today," he explained. "And I'm just, like, I haven't seen that with my eyes, that pain or that insignificant feeling or whatever it is that it makes you feel." Ultimately, Wallen is ready to move on. "I'm not ever gonna make, you know, everyone happy," he said in conclusion. "I can only come tell my truth, and — and that's all I know to do."
If you or a loved one has experienced a hate crime, contact the VictimConnect Hotline by phone at 1-855-4-VICTIM or by chat for more information or assistance in locating services to help. If you or a loved one are in immediate danger, call 9-1-1.
Source: Read Full Article