Gal Gadot can dish it out, as she took some humorous jabs at Ryan Reynolds on Twitter.
Last summer, Deadpool star Ryan Reynolds posted a congratulatory tribute to Wonder Woman star Gal Gadot along with a bit of punchy phrasing. "The Merc May Be Filthier, but Her B.O. is Stronger," Reynolds wrote. "Congrats #WonderWoman #BossOfficeBoss." The photo was of Deadpool's hands making a heart around the Wonder Woman logo just to let Gadot know that he was joking and sincerely wished her the best even though her movie beat his at the box office tally.
Now, it seems that Gadot has some of that same sarcastic spirit in her! After noticing the trailer for Deadpool 2, she tweeted a photo of Reynolds as Deadpool posing with his arms crossed over his chest with the caption, "Dude stole my look!" referring to her classic Wonder Woman pose in which she crosses her arms in order to activate the wondrous powers of her arm bracelets.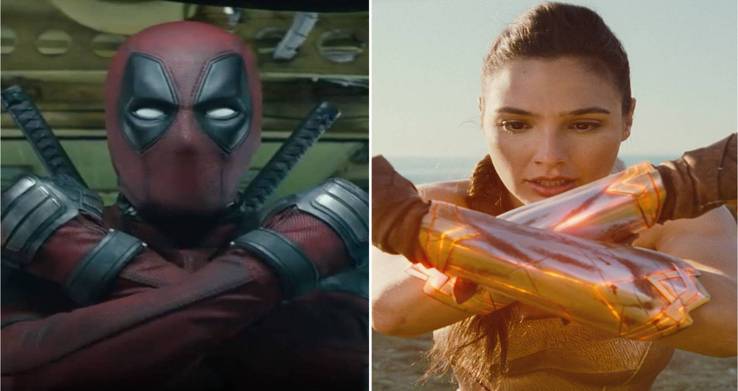 Reynolds didn't miss a beat and tweeted back the clever comment, "Imitation is the sincerest form of larceny" admitting that his character stole her look. Reynolds isn't the first superhero actor that Gadot has gotten feisty with.
Last summer, Katie Couric shared a video clip Twitter with the caption, "Hey @chrishemsworth — @GalGadot has something to ask you…" The clip shows Gadot smirking before asking,"They ask me, who would win? Wonder Woman or Thor? And I think it's Wonder Woman. Don't you, Chris?"
"I think she'd kick Thor's a**," Hemsworth tweeted back.
"I always knew you were a smart guy. But I think its worth a fight," Gadot tweeted. "We should collide worlds."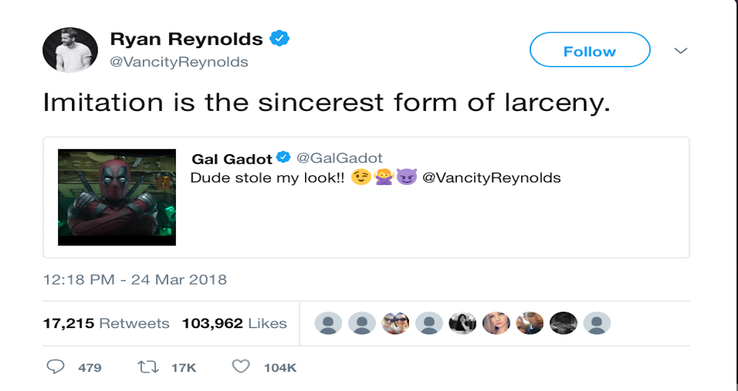 Which superhero actor's reply do you think won the battle of the tweets? As the superhero movie trend is still in full swing and shows no signs of slowing anytime soon, we can't wait to see who Gadot strikes at next.
Source: Read Full Article