Country star Carrie Underwood's "Stretchy Pants" came out as a holiday song, but it's become a relatable, year-round anthem for many fans. Here's who actually wrote the popular song and what Underwood has to say about her funny holiday tune.
Who wrote Carrie Underwood's 'Stretchy Pants'
Underwood did write the catchy holiday song, but she wasn't alone. she co-wrote "Stretchy Pants" with Hillary Lindsey and Chris DeStefano. The song came out Nov. 2021, just in time for the holiday season.
Underwood wrote "Stretchy Pants" during a songwriting session where she and her co-writers were penning more serious holiday songs. She said, all of a sudden, they found themselves on a "fun detour and just had the best time writing this song."
As reported by CMT News, a portion of the streaming and download proceeds went to The Store, a Nashville-based organization that provides free shopping for families in need. The store was co-founded by Brad Paisley and Kimberly Williams-Paisley.
"We knew it would bring a lot of fun and joy to people, but I also wanted to do something good with it that would help people," said Underwood. "I immediately thought about Brad and Kim's charity, The Store, and how we could use this song to help them and their mission to bring joy to folks that need it, especially during the holiday season. Everybody should be able to afford feasts for the holidays, and everybody should have the opportunity to break out those stretchy pants!"
Carrie Underwood's 'Stretchy Pants' lyrics and music video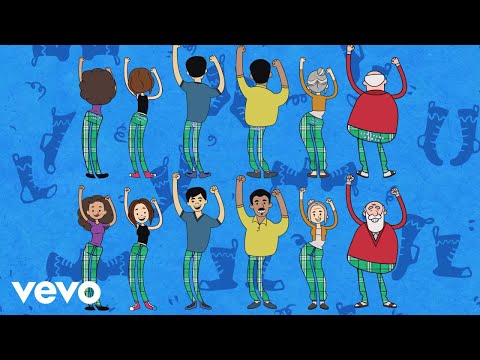 "Stretchy Pants" is a song about the best way to eat a big holiday meal: in pants that expand.
"So bring on the turkey, potatoes, casserole dishes/ 'Cause I ain't messing around with them buttoned up britches/ You got them skinny jeans on, girl, I feel sorry for you/ 'Cause I just tried everything, and I'm going back for round two."
But it's the chorus that fans really find catchy:
"I got my stretchy pants on (stretchy pants)/ I got my stretchy pants on (stretchy, stretchy)/ Spandex and Lycra, you better work it for me/ 'Cause I'm about to expand this band of elasticity/ I got my stretchy pants on (stretchy pants)/ I got my stretchy pants on (stretchy, stretchy)."
Go ahead and try to read those lyrics without singing the tune in your head.
The music video is a fun, colorful, animated short that shows the singer as a brunette in brightly colored plaid stretchy pants. By the end of the video, all of the little animated figures are comfy and full in their own brightly colored plaid stretchy pants.
"People know that I am a champion for a healthy lifestyle, but a big part of that is balance," Underwood said in a statement about the song. "There are times to be disciplined, and then there are times when we need to eat and drink and be merry and enjoy ourselves with family and friends."
Fans love 'Stretchy Pants'
Underwood fans love them some "Stretchy Pants."
"The song is hilarious but just embodies quarantine, and the holidays," commented one fan on YouTube. "Never a dull song with Carrie Underwood."
The song even lifted some people's spirits who were in tough situations this past holiday season:
"My daughter played this song for me last night as we were on our way home from the doctor's office," wrote a fan. "He had just given me the news that my eye was bleeding again and did lazer surgery… which was not pleasant. Oh my goodness!!! That song snapped me right out of my depression!!! Leaving now to go buy me some Stretchy [pants emoji]."
The comments under the video are unanimous: "This is HILARIOUS!"
It was such a hit, in fact, some fans are hoping there are more comedic songs in Underwood's future.
"Carrie should do a WHOLE album of comedy themed songs!!" wrote one fan. "She's FUNNY and It'd be AWESOME!"
Source: Read Full Article