MUSIC
Regina Spektor
★★★★
Hamer Hall, Melbourne, July 8
"Hey you guys," Regina Spektor whispered to her sellout Hamer Hall audience, "I'm really f—ed up".
If she was high – and she certainly suggested she was, several times – it only made the Soviet Union-born indie songstress's performance even more remarkable, for musically it was flawless.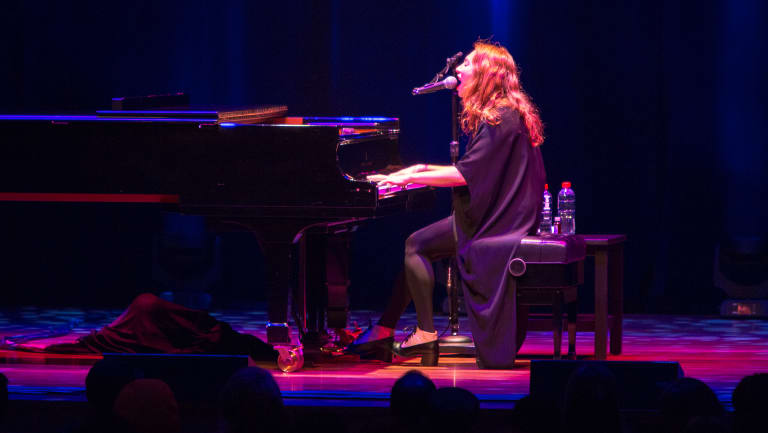 Regina Spektor at Hamer Hall, July 8
It was not clear if she was joking about being high. She forgot her set-list, which was eventually delivered to her ("It looks like somebody threw letters together," she said). She bugged out over her blue guitar, which "looks amazing tonight". The walls and floor were moving for her, "but it's OK – you get used to it".
She even apologised. "Thank you all for bearing with my surrealness tonight." Not that she needed to. The adoring crowd lapped it up and sung quietly along, while several couples in the audience aggressively made out.
Spektor, who is classically trained, has made a long career out of a sort of kitsch indie pop (although her style is sometimes termed "anti-folk") filled with scenes of simple joy and always undercut with a thread of Cold War paranoia.
"Enjoy your youth," she sung. "Sounds like a threat / but I will anyway".
Over a long career begun behind the piano in smoke-filled New York bars, she has released seven albums, several which charted strongly in Australia.
Spektor acknowledges an adoring crowd.
In some ways, Hamer returned her to those earlier days. She sat behind a piano and, unaccompanied, played a wide range of cuts from her discography. She took shouted requests from the crowd, and even wheeled out a bootleg performance that only existed because an early fan captured it live on a mobile phone and uploaded it to YouTube.
Above her, smoke roses bloomed and whithered in the stage's pale blue light.
Of course Hamer is not a New York speakeasy. The soaring, cathedral-like acoustics gave Spektor's voice full flight. As "f—ked up" as she was, she did not miss a single note. Several songs produced goosebumps.
In an intimate performance like this, you might hope for some conversation from the talent, some hidden insight into their processes or thoughts. Over the two-hour performance, Spektor did not offer this, and really did not chat that much at all between songs. The focus here was on the music, and in Hamer's superb space it was bliss to lean back, close ones eyes, and feel Spektor's vibrations.
Source: Read Full Article