It's hard to believe that Jennifer Aniston is 49. The original American sweetheart has decades of legacy behind her, and yet, she looks as fresh-faced now as she did back on Friends. Magazines send reps to this actress by the truckload, and it's always the same questions. How does Jennifer Aniston look so good? What's her secret? Can the rest of us look that good just by doing yoga and lathering on the Aveeno? Unlikely. Simon Cowell once said that charm is something he wishes he could "bottle and sell." 100% charming, 100% original, and still going strong, this actress is no ordinary Hollywood face.
We've seen Jen pull through the biggest marriage and divorce in Hollywood history. She weathered the Angelina Jolie press storms. She held her head high when people prodded her about her second divorce to Justin Theroux. Jen's street style is still one of the most searched-for looks on the internet. With everything she has been through, Jen continues to be cast as the A-lister that she is. Here are 20 things we will always remember her for.
19

"WE WERE ON A BREAK!" BECOMING AN ACTUAL PHRASE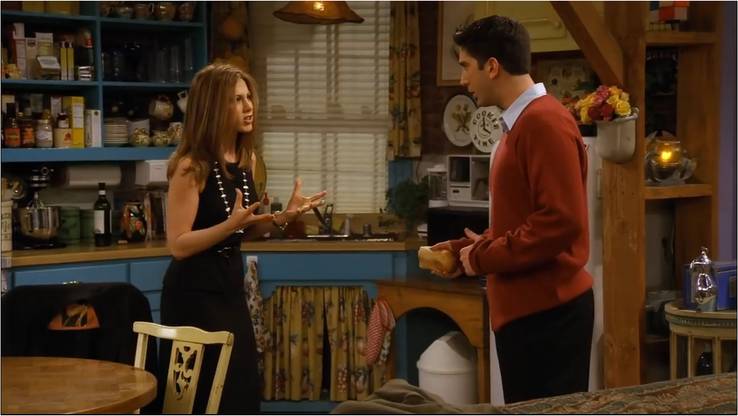 Name one TV show with a phrase as influential as: "WE WERE ON A BREAK!" Friends did a pretty good job of changing the way we speak in general. Chandler's whole "could I be more sarcastic" didn't just make us laugh. It made us change the way we pronounce our sentences. For the most part though, Chandler (played by Matthew Perry) spent most of his time watching these two either loved-up or at each others' throats. Jennifer Aniston's Rachel Green and David Schwimmer's Ross Geller were TV's golden couple for ten years. Well, except for the times that they were "ON A BREAK!"
18

HOLLYWOOD'S BIGGEST MARRIAGE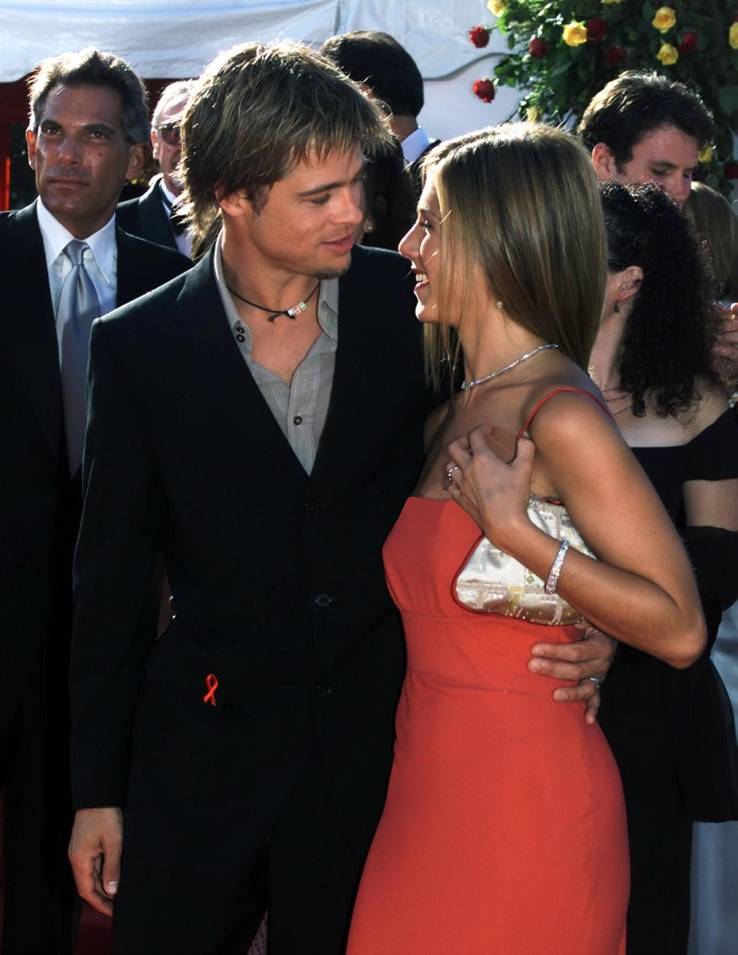 Take it from someone who remembers Brad Pitt and Jennifer Aniston mania at its peak. Fan crowds these days might be a huge deal, but they were just as big back in the 2000s. Long before Kim Kardashian and Kanye West had taken on the status of "Hollywood's power couple," these two were carrying the crown. Brad and Jen went on their first date in 1998. In 2000, they tied the knot in a lavish, $1 million zen wedding. The whole of America was rooting for these two. They graced red carpets as the best-looking couple in the industry, and we won't forget it.
HOLLYWOOD'S BIGGEST DIVORCE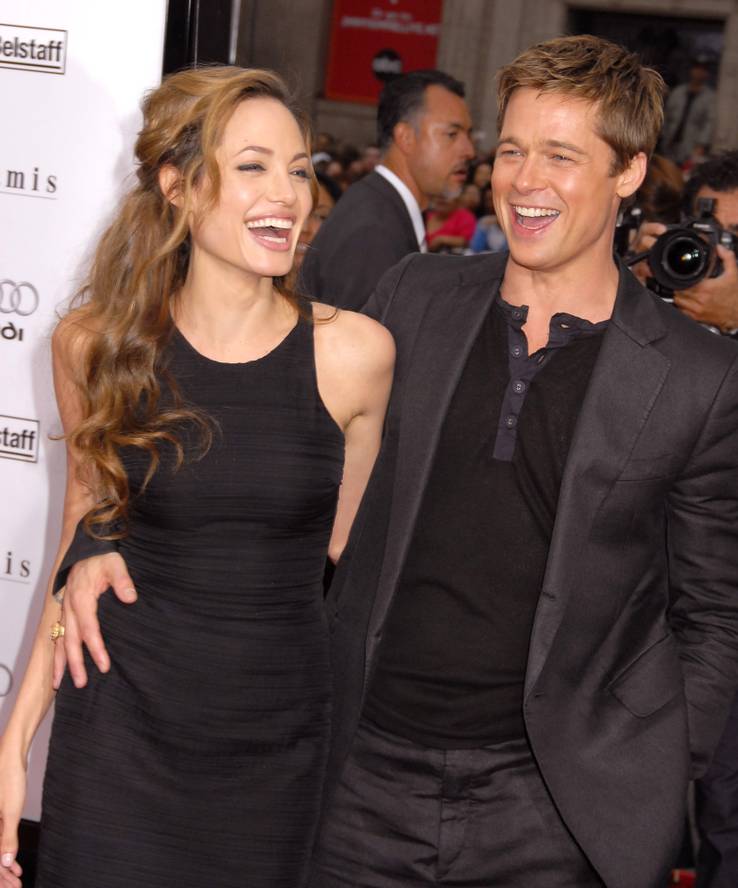 In 2005, the world fell into shock. Brad Pitt and Jennifer Aniston announced their divorce, following just under five years of marriage. The news didn't just sadden people. It broke their hearts. These two represented everything that was right about a Hollywood marriage: genuine love, million-dollar smiles, and two of the most adored people in celeb land. According to Marie Claire's timeline, rumors of Brad Pitt's involvement with Angelina Jolie began in 2004. Both were filming Mr. & Mrs. Smith, which Angelina has since confirmed is when "they fell in love." Brad and Angie have since divorced.
Brad and Jen divorced in 2005 after Brad fell for Angelina Jolie. It was the biggest divorce of the era.
17

THE "RACHEL" HAIRCUT THAT INSPIRED A GENERATION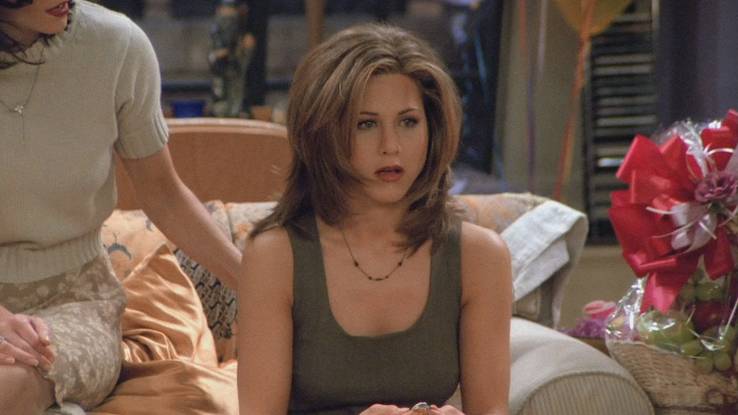 Rachel Green's 90's fashion is so on-trend right now, it's almost like Kendall Jenner and Bella Hadid are turning to Rachel for fashion inspiration. While Jen's character was an undeniable fashionista, Rachel did inspire one thing above all– hair. From the minute Rachel's choppy, layered locks hit our screens in 1994, "The Rachel Cut" became one of the most-requested looks. Stylists in salons across the world were hearing those words over and over, and now it's back all over again. Jen has actually admitted that she "hated" the "Rachel hair". According to The Metro, Jen didn't think that she "looked very good with it."
16

STARRING IN A ZILLION ROM-COMS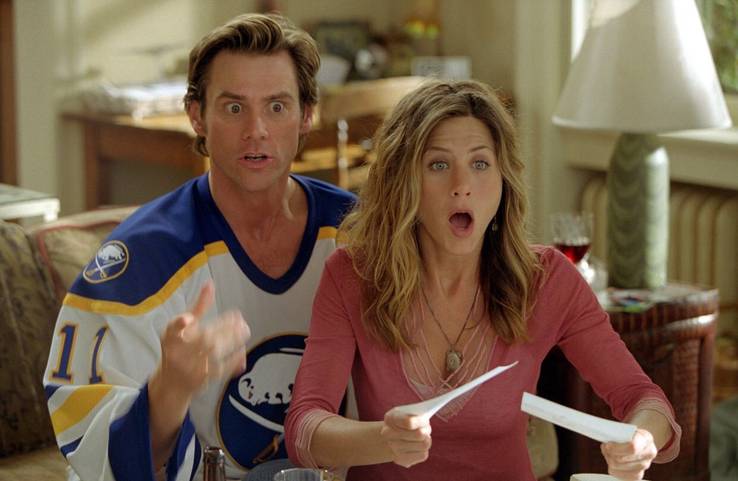 Some Hollywood actors will always be typecast (and we notice it). The mysterious, alluring stranger? Hi, Kristen Stewart. The confident jerk? Hello, Alec Baldwin. Tough-as-nails and never quite making it? Michelle Rodriguez can always be relied on. If anyone is the queen of rom-com, it's Jen. As her Friends fame grew, Jen started starring in rom-coms like Along Came Polly and Marley & Me. Jen told Cosmopolitan that it was "hard" to be cast in serious roles. We've seen a few, but still: Horrible Bosses, The Break-Up, Rumor Has It, The Switch, Wanderlust, Love Happens, Bruce Almighty, and Just Go With It? #RomComQueen
15

THE PHYSIQUE THAT OTHER HOLLYWOOD STARS ENVY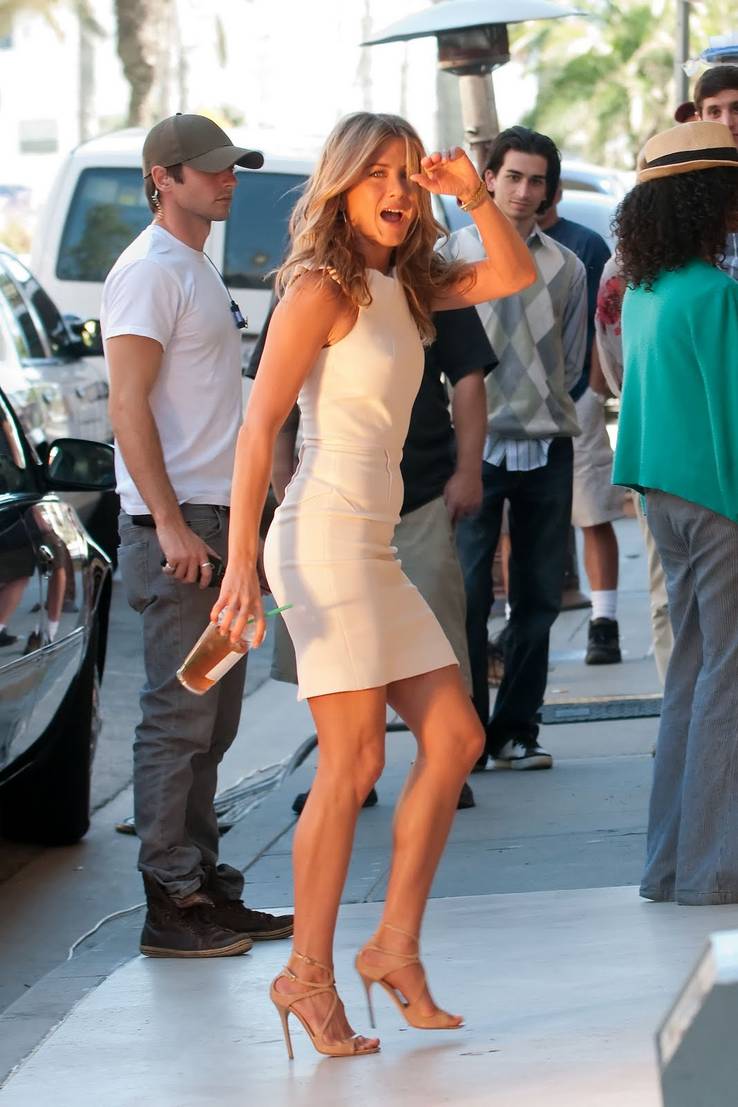 The pressure to look good in Hollywood is beyond immense. In an industry where looks are valued as much as talent, out-doing the competition is part of the job description. Being able to pull it off naturally? That's a real asset. The actor, Gerard Butler has famously said that Jennifer Aniston has "the best legs in Hollywood," and we can see why. As other celebs make headlines for all sorts of suspicious enhancements, Jen stays natural as they come. You won't see a headline suggesting that Jen altered her physique. What you will see, is a woman who takes her health and fitness seriously.
14

THE "UNLUCKY IN LOVE" REPUTATION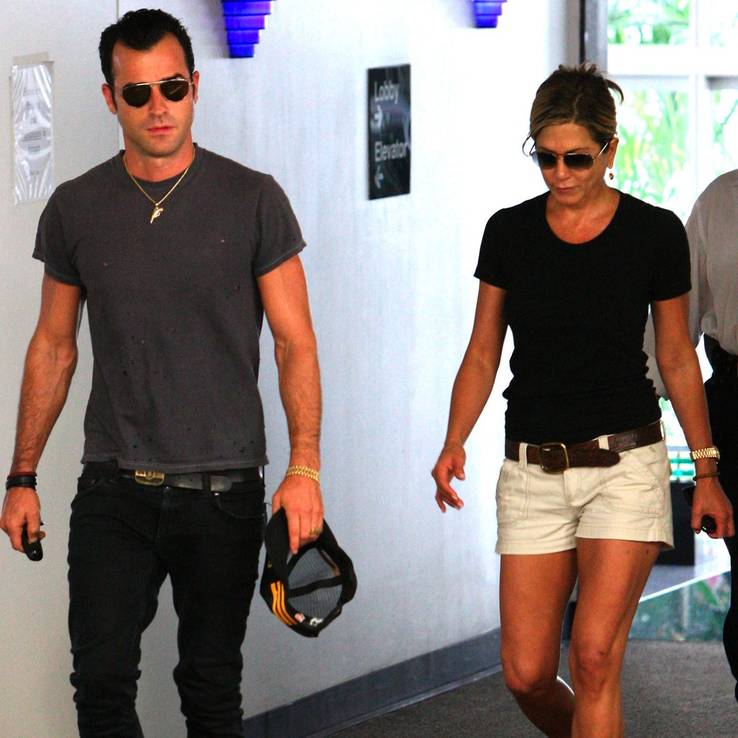 While many Hollywood celebs can get slapped with "it was your own fault," Jen doesn't come with that label. Tough as Jen is, you can't say that she's been lucky in love. At 49 years old, Jen remains single (and fabulous), although she's had a hard time. Following Jen's 2005 divorce from Brad Pitt, the actress dated a string of high-profile faces including Vince Vaughn and John Mayer. In 2015, Jen married the actor and screenwriter, Justin Theroux. They had the fancy, Bel Air wedding, but it didn't last. Their divorce was finalized in 2018, with sources telling Page Six that Justin was "really bored by [Aniston's] whole Hollywood crowd."
13

ALL THAT FITNESS INSPIRATION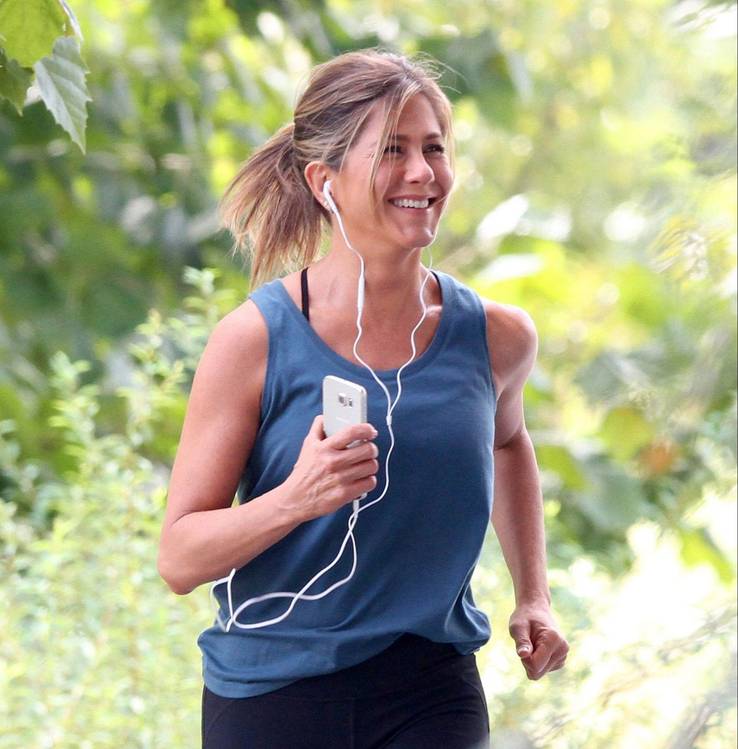 Jen was #FitnessGoals before the phrase "goals" even existed. Alongside their love lives and their wardrobes, how celebs keep in shape is easily one of the biggest headline-makers around. Some celebs workout behind the walls of their mansions. Others *cough, Kim K* make a big display of it on LA's beaches. For Jen, it was never about showing off. In a 2017 interview with Harper's Bazaar, Jen revealed that running and "throwing heavy boulders" are part of her fitness regimen. Even in this shot, Jen isn't wearing any makeup or posing for the cameras.
"I raise the incline… and I do it for 20 minutes straight until I'm just drenched."
Featured Today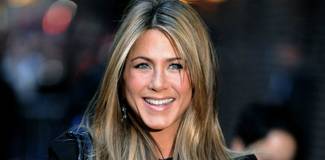 20 Things Jennifer Aniston Has Done So Far In 2018 (And Fans Are Watching)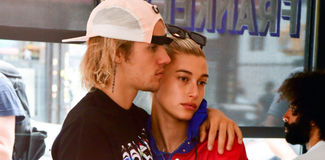 20 Things We Know So Far About Justin And Hailey's Engagement

20 Parenting Tips Kourtney Uses To Raise Her Kids That The Other Kardashians Should Follow

12

ALL THOSE MEXICO VACATIONS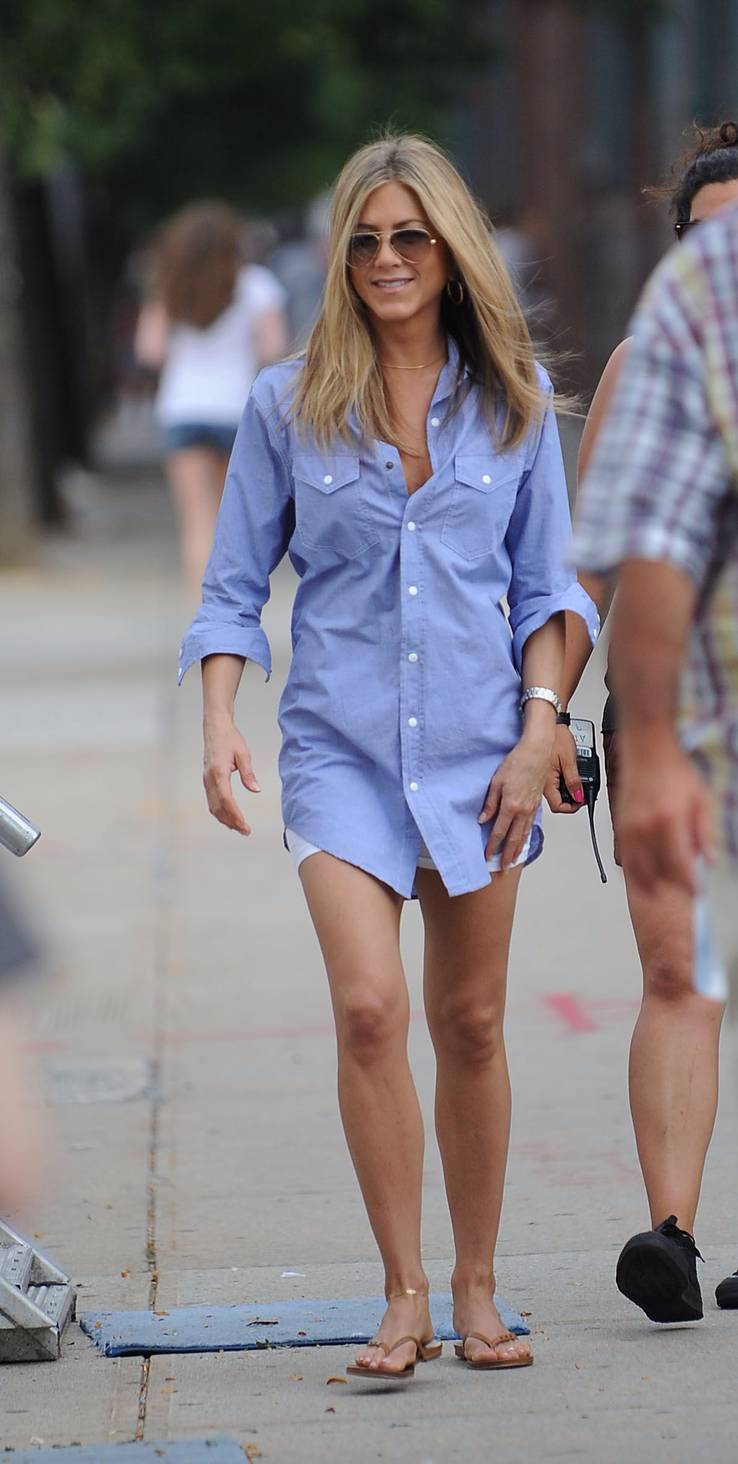 Celebrities and Mexico – where to start? For some reason, despite living in the gorgeous Los Angeles climate, having an ocean view Bel Air or Hidden Hills mansion just isn't enough. Jen was always one of the least-pretentious celebs. Nevertheless, this girl does love her Mexican getaways. From the possibly absurd "second wedding in Mexico" rumors by Inquisitr suggesting that Brad and Jen will re-marry in Mexico to her actual vacations, Jennifer Aniston and Mexico definitely go together. Jen frequently vacations in the luxury resort of Cabo, where she has been seen alone, with her ex-husband Justin, and her close-knit circle of friends.
11

ALWAYS CARRYING A BOTTLE OF SMARTWATER
Talk about a long-lasting relationship. Jennifer Aniston has been the face of Smartwater for over 10 years now. Jen started her endorsement of the popular water brand in 2007. In 2011, Jen released a Youtube video titled: "Jennifer Aniston Goes Viral" as part of her contract with the drinks giant. In case you're wondering about Jen's endorsement power, the video tripled the online interest for the product within the first 24 hours of its release. We've also seen Jen rock a fake triplets pregnancy bump in Smartwater ads. Ultimately though, it's about showing the brand in her day-to-day life. Jen in the street means Jen with Smartwater.
10

THOSE SELENA GOMEZ HEADLINES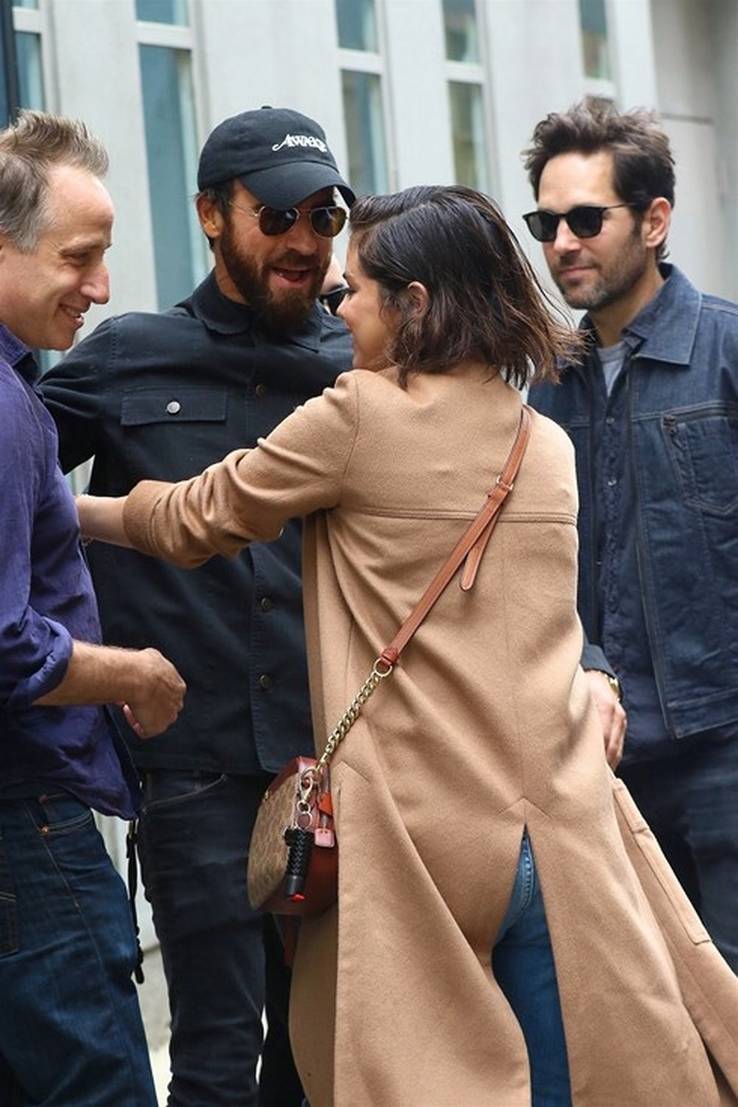 Here's a weird one. What is a 20-something celebrity doing sharing a gossip headline with a 49-year-old? In 2018, Selena Gomez found herself in a series of questionable headlines surrounding her love life and Jen's ex-husband, Justin Theroux. "Has Jennifer Aniston 'Confronted' Selena Gomez Over Justin Theroux Friendship?" was the headline from The Evening Standard. According to the British newspaper, rumors of Justin and Selena getting close had sparked fury from Jen. Justin and Selena had reportedly been hanging out in LA. Neither Selena nor Justin have confirmed the reports. Justin is 21 years older than Selena. Definitely unlikely, although we've seen stranger things.
9

THEN AGAIN, JEN IS SELENA'S "IDOL"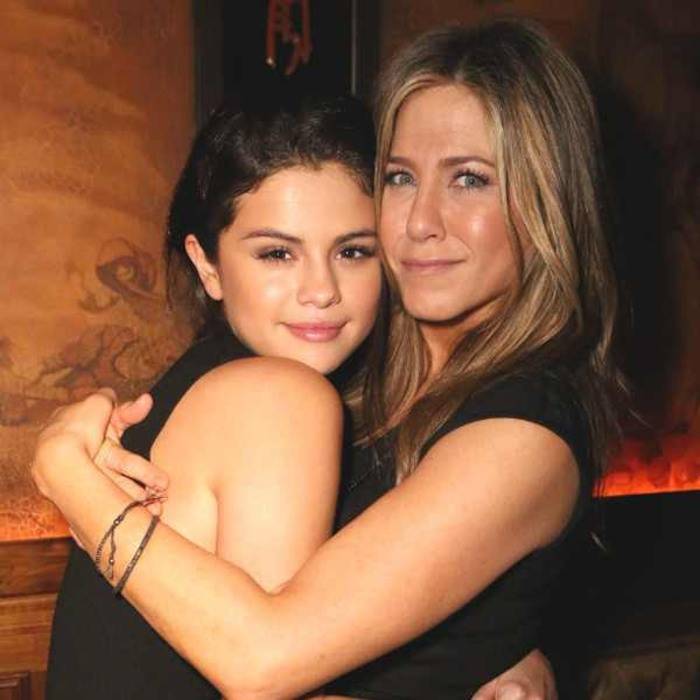 Having the most-followed person on Instagram look up to you is a giant deal. Jen and Selena Gomez go way back – they met via their talent management teams. Speaking to E! some years back, Selena could only gush about Jen. "The whole reason I started my show and mannerisms, they were after Jennifer Aniston, " she said. Selena has also confirmed that the two have shared home-cooked pizzas from Jen's pizza oven. Plus, they look so cute.
"I was shaking! I ran into Jennifer in the bathroom and she goes, 'Hi!' My legs started to shake and I ran," Selena Gomez said about her worship of Jen.
8

BEING THE FUNNIEST WOMAN ON TV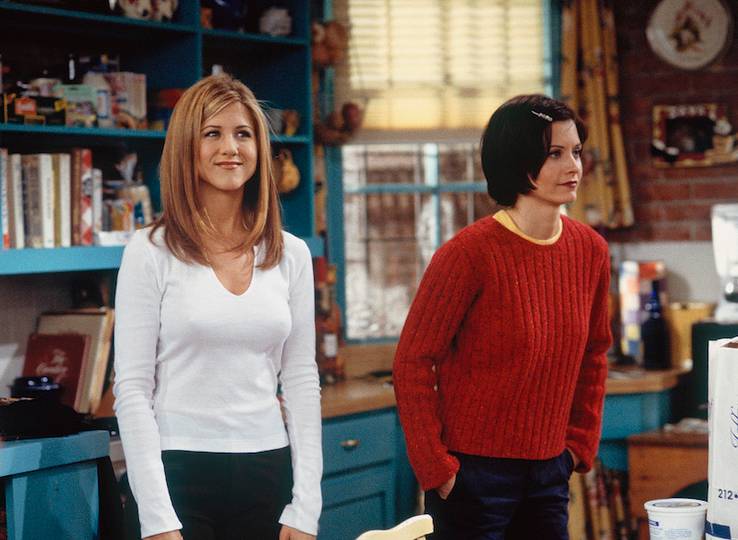 Move over, Penny Hofstadter. The Big Bang Theory may be throwing us 21-st century comedy like nobody's business, but TV fanatics largely agree that Friends remains the funniest show of all time. Yes, we're still laughing at Joey (played by Matt LeBlanc): "Hi, I'm Chandler. Could I be wearing any more clothes?" It just wouldn't have been as funny without Rachel, though. Remember? That Thanksgiving trifle? Rachel babyproofing the apartment? Then there are Rachel's endless hilarious quotes. "I'm not yelling at you! I'm yelling near you!" Even when it was a regular line, Rachel just delivered it with a #funny. "You fell ASLEEEEP?!"
7

BEING THE BEST-DRESSED WOMAN ON TV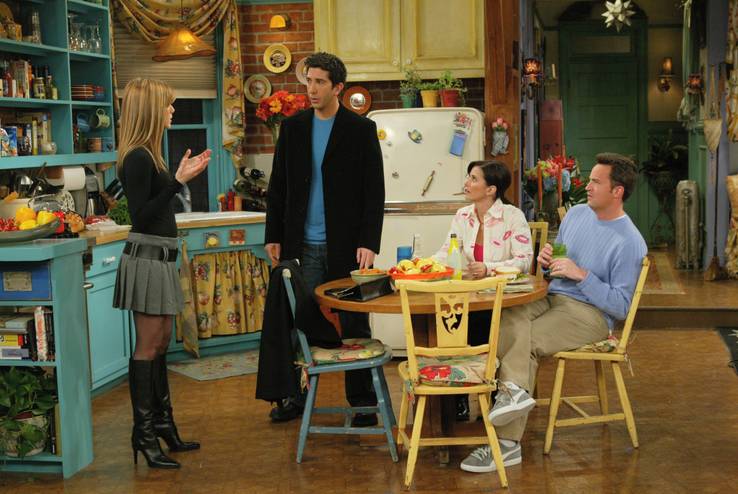 There aren't many TV shows that wrap up side-splittingly funny, heart-warming, and "calling all fashionistas." Friends definitely wasn't designed to be a fashion-centric show, but where Rachel Green goes, so does fashion. Entire magazine features are devoted to Rachel's style evolution. From her early days in dungarees and layered plaids through to her career at Ralph Lauren, Rachel was pretty much the best-dressed woman on TV. Ralph Lauren featured heavily in Rachel's wardrobe (kind of the perks of working there), but it was less about the labels. True style doesn't need a fancy designer monogram. The most we ever saw of Louis Vuitton on the show was Rachel's job offer.
6

HAVING ONE HECK OF A BACKBONE
"Jennifer Aniston Is Doing Just Fine." That was InStyle's August 2018 headline as the magazine ran its story on the legendary actress. Jennifer Aniston may as well be called The Little Engine That Could. Seriously. That's one, All-American fairytale with optimism and the value of hard work as its backbone. If anyone has a backbone in Hollywood, it's this lady. Jen has had to battle the press' invasion of her divorce from Brad Pitt and Justin Theroux, plus the pressure of being 49 years old and not having any kids. Jen is rock solid. She looks the press in the eye and says: "I'm not heartbroken."
5

$1 MILLION PER EPISODE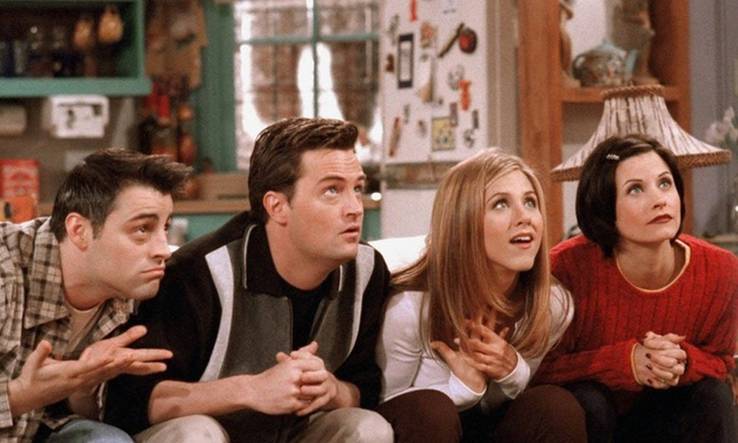 Everyone knows that Hollywood salaries are pretty insane. Jennifer Lawrence, Emma Stone, and Scarlett Johansson can all easily earn $20 million per movie. When it comes to TV, salaries are just as high. Kaley Cuoco and other BBT cast members recently lowered their $1 million-per-episode salaries to allow other cast members to take a raise.
The Friends cast earning $1 million per episode made TV history. That figure has still to be beaten.
Jen and her co-stars initially earned $75,000 per episode. That rose to $100,000 in Season 5. By Seasons 9 and 10, all six actors were earning $1 million per episode.
4

ACTUALLY TAKING ON SERIOUS ROLES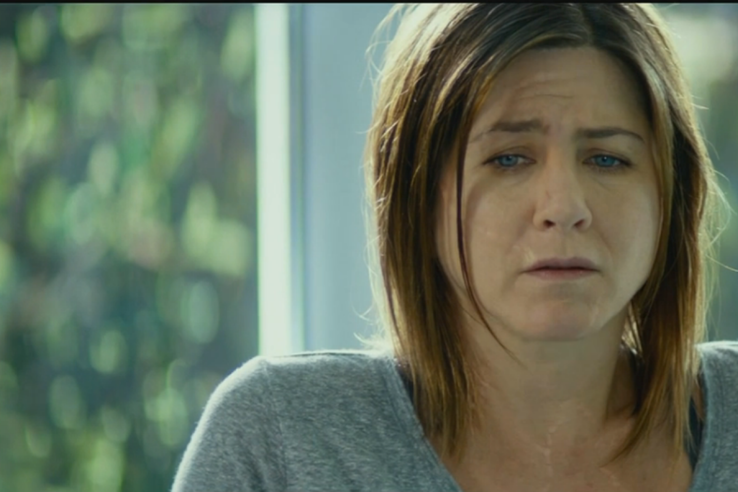 While movies like Bruce Almighty, The Break-Up, and Wanderlust make us associate Jen with comedy, don't forget that this lady can pull off a serious role. In 2014, Jen played a sufferer of chronic pain in the movie, Cake. From someone who has seen the movie, this was an intense, powerful performance that showed Jen's capabilities in ways that aren't often seen. Speaking to NPR, Jen said: "Talking to women, or men, who are suffering from chronic pain on a daily basis– it is so unimaginable. I mean, I was so grateful for my body at the end of the day." The Good Girl was another of Jen's non-comedic roles.
3

TOPPING STREET STYLE LISTS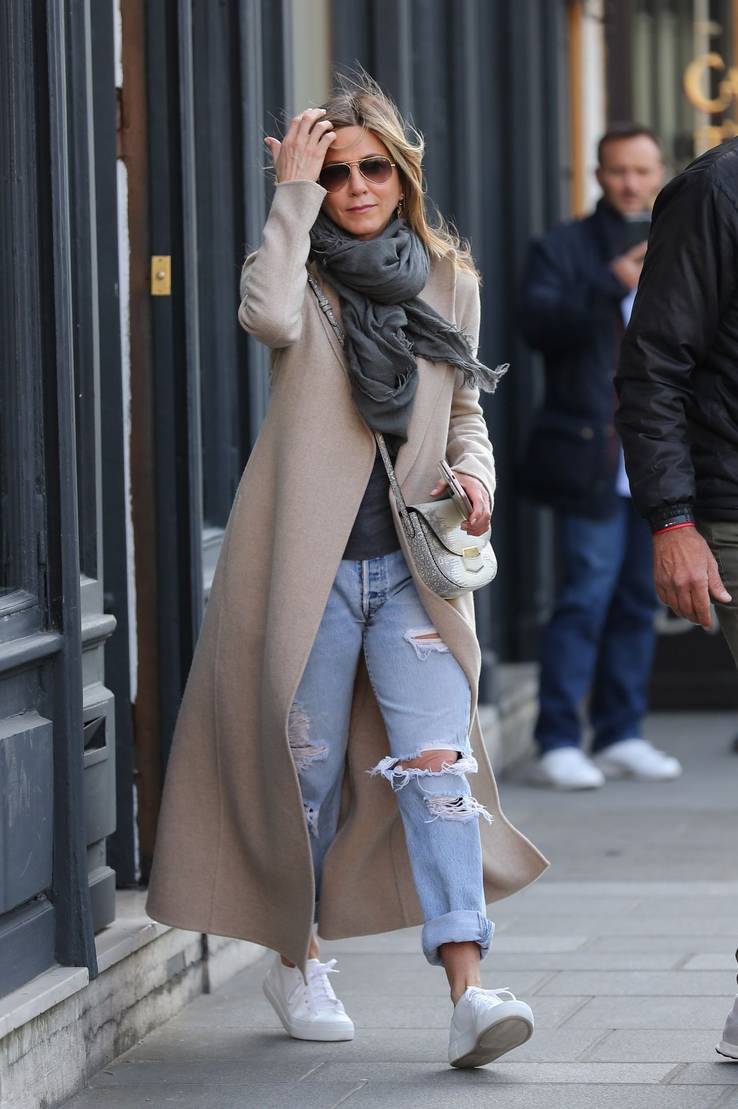 Hollywood 20-somethings may be channeling all things casual right now, but they've got this lady to thank. The original relaxed street style queen, Jen has been showing us how it's done for over 20 years. Jen rocks jeans, tanks, and boots like no-one else, plus she isn't dripping in Versace. In a 2014 interview with Yahoo, Jen admitted that a large part of her iconic street style is "laziness." Well, that's the best "lazy" look we've ever seen. Jen loves Theory-brand tops, although she admitted that she "takes the pockets off of Hudson jeans." Saint Laurent jackets are Jen's designer indulgence.
2

10 SEASONS OF PRAYING THESE TWO WOULD MAKE IT
Ross and Rachel weren't just the biggest story arc in TV history. Their names became a household phrase overnight  – in fact, most people can think of a couple who are "totally Ross and Rachel." These two were together. Then they weren't together. Invariably, even if it was through Ross' son: "You and mommy were on a break," these two would wind up revisiting that touchy subject. Rachel made us question Ross all the way through. And vice versa. Amazingly, Jen and David Schwimmer made it work for 10 whole seasons. The viewers? We were never bored.
Phoebe was so right. These two were each others' "lobsters."
1

FOREVER BEING AMERICA'S SWEETHEART
This one isn't up for debate. Jennifer Aniston became America's sweetheart overnight. Over 20 years later, this actress hasn't lost her charm. Jen will always be loved for her fantastic humor, carefree spirit, beauty, and solid vibes. Brad fell for her. So did Justin Theorux. Oh, and every guy in America. Women rooted for #TeamJen during the Angelina Jolie years, and many are still proudly #TeamJen. This girl is the original American sweetheart.
Jennifer Aniston doesn't get nearly enough recognition. Hit share on Facebook and remind the world of the 20 things we'll always remember Jen for. Get this out a.s.a.p. to any Jennifer Aniston or Friends fan you know.
Source: Read Full Article