Jimmy Barnes performs in his show Working Class Man: An Evening of Stories & Songs, now touring nationally.
MUSIC
JIMMY BARNES' WORKING CLASS MAN: AN EVENING OF STORIES AND SONGS ★★★★
Costa Hall, Geelong, April 27
"If anyone's offended by anything I did, too f–king bad."
From the get-go of this no holds barred, three-hour-plus stage show, Jimmy Barnes is relentless.
He is unsparing of himself, unflinching in his honesty and unfailingly funny, even amid the most heart-rending of anecdotes.
After some alarmingly loud warm-up exercises, Barnes launches headlong into a series of stories, some almost verbatim, from his second book Working Class Man, peppered with songs.
He picks up where his 2016 stage show – based on his award-winning first book Working Class Boy – left off, with the formation of his chart-topping band Cold Chisel in 1973.
He's helped along by a tight-knit band, with son Jackie Barnes on drums, son in law Ben Rodgers on double bass, guitarist Danny Spencer and pianist Clayton Doley.
There's a whole lotta love for his Chisel band mates – songwriter and pianist Don Walker, guitarist Ian Moss, bass player Phil Small and the late drummer Steve Prestwich – and those who worked with them behind the scenes as he recounts their formative years on the road and in the studio.
Heart of darkness: An unflinching Barnes delves into the entrails of his life.
Some in the audience were expecting more singing than talking, shouting from the balcony for him to play more obvious hits, such as Chisel classic Khe Sanh.
Instead, Barnes left some of that heavy lifting to the bountiful archives he draws on in the book, displaying stills, memorabilia and video footage on a big screen, at times accompanied by a recorded voice-over.
He teases out the tensions that plagued Cold Chisel as they grew increasingly successful, contrasted with his life-changing meeting with Jane (the woman who became his wife), as the first act builds to a crescendo.
The second half begins with a bang as he fires up his first solo single No Second Prize, which (to his great relief) became a hit and, Barnes reveals, his personal anthem.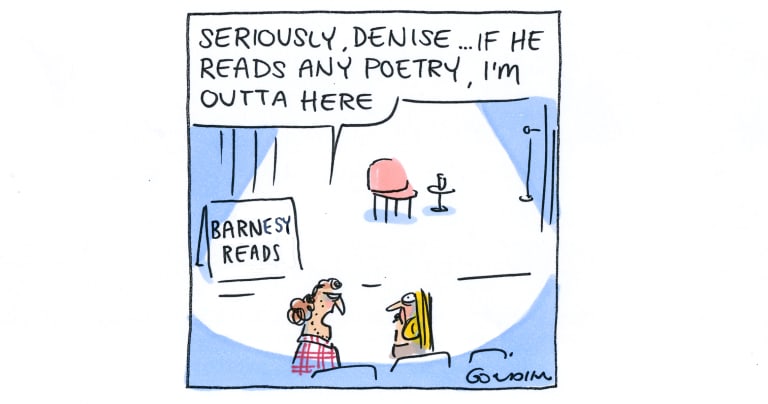 Illustration: Matt Golding.
Musically, Barnes treads a far less obvious route than his die-hard fans might expect.
Before the Working Class Man of the show's title, he tears into another paean to the proletariat – a stunning take on John Lennon's searing Working Class Hero – in heartfelt riposte to still-stinging critiques of profligacy earlier in his solo career.
In the end though, what comes across most wholeheartedly is how lucky he feels to be alive (he turned 62 on Saturday), and how damaging his failure to confront his past, his fears and his shame had become: a 40-year suicide mission played out in full view of his family, friends and fans.
The shocking nadir of that behaviour spins into an almost evangelical public service announcement on male bravado – a warning not to bottle it all up, an urging to seek help if you need it – during which the resonance of those experiences within the audience, struck silent, is palpable.
Jimmy Barnes performs a sold out show at Ulumbarra Theatre, Bendigo, on April 29, and returns to the Palais Theatre, St Kilda, on June 9. 
Lifeline 13 11 14 or lifeline.org.au
Source: Read Full Article