My mother, Anna, and I were close. She died in 1989 and was frail towards the end of her life. She had a few heart attacks in her 60s that impacted her health. She was a mean card player and had a poker face you could never pick.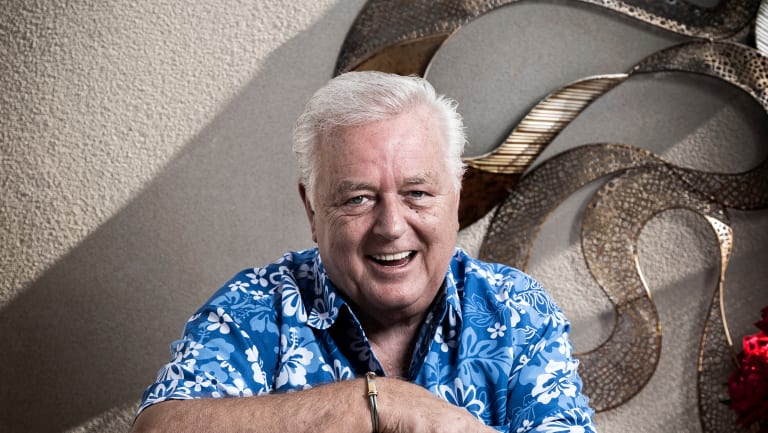 Musician Johnny Young at his home in Perth.
Mum was one of 13 children. As she was bright, a teacher told her mother she would make a good schoolteacher, but that was ignored and she was taken out of school at 11.
I am the youngest of four children and was born in Rotterdam, in the Netherlands. I have two older sisters and a brother but I had a different father. We came to Australia after World War II, went back to Europe for a short while, then moved to Perth when I was eight.
My dad [Jan de Jong] was taken by the Germans during the war and was away for several years. I was born after Mum had a relationship with someone else, but I am not ashamed of her. She had some horrible experiences – war and the Great Depression – and struggled with the stresses and strains of life. After the war my dad worked hard as a welder.
When mum wasn't feeling happy, she would put on the radio and we would sing along. She wanted to sing with a local choir as a young girl but as it was a Communist choir my grandmother wouldn't let her. She told me she'd stand outside and join in.
In Rotterdam I grew fond of my Aunty Maria. We weren't related – she was married to my father's brother – but she would let me collect eggs from the chook pen. I still love the smell of chook pens because it takes me back to her. She also gave me her husband's seaman wooden clock after he died. It was a precious memory she had of him, which she entrusted to me.
After I left Rotterdam, I didn't see Aunty Maria again for 34 years. Everyone told me she had died but I did my research and found her, aged 83, in a retirement village. When I walked in, she knew who I was and took me to her room. Next to her bed was a pile of photos; one of my family was on top. Three weeks later, she died. I felt she waited for me.
I am very close to my sisters, Cornellia and Antonia. They took me out with their boyfriends on the weekends to the footy. They were protective and loving.
I had my first girlfriend when I was barely four. She lived next door to us in Rotterdam and it was sad when we left to come to Australia. We went to kindergarten together and I met her again 34 years later. She was married with kids and had never forgotten me.
The first time I saw girls in a different light was when I noticed Annette [Funicello] on The Mickey Mouse Club TV show when I was about nine. The show gave me the idea to do Young Talent Time.
By the time I was 13, I really started to notice girls and was confident enough to get up at dances and sing songs. I had a band at 14 and left school around the same time. Music gives you a great advantage … girls show interest just because of that.
I had a celebrity crush on Doris Day. I loved her comedic movies. She was a great actress and I think I liked her because my mother did as well.
I had many great years on Young Talent Time from 1971 to 1988, and forged life-long friendships, including with Tina Arena and her family and with the Minogues. One of my favourites, Jane Scali, holds a special place. She was with me at Young Talent Time for seven years. Her mum crocheted me a yellow bedspread over those years and gave it to me when Jane left the program. It still looks as good as the day she gave it to me.
I have two daughters [Anna and Fleur] and nine grandchildren. Sadly I lost my only son, Craig, three years ago to pancreatic cancer, aged 48. I was married to his mother, Jane; she was my childhood sweetheart and died from leukaemia in her 20s.
My daughters are from my second marriage to Cathy, which ended in 1995. I am a lot closer to the girls since Craig's death. Cathy and I were together for 20 years and even though our relationship ran out of steam, we are still friends.
I fell in love and married a third time. Marisha, my Polish-born wife, and I have been together 15 years and I am very happy to say everything has worked out in the end. I feel very lucky to have met her. I don't take anything for granted and treasure every moment.
Johnny Young is hosting a pop music cruise of Europe from June 26 to July 16. See travelrite.com.au or phone 1800 630 343.
Source: Read Full Article