Justin Bieber has been in the spotlight for years. And over the years, we've seen his fashion sense drastically change. But in 2018, he's taken on a whole new style that we can't exactly find words to describe, though the words "scruffy" and "questionable" admittedly come to mind.
Bieber hasn't always looked like he just rolled out of bed and onto the streets. From the early days of his career until now, here's how Bieber's style has evolved over the years.
2009: Signature purple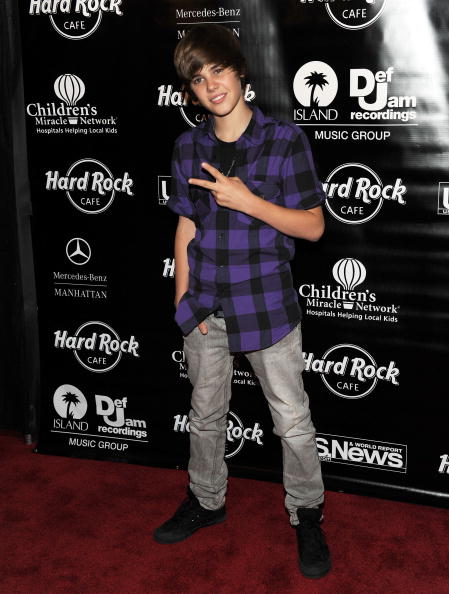 Justin Bieber | Jason Kempin/Getty Images
Once upon a time, Bieber wouldn't dare step out in public without the color purple. OK, maybe he did on occasion, but most of the time, he rocked this signature shade. Back in 2009, he wore this purple and black plaid flannel, faded jeans, and his iconic, side-swept hairstyle we'll never forget. He may have been a young teenager at the time, but his clear confidence gave his style a boost.
2010: Pushing style limits
Justin Bieber | Michael Buckner/Getty Images
By 2010, Bieber was still rocking his long hair pushed to the side. But when it came to his style, he began pushing the limits with his choices. Who can forget this tuxedo jacket over a black tee he wore to the 2010 Kids' Choice Awards? With the addition of his bling and highlighter yellow sneakers, this was definitely a moment that proved he was making his style his own.
2011: Looking more mature
Selena Gomez and Justin Bieber | Craig Barritt/Getty Images
Maybe it was thanks to making his first ever red carpet appearance with Selena Gomez, but in February 2011, Bieber suddenly looked way older and more mature. And not to mention, his style was looking more refined than ever. He wore this all-black look (with a pop of red to match Gomez's dress) to the Vanity Fair Oscar party, which we can't deny made him look sharp.
2012: Color coordinated
Justin Bieber | Pascal Le Segretain/Getty Images
In 2012, Bieber definitely kicked his style up a notch. He actually managed to make bright, bulky sneakers look good on a red carpet by sticking with the color scheme in his matching blue moto jacket. Though his hair was still long when he attended the NRJ Music Awards, he finally seemed to learn the magic of hair gel with a messily slicked back style.
2013: Marking a new era
Justin Bieber | Kevin Winter/Getty Images
2013 marked a whole new era for Bieber. He basically looked like a completely different person this year, from his sleek style to putting his sleeve of tattoos on display. Even just based on his newfound red carpet pose, he successfully sent the message that he wasn't just a kid anymore.
2014: Casual yet put together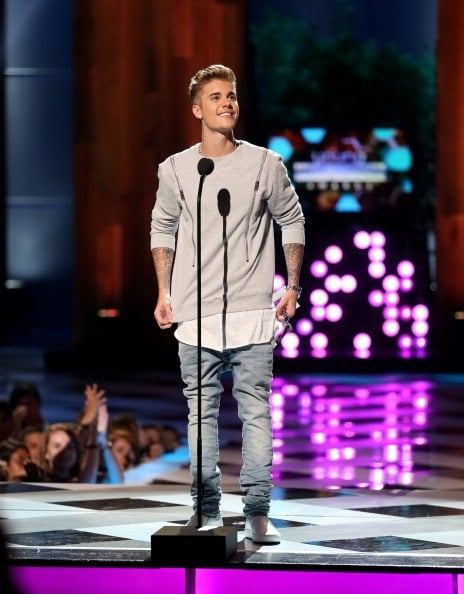 Justin Bieber | Frederick M. Brown/Getty Images for Variety
So far, this is definitely our favorite of Bieber's styles. He looked casual yet put together while he attended the 2014 Young Hollywood Awards. We're actually wondering where we could get one of these pullover sweaters with faux zippers for ourselves.
2015: Getting experimental
Justin Bieber | Jason Merritt/Getty Images
While Bieber's style evolved up to this point so far, he always appeared clean cut and perfectly styled. While this style from 2015 definitely looks well thought out, we couldn't have pictured him wearing it the year before. His destroyed denim and oversized Nirvana shirt, along with his long, undone hair, became yet another style transition he debuted at the American Music Awards.
2016: Controversial hairstyle
Justin Bieber | Getty Images
It's safe to say we weren't exactly fans of this style for Bieber. For starters, he began making particularly questionable fashion choices, including this jacket that looks three sizes too big. But the worst part of this era of his appearance? His dreadlocks. He actually caused controversy over choosing the hairstyle, with fans sharing their distaste over social media.
"Justin Bieber didn't get the memo that white people look stupid with dreadlocks huh?," one Twitter user wrote. In response to the criticism, Bieber claimed, "[People say] you wanna be black and all that stuff, I'm like 'its just my hair.'"
2017: Farmer Bieber?
Justin Bieber | Justin Bieber via Instagram
In 2017, Bieber's style was all over the place. Though we're happy he cut his hair short again, his fashion sense managed to become even more wild. He actually shared this shot from the paparazzi on his own Instagram account on July 6, 2017, so he was clearly proud of this "look." We'll be honest, it's not our least favorite style from Bieber, but we can't help but get some farmer vibes with his overalls.
2018: 'I (literally) woke up like this'
Justin Bieber | Theo Wargo/Getty Images for NYFW: The Shows
We're not sure Bieber has changed out of his pajamas once while hitting the streets in 2018. His fashion has taken on a whole new life this year, and none of it has been good. From oversized sweats to his long, shaggy hair, we're not exactly sure what his Purpose is with this look.
The worst part is the fact that he wore this outfit alongside fiancée Hailey Baldwin to New York Fashion Week in September 2018. As 2019 nears, we have hope that Bieber will move into a new (and better) fashion phase.
Source: Read Full Article