Miss Blanks has called on fans of Australian music to stop "protecting and uplifting abusers".
The Brisbane rapper took to social media on Thursday to say she was sick of seeing victims having to hold sexist and abusive behaviour to account in the local music industry.
Replay
"I'm not just talking about Sticky Fingers," she wrote. "White men, start championing change by cutting through the moral confusion. What does this look like? Calling abusers out. Stop supporting, protecting and uplifting abusers.
"Start having conversations with friends, family and colleagues on what healthy relationships are and listen to the women and non-binary folk around you – especially victims. Abusers ain't shit."
The comments come after the controversial indie band Sticky Fingers reformed after a year-long hiatus. Frontman Dylan Frost was last year accused of racial abuse and physically threatening Indigenous singer Thelma Plum.
Newcastle festival This That recently announced Sticky Fingers was on its 2018 lineup. Organisers are now being pressured to drop the indie group.
While Frost has apologised for his behaviour, he courted controversy in a recent interview on Triple J's Hack program by saying "boys will be boys".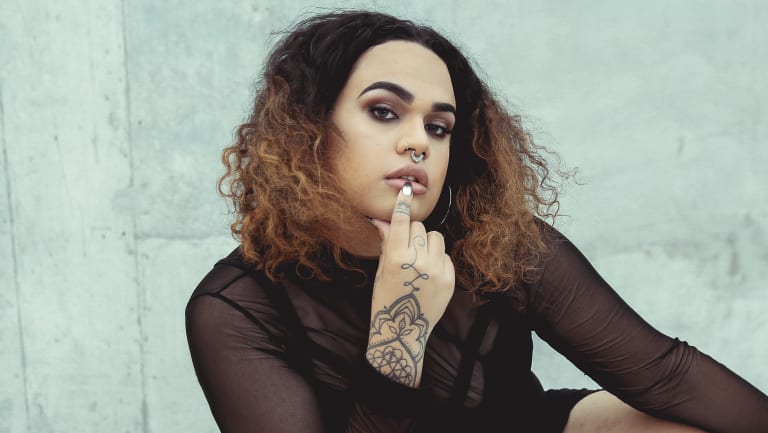 Brisbane rapper Miss Blanks has called on fans of Australian music to stop "protecting and uplifting abusers".
One of the artists on the This That lineup – who goes by the stagename Godlands – has distanced herself from her fellow performers.
"I didn't know until last minute, like many of the other acts, that they were a part of the line-up," she wrote on Instagram. "As a woman and artist I find it extremely difficult to be one the same bill as SF [Sticky Fingers].
"I also ask myself, 'Am I really doing my gender a favour by dropping out and letting a band like that win again?' Please know that just because I'm on the same bill doesn't mean I align with them."
Miss Blanks, who is being touted as the next big thing in Australian rap, went on to say people have a hard time holding people like Sticky Fingers to account because they identify with him.
"It's a band that looks like them, that are them," she wrote. "Critiquing them and holding them accountable would essentially mean an attack on white Australia at large.
"Just because you might be relatable to certain audiences doesn't make you anything special. It definitely does not make you immune to being held accountable for your actions."
It isn't the first time Miss Blanks has called on the Australian music industry to do better. Earlier this year, she raised concerns with Laneway Festival about Kirin J Callinan's behaviour, after he exposed his penis at the 2017 ARIAs. The singer-songwriter was later booted from the line-up.
This That festival and Sticky Fingers have been contacted for comment.
Source: Read Full Article