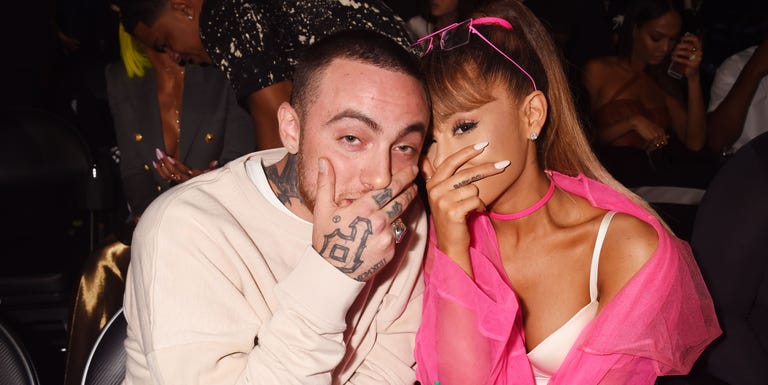 Fresh off the heels of his breakup with longtime girlfriend Ariana Grande, Mac Miller surprised the internet by wiping his entire Instagram clean and dropping three new songs on Spotify, all with lyrics that are probably, definitely about his ex.
The timing of the music is, obviously, super key. Here's a quick recap:
Last month, the rapper and Ariana broke up reportedly because of their "schedules," unfollowed each other on social media, and then Mac was arrested for a DUI after allegedly crashing his car into a pole and fleeing the scene. Fans were super quick to blame Ariana – and her rumored new relationship with SNL star Pete Davidson – for Mac's DUI, but the "No Tears Left to Cry" singer was not. having. it.
So yeah, it's been a couple weeks. And for more insight, there are definitely some Ariana Easter eggs hidden in Miller's new music, so without further ado:
"Buttons"
The initial reason for the breakup was due to the couple's "busy schedules" and that it got harder and harder to see each other.
In Ariana's Twitter statement, she mentioned that she "tried to support [Mac's] sobriety & prayed for his balance for years." Mac could be acknowledging that their relationship wasn't great for a long time.
And again with the busy schedules.
"Small Worlds"
But here we have what is probably the most direct response to all of the breakup drama. In her Twitter statement, Ariana called out the rapper's "inability to keep his shit together."
And in a darker part of the song, Mac seems to be directly acknowledging his addictions that Ariana seemed to call out as the main reason for their breakup.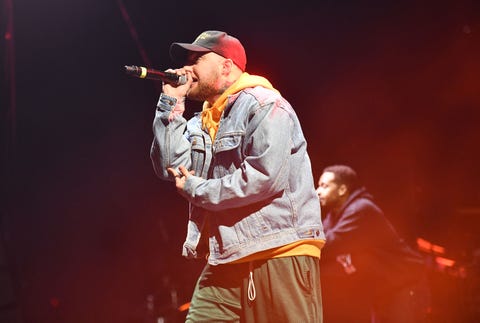 "Programs"
Since their breakup was announced, the drama surrounding it has consistently been making headlines. And while Ariana has since spoken out on social media, Mac has been notably silent. He could also be insinuating that he's moved on from the relationship, but who knows really. ¯\_(ツ)_/¯
Here, Mac seems to be insinuating that he's planning on refreshing his life with new music, a clean Instagram slate, and a promise that things are going to change.
It's the chorus, however, where Mac hits back that Ariana could be completely behind him:
Well, there ya have it!
The songs — "Programs," "Buttons," and "Small Worlds" — are the rapper's first solo tracks in almost three years. Mac's last album, The Divine Feminine, was released in 2016. And while he appeared on a handful of other songs in recent years, fans have been hungry for new music. And they're here for it, with many crediting Ariana for "emotionally destroying" him and thus fueling more music:
THANKS @ArianaGrande NOW @MacMiller ACTUALLY DROPPING FIRE
Drake and Pusha beef cool, but Mac Miller releasing music in 2018 post-Ariana Grande breakup is what I'm excited about lmao.
Thank you @ArianaGrande for emotionally destroying Mac Miller I needed the new music ?
It took a heart break for Mac Miller to drop music… thank you Ariana Grande. And f u Pete
S/o Ariana grande for hurting Mac miller, he's back to making sad boy music for us kings
Time for a quick reminder though: Like Ariana said, women are not obligated to stay in a toxic relationship for the sake of their partner and have the right to leave said relationship if they are not happy. Thank you, and goodnight.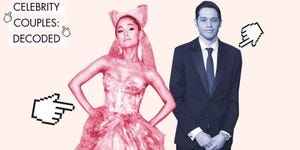 Source: Read Full Article