Nicki Minaj and Eminem are dating. Maybe.
We don't know if this is a two month late April Fool's joke or what, but the latest buzz is that Nicki Minaj and Eminem are dating. Which isn't the weirdest thing to come out of 2018 so far, but it would certainly be up there.
How did this happen? Well, it all starts with an interesting video posted to the "Anaconda" singer's Instagram late Thursday night. The video features Minaj singing some lines from her new single, "Big Bank" featuring 2 Chainz, Big Sean, and YG. One line has Nicki say, "Told 'em I met Slim Shady. Bagged a Em, Once he go black, he'll be back again."
#BIGBANK OUT NOW!!!!!! @yg @2chainz @bigsean ????? Told'em I met Slim Shady. Bagged a EM!!! ????
A post shared by Barbie® (@nickiminaj) on
On the surface, this just seems like a callout from one famous rapper to another, but some Instagram users thought that it was Minaj admitting that she had it in for Eminem. One user just up and asked her: "You dating Eminem???" To which Minaj replied simply, "Yes."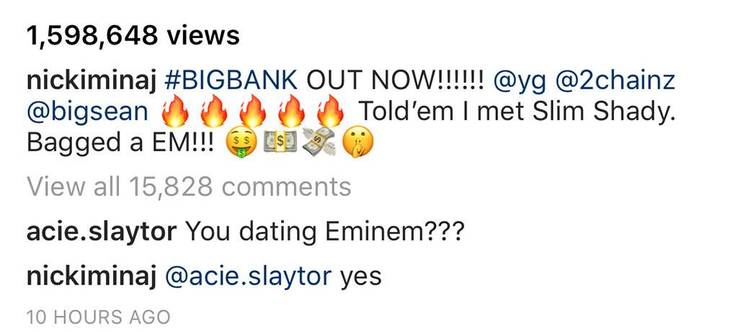 Minaj is not above trolling her fans, but a few hours later Eminem chimed in to stoke the flames. "Girl you know it's true…" wrote Slim Shady by quoting a Milli Vanilli song. If that wasn't enough, Minaj then hollered back: "Babe I thought we were gonna keep it on the low til the wedding. Yikes. I'll talk to you when I get home."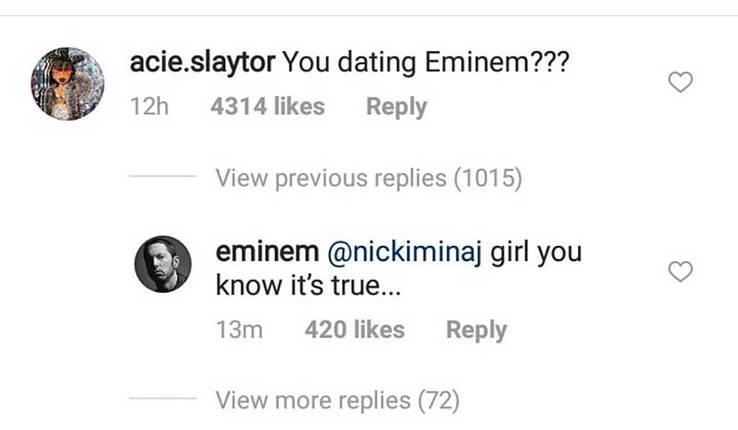 The exchange seems unbelievable, but some Instagram users treated it as gospel. "Wait a minute. Pump the brakes," wrote one Instagram user. "You datin @eminem now?! Oh man. The internet finna crash like the nasdaq In 2008."
As much as it would be amazing for the pair to create a rap power couple, It doesn't seem likely. Minaj has been single since breaking it off with Nas at the end of 2017. Before then she was dating Meek Mill from 2015 but broke it off in January of last year. Before Mill, Minaj was in a 14-year relationship with fellow rapper Safaree Samuels.
After her break with Meek Mill, Minaj went on the Ellen Degeneres show and joked about not getting back into the dating game. "I'm just chillin' right now. I'm celibate," she said. "I wanted to go a year without dating any man. I hate men."
As for Eminem, he's been single since the divorcing Kimberly Scott for the second time in 2006. Last year he told Vulture that he still goes on occasional dates, but hasn't had much success.
"It's tough," the "Lose Yourself" rapper said. "Since my divorce I've had a few dates and nothing's panned out in a way that I wanted to make it public."
Eminem also admitted to using both Tinder and Grindr, a gay dating app, to find dates.
Source: Read Full Article