What So Not
★★★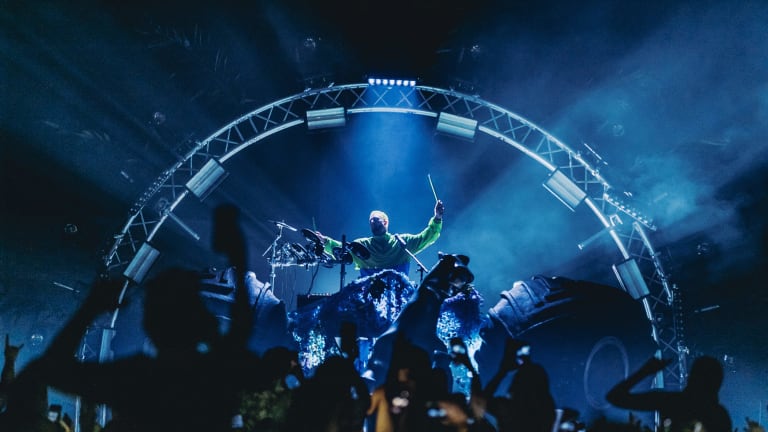 What So Not at the Hordern Pavilion, June 29.
Hordern Pavilion, June 29
Reviewed by Nicole Economos
With its distinctly innovative sounds, What So Not – now solely producer Chris Emerson – has been one of Australia's most exciting electronic exports since the project's inception in 2011. (Emerson's former counterpart in the group, Flume, went his separate way three years ago.)
Celebrating the release of this year's first "solo" WSN album, Not All the Beautiful Things, Emerson showed in front of his hometown crowd that he is thriving in the full control he has over creative direction.
His current sound is undeniably thrilling. Emerson fuses his familiar EDM trap music and club beats with experimental sub-genres such as groove, hard-style and Skrillex-like dubstep (that last one coming as no surprise given his frequent work with the American producer).
With the exception of guitarist Trev Lukather (son of Toto guitarist Steve) and the occasional presence of a hype man, Emerson relied on pre-recorded backing tracks, samples and instrumentals. Still, while moving between his mixing board and electronic drum pads he also delivered the jaw-dropping spectacle you'd hope for: blinding strobe lights, trippy visuals, dazzling pyrotechnics and confetti cannon.
Some live vocals would have further bolstered the high-voltage, at times enigmatic hour-and-a-half set but Emerson kept things interesting with the occasional What So Not remix of familiar tunes such as Kanye West's Power and some of the project's various other collaborations – from the darker inclinations of Warlord (featuring Aussie EDM crew SLUMBERJACK) to the funky, Toto-starring We Keep on Running.
Despite the impressive series of build-ups to many of his drops, Emerson is still mastering the art of peaks and troughs. Nonetheless the crowd's emotions remained high throughout, dancing unwaveringly and going berserk so often that the set's flaws fell by the wayside.
They sang along to the euphoric Stuck in Orbit and the Winona Oak collaboration Beautiful and bounced uncontrollably during Monsters. As one of the album's most potent and mainstream tracks, the Daniel Johns-featuring Be Ok Again made sure the show finished strongly.
Emerson next heads to the northern hemisphere's festival circuit. Further success there, as a crowd pleaser if little more, is inevitable.
Source: Read Full Article