Pamela Anderson has opened up about the family drama between her son Brandon Leevand ex-husband Tommy Lee.
Pamela Anderson and Tommy Lee have always had a complicated relationship, though now, things have gotten more difficult after the Baywatch star's son, Brandon Lee, 21, had a toss-up with his dad back in March.
The 50-year-old Playboy pinup recently told The Hollywood Reporter her side of the story.
"I stay out of it," Anderson said. "The kids are adults, and they make all their own decisions. I look at the differences in their personalities and their fearlessness and their ambition and their clarity, and I'm just so proud of both of them."
The couple has two children, Brandon and Dylan Jagger Lee. Back in March, Tommy and Brandon got into a physical fight at the 55-year-old rocker's home in Calabasas, California. Though Lee claimed his son assaulted him, Brandon said the altercation was due to his dad's drinking.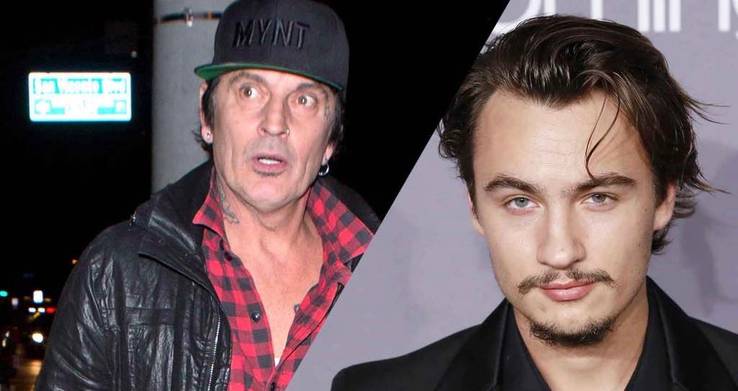 In April, a spokesperson for the Los Angeles County District Attorney's Office reported that the D.A. refused to press charges against Brandon. Lee, however, remains adamant that his son should "beg for forgiveness."
"Tommy is seething," the source said. "He is watching every move Brandon makes. He wants his son to beg for forgiveness, but that won't happen. He wants Brandon to show remorse and doesn't feel he has done anything to have deserved this."
"Right now, things look grim for the whole family," the source added. "This has put a huge wedge between father and son. The last thing Brandon needs is to have a record because of his father. It could ruin their relationship for good."
It's clear, however, that Anderson is firmly on her son's side. After the incident, she wrote a blog post entitled, "Alcoholism is the Devil," which stated that the drummer deserved to be punched in the nose "for all of us who he has hurt." Anderson was married to Lee from 1995 to 1998 and at the time, she accused him of being physically abusive.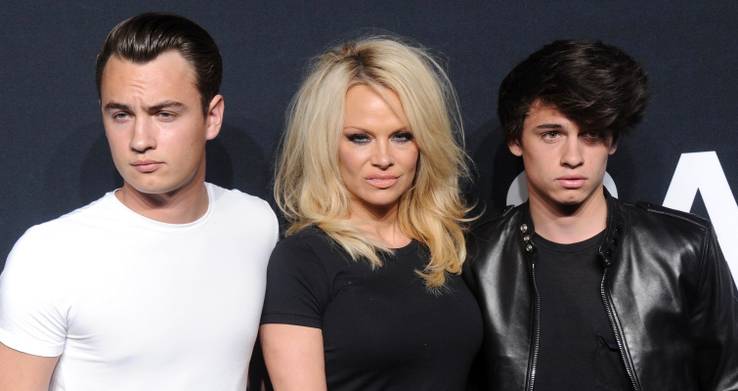 In 1998, Lee served six months in jail after pleading no contest to kicking Anderson while she had their son Dylan in her arms. The fight allegedly stemmed from Anderson's refusal to uninvite her parents over to the couple's home. As a result of the fight, Lee assaulted Anderson, leaving her with "bruises, a torn fingernail and fear for the safety of her two sons, Dylan and Brandon."
"I pray Tommy gets the help he needs. His actions are desperate and humiliating," she wrote in her blog post. "He is a disaster spinning out of control and he is not acting like a father. But this is nothing new. My sons have made every attempt to help him in recent months – staying with him to make sure he's ok. Just by being present with him they were hoping he'd feel loved and act differently."
Brandon, who has found success as a model, has appeared in ads and on the runway for Dolce & Gabbana. His interest in fashion though is not new. According to an interview with The New York Post, he has been dressing his mom for years. "[She will] never admit it. … Sometimes she'll have a stylist come over to the house … and right after they leave I'm like, 'You're not wearing any of that!' I don't care about the revealing stuff. I'm just like, 'You've gotta change it.' She listens to me."
Source: Read Full Article