Roseanne is cancelled after the show's titular star made a vulgar tweet.
For those following Roseanne Barr on Twitter, controversy is nothing new. She's been a vocal supporter of President Trump ever since he ran for office and has been known to retweet far-right conspiracy theories.
Network executives at ABC had thus far ignored Roseanne's social media antics, but her latest stunt has apparently pushed them too far.
In a tweet early Tuesday morning, Barr compared former Obama adviser Valerie Jarett to an ape, saying she was "the Muslim Brotherhood and Planet of the Apes had a baby."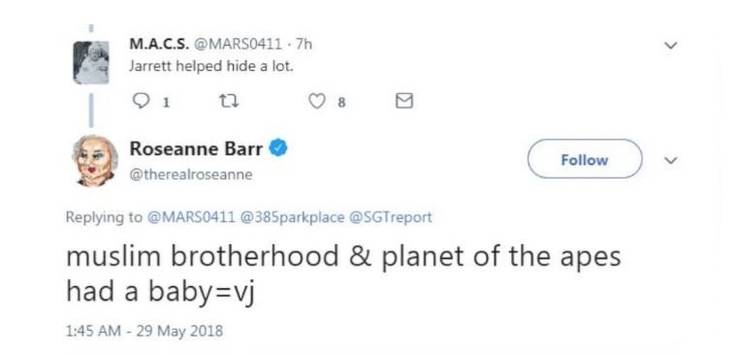 That tweet was removed shortly after it was posted, but by then the damage was done. Wanda Sykes, a consulting producer for the show, immediately announced she would not return for Roseanne's second season.
Sara Gilbert, who plays Roseanne's daughter Darlene on the show, expressed dismay with Roseanne's statement and attempted to distance both herself and the show from her words.
Realizing the situation was quickly getting out of her control, Barr tweeted a retraction, apologizing and admitting that her joke was in "bad taste".
Unfortunately, with Roseanne literally being the core of the show, ABC was in a position where they couldn't simply fire the offending comedian. ABC president Channing Dungey later issued a press release stating that her second season was cancelled and Roseanne would not be renewed for a second season as initially announced back in March.
Parent company Disney praised Dungey's move, stating that his actions were the right thing to do.
After debuting in March, Roseanne quickly became television's highest rated comedy and had an initial audience of over 18 million according to Nielsen ratings. ABC announced they would renew the show for an additional 13-episode second season prior to Barr's tweets.
Barr is a vocal Trump supporter both in the show as well as on social media. ABC didn't have a problem with her support but was less apathetic to her tweeting right-wing conspiracy theories. One such theory she espoused to was "QAnon", which holds that top Democratic party members are Satan-worshipping child traffickers and Trump is dismantling their smuggling ring.
Her latest comment regarding Jarett was simply the final straw for ABC. However, ABC does not own the show, so it seems likely that TV's best comedy in years will get picked up by a competing network that is less concerned with Barr's political views.
Source: Read Full Article