Following weeks of speculation, James Reynolds was officially been named as the adorable voice saying "gorgeous" on Taylor Swift's song of the same title.
The 2-year-old daughter of Ryan Reynolds and Blake Livelywas reportedly recruited by Swift when she repeatedly said the word while enjoying a day on the beach with the reputation artist and her famous 'rents.
This got us thinking… Which other recording artists have had celebrity toddlers sing backup for them? And there's surely some pretty cute stories that inspired the collaboration!
To see which kids got their big break on hit songs, keep scrolling: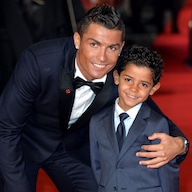 Photos
Stars & Their Mini-Me Kids
Oh la la! Axl Jack Duhamel stole the show with his french language skills when he sang in his mom Fergie's song, "Enchanté." Throughout the song the 6-year-old sings, "Nice to meet you, how are you," in the romantic language, which is rather fitting considering it is his debut into the music world. Is there nothing this kid can't do?
Blue Ivy Carter proves that talent simply runs in the family with her 45-second performance in her father's song, "Blue's Freestyle/We Family" from his 4:44 album. The daughter of Beyoncé and Jay-Z may have been only 5 at the time, but she showed age is just a number with her freestyle. In it she raps, "Boom shakalaka / Boom shakalaka / Everything in shaka / Everything in faka."
Of course, this wasn't Blue's first musical rodeo, as she's been featured on her mother's song "Blue" and in 2012 on Jay's "Glory."
Like her mother Whitney Houston, the crowd adored Bobbi Kristina. When the young girl joined the late icon onstage for a concert in Germany in 1999, the audience went wild over the then 6-year-old as she gave her mom a hand with the song, "My Love is Your Love." Wearing a white dress, the famous daughter told the crowd, "My name is Bobbi Kris and I just want to say, 'Clap your hands.'"
Taylor Swift Gives Fans an Inside Look at How She Wrote Gorgeous
Perhaps one of the most infamous father-daughter duos in rap history, Eminem featured his then 6-year-old daughter Hailie Jade on his explicit song, "My Dad's Gone Crazy." The little girl had always been a source of inspiration for the artist, but this was the first time she took an active role in his music. According to an MTV interview with the rapper, Hailie was "geeked" to be on the hit song, saying, "She was so natural at it."
Country music superstar Tim McGraw had the best backup singers in the industry when he recorded his song "The Last Dollar," and it was none other than his very own daughters, Maggie, Grace and Audrey. The girls can be heard singing, "One, two, three, like a bird I sing / 'Cause you've given me the most beautiful set of wings." The emotional but positive song took McGraw all the way to the top of the Billboard country music charts in 2007.
Watch
Hollywood Kids Born Into the Movie Biz
Stevie Wonder's lovely daughter Aisha had her big break when she was only a baby on the track, "Isn't She Lovely." The song, which was written about the birth of his daughter, marvels at what "God has done" and how he and his then-wife Yolanda Simmons made her "from love." Now all grown up, Aisha is able to sing the song onstage with her proud papa.
Will Smith made us tear up with his 1997 rendition of the song, "Just the Two of Us," which focused on the bond he shared with his son Trey. In the music video, Smith promises his little boy, "I pledge to you, I will always do / Everything I can / Show you how to be a man." The popular video showcased other fathers and sons together, with big names like Magic Johnson and Muhammad Ali. Years later, Smith's children continue to carry on his legacy with his youngest daughter Willow Smith following in his footsteps as a musician.
Christina Aguilera's 3-year-old daughter Summer Rain Rutler added her voice to her famous mama's track, "Dreamers," off of her eighth studio album. The little one joined a group of women who said their dreams out loud in a sequence of touching vocals. "Shout out to Summer Rain for lending her voice to this <3," the proud mama tweeted.
Silas Timberlake can be heard at the beginning of Justin's song "Young Man." The track is on the singer's new album, Man of the Woods, released on Friday, February 2. At the start of the song, Silas can be heard saying, "Da-da."

So cute!
Article originally published on Fri, Nov 10, 2017, 4:42 PM
Don't miss E! News every weekday at 7 and 11 p.m.
Source: Read Full Article