"When Christmas Comes to Town" isn't the only holiday hit included in The Polar Express' official soundtrack. Some tracks are performed by Josh Groban, Tom Hanks, and even one member of the legendary rock band Aerosmith.
Here's what we know about this Christmas movie and its original songs.
'The Polar Express' is a holiday movie initially released in 2004
Magical things can happen when you believe in yourself.
The Polar Express tells the story of one young boy who embarks on a journey to the north pole after deciding not to believe in Santa Claus. He makes a few trustworthy friends along the way and learns the power of taking risks and having faith.
This production, which premiered in 2004, featured several original songs and one actor behind several main characters.
Tom Hanks technically voiced seven characters in this motion capture film — the protagonist known as "Hero Boy," his father, the train conductor, a hobo, the Ebenezer Scrooge marionette puppet, Santa Claus, and the narrator. Additionally, he performed songs for the movie's original soundtrack.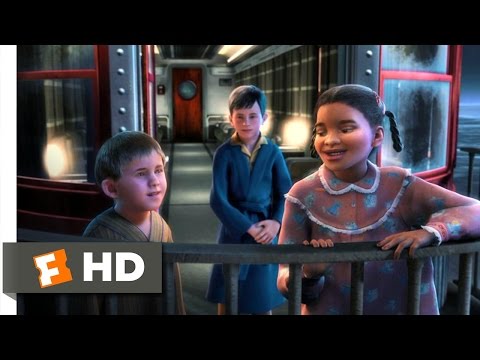 'The Polar Express' soundtrack includes artists Tom Hanks, Josh Groban, and Aerosmith's Steven Tyler
For years, the official Polar Express soundtrack has been available on most major streaming platforms. It features instrumental songs, as well as musical numbers that appeared throughout the film.
Because of his prominent role in this production, some songs on The Polar Express' official soundtrack are performed by the Toy Story, Saving Private Ryan, and Forrest Gump actor, Hanks. 
That includes the Polar Express title track, which earned over 10 million Spotify plays, and the "Hot Chocolate" song. One of the main songs featured in this film, "Believe," is performed by Groban. The track currently has over 20 million Spotify plays and won the Grammy Award for Best Song Written For Motion Picture, Television, Or Other Visual Media in 2006.
Even Aerosmith's frontman, Steven Tyler, appeared in this film in performance-capture form. This singer stars as an elf, jamming out to the holiday hit "Rockin' on Top of the World." This song is also available on The Polar Express' soundtrack.
The Polar Express (Original Motion Picture Soundtrack) [Special Edition] features beloved holiday hits absent from The Polar Express, including Perry Como's "It's Beginning to Look a Lot Like Christmas."
The official soundtrack for 'The Polar Express' earned two other Grammy nominations
This movie earned Academy Award nominations in the Best Sound Mixing and Best Sound Editing categories. The Polar Express was also cited by the Guinness World Records as the first feature-length movie to entirely use performance capture, also known as motion capture technology.
"It was really a fantastic experience," director Robert Zemeckis said during an interview with Ian Winterton. "It was the most relaxed movie I'd ever worked on. I had to compromise less because I wasn't limited by the physical world."
Source: Read Full Article