On June 30, TMZ reported that a judge in Britney Spears' court case made a decision about whether or not to remove her father, Jamie Spears, as the pop star's conservator. "Britney Spears's lawyer asked the judge in her conservatorship case to boot her father Jamie Spears as the conservator of her estate, but a judge just shot that down and says Jamie stays — at least for now," TMZ reported. And while the decision to leave Jamie Spears in charge of his daughter's estate may only be temporary, Britney has yet to file official paperwork to request that her conservatorship come to an end.
The decision came about one week after Britney made a virtual appearance in open court. In a statement, Spears told Los Angeles Superior Court Judge Brenda Penny that her family and her management team have mistreated her over the years. She went so far as to compare her nonstop work schedule to "sex trafficking," according to the transcript of the hearing, provided by CNN, and said that her family should be in jail for "punishing" her whenever she said "no." 
As all of these things continue to unfold, Brit jetted to Hawaii for some R&R with her boyfriend, Sam Asghari. And, after she learned that her father wasn't completely removed as her conservator, she took to Instagram to share something with her fans. Keep reading for more.
Britney Spears showed off her bikini body on Instagram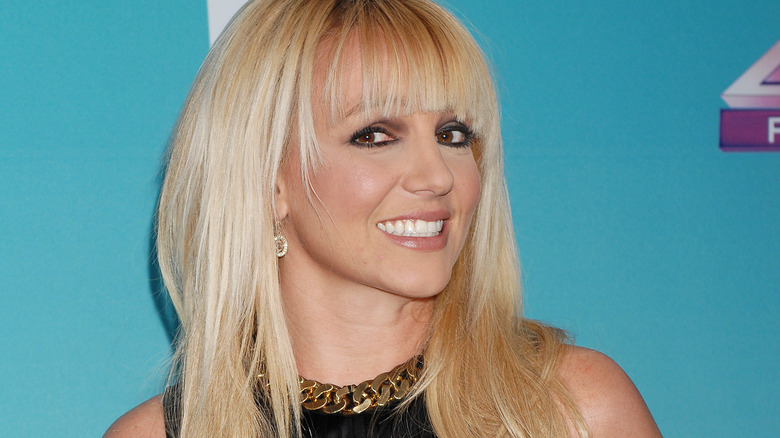 Britney Spears did not post about her conservatorship on Instagram after the latest ruling in her case. Instead, she posted a video of herself rocking different bikinis. According to the Daily Mail, Britney took the video from a hallway in her hotel room in Hawaii. She paired the share to the song "Trampoline" by Zayn and Shaed, swaying her hips back and forth in yellow, red, and hot pink two-piece swimsuits. Britney wore a pair of high heels and some sunglasses, throwing her hair up in a messy bun atop her head. Rather than writing a lengthy caption, Spears simply left three kiss mark emoji for her fans to decipher. 
Two hours later, Britney uploaded another Instagram video, this time of herself dancing to Lenny Kravitz. She rocked out in a pair of tiny black shorts and a white crop top. "This was from the other day!!!! My first time dancing in heels in a while … my new lil project," she captioned the video, adding three high heel emoji. Many fans took to the comments section of the post saying that they don't believe that Brit actually posted the video — and one Instagram user even suggested that the video was actually from "a year ago." It seems that Britney's conservatorship hearing has only made fans more skeptical about her social media use.
Source: Read Full Article