Whitney Houston gave many magical stage moments during her time. Prior to her 2012 death, the "I Will Always Love You" singer was known for belting out live tunes unlike any other. But just as much as she gave iconic performances, she also gave some funny, and at times odd, appearances that have since become meme-worthy. In a recent Instagram post, one of Houston's famed acceptance speeches went viral thanks to an influencer's recreation of it. 
Whitney Houston honored during 2001 BET Awards
Houston was honored at the award show and presented with the Icon Award. Though she was just 37-years-old at the time, her career had already spanned more than 20 years. She'd won multiple major awards by that point, including Grammys, American Music Awards, Billboard Music Awards and had completed several sold out international tours. Houston was also a bonafide movie star.
It was a true honor for Houston to be recognized by BET as earlier on in her career, she was shunned from the Black community and considered a sellout for crossover hits like "I Wanna Dance With Somebody." During the third annual Soul Train Music Awards in April 1989, she was boo'd by the audience when her name was announced in a category.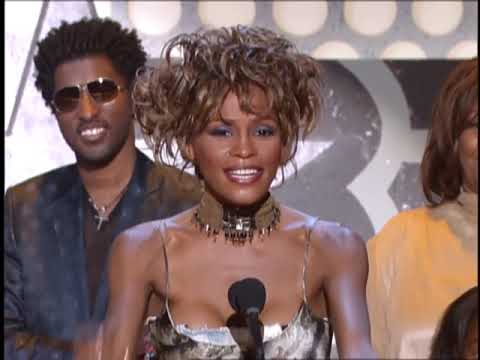 At the BET Awards, Houston was introduced by Babyface, given special tributes by Mary J. Blige, Christina Aguilera, and Luther Vandross. Her mother, gospel singer Cissy Houston, was also present.
She received standing ovation from the audience when she skipped on stage to accept the award. Houston delivered quite the entertaining speech, singing Destiny's Child's "Survivor," rapping the names of her employees, and calling her then-husband Bobby Brown an "R&B king." She also took the stage to perform a medley of her top hits. 
Video recirculates on social media after influencer does spot-on impersonation
Instagram influencer Corey J. Bradford has become famous for recreating great moments in popular culture. He currently has nearly 300,000 followers on Instagram and has done live impersonations of moments from the Kardashians, Lady Gaga, Aretha Franklin and more. He previously recreated Housotn's iconic interview with Diane Sawyer where Houston discussed her drug use and spawned the infamous "crack is wack line" when Sawyer asked if Houston ever indulged in the drug.
In his latest, Bradford gives his take on Houston's 2001 BET Awards speech. Donned in his replica of her long gray designer dress and choker necklace, Bradford wears a gray muscle shirt and something similar around his neck. He highlights several major moments of the speech that are most talked about with the actual footage playing live in the background.
"Let's keep 'em coming! Another one of Queen Whitney's most iconic moments! #whitneyhouston #bet," he captioned the video. Several major celebrities commented. "Brilliant," wrote gospel singer Erica Campbell. Musiq Soulchild also commented laughing face emojis.
The singer had several iconic television appearances and interviews throughout her career that continue to circulate on social media
The BET Awards moment isn't the first to resurface in recent years. Ever so often, a throwback video and/or interview featuring the icon is rehashed. As mentioned, her interview with Sawyer is one that remains in constant rotation.
Other videos featuring Houston that gets tons of attention include her radio interview with Wendy Williams. After years of Williams sharing rumors of Houston on her radio show, Houston finally agreed to talk and it was less than stellar. Williams blasted Houston for speaking about her marriage, talking about her family life, and discussing her alleged drug use. It would mark the first and last time the two ever spoke. The interview catapulted Williams to new heights.
Houston's appearance on the short lived Bravo reality series Being Bobby Brown featured moments that the public considered erratic. The Bodyguard star was accused of being off the hinges, mean to fans, and abrasive at times. She later said she regretted doing the show and felt forced into it so that Brown could have a resurgence in his own career.
Source: Read Full Article