From brides getting drenched by ocean waves during their beach weddings to drunken groomsman falling into the expensive wedding cake, the internet is full of wedding day fails. But when you're spending untold amounts of money on your nuptials and you happen to be part of a monarchy, are mistakes even possible?
Turns out the answer is yes. Even with all the best wedding planners at your disposal, there's still a chance that something can go majorly wrong during a royal wedding. So Prince Harry and Meghan Markle better take note in advance of their upcoming ceremony — these are the all-time worst royal wedding fails in history.
1. Prince William had trouble getting Kate's ring on her finger.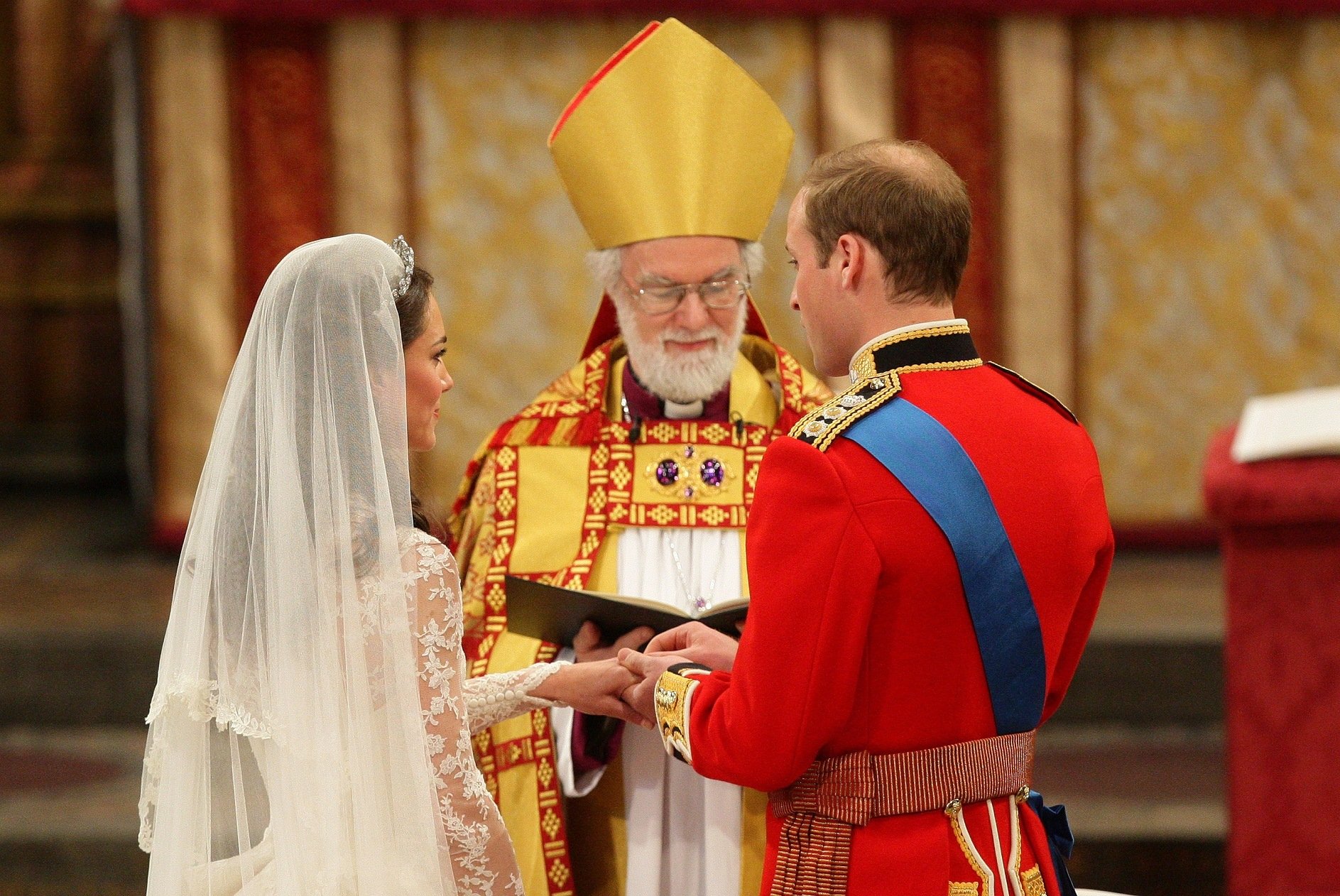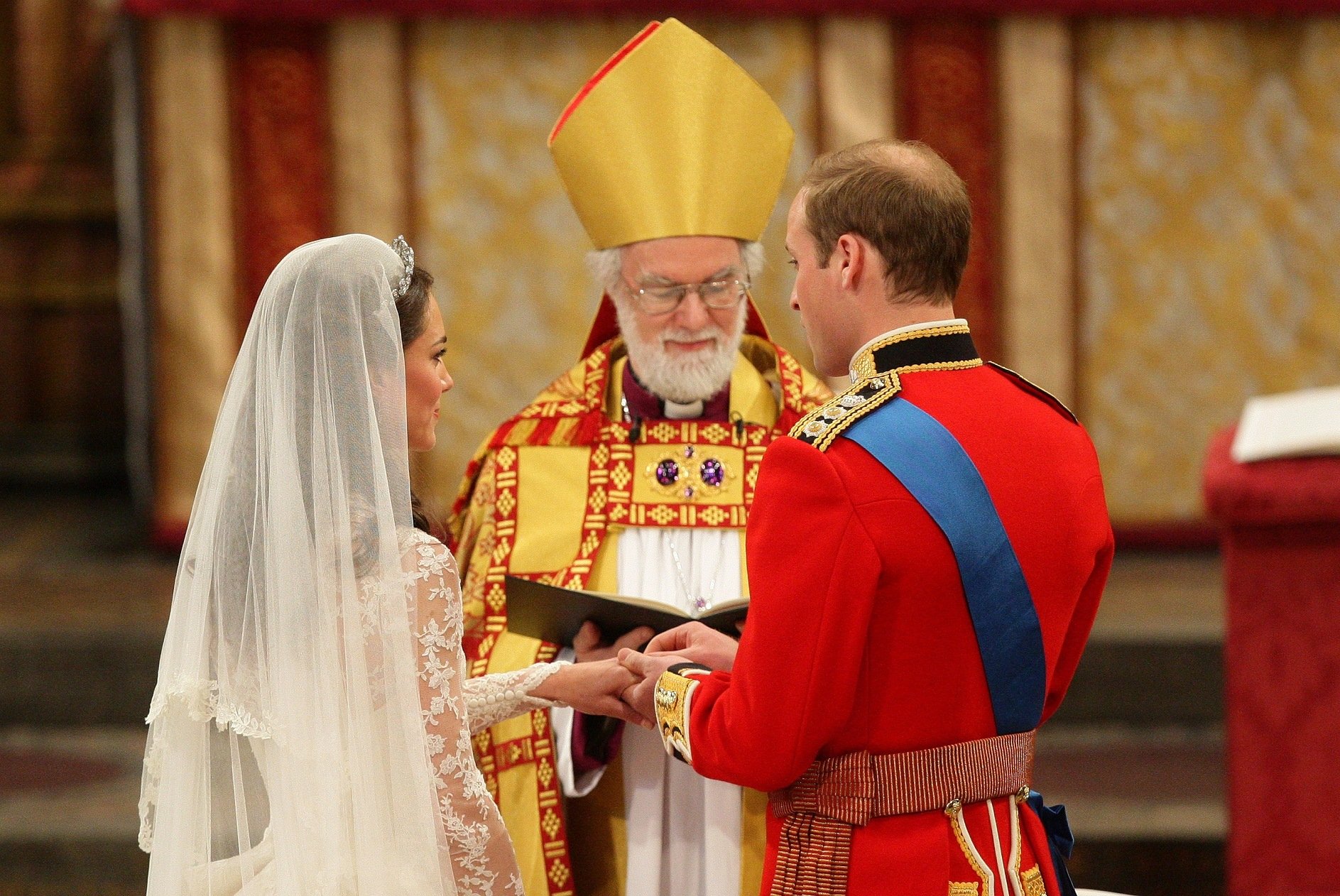 It was a little snug. | Dave Thompson/AFP/Getty Images
Millions of people tuned in to the 2011 wedding of Prince William and Kate Middleton, but they may not have noticed this small faux pas. Even though Prince William decided not to have a wedding ring, Kate still wanted one, and she had it adjusted a little smaller than her normal ring size so it wouldn't slide off.
But that turned out to be a mistake. After the two exchanged their vows, Prince William couldn't get the ring past his bride's knuckle for a few tense seconds. His nervousness probably didn't help.
Sources say that the subject has been a source of amusement for the couple ever since.
Next: This pricey piece of jewelry got broken right before the ceremony.
2. Queen Elizabeth's tiara broke on the morning of her wedding.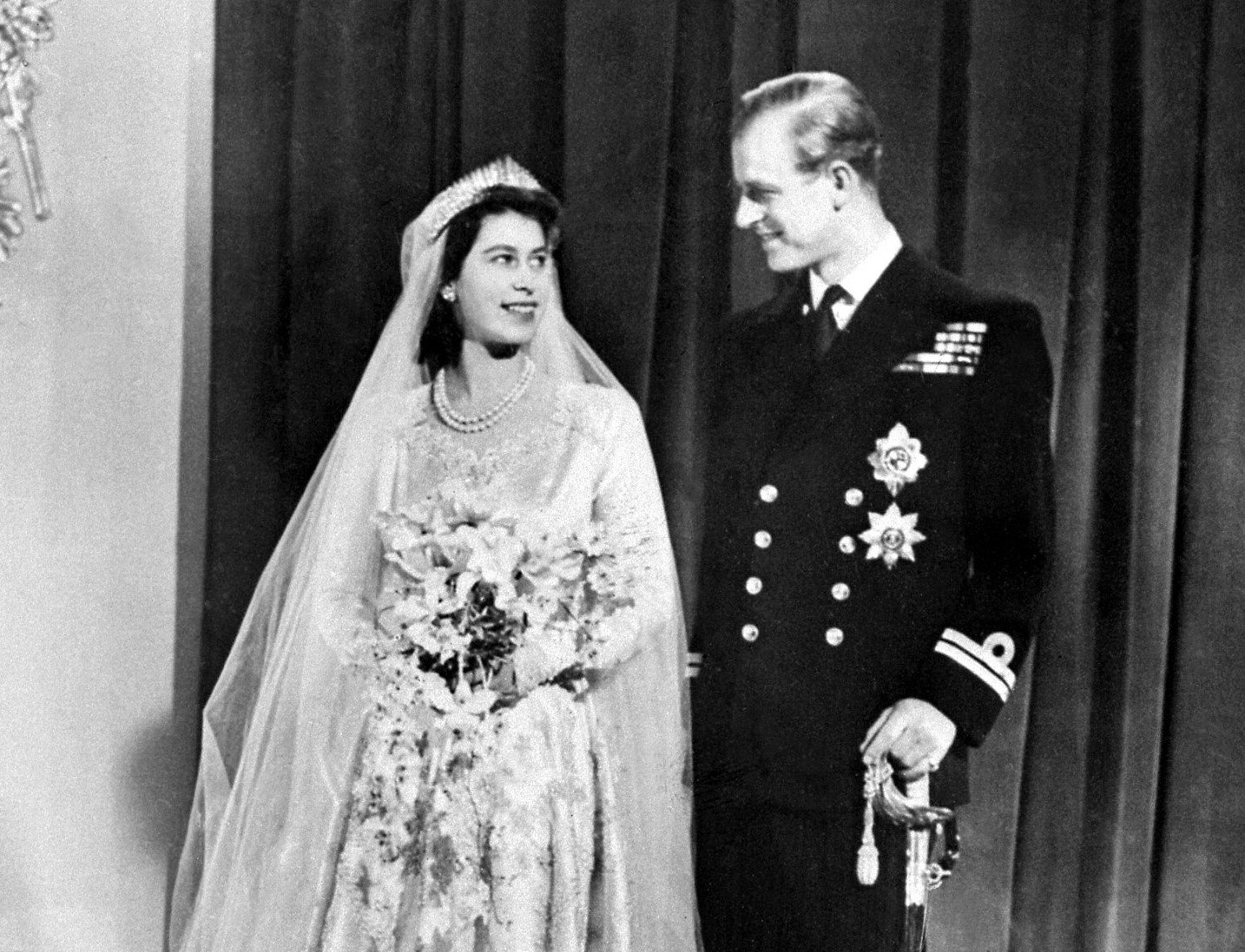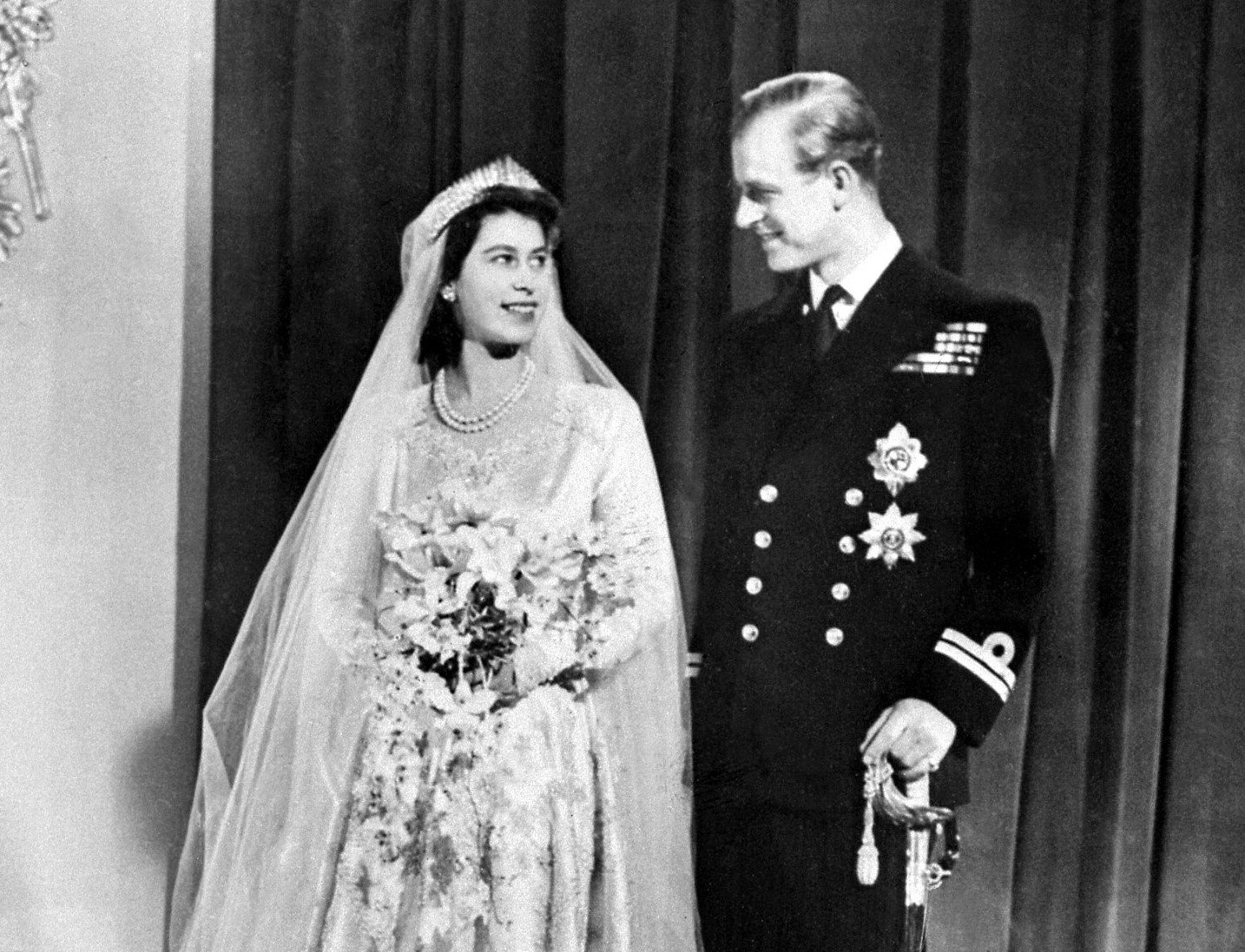 Her tiara broke the morning of. | AFP/Getty Images
The famous Fringe Tiara was originally made for Queen Mary in 1919. Unfortunately, it suffered a tragic accident and broke in the hands of Queen Elizabeth II's hairdresser on the morning of her 1947 wedding to Prince Phillip.
Royal jeweler House of Garrard told Marie Claire, "On that day, they had it police escorted to the House of Garrard workshops. We fixed the tiara that morning, had it sent back to Queen Elizabeth, and then she got married in it. You don't expect the royals to have those sorts of mix-ups, but they do!"
The tiara survived the incident, however, and Queen Elizabeth's daughter Princess Anne wore it on her wedding day, too.
Next: This groom barely slept the night before his big day.
3. Prince William was incredibly sleep-deprived on his wedding day.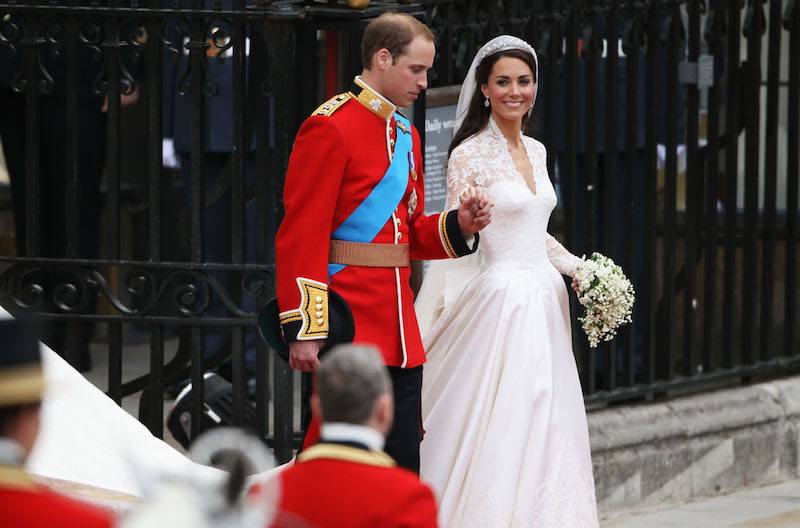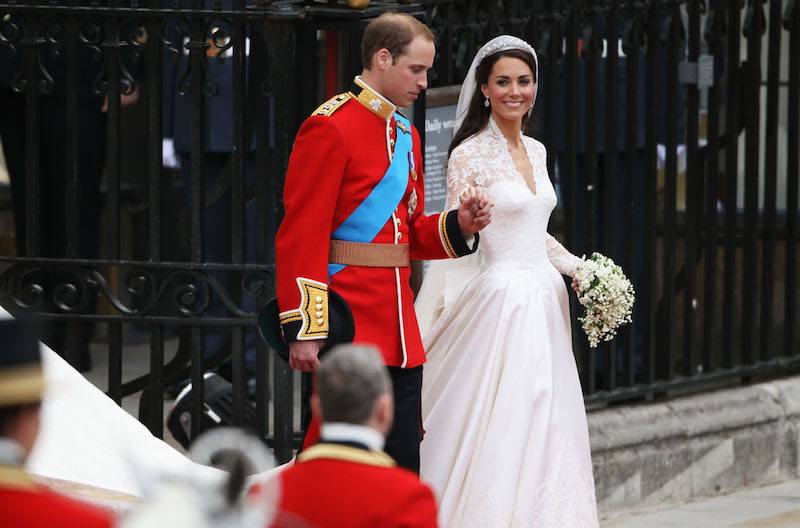 He was kept up by well-wishers and nerves. | Dan Kitwood/Getty Images
He may have been all smiles during his fairytale wedding to Kate Middleton, but it turns out Prince William was fighting back yawns during the entire event. Sources say the future King of England only slept for 30 minutes the night before his wedding.
"They were singing and cheering all night long, so the excitement of that, the nervousness of me and everyone singing—I slept for about half an hour," the Prince said later in an interview.
Next: Maybe this blunder is part of why the marriage ultimately failed.
4. Prince Charles screwed up his wedding vows.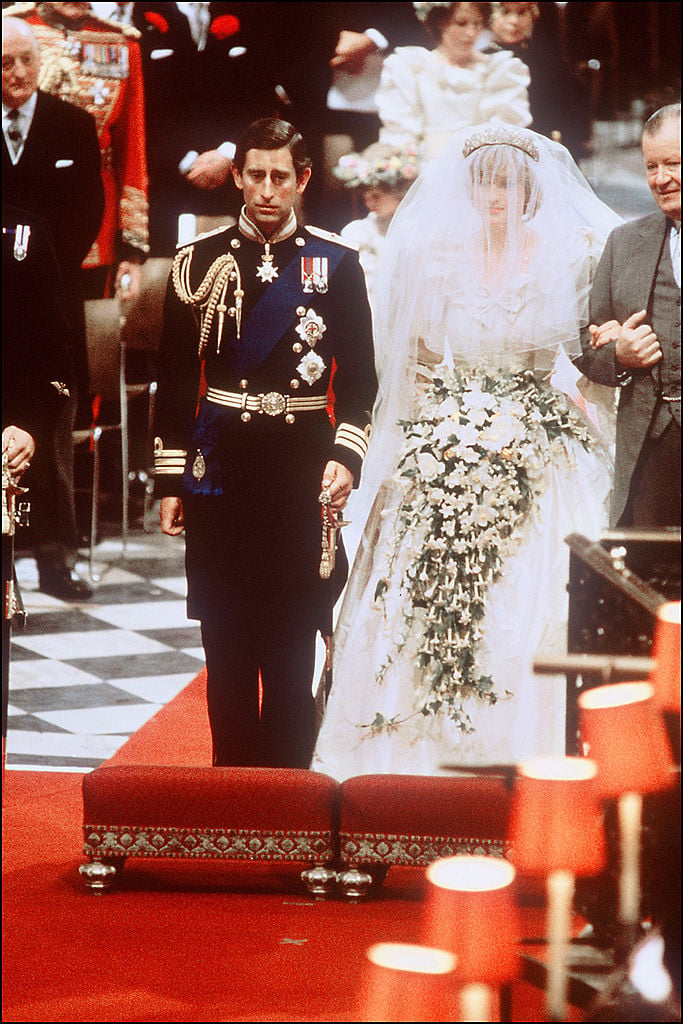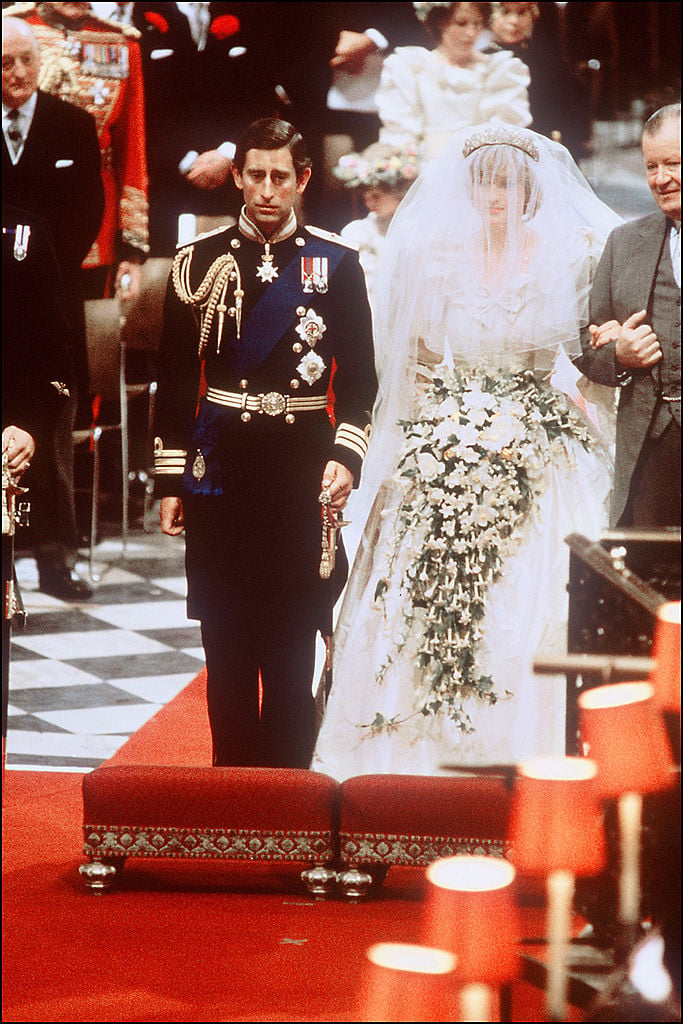 All those issues added up. | STR/AFP/Getty Images
Perhaps as a harbinger of things to come, a lot of mistakes happened during the 1981 nuptials of Prince Charles and Lady Diana Spencer. For one thing, Prince Charles mistakenly promised to give Diana "thy goods" instead of his "worldly goods," which is what he was supposed to say.
Next: Prince Charles wasn't the only one who flubbed his vows.
5. Princess Diana called her new spouse by the wrong name.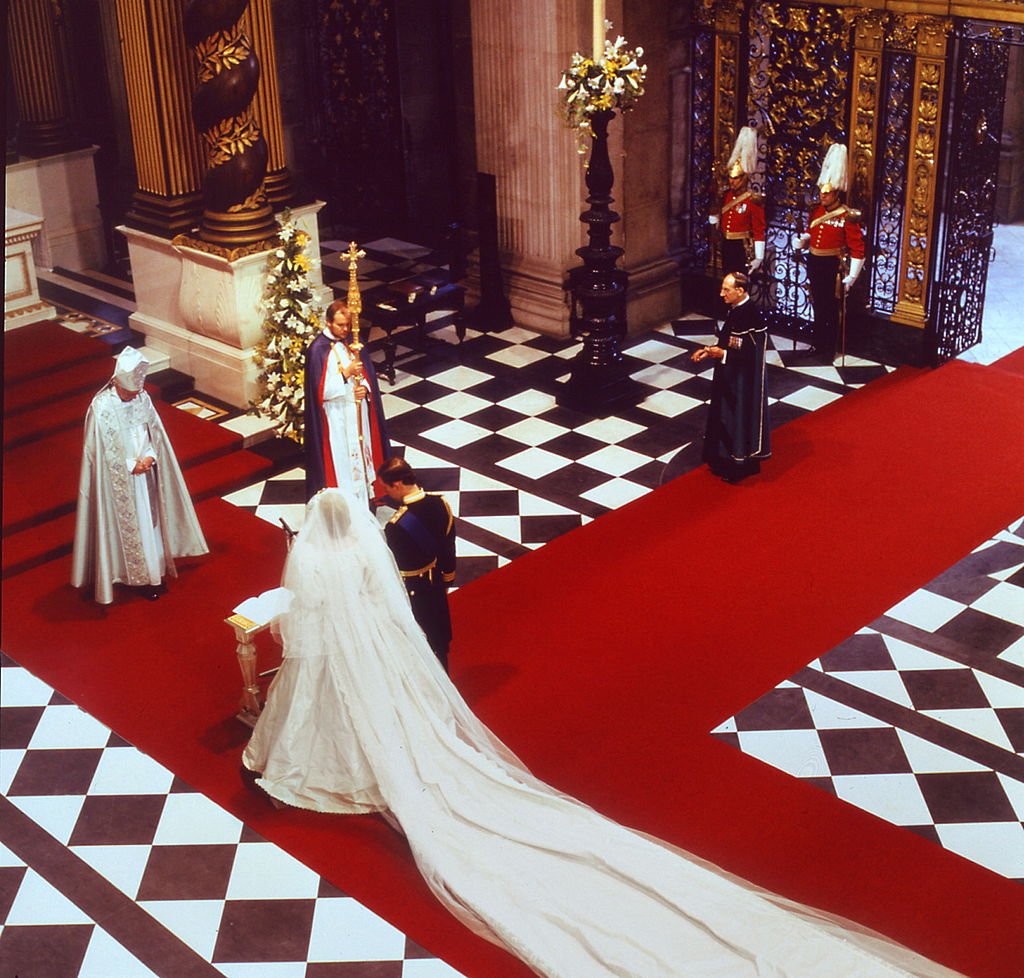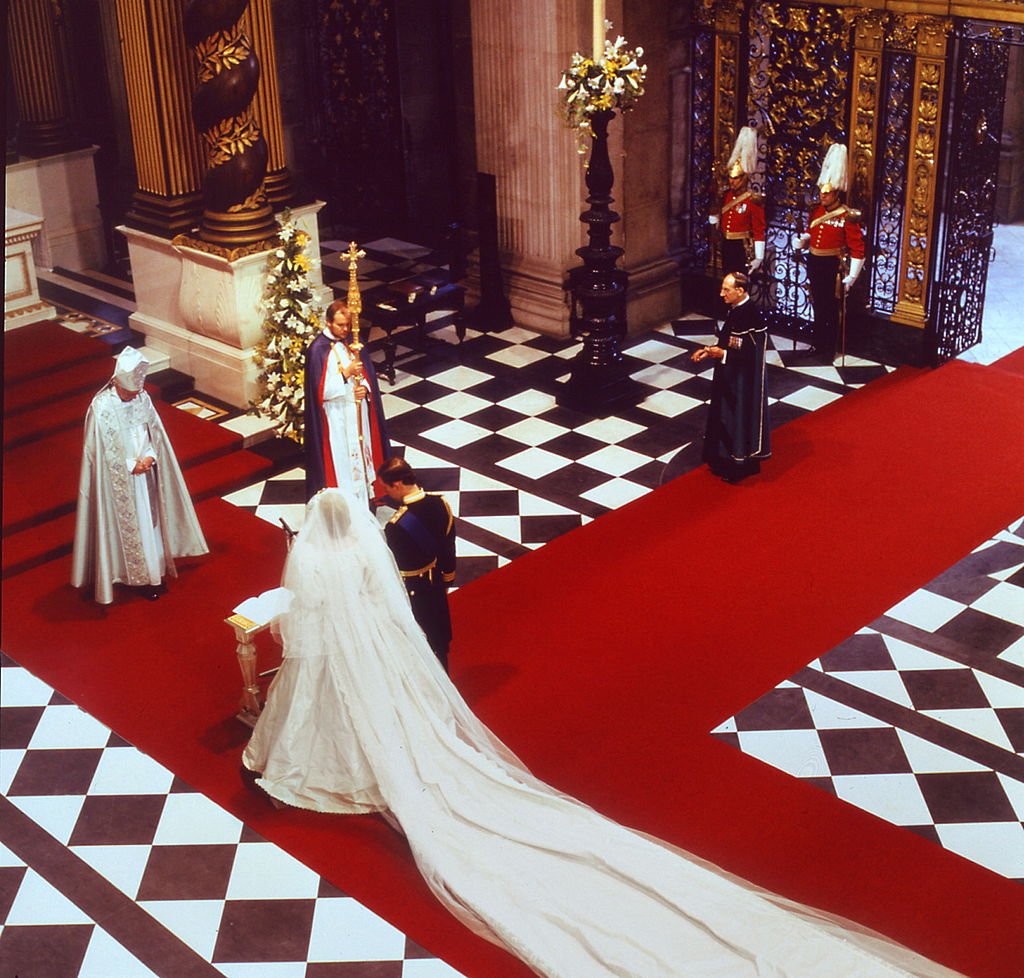 She swapped the words around. | STR/AFP/Getty Images
Prince Charles may have said the wrong words, but that's just as bad — if not worse — than Lady Diana calling her intended the wrong name during their vow exchange. (To be fair, he does have a pretty long name). She called him, "Philip Charles Arthur George" instead of "Charles Philip" like she should have.
Next: This bride didn't make a great impression when she threw up on her groom's mom.
6. Princess Augusta of Saxe-Gotha vomited on her new mother-in-law.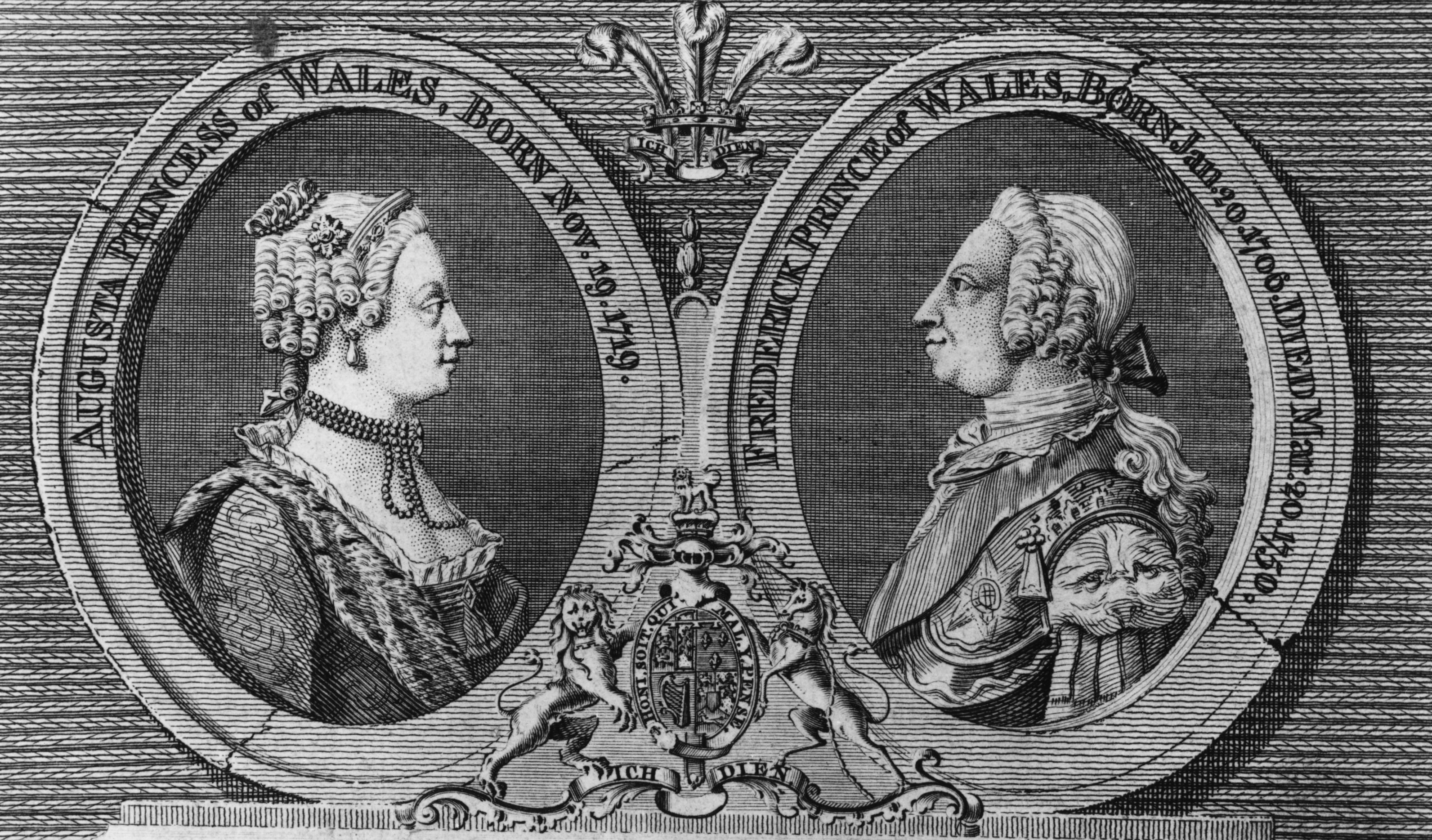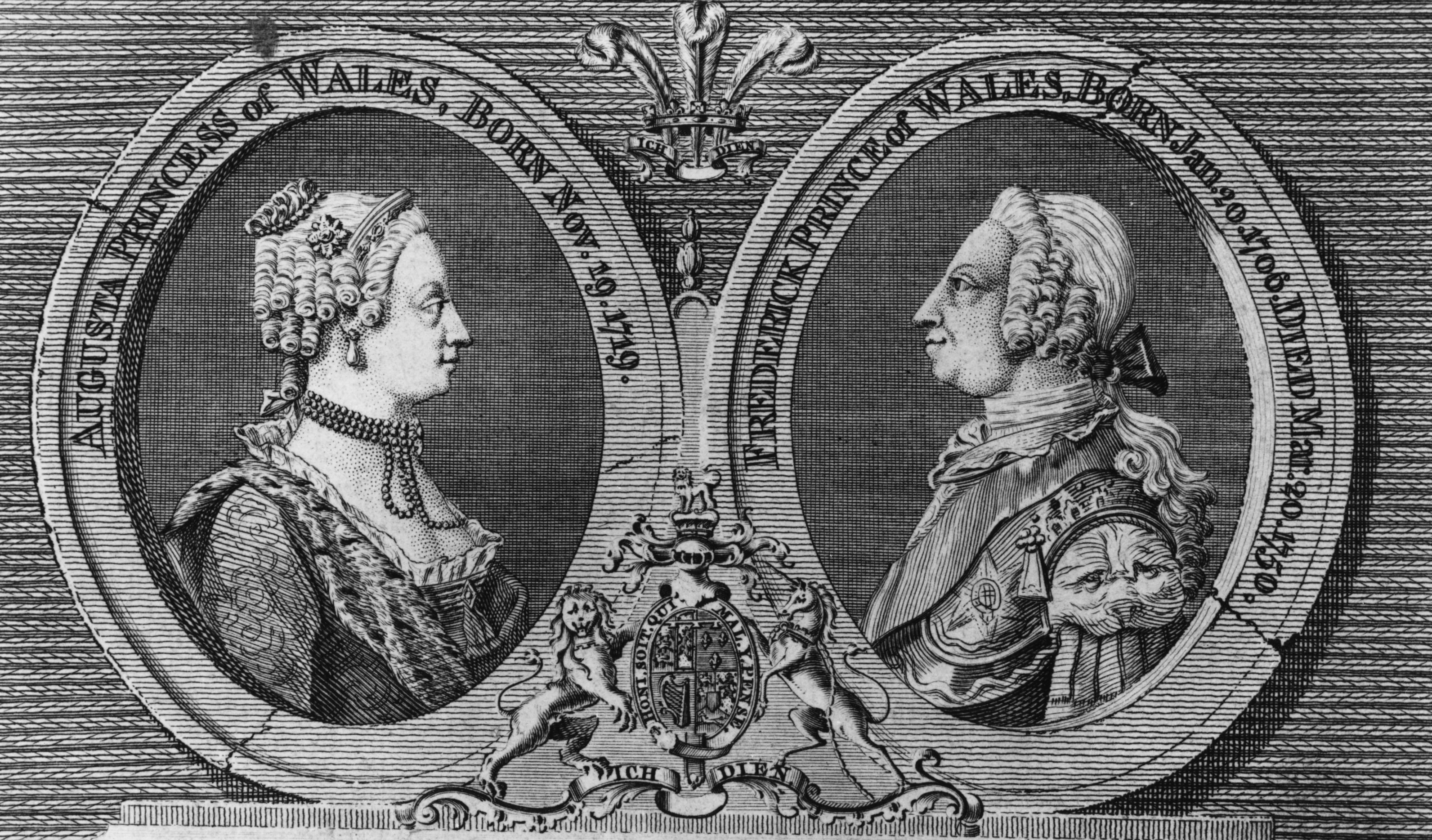 Talk about wedding jitters. | Hulton Archive/Getty Images
16-year-old Princess Augusta was not prepared for marriage. During her 1736 wedding to Prince Frederick of Wales, a man who she just met prior to the marriage, she got so nervous that she threw up all over her dress and her new mother-in-law. Despite the snafu, the wedding proceeded as planned.
Next: The bride forgot this important accessory and had to stall the wedding.
7. Princess Nathalie forgot her bouquet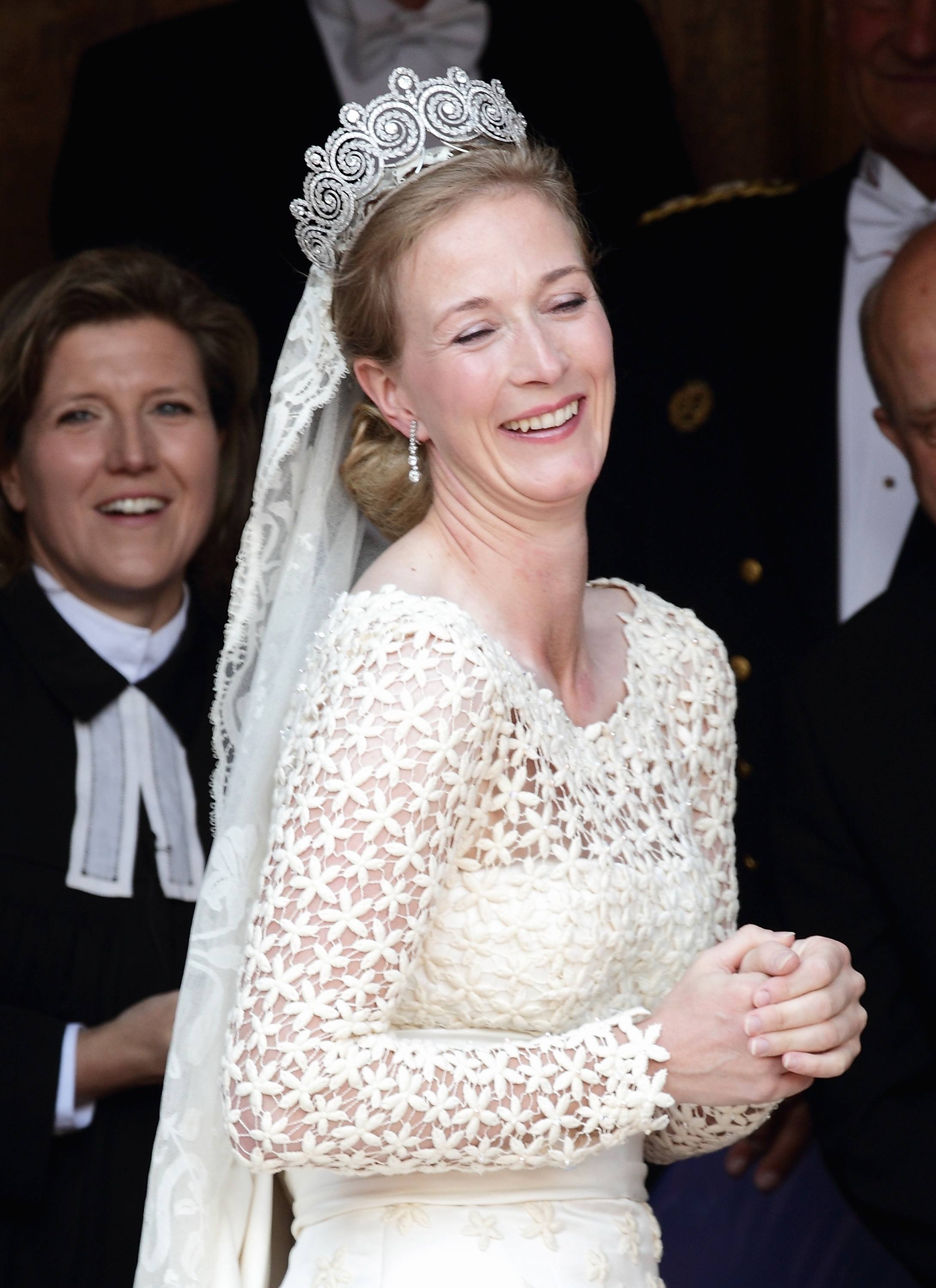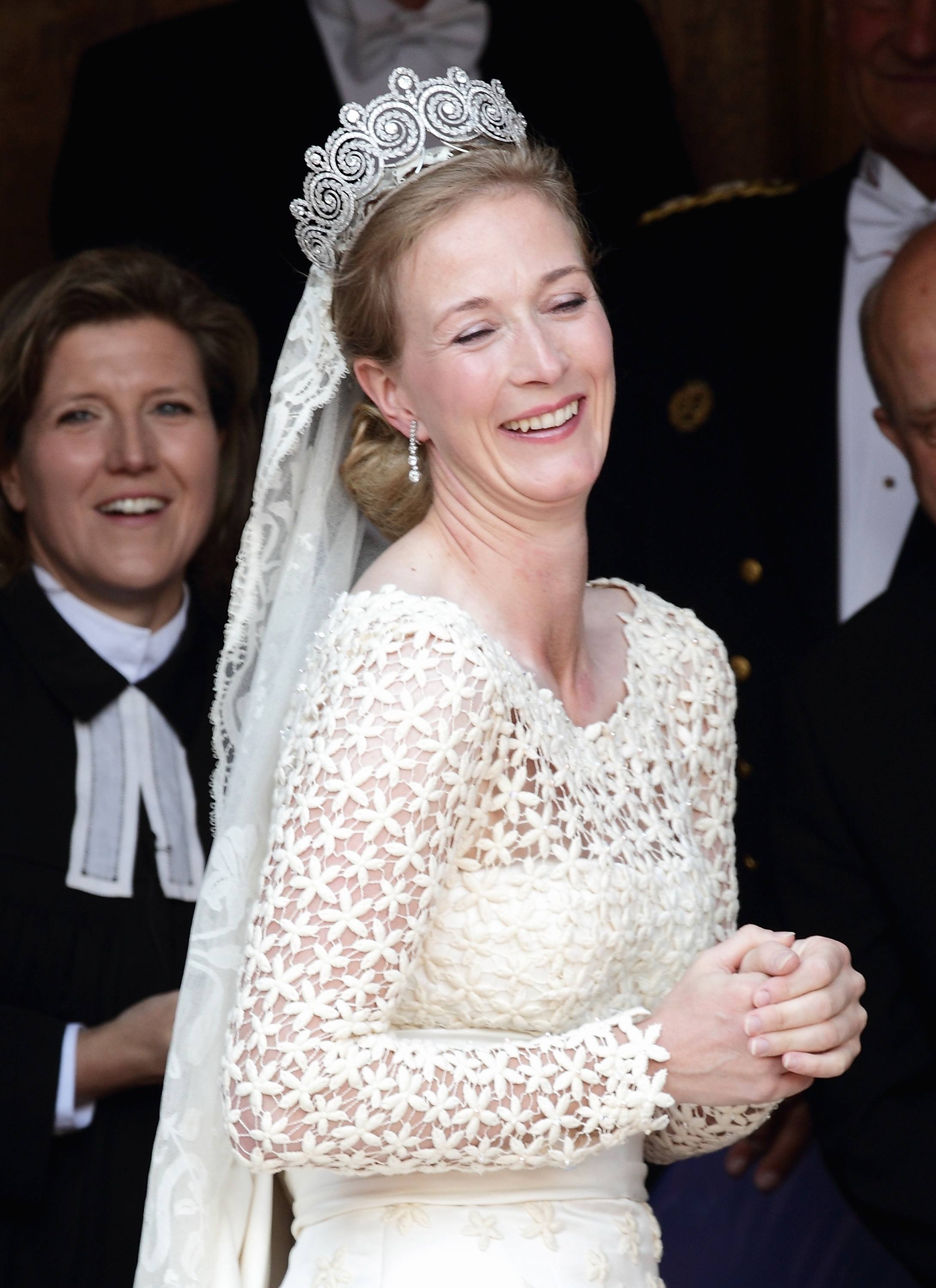 Thankfully, they only ended up with a slight delay. | Andreas Rentz/Getty Images
The average cost of a bridal bouquet is anywhere from $65 to $255, and for a royal wedding it's presumably a lot more than that. But that didn't stop Princess Nathalie zu Sayn-Wittgenstein-Berleburg of Denmark from leaving hers behind on the way to her wedding ceremony.
Luckily, someone was able to run and retrieve it, and the ceremony was only delayed by ten minutes.
Next: A horse went crazy during this televised wedding event.
8. A horse threw its rider at William and Kate's wedding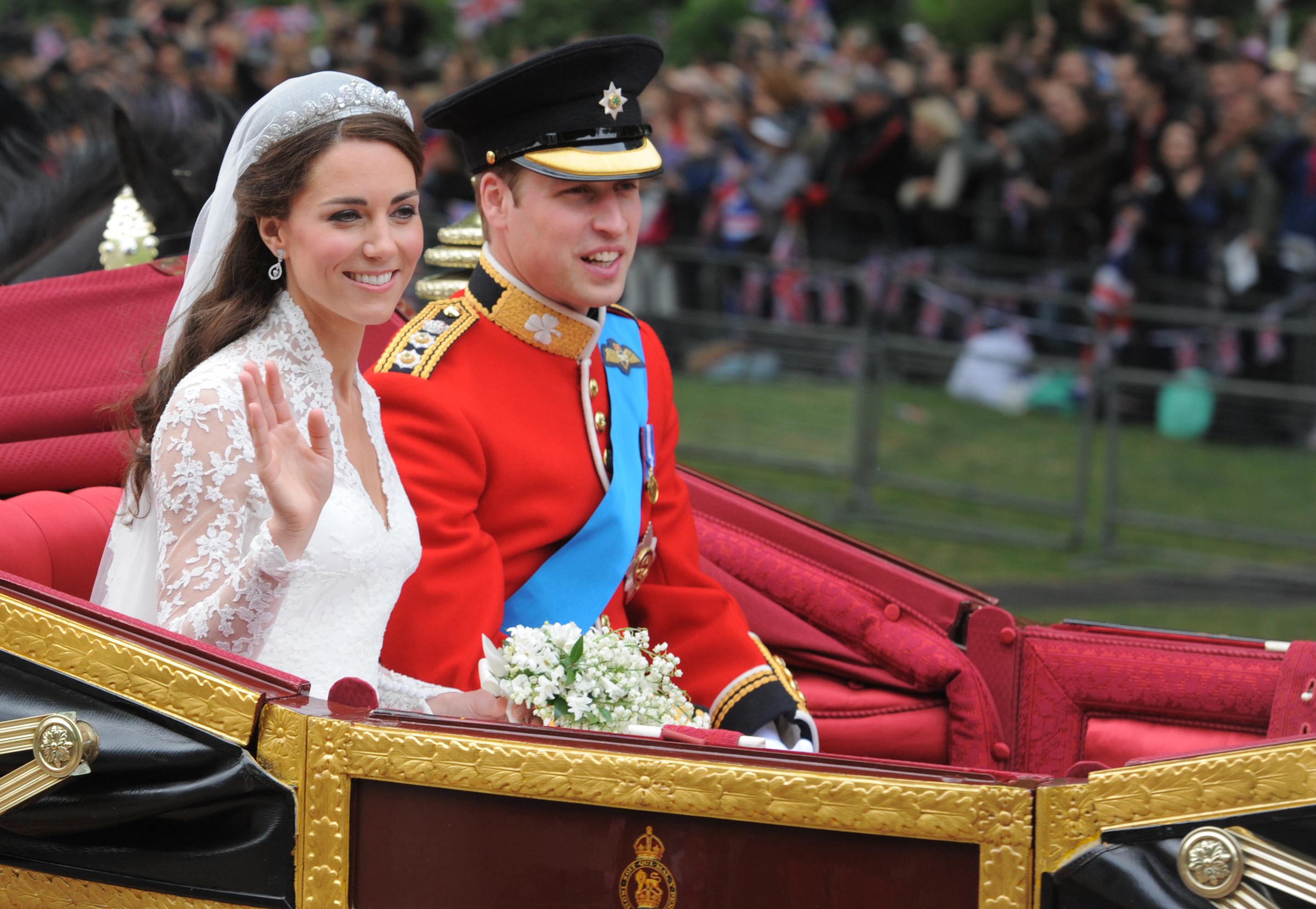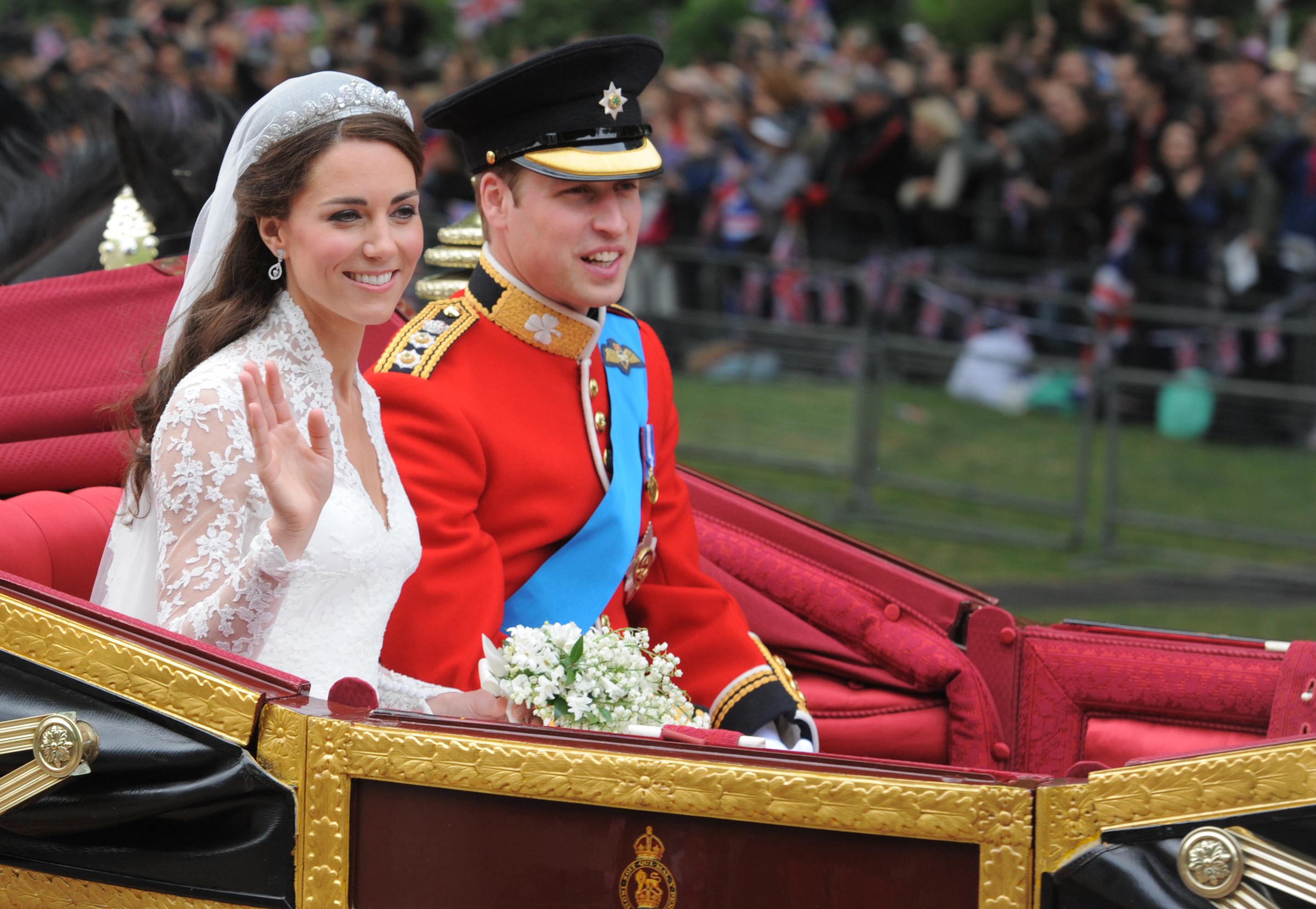 They managed to calm the horse down. | Dimitar Dilkoff/AFP/Getty Images
One of the Household Cavalry horses got a little panicked by the huge crowd at Kate and Will's 2011 wedding. During the ride to Buckingham Palace, the horse panicked, threw his rider, and ran. Thankfully, no one was injured and the horse was quickly calmed.
Next: This world-famous wedding gown had a big problem.
9. Princess Diana's dress was incredibly wrinkled.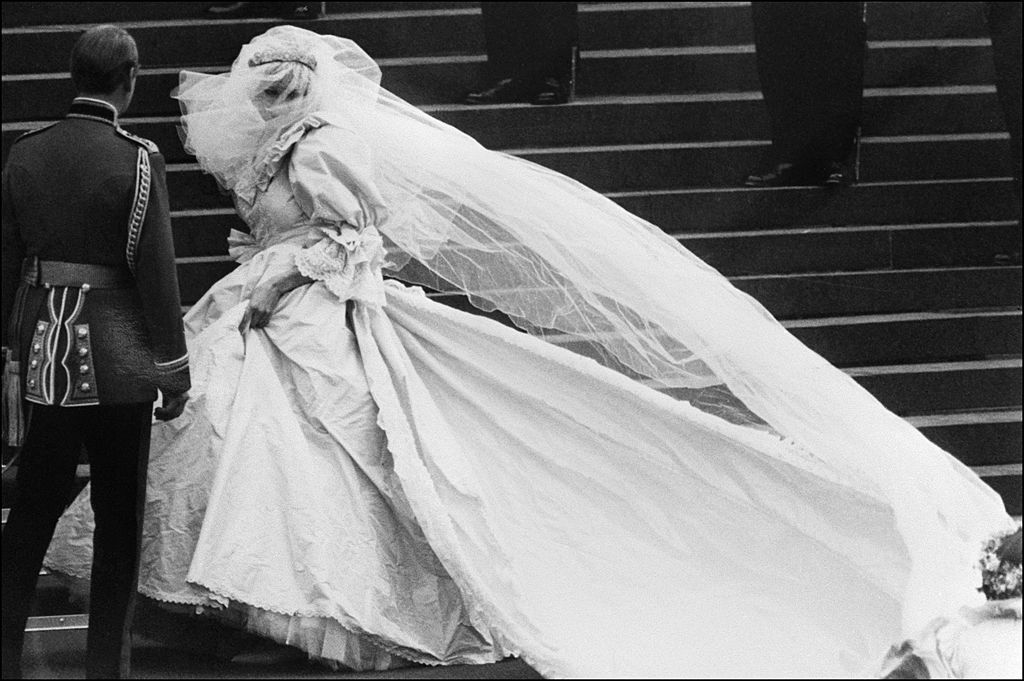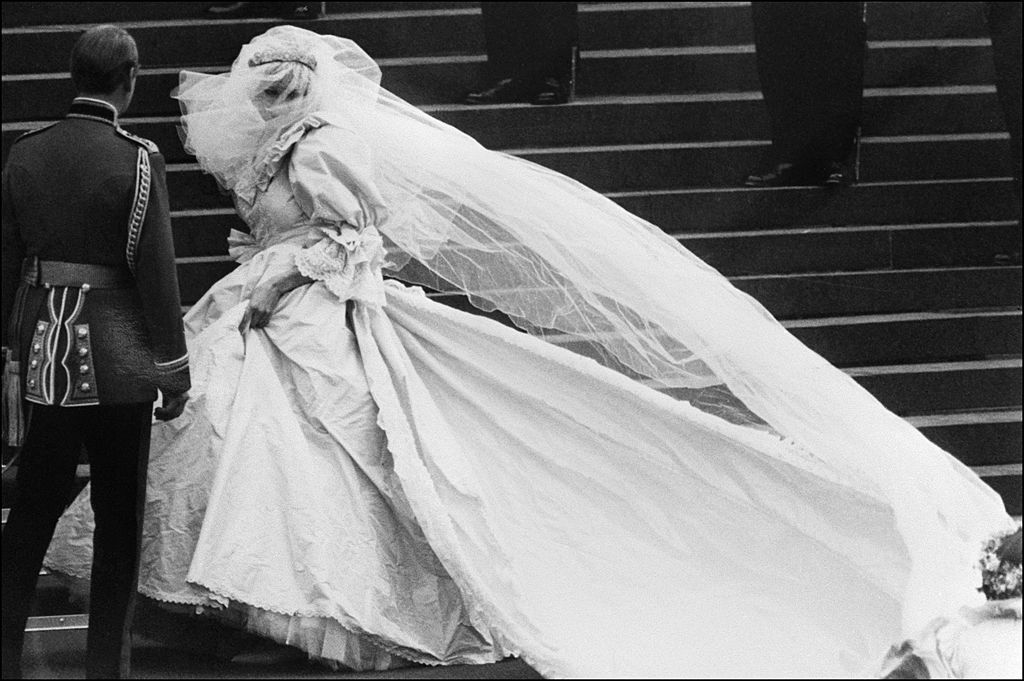 All that train got smashed up in the car. | AFP/Getty Images
Lady Diana Spencer's wedding gown is one of the most recognized — and copied — dresses of all time. But the fabric isn't necessarily suited to carriage rides.
The ivory silk taffeta and antique lace gown boasted a 25-foot-long train and huge puffy sleeves in true 80s style. The size of the dress was part of the problem. After getting stuffed into the carriage, the gown became hopelessly wrinkled during the ride to St. Paul's Cathedral.
Next: This groom got so drunk he couldn't stand.
10. King George IV was so drunk he had to be propped up.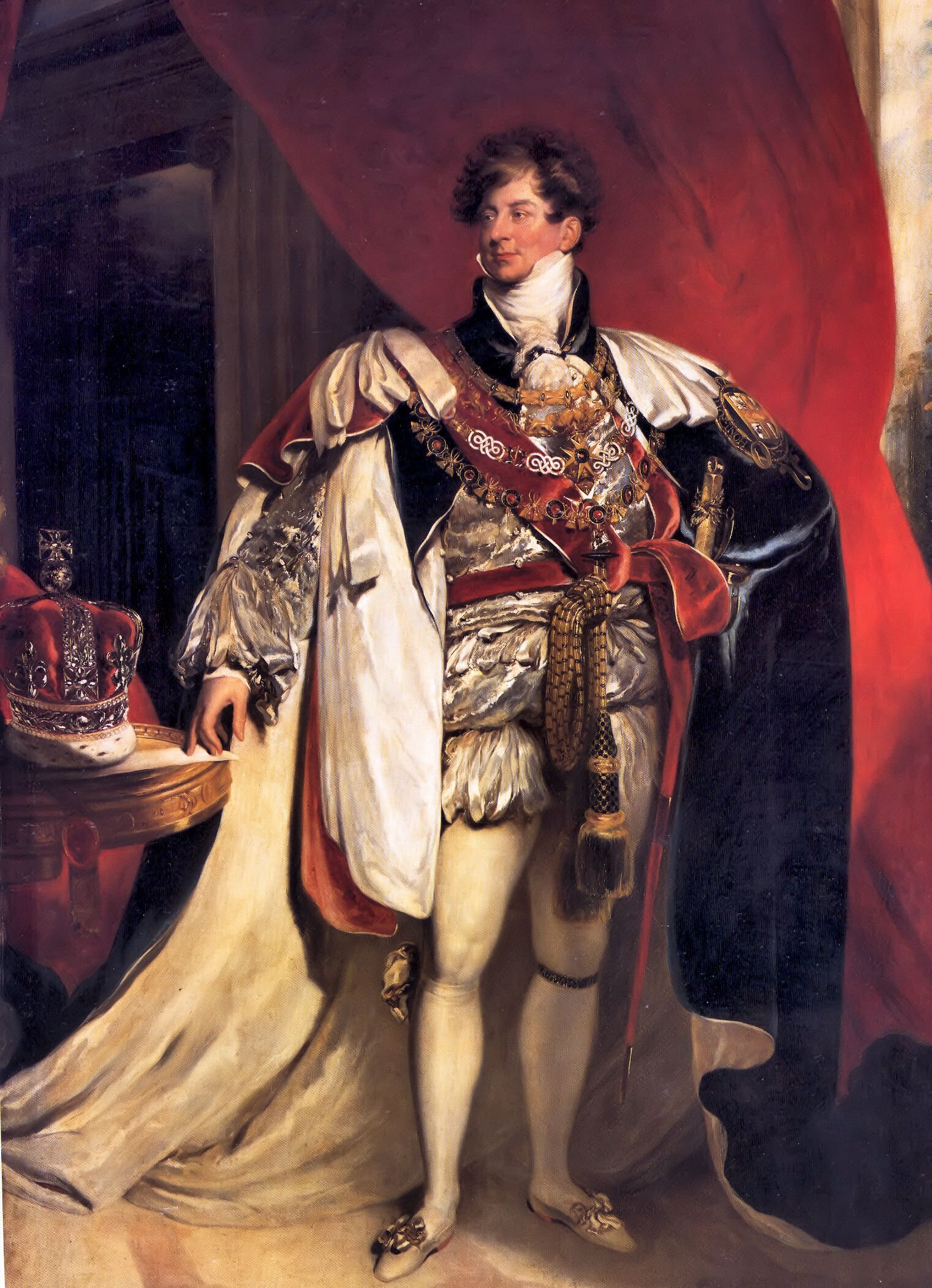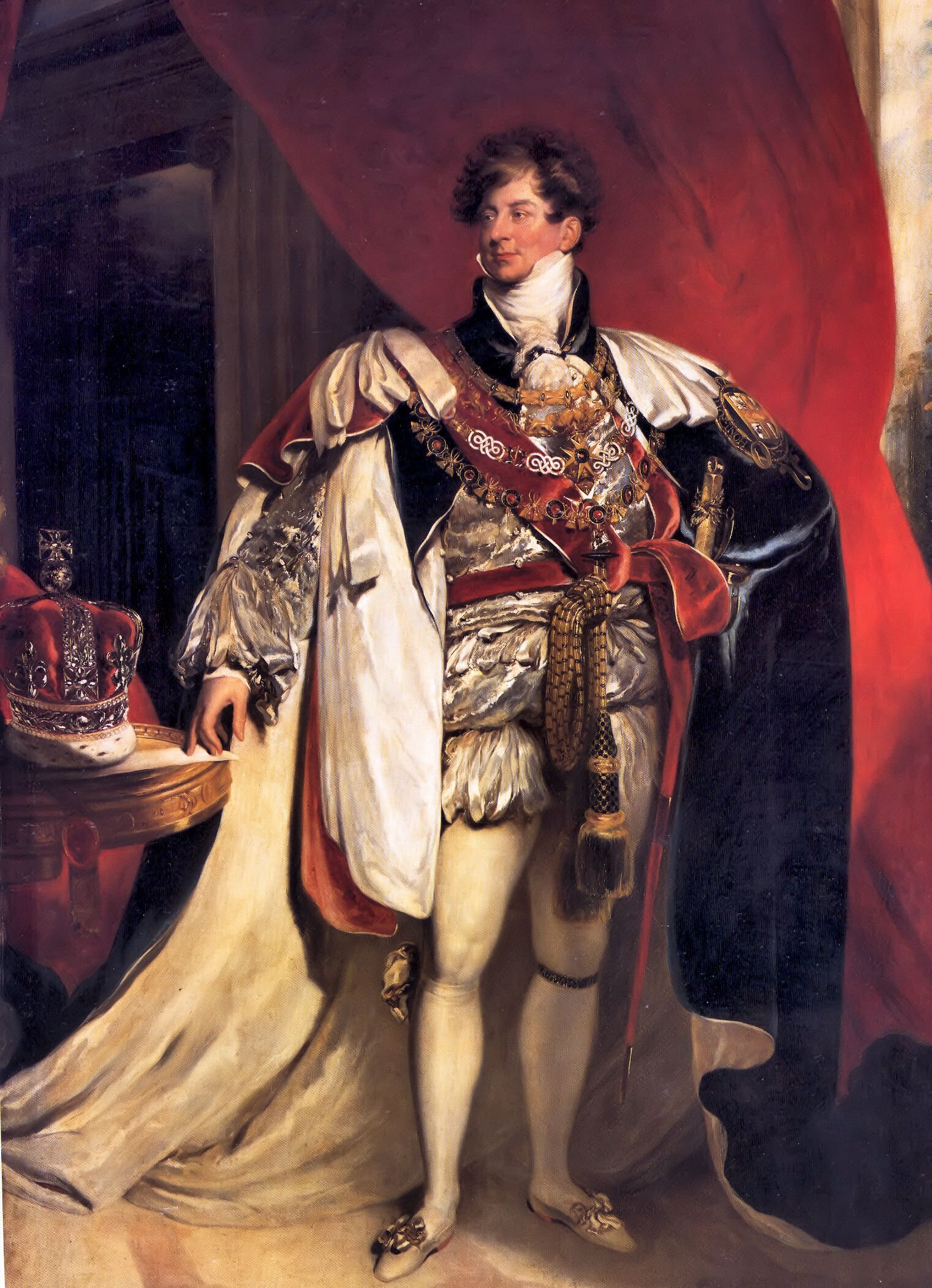 He married her in exchange for help paying off his debt. | Vatican Museums/Wikimedia Commons
Blame it on nerves — King George was so drunk at his 1795 wedding to his first cousin, Princess Caroline of Brunswick, that he had to be physically propped up by his groomsmen.
This was after arriving late, stumbling up the altar steps, and refusing to say his vows until he received a strong verbal lashing from his father. He also supposedly broke down crying when no one spoke up to object to the wedding.
Next: This groom wasn't at his wedding.
11. Louis XVI didn't attend his own wedding.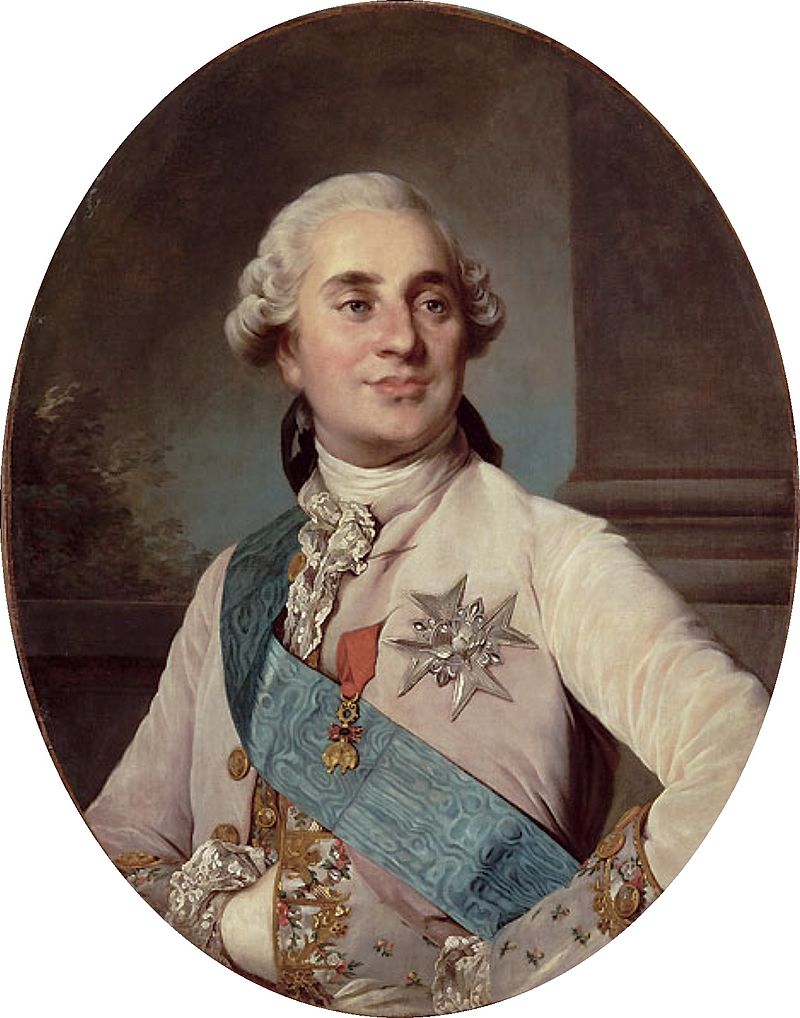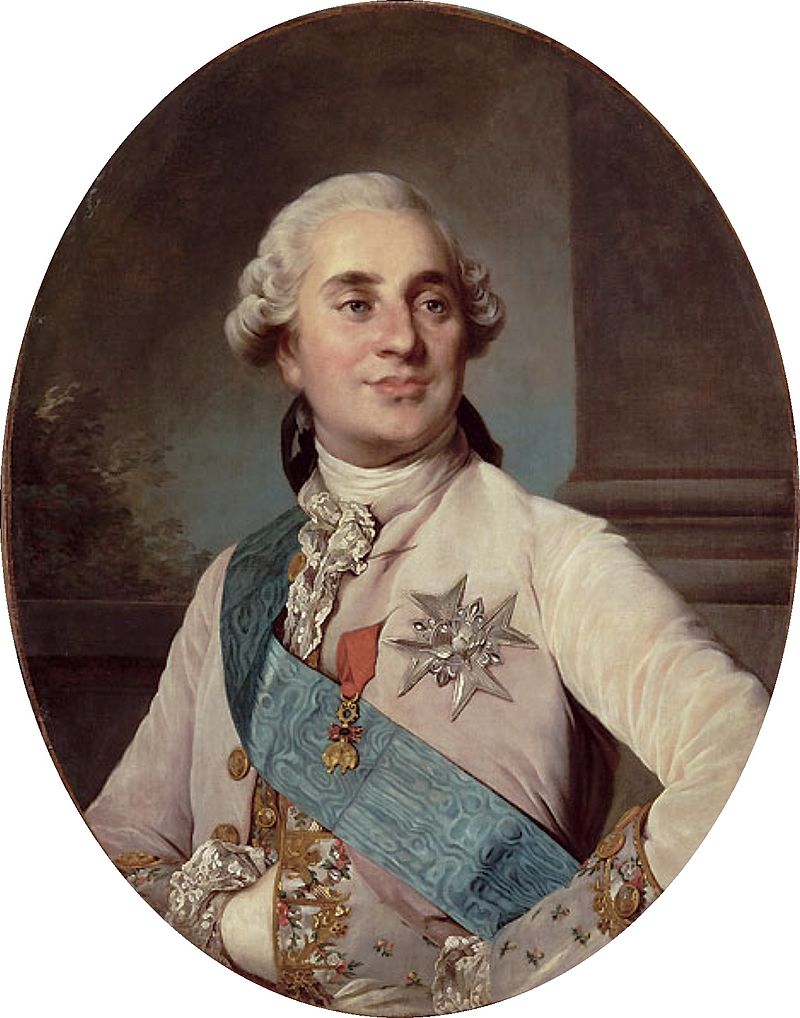 He had an understandable teen fit over his marriage. | Palace of Versailles/Wikimedia Commons
It doesn't get much worse than missing your own wedding.
Louis-Auguste, grandson of Louis XV, was betrothed without his consent in an arranged marriage to Marie Antoinette in 1770. The ceremony was held in the bride's native hometown of Vienna with her older brother Ferdinand standing in as groom by proxy.
Later, 15-year-old Louis apparently "sulked and brooded" during a mass celebration in honor of the union.
Next: One of the funniest photobombs ever.
12. William and Kate's magical kiss got photobombed.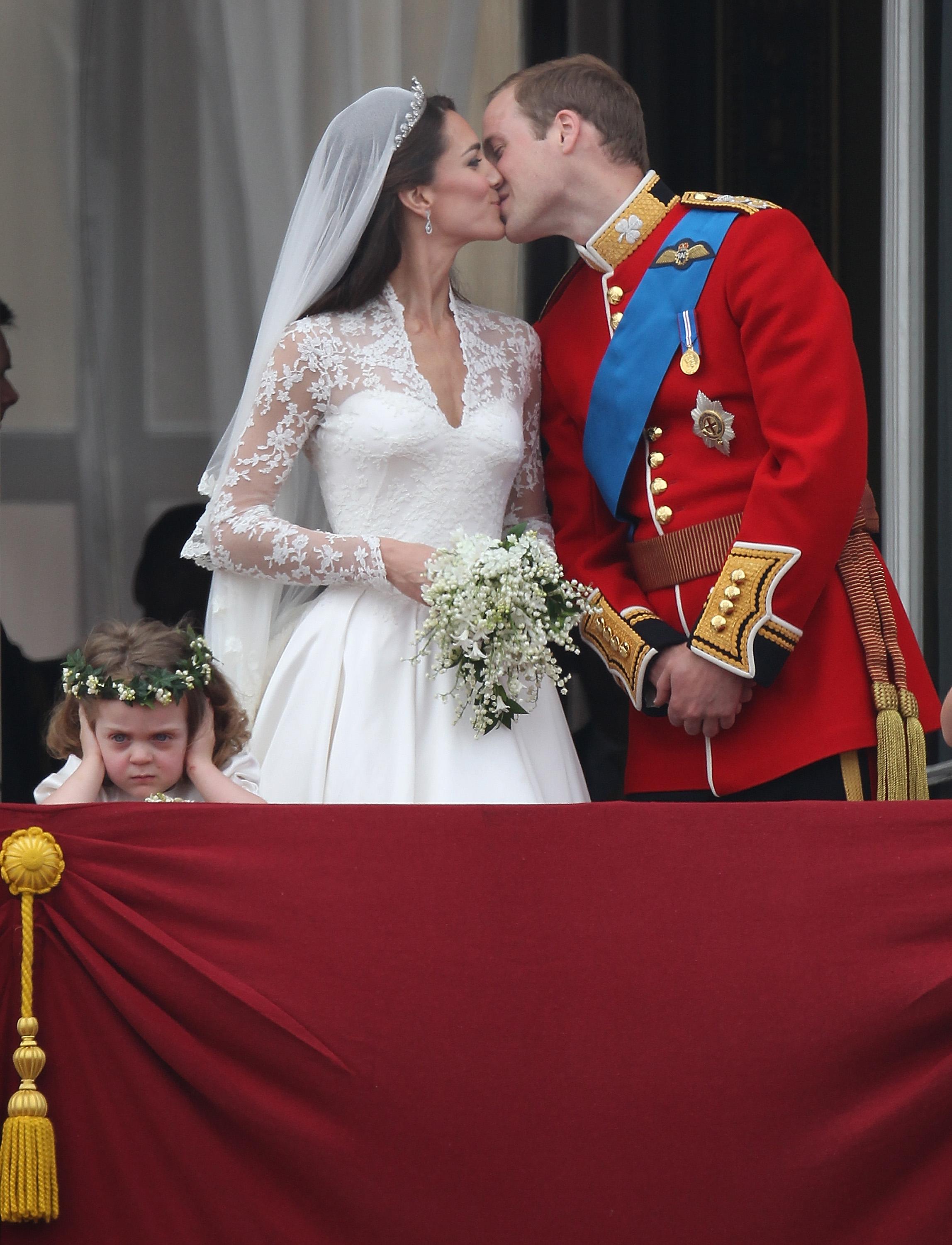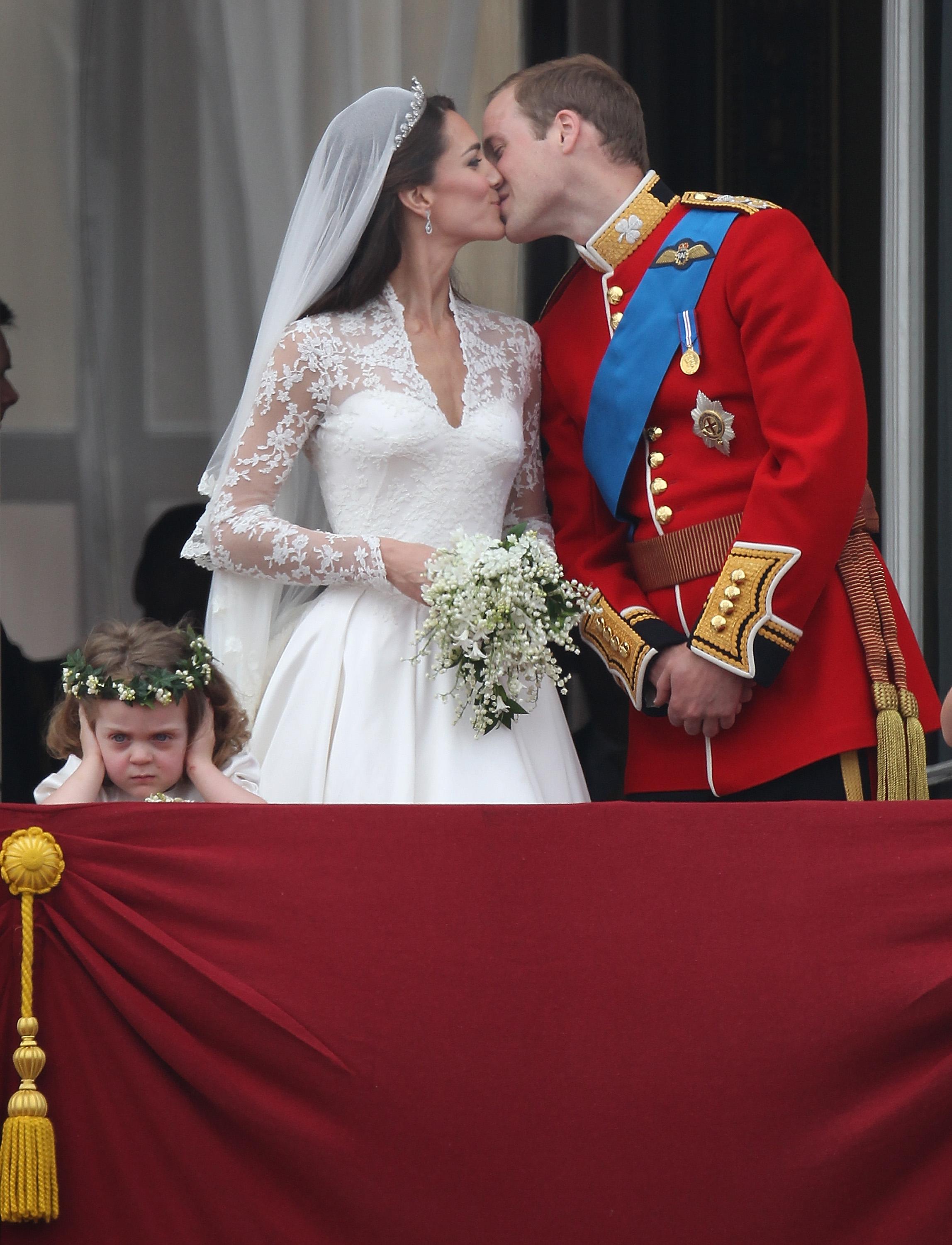 She was not having it. | Peter Macdiarmid/Getty Images
In perhaps the cutest photobomb of all time, pint-sized bridesmaid Lady Louise, the daughter of Prince Edward and Sophie Countess of Essex, got caught on camera making an annoyed face and covering her ears during Will and Kate's much-anticipated balcony kiss. But that's nothing that a little Photoshop can't fix.
Next: This bride literally couldn't get into her dress.
13. Marie Antoinette's dress was too small.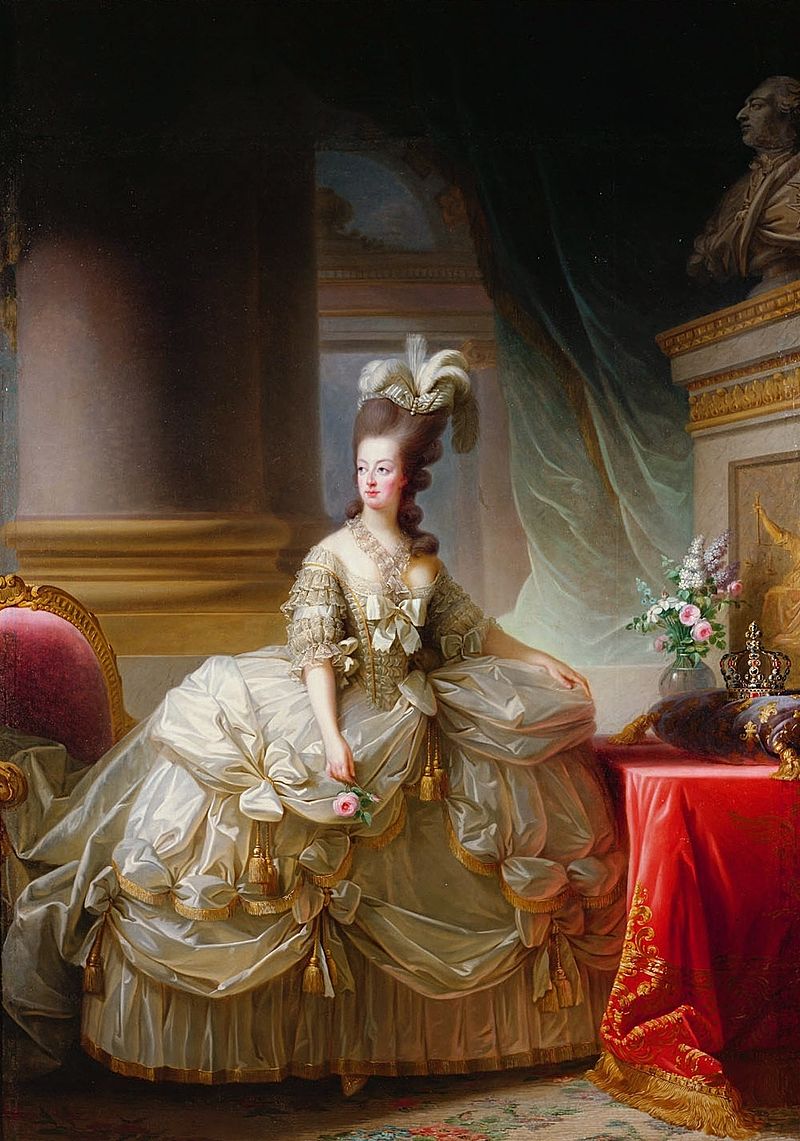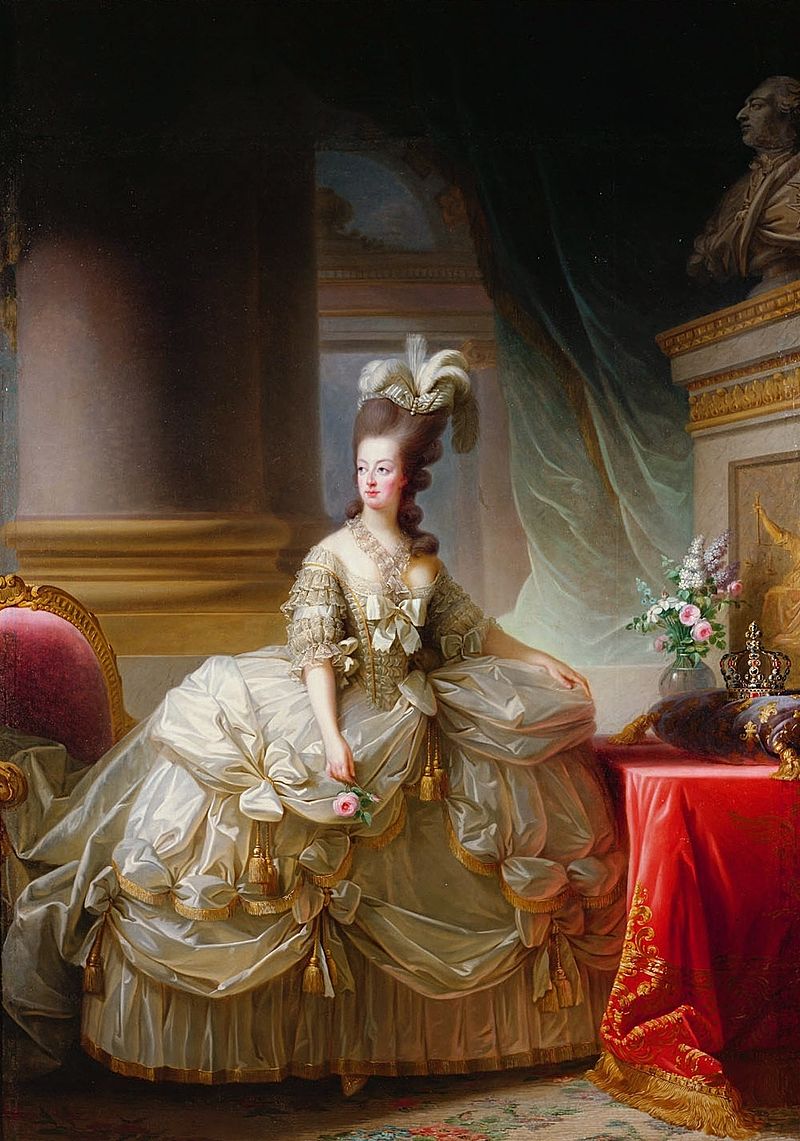 The gap couldn't be fixed in time. | Kunsthistorisches Museum/Wikimedia Commons
The royal dressmaker miscalculated Marie Antoinette's measurements, which resulted in a beautiful wedding dress that was just too small. Despite a long time spent cinching and finagling the dress, it just wouldn't close, leaving a strange gap between the rows of diamonds down the back.
But by the time the mistake was discovered, it was too late to fix. The bride walked down the aisle with some strategically placed swaths of fabric covering the gaps.
Next: This bride's gown made it impossible for her to walk.
14. Princess Caroline couldn't even stand up in her wedding gown.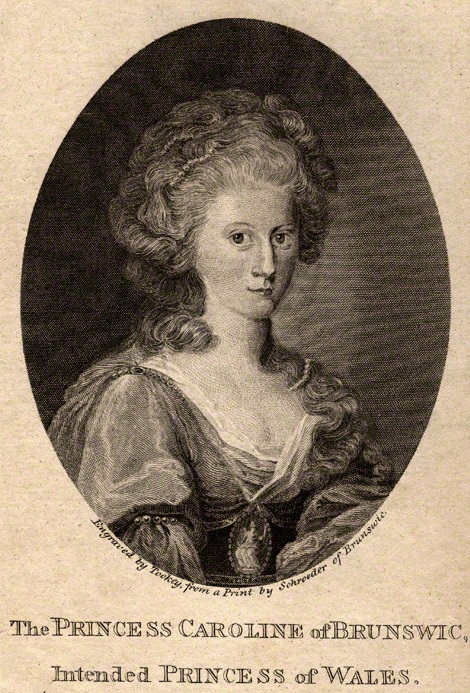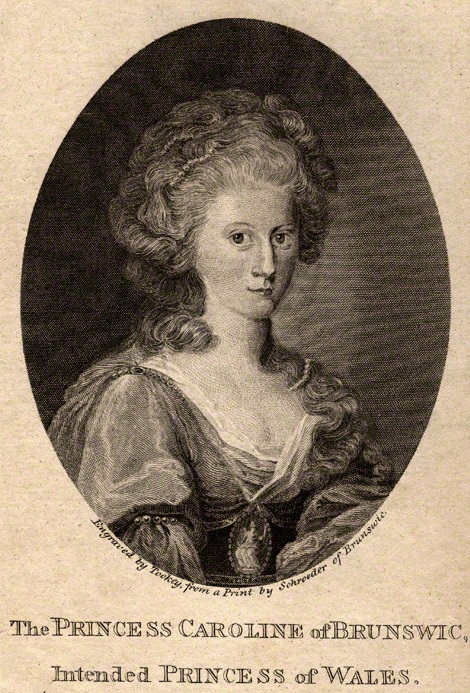 This wedding was all-in-all a disaster. | National Portrait Gallery/Wikimedia Commons
A drunk groom wasn't the only problem Princess Caroline had to face. During her wedding to George IV, her velvet, ermine, lace, and silver tissue dress was so heavy that she apparently couldn't even stand up, much less take the long walk down the aisle.
Next: This king suffered through his wedding day.
15. Alfred the Great went through with his wedding despite crippling physical pain.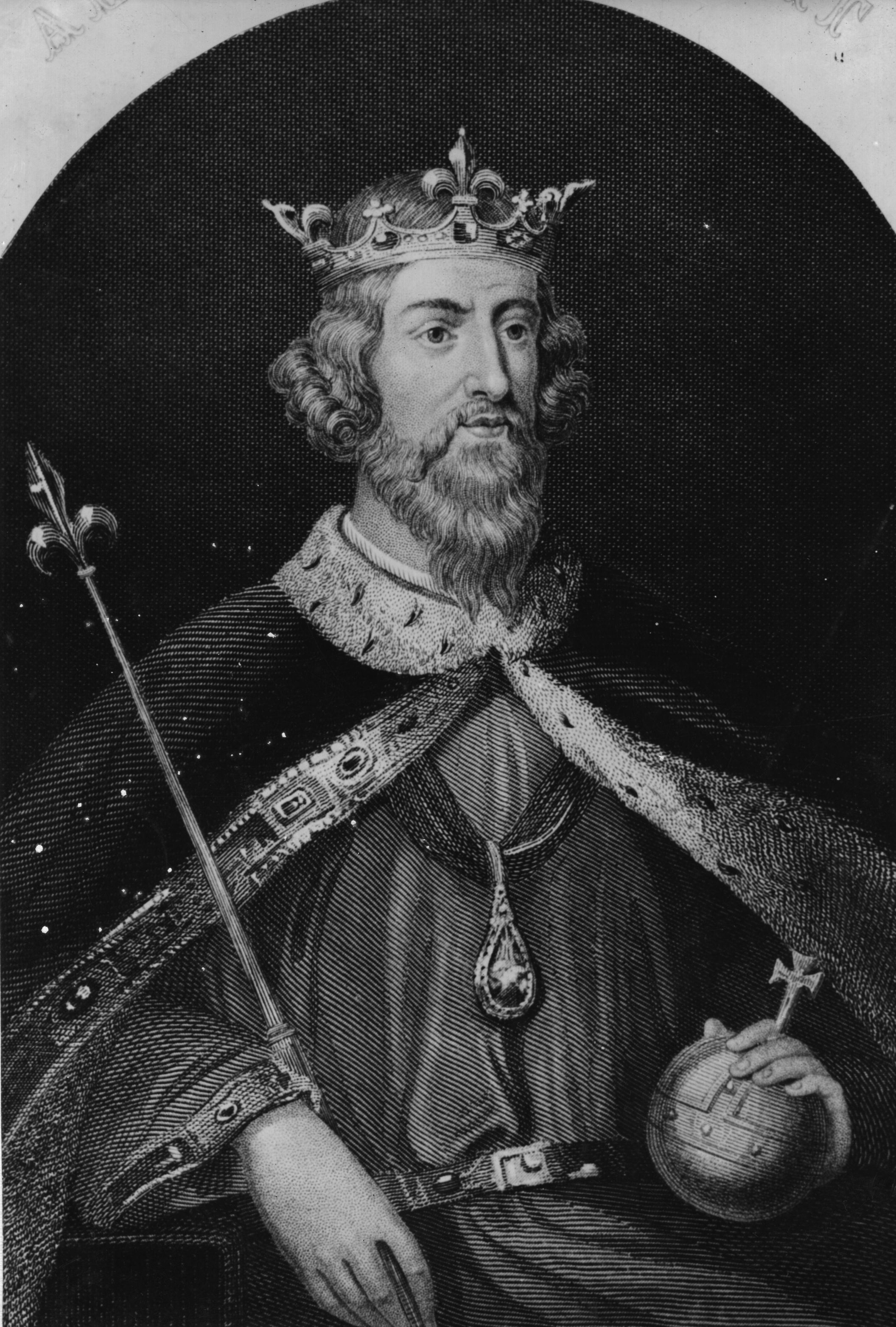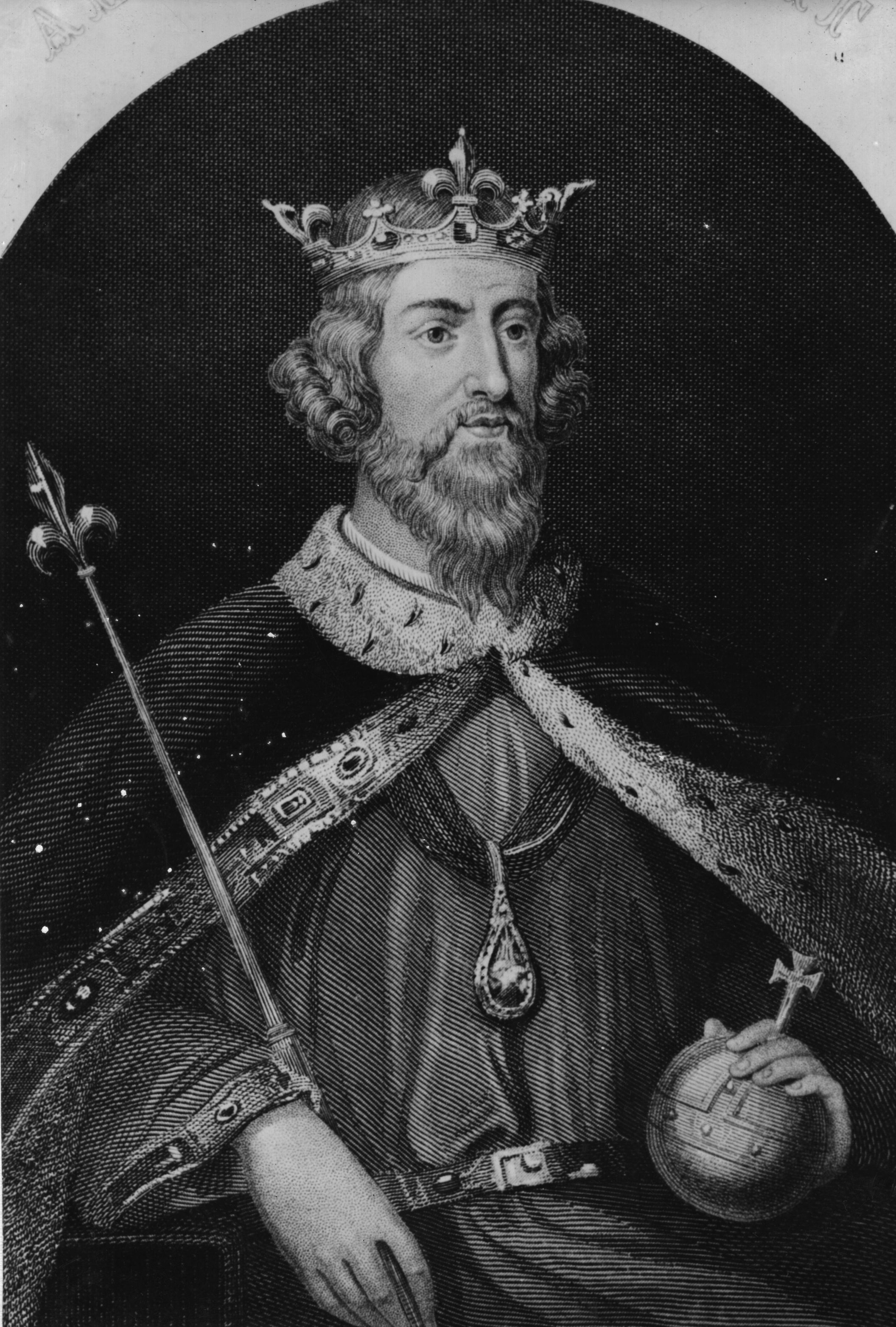 He likely had Crohn's Disease. | Hulton Archive/Getty Images
Alfred the Great (King of Wessex) complained of "sudden severe pain that was quite unknown to physicians" that began during his wedding ceremony with Ealhswith in 868AD. Historians now believe he may have been suffering from Crohn's Disease, though we'll never know for sure.
Read more: Wedding Traditions Every Royal Bride and Groom Must Follow
Check out The Cheat Sheet on Facebook!
Source: Read Full Article