Whether you're a big Disney fan or want to travel abroad via an all-inclusive vacation, booking a Disney Honeymoon is an excellent way to experience magic together. And, as with weddings, Disney goes the extra mile to ensure your entire experience is nothing short of a fairytale.
Thinking about booking a Disney honeymoon? From Australia to Hawaii to Walt Disney World, Disney has you covered. See the top seven ways Disney can make your honeymoon extra magical, ahead.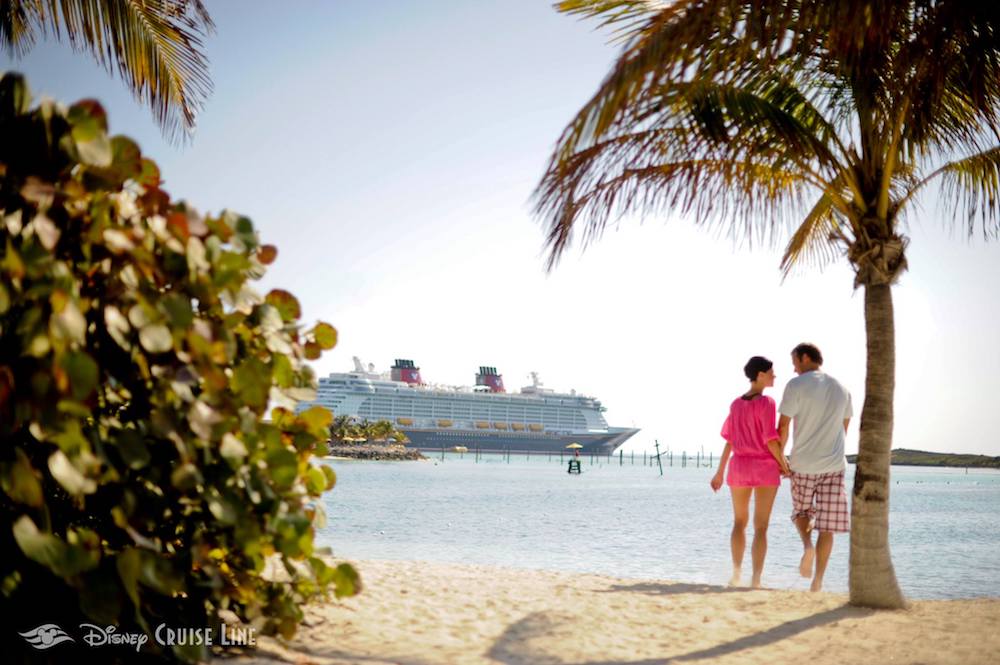 Not all Disney honeymoons include a trip to the parks. | Disney Cruise Line via Facebook
1. Adventures by Disney
Plan your dream honeymoon with Adventures by Disney. From Asia to Europe to North America, the in-house travel agency helps newlyweds plan the experience of a lifetime and ensures your honeymoon has a touch of Disney magic.
While Adventures by Disney vacations are available to all tourists, the agency also offers select adult exclusive vacations with all-inclusive trips to Australia, South Africa, San Francisco, Ecuador, Vietnam, Costa Rica, and more. And, for Disney fans looking to celebrate at The Happiest Place on Earth, adult-only trips to Disneyland Resort — which includes a private backstage tour of Walt Disney Studios, Walt Disney Imagineering, and Jim Henson Company — starting at $3,299 for six days and five nights stay.
2. Beach honeymoons
Disney knows honeymoons are all about relaxation and romance. And, what better way to relax than on a beach somewhere? If you dream of a Disney and beach honeymoon, consider booking a trip to Aulani, Disney's Hilton Head Resort, or Disney's Vero Beach Resort.
3. Cruise honeymoons
Celebrate your nuptials on a Disney cruise! In addition to beach honeymoons and all-inclusive adventures, Disney offers packages for cruise honeymoons to the Bahamas, Caribbean, Europe, and Alaska. Disney cruises aren't just for kids. It has adult-only areas including decks, pools, and lounges. On top of that, the ships offer Broadway-worthy performances, romantic spa packages, and more.
4. Theme parks
Want the ultimate Disney honeymoon? Consider booking a trip to The Happiest Place on Earth! From Disneyland in California to Disney World in Florida to Disneyland Paris and Hong Kong, there are many locations (and parks) to choose from for a memorable honeymoon. While at the parks, newlyweds can purchase wedding-related merchandise — such as bride and groom Mickey Ears — and receive a "Just Married" pin at Disney City Hall.
5. In-room celebrations
Celebrating your honeymoon at Disney parks? Request an in-room celebration. Disney offers a handful of options to choose from, including a romantic welcome basket with a dozen red roses, Cinderella's Castle chocolates, keepsake champagne flutes, and satin rose petals and candles.
6. Cake
Looking for more ways to celebrate while on your honeymoon? Order a cake to share in-room or at dinner. Disney has a few options for cake at Disneyland and Disney World — both of which can be ordered and delivered to your hotel or restaurant.
7. Honeymoon registry
Dreaming of a Disney honeymoon? Register with Disney Honeymoon Wishes. Instead of gifts, wedding guests can contribute to your Disney honeymoon fund for a trip of a lifetime. Whether you have plans to visit Walt Disney World or are booking a vacation through Adventures by Disney, you can create a customized Disney honeymoon registry for your guests to access and contribute to.
Check out The Cheat Sheet on Facebook!
Source: Read Full Article