American Airlines is setting some new ground rules on emotional support animals, barring companions like spiders, hedgehogs, goats and snakes from taking flight.
The airline unveiled a list of prohibited animals on Monday after it said a growing number of passengers have taken or attempted to take a range of animals on board planes for emotional support ― including a peacock, pig and hamster on other airlines.
From 2016 to 2017, the airline said it saw a 40 percent rise in service or support animals on its aircraft — similar to increases at other airlines like Delta and United, which made similar changes this year.
"At American, we want to have policies and procedures in place that protect our team members and our customers who have a real need for a trained service or support animal," American said in a statement.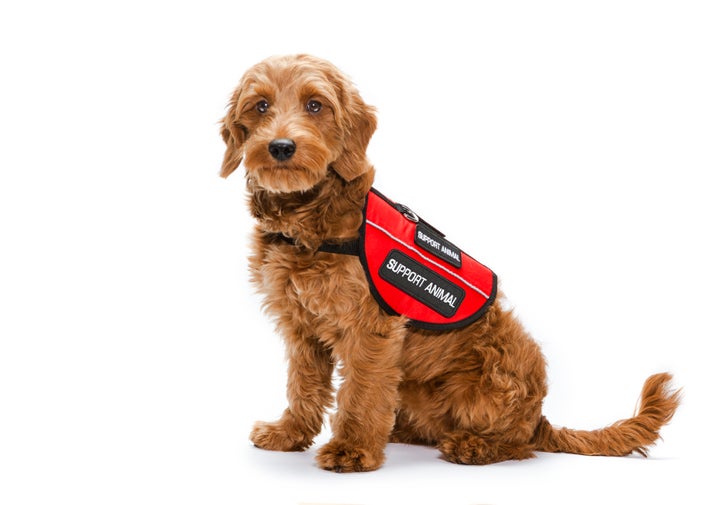 The changes, which will go into effect on June 1, include requiring a minimum of 48 hours' notice that the support animal will be flying and proper documentation to allow the airline to contact the passenger's mental health professional for confirmation.
The airline said it met with a number of disability groups to get their input before making the changes, including My Blind Spot, an organization that works to make environments more accessible to everyone, regardless of disability.
Albert Rizzi, the organization's founder, who is legally blind, stressed in an American Airlines employee podcast on Monday that the changes being made by the airline will not affect those who rely on trained service animals.
"This is not going to change the policy for those of us who are dependent on our trained, well-behaved service animals," he said. "Incidents when people try to pass off their pets as support animals are going to be reined in. This is something that's very important that we struggle with every day."
Any emotional support animal that growls, bites, jumps or lunges at people will be considered a pet, and pet fees and requirements will apply, the airline said.
Delta and United also tightened their rules on animal support animals this year after seeing an increase in animals accompanying passengers. Delta said there was a rise in unruly animals that caused onboard incidents.
Last June, a man said he required 28 stitches to his face after being mauled by an emotional support dog on a Delta Air Lines flight in Atlanta.
American Airlines' list of prohibited animals includes:
Amphibians
Ferrets
Goats
Hedgehogs
Insects
Reptiles
Rodents
Snakes
Spiders
Sugar gliders
Nonhousehold birds (farm poultry, waterfowl, game birds and birds of prey)
Animals with tusks, horns or hooves (excluding miniature horses properly trained as service animals)
Any animal that is unclean or has an odor
Source: Read Full Article