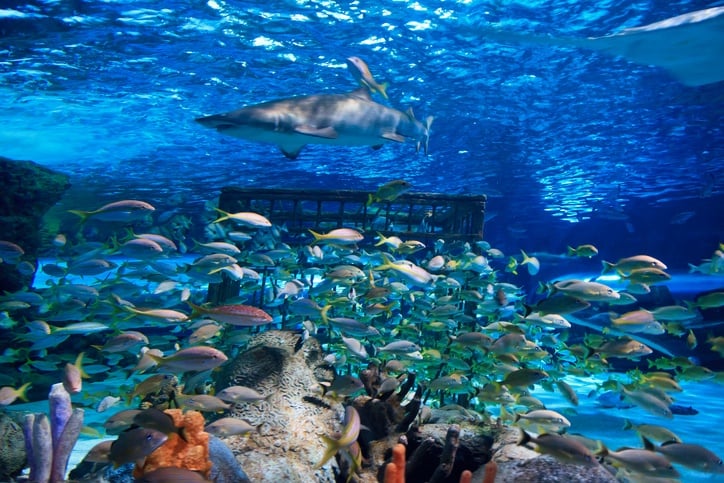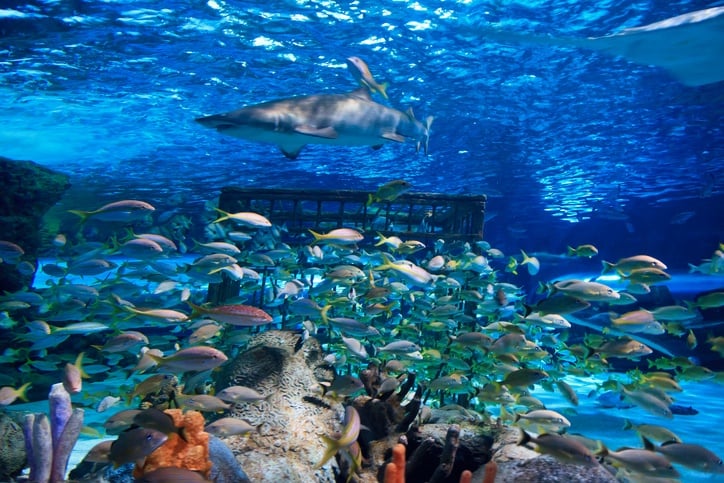 Sand tiger shark in a tank | JillLang/iStock/Getty Images
You know there are far more car accidents and heart attacks that are taking people's lives compared to sharks — but still, you can't help but feel a little uneasy in the water. And after several scary shark attacks in 2018, that's totally understandable. It seems like every week of the 2018 summer there's been a new bite or near-fatality somewhere in the U.S. from these ocean-dwellers.
Tracking Sharks records details regarding every shark bite that's happened across the world by date. According to their data, as of July 18, there have been 55 reported shark bites total worldwide, 42 causing injury. As for the U.S., 17 total were reported. Here's a list of the 17 reported attacks, including details regarding where and who was affected.
Fire Island, New York: 12-year-old Lola Pollina and a 13-year-old boy
On Jule 18, two children were bitten in the waters off of Fire Island, New York, which is located near Long Island. Twelve-year-old Lola Pollina was wading offshore when she was bitten. Her injuries were not life-threatening.
Later that day, another 13-year-old boy was Boogie Boarding off Atlantique Beach when he was bitten.
Myrtle Beach, South Carolina: 11-year-old Peyton Force
Peyton Force was bitten by a shark in early July. The incident was caught on tape, causing it to go viral. Her injuries were not life-threatening.
Fernandina Beach, Florida: 17-year-old Dustin Theobald and a 30-year-old man
Two shark attacks were reported on the same beach just minutes apart on July 14. One was Dustin Theobald, a 17-year-old teen, and another was a 30-year-old man. Both were bitten on the foot.
Playalinda Beach, Florida: 14-year-old girl
A 14-year-old girl was bitten on July 14 and airlifted to the hospital from her injuries. The incident occurred on Playalinda Beach, Florida.
St. Simons Island, Georgia: 11-year-old Adyson McNeely
Adyson McNeely, an 11-year-old, was vacationing on St. Simons Island, Georgia, when she was bitten on June 18. She was reportedly standing in waist-deep water when the shark bit her leg. Her injuries were not life-threatening.
John Pennekamp Coral Reef State Park, Florida: Donnie, a snorkeler
A man identified by the name Donnie was snorkeling in the Florida Keys on July 7 when he was bitten on the leg. The boat crew, including a nurse aboard, were able to assist Donnie. The description indicates the bite was large.
Kukio Beach, Hawaii: Man in his 20s
A paddle boarder was attacked by a shark in April while in the waters of Kukio Beach. The man and his father were reportedly knocked off their paddle boards by a tiger shark. He lost part of his leg and had other injuries as well, though his father remained unharmed.
Kauai, Hawaii: 20-year-old Dylan McWilliams
You probably remember this memorable attack. Dylan McWilliams was attacked by a shark, bear, and snake in his lifetime. In April, McWilliams was boarding in Kauai when a shark bit his leg, requiring seven stitches.
Trinidad Beach State Park, California: 59-year-old woman
On July 15, a 59-year-old woman was wading in about a foot of water when she was bitten by a salmon shark. These sharks are reportedly aggressive, but her injuries were very minor.
Daytona Beach, Florida: 12-year-old boy
In May, a 12-year-old boy was standing in waist-deep water on Daytona Beach when a shark bit his foot. He suffered minor injuries.
Cocoa Beach, Florida: 15-year-old Cody High
Over Memorial Day weekend, Cody High was on Cocoa Beach when he was attacked by a 6-foot bull shark. The shark "took a huge bite out of his left calf," said his cousin, Janice Hotz. He required rehab and further medical treatment for his wounds.
Ponce Inlet, Florida: 52-year-old fisherman
This fisherman accidentally caught a 3-foot lemon shark, which subsequently bit him on the foot when he released it. He was fishing at Lighthouse Point Park when the incident occurred in May.
Isle of Palms, South Carolina: 10-year-old Trey de Boer
Trey de Boer was waist-deep in the South Carolina waters Boogie Boarding when he was attacked in May. His injuries required 26 stitches.
Hilton Head Island, South Carolina: 10-year-old Jei Turrell
In May, 10-year-old Jei Turrell was playing in waist-deep waters when a shark bit his right forearm. Turrell underwent two hours of surgery and recovered. The animal was believed to be a 4- to 5-foot blacktip shark.
New Smyrna Beach, Florida: 14-year-old boy
Many shark attacks have been reported in this area in the past, so beware. On July 11 of this year, a 14-year-old boy was grabbed by the foot by a shark while in chest-deep waters. He was treated for his injuries and released on the scene.
Check out The Cheat Sheet on Facebook! 
Source: Read Full Article