Whether you love ghost stories and creepy photos or are just fascinated by architecture from eras gone by, abandoned buildings and landmarks across America are pretty interesting. Abandoned amusement parks and even abandoned islands say something interesting about the past, as do the deserted mansions you can find across the United States.
Read on to check out the most gorgeous — and creepy — abandoned mansions that have been left behind across America.
1. Bannerman Castle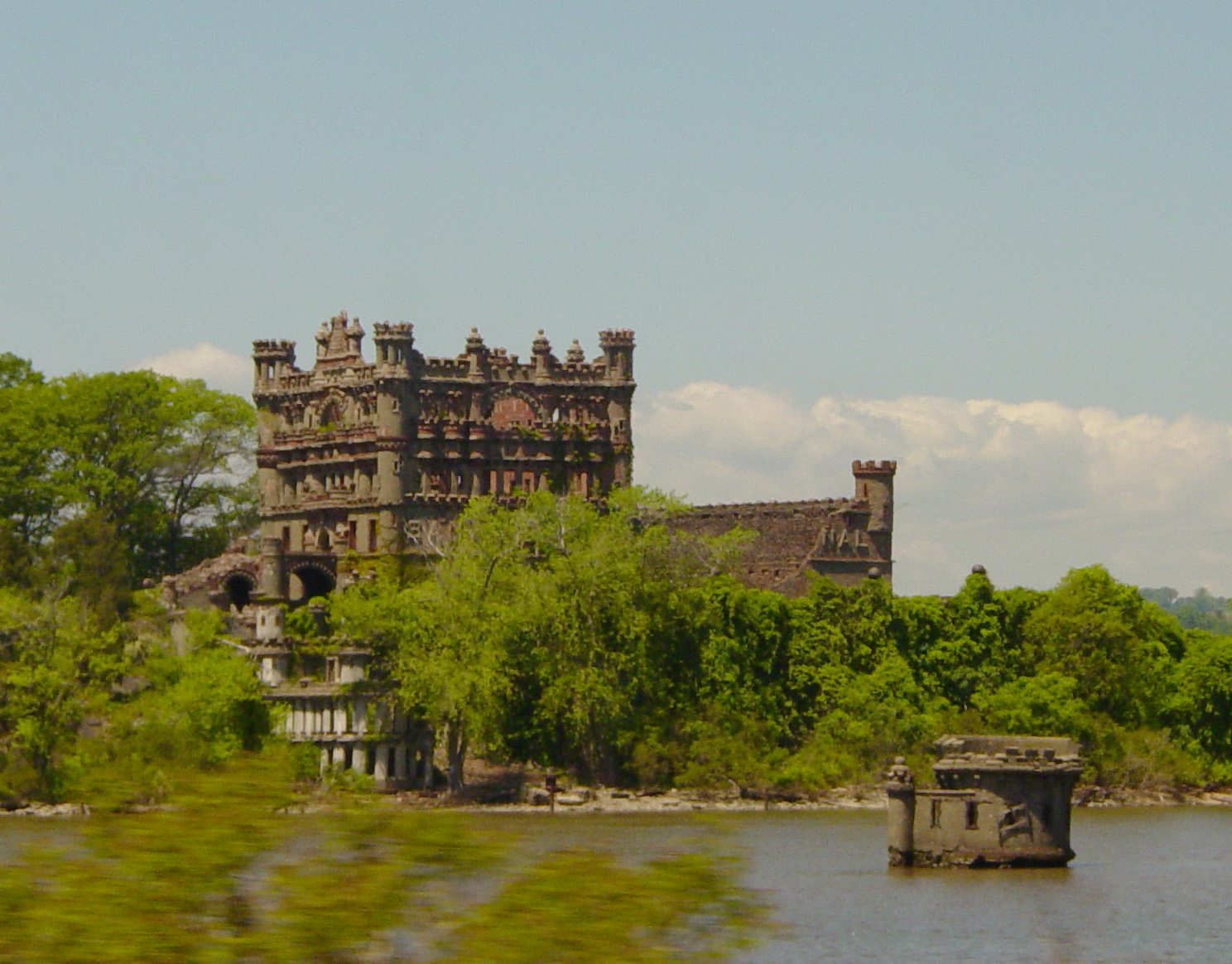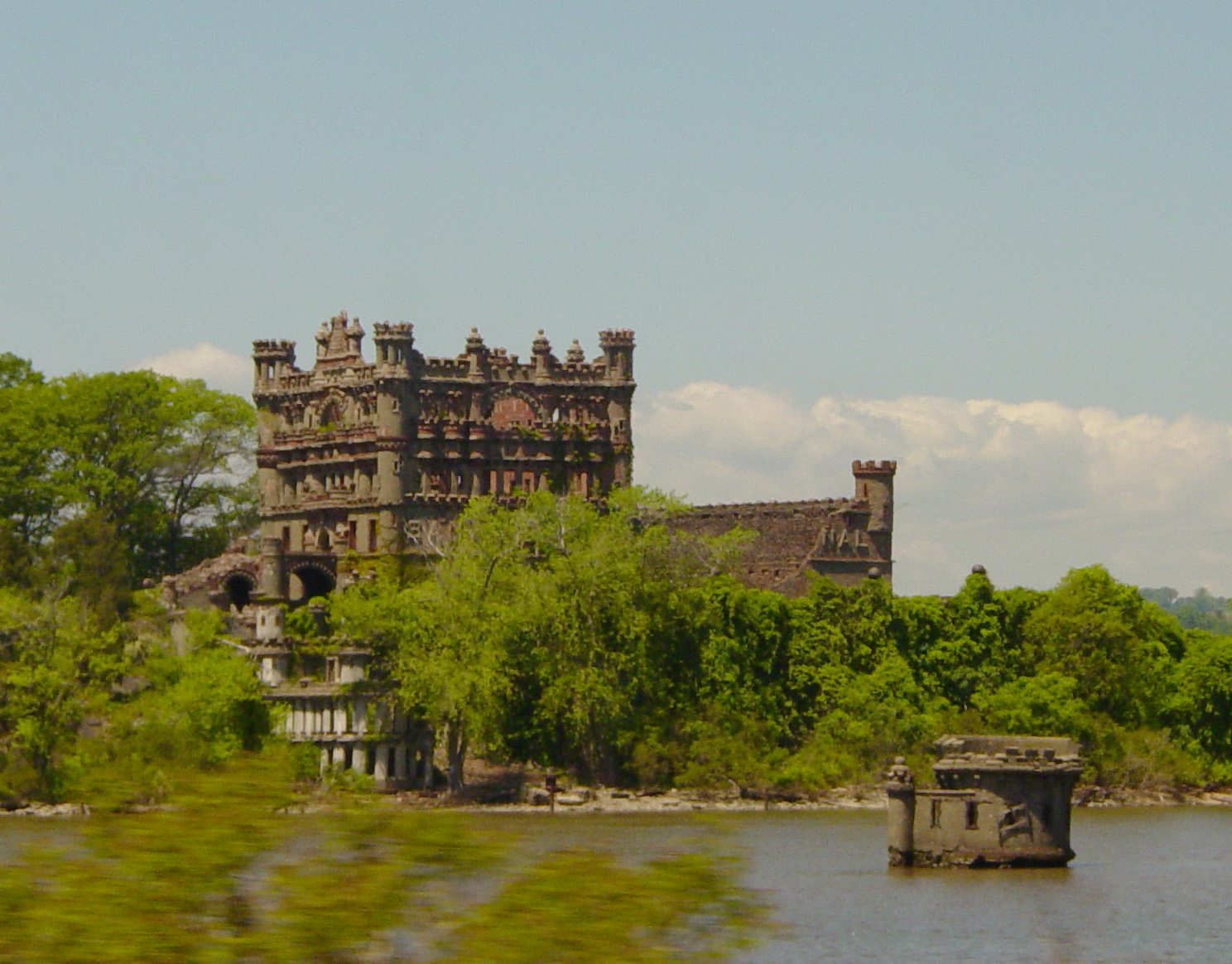 Bannerman Castle | Leonard G./Wikimedia Commons
Location: Pollepel Island, New York
Town & Country reports that Bannerman Castle was constructed by Scottish-born arms dealer Francis Bannerman. Bannerman bought the island — located in the Hudson River 60 miles north of Manhattan — to house his munitions arsenal. But in 1920, two years after his death, 200 tons of ammunition exploded in the island's powder house, destroying parts of the mansion, too. The New York Times reports that the Hudson River acts as a moat around the mansion. In 1969, a suspected arson left the mansion a shell, but you can still visit and take a tour.
Next: This mansion is vacant, but still in good shape. 
2. Bellosguardo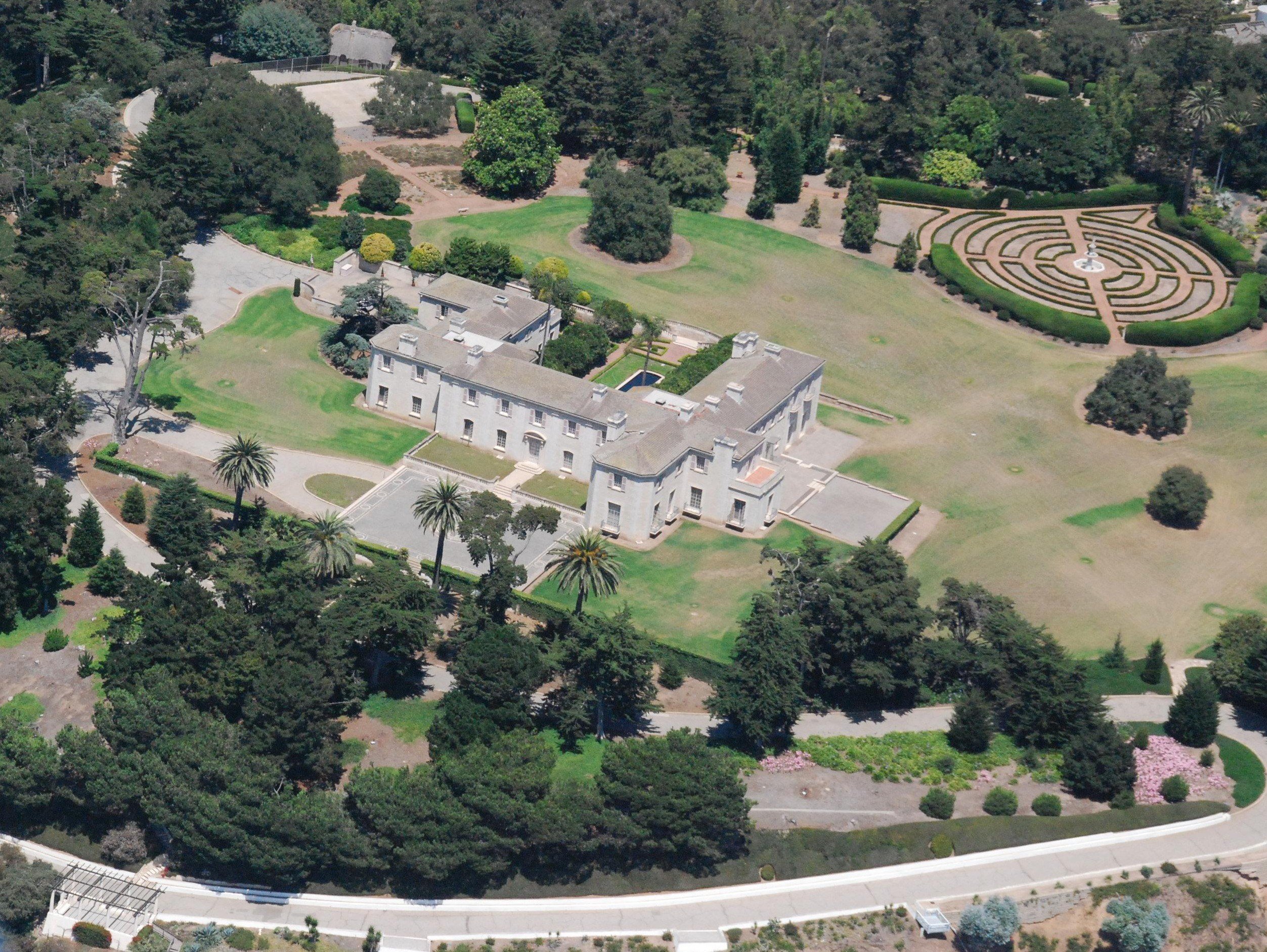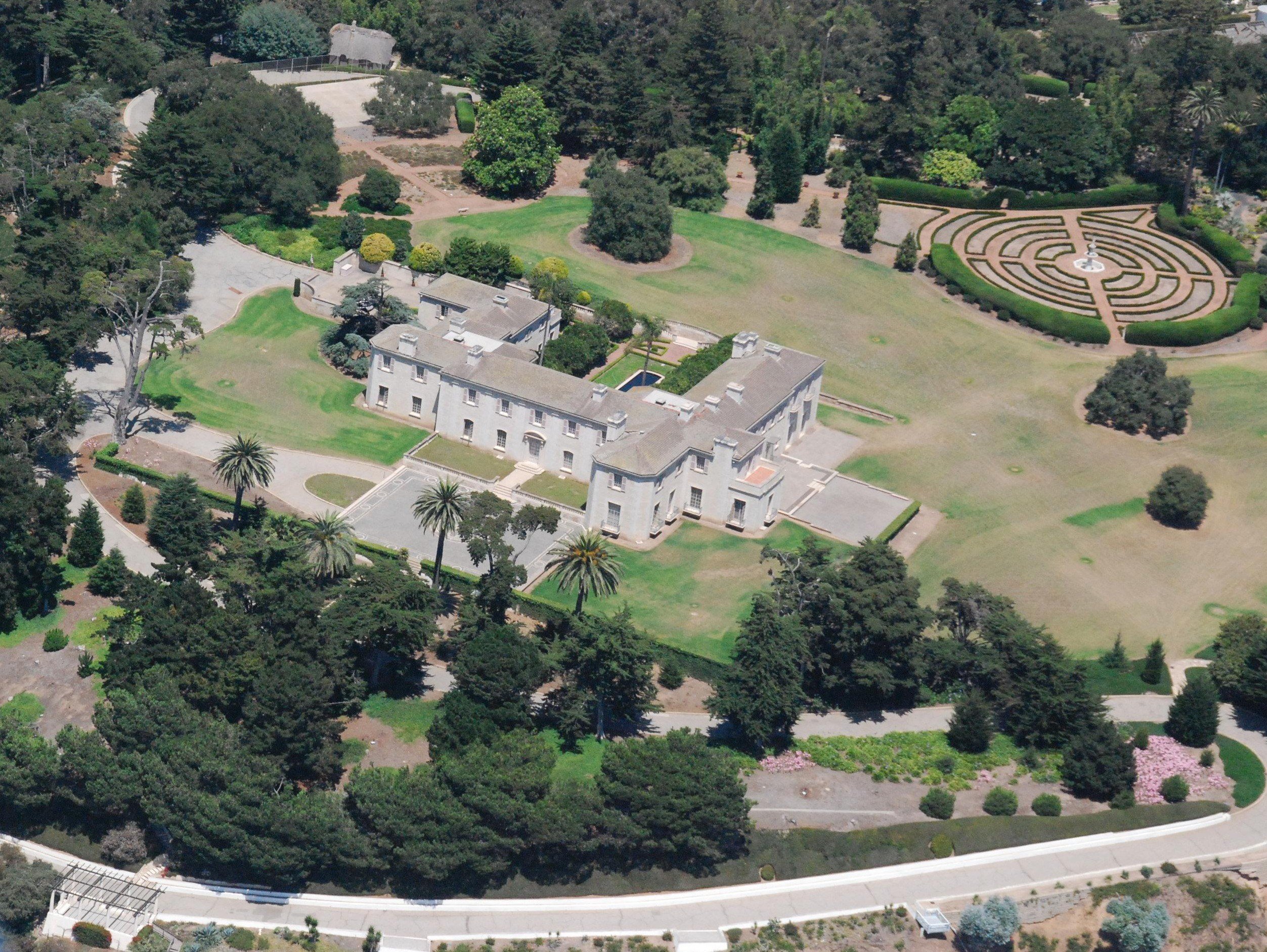 Bellosguardo | Wikimedia Commons
Location: Santa Barbara, California
Most abandoned mansions have fallen into disrepair, but not Bellosguardo in Santa Barbara, California. NBC reports that reclusive heiress Huguette Clark last visited the mansion during the Truman administration, but hired a staff that still looks after the 21,666-square-foot estate. Clark was born in Paris in 1906 and died in 2011, just two weeks shy of her 105th birthday. Her father bought the Santa Barbara property in 1923, and her mother built Bellosguardo in 1933 in an 18th-century French style with Georgian influences. Though it isn't falling apart like many abandoned mansions, Bellosguardo has sat vacant since the 1950s, and has yet to become a public space for the arts, as Clark intended.
Next: This mansion once housed a psychiatric hospital that treated a Jazz Age icon. 
3. Craig House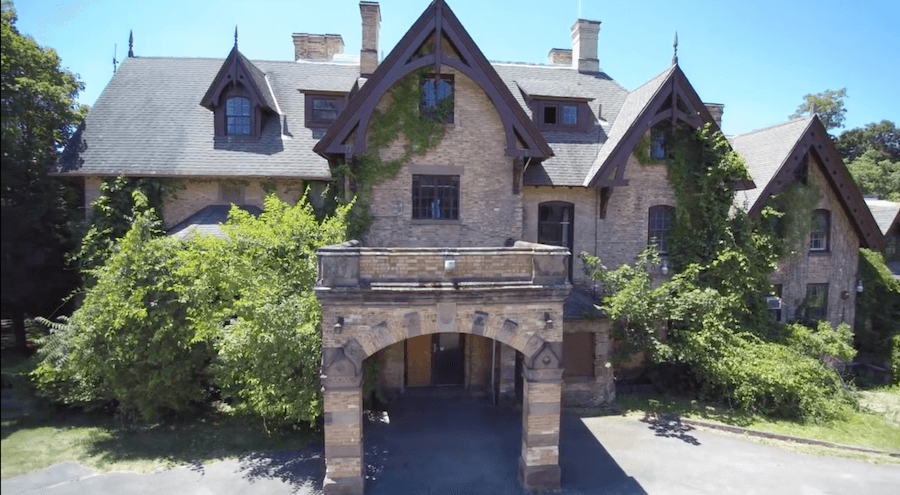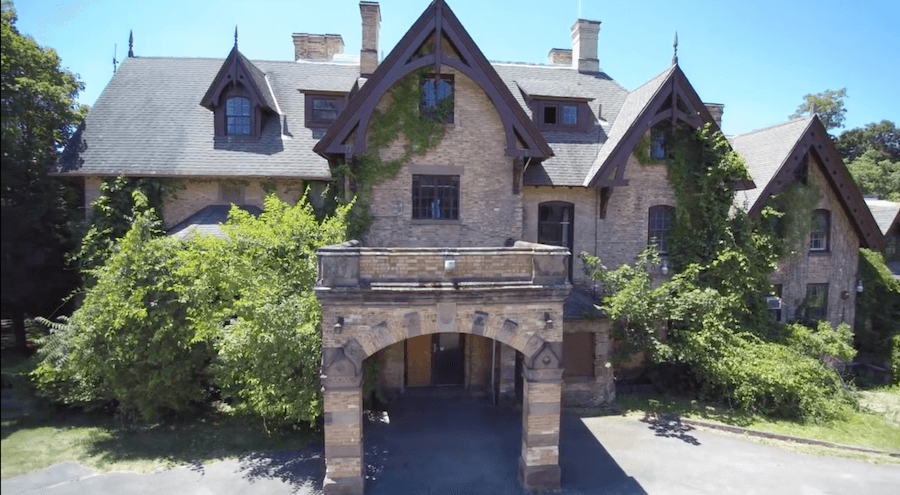 Craig House | ALL4DOGS TRAINING via Youtube
Location: Beacon, New York
Atlas Obscura reports that an abandoned Victorian mansion outside of Beacon, New York, once housed the Craig House, a psychiatric hospital that treated Zelda Fitzgerald. The mansion was originally built for Civil War officer Joseph Howland in 1859, who named it Tioranda. It became a sanatorium in 1915 at the behest of Scottish doctor Clarence Slocum. The once-exclusive hospital — which also treated Rosemary Kennedy after her controversial lobotomy — closed in 1999.
Next: This decaying mansion still has beautiful gardens. 
4. Gibraltar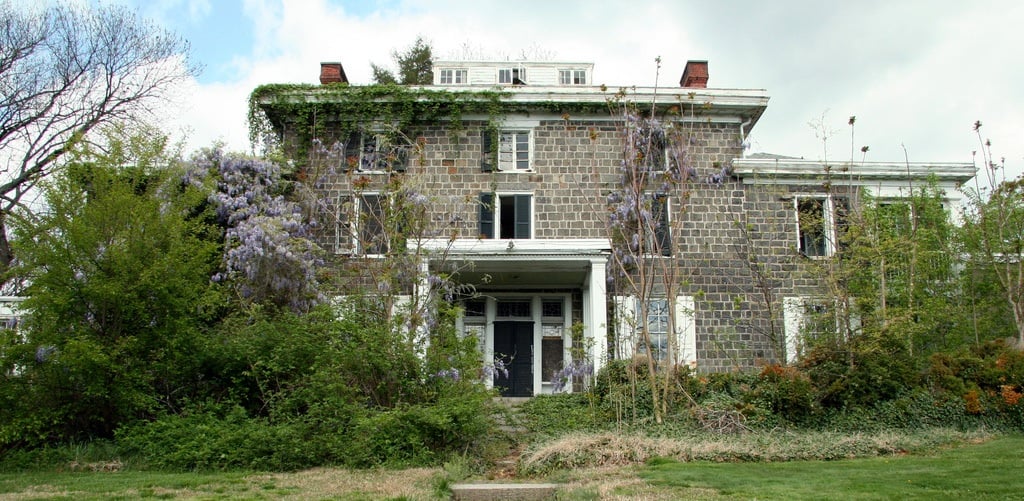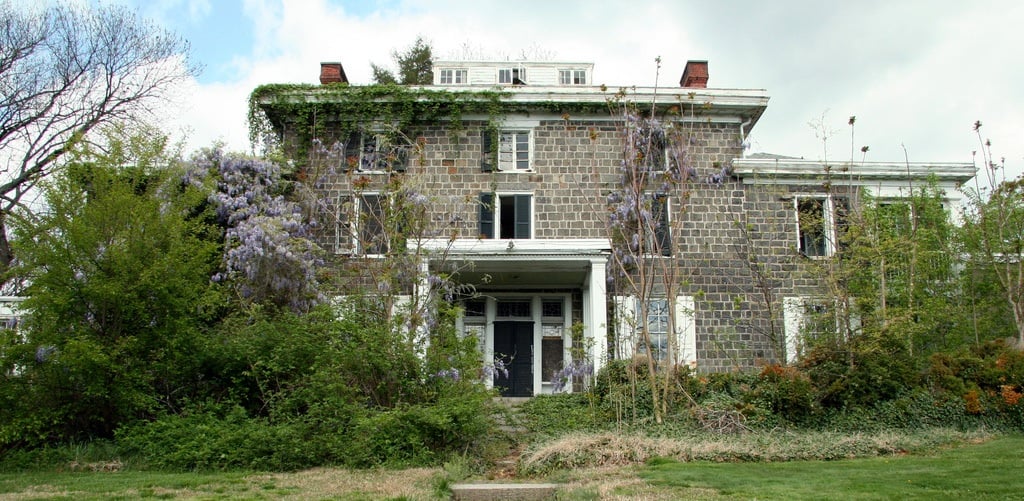 Gibraltar Mansion | Michael Caruso/Wikimedia Commons
Location: Wilmington, Delaware
Atlas Obscura reports that the mansion at Gibraltar was built in the 1840s by John Rodney Brinckle. (The home's name alludes to the rocky outcrop on which the mansion is built.) Its gardens were added in the early 1900s by Marian Cruger Coffin, one of the first female professional landscape architects to practice in the United States. The home, like many other abandoned mansions, hasn't been occupied for decades and has fallen into disrepair. But Atlas Obscura notes that the gardens are still meticulously maintained by preservation organizations.
Next: This New York castle needs a major renovation. 
5. Elda Castle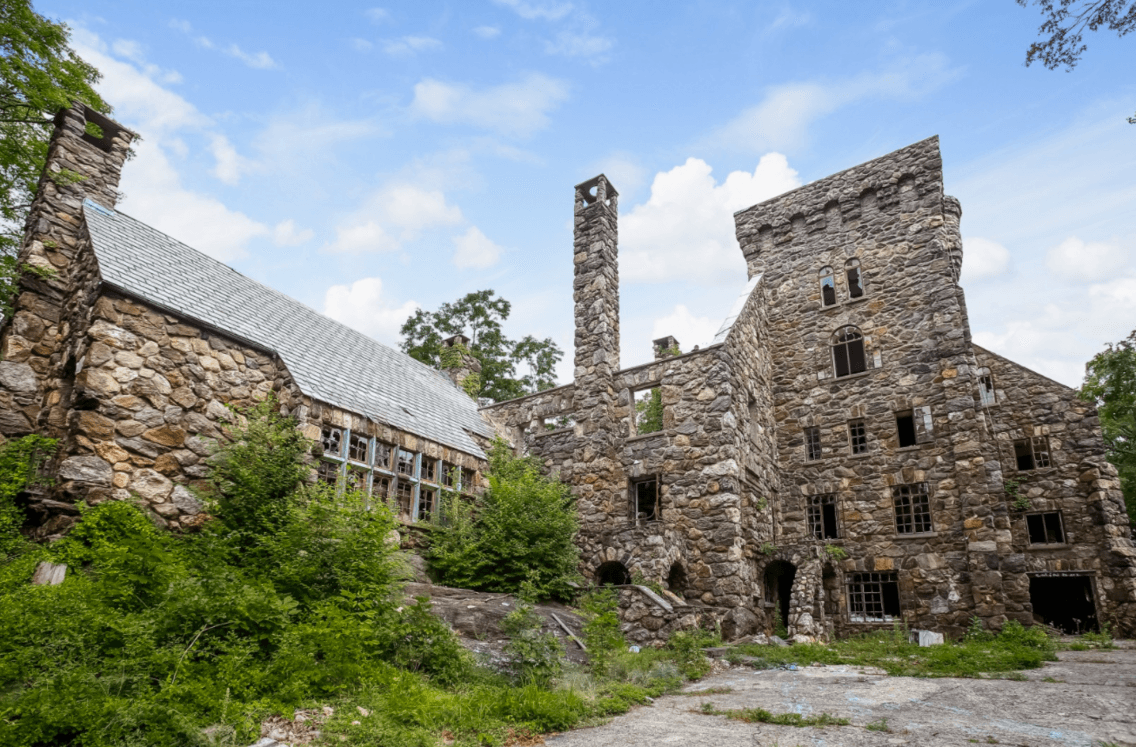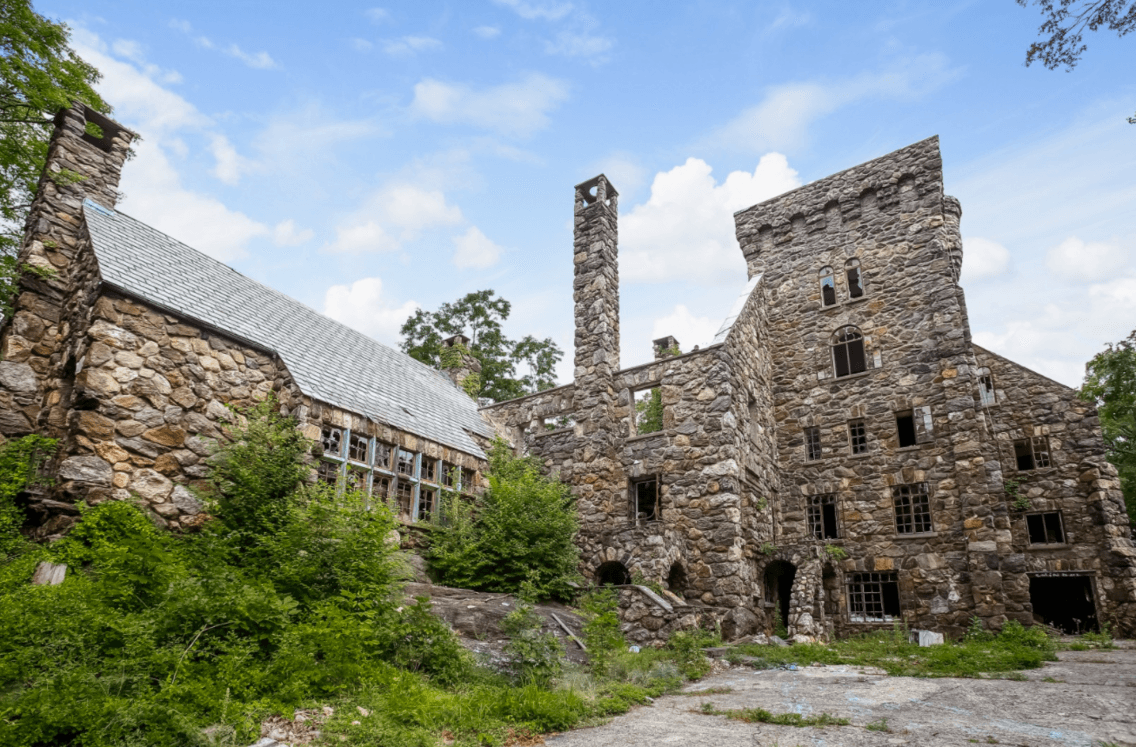 Elda Castle | Sotheby's International Realty
Location: Ossining, New York
Town & Country reports that Abercrombie & Fitch founder David T. Abercrombie built Elda Castle in 1927, taking cues from his wife, architect Lucy Abbott Cate. The 4,337-square-foot mansion has 25 rooms, including servants' quarters. But it was abandoned after the couple's deaths, and a real estate listing reports that the mansion needs a "total renovation."
Next: This mansion once housed a women's college. 
6. Halcyon Hall at Bennett College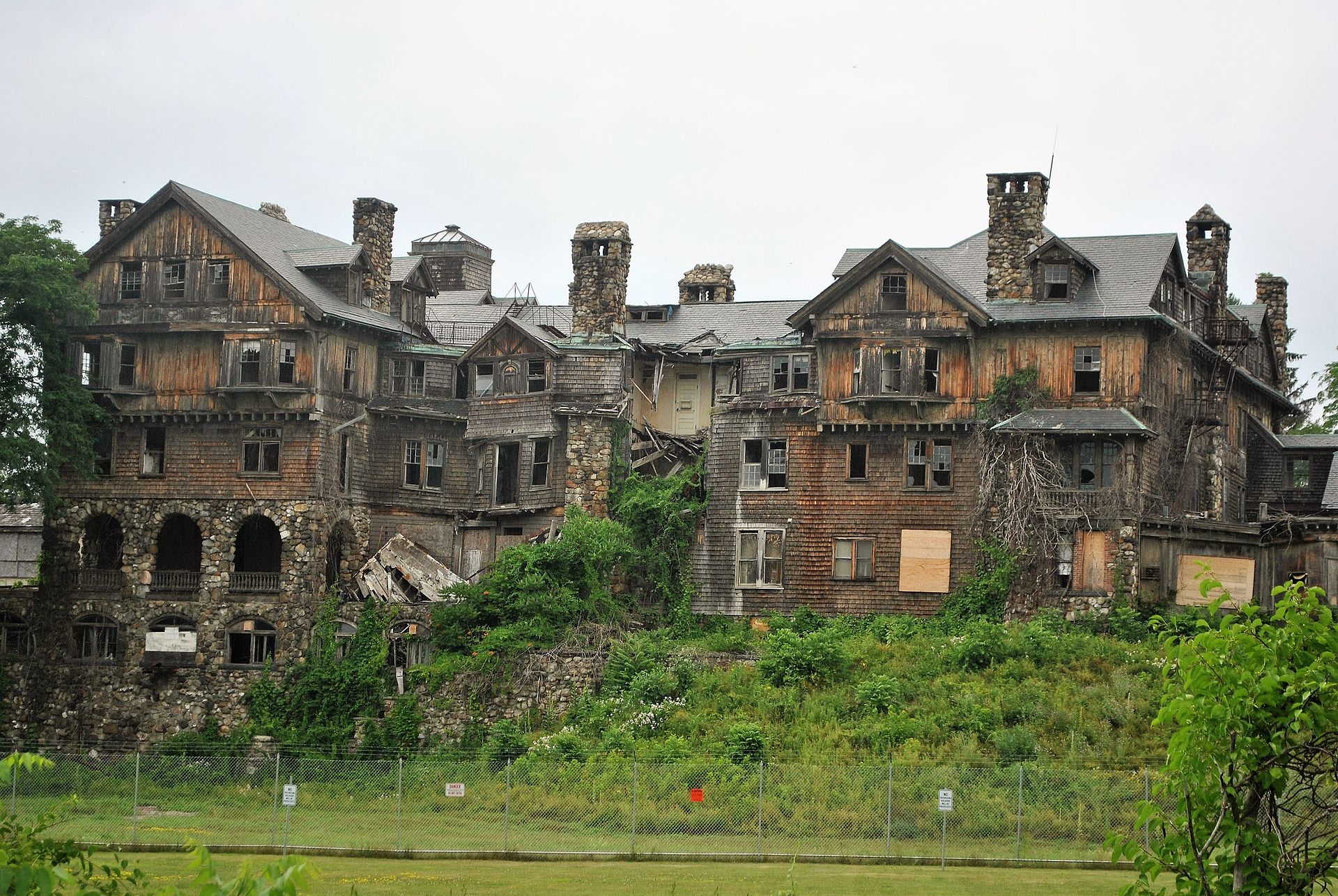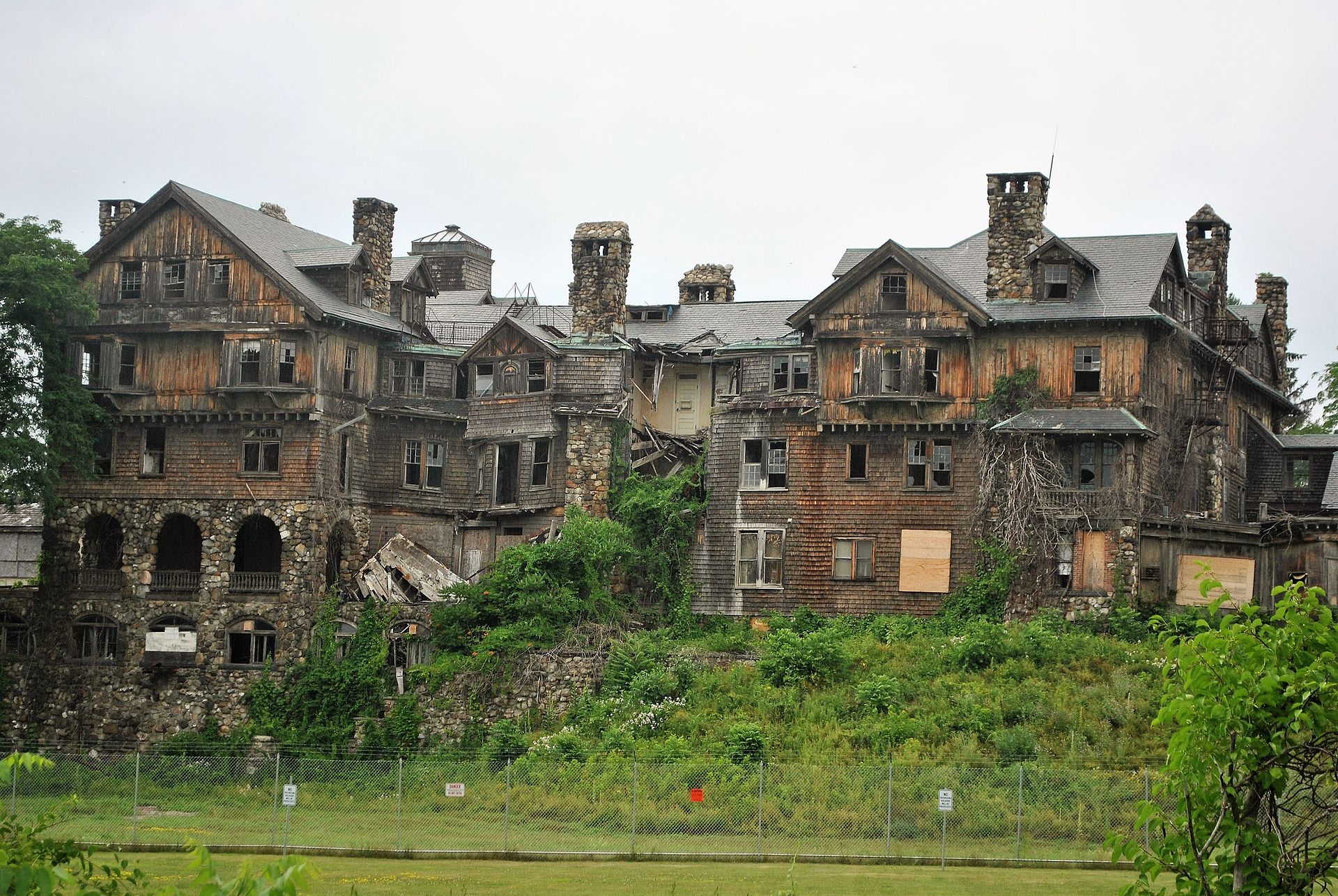 Halcyon Hall | Elisa.rolle/Wikimedia Commons
Location: Millbrook, New York
Town & Country reports Halcyon Hall began its life in 1893 as a luxury hotel. The 200-room mansion then became the main building of Bennett College in 1907. The women's college went bankrupt and closed in 1978, and The Vintage News reports that the building has stood vacant for decades. The Queen Anne-style structure was designed by James E. Ware, but has fallen into disrepair as it was never reopened after the college ceased operations.
Next: This abandoned mansion is decaying in a Philadelphia suburb. 
7. Lynnewood Hall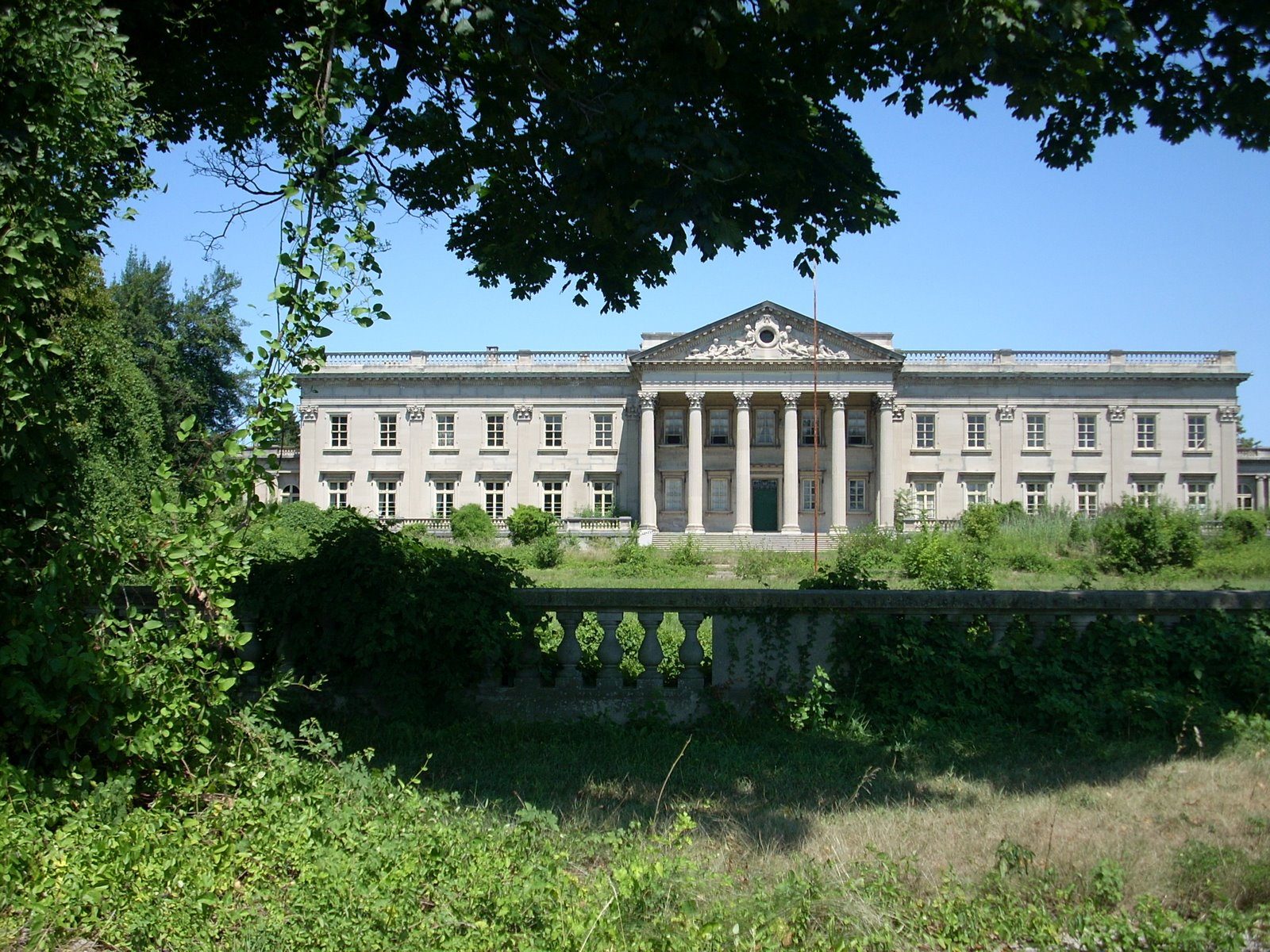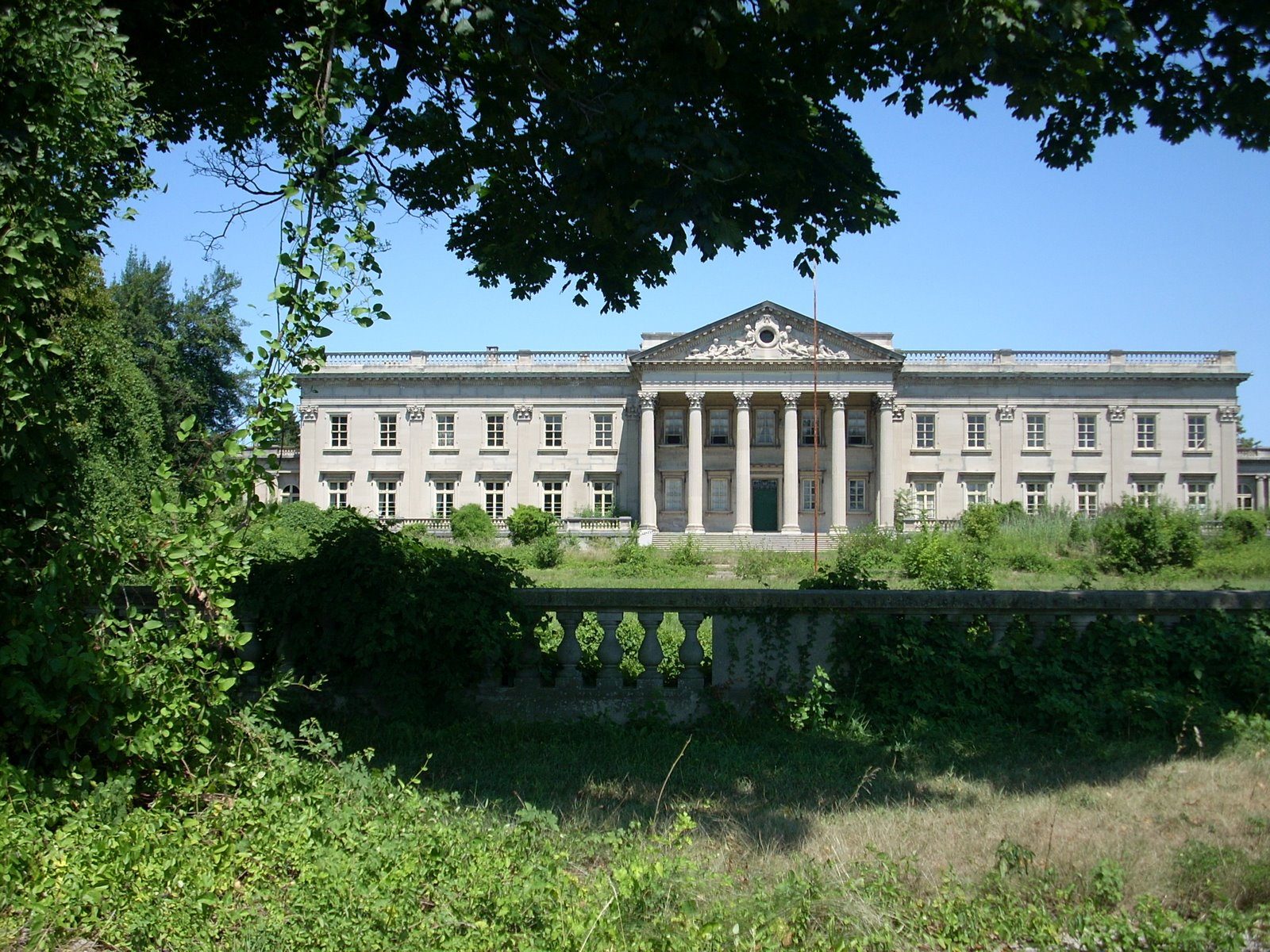 Lynnewood Hall | Ty/Wikimedia Commons
Location: Elkins Park, Pennsylvania
Town & Country reports that Lynnewood Hall was built in the Philadelphia suburb of Elkins Park by architect Horace Trumbauer for streetcar magnate Peter A.B. Widener. The 110-room mansion is vacant, and Curbed Philadelphia managed to find some interior shots of the Gilded Age masterpiece. Widener commissioned the mansion to house his growing family and art collection, and we can just imagine how gorgeous it was during its heyday.
Next: This midwest mansion once housed a shelter. 
8. Odd Fellows Home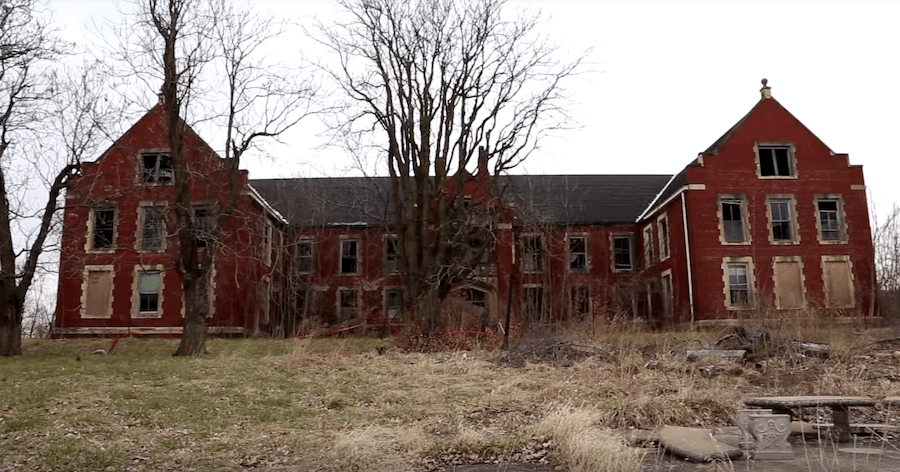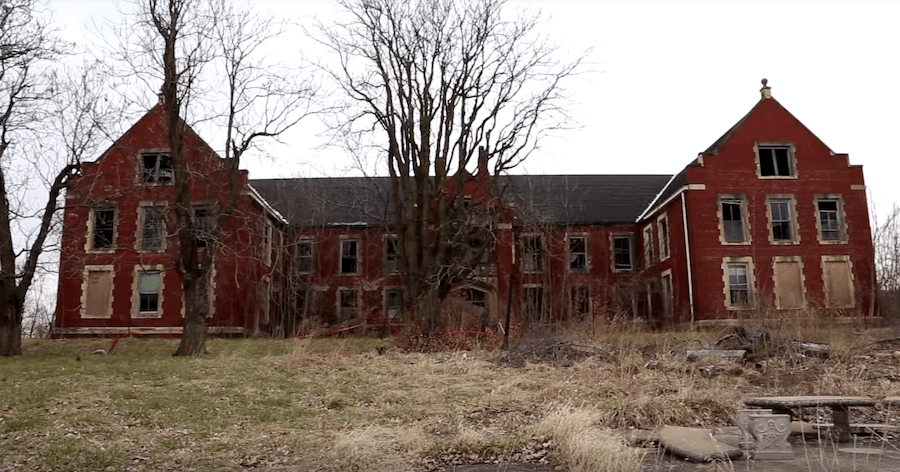 Odd Fellows Home | sublunar via Youtube
Location: Liberty, Missouri
Atlas Obscura reports that the Odd Fellows Home in Liberty, Missouri, stands as the ruins of a 19th-century shelter run by the Independent Order of Odd Fellows.  The fraternal order first arrived in Missouri in 1835, and built the complex by the end of the 19th century. The organization aimed to provide care and shelter to those who needed it, including the elderly, widows, and orphans. So while the complex doesn't have the same sort of history as abandoned mansions built for a single family, it does show off an impressive Jacobean-Revival style of architecture, as designed by architect William Ittner.
Next: This abandoned mansion seemed to bring its owners bad luck. 
9. Wyckoff Villa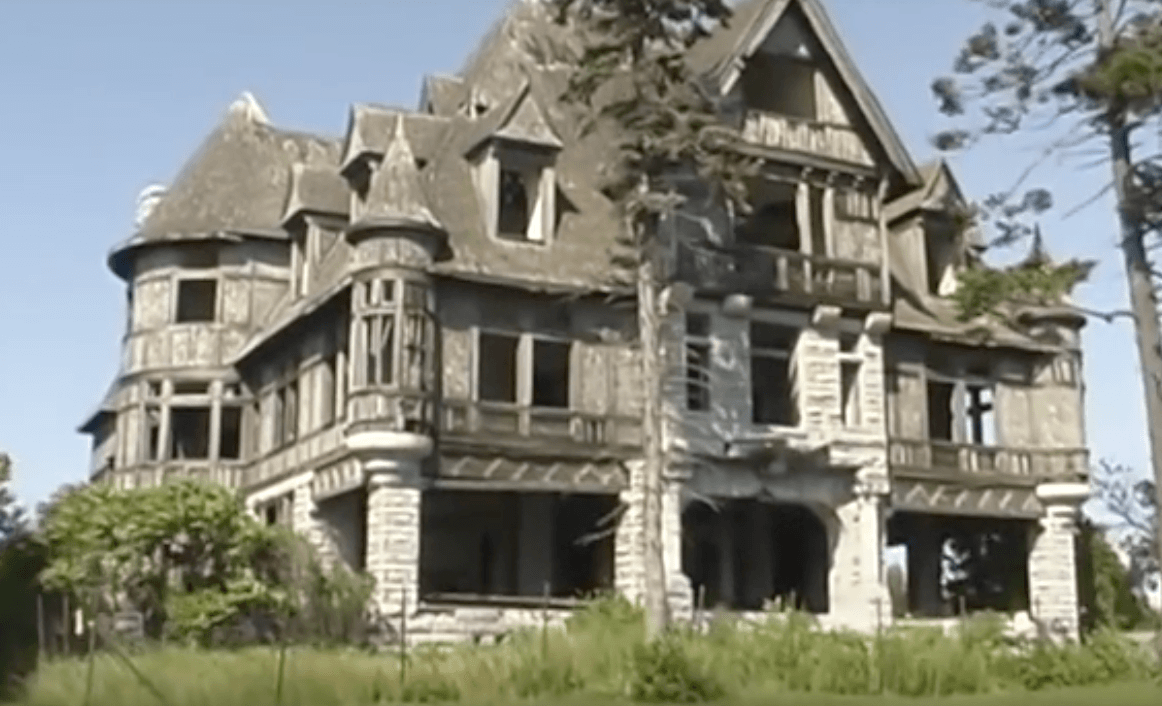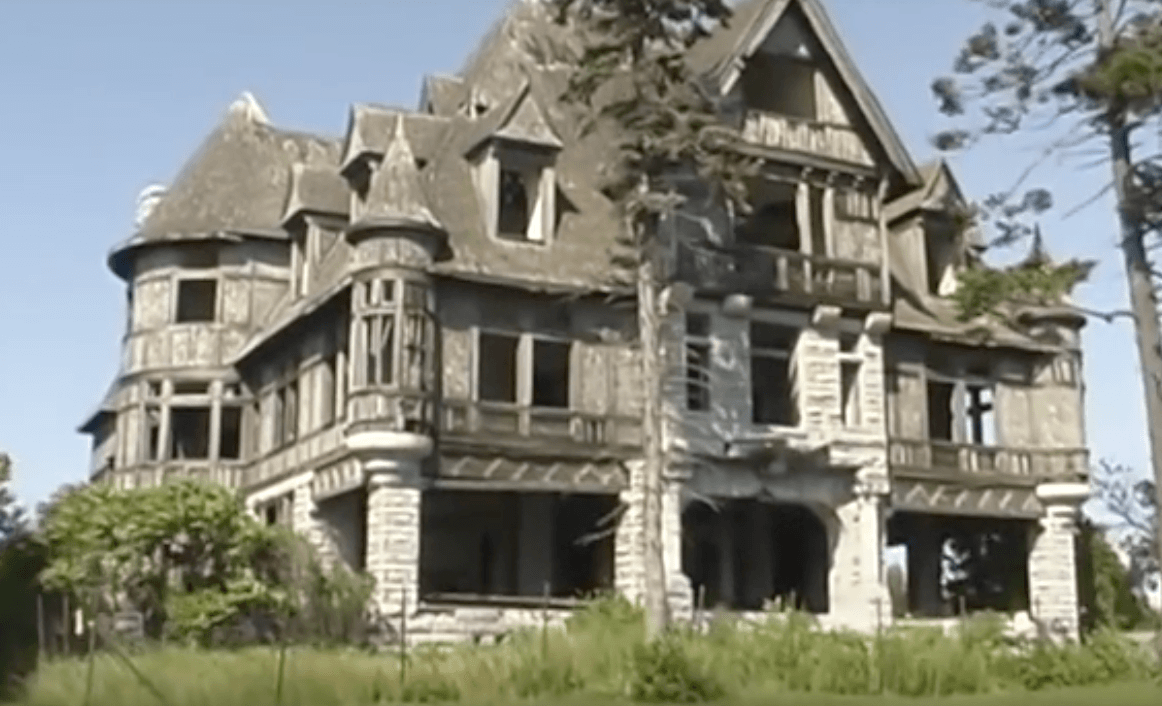 Wyckoff Villa | Rick Wagner via Youtube
Location: Carleton Island, New York
Town & Country reports that the Wyckoff Villa, now abandoned, was built in 1894 for William Wyckoff, who made his fortune selling Remington typewriters. Wyckoff died of a heart attack on the first night that he stayed in the home. And a month later, his wife died of cancer. The home, located on an island in upstate New York's St. Lawrence River, has sat abandoned for at least 70 years, according to a real estate listing that's been on Realtor.com for years. The island isn't open to the public, but the current owners want to sell the mansion to someone who can afford to restore it.
Next: This mansion inspired the phrase, "keeping up with the Joneses." 
10. Wyndclyffe Castle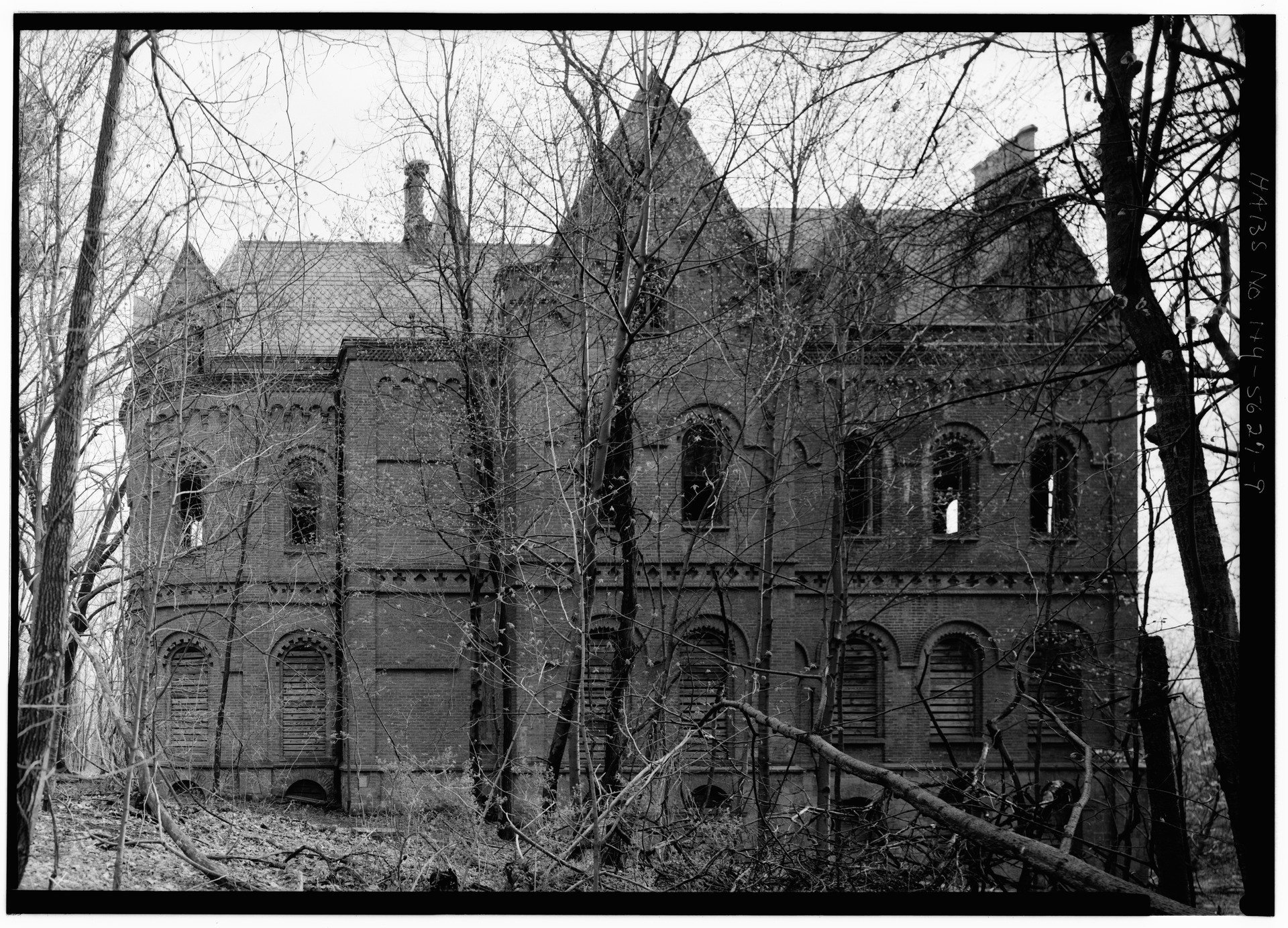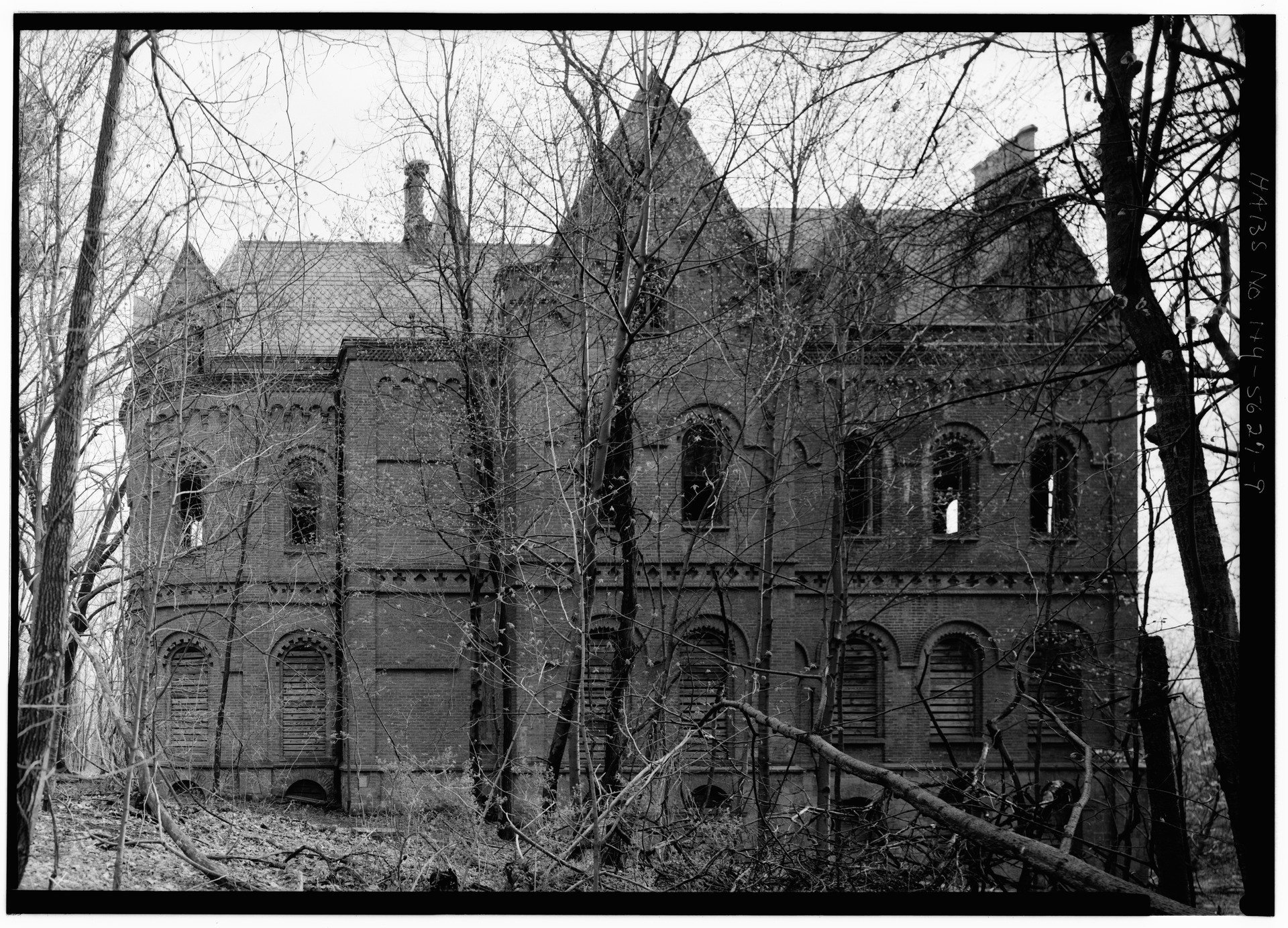 Wyndclyffe Castle | Library of Congress/Wikimedia Commons
Location: Rhinebeck, New York
Town & Country reports that Wyndclyffe Castle is a 24-room mansion that was commissioned by New York socialite and Edith Wharton's aunt, Elizabeth Schermerhorn Jones, in 1853. The Wall Street Journal reports that the property inspired the phrase "keeping up with the Joneses" because of the trend-setting influence it had on Jones's wealthy contemporaries. Atlas Obscura notes that the "gothic fairytale castle" terrified Jones's famous niece, but it looks even more terrifying now that entire parts of the structure have fallen in.
Read more: The Most Beautiful Places in America You Should See Before You Die, Revealed
Check out The Cheat Sheet on Facebook!
Source: Read Full Article