Graduating from high school or college is a major accomplishment. So it's no surprise that graduates across the country celebrate the occasion by taking graduation photos. But some photos turn out better than others. In fact, graduates sometimes unintentionally capture embarrassing moments for posterity — and the entire internet — to see.
Read on to check out some of the graduation photos that have gone viral over the years — some for more cringe-worthy reasons than others. And don't miss the students who posed for graduation photos with their firearms on page 6.
7. A high school senior took her graduation photos at McDonald's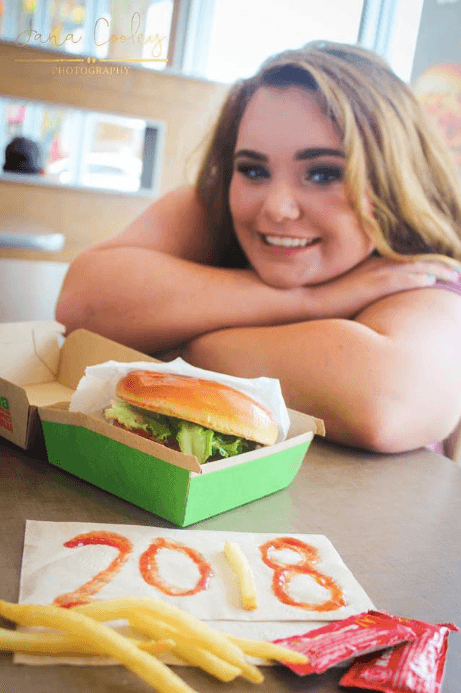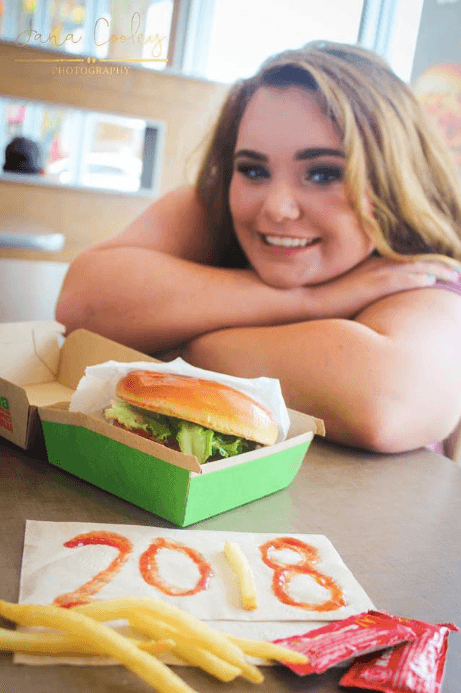 The fries and ketchup really took this photo over the top. | Jana Cooley Photography via Facebook
Most of us indulge in fast food at least occasionally. But few graduating seniors would think to pose for their graduation photos at their favorite fast food joint. But Mikayla Cleckler, a graduate of Northeast Jones High School in Mississippi, went to McDonald's to commemorate her graduation.
Cleckler's cousin and photographer, Jana Cooley, posted a series of photos on Facebook with the caption, "This senior is #McDone." As PopSugar reports, Cleckler "posed with fries, a McDonald's employee, and her favorite sandwich in the epic photo shoot — and looked fierce doing it all." Depending on your perspective, that's not embarrassing at all!
Next: This student wore a pretty revealing outfit to accept his diploma. 
6. A college graduate stripped down before walking across the stage
Yes, he really did go through graduation like this. | NBC Asian America via Twitter
Some people might consider these graduation photos embarrassing. But we think they're unconventional in the best way possible. As NBC tweeted, one graduate of the University of Hawaii stripped down to show his Hawaiian pride at graduation. John Kekaʻa Kahiewalu Kalauli "Kalā" Kaawa III wore a traditional Hawaiian loincloth called a malo when he accepted his degree.
"As he walked to the front of the arena, he casually began undressing — removing his hat, then his gown — until he was standing on stage wearing nothing but the malo, and hoisted his degree above his head," NBC explained. He received a standing ovation.  And after the ceremony, strangers congratulated him by placing leis around his neck.
Next: This graduate didn't want to give her mom any serious graduation photos. 
5. A student posed for her graduation photos with 'baby hands'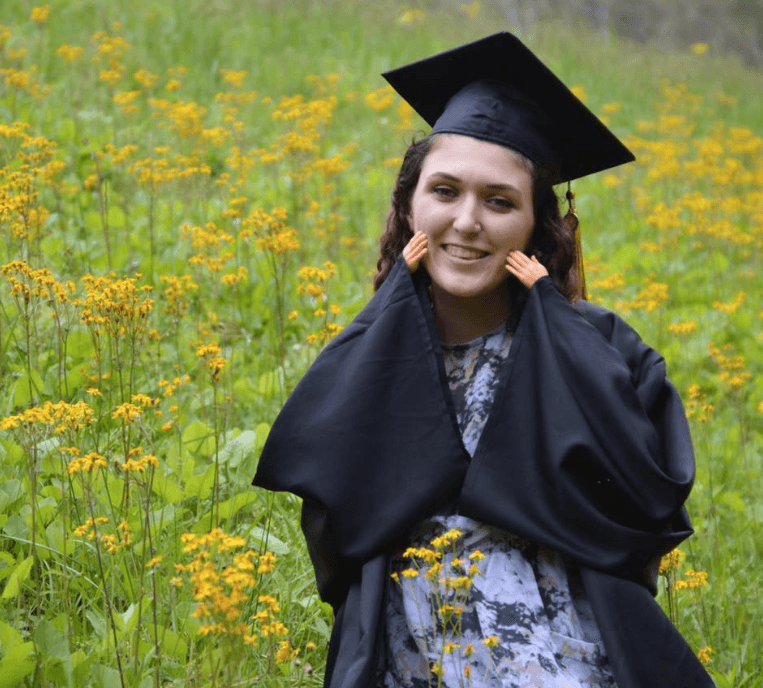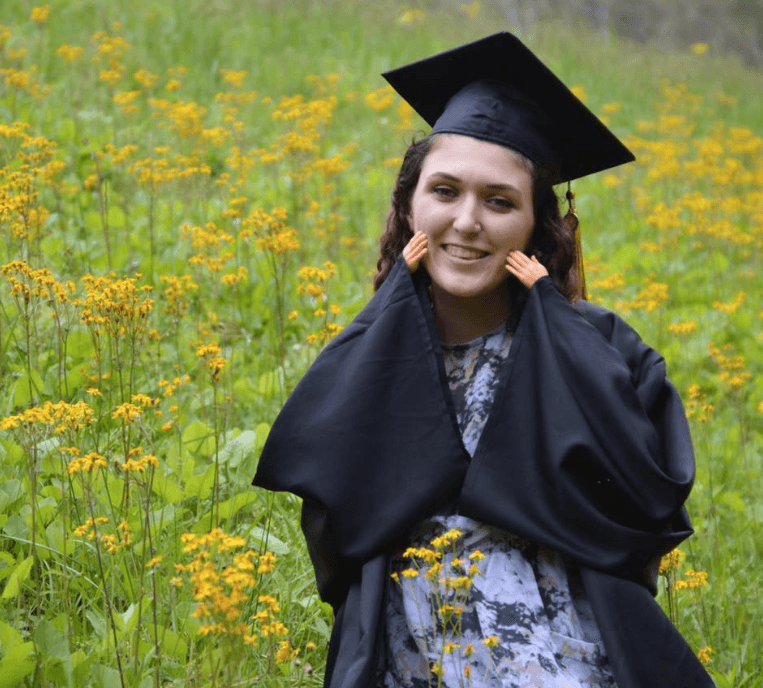 She wanted to prank her mom with these memorable photos. | Delaney Henry via Facebook
Delaney Henry of Appalachian State University deliberately created some of the most hilariously embarrassing graduation photos. The reason why? She wanted to play a prank on her mom. She posted five graduation photos on Facebook with the explanation, "All my mom wanted was serious graduation photos." The photos look fine at first glance. But that changes when you take a closer look.
As Fox News reports, Henry's hands in the photos have been replaced by "baby hands." And many of the comments on the photos reference a Saturday Night Live skit with Kristen Wiig. Many commenters thought the post was funny. But others characterized it as insensitive to people with disabilities.
Next: This student saw a photobomber steal the show during her graduation photos. 
4. An unexpected photobomber crashed these graduation photos
This soon-to-be graduate never expected this unwanted surprise. | Jillian Henry via Twitter
Jillian Henry, a high school senior from South Eugene, Oregon, ended up with viral graduation photos thanks to an unexpected photobomber. She tweeted that she loved her photos — even though an unidentified naked man had wandered into the frame.
As Oregon Live reports of Henry's photos, "It was just her and her photographer, friend Elena Nesbit, snapping away when all of a sudden a curious beast emerged from the brush. It was a man, a naked man, and his dog splashing about on the far bank of the river." The mishap was probably more embarrassing for the unidentified photobomber than for Henry, but at least the episode made for some memorable photos!
Next: This college senior suffered a major injury while posing for photos. 
3. A graduate broke her foot posing for this photo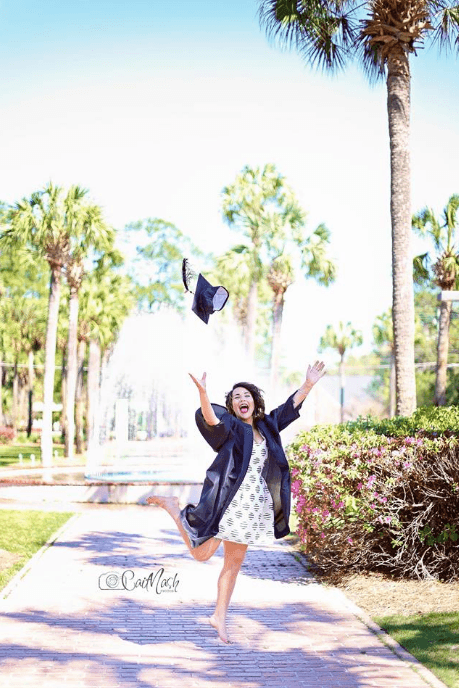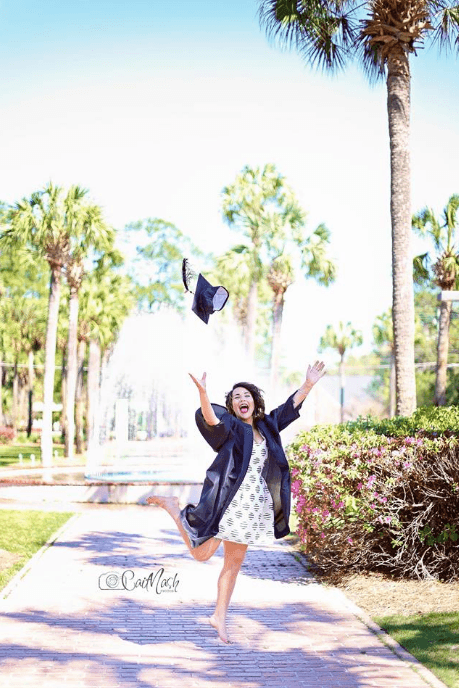 Chelsea Whitfield actually broke her foot while doing this photo. | Cait Nash Photos via Facebook
When Chelsea Whitfield graduated from Valdosta State University, the photographer she chose to take her graduation photos suggested that she try the traditional "jumping for joy" shot. The resulting photo, which photographer Cait Nash shared on Facebook, looks just fine. But as Buzzfeed reports, there's more to that story.
When Whitfield landed after her jump, she knew something had gone wrong. "I hit the ground and I said, 'Oh my God, I think I broke my foot.'" She continued with the photo shoot. But eventually, it became clear that she had to get the injury checked out. The photographer kept snapping away — even after Whitfield learned that she had indeed broken her foot and went home to celebrate on the couch instead.
Next: This graduate carried a rifle in her photos. 
2. A college grad carried an AR-10 rifle in her graduation photos
This definitely caused some controversy. | Kaitlin Marie via Twitter
Recent college graduate Kaitlin Bennett tweeted graduation photos in which she carried an AR-10 rifle, sparking an embarrassing controversy online. Bennett used the photos to protest a policy at her alma mater — Kent State University in Ohio — that prevents students from carrying firearms on campus.
"Now that I graduated from Kent State, I can finally arm myself on campus," Bennett wrote. "I should have been able to do so as a student." In another post, Bennett wrote, "As a woman, I refuse to be a victim & the second amendment ensures that I don't have to be." She also carried a graduation cap reading, "Come and take it," referring to the rifle, according to CBS.
Next: This student also carried a gun in her graduation photos. 
1. A pro-Trump student posed with her gun, too
Brenna Spencer says she has no regrets regarding her graduation photos. | Brenna Spencer via Twitter
Another college graduate decided to share graduation photos where she posed with a gun in her waistband. Brenna Spencer, who was graduating from the University of Tennessee at Chattanooga, tweeted, "I don't take normal college graduation photos." The accompanying image showed Spencer lifting the hem of her "Women for Trump" T-shirt to show off the firearm.
As Fox News notes, Spencer writes on her Twitter profile that "political correctness offends me." Even though the photo caused an embarrassing uproar online — and despite the surprising "amount of hate" she received — Spencer said she had no regrets about taking or posting the photo. "I know the Tennessee state gun codes. . . I carry everywhere that I'm allowed to carry."
Read more: The Most Beautiful College Campuses You Can Visit in the U.S.
Check out The Cheat Sheet on Facebook!
Source: Read Full Article