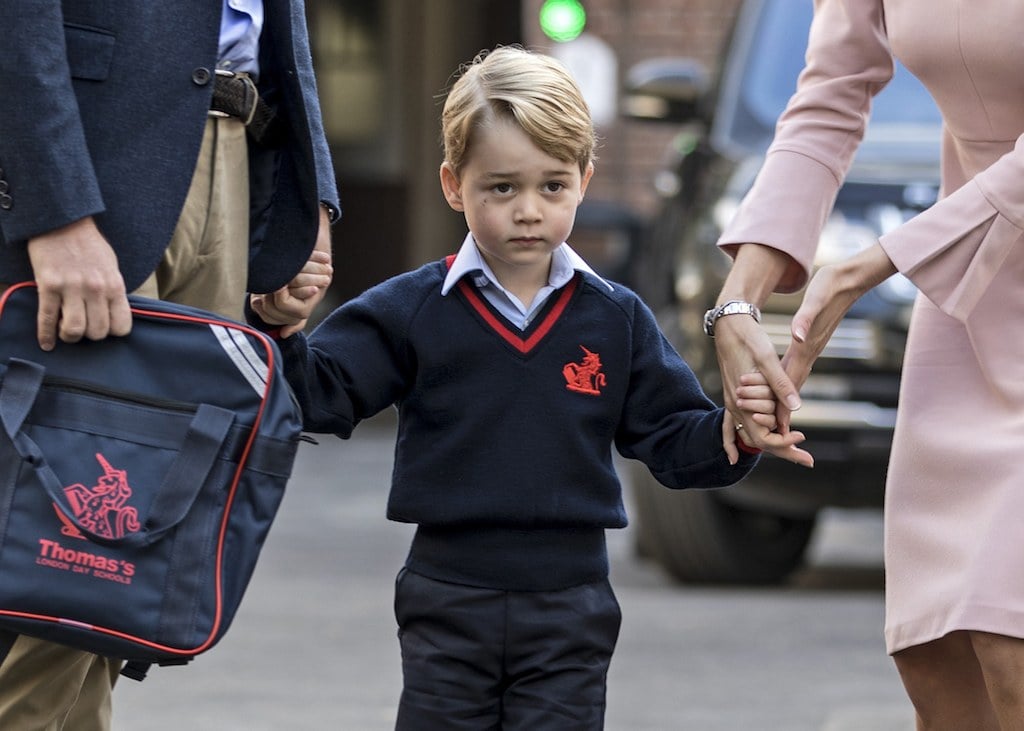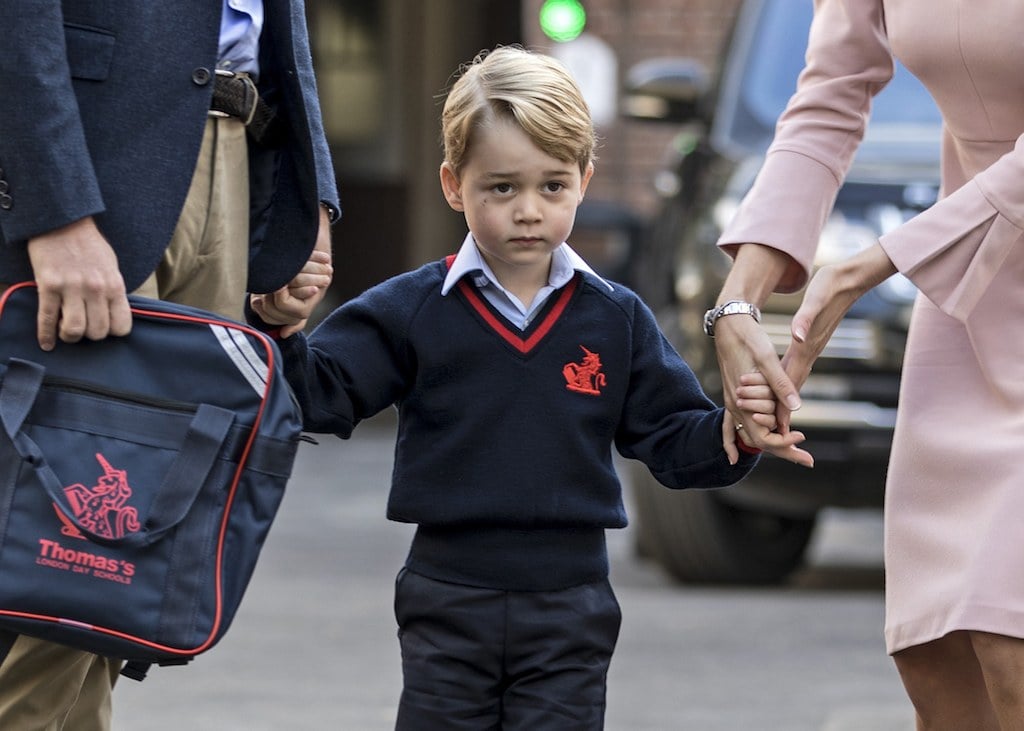 | Richard Pohle/AFP/Getty Images
Security for the British royal family as a whole is extensive, to say the least. But one member, Prince George, needed additional security after an incident occurred at his school (page 5). Learn all about the security measures taken by the royal family to keep them safe. Plus, learn how much money royals have spent on security at weddings. You'll never guess which couple — Prince William and Kate Middleton or Prince Harry and Meghan Markle — spent the most on security at their wedding (page 4).
What is the Protection Command?
Fun fact: An estimated 20 million people work in private security, according to The Guardian.
The Protection Command is a shorter name for the Metropolitan Police Royalty Protection Group, according to Quora. Each member has been highly trained and does their job in plain clothes or in uniform, depending on who they are working for at the time. They commonly carry guns, have been trained in unarmed combat, and know how to perform emergency first aid.
Hint: Prince Harry's wedding to Meghan Markle proved to be a nightmare for police.
Security at royal weddings has been tricky
Fun fact: Prine Charles' requested a female bodyguard for Kate Middleton after she and Prince William announced their engagement, according to Express.
For Meghan Markle's wedding to Prince Harry, the location of the ceremony made security a nightmare. "It [Windsor] has narrow streets, cobbled in parts," Dai Davies, the former head of royal protection, told CBS News. "How do you secure several miles of very small township and parts which are open and green?" See how they did it, next.
'Airport-style' security at weddings
Fun fact: The maple trees lining Westminster Abbey at Kate Middleton's wedding to Prince William, were replanted at Prince Charles' vacation home, according to Business Insider.
Remember the processional route Prince Harry and Meghan Markle took in a horsedrawn carriage after their wedding? Everyone lining the streets had to go through airport-style security, according to CBS News. Police made Windsor a no-fly zone for 48 hours and were given "shoot-to-kill" orders, according to UsWeekly.
Security nearly consumed wedding cost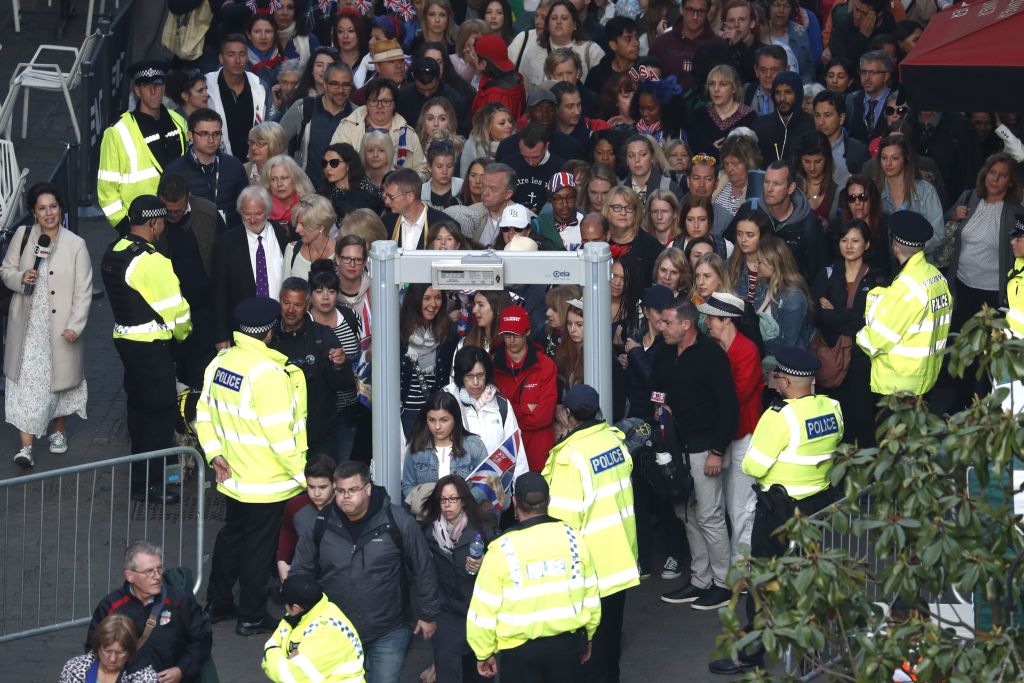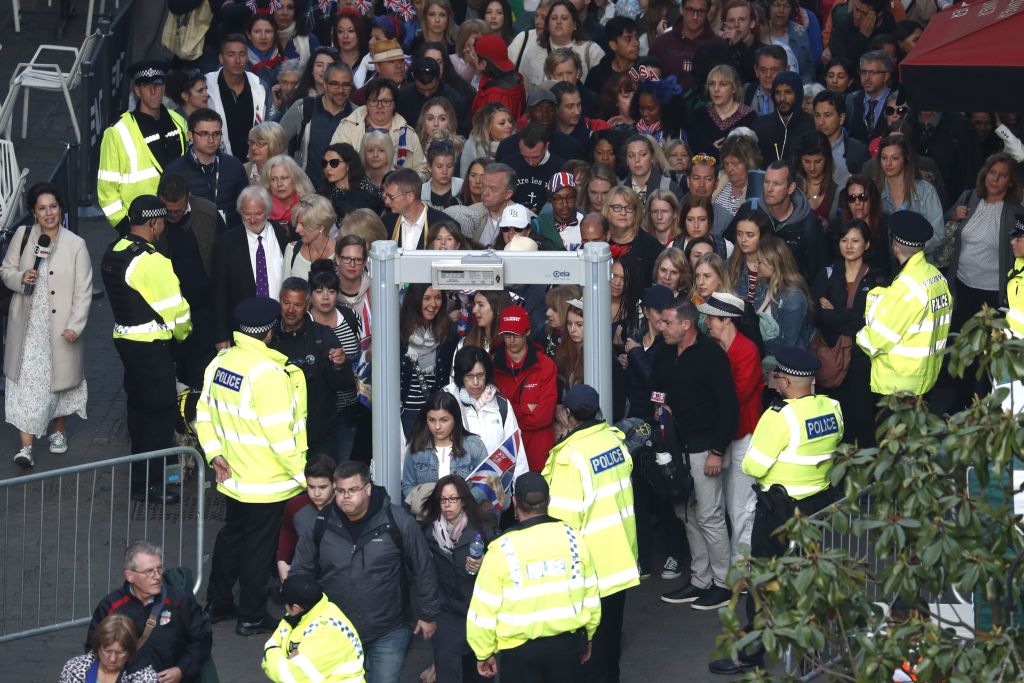 Members of the public pass a security screening as they arrive on castle hill ahead of the wedding and carriage procession of Britain's Prince Harry and Meghan Markle in Windsor, on May 19, 2018. | Odd Andersen/AFP/Getty Images
Fun fact: Princess Diana had her and Prince Charles' initials embroidered on the shoes she wore for her wedding, according to Business Insider.
Security cost $8.7 million at Prince William and Kate Middleton's wedding, according to CNN. And nearly half of that money went to paying overtime. Comparatively, security supposedly cost an estimated $40.1 million at Prince Harry and Meghan Markle's wedding — that's 94% of their budget — including snipers and undercover police, according to Bridebook.
Hint: Here's why Prince George needed additional security.
Prince George had a stalker
Fun fact: Prince George enjoys thunderstorms, his mother, Kate Middleton told Vanity Fair.
A woman obsessed with the royal family and their "fairytale lifestyle" showed up at Prince George's school two days in a row, according to The Sun. The woman sat in the school's lobby and after being questioned by staff, left, only to come back the next day.
Man encouraged a terrorist attack on the prince
Fun fact: Princess Charlotte, George's younger sister, reportedly bosses him around, according to Marie Claire.
After the stalker incident at Prince George's school, a man encouraged ISIS to attack Prince George at school, according to TMZ. After the threat, Prince George's school reportedly added more security. And more officers were charged with protecting Prince George when he went out with his mom and his grandma.
They planted trees for privacy
Fun fact: No one has lived in Princess Diana's Kensington Palace apartment since her death, according to Glamour.
Prince William and Kate Middleton have relied on a much cheaper method of security at their home. The royals didn't use a "beware of dog" sign. They used massive conifer trees to keep people from looking in their windows at Kensington Palace, according to the Daily Star.
Check out The Cheat Sheet on Facebook!
Read more: The 1 Photo That Reveals How Much Princess Charlotte Looks Like Queen Elizabeth
Source: Read Full Article